Keep reading this comprehensive article about how to clean grout on tile floors with hydrogen peroxide, easily and quickly at home, without any hustle!
What Is Hydrogen Peroxide?
Hydrogen peroxide is a liquid substance, having a pale blue color. It is included in bleaching products, laundry detergents, production of organic compounds, and cosmetic products. Furthermore, hydrogen peroxide is used as an antiseptic to treat the infection of minor cuts. Even you can bleach your hair using hydrogen peroxide and baking soda.
What Is Grout?
Grout is generally made up of cement, sand, and water. It's used to fill the gaps between the joints of floor tiles. Furthermore, grout works as a water-resistant seal to prevent the growth of mold and mildew. The varieties of grout are-
Tiling grout
Flooring grout
Resin grout
Non-shrink grout
Structural grout
Thixotropic grout
How to Clean Grout on Tile Floors With Hydrogen Peroxide?
Below are the potent homemade remedies that will clean the discolored grout between floor tiles in no time!
1. DIY Tile Grout Cleaner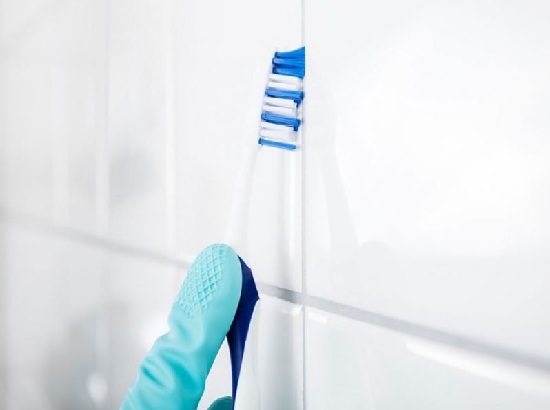 Supplies
A Cup of Baking Soda
1/2 Cup of Hydrogen Peroxide
2 Tablespoons of Dish Soap
Microfiber Towel
Mixing Bowl
Hard Brush
Directions
Add 2 tablespoons of dish soap, 1/2 cup of hydrogen peroxide, with 1 cup of baking soda into a mixing bowl and stir them well to make a lump-free mixture.
Apply this mixture evenly on the dirty grout and around the tiles using a hard brush.
Let it sit for 12-15 minutes, then clean the solution using a lot of warm water.
After that, wipe out the remaining residue by a microfiber towel.
2. DIY Tile Grout Stain Remover Spray
Supplies
1/2 Cup of Hot Water
1/2 Cup of Hydrogen Peroxide
1 Cup of White Vinegar
10-15 Drops of Lemon Essential Oil
Mixing Bowl
Empty Spray Bottle
Nylon Bristled Brush
Small Funnel
Directions
Add 1/2 cup of each hot water and hydrogen peroxide along with 1 cup of white vinegar and 10-15 drops of lemon essential oil into a mixing bowl.
Mix the ingredients for a few seconds, then empty the mixture into a spray bottle using a funnel.
Spritz this solution on the stained grout and scrub it properly with a nylon-bristled brush.
Leave this application for 5-10 minutes, then wipe out the solution using lukewarm water.
3. DIY Hydrogen Peroxide Grout Cleaner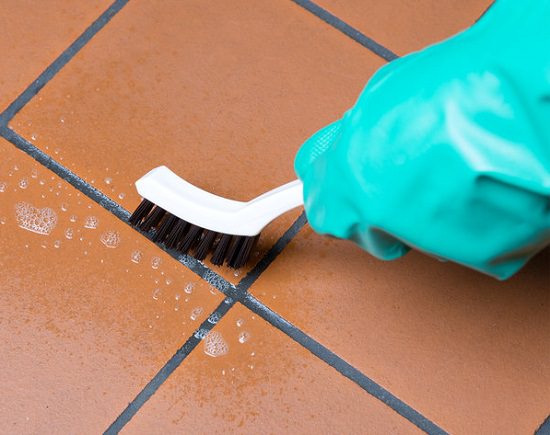 Supplies
2 Oz of Hydrogen Peroxide
Stiff Bristled Brush
Empty Spray Bottle
Small Funnel
Directions
Pour 2 ounces of hydrogen peroxide into an empty spray bottle with a funnel.
Spritz the liquid on the stained grout and leave it for 3-5 minutes.
After that, scrub it by a stiff-bristled brush and wipe it out with hot water.
Notes:
Repeat the above methods, once in a week, to clean the dirty grout.
Always wear a face mask and hand gloves to avoid contact, as the hydrogen peroxide is harmful to skin and eyes.
To keep your grout stain-free instantly, try the above techniques for quick results. Share your grout cleaning experiences by commenting below!