Ditch the chemical-filled hand sanitizers with this natural and inexpensive solution. Learn how to make hand sanitizer with aloe vera plants below!
Nothing can beat the efficacy of traditional hand washing against the disease spreading microorganisms, even alcohol-containing sanitizers. However, when soap and water are not present, hand sanitizers are the ultimate option. Amid the current crisis, sanitizers aren't available at retail or online stores due to the heavy demand. But don't worry, we have good news for you! All you need is three ingredients to make your own natural sanitizer at home. Read this article till the end to find out how to make hand sanitizer with aloe vera plants!
What is Aloe Vera?
With the botanical name "Aloe barbadensis miller" aloe vera is a popular succulent plant with a treasure trove of medicinal properties. Its gel-like pulp is main ingredient of many home remedies, hair and skincare products. Aloe vera is a natural skin healer and soothes sunburn as well. Furthermore, it's also an important ingredient in homemade hand sanitizers because of its strong anti-microbial activity.
How to Make Hand Sanitizer With Aloe Vera Plants?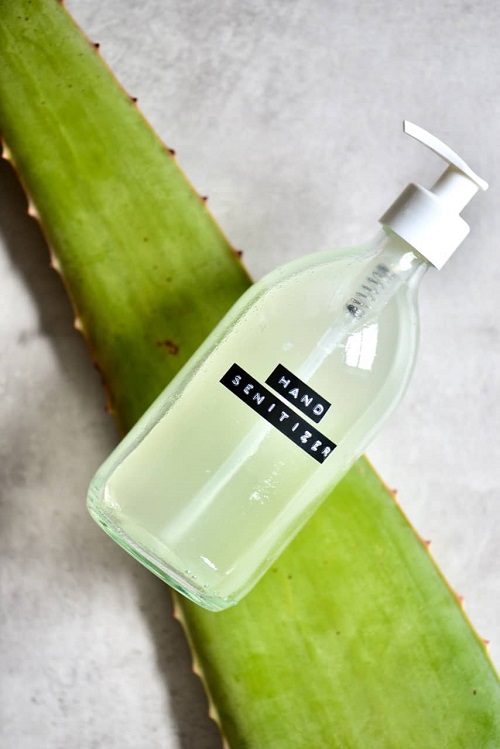 Amidst the ongoing pandemic, alcohol-based hand sanitizers have become an integral part of everyone's day-to-day life. But it doesn't mean they are completely safe for the human body. According to this authentic source, commercial hand sanitizers contains a toxic ingredient, 'Methanol,' which is a health hazard. When absorbed or ingested, methanol can cause severe side effects. That's why it's necessary to opt for natural ones to kill harmful germs, bacteria, and viruses. According to CDC, alcohol-based sanitizer having atleast 60% alcohol eliminates most microbes. To cut your hassle, we have compiled a homemade hand sanitizer recipe below that adheres to the CDC guidelines.
What You'll Need
2 Parts of Isopropyl or Rubbing Alcohol (60–65% or more)
1 Part Pure Aloe Vera Gel
1 Tsp of Lemon Juice
A Small Funnel
Empty Dispenser Bottle
A Container
Spoon or Whisk
Knife
Directions
To extract pure aloe vera gel at home, check out this article.
Next, put on hand gloves, mix two parts of Isopropyl or rubbing alcohol, one tsp of fresh lemon juice, and one part of aloe vera gel in a container using a spoon or whisk momentarily.
Once you're done, empty the prepared mixture in a clean dispenser bottle using a small funnel.
Your homemade hand sanitizer is ready to kill viruses.
Notes
Clean your hands, whisk, spoon, funnel, and container before beginning the above process.
Never use diluted alcohol for homemade hand sanitizer.
It's better to use aloe vera gel extracted at home rather than the commercial ones.
How to Use Hand Sanitizer Correctly?
If you don't know the proper way of using hand sanitizer, no worries, here's the correct way:
Grab your sanitizer, spritz, or apply it to the palm of your hand.
Next, gently rub your hands together for a minute or until they become completely dry. Make sure to cover your hand's back and fingers.
Redo this process more often, especially after touching your face or any surface.
Final Thoughts
Homemade alcohol-based hand sanitizers are the key to survival in the current pandemic, especially when the commercial ones are out of stock. However, always remember that hand washing is the best way to combat disease-causing germs, bacteria, and viruses.