Not everyone knows the trick to eliminate stubborn oil stains. Learn How to Remove Old Oil Stains From Clothes using Home Remedies!

No doubt oil and grease leave the most obstinate blemishes on the clothes. But it doesn't mean you are helpless against them. This article is curated to show you How to Remove Old Oil Stains from Clothes using the below home remedies.
Find out the effective ways to get mildew smell out of clothes here
---
How to Remove Old Oil Stains From Clothes: Home Remedies
Cleaning soiled outfits is tough and seems like a never-ending task, especially with oil-based stains. These stains can happen due to margarine, butter, cooking oil, mayonnaise, salad dressings, motor oil, gasoline, and body oils. To make this chore easier for you, we have gathered a few home remedies that are effective and do not cost you a fortune. Additionally, these hacks let you know how to get motor oil out of clothing.
Note- First, test the below methods on a hidden spot of your clothes for colorfastness. Some of these products are not great for dark-colored apparel.
1. Dawn Dish Soap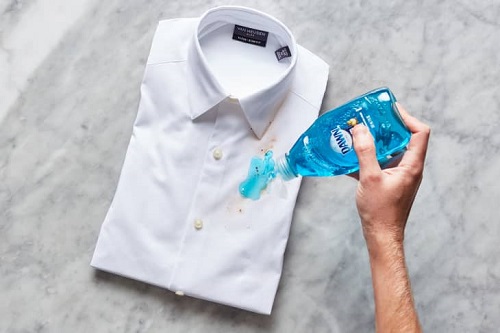 Specially designed to break down oily and greasy gunks from dishes, the blue bottle of dawn dish soap also lifts stubborn oil stains from garments. Remember, this method is only suitable for only cotton and poly-cotton cloths.
How-To
Begin the cleaning task by pouring 2-3 drops of dish soap on the stain, rub it with an old toothbrush, and leave it for 5-10 minutes. Then, rinse the outfit with water and toss it in the washing machine, wash it as you usually do, and dry it properly. Repeat the steps if needed.
2. Vinegar

Besides being a kitchen staple, vinegar gives sparkling clean clothes by disintegrating old oil-based stains, thanks to its mildly acidic properties. Plus, this miraculous liquid deodorizes garments as well.
How-To
Fill a bucket halfway with equal proportions of white vinegar and tepid water. Next, soak the problematic cloth in this solution for 15-20 minutes. Once it's done, scrub the spot with an old toothbrush and throw the outfit in the washer for laundering.
3. Baking Soda and Vinegar

After trying the above methods, if the stain is still there, use the powerful combo of baking soda and vinegar to lift out old oil smudges from your garments. The fizzing action (chemical reaction) makes this combo one of the potent home remedies to remove old oil stains from clothes.
How-To
To pre-treat your stained outfit, sprinkle a generous amount of baking soda on the discolored spot and pour enough white vinegar afterward. Leave it for 10-15 minutes, allowing the fizzing action to do its magic. Next, rub the fabric with a toothbrush momentarily and wipe it with a sponge. After that, launder it in a washer and dry it properly.
4. Try OxiClean

Does Oxiclean remove oil stains? Yes, OxiClean is your best bet to get tough oil stains out of your lovely clothing. As a bonus, it makes your garments smell fresh. Watch this video to find out detailed instructions.
5. Lemon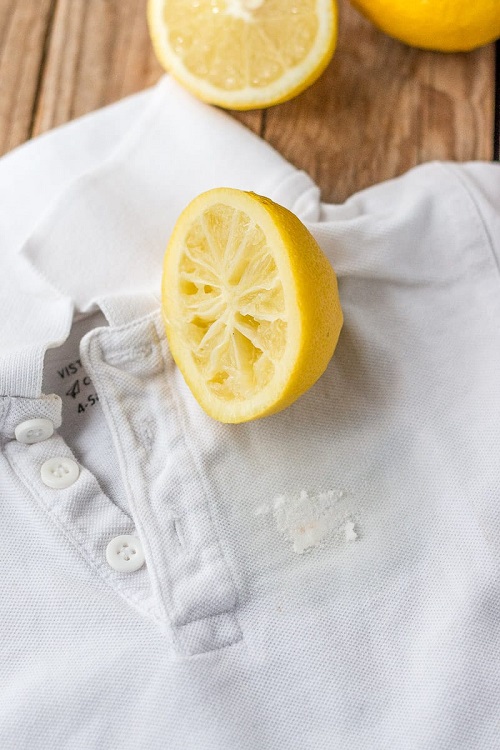 Lemon is an excellent substitute for harsh bleaching fabric cleaners. Its acetic acid content is responsible for the natural bleaching action, which breaks down oil stains from all sorts of fabrics. To get stain-free outfits in no time, use lemon as a pre-treating agent.
How-To
Pour a few drops of freshly squeezed lemon juice into a bowl. Next, saturate the discolored cloth area with lemon juice and wait for 15-20 minutes. When it's done, wash the garment in the washing machine.
6. Regular Shampoo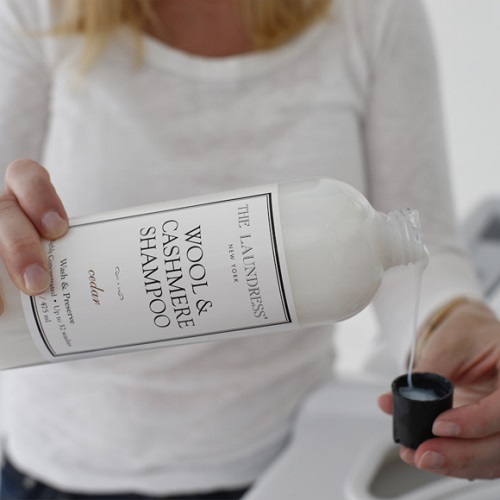 Say goodbye to the tough oil stains with a few drops of shampoo. It's an excellent cleaning hack because of its ability to strip the excess oil from hair. It's one of the best home remedies to remove old oil stains from clothes.
How-To
Pour some drops of regular shampoo on the blemished section and rub it with your fingers to make an ample lather. Leave it for 10-15 minutes, and then rinse with water. If the stain is disappeared, then launder it in the washer. Otherwise, redo this method again.
7. Rubbing Alcohol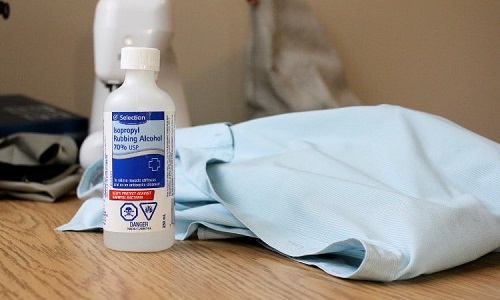 Also known as Isopropyl alcohol, rubbing alcohol is an ideal natural de-greasing tool to eliminate oil-based patches from garments. However, use this method only on white clothes as it can fade the appearance of colored ones.
How-To
Pour enough rubbing alcohol on a white cloth to make it damp. Next, dab the stain with this cloth until the garment becomes spotless. After that, clean the outfit in the washing machine.
Before grabbing costly cleaning products or discarding the outfit, give these stain-removing hacks a try.
Learn how to remove mold from clothes here