Are you puzzling about how to get mildew smell out of the clothes? Then here's a detailed article that'll surely tell the answer you seek!
What Causes Mildew Smells in Clothes?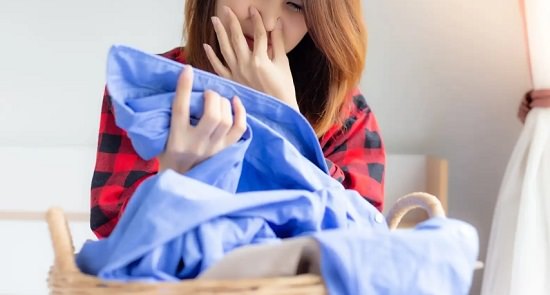 If you leave your wet clothes unattended for an extended period of time, then it develops mildew (Fungi) that generates a musty smell. Your clothes storage method is also a reason for the bad odor, especially for winter clothes like boots, hats, gloves, and coats. Make sure to dry your outfits well before putting them into the closet.
How to Get Mildew Smell out of the Clothes?
Here're some fantastic ways that will help you to get rid of mildew smell from the clothes!
1. White Vinegar
White vinegar is the best and easiest way to obliterate the mildew smell of clothes. Firstly, fill a bucket with hot water and add 250 ml of distilled white vinegar. Then put all your clothes into the mixture and leave it overnight. Next day, cleanse your clothes with normal water and hang them on a clothesline to give them air and sunlight. Their musty odor will go when they dry completely.
2. Hand Wash with Baking Soda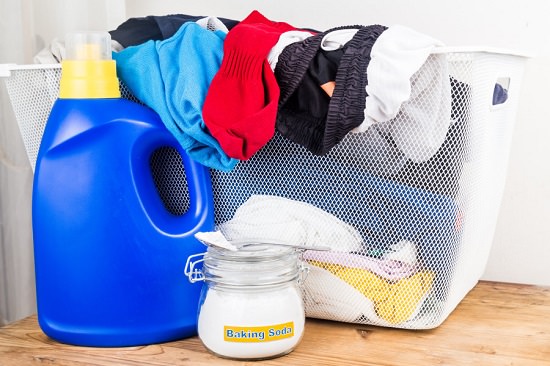 Baking soda is a potent remedy and a reasonable odor-neutralizer. Just load up a basin or sink with hot water and add one cup of baking soda into it. Then put all your dirty clothes and leave them overnight. Next day, wash your clothes as usual and dry it either in direct sunlight or in your dryer.
3. Try Vodka
You can remove the mildew smell out of your clothes by high proof vodka, and most importantly, it's odorless. Take an empty spray bottle and fill it up with vodka (Don't dilute it with water). Then spritz the liquid lightly all over the clothes. When vodka dries, it takes away the musty smell, thanks to its high alcoholic content.
4. Combination of Vinegar and Baking soda
Vinegar and baking soda both have mold killing properties. You can use them separately, but their combination is quite effective. Add 1 cup of vinegar,1 cup of baking soda, and 1 cup of detergent (Optional) into your washer. Then put the stained clothes into it and set the washing machine to the "Normal" rinse cycle with a hot water setting. But if you've got a front load washer, then put the vinegar and baking soda into the detergent compartment. Once the clothes are washed, line-dry in proper sunlight.
5. Sprinkle Baking Soda
Banking soda is a natural deodorizer and mildew killing agent. It's used as a laundry booster to freshen up the pungent odors of stinky clothes. Sprinkle a generous amount of baking soda evenly all over the clothes. Leave it overnight to allow the baking soda to absorb the musty odor and jiggle the clothes on the next morning to remove the excess baking soda particles.
6. Lemon Juice & Salt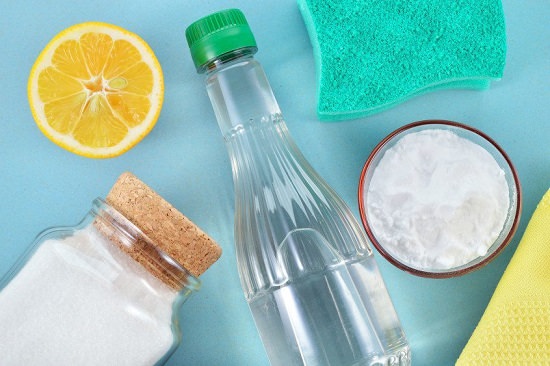 Make a combination of lemon juice and salt paste, then rub it all over the mildew affected area. Leave it for 20-30 minutes and dry it quickly in the direct sunlight. If mildew is still there, repeat the process again.
How to Avoid Mildew Smell?
Here're some steps that should be done to avoid the mildew smell of the clothes!
1. Dry the Clothes Immediately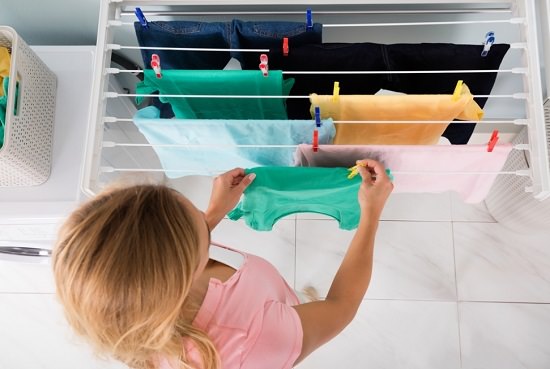 Leaving the clothes in damp conditions is the first & foremost reason for mildew (fungi) growth. To avoid this issue, dry the clothes completely, as soon as you are done with the washing process.
2. Don't Store Clothes in Damp Rooms
Avoid storing clothes in soggy rooms like the bathroom and basement. Make sure to stock them in a properly vented room or a closet.
3. Clean the Washing Machine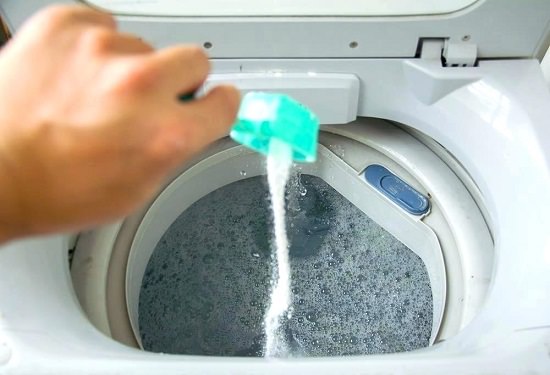 Regular cleaning of the washing machine is necessary. Add vinegar and baking soda in the washer and run it on an empty cycle of hot water for an hour.  Always remember to open the washer's lid after every wash load.
4. Don't Overuse Laundry Detergent
Overusing the laundry detergent promotes mildew odor in clothes. Only use 1 cup of detergent or preferably the amount directed by the manufacturer. Excessive use of detergent will clog the clothes' pores, thereby creating a foam-like structure, which's a favorable place for fungi and bacteria.
5. Avoid Fabric Softener
Avoid the usage of fabric softener on synthetic clothes, as its coating will trap the grime and stink residues, thereby making the bacteria to thrive on it.
After reading the above methods, we hope you'll learn how to get mildew smell out of the clothes efficiently. Try it and let us know in the comments below!