Don't know how to store sea moss gel in the right way to preserve it for a longer period of time? Don't fret, we have compiled this article solely for this purpose!
What Is Sea Moss?
Similar to Irish sea moss, Irish moss, or carrageen moss, sea moss is a legit superfood that thrives along the rocky shores of the British Isles, Caribbean Island, North America, and Europe. It's used in pharmaceuticals, puddings, ice cream, toothpaste, food products, cosmetics, and shoe polishes because of its gelatinous substance named 'Carrageenan.' You can consume sea moss orally or apply it topically to reap its incredible health benefits.
Why Is Sea Moss Good for You?
As sea moss holds 15 vital vitamins and minerals along with fatty acids, carbs, water, protein, and calories, this superfood is right for your body in every aspect. Furthermore, it's also a rich source of anti-oxidants, anti-viral, and anti-inflammatory qualities that help you deal with numerous health issues. However, if you're pregnant, breastfeeding, or suffering from thyroid, consult your doctor before consuming sea moss orally.
How to Store Sea Moss Gel?
To store sea moss gel, pick either glass, plastic, or tin container. Make sure to save the gel in a tightly sealed container in a refrigerator or freezer. By using this preservation method, Irish moss gel doesn't go bad for a month or so. However, discard the gel if it smells bad or looks odd.
Multipurpose Séa Moss Gel Recipe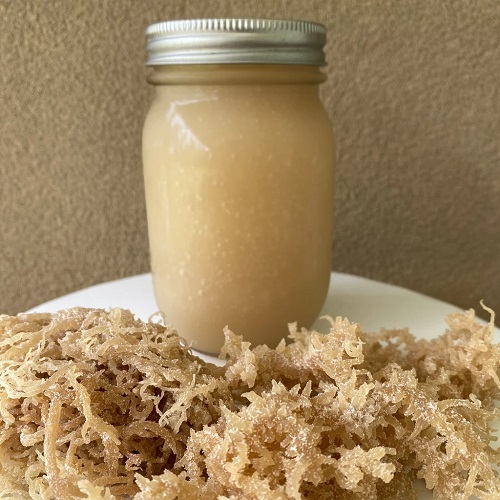 Best for both hair and skin, this multipurpose sea moss gel recipe does wonders on your rough skin and weak hair when applied regularly.
Supplies
1/2 Cup of Dried Sea Moss
Two Cups of Water
A Mixing Bowl
A Lidded Glass Jar
Blender
A Knife
Directions
Put 1/2 cup of dried sea moss into a mixing bowl and clean it well with lots of water.
Next, dip the moss into a cup of water for 7-8 hours.
Once it's done, strain the moss, throw the excess water, and cut it into tiny pieces.
Then, add the pieces with a cup of water into the blender and blend them to get a lump-free paste.
Empty the prepared mixture into a glass jar and cover it with the lid.
Store the jar in the refrigerator when you're not using the gel.
Use sea moss gel once a day and within two weeks you'll see positive results.
How to Apply
For Skin: Take a blob of sea moss gel onto your palm and apply it on the face gently using your fingertips to use it as a face mask. Let it sit for half an hour and clean with lots of water.
For Hair: Apply a thin coat of sea moss gel on your hair and wait for 20-25 minutes. Once it's done, wash your strands, as usual, followed by shampoo.
Conclusion
Without worrying about how to store sea moss gel, add this superfood to your daily skin and hair care regime to gain its astounding advantages. Don't forget to share this article with your family and loved ones. Enjoy!