Are you looking for some beautiful Japanese rock garden ideas for less spacious homes? These Indoor Mini Zen Garden Ideas are for you!
Japanese rock garden not only enhances the aesthetic appeal but also brings serenity to the space. If you want to make one, check out these Indoor Mini Zen Garden Ideas. Besides an attractive everyday decor, they make great gifts too.
Here are some fantastic indoor moss garden ideas
---
Indoor Mini Zen Garden Ideas
1. DIY Mini Zen Garden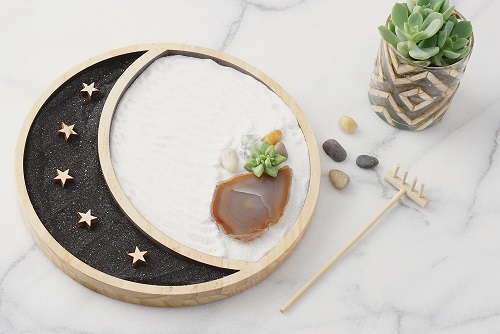 To recreate this mini zen garden, go through this guide that includes a list of supplies, detailed steps, and some styling ideas.
2. Little Desktop Zen Garden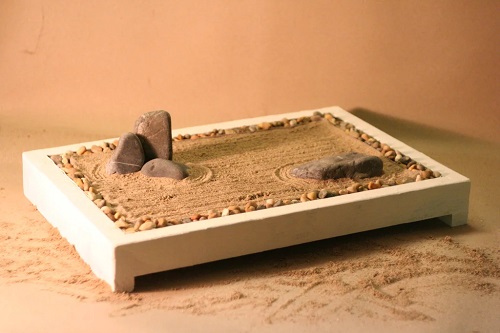 Wood scraps, small pebbles, rocks, sand, and a few other supplies are needed to copy this desktop zen garden. Hop to this instructable to learn more.
3. Mini Zen Garden with Air Plant and Crystals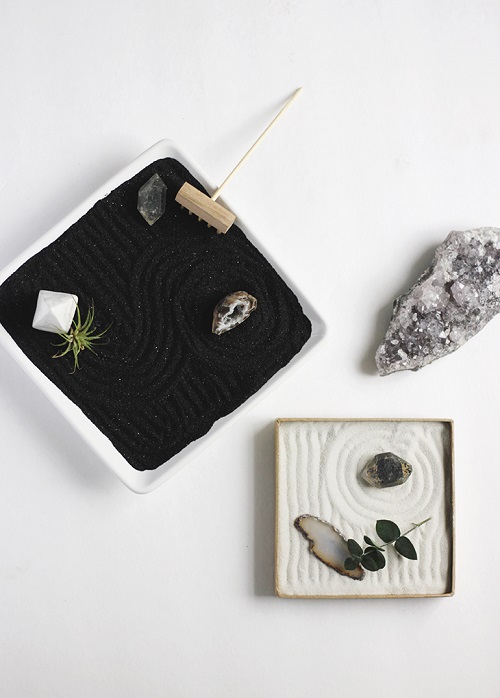 Follow this blog to create a beautiful zen garden featuring crystals, airplants, and a mini rake. It looks beautiful sitting on a desk or coffee table.
4. DIY Succulent Zen Garden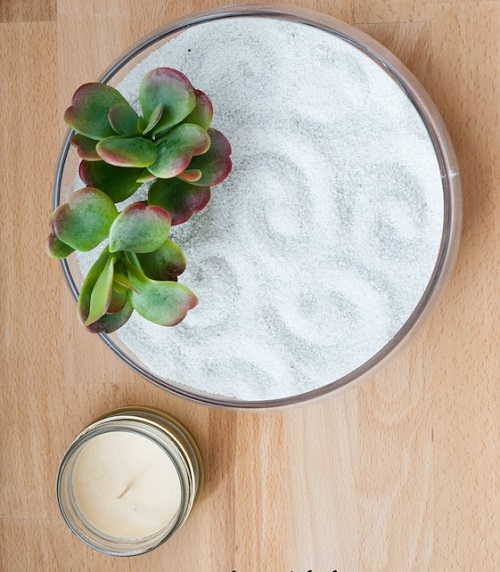 You only need a glass container, sand, and faux or real succulent to prepare this one. It's one of the best indoor mini zen garden ideas.
5. Miniature Golf Zen Garden
Check out this video tutorial to create a golf course-themed mini zen garden. This adorable desk decoration lets you play golf and draw on the sand with a mini rake.
6. Budget-friendly Mini Zen Garden Idea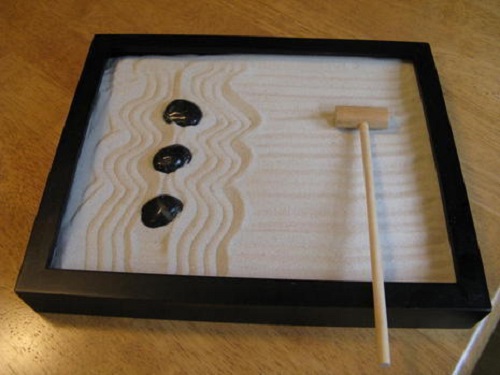 Here's the step-by-step tutorial to put together an indoor Japanese dry garden on a budget. It's a beginner-friendly project.
7. Mini Winter Zen Garden
This attention-grabbing, miniature zen garden loaded with wintery vibes is an excellent stress-relief toy. Watch the video for the instructions.
8. Teeny-tiny Zen Garden DIY
This tutorial teaches the easiest way to make a teeny-tiny Japanese rock garden using balsa wood or polymer clay for the base.
9. Mini Zen Garden With Laughing Buddha Figurine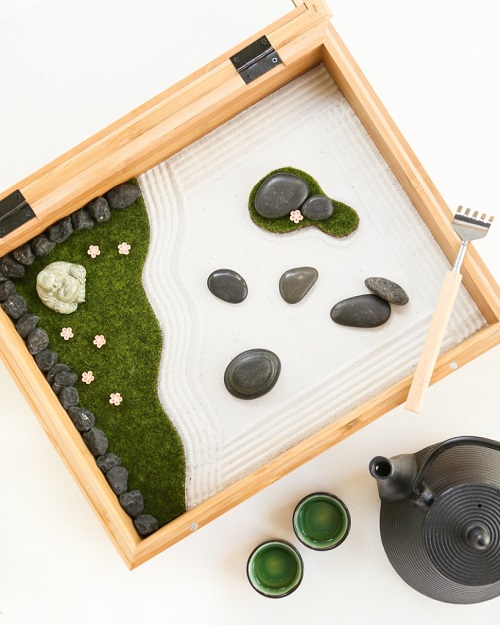 With sand, stones, a laughing buddha idol, and some add-ons, you can create a tranquil small zen garden indoors. Read more here.
10. Simple Zen Garden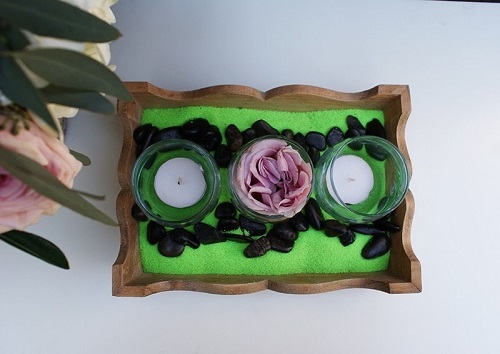 Learn how to copy this display-worthy zen garden using this tutorial. It's perfect as a tabletop centerpiece for home or workplace.
11. Homemade Mini Zen Garden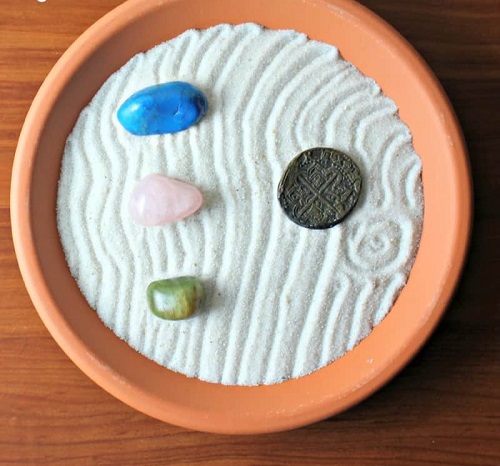 This indoor zen garden is a relaxing way to unwind at the end of the day for both adults and kids. The details are here.
12. Mini Zen Garden With Pink Decorative Sand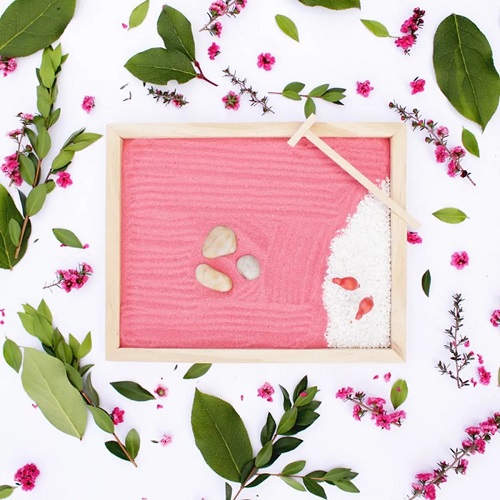 Enhance the look and feel of your home interior with this eye-catching Japanese rock garden featuring pink sand and flamingos.
13. DIY Mini Tabletop Zen Garden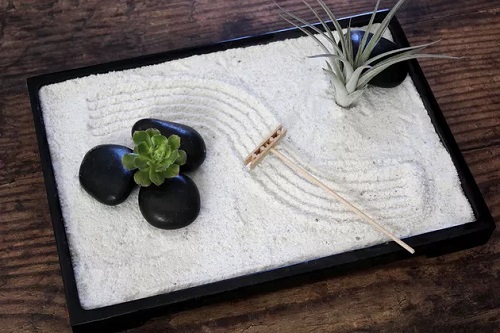 If you don't have enough outdoor space for an actual zen garden, check out this article to create a tabletop version.
14. Mini Asian Bamboo Zen Garden DIY
Made with coffee stir sticks, skew sticks, and toothpicks, this unique Japanese bamboo zen garden is what you need to make this weekend.
15. Miniature Halloween Zen Garden
Complete your Halloween decor by making this less spooky and more funny indoor zen garden.