Here's a list of Indoor Plants Safe for Cats that you can grow without any worries while inviting a touch of greenery to your home!
Ensure the safety of your four-legged friend by bringing home these ASPCA-approved Indoor Plants Safe for Cats! These non-toxic plants help you in preparing an indoor green oasis.
Indoor Plants Safe for Cats
1. Rattlesnake Plant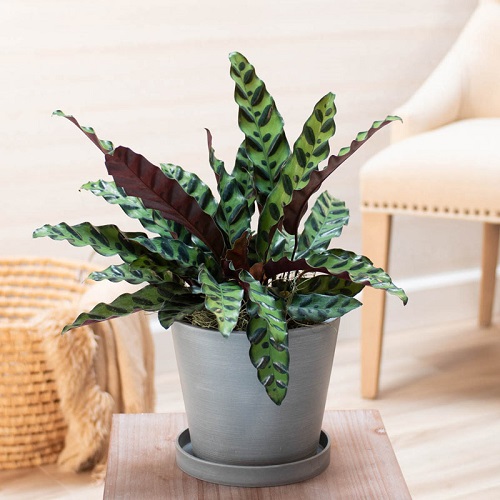 Botanical Name- Calathea lancifolia
Flourishes in bright, filtered light and well-draining soil, Calathea lancifolia is a rewarding plant because of its crinkly variegated leaves.
2. Busy Lizzie

Botanical Name- Impatiens walleriana
Impatien or Busy Lizzie is prized for its bright-colored flowers and the ability to bloom in moderate light. It's one of the best indoor plants safe for cats.
3. Boston Fern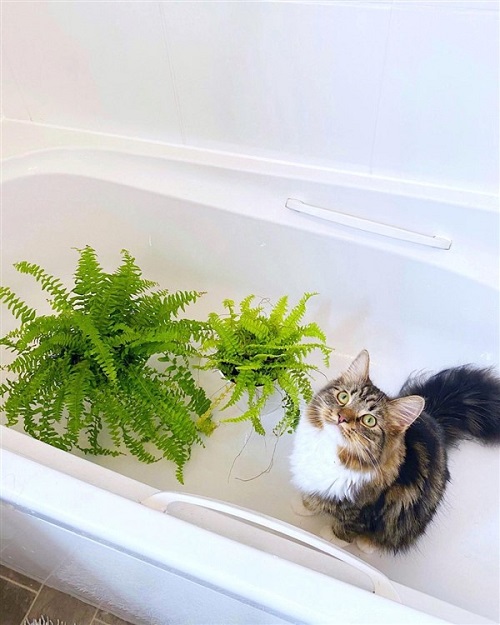 Botanical Name- Nephrolepis exaltata
Include the picture-perfect, cat-safe Boston fern in your indoor plant collection. It enjoys high humidity and indirect light.
4. Areca Palm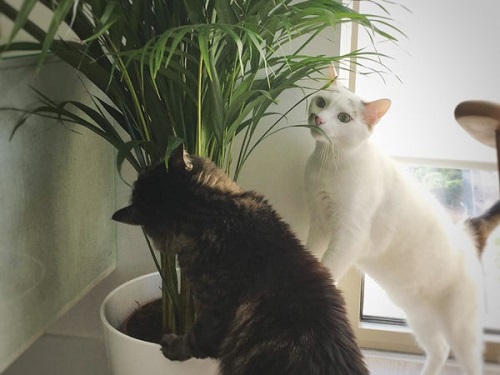 Botanical Name- Dypsis lutescens
Areca palm is loved for its big and stunning fronds. Group 2-3 palms indoors to make a little green corner for your feline.
5. Baby Rubber Plant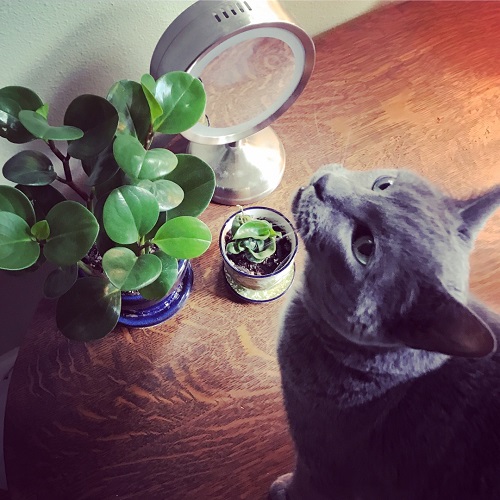 Botanical Name- Peperomia Obtusifolia
Do you want a baby rubber plant indoors? Don't hesitate, as it's completely safe for kitties. With little care, you can raise this display-worthy specimen.
6. Majesty Palm

Botanical Name- Ravenea rivularis
Add tropical flair to your indoor space with the cat-safe, majesty palm featuring long arching, stunning green fronds.
7. Zinnia

Botanical Name- Zinnia
Bring zinnia indoors, and rest assured with the fact that this colorful flowering plant is safe for your cats.
8. Parlor Palm

Botanical Name- Chamaedorea elegans
Parlor palm is a slow-growing, low-light loving, forgiving houseplant with excellent air-purifying capabilities, and it's non-toxic to cats.
9. Gloxinia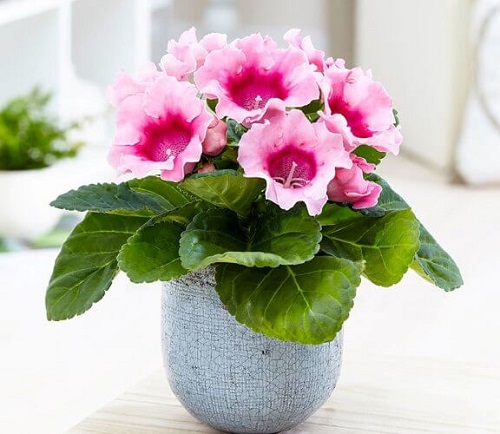 Botanical Name- Sinningia speciosa
Grow gloxinia for its trumpet-shaped flowers and velvety foliage. This gorgeous flowering plant needs indirect sunlight and constant moisture to thrive.
10. Spider Plant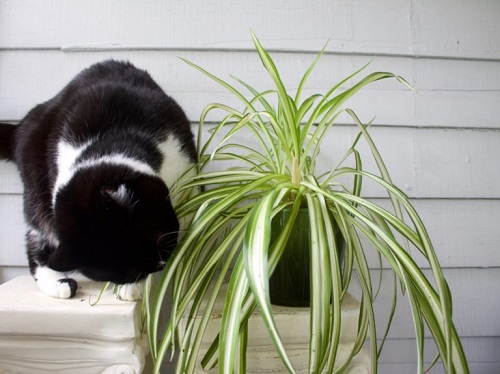 Botanical Name- Chlorophytum comosum
Spider plant is an easy to grow and cat-friendly plant with air-purifying potential, making it a valuable addition to an indoor garden.
11. Ponytail Palm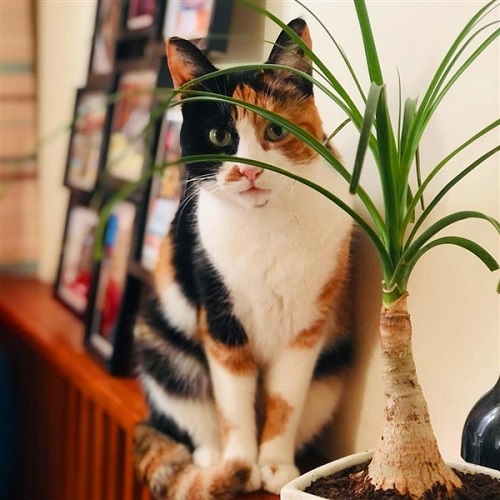 Botanical Name- Beaucarnea recurvata
Popular for its drought-tolerant nature, the ponytail palm is one of the most attractive ornamental plants for indoors.
12. Cast Iron Plant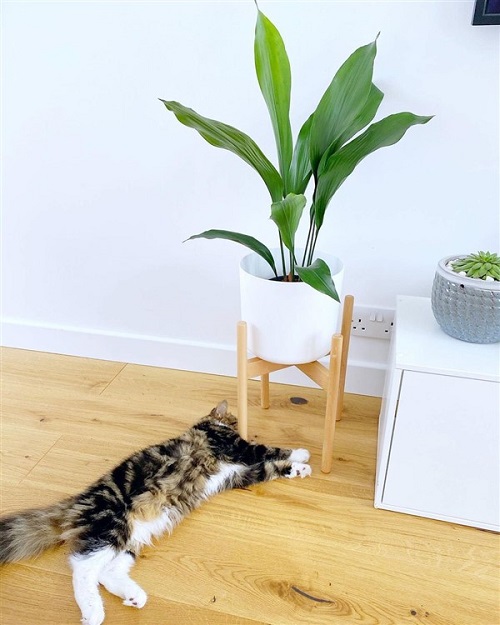 Botanical Name- Aspidistra elatior
Raise cast iron plants indoors to please your eyes with its beautiful lush green foliage. This cat-friendly plant adapts and survives in extreme conditions.
13. Staghorn Fern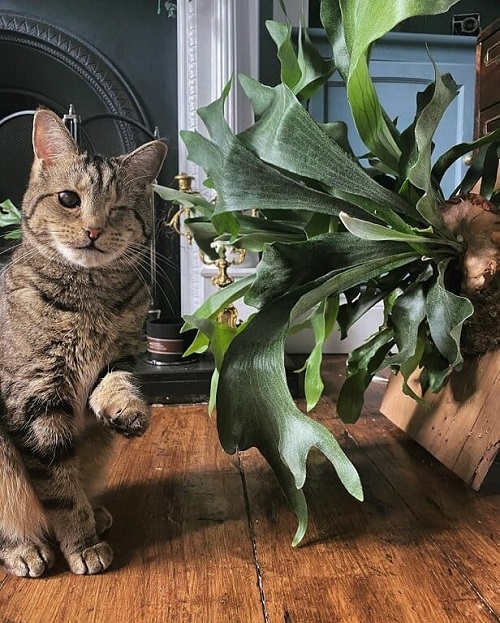 Botanical Name- Platycerium
The staghorn fern or elkhorn fern is appreciated for its unique fronds that look similar to deer or elk antlers. It's non-toxic to cats.
14. Zebra Plant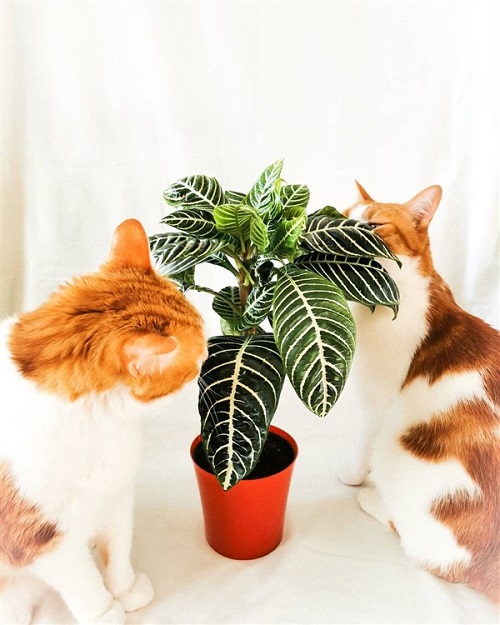 Botanical Name- Aphelandra squarrosa
The dark green leaves of the zebra plant adorned with white veins make it a captivating, cat-friendly indoor plant.
15. Nerve Plant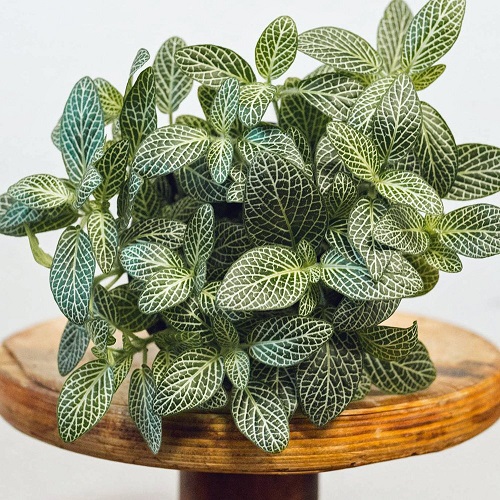 Botanical Name- Fittonia albivenis
Flourishes in low light and moderate watering, fittonia is a low-growing creeper and completely safe for your little feline friend.
16. Wax Plant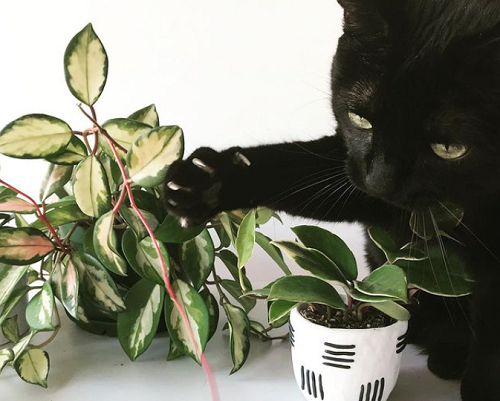 Botanical Name- Hoya carnosa
With waxy leaves and beautiful, sweet-scented white flowers, the wax plant is a must-have houseplant for an indoor cat garden.
17. Moth Orchid

Botanical Name- Phalaenopsis
Do you want to grow a moth orchid indoors for its long-lasting aromatic flowers? Go ahead; it's safe for your cute furball.
18. Bromeliads

Botanical Name- Bromeliaceae
Bromeliad is admired for its striking red and yellow flowers. This tropical beauty is a low-maintenance plant, perfect for indoors.
19. Burro's Tail

Botanical Name- Sedum morganianum
Introduce the display-worthy burro's tail indoors for its fleshy blue-green leaves. Its thick stems seem braided with leaves.
20. Pearl Plant

Botanical Name- Tulista pumila
Another stunning cat-friendly succulent to plant indoors is the pearl plant. Its pulpy leaves feature pearl-like tubercles, hence the name.
21. African Violet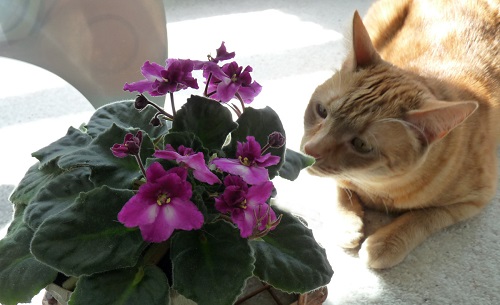 Botanical Name- Saintpaulia
The African violet is native to Africa and offers deep purple blooms all year long. Place this cat-safe plant away from a drafty window or vent.
22. Polka Dot

Botanical Name- Hypoestes phyllostachya
A striking choice for cat parents, the polka dot plant has brightly variegated foliage and needs indirect light to thrive. Place this plant near an east-facing window.
23. Watermelon Peperomia

Botanical Name- Peperomia argyreia
Peperomia is cherished for its gorgeous watermelon-patterned leaves. This tropical plant is safe around cats and adapts quite well to indoor conditions.
24. Haworthia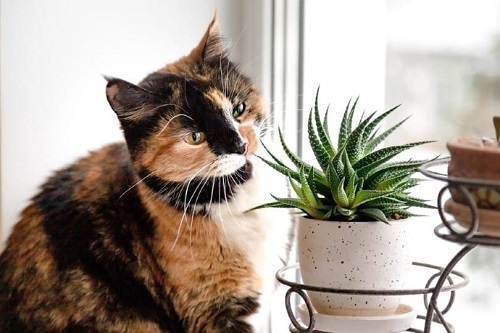 Botanical Name- Haworthia
Haworthia is a genus of attractive succulents with fleshy green leaves. This low-maintenance plant is non-toxic to both cats and dogs.
25. Friendship Plant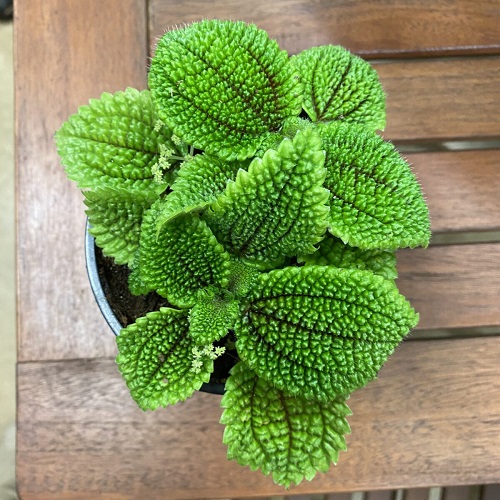 Botanical Name- Pilea involucrata
Friendship plant has textured foliage with intricate patterns, making this humidity-loving plant a valuable addition to an indoor cat garden.
26. Swedish Ivy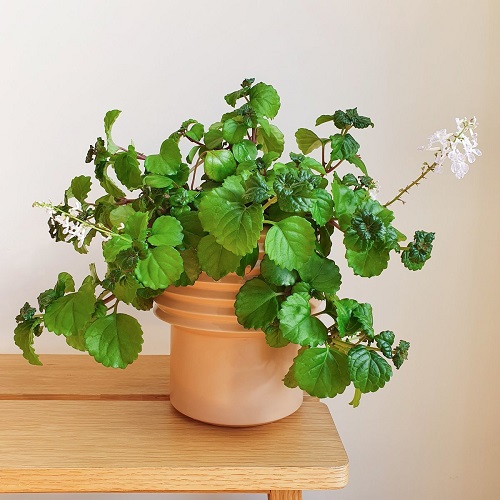 Botanical Name- Plectranthus verticillatus
Adorned with dainty green leaves and aromatic flowers, Swedish ivy is ideal for novice gardeners and harmless to kitties.
27. Purple Passion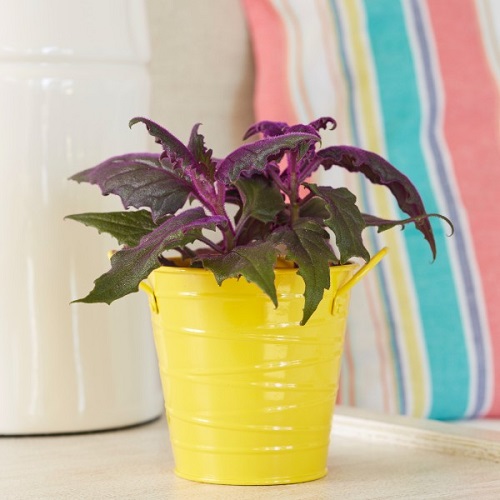 Botanical Name- Gynura aurantiaca
The purple passion plant is appreciated by gardeners for its lovely purple foliage. This houseplant loves diffused bright light and moist soil.
28. Angel's tears

Botanical Name- Soleirolia soleirolii
Angel's tears, commonly known as baby's tears, is a fast-growing houseplant with a moss-like appearance.
29. Christmas Cactus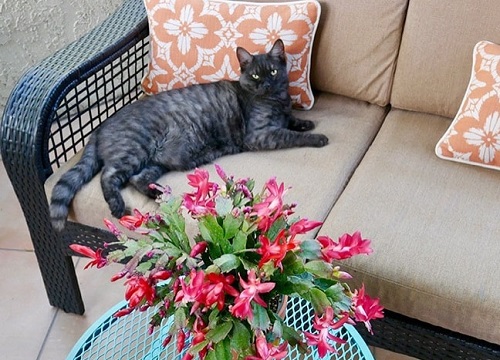 Botanical Name- Schlumbergera bridgesii
Adored for the gorgeous tubular flowers, the Christmas cactus is a wonderful houseplant. Include this beauty indoors without worrying about your feline friend.
30. Gerbera Daisy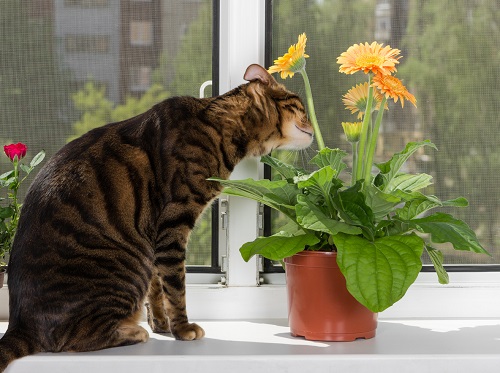 Botanical Name– Gerbera jamesonii
Gerbera Daisy is a showy plant with long-lasting blooms. It's a NASA-approved air-purifying plant and pet-friendly as well.
31. Pygmy Date Palm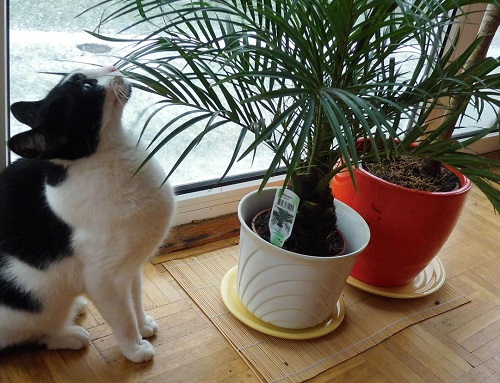 Botanical Name– Phoenix roebelenii
Pygmy date palm or dwarf date palm is a slow-growing plant with air-purifying abilities. It produces edible fruits as well.
32. Money Tree

Botanical Name- Pachira Aquatica
Native to the tropics, the money tree plant loves moist soil and indirect light. Remember to keep this cat-friendly plant near a fairly sunny spot indoors.
33. Banana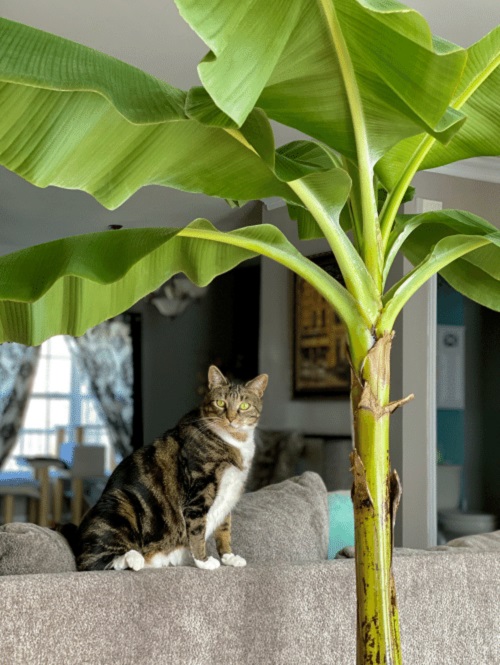 Botanical Name- Musa
Grow the banana plant indoors for its dramatic accent. Not all banana varieties produce edible fruits that's why choose accordingly.
Quick Note- Keep an eye on your cats when they nibble on plants to avoid a choking hazard.