Maximize the storage capacity of your less-spacious shower room with these clever Shower Storage Ideas. Stay tuned to know more!
These ingenious Shower Storage Ideas will keep your bathing essentials, shaving supplies, and kids' toys organized in style. The best part is you don't need much space for these ideas.
Here are some small bathroom towel storage ideas
---
Shower Storage Ideas
1. Use a Metal Shower Caddy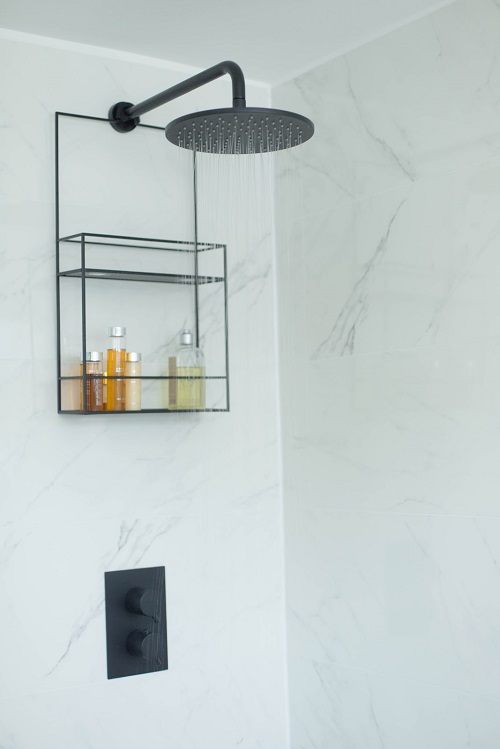 A metal shower caddy is what you need to corral all your bathing products. Its elegant look enhances the visual appeal as well.
2. Hang Small Plastic Laundry Baskets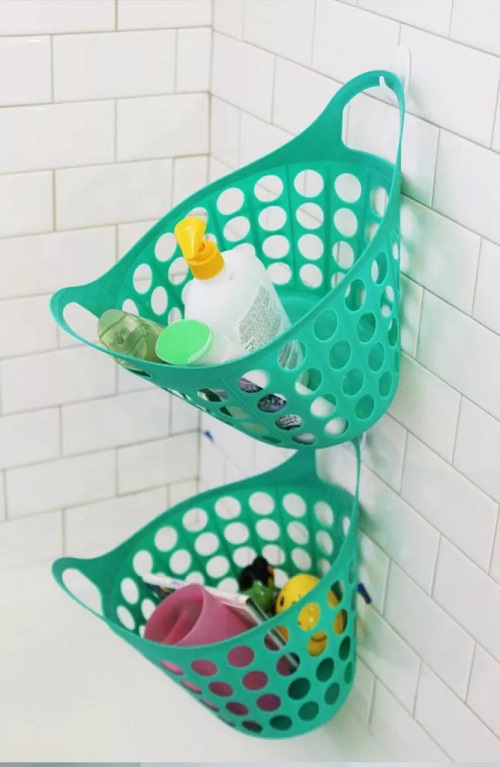 Attach a couple of plastic baskets to the bathroom wall using adhesive hooks to create extra storage space. Don't forget to check the strength of the hooks before you fill the baskets.
3. Shower Pocket Organizer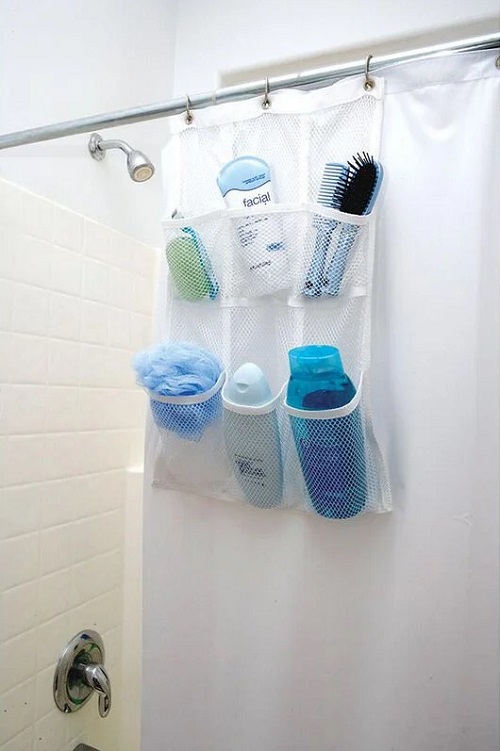 Keep all your shower accessories organized with this pocket organizer. It easily connects with the existing shower curtain.
4. Introduce a Fruit Basket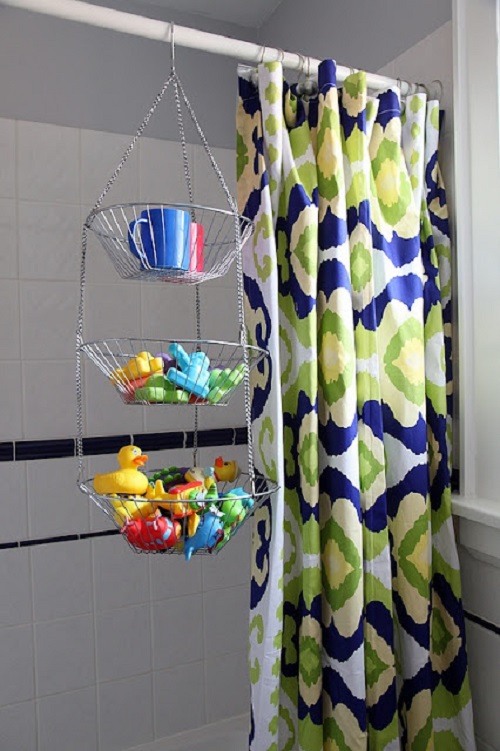 Simply hang a three-tiered fruit basket from the shower curtain rod, and you have a nice storage solution in a jiffy.
5. Use Suction Cup and Hair Tie Hack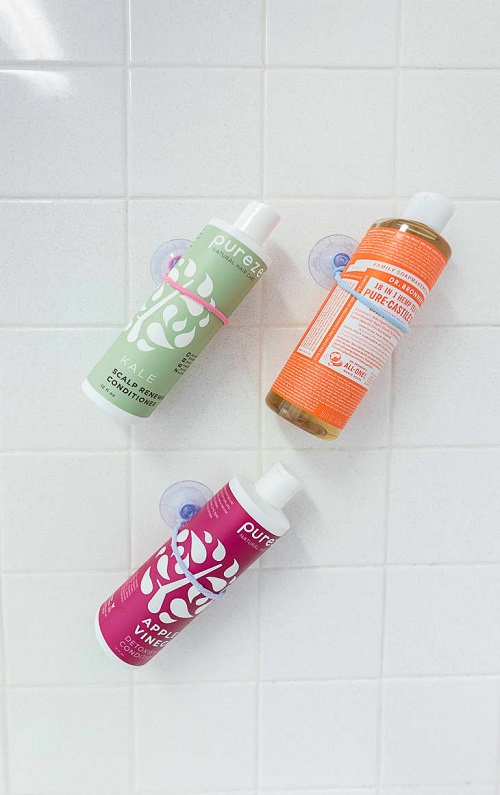 Turn a suction cup and hair tie into simple shower storage using this tutorial. It's best to store bottles, scrubbers, and sponges.
6. Space-Saving Plastic Corner Shower Storage Shelf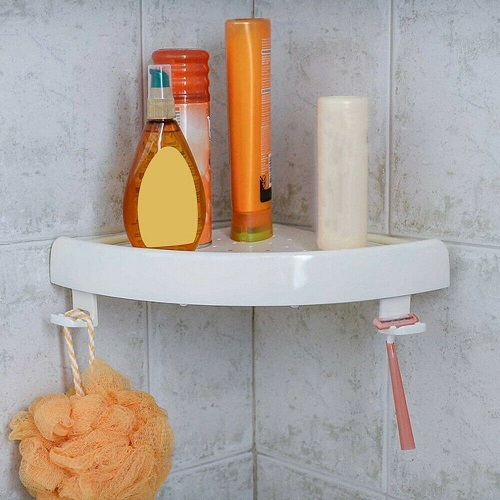 Grab this corner shelf from the nearest store and install it on the wall using suction cups. No nails and screws are needed. It's one of the best shower storage ideas.
7. Try Shower Curtain Clips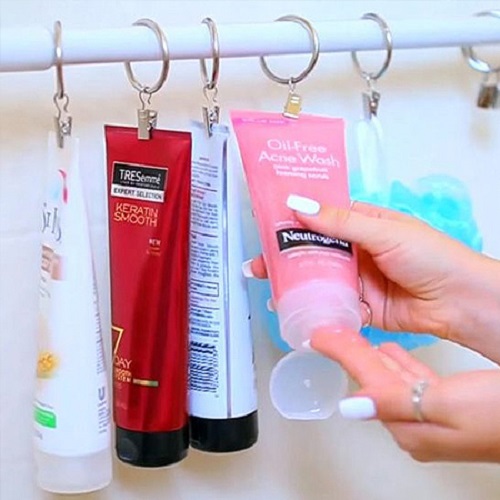 All you need are curtain clips, a sturdy towel bar, or a tension rod to keep your personal care products within arm's reach.
8. Double Wire Baskets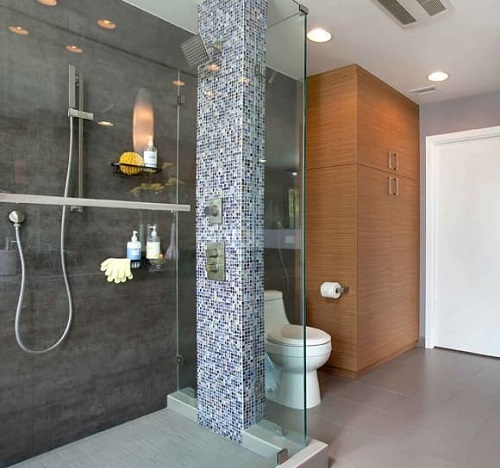 Wall hanging wire baskets is an excellent way to hold shower essentials in less spacious bathrooms.
9. DIY Rustic-Chic Shower Caddy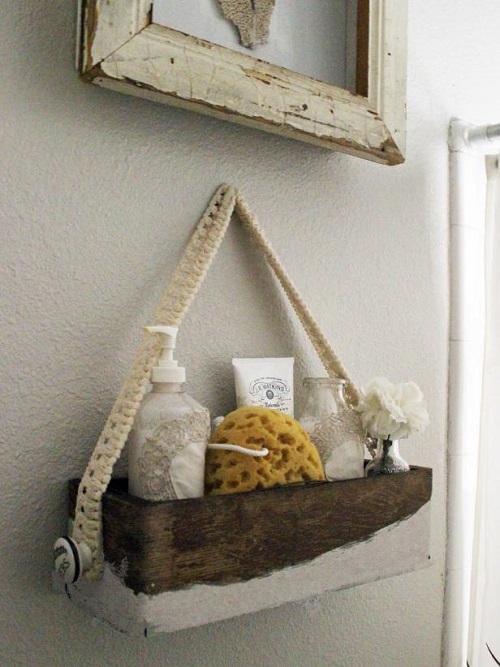 Turn an old wooden box into a rustic caddy to manage your bath and body essentials for a perfectly tidy showering experience. Get the details here.
10. In-Shower Towel Bar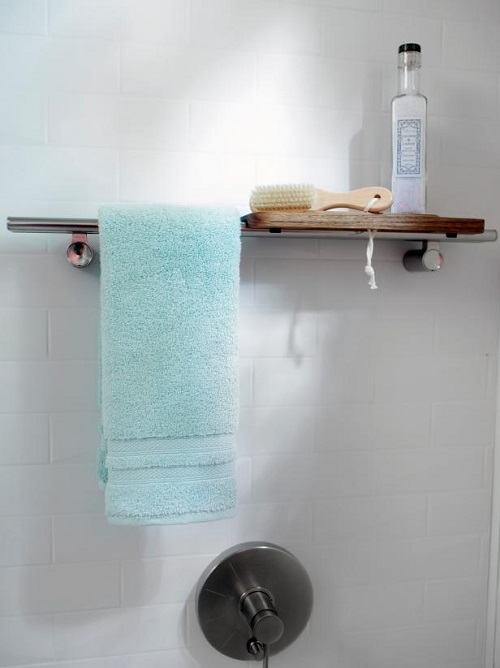 A teak tray that sits securely on the metal bar is a unique storage solution to hold the necessary grooming products, bath brushes, and towels.
11. Cool Bottles Holder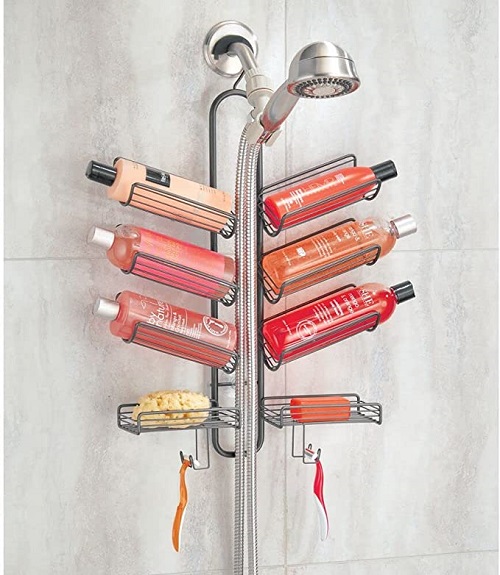 Keep shampoos, conditioners, razors, loofas, and towels organized in one place using this cool over-the-showerhead holder. You can buy it online or from the nearest store.
12. Shower Wall Organizing Hooks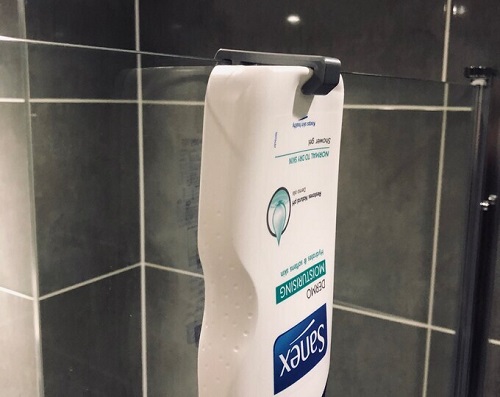 This hook lets you hang any bottle upside down, thereby making your shower floor neat and tidy. Install a few on the glass shower screens and see the difference.
13. Over-the-Door Multi-Basket Caddy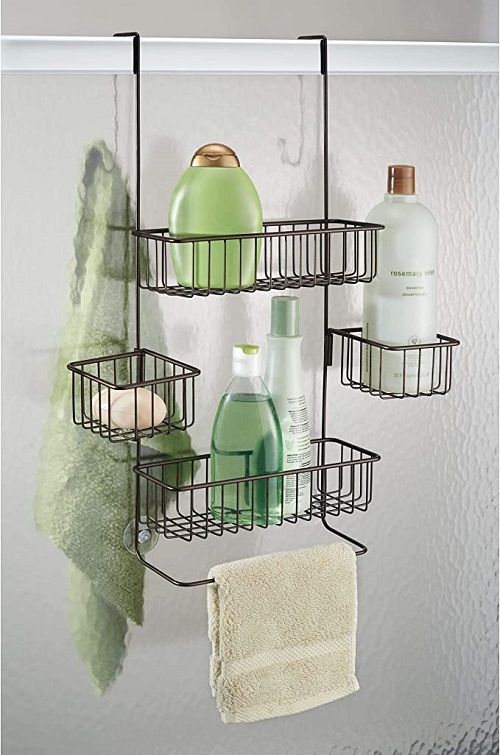 Convert your shower door into a storage solution with this amazing caddy. It has four baskets, two outer hooks, and a towel holder.
14. Quirky and Clever Shower Curtain With Storage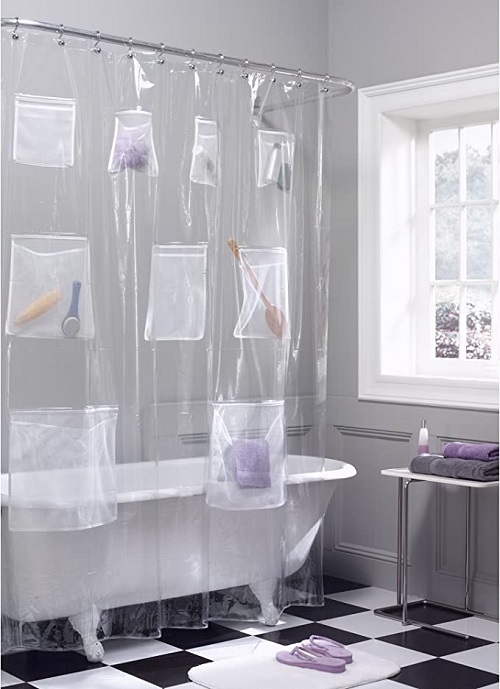 If your shower doesn't have enough space to accommodate all your bathing stuff, this shower curtain is your best friend. It's made from vinyl and mesh.
15. DIY Recessed Shower Shelf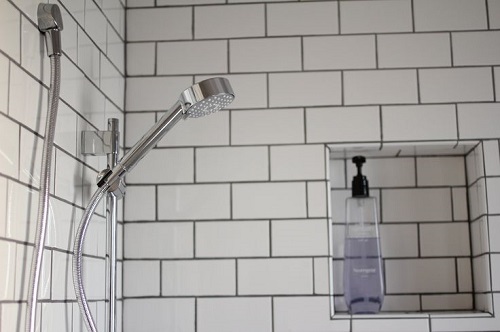 A recessed shower shelf is a practical and streamlined way to add storage space in the shower without eating up the precious floor area.
16. Install a Corner Tile Shower Shelf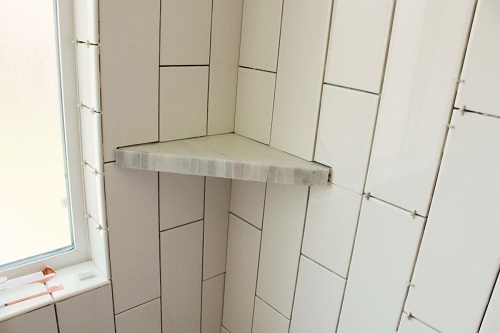 Adding a corner shelf is a quick and effective way to maximize the storage space in a shower room. Learn more here.
17. Tiered Floating Corner Glass Shower Shelf
If DIYing is not your strong suit, don't worry, you can include a corner shelf in your shower by watching this video tutorial. This idea is best for people living in rental apartments.
18. Shower Organization Hack
This shower organization hack not only maximizes storage but also prevents mold from growing on shampoo bottles, conditioners, and other products.
19. Super Affordable DIY Gallon Jug Shower Caddy
Look at this video tutorial to create a quick and useful shower caddy out of a simple gallon jug. It's one of the most frugal shower storage ideas.
20. Shower Storage Stool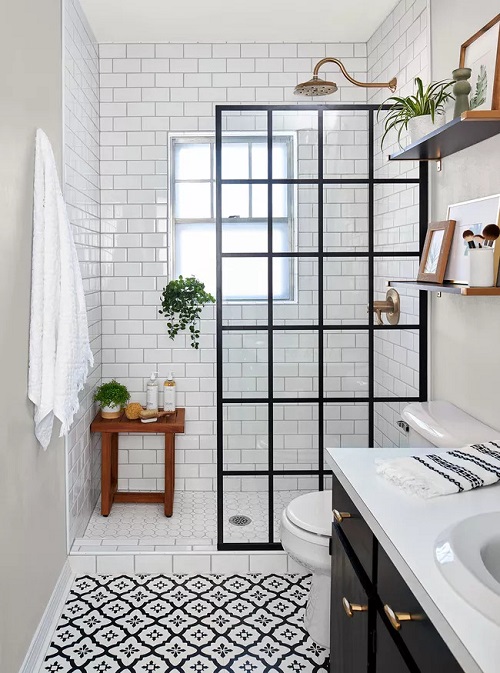 A simple wooden stool is an excellent option for storing bathing accessories in a shower. Adorn it with a planter for an added charm.
21. Persil Discs Boxes Turned DIY Shower Caddy
Follow this easy upcycling project on how to make a simple and practical holder for your shower products.
22. Dollar Tree Shower Storage Ideas
Cut down bathroom clutter on a budget with these dollar tree shower storage ideas. Watch this video for more info.
Find out some bathroom wall decor ideas here