Discover some stunning DIY Bathroom Wall Decor Ideas to give your restroom an elite makeover like never before!
Add a bit of charm, aesthetic appeal, and interest to your restroom with these DIY Bathroom Wall Decor Ideas. Read the exclusive list below.
Here are some amazing rental bathroom makeover ideas
---
DIY Bathroom Wall Decor Ideas
1. Industrial Farmhouse Bathroom Sign DIY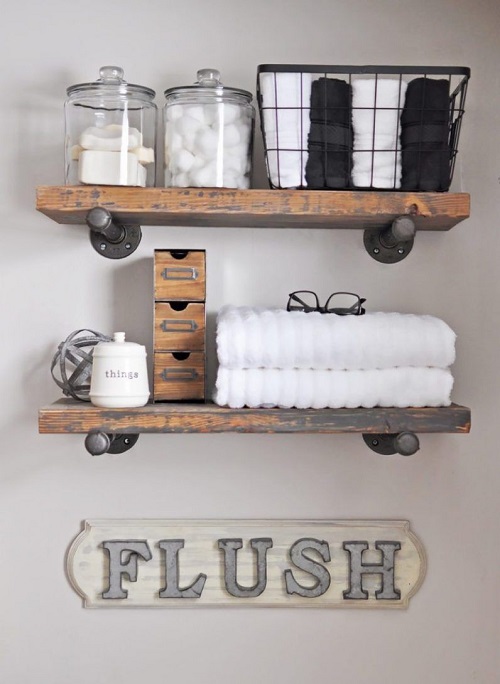 Elevate the look of your washroom wall with this industrial farmhouse 'Flush' sign. Get detailed instructions here.
2. DIY Whale Art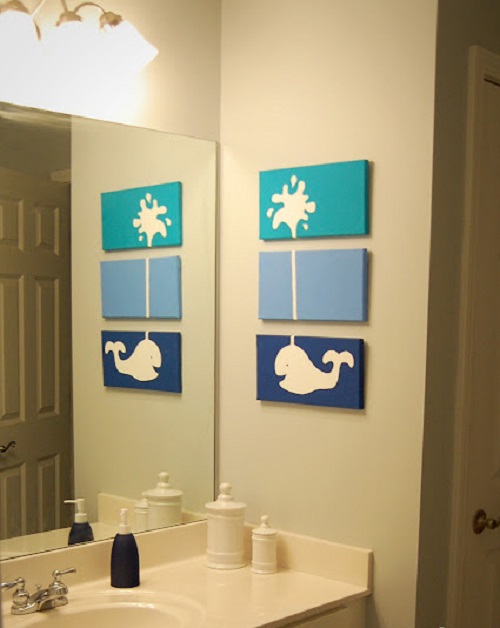 Craft this attention-grabbing whale art – an easy fix to a boring, blank bathroom wall. Read the details here.
3. Industrial Farmhouse Shelving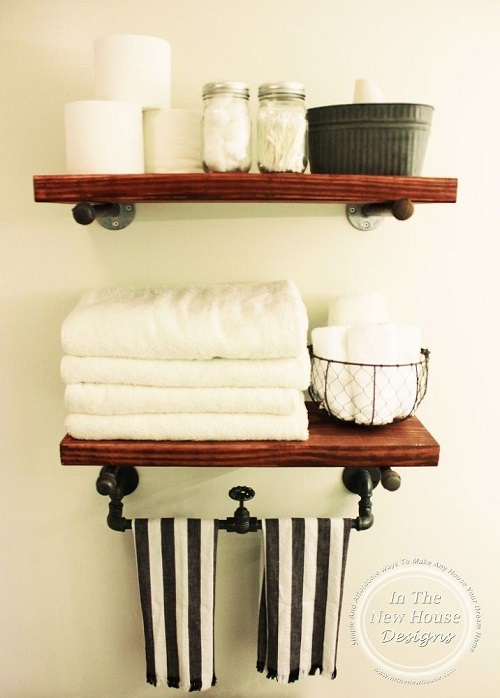 Install rustic-looking open storage shelves in your bathroom to get a mishmash of industrial and farmhouse vibes. Hop to this article for the instructions.
4. Nautical Rope Towel Holder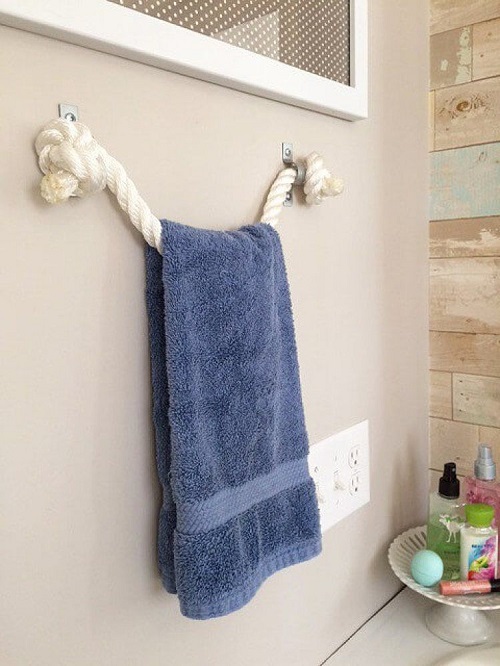 Give your restroom a nautical look with this rope towel holder. It's one of the most amazing DIY bathroom wall decor ideas.
5. DIY Leather Copper Cup Organizer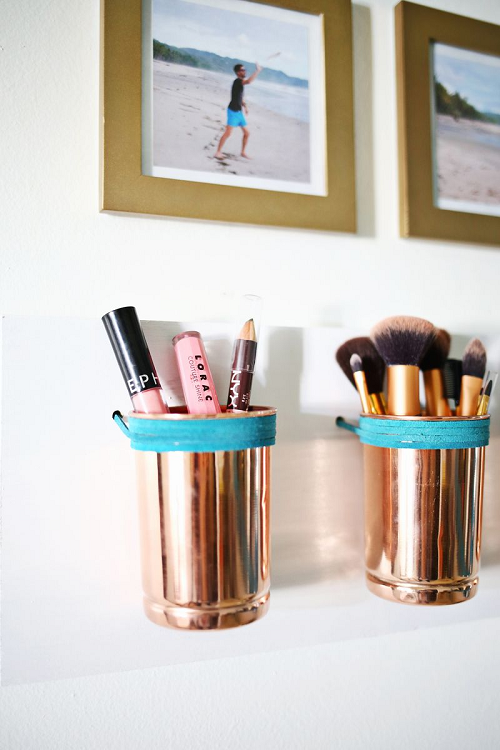 Functional and visually appealing, this leather copper cup organizer is a stylish way to arrange everyday makeup items in the bathroom.
6. Bathroom Wall Art Idea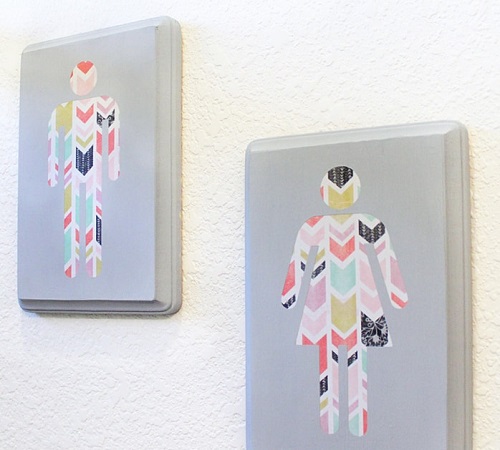 Copy this beautiful wall art to turn your kid's bathroom from drab to amazing. Grab wooden plaques, scrapbook paper, mod podge, paint, and contact paper for this project.
7. Copper-Pipe Towel Ladder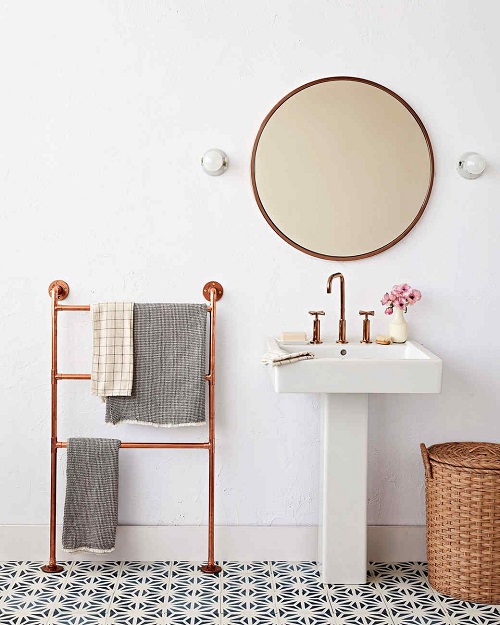 A towel ladder made of copper hardware gives your restroom the charm of a fancy Parisian hotel suite. Click here to know more.
8. DIY 3D Canvas Plant Pictures
Take your bathroom wall decor to a new level with these 3D canvas plant pictures. Watch the video to learn more.
9. Super Affordable Bathroom Wall Art Decor
You only need these affordable picture frames to make your restroom stand out. Check out this video for the details.
10. DIY Giant Wooden Frame Mirror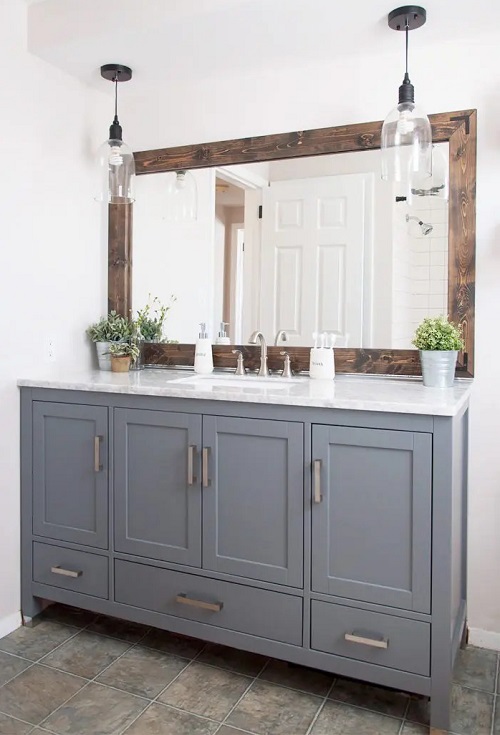 In this article, the DIYer decorates her drab washroom wall with a giant mirror to make the space more interesting and full of natural light.
11. Use Peel-and-Stick Wallpaper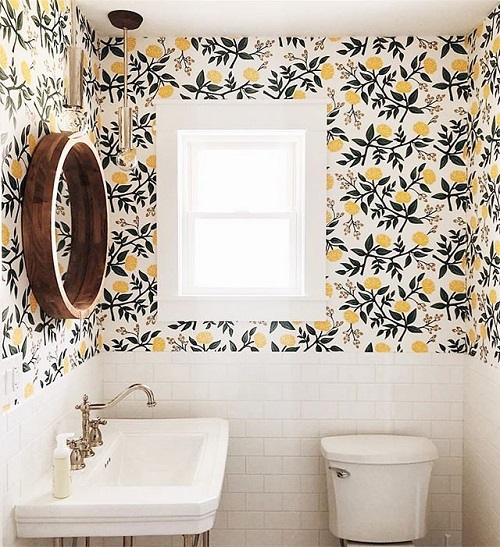 Use peel-and-stick wallpaper to give your washroom a chic look. They are easy to use and removable when not needed. Go with heat and moisture-resistant types to avoid peeling and mildew.
12. Add Straw Hats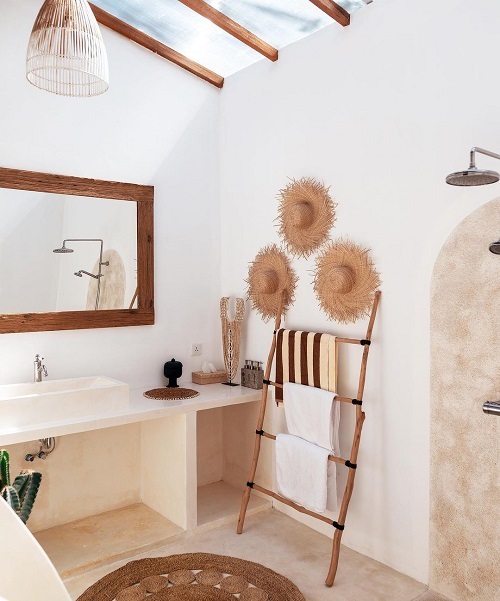 Adorn your bathroom wall with stylish straw hats to get a captivating boho-chic look. Use coat hooks to hang the hats.
Find out some creative DIY hat rack ideas here
13. DIY Washi Tape Gallery Wall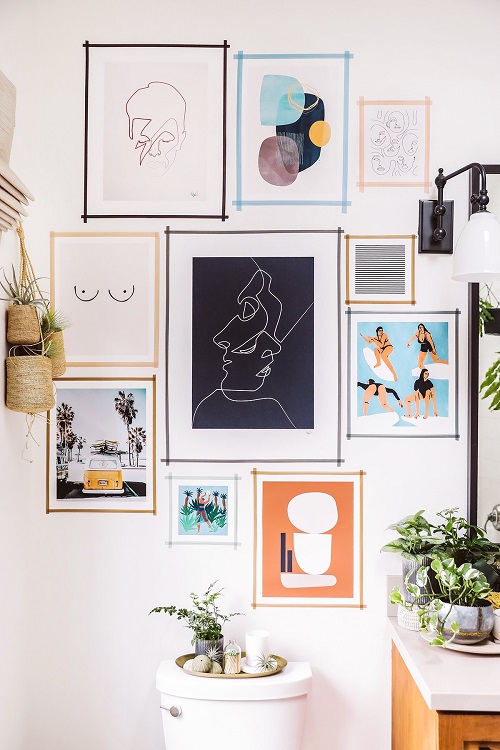 Say goodbye to your tedious washroom with this washi tape gallery wall featuring photographs, illustrations, and graphic prints.
14. A Wall of Mirrors!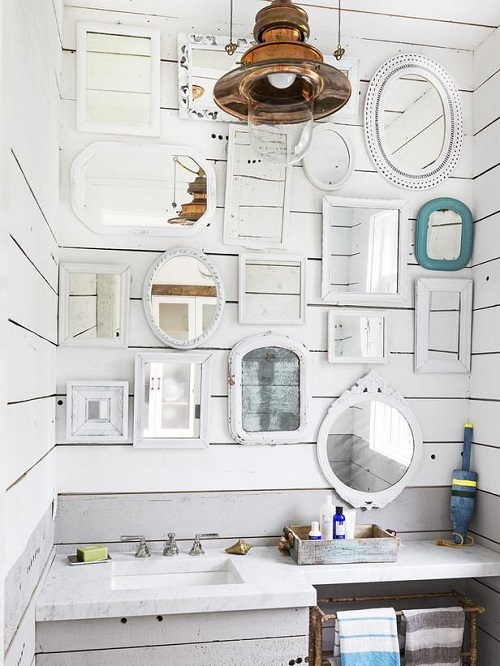 Hanging an assortment of different-sized mirrors is one of the easiest ways to make your washroom more appealing.
15. DIY Glam Bathroom Wall Decor Ideas
Learn how to turn simple wooden letters into an alluring bathroom wall decor in this video tutorial.
16. Bath Time Photos and DIY Canvas Prints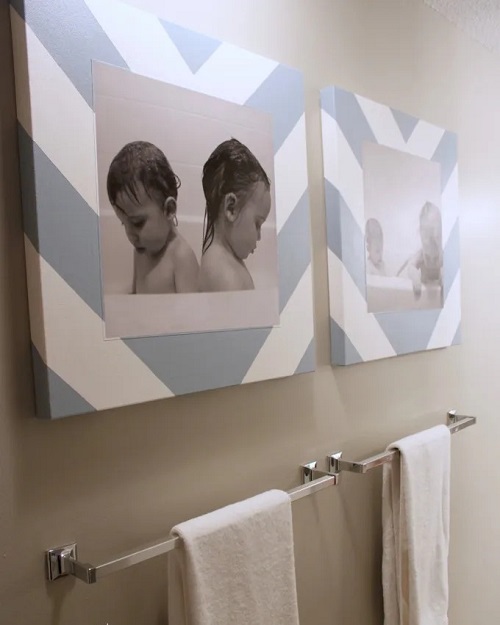 Highlighted by kids' tub time pictures, these beautiful canvas prints are excellent decorative pieces for the restroom. Read more here.
17. Repurposed Window Bathroom Towel Rack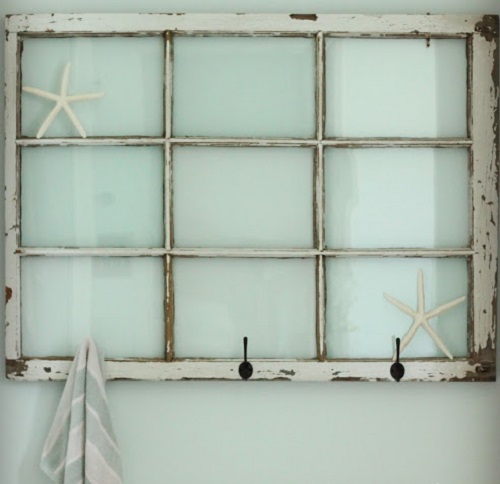 Make this shabby chic window towel rack to give your bathroom a conversation-starting focal point.
18. Mini Living Bathroom Wall
If you have a green thumb, this mini living wall idea is for you. It's a simple way to bring lush greenery into the restroom.
19. Wall-Mounted Baskets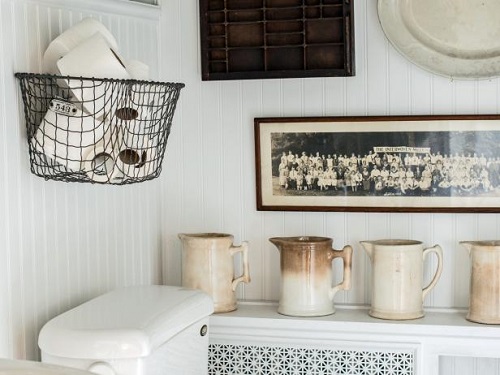 A vintage metal basket is a stylish way to maximize storage space in a compact restroom. The details are here.
20. DIY Marbled Paper Artwork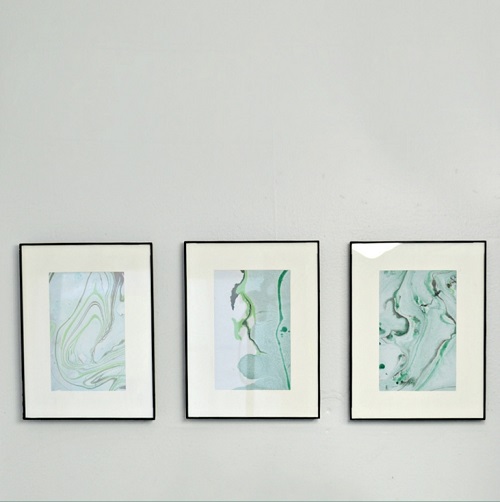 Amp up the wow factor of your bathroom's interior with this classy marbled paper artwork. It's budget-friendly and easy to DIY.
21. Brush Teeth Bathroom Sign
A fun addition to a children's bathroom, this cute sign reminds them to brush their teeth twice daily. Plus, it looks great on the wall.
22. Cute Wall Mirrors Idea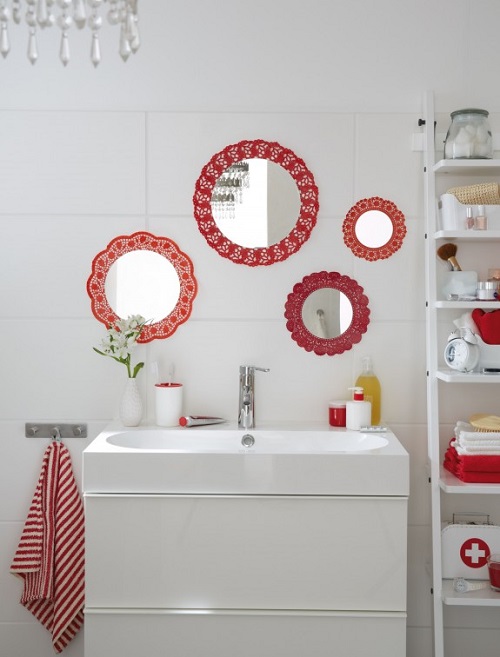 Instead of using a regular mirror in your restroom, hang multiple doily framed mirrors for a captivating display. It's one of the most fantastic DIY bathroom wall decor ideas. Get the details here.
Have a look at some easy and bizarre bathroom cleaning tips here