Read this list of Ladder Storage Ideas and discover efficient ways to store and organize your ladders!
Ladders are versatile tools that come in handy for various tasks around the house, but storing them can be challenging. Say goodbye to tripping hazards and cluttered corners with these clever Ladder Storage Ideas. These solutions not only keep your ladders organized but also free up space for other essential items.
Read the Loft Ladder Ideas here
---
Ladder Storage Ideas
1. Wall Mount Brackets
Use wall-mounted brackets to securely hold the ladder on the wall vertically, freeing up valuable floor space. This approach ensures your ladder remains easily accessible while doubling as an eye-catching display.
2. DIY Garage Ladder Storage Hanger
A DIY ladder hanger is one of the clever and affordable ladder storage ideas on this list. This method also creates extra storage space in the garage. Watch this video tutorial and learn how to install a ladder hanger on the ceiling.
3. Outdoor Ladder Shed
If you have a garden shed, consider allocating a specific corner for ladder storage. You can install simple brackets or hooks on the wall to keep the ladder off the ground. It will free up space indoors, making them easily accessible whenever needed.
4. DIY Ladder Storage Hooks
Are you tired of your ladders taking up too much room or always falling over? Then these DIY ladder storage hooks are the perfect solution. Using only a few pieces of wood and some basic tools, you can build your own sturdy storage solution quickly.
5. Over-the-door DIY Ladder Storage
This cost-effective solution utilizes the unused space behind the door. Simply install a wooden and metal hanger on the top of the door, and that's it. Now, your ladder can be conveniently stored out of sight. Get the instructions in this article.
6. Free-Standing Multiple Ladder Storage Rack
A free-standing rack is perfect for storing ladders outdoors. Made from wood and metal rods, its tiered design can hold multiple ladders of various sizes, reducing clutter in your workspace. Plus, the open design provides easy access and visibility.
7. Tornado Ladder Hooks
Use wall-mounting tornado hooks to keep the ladders upright, thereby saving valuable floor space. These sturdy hooks easily support ladders of different sizes and weights. This ladder storage solution is ideal for less-spacious homes.
8. Bathroom ladder storage
Make the most out of the unused corners of your spacious bathroom to corral a ladder. Furthermore, you can also use the ladder to hang towels, wire baskets for shampoo bottles, and decorative elements.
9. Overhead Loft Storage
Do you have a loft in your home or garage? Using overhead storage is a brilliant solution for keeping your ladders out of the way while maximizing floor space. However, safety is paramount when it comes to storing ladders overhead. Make sure to secure the ladder using sturdy hooks or ceiling mounts, to prevent any accidental falls.
10. Inside Closet Storage

Smaller ladders can be easily stored in a walking closet. Either keep the ladder leaned against the wall or hang it up using hooks. However, make sure to secure the ladder to prevent falling when the closet is accessed.
11. Outside Ladder Storage
Utilize the space of your porch or patio to store ladders of different sizes. However, ensure it's well-covered and protected from weather damage. When the weather is right, you can use the ladders to display planters and lanterns.
12. Decorative Display
When you don't have extra space to store your wooden or vintage ladders, consider using them as part of your home decor. Showcase your favorite magazines, books, hats, and blankets on them.
13. Behind Couch Space
In large living rooms, the space behind a couch is an excellent spot to store a small ladder discreetly. However, always ensure the ladder doesn't protrude and becomes a tripping hazard. It's one of the cheapest ladder storage ideas.
14. Balcony Storage
If your apartment has a spacious balcony, utilize its space to hold ladders. Don't forget to protect your ladder from outside elements with a sturdy, waterproof cover. Additionally, secure it with a hook or something else to prevent it from tipping over in strong winds.
15. Store Ladder in the Basement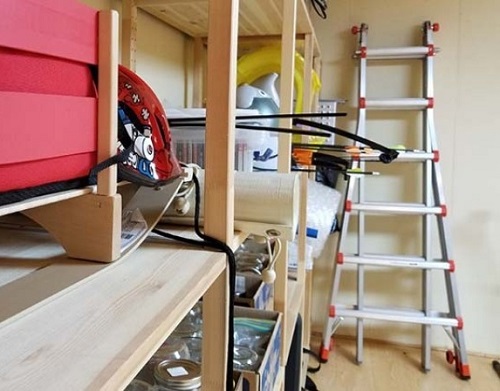 The basement is an ideal storage area to organize larger ladders. Keep them off the damp floor to avoid rust or corrosion. Installing wall-mounted brackets or hooks in the basement lets you utilize vertical space effectively. This approach not only keeps your ladders in top condition but also frees up valuable floor space for other items.
Here are the Staircase Ideas For Small Spaces