Refresh the look and feel of your laundry space on a budget with these easy-to-do Laundry Room Makeover Ideas!
Whether you want little upgrades or a complete overhaul, this list of frugal and creative Laundry Room Makeover Ideas is for you!
---
Laundry Room Makeover Ideas
1. Cheap Sliding Barn Door
Swap your existing laundry room door with this stunning sliding barn door to get a modern farmhouse look.
2. DIY Laundry Room Makeover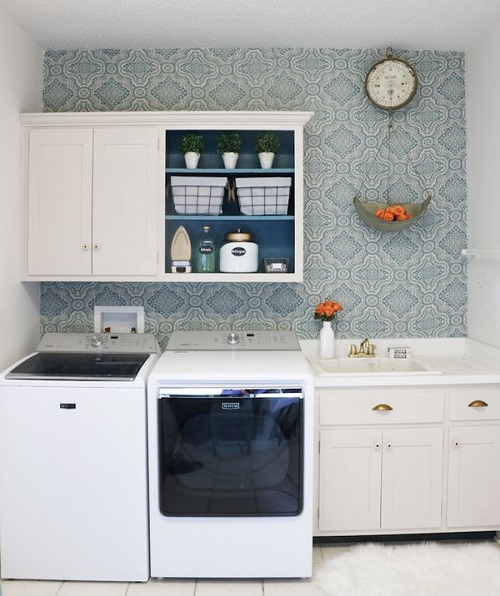 This blogger transforms her dark and dreary laundry room into a brighter space with paint, hardware, boxwoods, baskets, glass containers, and fabric wallpaper.
3. $90 DIY Plywood Waterfall Countertop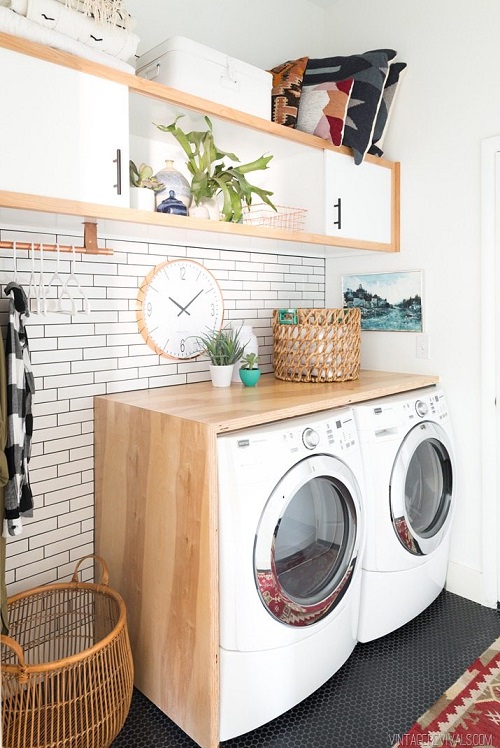 DIY this waterfall countertop to give your laundry room an elegant facelift and a spot to fold and sort clothes.
4. $100 Laundry Closet Makeover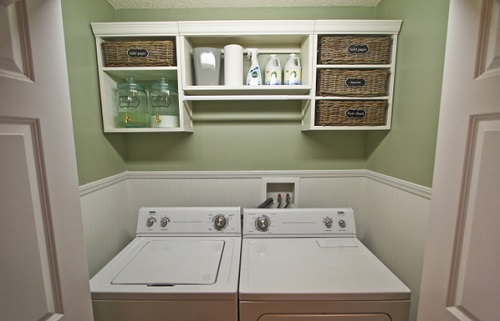 Grab green paint, beadboard wallpaper, shelving unit, molding, a rod, baskets, and beverage dispensers for this laundry closet makeover project.
5. Rustic Industrial Laundry Room Reveal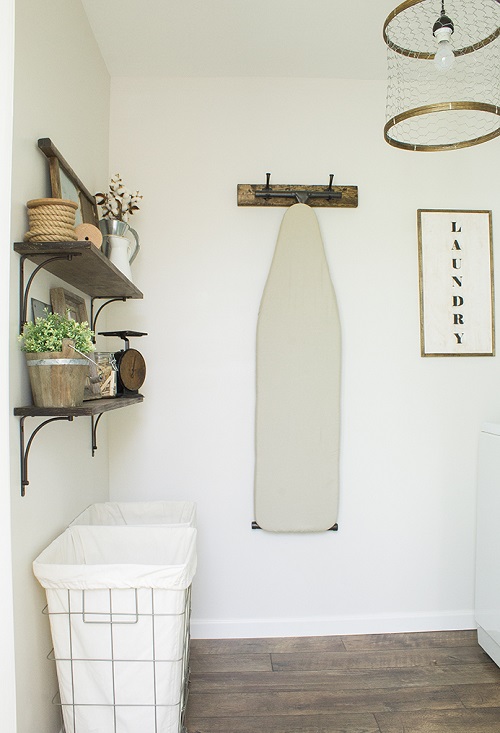 Fill the laundry room with rustic industrial vibes by installing a chicken wire light fixture, stock cabinets, an old ironing board hanger, wooden canvas art, stained shelving, and laundry bins. Read more here.
6. Turquoise Laundry Room with a Light Fixture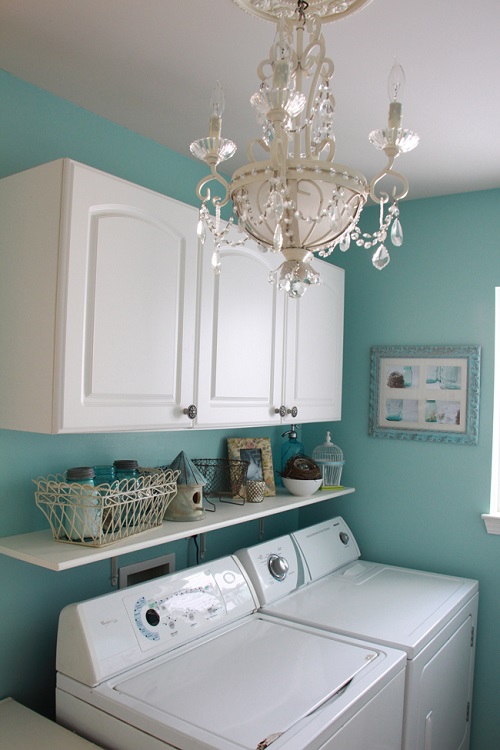 Trade the existing light fixture with a chandelier, paint the walls in turquoise and hang art on the wall for a luxe makeover. The details are here.
7. Laundry Room with Extra Shelves and Hanging Space

This makeover idea not only makes the laundry room lively but also maximizes the storage space to organize miscellaneous stuff.
8. $10 Laundry Room Makeover with a Shelf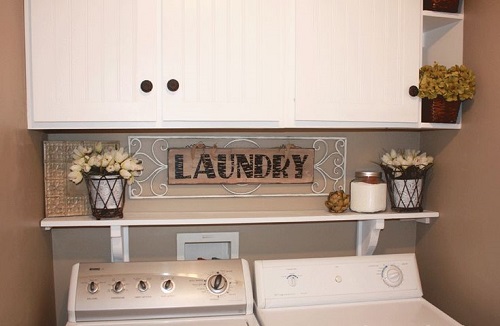 If you want to give your laundry room a quick makeover, install a DIY shelf that stores detergent, dryer sheets, and display planters as well. Read more here.
9. Stenciled Wall, Striped Floor, and Other Updates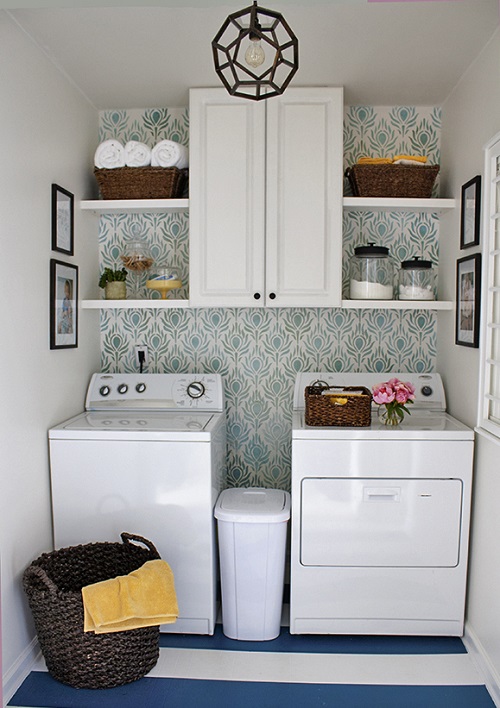 All you have to do is stencil the wall, paint the vinyl flooring, and install a cabinet, wooden shelves, and a geometric light fixture to update your small laundry room.
10. Extreme DIY Small Laundry Room Makeover
Check out this video to give your tiny laundry space an extreme overhaul. This project needs basic DIYing skills and a little patience.
11. $50 Laundry Room Makeover
If you want to make your boring laundry space lively and organized for under $50, this video tutorial is for you.
12. DIY Renter-Friendly Laundry Room Transformation
Are you looking for an affordable, renter-friendly makeover idea for your laundry room? This video tutorial fits the bill.
13. Chic Laundry Room Redo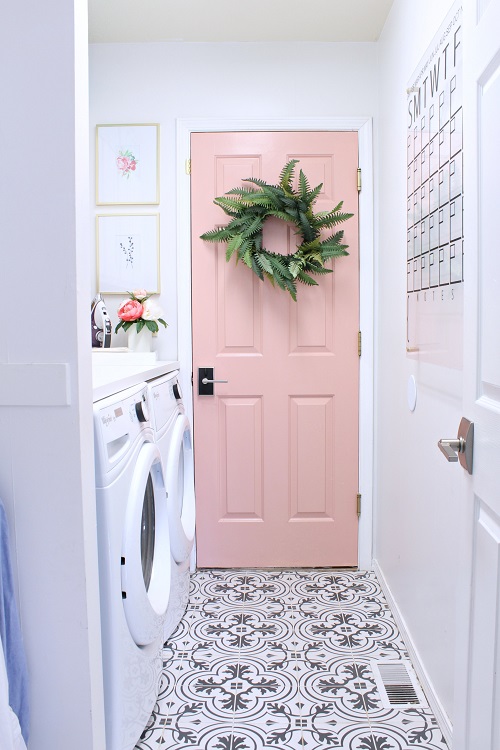 To modify the appearance of your old laundry room, paint the walls and cabinets white, make the door pinkish, replace tiles, and hang a wreath.
14. DIY Dutch Door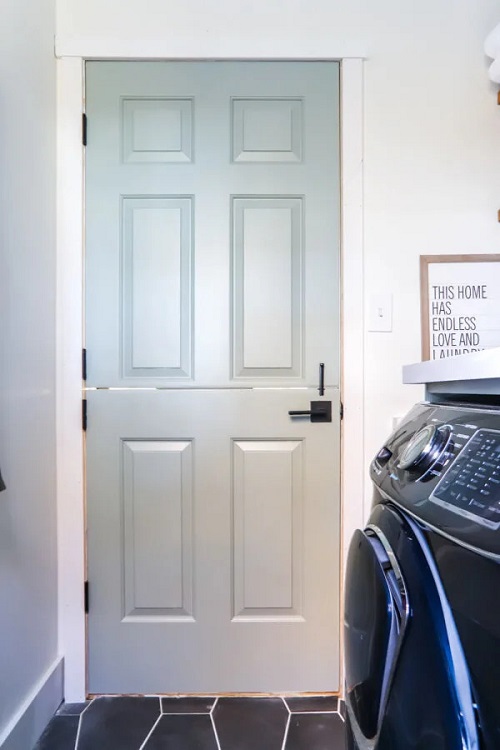 Add personality to your dated laundry room by replacing the existing bland door with this charming dutch door. The details are here.
15. Tile the Walls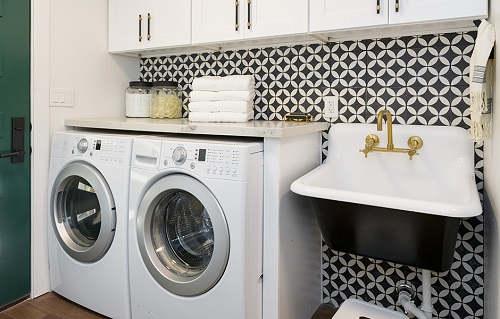 Install geometric black and white tiles on the laundry wall for a cheap, no-fuss makeover. Further, introduce a cast iron sink for added charm.
16. Modern Farmhouse Laundry Room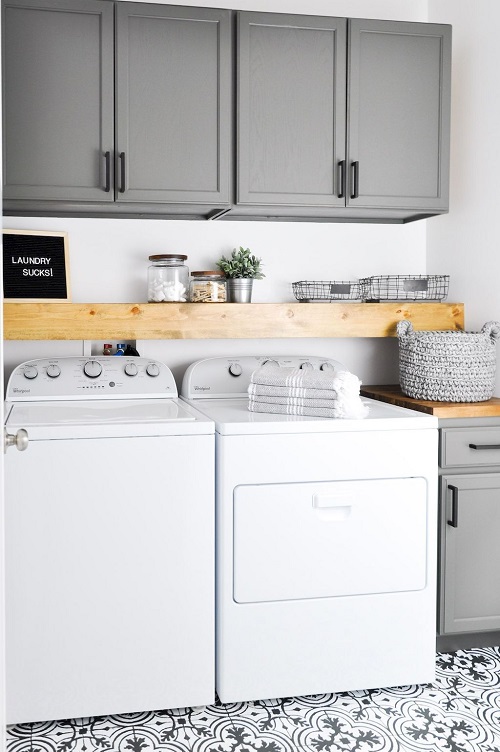 Take inspiration from this article to transform your builder-grade laundry room into a gorgeous modern farmhouse-inspired space.
17. 4-Hour Tiny Laundry Room Makeover
All you need is 4 hours and this tutorial to turn a tiny laundry room into a more stylish and comfortable space.
18. Simple Laundry Room Makeover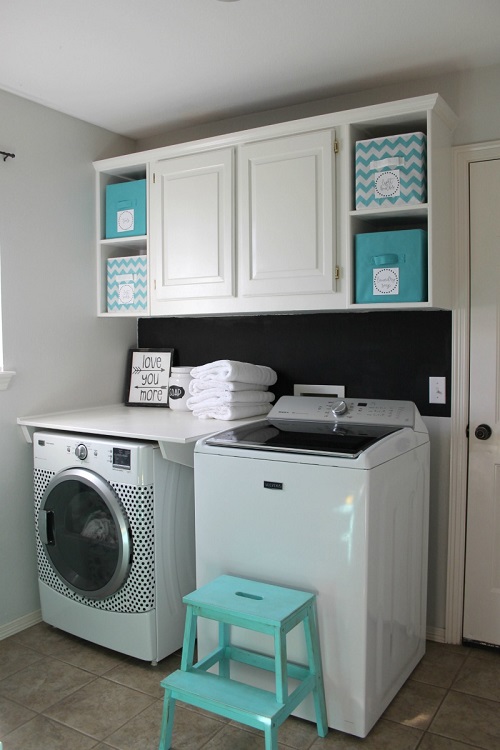 Here's the tutorial to turn your laundering space into a stylish oasis with lots of storage space. It's one of the most simple laundry room makeover ideas on this list.
19. Brightened Laundry Room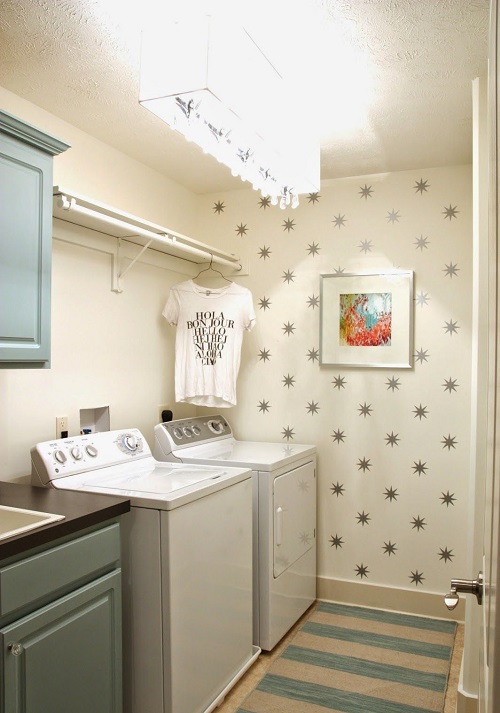 With a rectangular chrome chandelier, star wall decals, and wall art, you can easily brighten up any windowless laundry room.
20. Laundry Room Mini Makeover
You don't have to be a DIYing expert to freshen up a laundry room. Just follow this mini-makeover video tutorial, and that's it.
21. Beginner Friendly Laundry Room Makeover
Are you feeling trapped in your unsightly laundering area? End the nightmare by changing its appearance with a cabinet, shelves, peel, and stick backsplash.
22. Laundry Room Renovation on a Budget
Pump up the appealing factor of your laundry space with black wall paint, Ikea shelves, rack, buckets, Ikea drying rack, and other stuff.
23. Stenciled Washer And Dryer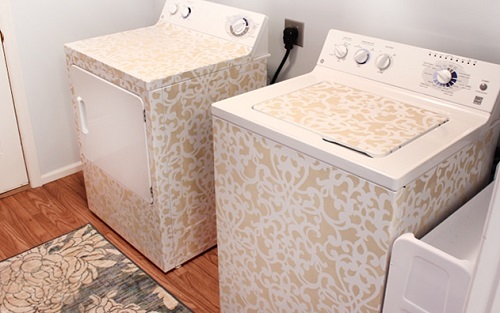 To give your laundry room a quick makeover without a complete redo, all you've to do is stencil the washer and dryer. Read more here.
24. Beachy-Themed Laundry Room Makeover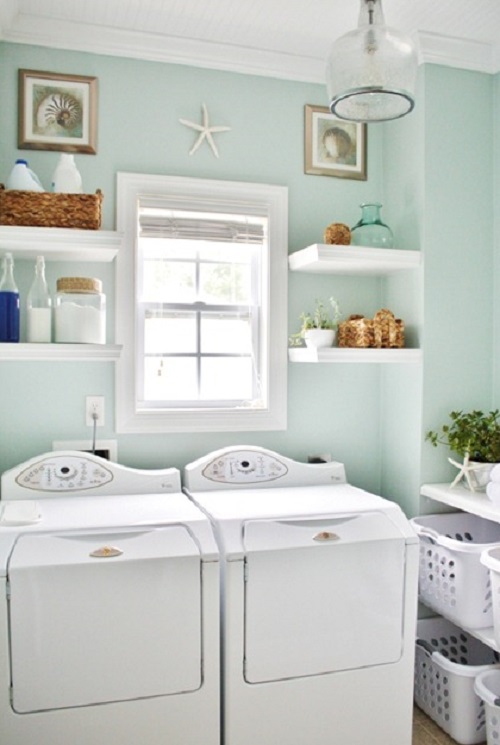 Love everything about beaches? So why not fill your laundry room with cheerful, beachy vibes using this excellent makeover idea.