Repurpose the spare tiles of your recent home improvement project with these ingenious Leftover Tile Ideas!
Have you recently done a renovation? Then you probably have spare tiles at your disposal. Put those extras to work with these amazing Leftover Tile Ideas.
Leftover Tile Ideas
1. Tile Coasters

Rather than buying coasters, DIY your own using tiles. These coasters are an excellent gift for special occasions.
2. Tile Table Top

With some leftover tiles and a bit of paint, you can renovate a garden tabletop and makes it sturdier. Read more here.
3. Decorate Flower Pots with Tiles

Add a little pizzazz to your dull clay pots with tiles. All you need is glue, tiles, a hammer, and this DIY.
4. DIY Tiles Planter
If you're running out of pots, tiles are your best friend. Create adorable planters with leftover tiles.
5. Tile Flower Vase
DIY this quick and easy pretty flower vase out of mosaic tiles to display your flowers in style.
6. Tiled Plant Stand

Use ceramic tile, birchwood sticks, and this tutorial to DIY a stylish plant stand. It's one of the most brilliant leftover tile ideas on this list.
7. Decorative Tiled Serving Tray

This chic tray made from leftover marble tiles is perfect to showcase crockery or serve treats to guests.
8. DIY Tile Magnets
Take your craftiness to new heights by making these tile magnets to pin all your photos, kids' drawings, and daily reminders on the fridge.
9. Wall Hanging Ceramic Tile Photo Coasters
Make the most out of leftover tiles by creating wall-hanging photo coasters to display vacation photos or gift them as souvenirs to loved ones.
10. Mosaic Tiled Bathroom Mirror

Transform your bathroom mirror into an eye-catching statement piece with mosaic tiles and this DIY. This project is inexpensive and newbie-friendly.
11. DIY Ceramic Tiles Table Runner

Make a beautiful and practical table runner out of ceramic tiles. It can be cleaned easily after a spill and leakage.
12. A Wall Art

Instead of tossing out spare tiles, use them to create this chic wall art. It complements your home decor and adds character to the space.
13. Mosaic Tile Window Box Planter

Tiles are not limited to flooring purposes, they can enhance the look of your ordinary redwood window box planter as well. This project doesn't need any power tools.
14. Homemade Tile Cheeseboard

Make a frugal yet chic cheese board out of tiles to add a little bit of fun and character to the dining table.
15. Ceramic Tile House Numbers

One of the best ways to utilize the excess ceramic tiles is by making eye-catching house numbers out of them. It's a fun weekend project to do with your kids.
16. DIY Subway Tile Nameplates

Turn useless subway tiles into adorable nameplates to make your bedroom or front door a talking point among your guests.
17. Make Coffee Table From Ceramic Tiles
Watch this video tutorial to make a cutesy coffee table from ceramic tiles – an excellent decorative and functional piece for the patio or porch.
18. Mosaic Tree Trunk

Give your tree trunk a massive makeover using spare tiles. It's a funky addition to your yard and also works as a side table and a cheap, cheerful seating area as well.
19. Make a Recycled Tile Mosaic Patio
Create a mosaic tile pattern on your patio floor with spare tiles. You can use broken, different sizes and colors of tiles in this project. It's probably one of the most creative leftover tile ideas to date.
20. Mosaic in the Garden
Check out this video tutorial to learn how to prettify your garden area with a multi-patterned mosaic made from tiles.
21. DIY Marble Necklace

Even a funky and statement-making necklace can be made out of spare tiles. Jewelry lovers will surely adore this project.
22. DIY Jewelry Hanger

DIY this tile hanger to organize all your jewelry in a single place. It's cheap and looks quite aesthetic as well.
23. Leftover Tiles as a Paint Palette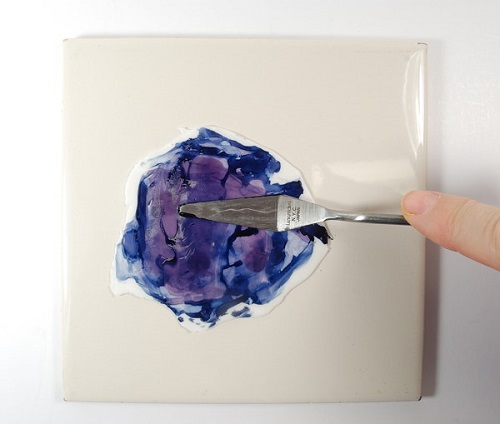 If you desperately need a paint palette, instead of running to the store, use tiles because their surface is perfect for mixing paint colors.
24. DIY Saw-Free Tiled Countertop

Take advantage of leftover tiles to enhance the look and feel of your monotonous kitchen countertop. The best part, it's a saw-free project.
25. Homemade Terrarium-Inspired Tiled Candle Hurricanes

Making elegant terrarium-inspired candle hurricanes is a clever way to use old tiles. The hurricanes are breathtaking display items for outdoor parties.