For an eye-pleasing and timeless look, opt any of these gorgeous Blue Kitchen Cabinet Ideas that'll surely brighten up your cooking space!
Instead of replacing your old cupboards, revive the present ones with new hardware and a few coats of paint for an instant facelift. Get inspiration from this exclusive list of Blue Kitchen Cabinet Ideas.
Here are some fantastic decorating ideas for above kitchen cabinets
---
Blue Kitchen Cabinet Ideas
1. Versatile Shaker Cabinets
Perfect for modern and old apartments, these minimalist but still distinctive pale blue shaker cabinets can give your cooking space a fresh, clean, and timeless feel.
2. Deep Blue Kitchen Cabinet with Copper Fixture
This deep blue kitchen cabinet will work quite well with vintage-themed houses. The mounted copper faucet surely adds a contemporary vibe and further brightens the area.
3. Modern-Rustic Kitchen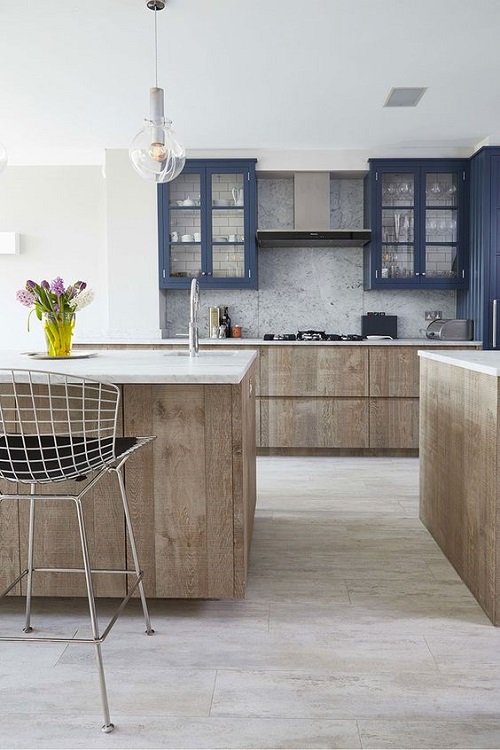 Spruce up your monotonous cooking space by installing lower rustic wooden cabinets and blue upper cupboards paneled with shining subway tiles. It's a fancy way to install minimal kitchen decor in your home.
4. Cutout Cabinet Pulls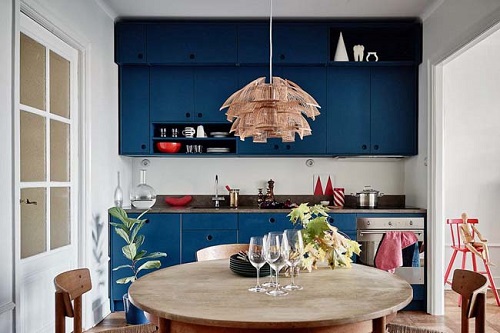 Add zest to your boring cooking space with these navy blue cabinets. The cabinets feature elegant cutouts that preclude the need for expensive knobs.
5. Retro Painted Cabinets
This wooden cabinetry adds retro flair and texture to the kitchen. The cabinets are painted with Hague blue shades and are equipped with oversized knobs and handcrafted ceramic tiles.
6. Contemporary Blue Kitchen Cabinets
A kitchen space with electric blue cabinet doors, timber countertop, and redwood-covered vent hood shall give a sleek and modern look. It's one of the best blue kitchen cabinet ideas.
7. Two-Tone Blue Kitchen Cabinet Ideas
For a modern, chic, and relaxed vibe, furnish your cooking space with these navy-painted cabinets. The cabinets have leather pulls and minty blue cupboards on the left.
8. Rustic Turquoise Kitchen Cabinets
Give your kitchen a vintage look by painting the turquoise cabinets with blue oil stain and rubbing off the wood finish stain. This is one of the gorgeous blue kitchen cabinet ideas on this list that can provide a rustic theme without spending much money.
9. Flat-Front Cabinets
Gorgeous-looking, custom flat-front blue cabinets will blend seamlessly with the rest of the space and spread a chic, eclectic vibe too.
10. Blue Top Cabinets
Want to create a pop-art flash using cabinets in your streamlined kitchen space? Look no further, as this idea calls for painting the upper cupboard with glossy aqua blue and the lower ones with white.
11. Blue Bottom Cabinets And White Uppers
Opposite to the previous one, this idea features white top cabinets and blue bottom cabinets with a custom hood that adds a bit of character and texture to the space.
12. Kitchen Appliance Cabinet Panels
This themed blue and white style would not only charm up your kitchen but give it a royal look as well.
13. Charcoal Blue Base Cabinets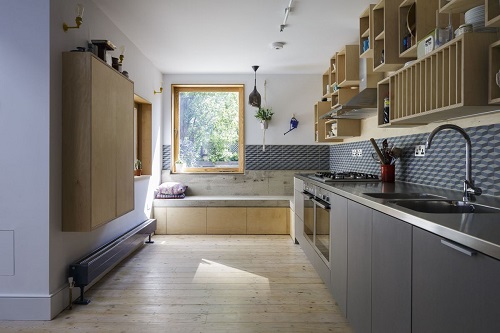 To make your kitchen stand out, install dark charcoal blue cupboards to the bottom and natural wooden ones to the upper. It's one of the amazing blue kitchen cabinet ideas.
14. Soft Blue Cabinets with Mahogany Countertop
Equipped with soft blue timeless cabinets, mahogany countertops, and creamy beadboard walls, this kitchen space will look gorgeous and admirable.
15. Toned Down Blues
This gorgeous idea is all about painting the lower cabinets with dark gray-blue that allows the white farmhouse sink and lighter walls to pop.
16. Chic Butler's Pantry
This stylish kitchen highlights dark blue shaker cabinets fitted with brass fixtures, a marble worktop, and black subway tiles.
17. Laminated Blue Cabinets
From wall to ceiling, the laminated icy blue cabinets are easy to clean and look fashionable by giving enough of a pop of design.
18. Modern Navy Blue Kitchen Cabinets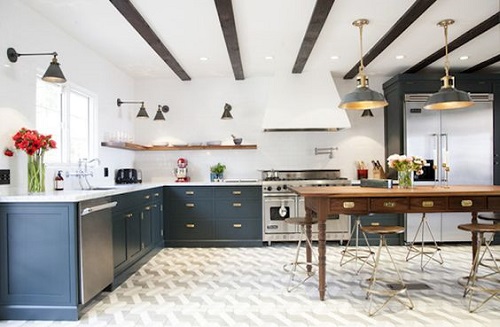 The bold navy blue cupboards featuring brass handles perfectly coordinate with the encaustic tile floor and white walls. It's one of the beautiful blue kitchen cabinet ideas to take inspiration from.
19. Small Cottage Kitchen
Have less space in your kitchen? No worries, take a look at this idea, which showcases chic dusty blue cupboards, and white subway tiles to make the space feel larger.
20. Neutral Blue Gray Kitchen Cabinets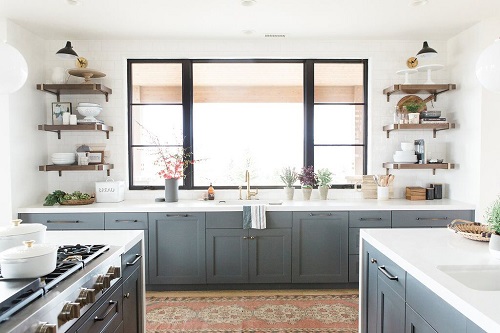 Give your farmhouse-inspired cooking space a timeless feel by equipping it with neutral gray-blue cupboards. You can also install rustic walnut shelving for added warmth.
Here are some easy DIY kitchen backsplash ideas
21. Tiffany Blue Kitchen
The tiffany blue painted cabinetry goes pretty with the white walls of this cooking space.
22. Bold and Bright Kitchen Cabinets
Looking for kitchen cabinetry rich in jewel tones? Look no further, as this idea showcases sapphire-inspired overwhelming shade for cabinets. The sunny Mexican tiles, butcher block-topped island, and reclaimed wood barstools complete the look.
23. Cobalt Blue Kitchen Cabinets
This cooking space has cobalt blue cabinets and white worktops for added warmth, character, and personality. It's one of the fantastic blue kitchen cabinet ideas.
24. Beachy Blue Kitchen Cabinets
These eye-pleasing beachy blue-coated kitchen cabinets look mesmerizing and channel the serenity of the shore.
25. Serenity Blue Kitchen Cabinetry
Add a retro and calming look to your kitchen space with these serene blue kitchen cabinets, white marble worktops, and brass faucets.
26. Chic White and Blue Cabinets Idea
White upper cabinets and dusty blue lower cabinets with brass faucets look chic and lightweight. A few plants and other embellishments will complement the look even more.
27. Bold Blue Kitchen Cabinet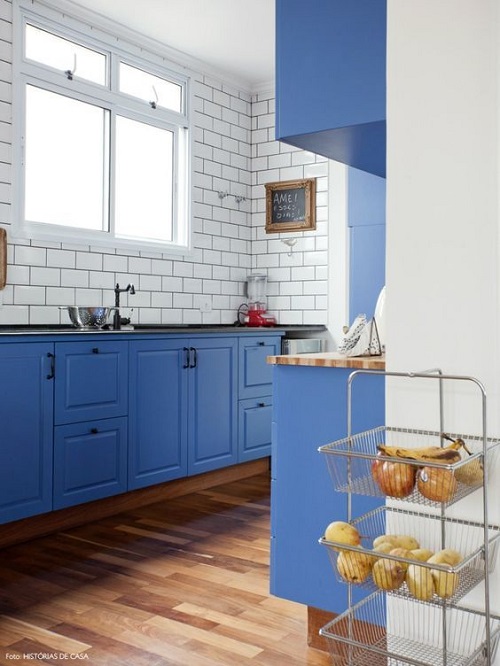 For your next cabinet project, paint cabinets in bold blue paired with white subway tiles and black grout.
28. Blue Kitchen Cabinet Idea with Assorted Tile Backsplash
Adorn your kitchen space with bright blue cabinetry that coordinates well with variegated bold tile backsplash and white marble countertops.
29. Blue Chalkboard Cabinets Idea
Give your kitchen a vintage and classy look with these roman blue chalkboard-painted top and bottom cabinets. This decor will take you back in time!
30. Muted Blue Kitchen Cabinets
Coated with muted blue tone, these sleek handle-free cupboards are one of the most stunning blue kitchen cabinet ideas.
31. Rustic Blue Kitchen Cabinets
Set rustic charm to your farmhouse-style wooden kitchen by painting the upper and lower cabinets with turquoise color.
32. Blue Cabinets with Butcher Block Countertops
Dark blue painted cupboards with saturated butcher block countertops are perfect for a compact cooking space. It's one of the most awesome blue kitchen cabinet ideas.
33. Baby Blue Kitchen Cabinets with Brass Hardware
Modify your kitchen cupboards like the one owned by the Hollywood actress "Nina Dobrev." The decor features baby blue shade cabinets paired with brass hardware and a subway tile backsplash. Read details here.
34. Royal Blue Kitchen Cabinets
The glossy royal blue shade of these kitchen cabinets pops beautifully, thanks to the combination of chrome backsplash and crisp white walls.
35. Retro Ocean Blue Kitchen Cabinets
Ocean blue kitchen cabinets with hints of yellow and beige not only add character but also give a retro look.
36. Navy Blue Cabinets with Wood Countertop and Brass Hardware
Rich navy blue shaded cabinets equipped with brass handles and a wooden countertop will make your kitchen the focal point of your home.
37. Blue-Green Kitchen Cabinet Ideas
Beautify your kitchen by pairing soft blue-green cabinets with wooden flooring, veined white marble countertops, and backsplash.
38. Midtone Blue Cabinets
Whether the kitchen is large or small, these statement-making mid-tone blue cabinets matched with wooden flooring will feel light and airy.
39. Pale Blue Kitchen Cabinets
Perfect for cottage, country, and classic kitchen designs, these pale blue cabinets promote the feeling of tranquility. Pair them with veined white marble worktops, subway tiles, and wooden flooring to boost warmth and interest.
40. Farmhouse Blue Kitchen Cabinets
The blue cupboards paired with a copper gas stove and blue hexagon tile backsplash will look gorgeous. It's one of the stunning blue kitchen cabinet ideas.
41. Navy Cabinets with White Kitchen Island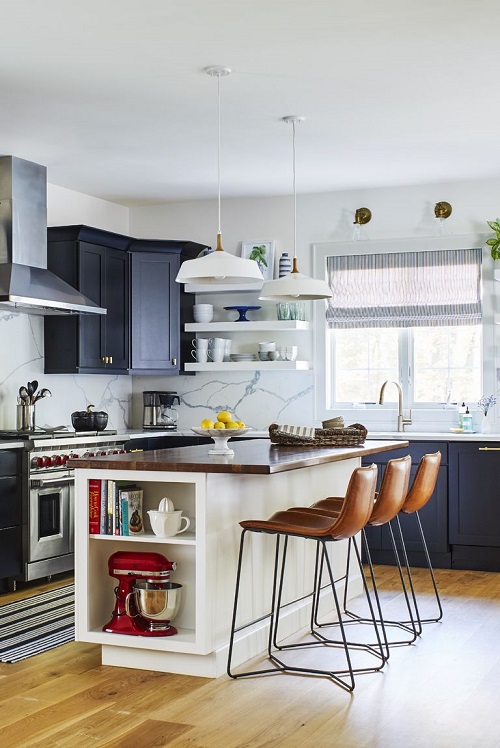 Beautify your dull cooking room by pairing the navy blue cabinetry with a white kitchen island. This combination will surely attract a lot of eyeballs.
42. Teal-Painted Kitchen Cupboards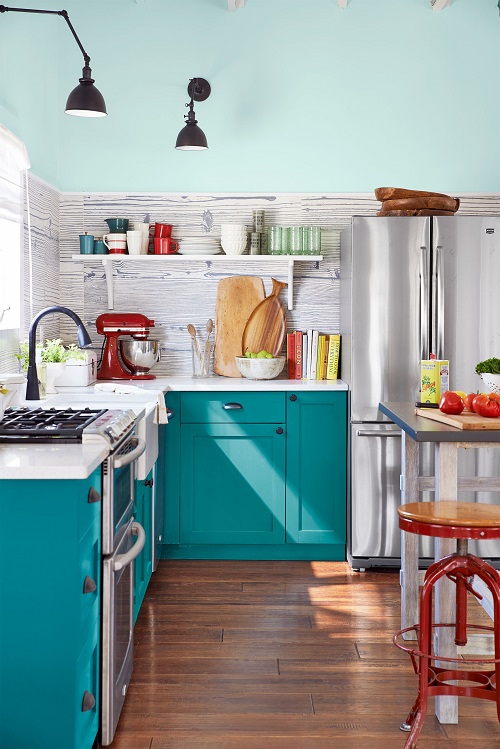 If you want to give your cooking space an aesthetic boost, paint the cabinets in a teal shade and use a marble backsplash.
43. Turquoise Cabinetry with Matching Dishwares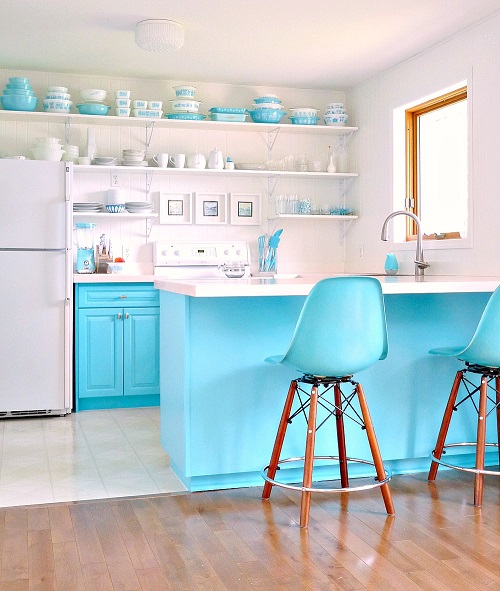 The blue-hued cupboards with matching dishwares and kitchen island give this space much-needed visual interest.
44. Blue Mist Kitchen Cabinetry Idea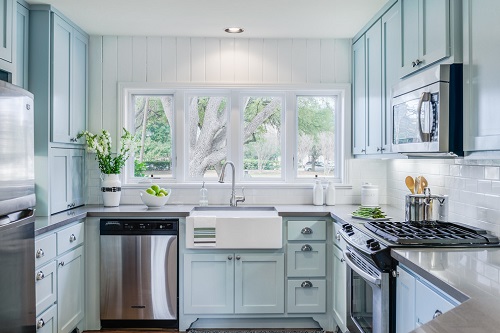 This kitchen space is adorned with blue mist cabinetry, a planter, and a white porcelain sink.
45. Raised Panel Cobalt Blue Cupboards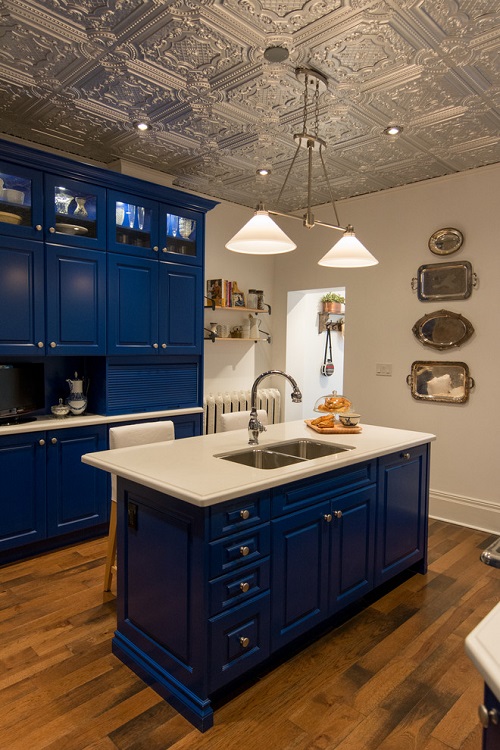 Install raised panel cobalt blue cupboards to give your kitchen a regal look. This shade pairs well with white elements.
46. Custom Blue Cabinets with Cream Trim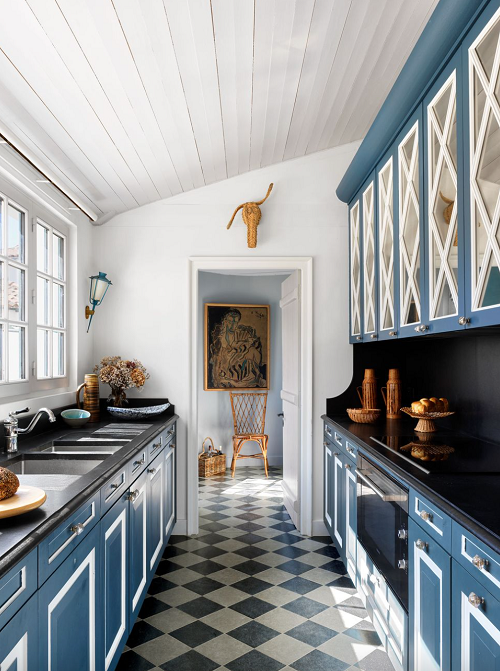 Highlighted by cream trim, these stylish cupboards are worth every penny. It's one of the fantastic blue kitchen cabinet ideas so far.
47. Dusty Blue Kitchen Cupboards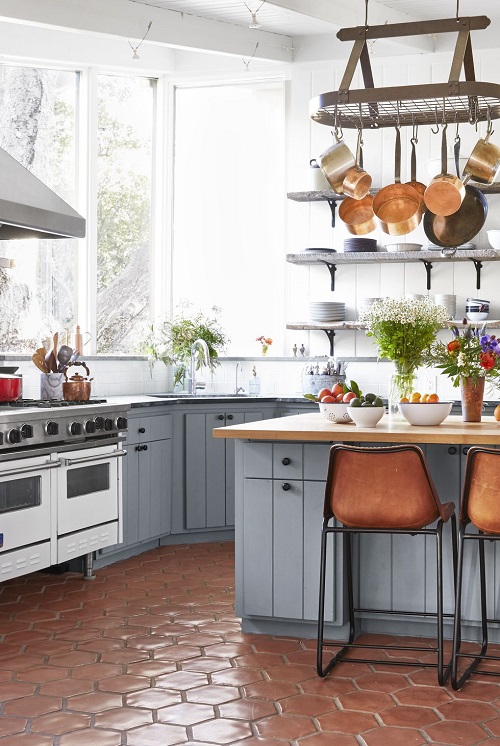 Paint your cabinets in a dusty blue shade for a more relaxing vibe. Use the hexagonal terracotta floor tiles for an added charm.
48. Blue Cabinetry Paired with Herringbone Pattern Backsplash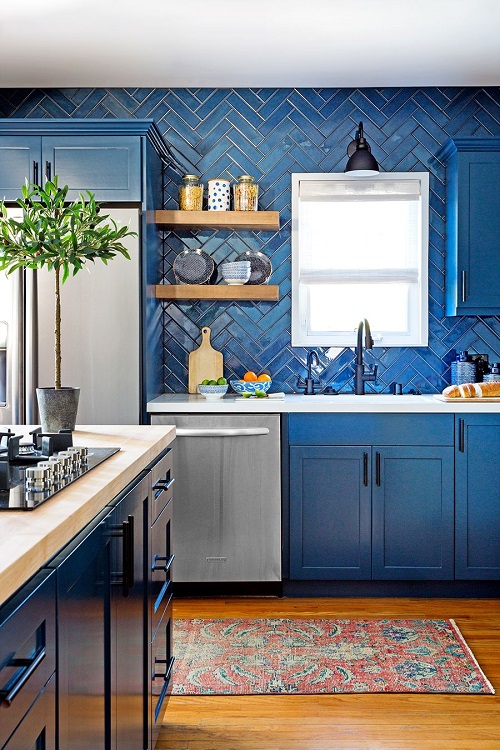 Prettify your monotonous cooking space with the visually appealing blue cabinetry and herringbone style backsplash.​
49. Deep Blue-Green Cabinets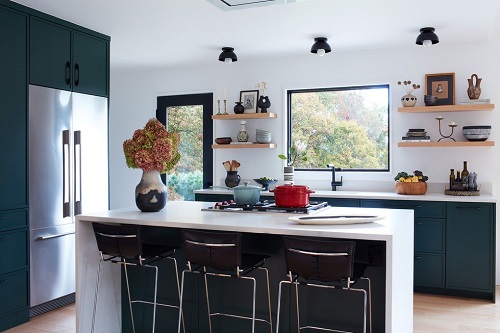 Are you confused between blue and green shades for kitchen cupboards? No worries, use deep teal color, as it gives a hint of blue and green hue.
50. Classic Duck Egg Blue Cupboards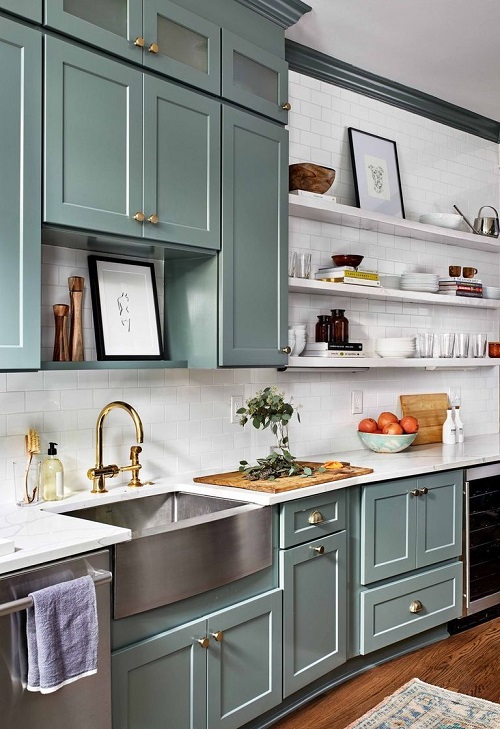 If you want to give your cooking space a classic look, paint the cabinets a duck-egg blue color.
51. Blue Kitchen Cabinet with Toile Wallpaper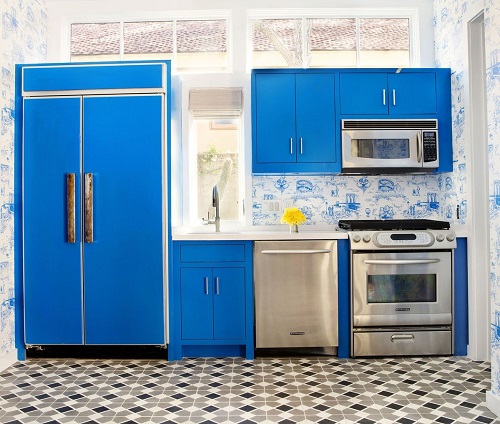 This attractive cooking space features glossy blue cabinetry, toile wallpaper, and geometric patterned tiles.
52. Glammy Kitchen with Pale Blue Cabinets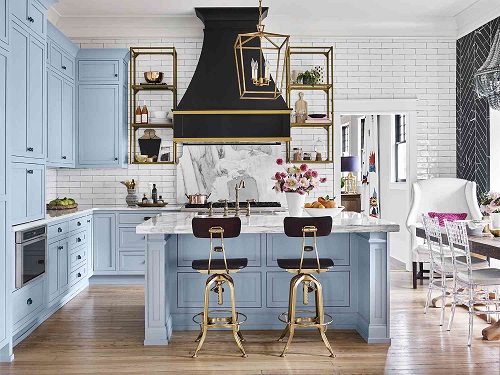 Highlighted by pale blue cabinets with black hardware, this glammy kitchen is full of sparkling personality.
53. Minimal Light Blue-Gray Kitchen Cabinets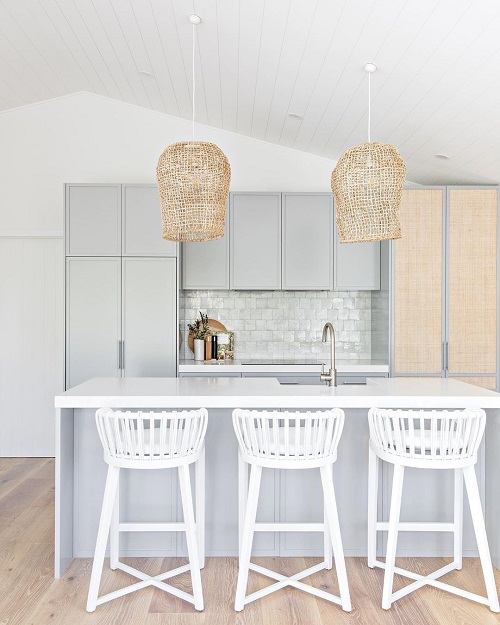 Cover the kitchen cabinets with a light blue-gray shade and install rattan pendant lights for a minimal coastal look.
54. French Blue Shaker Style Cabinets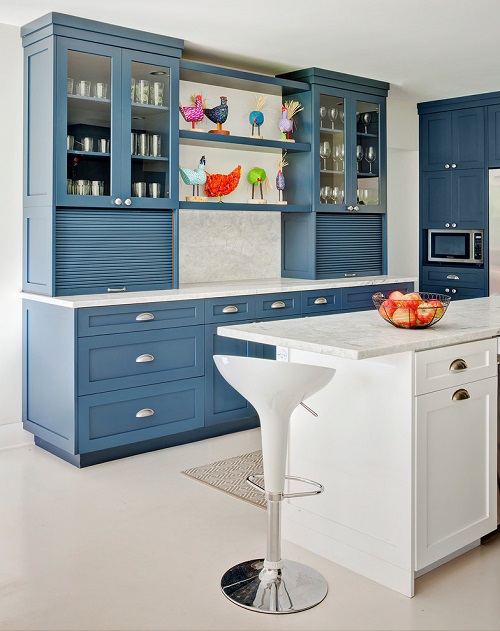 Use french blue to highlight the details of your shaker-style cabinets. It's one of the eye-catching blue kitchen cabinet ideas.
55. The Glossiest Blue Cupboards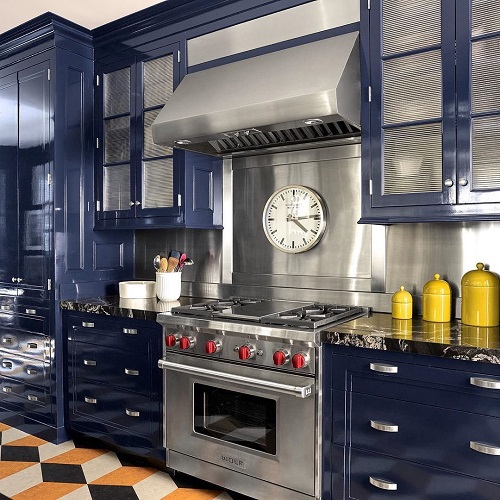 The eye-grabbing glossy cabinets and poppy yellow storage containers add personality and drama to this cooking room.
56. Blue Painted Cabinets & Black Tiled Backsplash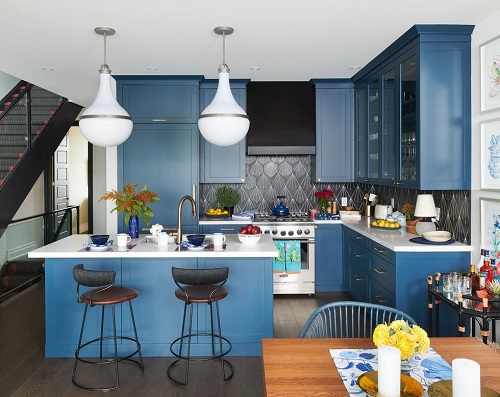 The combination of black tiled backsplash and blue-hued cupboards amps up the visual appeal of this kitchen.
57. Red and Blue Kitchen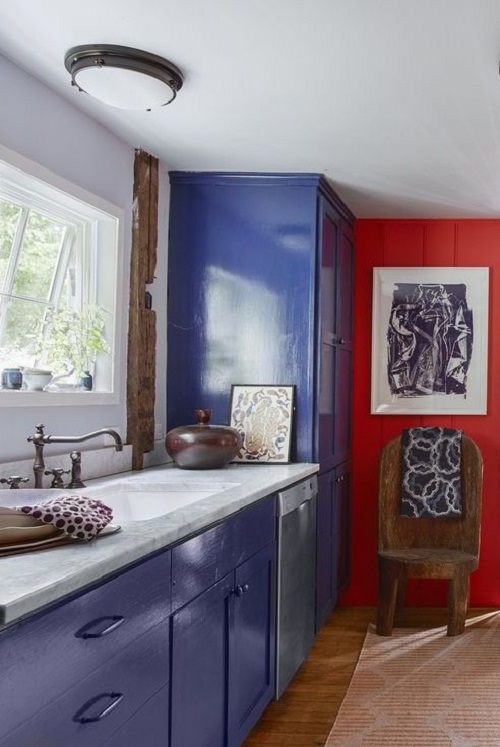 To create a bold yet impressive kitchen space, paint the cupboards blue and the walls red.
58. Blue with a Hint of Gold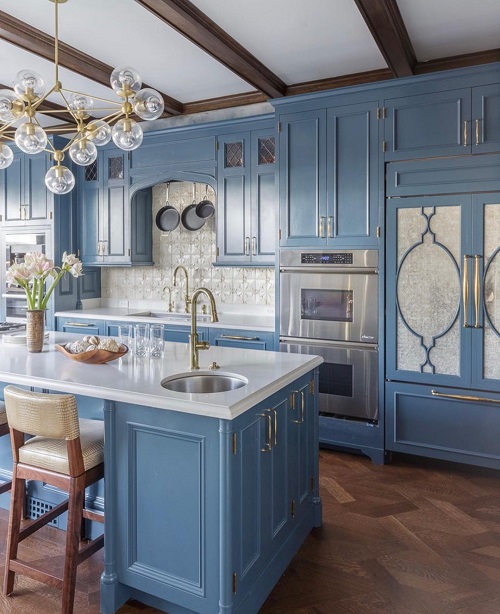 Are you planning to remodel your kitchen? Consider blue-hued cabinetry with brass handles, faucets, and a chandelier for a hint of gold.
59. Blue Cabinetry with Wood Tones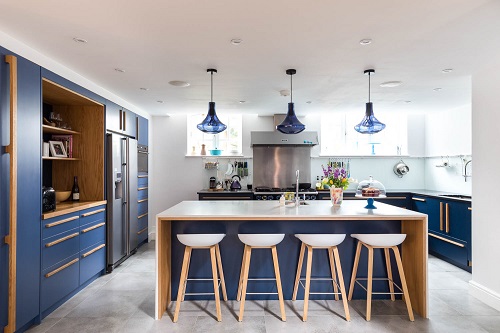 Showcasing gorgeous statement oak handles, these blue kitchen cabinets feel timeless.
60. Metal Grate Cabinets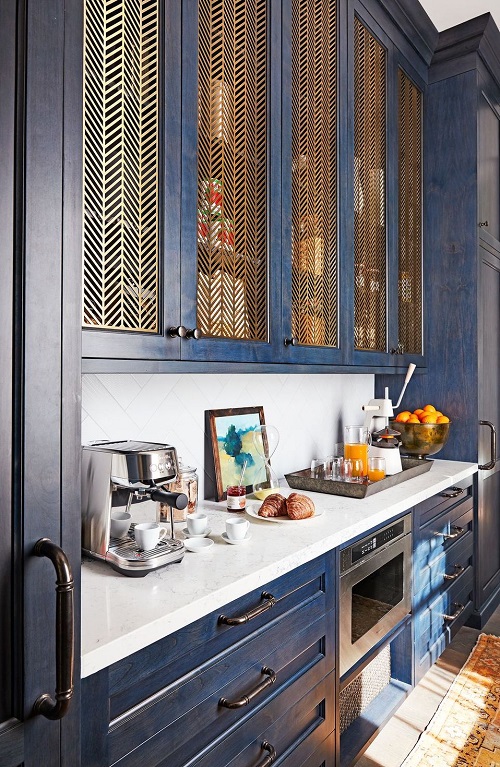 The metal grates of these cupboards let you peek inside and enhance the kitchen's appearance. Get inspired by this one of the fantastic blue kitchen cabinet ideas.
Find out the best kitchen countertop ideas here