Try one of these Low-budget and Easy Container Ideas For Herb Gardens and get a fresh supply of flavorful herbs with ease!
If you want a herb garden but the limited space and a tight budget is stopping you, check out this list of Low-budget and Easy Container Ideas For Herb Gardens below.
Have a look at some indoor greenhouse ideas for apartment gardens here
---
Low-budget and Easy Container Ideas For Herb Gardens
1. DIY Galvanized Tub Herb Garden with Plant Markers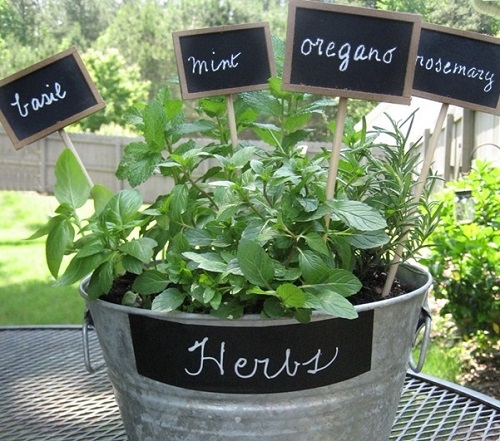 All you need is a small galvanized tub, pot filler, and potting soil to grow herbs in your kitchen, patio, or porch. Read more here.
2. Recycled Kitchen Tin Cans Herb Planters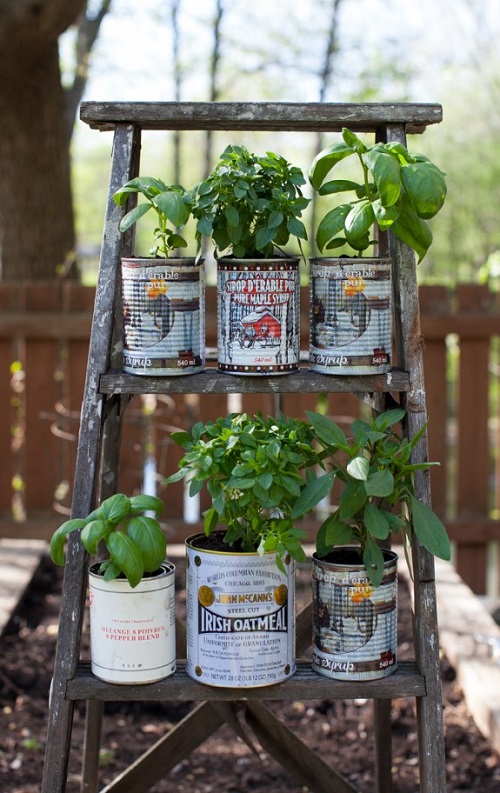 Instead of purchasing pots or planters, recycle empty tin cans to grow herbs. Further, you can use a wooden ladder to display the tin can planters.
3. DIY Clothespin Herb Planters
Use clothespins to make a mini planter and grow herbs of your choice. It's one of the best low-budget and easy container ideas for herb gardens.
4. Wine Bottle Holder Herb Garden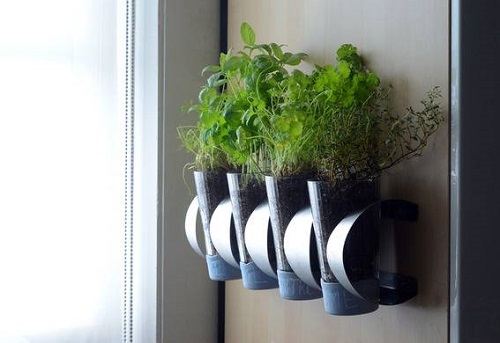 Grab an old wine bottle holder, pint glasses, and tiny rocks to make this quirky indoor herb garden. Find the tutorial here.
5. DIY Self-Watering Wine Bottle Herb Garden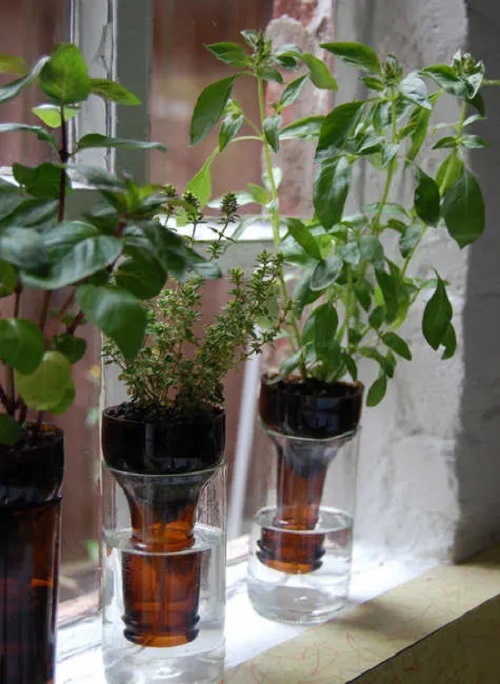 Check out this tutorial to make a self-watering herb garden with beer or wine bottles and a window screen.
6. Coffee Cans Upside Down Herb Garden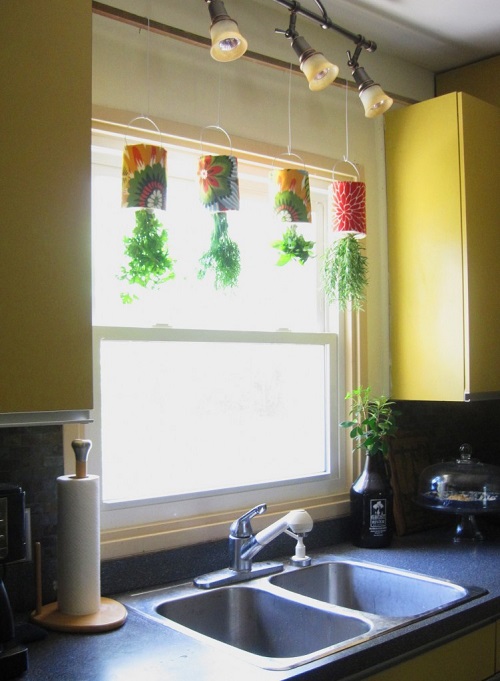 Coffee cans make excellent containers for an upside-down kitchen herb garden. The details are here.
7. Hanging Coffee Cup Herb Garden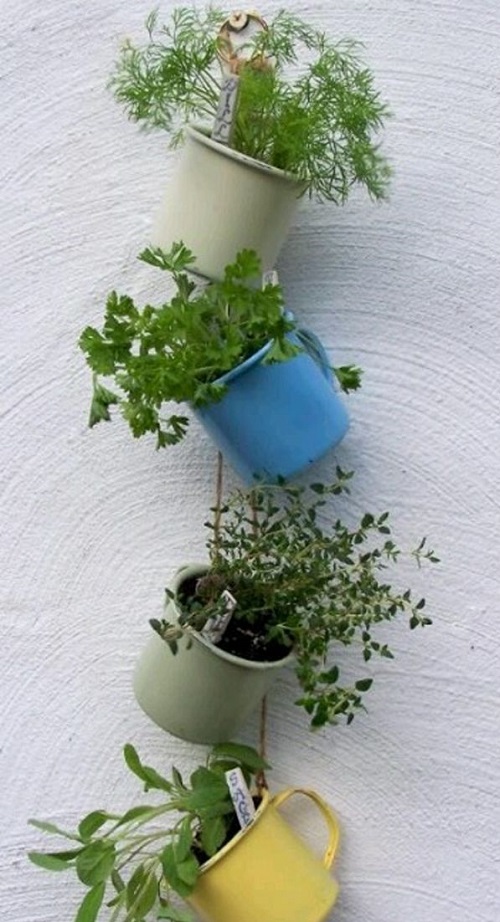 Follow this clever idea to turn enamel-coated metal coffee mugs into a creative hanging herb garden.
8. Old Kettle Herb Planter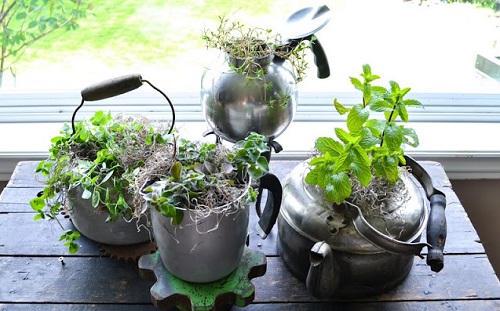 If you happen to have old tea kettles, transform them into herb planters using this tutorial.
9. Old Shoes Hanging Herb Garden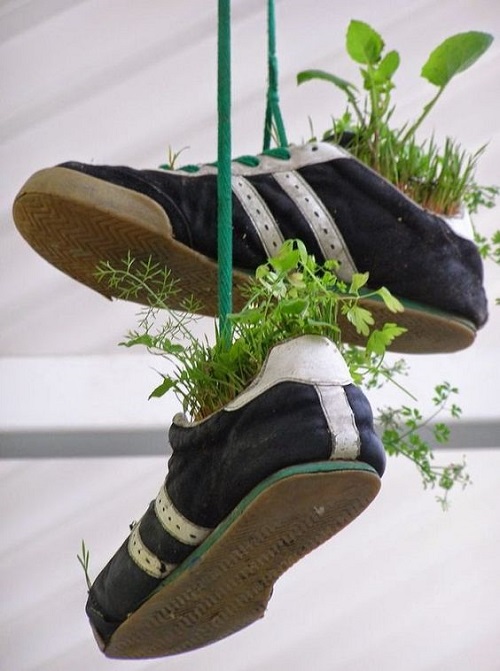 Hang shoes from their laces, fill them with potting soil and plant your favorite herbs. The details are here.
10. Mason Jar Herb Garden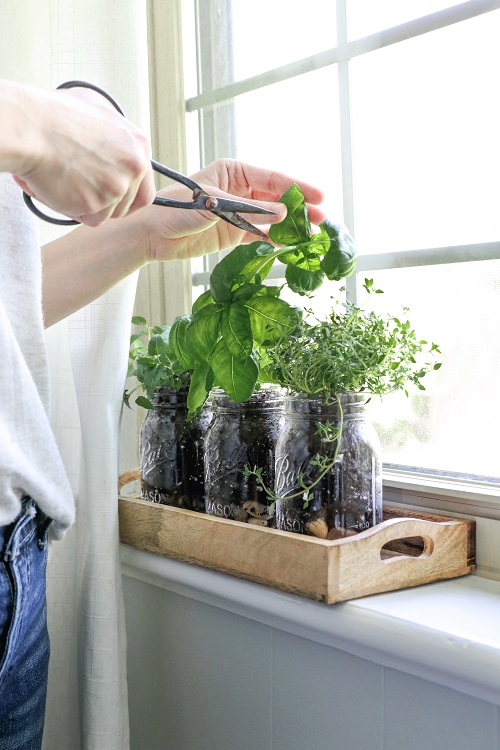 Make the most out of your empty mason jars by growing flavorful herbs in them. Get the instructions here.
11. Eco-Friendly Teacup Herb Pots
Do you know, old teacups can also be used to create a mini herb garden? If not, this article is for you. These beauties are affordable and perfect for gifting purpose.
12. Vertical Herb Garden in a Shoe Organizer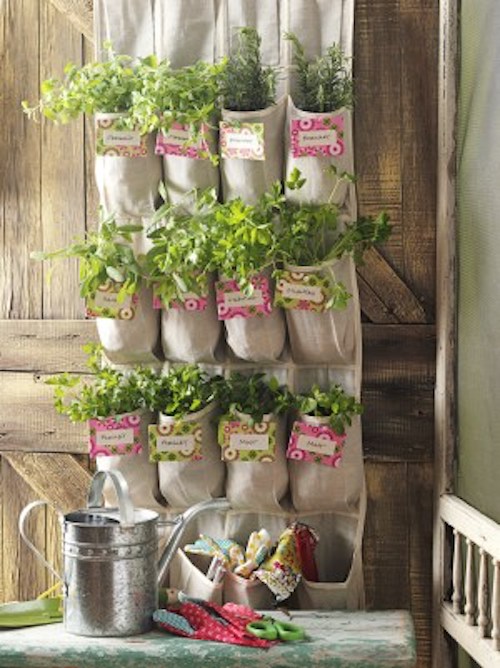 Running out of space to grow herbs? Don't fret, use a cloth shoe organizer to DIY a vertical herb garden in a few minutes.
13. Herb Garden in Food Cans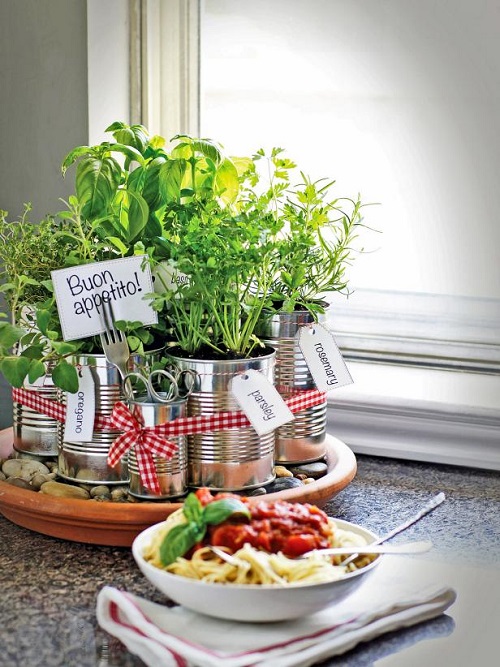 Gather empty food cans to make a compact kitchen countertop herb garden. Make sure every plant receives enough sunlight.
14. DIY Herb Planter For Less Than $10!
Watch this video tutorial to learn how to build the simplest $10 DIY herb planter box in less than ten minutes.
15. Hanging Wall Herb Planters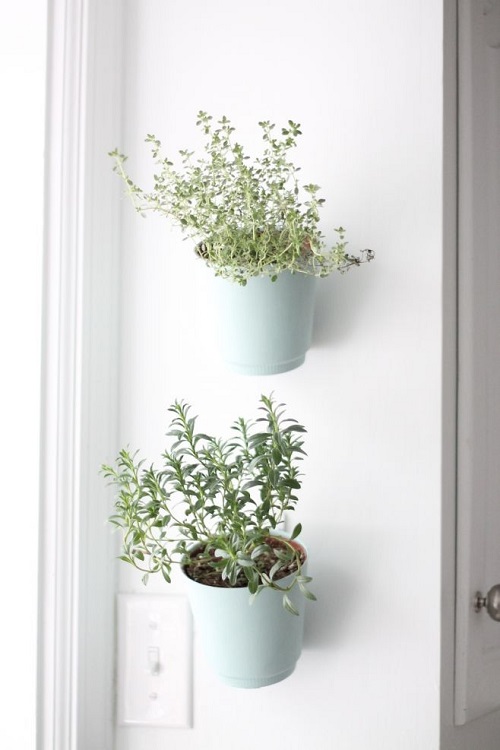 Instead of using regular clay pots, use plastic ones to DIY a vertical hanging herb garden indoors. Read more here.
Find out salad greens you can grow in pots in winter here
16. PVC Window Herb Planter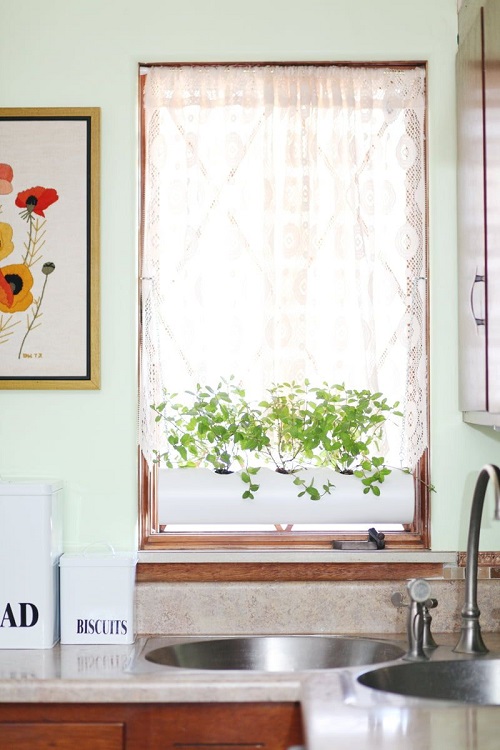 This unique window herb planter uses PVC pipe, eye hooks, knock-out plug, s-hooks, and a few tools.
17. Tea Tin Herb Garden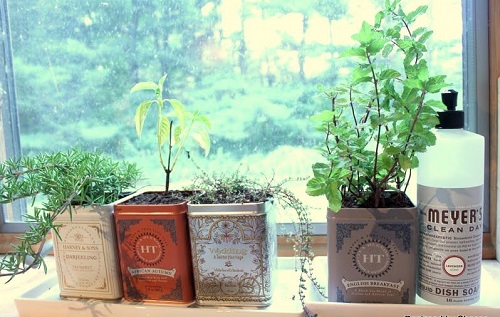 Repurpose a few empty tea tin cans to make inexpensive herb planters. The instructions are here.
18. DIY Egg Carton Herb Garden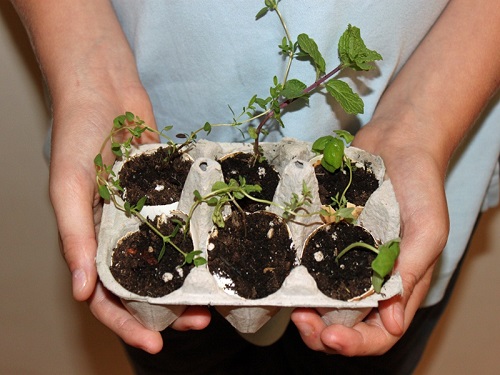 An egg carton is all you need to grow herbs of your choice. It's one of the cheapest herb garden container ideas.
19. Strawberry Pot Herb Garden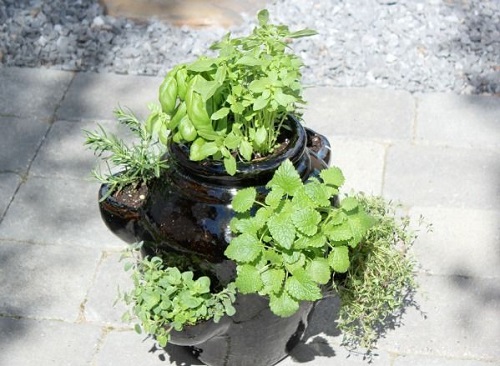 Check out how this blogger uses a strawberry pot as a cute little planter for growing herbs.
20. DIY Vertical Terracotta Herb Planter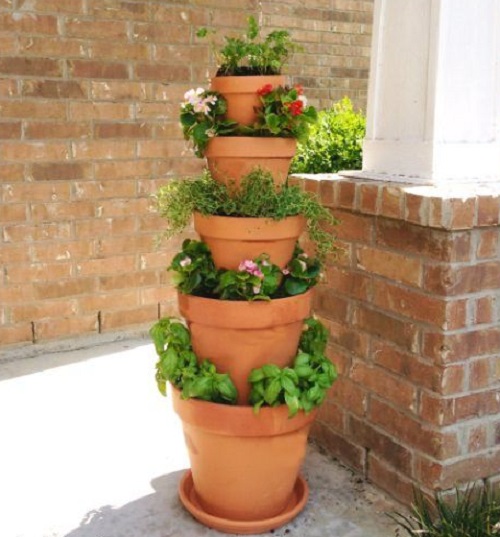 Make this space-saver vertical herb planter out of terracotta pots for your porch, patio, or balcony garden. Get the directions here.
21. Farmhouse Style Kitchen Herb Planter Box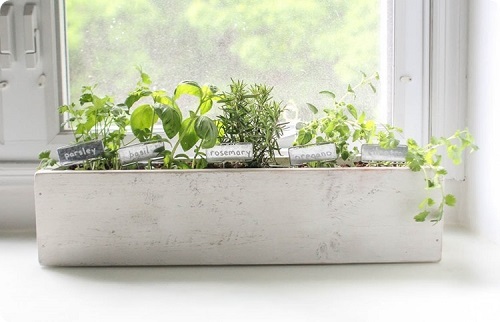 Build this farmhouse-style container from a pine board, nails, white paint, and weathered oak stain to get a fresh supply of herbs. Plus, it gives a timeless charm to any dull kitchen counter space.
22. Tiered Wire Basket Herb Container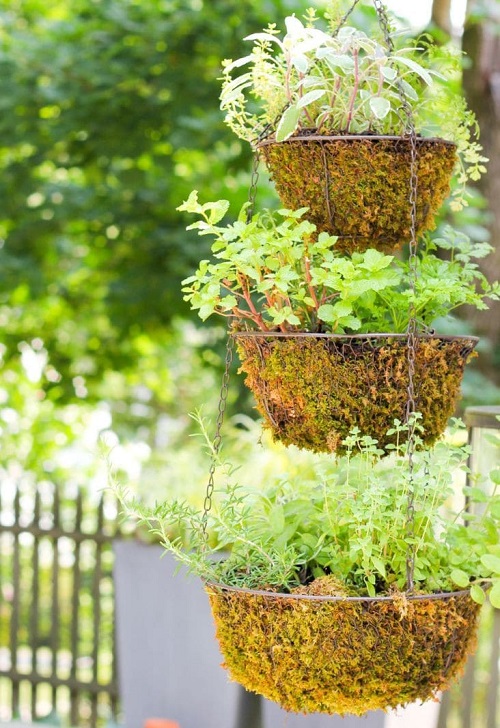 A tiered wire basket is a perfect container to make a lush vertical herb garden in an hour. Find the tutorial here.
23. Artificial Conch Shell Herb Container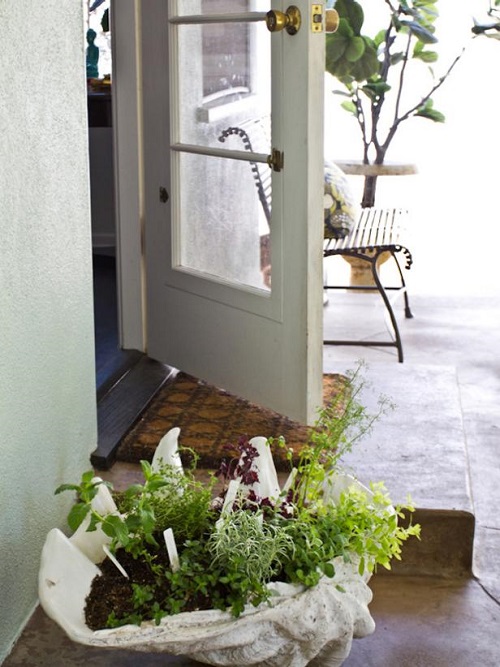 Create a stunning container herb garden using an artificial conch shell and keep it on the deck or patio. Visit here to get the How-to.
24. Herb Garden in a Basket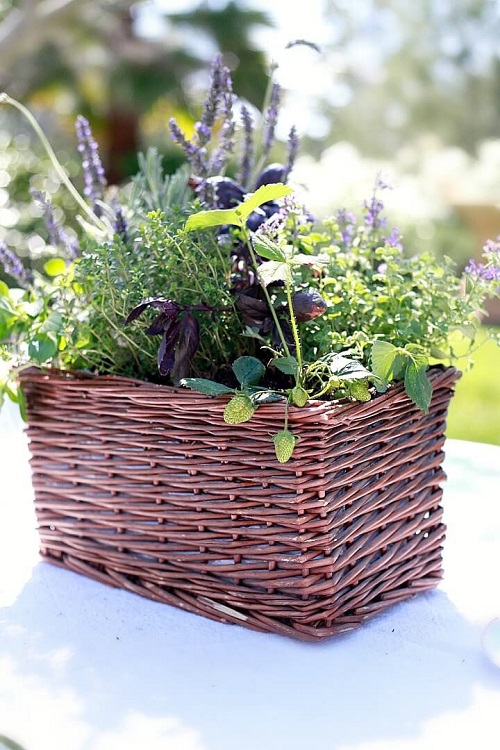 Visit this blog to find out how herbs are planted in a gift basket. It's a low-budget and beginner-friendly project.
25. Grow Culantro Herb in Plastic Bottles
Recycle plastic bottles to create your own hanging herb garden indoors. Check out the video tutorial to know more.