Create a relaxing ambiance around your house with these DIY Wind Chime Ideas for Garden. They are fun and easy to craft!
Check out these musical DIY Wind Chime Ideas for Garden to fill your outdoor space with their gentle, relaxing sounds. They are appealing decorative pieces and great gifts as well.
Here are some cinder block ideas for garden
---
DIY Wind Chime Ideas for Garden
1. DIY Wind Chimes Make Garden Music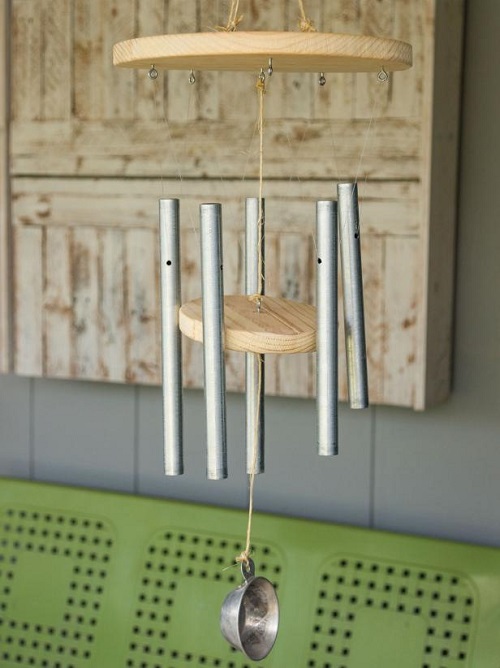 Add some restful sound to your garden with this easy wind chime project. The details are here.
2. Recycled Wind Chime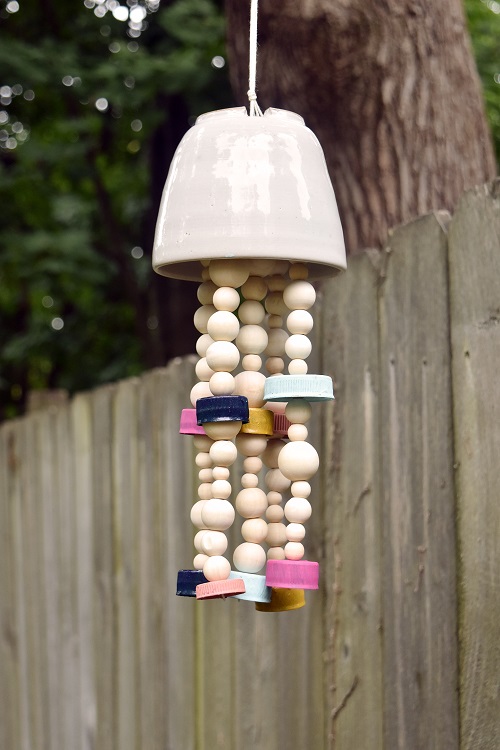 All you need are a pot, assorted beads, bottle caps, twine, and a few other supplies to make this lovely wind chime.
3. Ocean-Themed Wind Chime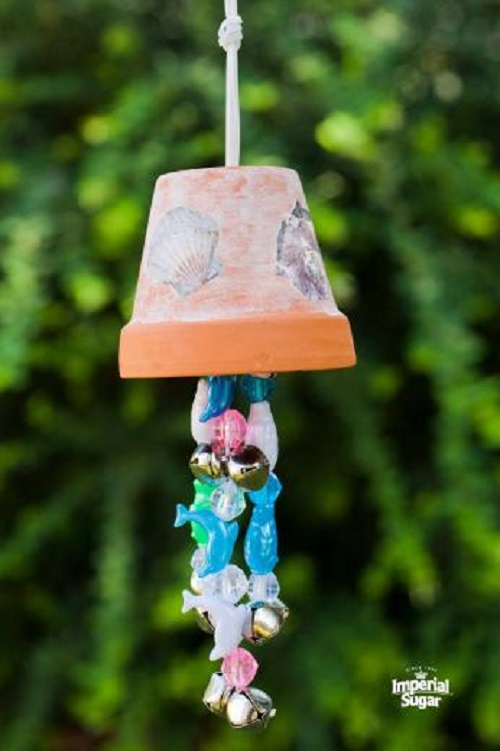 With beads, bells, a miniature flower pot, and decoupage, this cute ocean-themed wind chime is fun to make and a stunning display for the patio.
4. DIY Upcycled Bottles Wind Chime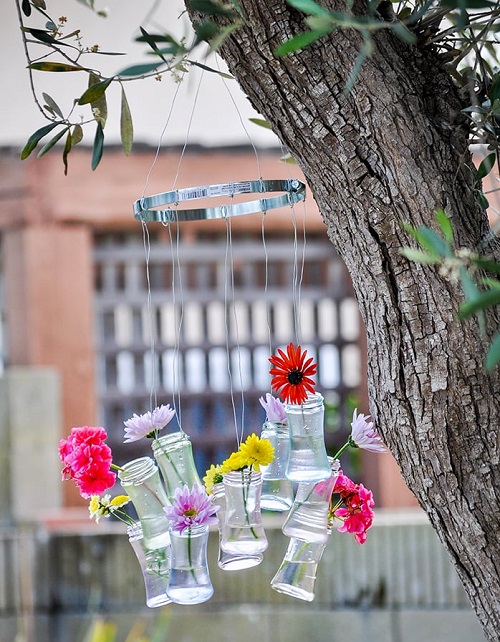 Here's the tutorial to create a peculiar wind chime for the garden. You can also use this specimen to display cut flowers.
5. Wine Bottle Wind Chime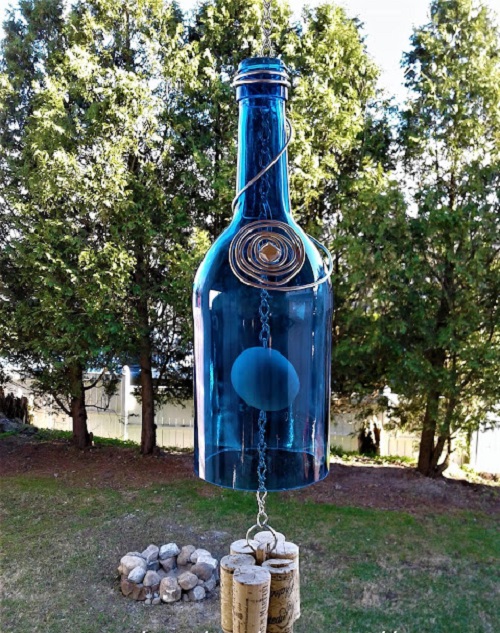 Find out how you can convert an empty wine bottle into an attractive wind charm in this detailed article.
6. Terracotta Pots Wind Chime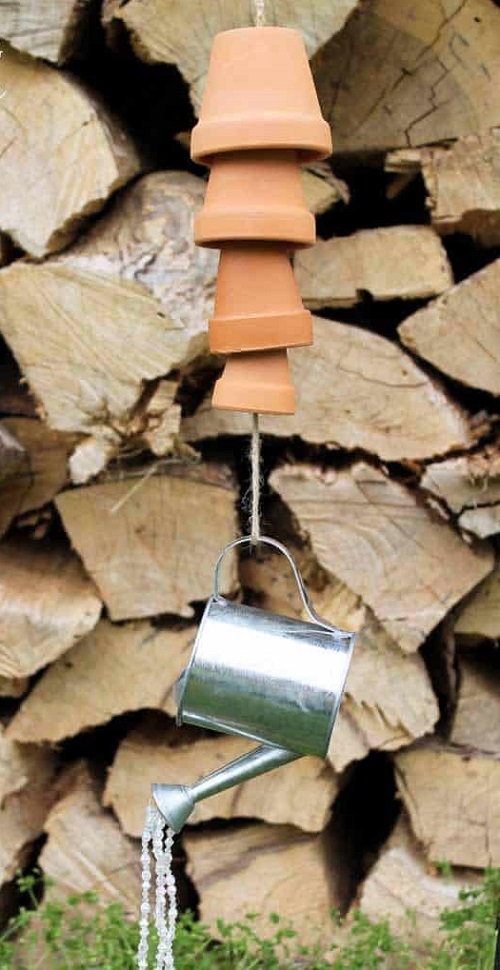 With various sized pots, a few wood beads, and some twine, you will have music in your garden in minutes. The details are here.
7. Fairy Wind Chimes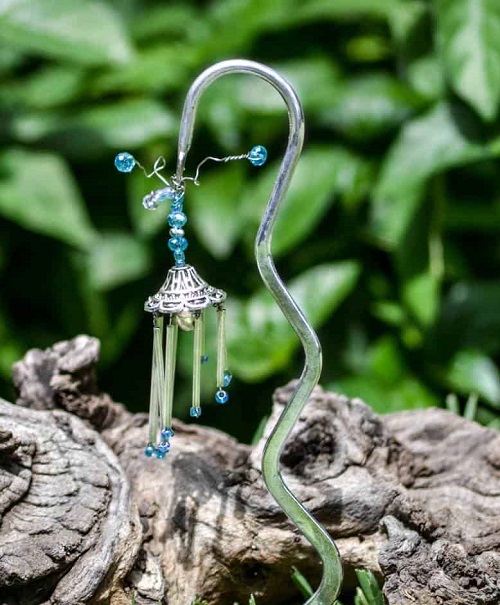 With creativity and a few supplies, you can easily DIY this artistic fairy wind chime to jazz up your garden look. Read more here.
8. Coiled Copper Wind Chimes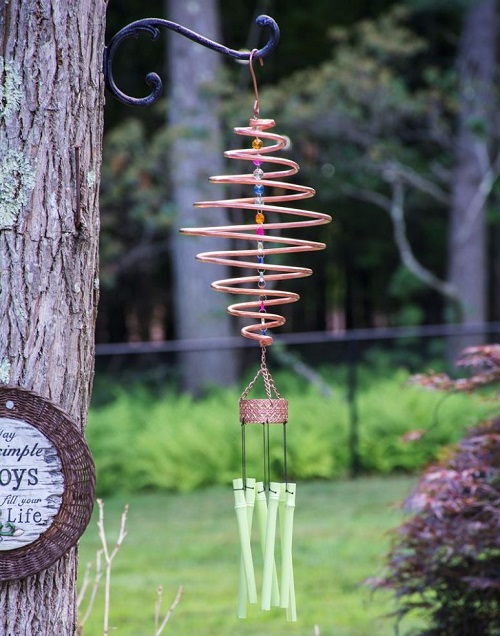 This coiled copper wind chime is inexpensive, looks cool, and perfect for the garden, patio, and porch. Learn more here.
9. Upcycled Songbird Wind Chime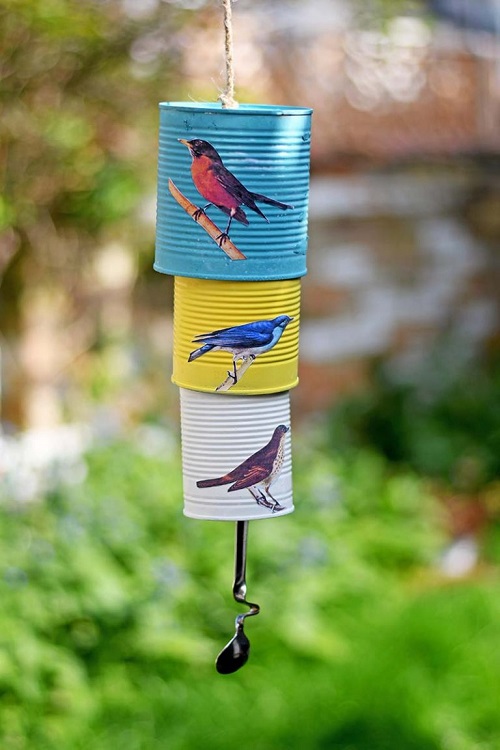 This songbird wind chime is easy to make and costs almost nothing. All you need are some old tin cans in a variety of styles and an old spoon or fork.
10. Antique Key Wind Chime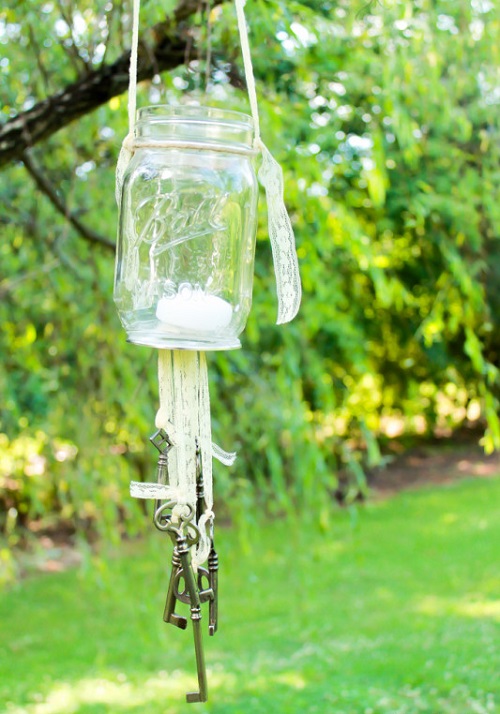 Grab a lidded mason jar, antique keys, lace, and hot glue to bring this stunning wind chime to life. The details are here.
11. DIY Pipe Wind Chimes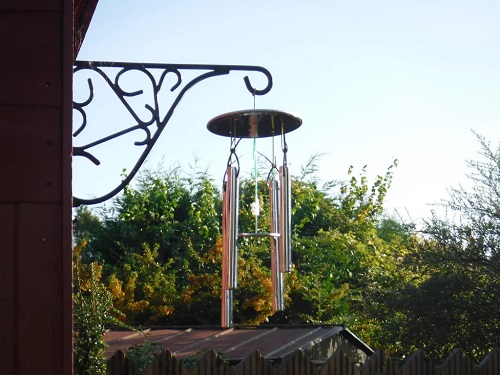 This instructable shows how to make a wind chime from an assortment of metal parts.
12. Whimsical Flatware Wind Chime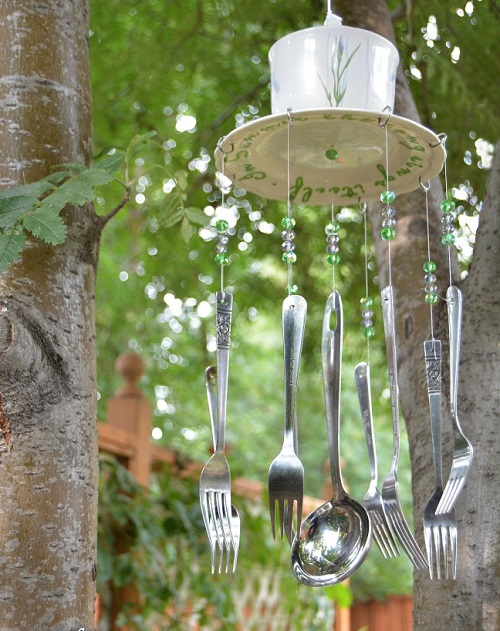 Do you love the relaxing sound of wind chimes? Here's an idea for making budget-friendly, whimsical wind chimes with recycled flatware and a sugar bowl.
13. Silverware Wind Chime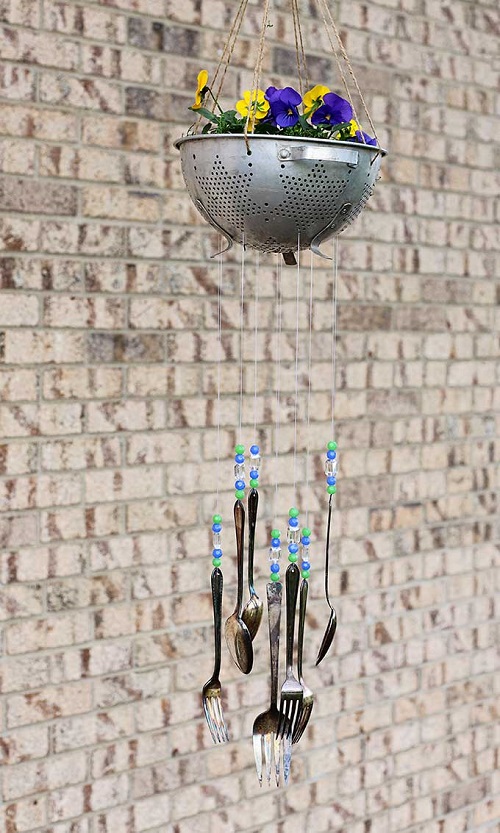 Replicate this fantastic silverware wind chime using thrift store items and this tutorial.
14. $17 DIY Wind Chime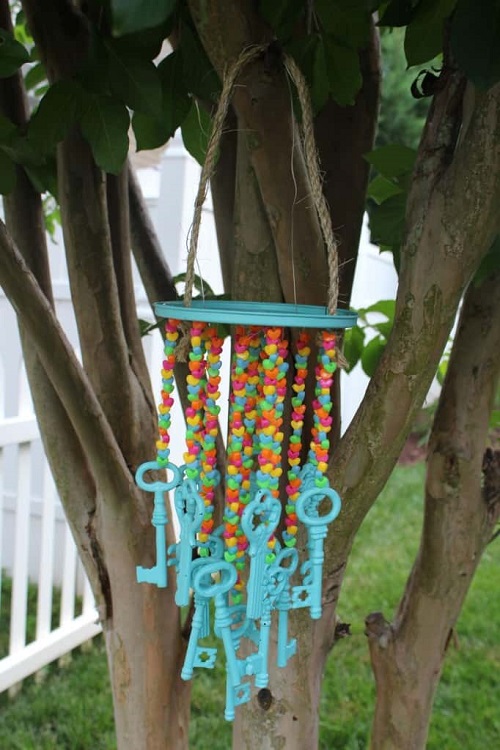 If you can't spend more than $20 on a wind chime project, this article is the right choice for you.
15. Easy Wind Chime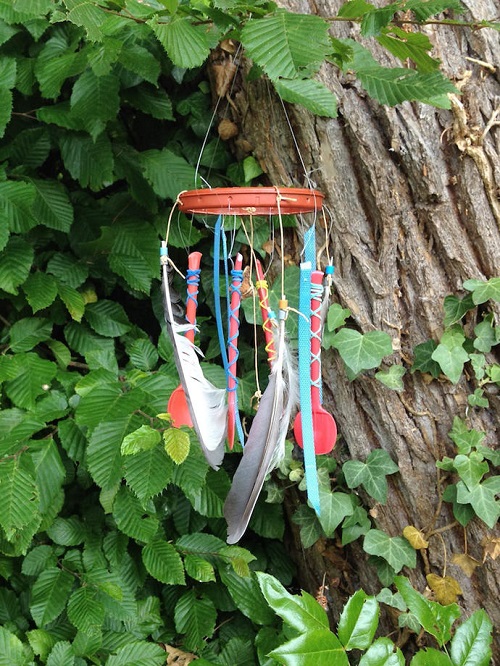 This blogger shows how to creatively use throwable materials from the recycle bin to DIY a wonderful wind chime.
16. Copper Pipe Wind Chime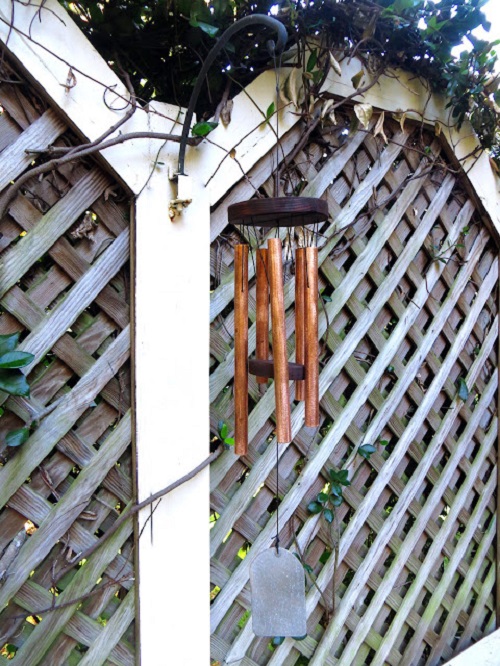 Make your yard or patio a relaxing place with this copper pipe wind chime. The details are here.
17. Garden Wind Chimes Craft For Kids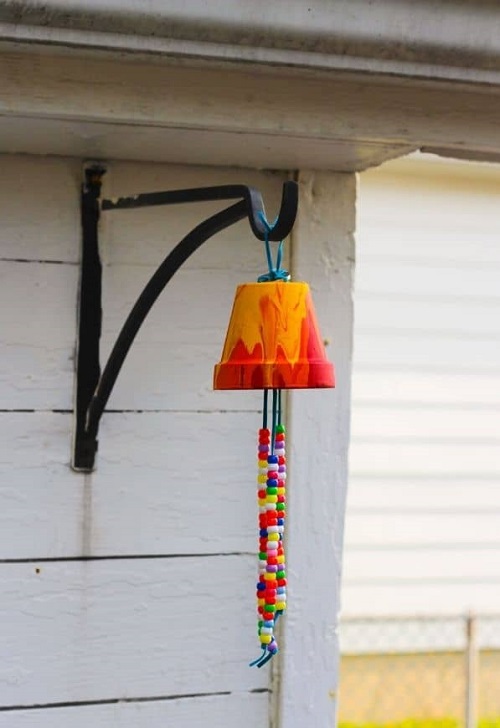 This kid-friendly wind chime craft is a sweet way to decorate your yard and explore an exciting new painting technique.
18. Repurposed Wind Chime with Old Keys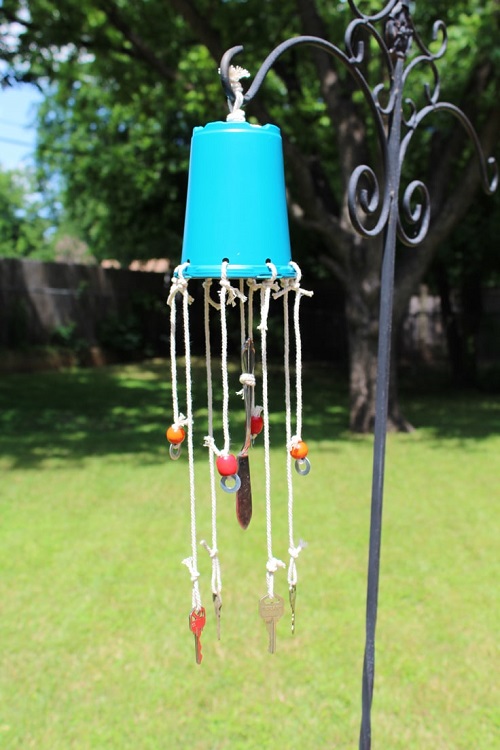 Add a fun pop of color to your outdoor decor by making a repurposed wind chime with old keys and a plastic planter. Get the tutorial from here.
19. Wind Chime from Leftovers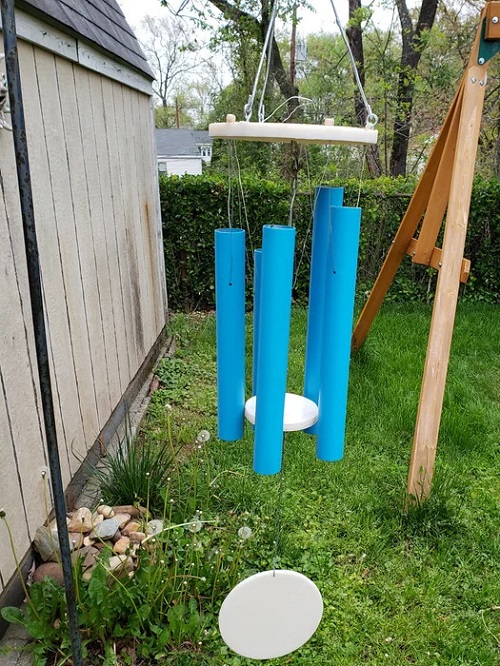 Follow this instructable to craft a wind chime for your backyard or patio. It's a time-consuming project but worth the effort.
20. Recycled Tin Cans Wind Chime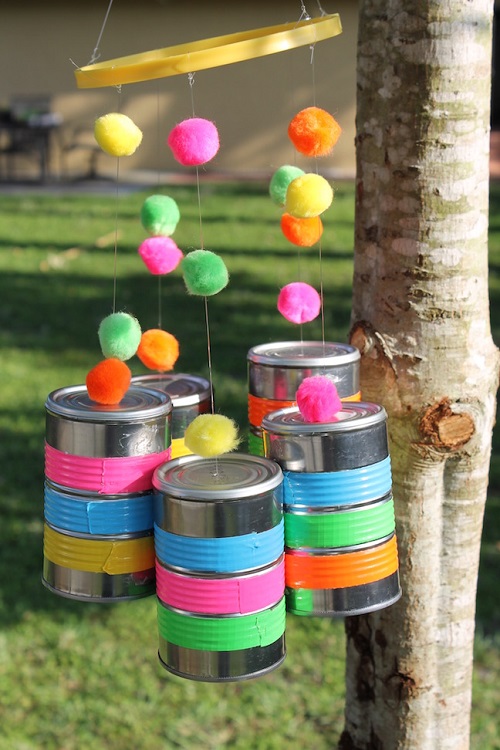 Instead of throwing out old tin cans, upcycle them to create a showy, colorful wind chime for your garden.
21. License Plate Wind Chime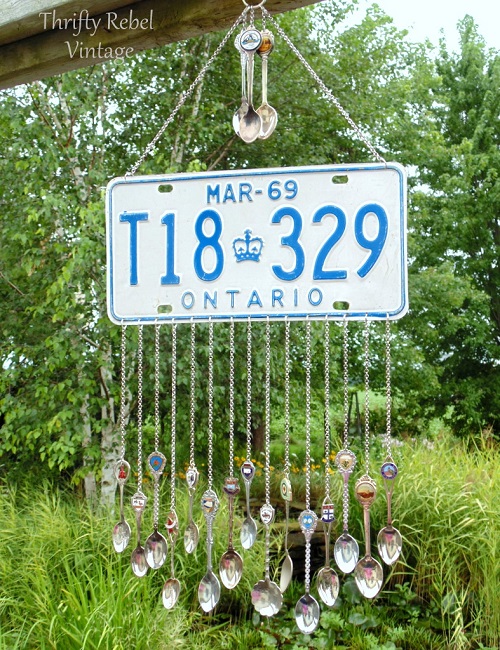 Featuring an old license plate and lots of spoons, this amazing wind chime is one-of-a-kind.
22. Wind Chime with Tin Pitcher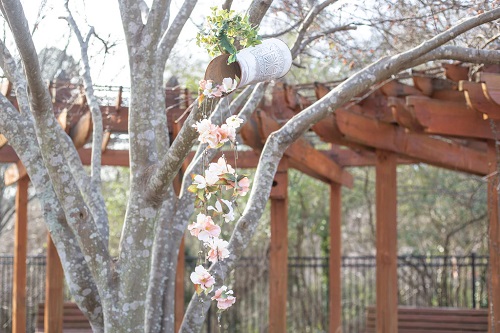 Image- https://craftboxgirls.com/blogs/articles/diy-wind-chime
23. Silverware Skeleton Wind Chime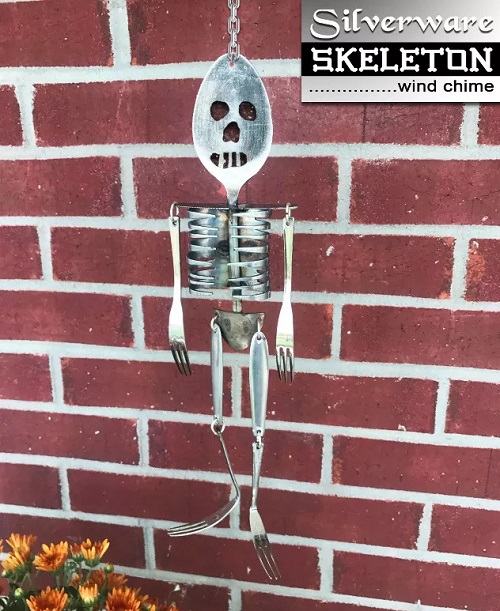 If you want a wind chime that goes quite well with your outdoor Halloween decor, this idea fits the bill.
24. DIY Bottle Cap Wind Chime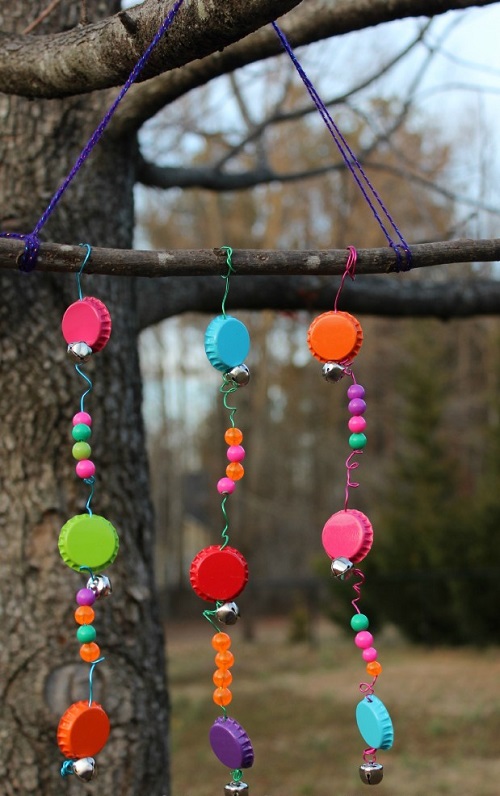 Bottle caps and some supplies are what you need to create this beautiful bottle cap wind chime. The details are here.
25. Valentine's Windchime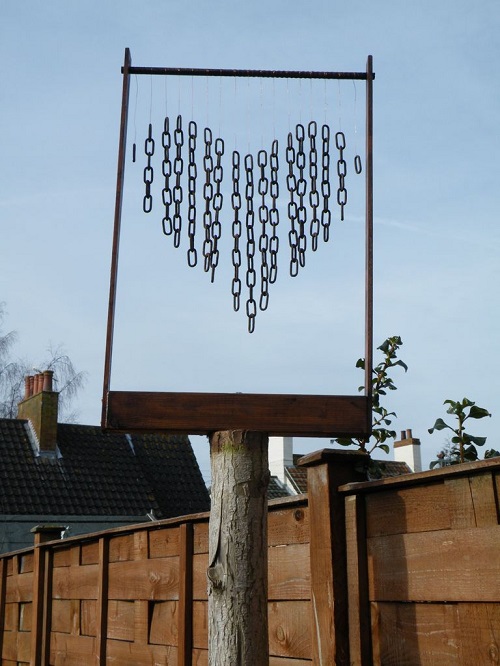 Take a look at this instructable to build a heart-shaped wind chime – a perfect valentine's day outdoor decor.
26. Natural Wood Chime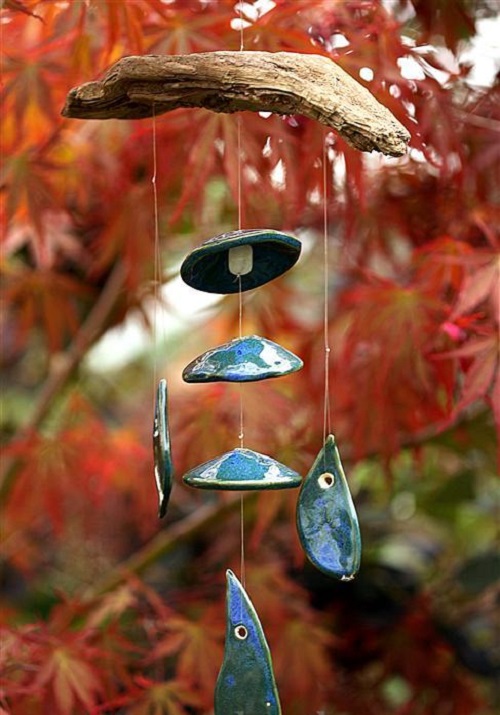 Organic clay shapes strung up on branches make for stunning art that brings melody and movement to the garden. Read more here.
27. Teapot Wind Chime
If you have an old ceramic teapot, use it to DIY an eye-catching wind chime. You also need stained glass, crystals, agates, and stone beads for this project.
28. Old CD/DVD Wind Chime
Watch this video to learn the easiest way to create an adorable wind chime out of old CDs/DVDs.
29. Glass Mosaic Wind Chime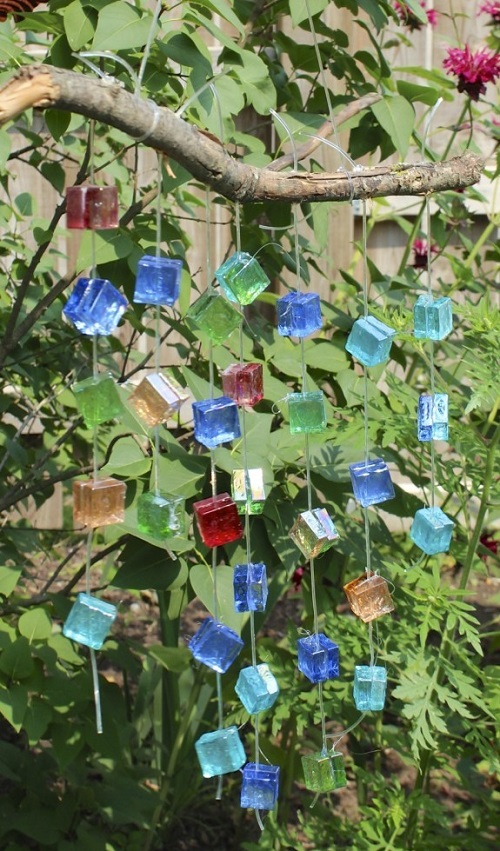 Make this colorful glass mosaic wind chime to add visual interest and charm to your garden space.
 30. Earrings to Wind Chime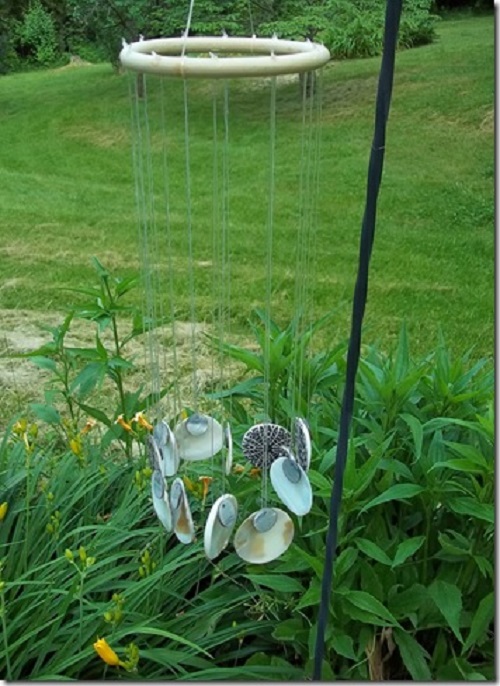 Learn how to make a lovely wind chime for your garden using earrings in this tutorial.
31. Mason Jar Chime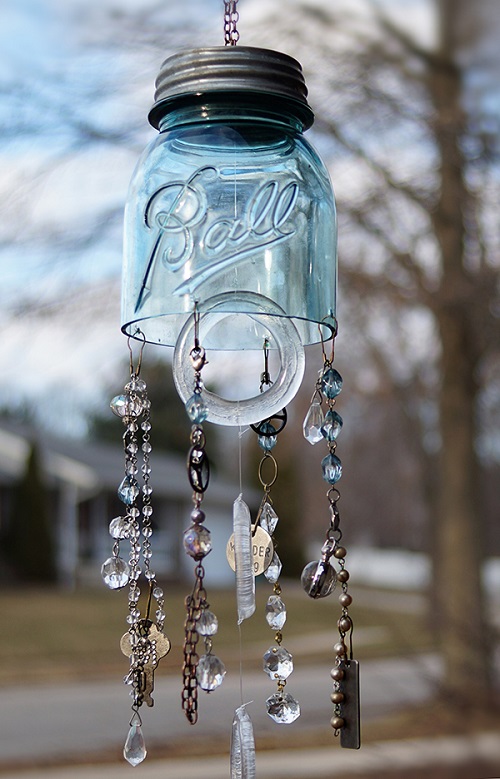 With some cutting and drilling of glass, this charming mason jar wind chime is easy-to-DIY and super affordable.
32. Tea Mug Wind Chime DIY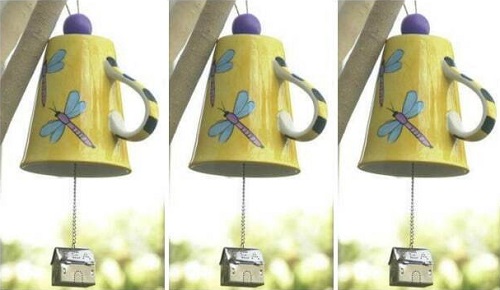 Follow these directions to transform the drinkware into a cheery "drill-less" wind chime for the garden or patio.
33. DIY Silver Goblet Wind Chime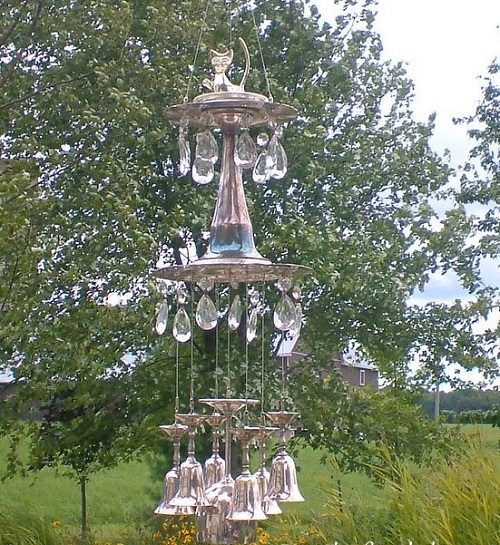 Give your yard an attraction-grabbing focal point by creating this silver goblet wind charm using this tutorial.
34. Candy Hearts Wind Chime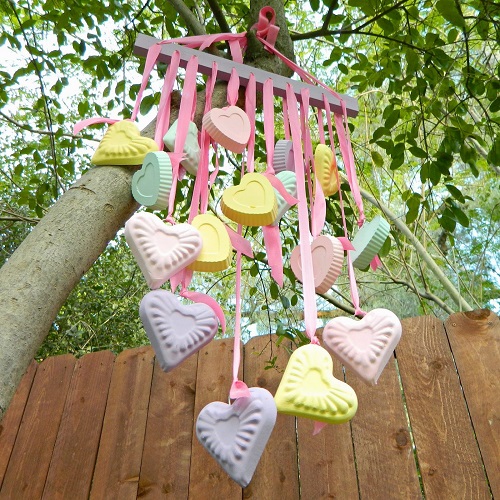 This romantic candy hearts wind chime is the ideal Valentine's day decor to enhance the aesthetic appeal of your outdoor space.
35. Plastic Eggs Wine Chime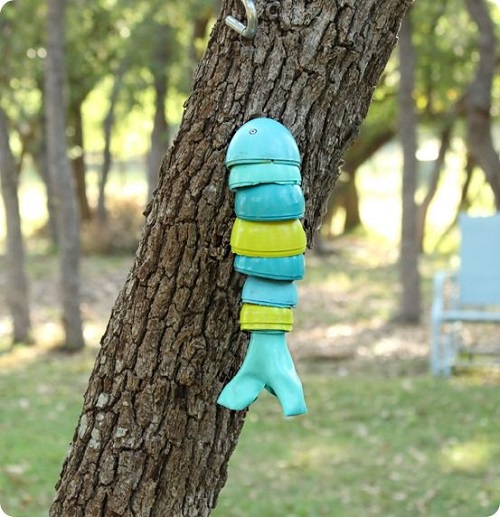 Turn plastic eggs into an Anthropologie-inspired fish-shaped wind chime with this step-by-step tutorial.
36. Spindle Wind Chime DIY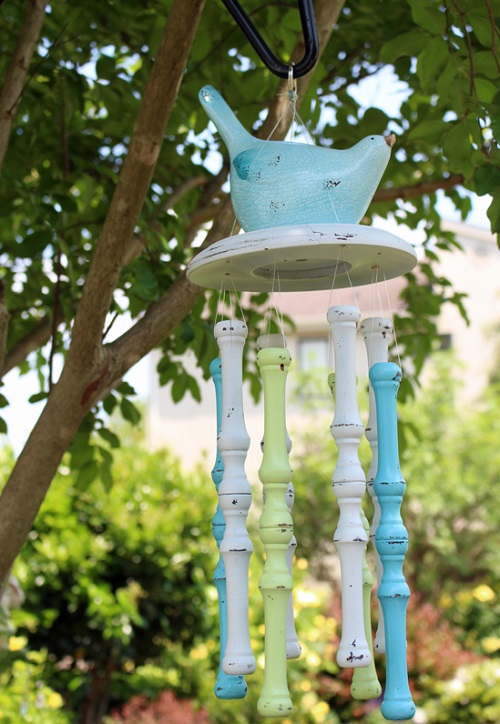 Create a stunning wind chime for your garden using spindles, paint, a drill, and some supplies.
37. Coffee Can CD Wind Chime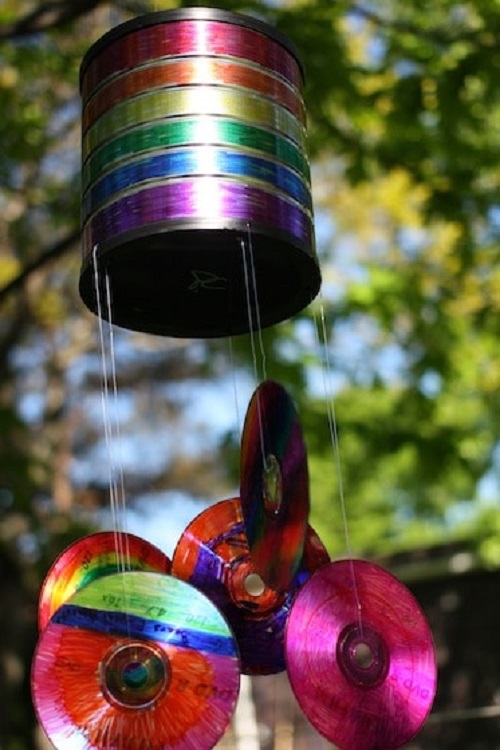 Add personality and character to your backyard with this colorful wind chime, made from a coffee can and CDs/DVDs.
38. DIY Mini Macrame Wind Chimes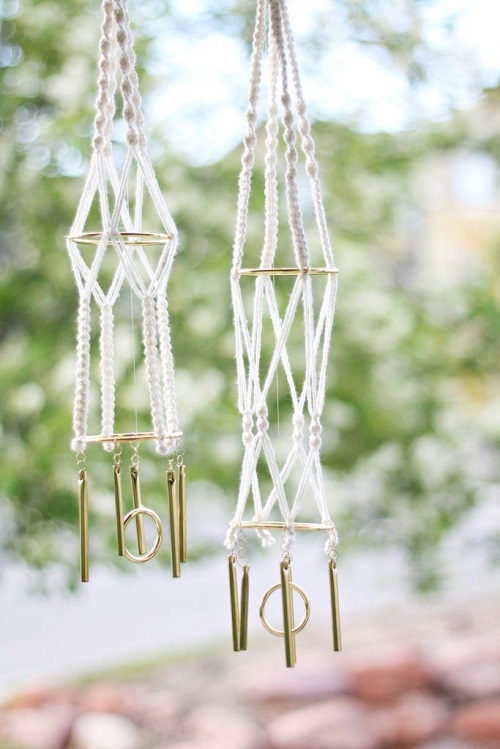 Use your macrame skills and a few other items to create an eye-catching wind chime. Check out the tutorial here.
Find out the list of free macrame wall hanging patterns here
39. Abalone Wind Chime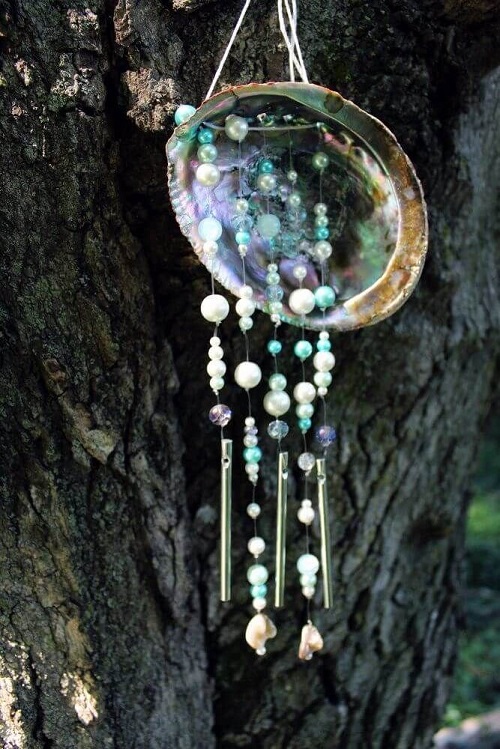 Show off your crafting skills by making this artsy wind chime from abalone seashell and colorful beads. Here are the instructions.
40. Star Wind Chime Idea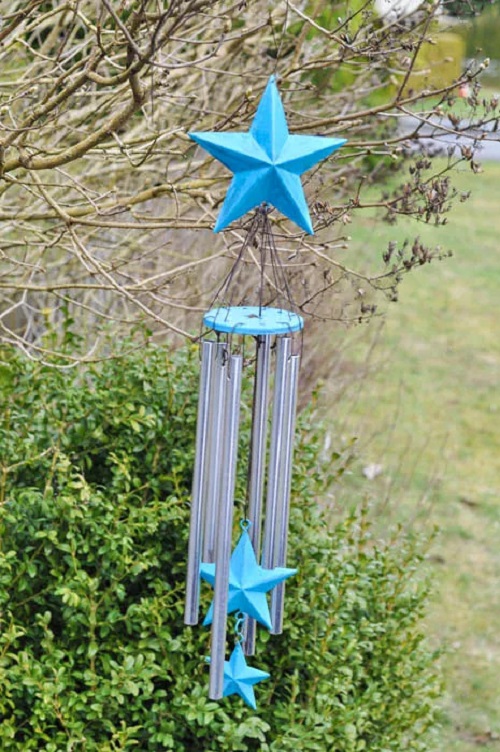 This starry wind chime is a great addition to your garden and an excellent gift for special occasions.
41. Popsicle and Beaded Wind Chime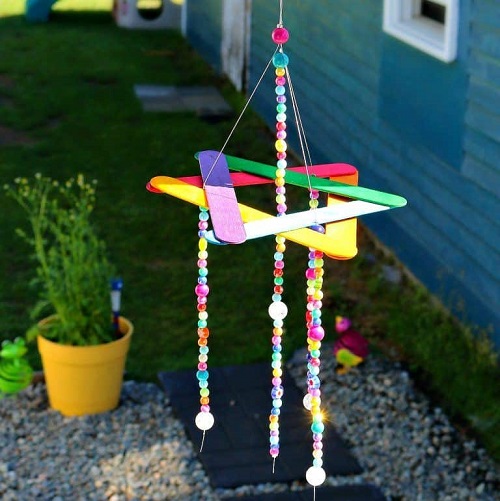 Start your DIY journey by crafting this easy beaded wind chime to beautify your bland patio or porch.
42. Washer Wind Chime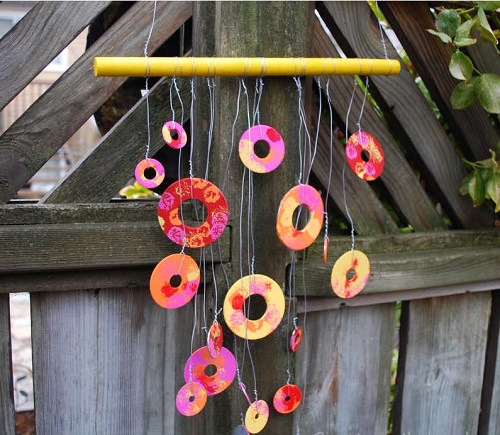 Are you looking for a great project to brighten up your early spring garden? Consider this bright-colored washer wind chime. Easy enough for kids to make and beautiful enough to inspire adults!
43. Colorful Wind Chime Craft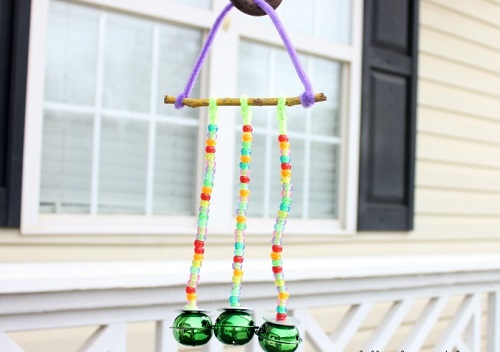 Include your kids in this fun and easy wind chime craft to teach them some crafting skills. It looks great both indoors and outdoors.
44. DIY Hand Painted Wind Chime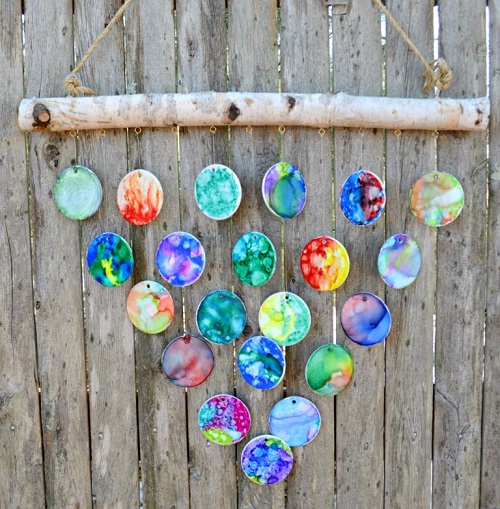 Put your creative hat on and make this hand-painted chime, in which a birch branch is used to hang all the chimes in a triangular shape.
45. Beach Treasury Wind Chime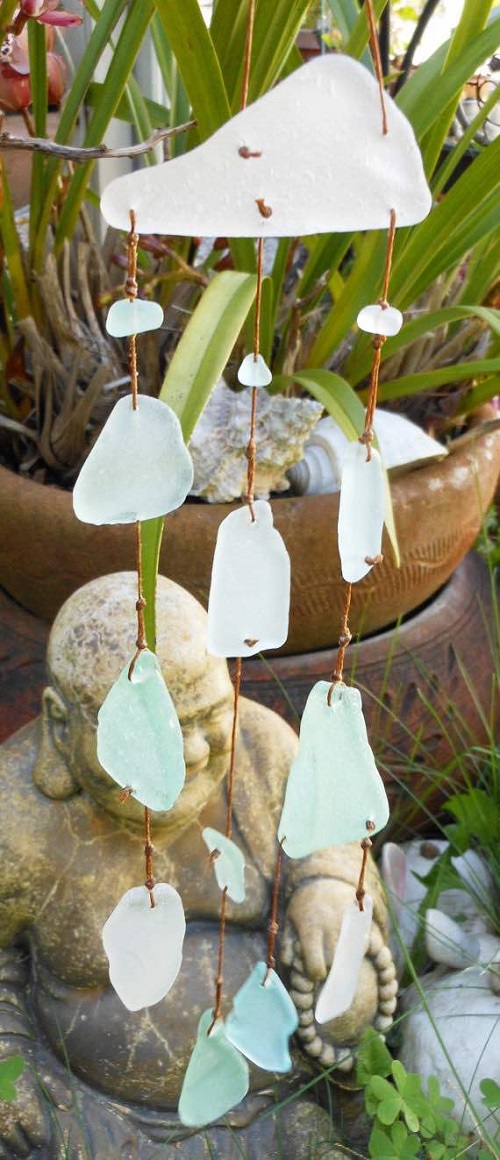 Give your garden decorations an extra edge with this fabulous beach treasury wind chime. It's one of the best DIY wind chime ideas for garden.
46. Low-Cost Hardware Store Hanging Wind Chime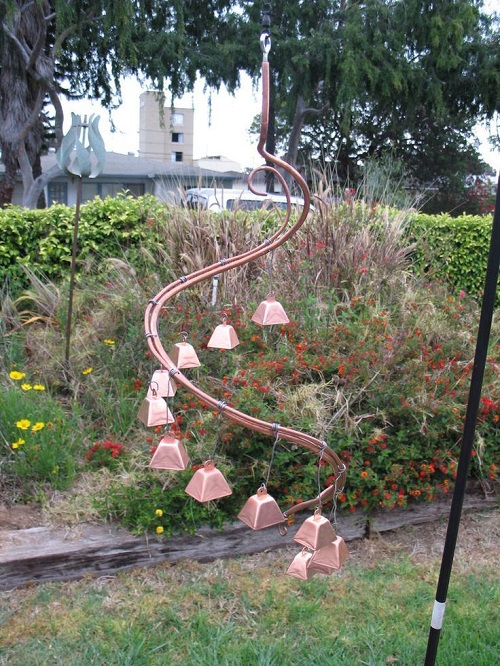 Take inspiration from the instructable to recreate this unique wind charm that rotates slowly in a nice breeze.
47. Sea Glass & Seashell Wind Chime DIY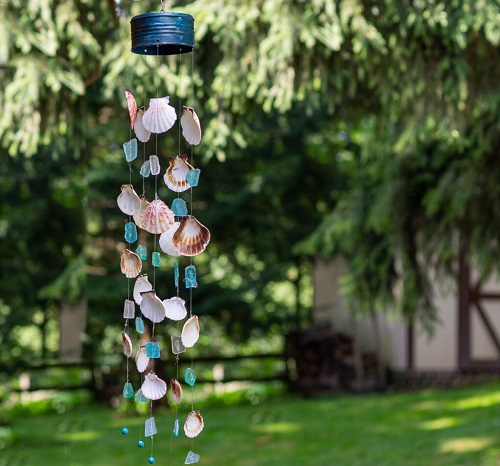 This wind chime was inspired by the movie "The Choice." It not only makes a relaxing sound when the wind blows but looks beautiful too.
48. DIY Bamboo Wind Chime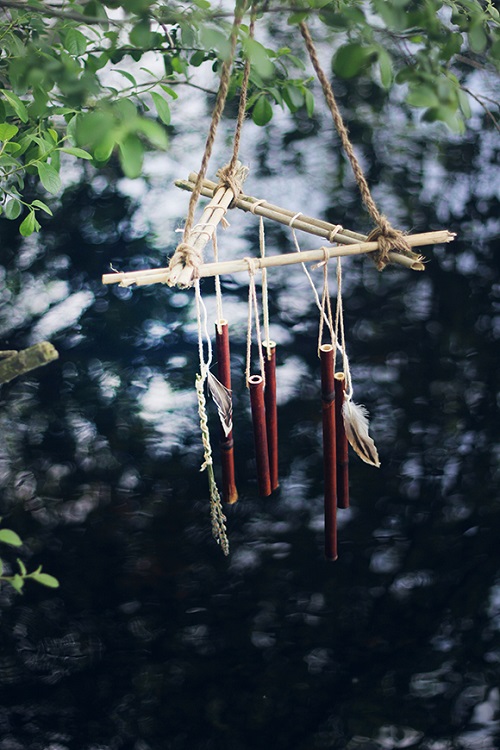 If you want to DIY a no-fuss wind charm, this bamboo version is an excellent choice for you.
49. Ombre Wind Chime DIY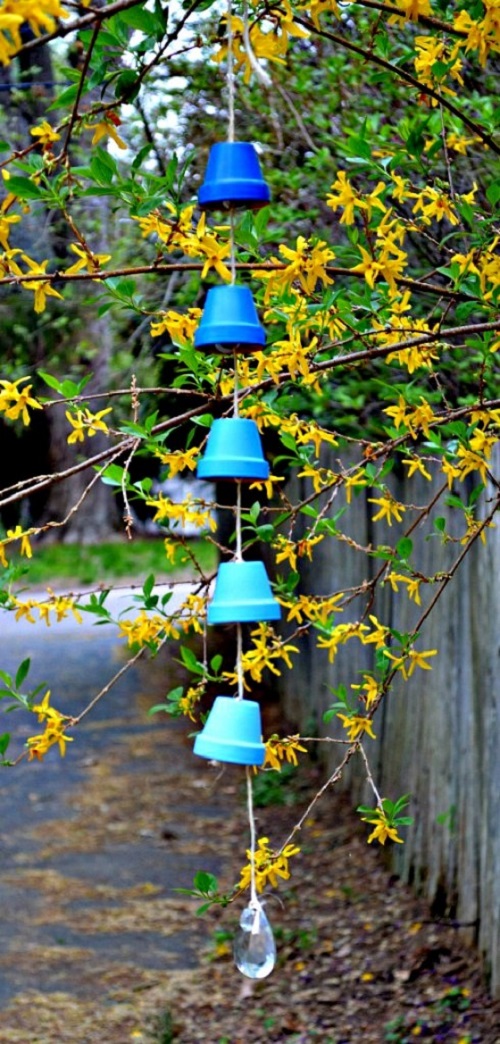 Imitate this ombre wind charm idea with mini clay pots, blue acrylic paint, twine, washers, large bead, and a paintbrush.
50. Vintage Teapot DIY Wind Chime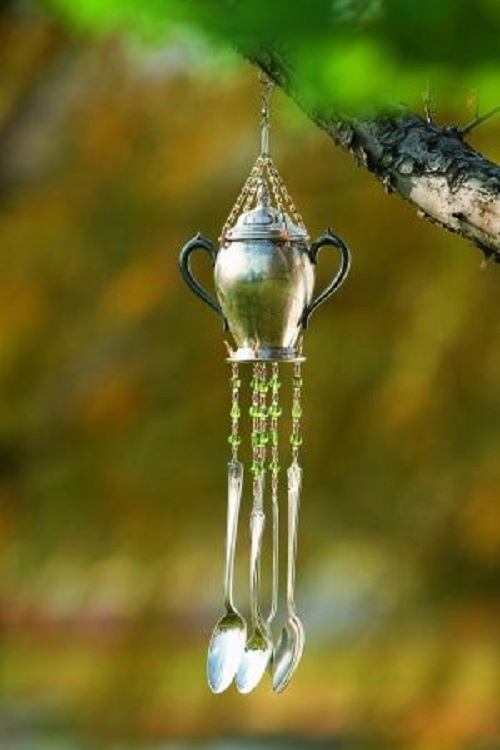 Turn a vintage teapot into musical DIY wind chimes with this elegant garden craft.