Tame the heaps of spice jars with these ingenious Spice Rack Ideas to make your kitchen a clutter-free space!
If your kitchen or pantry has less or no space, try these amazing Spice Rack Ideas to DIY smart spice organizers on a budget.
Spice Rack Ideas
1. DIY Sliding Spice Rack

An ideal spices storage solution for less spacious kitchens, this DIY sliding spice rack needs a tiny gap to fit in.
2. Spice Gripper Clips
There is no need for a dedicated spice rack, simply attach spice gripper clips on the backside of a cabinet door to hang jars of spices.
3. DIY Magnetic Spice Rack Under Cabinet

Save the cabinet and counter space by hanging spice jars in the air. Grab canning jars, super glue, neodymium magnets, sheet metal, and toothpicks for this DIY.
4. Wall Hanging Spice Rack

Get crafty and make this wall-hanging spice rack that uses a rod and a two-tier caddy. Fasten this rack on any empty wall or backside of a pantry door.
5. DIY Magnetic Spice Jars

To convert your refrigerator's door into a spice rack, take a few magnetic jars, decant spices into them, and stick the jars on the door.
6. DIY Spice Rack Drawer Insert
Watch this video to DIY a spice rack drawer insert that lets you arrange spices conveniently and gives easy access as well.
7. DIY Tiered Spice Rack

Build a three-tiered spice rack in under 30 minutes using a wooden board, wood screws, sandpaper, paint, and this DIY.
8. Test Tube Spice Rack

Test tubes are not limited to science labs, they double up as spice organizers. Grab plywood bamboo strip, glass test tubes, and other supplies for this instructable.
9. Spring-Tension Curtain Rod Spice Rack

If your kitchen doesn't have a dedicated spice storage area, use a curtain rod as a spice rack. Read more here.
10. Farmhouse Wooden Spice Rack

Showcase your spice collection with this DIY wooden spice rack. It frees up your cabinet and counter space and acts as beautiful wall decor too.
11. Coke Crate Spice Rack

Repurpose an old coke crate to organize your different jars of spices. It gives a vintage appeal as well. Details are here.
12. Spinning Spice Rack
This modern DIY spinning spice rack fits in the tiniest of space and lets you find what you're looking for.
13. DIY Floating Spice Rack

Make the most out of your kitchen's vertical wall space by DIYing this minimalistic floating spice rack. This is one of the best spice rack ideas on this list.
14. Upcycle a Shower Caddy

Upcycle an old shower caddy into a portable spice storage solution. Along with spices, you can also store oven gloves, tongs, and stirring spoons.
15. Repurpose an Old Bookshelf

Instead of throwing your old bookshelf, use it as a spice rack to store seasonings and other food supplies.
16. Hanging Spice Jar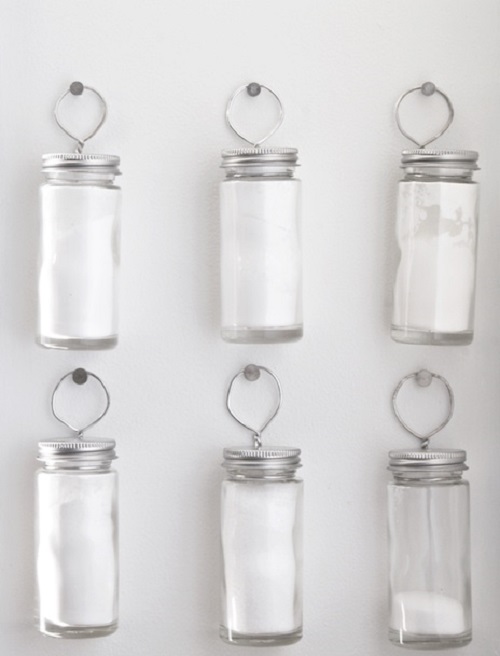 If you want a super simple spice rack idea, go with this project that needs a wire, nails, and a sharpie.
17. DIY Dollar Tree Spice Rack

This DIY is a cool and economical way to keep your spices in order. You only need cooling racks and screws for this hack.
18. Organize Spices in a File Box

A file box and zipper bags are an ideal solution to organize spices in a small kitchen. Take inspiration from this idea.
19. Scrap Wood Criss Cross Spice Rack
Easy to place on the countertop and beautiful to look at, this spice rack is a lifesaver for people with a tight budget.
20. DIY Pallet Spice Rack

Check out this tutorial to make an ingenious spice rack using a wooden pallet for an added rustic touch.
21. DIY Cardboard Spice Rack

Made from recyclable items, this DIY cardboard spice rack is a frugal and eco-friendly spice storage solution.
22. Vintage Silver Casserole Dishes

Repurpose vintage silver casserole dishes into pretty and eclectic spice racks. Fix them on the wall, and you're good to go.
23. $1 Cardboard Spice Rack
Instead of buying a spice rack, DIY this insanely cheap spice rack out of cardboard or craft board.
24. Chalkboard Spice Cabinet

This chalkboard spice cabinet is the ultimate solution to get ample storage space for those flavorful spices and herbs.
25. Nespresso Cardboard Spice Rack
Make good use of the empty Nespresso coffee capsules with this spice rack project. It doesn't look pleasing like the other racks in this list but serves the purpose.
26. Cute Cardboard Spice Rack
Adorned with a hen and chick, this dollhouse spice rack can store up to 20 spice jars and looks pretty as well.
27. Wall-Mounted Magnetic Spice Rack

Rather than suspending spice jars on the fridge, DIY this magnetic spice rack that can be easily mounted on the wall. Read details here.
28. Peg Board Spice Rack

Show off your DIYing skills by creating this stylish spice rack out of pegboard, frame, and spice gripper clips.
29. Framed Magnetic Chalkboard Spice Rack

Add a unique touch to your kitchen space by installing this framed magnetic chalkboard spice rack. It lets you label the jars and rewrite them when you wish.
30. Under-Cabinet Spice Rack
Watch this video to convert a simple drawer into a drop-down, under-cabinet, space-saving spice rack.
31. Introduce Wire Baskets

Utilize your pantry's vertical wall as a hidden spice storage zone by hanging a few wire baskets using screws.
32. Rustic Wall Mounted Spice Rack

Declutter your cupboard and countertop with this display-worthy wall-mounted spice rack. As an added bonus, it gives a timeless charm to the space.
33. DIY Wood Spice Rack

Make every count of a kitchen cabinet door by creating this spacious and eye-pleasing wooden spice rack.
34. Pantry Door Spice Rack

Collect whitewood boards, dowel rods, cup hooks, dowel buttons, and plywood to mimic this behind-the-door spice rack.
35. DIY Spice Cabinet

Level up the look and feel of your cooking zone with this spice rack to get quick and easy access to the spices, anytime.
36. Modern Copper Spice Rack

This copper spice rack is striking, unbelievably sturdy, and emits a modern vibe. You can install it anywhere in the kitchen.
37. DIY Built-in Spice Rack

Revamp a pointless wall into a smart spice storage solution using woodworking skills and this tutorial.
38. Ikea Spice Rack

Buy Ikea wall bars and baskets, install them on an empty wall to get an instant spice rack.
39. Dollar Store Spice Rack

Here's the tutorial to make a magnetic dollar store spice rack using a cookie sheet and magnetic jars. It's one of the most excellent hidden spice rack ideas to date.
40. Countertop Magnetic Spice Rack

Follow these steps to make a Pinterest-worthy, space-saving magnetic countertop spice rack and see the reactions of your guests.
41. Upcycled Baby Food Jars

Why bother to buy magnetic spice jars when you can make your own with baby food jars, magnets, and this DIY.
42. DIY Spicy Shelf Organizer

This spice rack not only corrals spices but also gives empty space to store oil, canned goods, and more.
43. Large Custom DIY Spice Rack for Pantry

DIY this custom spice rack, which is tall enough to hold a number of spices. It easily snuggles into a spare spot in the kitchen.
44. DIY Drawer Spice Rack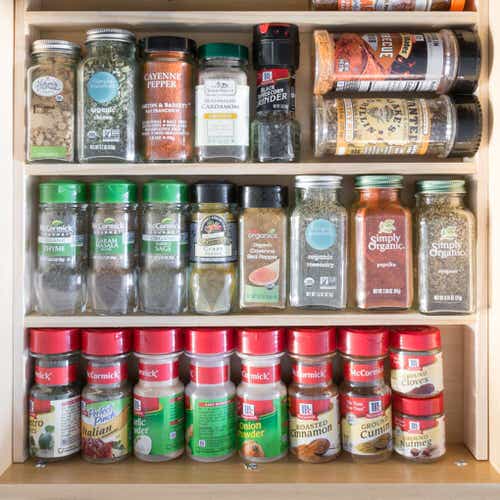 Using an empty drawer to stash spice jars is an excellent idea. Head over to this article for more info.
45. Repurpose CD tower into Pantry Shelf

Convert an antiquated CD tower into a storage medium to stack up all your spices and condiments. Find the tutorial here.
46. Vintage Loaf Pan Spice Rack

Remodel a vintage loaf pan into a spice rack. Keep an eye on thrift stores and yard sales to get a cheap vintage bread pan.
47. Mini Mason Jar Spice Rack Idea

Here's another brilliant spice rack idea to organize the jars of spices in order, and it makes your kitchen life less stressful.
48. Country-Style Spice Rack
Browse this amazing video tutorial to build an impressive country-style spice rack using pallet wood or scrap wood.
49. DIY Countertop Spice Storage Bin

This storage bin is a perfect spice storage solution and a beautiful display piece for the kitchen countertop.
50. DIY Ultimate Spice Rack
Create this trendy spice rack in which all your spices can be organized neatly. However, this DIY needs specialized woodworking skills.
51. DIY Rustic Shelves For Spices

Give a rustic feel to your cooking space by crafting these lovely shelves to arrange spices and other seasonings.
52. Under-Mount Spice Rack

To keep your collection of spices organized and handy, make this under-mount cabinet spice rack using birch plywood, jigsaw, and a few other supplies.
53. DIY Concrete Spice Rack

Read this instructable to DIY this unique and durable triangle spice rack out of concrete.
54. Minimal Wood Spice Rack

Are you searching for a minimal-looking spice rack with a wow factor? Look no further and build this wooden spice rack.
55. Wine Barrel Spice Rack

If you happen to have an old wine barrel, revamp it into an attractive spice rack. It's a brilliant spice organizer and a lovely addition to the kitchen.
56. Simple Spice Rack

Made up of wooden scraps and screws, this is one of the easiest and simplest spice rack ideas on this list.
57. Fridge Magnetic Spice Jars

Don't have magnetic jars handy? Put together this magnetic spice rack using small plastic bins, magnets, and a hot glue gun.
58. Fancy Wall Spice Rack

This fancy wall spice rack is an ideal project for newbie DIYers and lets you store spices in an orderly fashion.
59. Travel Spice Rack

Here's a lightweight, easy-to-carry, cheap spice rack for travelers and campers that can be made in a jiffy.
60. Marble Lazy Susan Spice Organizer
If you hate doing lengthy and costly DIYs, then this homemade lazy Susan spice organizer is the right choice for you.