Check out these statement-making Laundry Room Flooring Ideas and give this space the much-needed visual appeal!
Replacing old and damaged flooring is a surefire way to make the functional utility room more attractive. If you're looking for some wonderful flooring options, consider these amazing Laundry Room Flooring Ideas.
Find out the best laundry room makeover ideas here
---
Laundry Room Flooring Ideas
1. DIY Peel and Stick Tile Flooring Idea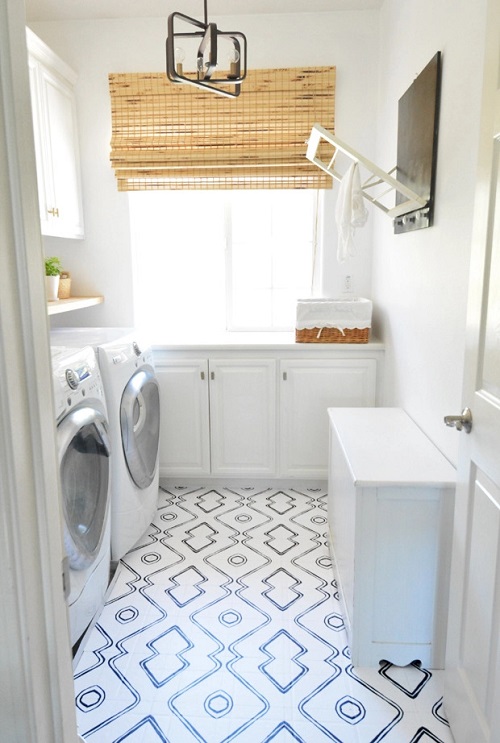 Peel-and-stick vinyl tiles are the cheapest and quickest way to give the utility room floor a chic update. In this article, the tiles are arranged in a geometric pattern.
2. Painted Linoleum Laundry Room Floor DIY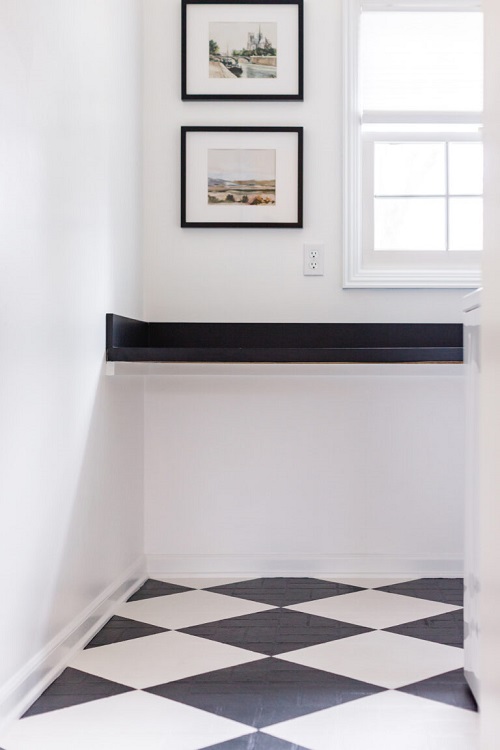 If your laundry room has an old linoleum floor, transform its look with black and white paint. It's an inexpensive but time-consuming project.
3. DIY Turquoise Laundry Room Floor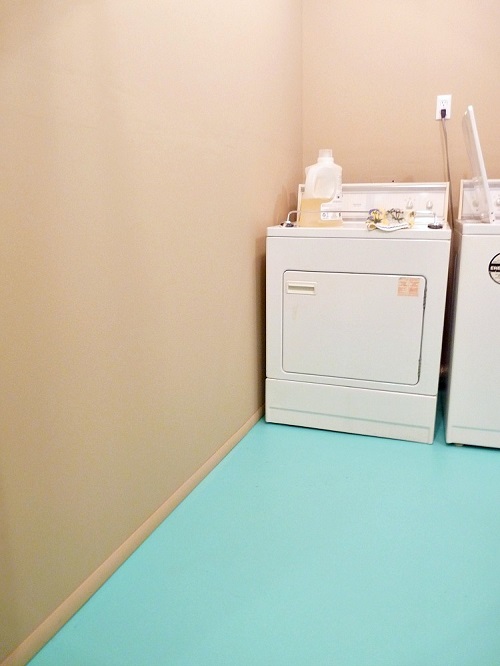 This turquoise utility room floor gives the space an aesthetic boost. Hop to this article for the detailed tutorial.
4. Vinyl Peel & Stick Moroccan Tiles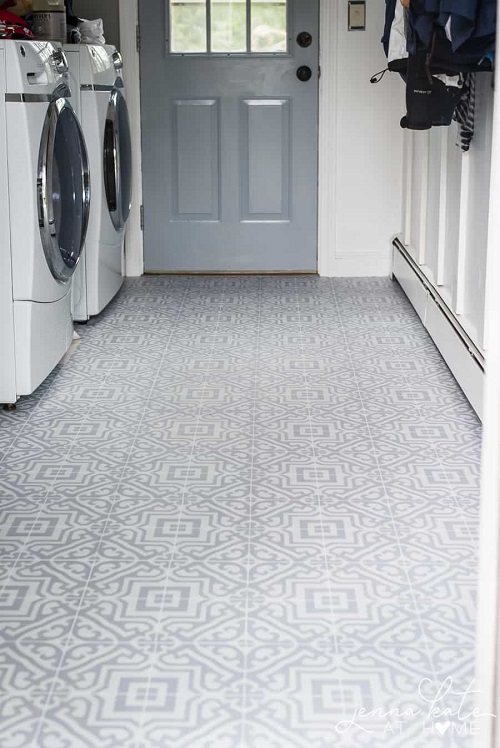 Copy this gorgeous flooring idea using peel-and-stick Moroccan tiles and this article. It's a renter-friendly idea.
5. DIY Stenciled Floor
All you need is this stenciling video tutorial to enhance the visual interest of your dingy-looking utility area. It's one of the best laundry room flooring ideas.
6. Install Ceramic Tile Flooring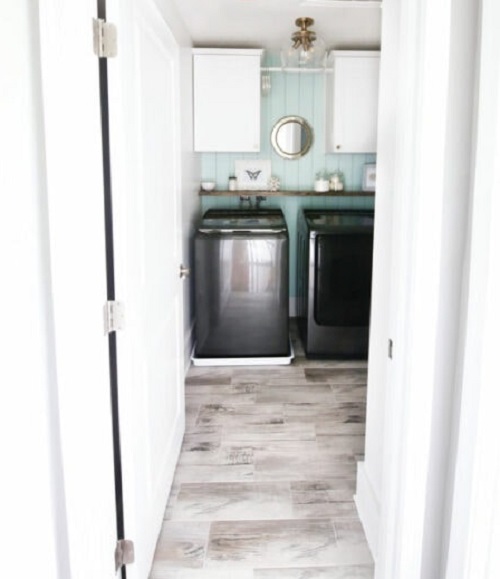 Full of farmhouse vibe and charm, this laundry room is adorned with ceramic tiles. Get the step-by-step instructions here.
7. Porcelain Tile Laundry Room Floor DIY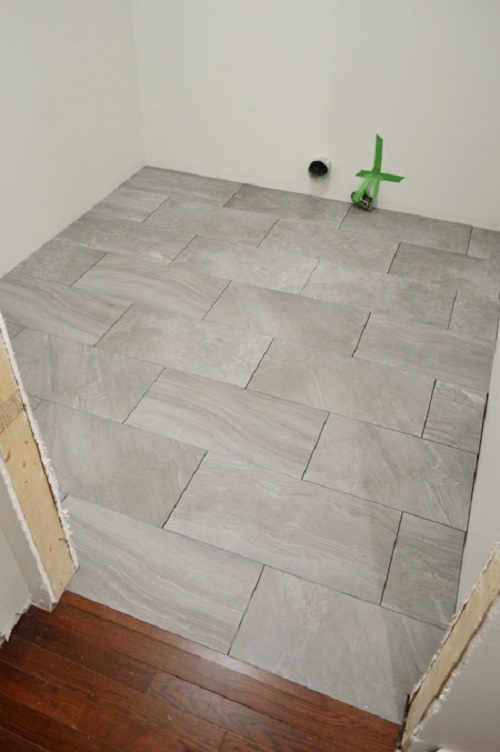 Featuring elegant and highly durable porcelain tiles, this utility room floor can be completed for under $500. The details are here.
8. Checkered Tile Laundry Room Floor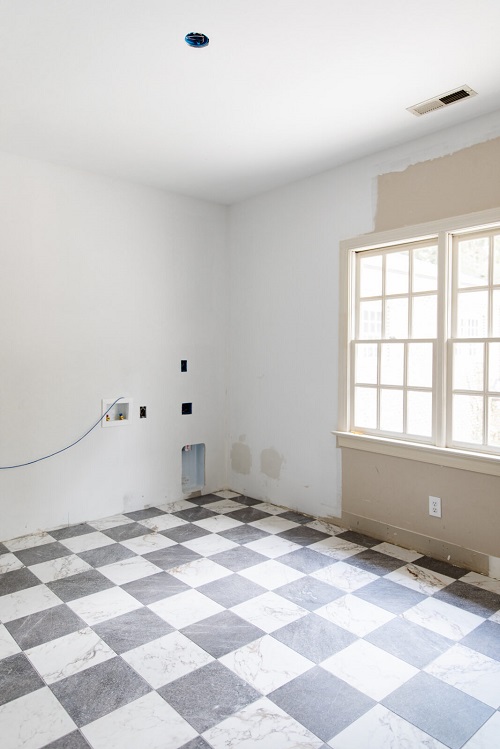 Add some pizzazz and personality to your monotonous laundry space with a checkered tiled floor. Learn more here.
9. Stylish Flooring Idea for Laundry Room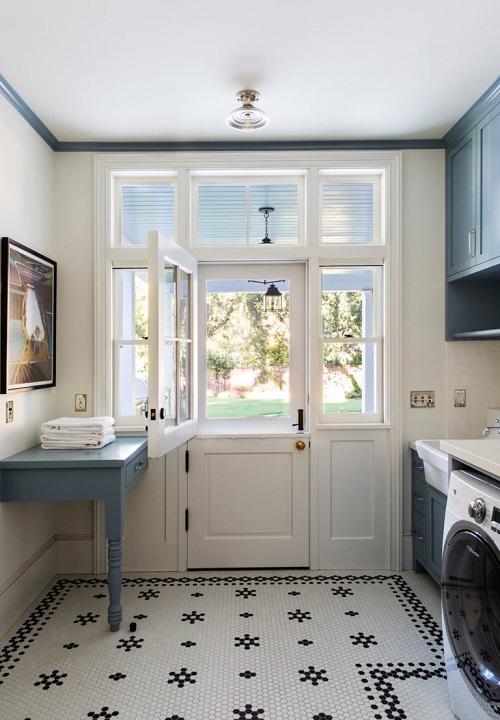 Uniquely patterned tiny hexagon mosaic tiles give this utility room a statement-making focal point. It's one of the most amazing laundry room flooring ideas.
10. Laundry Room Herringbone Brick Floor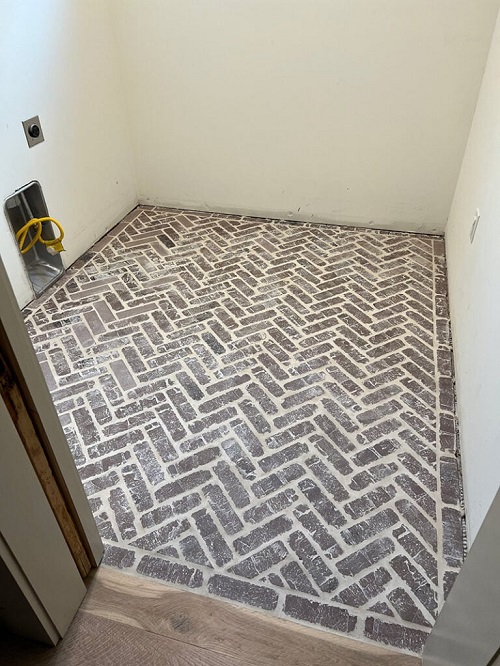 This rustic-looking, herringbone-style floor is made from single brick flats, tile sealer, and other supplies. It's a beginner-friendly project that requires a few basic tools.
11. Colorful Faux Floorboards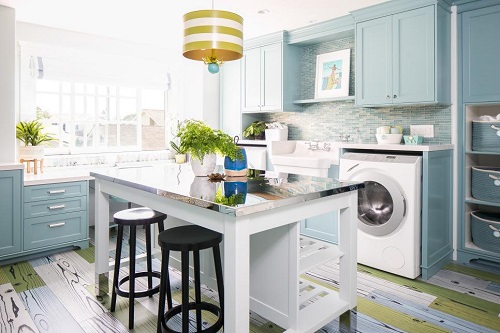 Turn your boring utility room into a conversation-starting masterpiece with green, blue, and white faux floorboards.
12. Try Laminate Flooring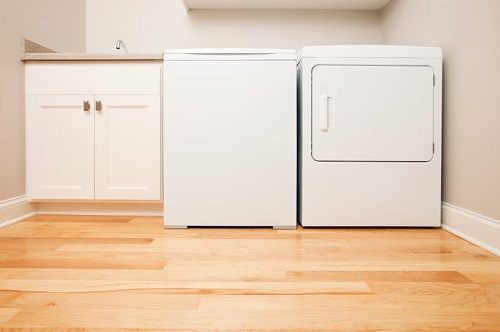 If you want an elegant, modern-looking flooring option for your laundry area, laminate flooring is the right choice.
Here are some budget-friendly laundry hacks