Check out this exclusive list of stunning Blue and Gold Bedroom Ideas to turn your bedchamber into a sleep sanctuary!
Uplift the appearance of your sleeping space with these eye-grabbing Blue and Gold Bedroom Ideas and get praise from your life partner!
Here are some romantic valentines day bedroom decor ideas
---
Blue and Gold Bedroom Ideas
1. Bedroom with Timeless Decor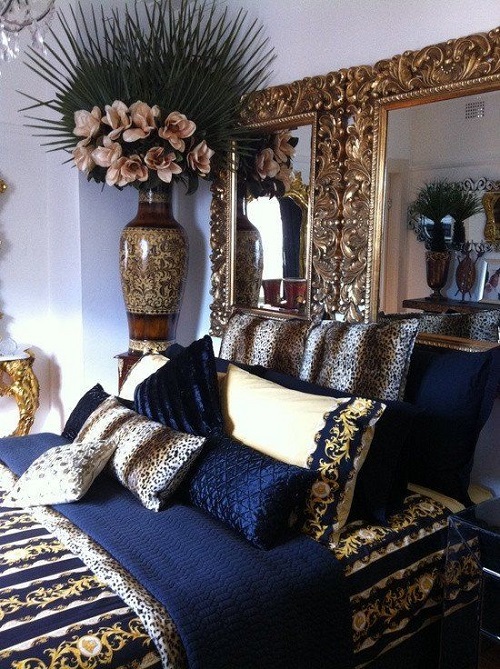 Use antique golden mirrors, a vintage vase, blue pillows, and a multi-colored printed bedsheet to spice up your bedroom.
2. Chic Blue and Gold Bedroom Idea
Beautify your sleeping space by pairing navy accents (poufs and painted walls) with jewel tones (chandelier, bed, and mirrors).
3. Golden Bed and Curtains with Blue Walls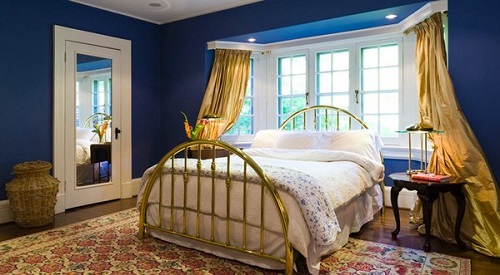 Adorn your bland bedroom with gold-hued curtains, blue accent walls, and a metal bed for a chic look.
4. Blue Wall and Sunburst Mirror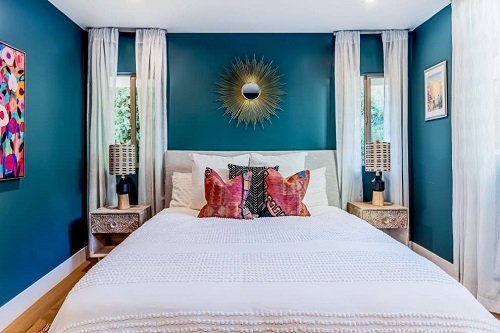 Pair your blue-colored bedroom wall with an eye-catching sunburst mirror and white curtains for added charm.
5. Blue Wardrobes with Golden Handles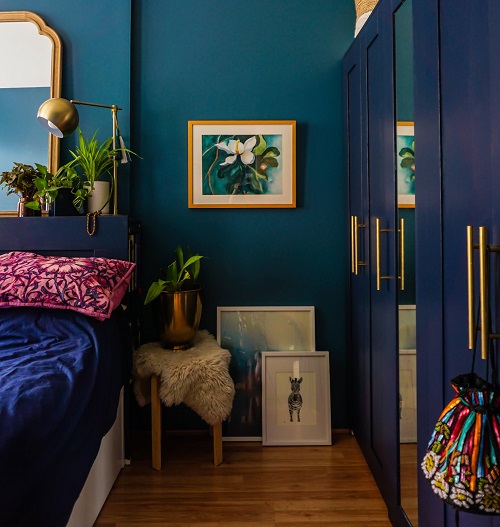 Give your bedroom an expensive look by introducing wardrobes with gold-hued handles. Include some artwork and a planter to complete the look.
6. Matching Hues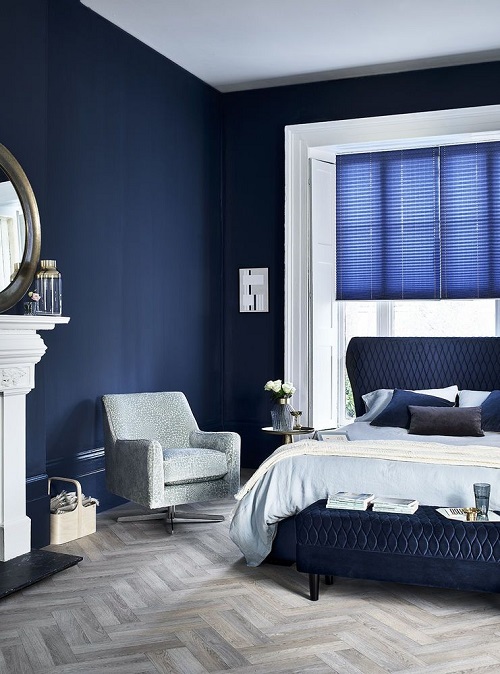 All you've to do is match the blue hues across walls, beds, and window treatment to enhance the visual appeal of your sleeping space.
7. Bold Wall, Round Mirror, and Brass Floor Lamp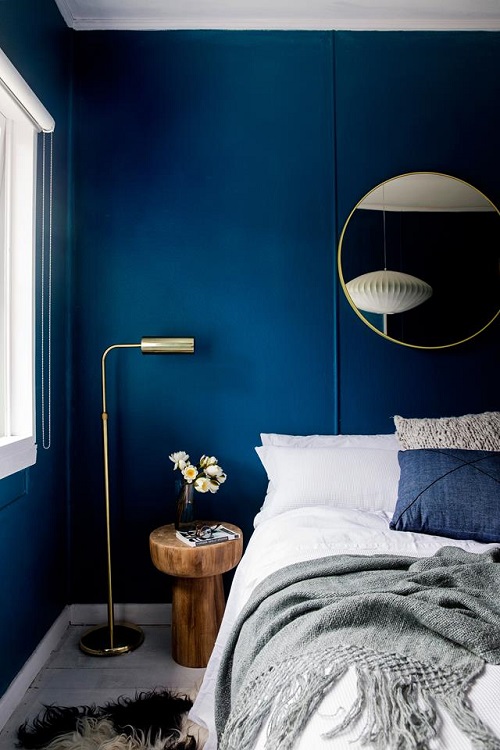 Make your room stand out by introducing a brass floor lamp, a gilded round mirror, and painted blue walls. It's one of the most amazing blue and gold bedroom ideas.
8. Blue and Gold Patterned Wallpaper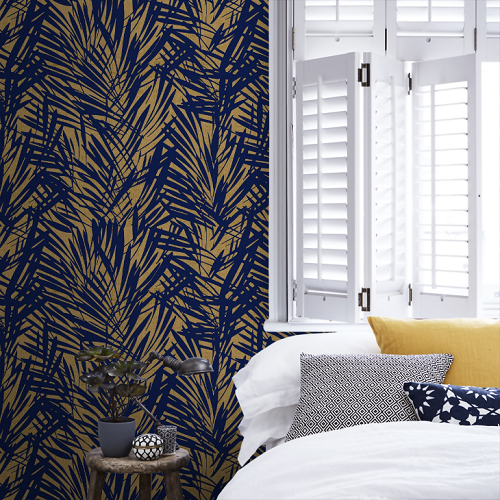 If you want to amp up your bedchamber without much effort, use blue and gold wallpaper featuring palm leaves.
9. Blue Walls with Gold Linings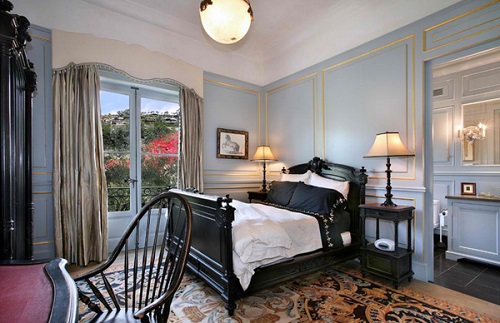 This bedroom has gold linings on the wall that go quite well with blue walls. Include vintage furniture for an added touch.
10. French Gold Folding Screen and Blue Nautical Wallpaper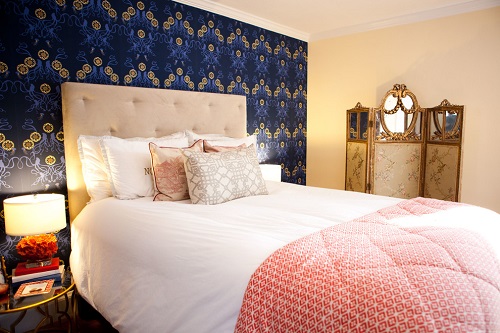 Make your bedchamber a sight to behold by using octopus & jellyfish wallpaper and a gilded folding screen.
11. Blue Romance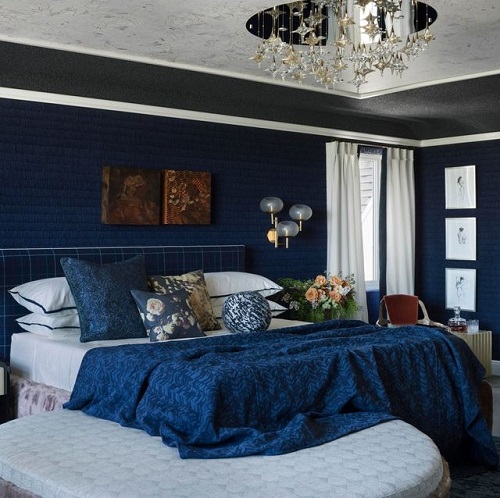 The illustrious cobalt-colored wall gives this bedroom personality and luxe look.
12. Blue, Blue, and Blue!
This modern sleeping room creates a relaxing atmosphere with a mixture of different blues.
13. Cozy in Cobalt
A gilded vintage mirror, cobalt-hued wall, unique art, and leopard print pillows are the highlights of this dramatic bedroom.
14. Serene Blue and Gold Bedchamber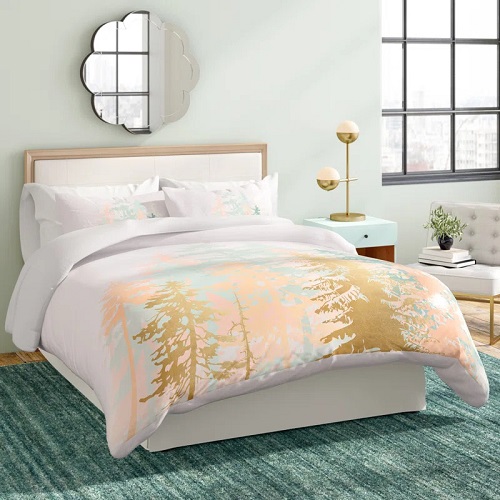 The tones of gold in the comforter and table lamp complement the baby blue walls.
15. Coastal Blue and Gold Bedroom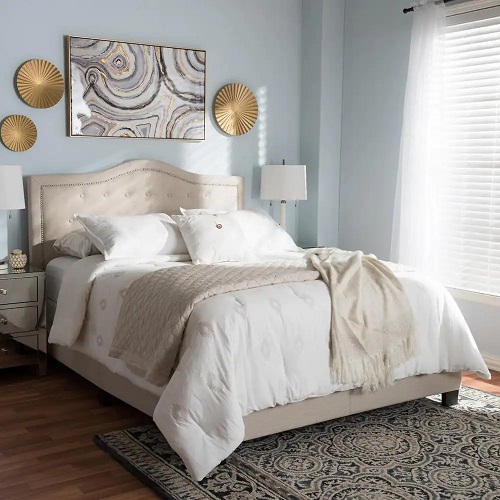 Fill your bedchamber with beachy vibes by painting the walls coastal blue. Hang gold-hued wall decoratives to amp up the interior.
16. Try Gold Globe Chandelier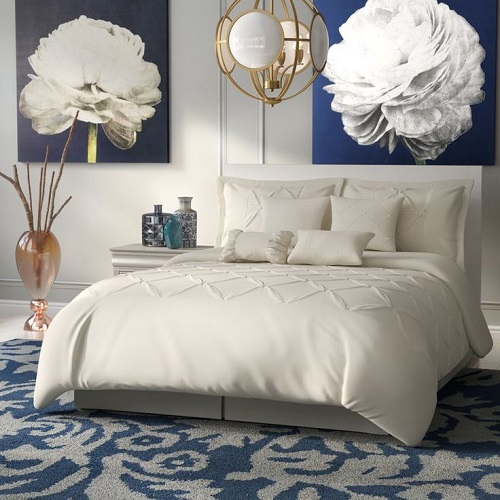 This alluring sleeping space has a golden globe chandelier, multicolored carpet, and large paintings.
17. Floral Blue Bedroom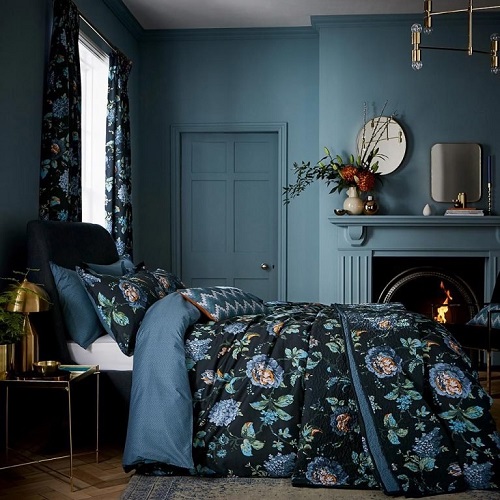 A blue floral duvet, curtains, and pillows are used in this gothic-colored bedchamber to make a statement.
18. Blue Velvet Bed with Gold Frame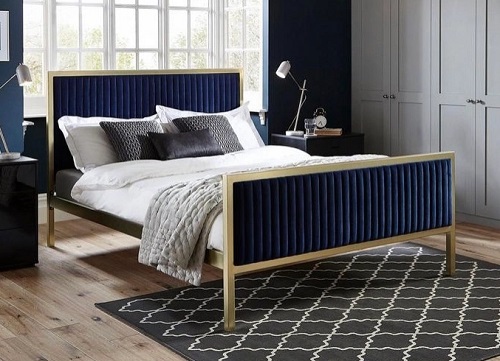 Festoon your bedroom with the stylish golden-framed, blue velvet bed. This idea is perfect for less spacious homes as well.
19. Gorgeous Blue Nightstand with Luxurious Gold Legs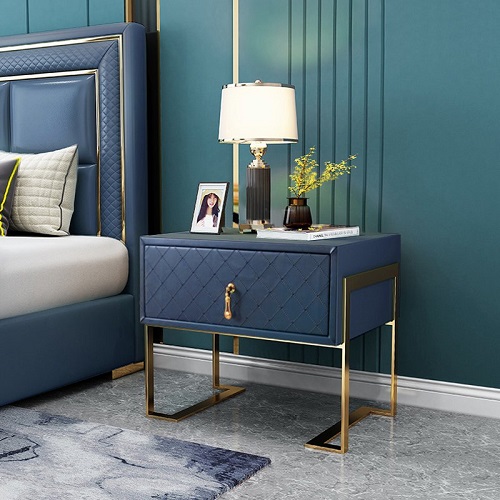 Equipped with golden legs, this gorgeous blue nightstand is the best way to upgrade your bedroom's aesthetic.
20. Planter, Chandelier, and Curtains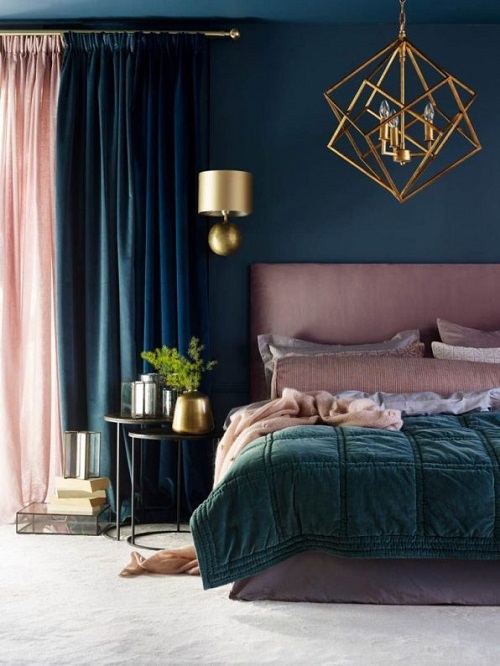 This bedroom is filled with golden tones (planter, wall-mounted lamp, and chandelier), & pink and blue curtains.
21. Bedroom with Navy Shibori Style Accent Wall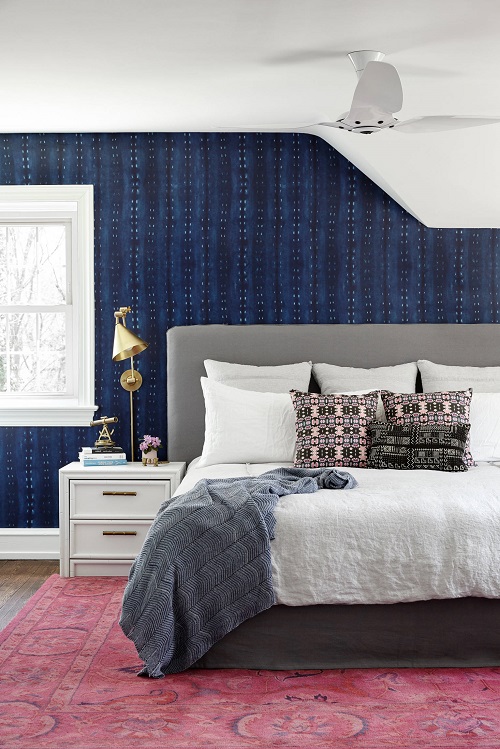 Decorate the wall of your monotonous bedchamber with the navy blue shibori-style wallpaper.
22. Modern Boho Bedroom with Blue and Gold Features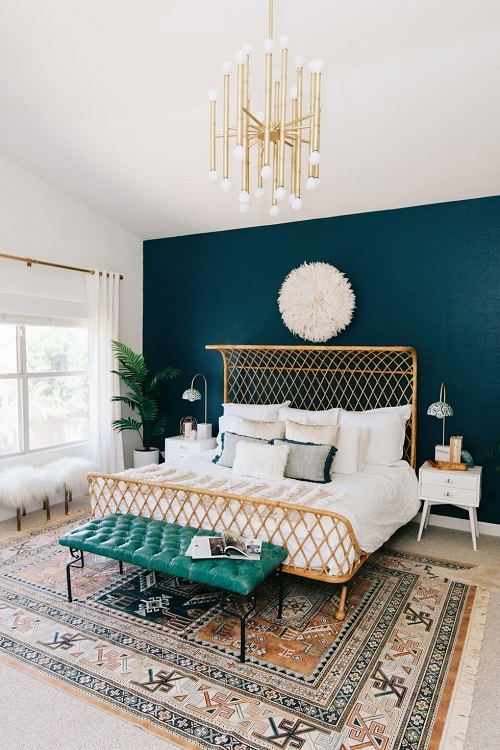 To copy this modern boho bedroom, use a mid-century-inspired pendant light, a unique bed, an eye-catching rug, and a dark blue accent wall.
23. Combination of Blue, Gold, and White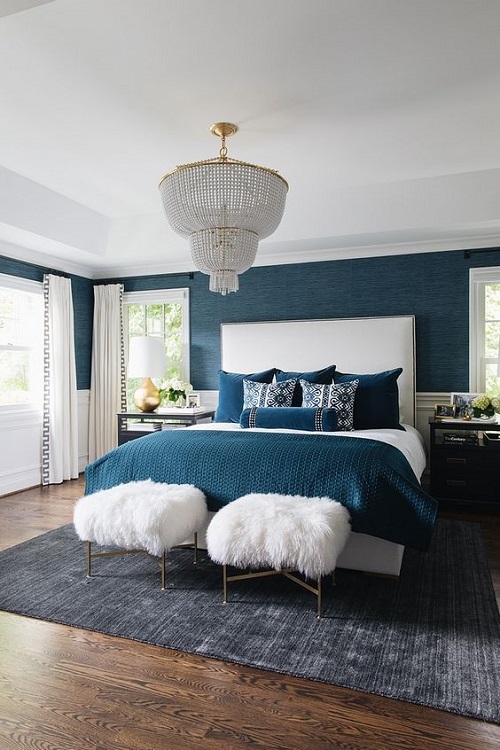 The color scheme of blue, gold, and white gives this place a timeless appeal. It's one of the best blue and gold bedroom ideas.
24. Blue Bedroom with Flowers and Artwork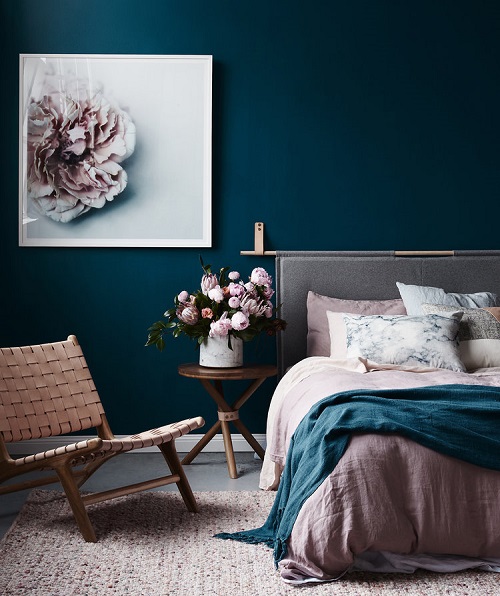 Outfitted with cut flowers, a pink duvet, beautiful artwork, and a deep blue wall, this bedchamder is captivating.
25. Blend of Blue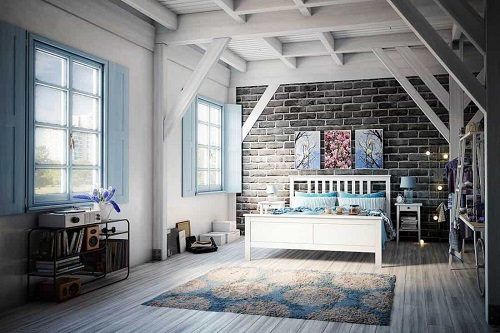 The cerulean rug and powder blue window shutters look fantastic against the whitewashed wall and ceiling.
26. Blue Bedding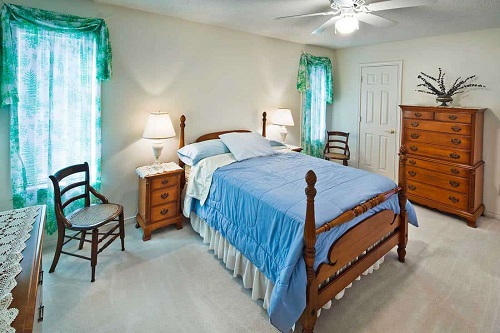 Want an instant pop of color in your neutral-hued sleeping room? Consider blue bedding to get the job done.
27. Victorian Bedroom
With hints of gold and platinum, this victorian-style bedroom has light blue tones everywhere.
28. Blue Breeze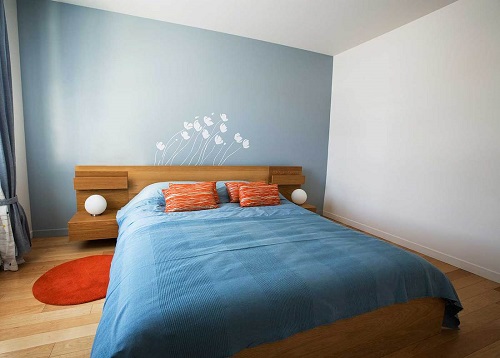 In this bedchamber, a fun wall decal is affixed against a sky-blue backdrop to create an interesting illusion. It's one of the most minimal blue and gold bedroom ideas.
Learn how to decorate your bedroom for Christmas here