Make a cozy hangout space for your adorable feline friend with these frugal Homemade Cardboard Cat House Ideas!
Rather than tossing out the empty cardboard boxes, create a lovely tiny home for your kitty with these Homemade Cardboard Cat House Ideas.
Learn can cats eat dragon fruits here
---
Homemade Cardboard Cat House Ideas
1. DIY Cardboard Cat House
Here's the tutorial to DIY a chic house for your cat with cardboard, creativity, and a little bit of patience.
2. DIY Kitty Castle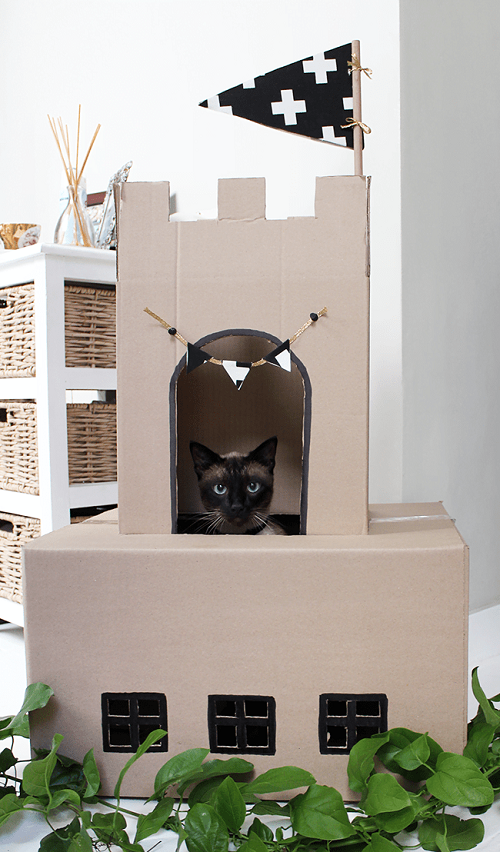 Give your queen kitty a castle of her own, made from cardboard, duct tape, and other stuff. The details are here.
3. Chewy Box Cat Castle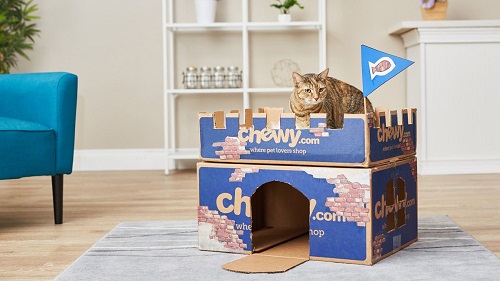 If you happen to have any empty chewy box, turn it into a mini castle for your feline companion. Instructions are here.
4. Cardboard Cat Igloo House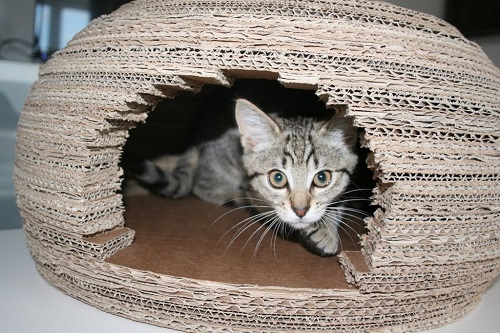 A quirky addition to the home decor and a snuggly napping place for kitty, this cardboard cat igloo house is easy to build.
5. DIY VW Bus-Inspired Cardboard Kitty House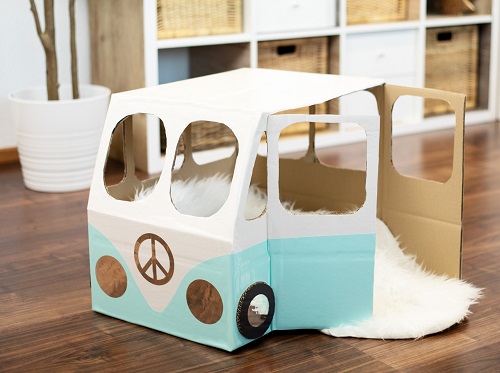 This adoptiversary, gift your cute furball a unique VW bus-inspired cardboard house of her own. Read more here.
6. Haunted Cat House
Include your furry friend in the Halloween celebration by making a haunted cat house for a spooktacular effect.
7. Cardboard Gingerbread Cat House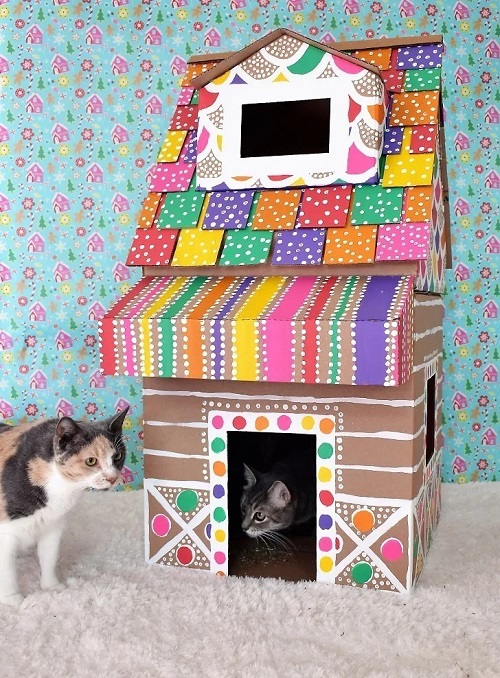 Get your feline into the Christmas spirit by making a gingerbread-themed cat house from cardboard and this DIY.
8. DIY Cat Camper House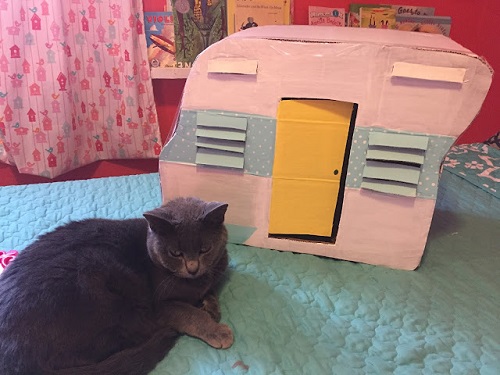 Recreate this cute cat camper house with cardboard, packing tape, x-acto knife, paint, brush, and this tutorial.
9. Cardboard Cat Mansion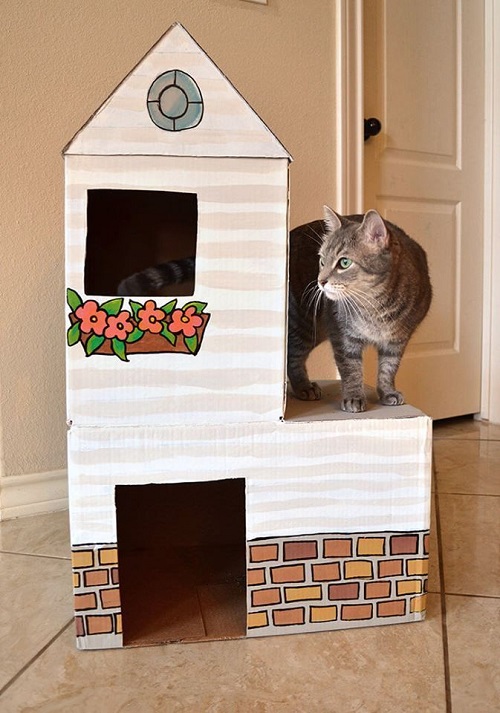 If you're on a tight budget but still want to make a home for your pussycat, take a look at this tutorial to create an inexpensive cardboard cat mansion.
10. Mid-Century Cardboard Cat House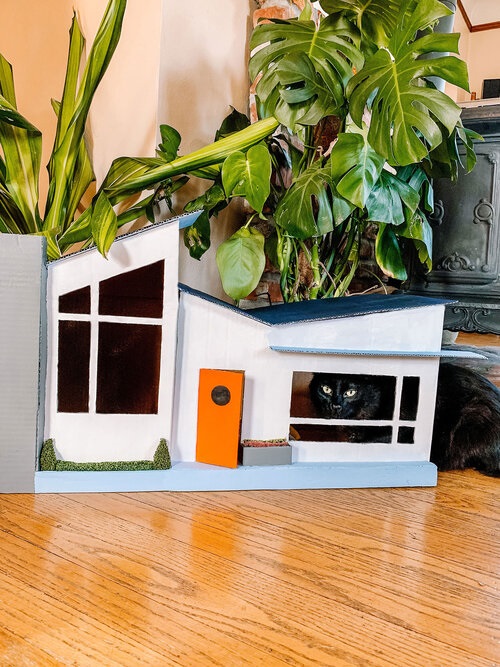 Cardboard, x-acto knife, metal ruler, glue, craft paint, and measuring tape are all you need to put together a mid-century cat house.
11. Cabana-Inspired Feline House
With full of beachy vibes, this stunning cabana-inspired feline house is an excellent alternative to pricey store-bought cat houses.
12. Easy Cardboard Cat Fort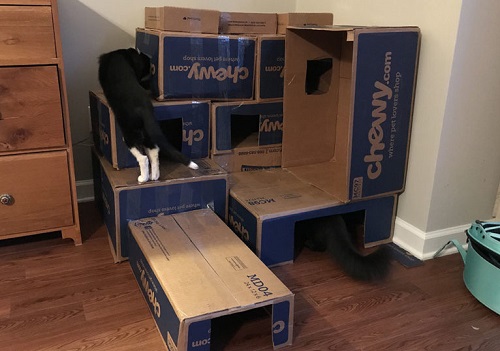 Don't know what to do with the scrap cardboard boxes? Repurpose them to build a fort for your furry friend.
13. DIY Amazing Cardboard Cat House
Watch this video to mimic this outstanding cat house featuring toys, two sleeping rooms, and a terrace.
14. DIY Kitten House with Scratching and Rubbing Poles
Equipped with scratching and rubbing poles, this kitten cardboard house has a foam base on the top.
15. Cardboard TV Cat House
This YouTuber shows how you can whip up a vintage TV cat house from cardboard and some craft supplies. The best part, it can be used as a decorative piece as well.
16. T-Shirt Cardboard Cat House
Combine a t-shirt and a cardboard box to create a cheap, no-fuss house for young kittens. The details are here.
17. Cardboard Tiger Cat House
Check out this video to assemble a one-of-a-kind tiger-themed feline house. It's one of the best homemade cardboard cat house ideas on this list.
18. Christmas Tree Cat House
Everyone deserves a holiday gift, including your furry friend, that's why DIY this Christmas tree cat house for your little companion.
19. Amazing Cardboard Cat House With Scratcher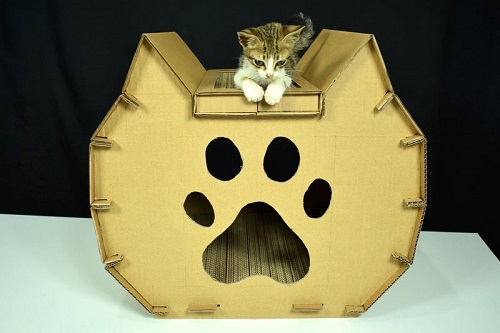 Follow this instructable to assemble an ingenious cardboard cat house equipped with a scratcher at home.
20. McDonald's Cardboard Cat House
Take your cat house DIYing game to a whole new level by creating this amazing McDonald-themed cardboard kitty house.
21. DIY Fairy Cottage Cardboard Cat House
This cottage cardboard cat house is not only a perfect napping spot for your furball but also an eye-catching addition to the home decor.
22. DIY No Glue Cardboard Cat House
This simple cat house is made from only cardboard, no glue or other supplies are needed.