Do you fancy leather accessories? Here are some cute and classy DIY Leather Crafts, worth your time and efforts!
Leather adds a classy touch to ordinary accessories but is expensive enough to choose alternatives. If you are in the same boat, here are some trendy DIY Leather Crafts to fit your bill!
Find out some brilliant DIY leather coasters ideas here
---
DIY Leather Crafts
1. DIY Leather Hair Bows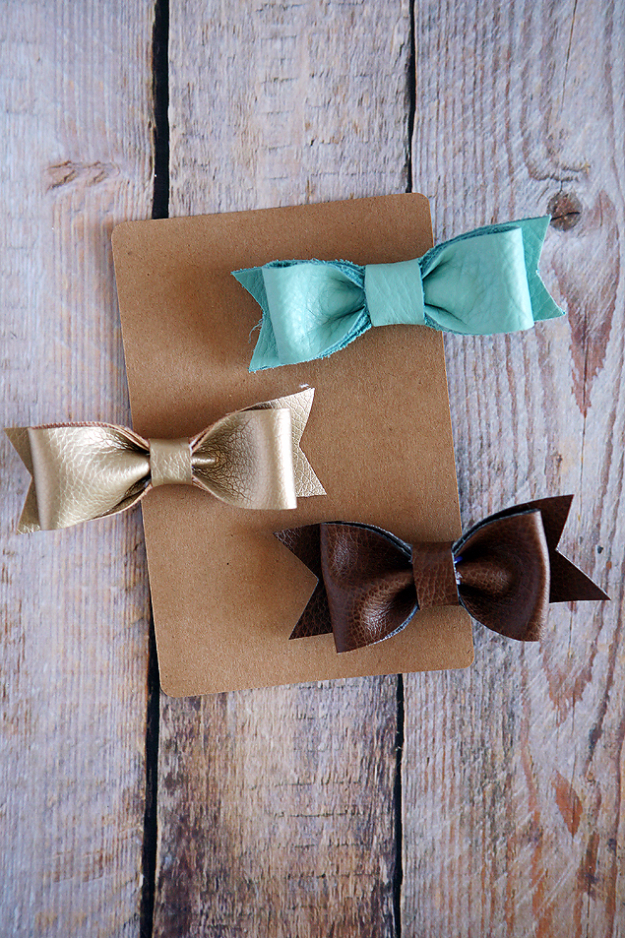 There are quite a few things you can do with leather. You can create these amazing-looking Leather Hair Bows by following
this simple tutorial
.
2. DIY Leather Tassel Keychain
It is a hoot and a half working with leather, so we bring you this fantastic DIY Leather Tassel Keychain tutorial! Sooner or later, your friends are bound to come asking for these.
3. DIY Leather Jewelry Dish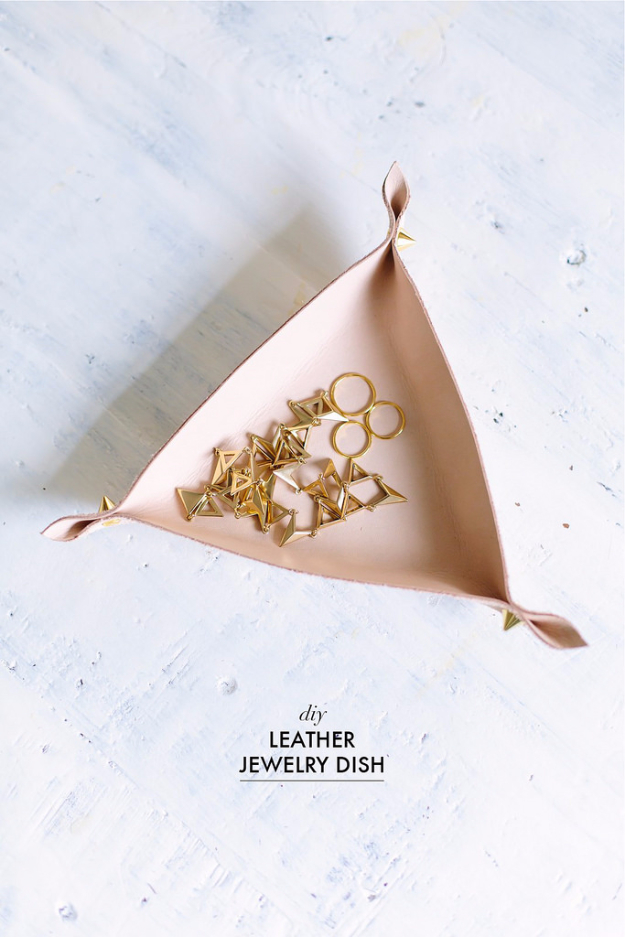 Check out this fantastic tutorial by A Pair and A Spare. This is the best-looking jewelry dish we've laid eyes on. Why not make yourself one?
4. DIY Leather Conversation Hearts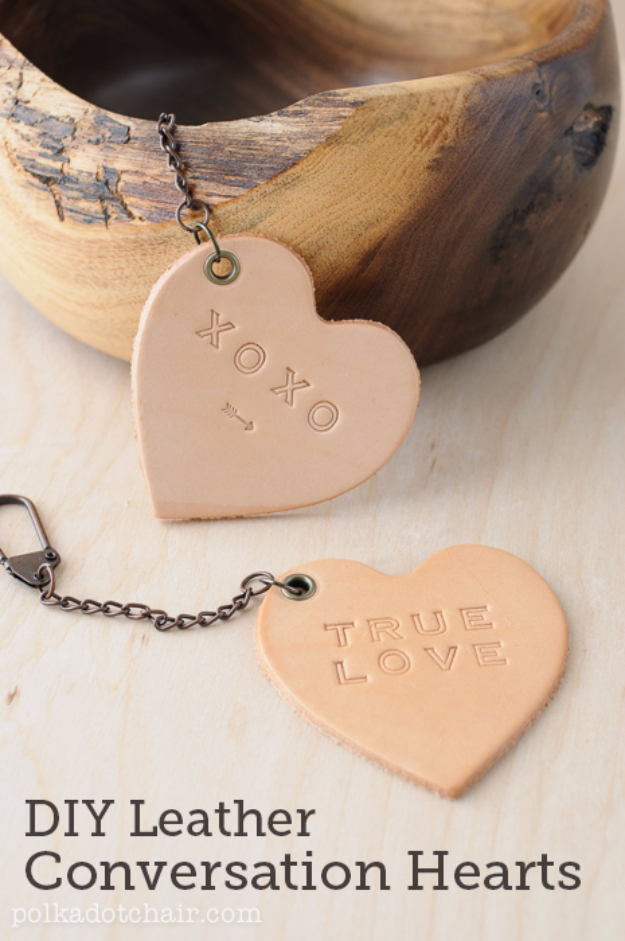 Here's a fun idea for Valentine's. Make it a style statement! As shown above, create your leather conversation hearts – head on to Polkadot Chair for the tutorial!
5. DIY No Sew Leather Jewelry Pouch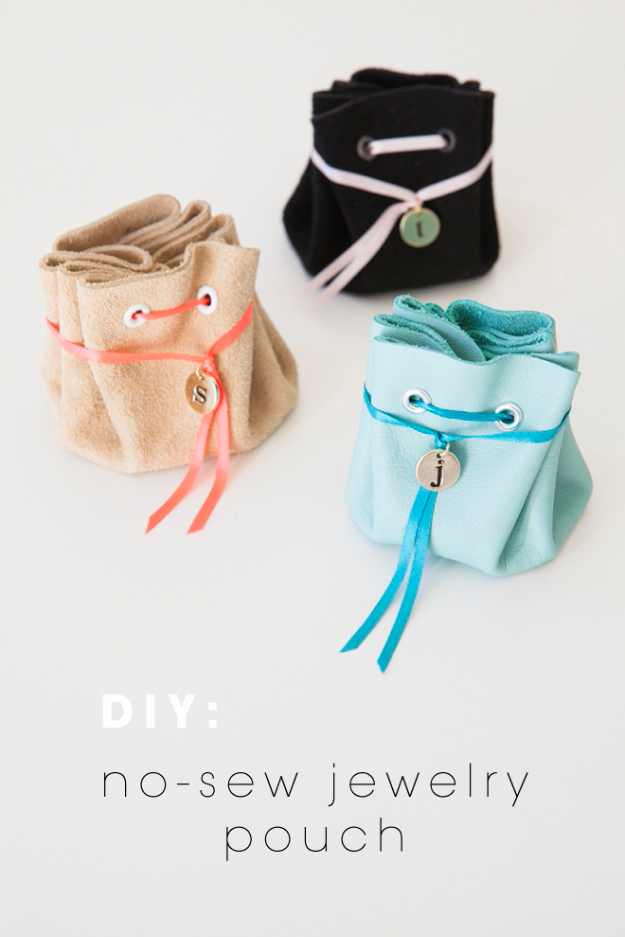 If in any case, you need to store your jewelry in a safe and discrete space, craft this easy DIY No-Sew Jewelry Pouch! The tutorial is here.
6. Leather Laptop Case DIY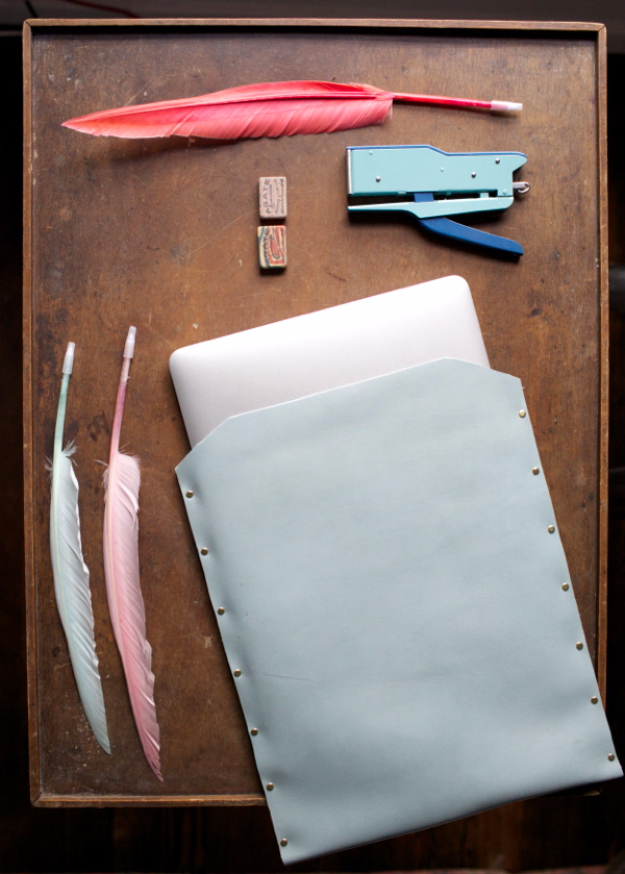 Your laptop deserves some loving too. Not to mention a stylish leather case! This time, Oh Happy Day brings you a fantastic tutorial on how you can make one.
7. Leather Sunglasses Case DIY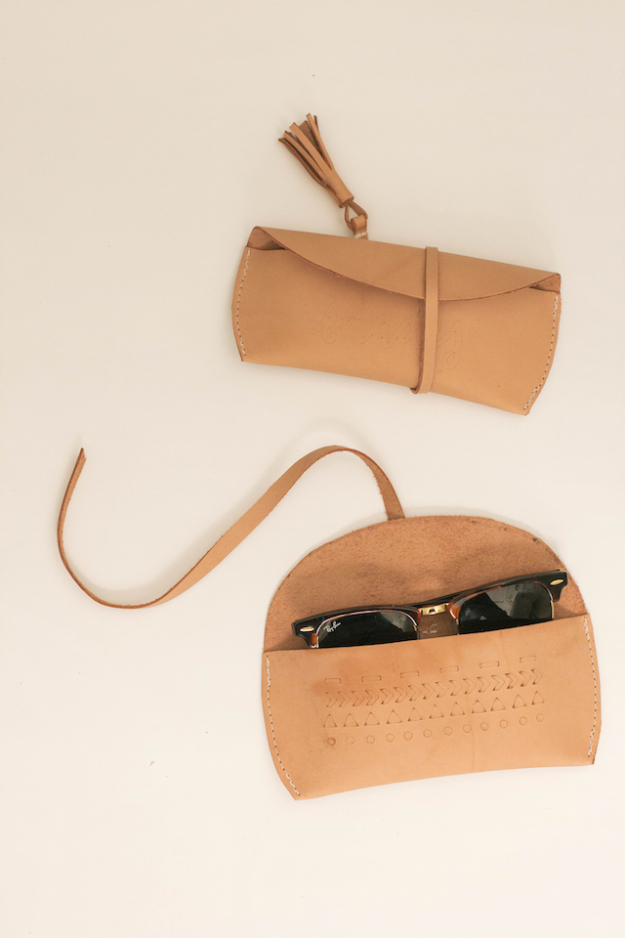 Only if there was a particular reason for your sunglasses, but wait, there is! Check out this article by Always Rooney, which brings you a step closer to Haute fashion.
8. DIY Ombre Leather Coasters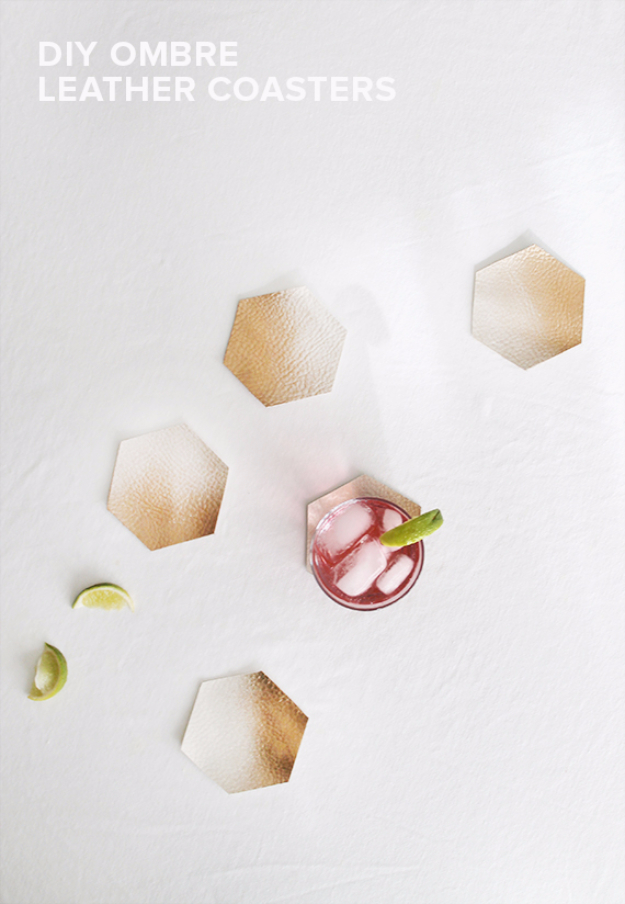 Check out Almost Makes Perfect's blog post detailing how you can make hexagonal Ombre Leather Coasters!
9. No-Sew Leather Key Fob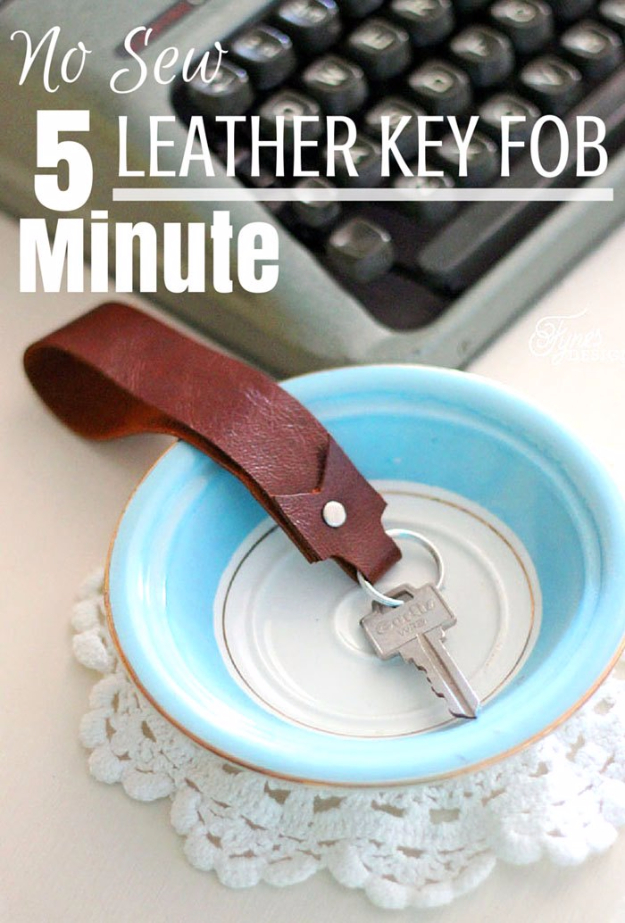 Check out this easy no-sew leather key fob that you can make at home with ease! To put it differently, head on to Fyne Designs for a detailed tutorial.
10. DIY Scalloped Leather Clutch
Everybody's born with different talents and skillset. Accordingly, if crafting is yours, check out this fantastic Scalloped Leather Clutch that you can craft by following this super simple tutorial on Wouldn't It Be Lovely.
11. DIY Beaded Leather Bracelet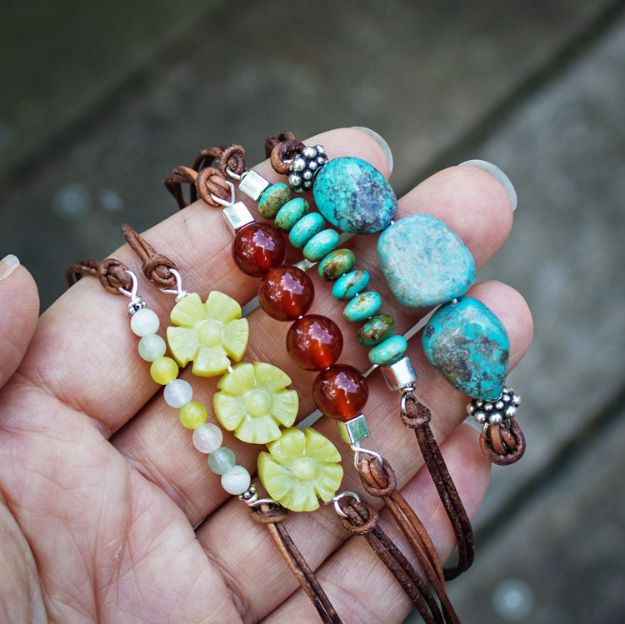 This tutorial
on DIY Joy lets you craft these adorable leather bracelets using plain beads. This tutorial isn't for the faint of heart.
12. Leather Flannel Snap Scarf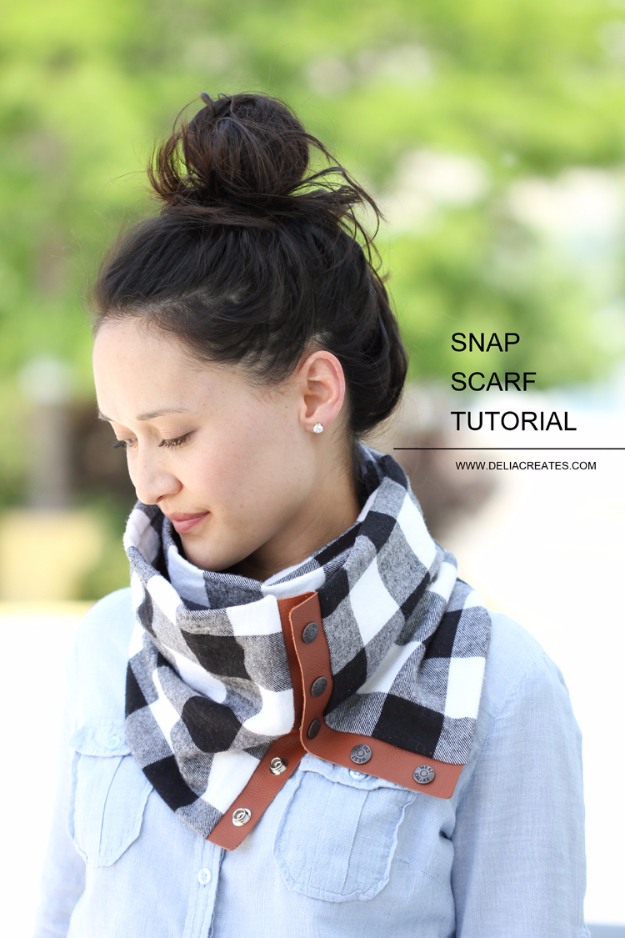 Wow, that looks so good. Surprisingly, it's super easy to create! Indeed, if you follow this article by Delia Creates, you'll have a Leather Flannel Snap Scarf of your own!
13. Leather Heart Coin Purse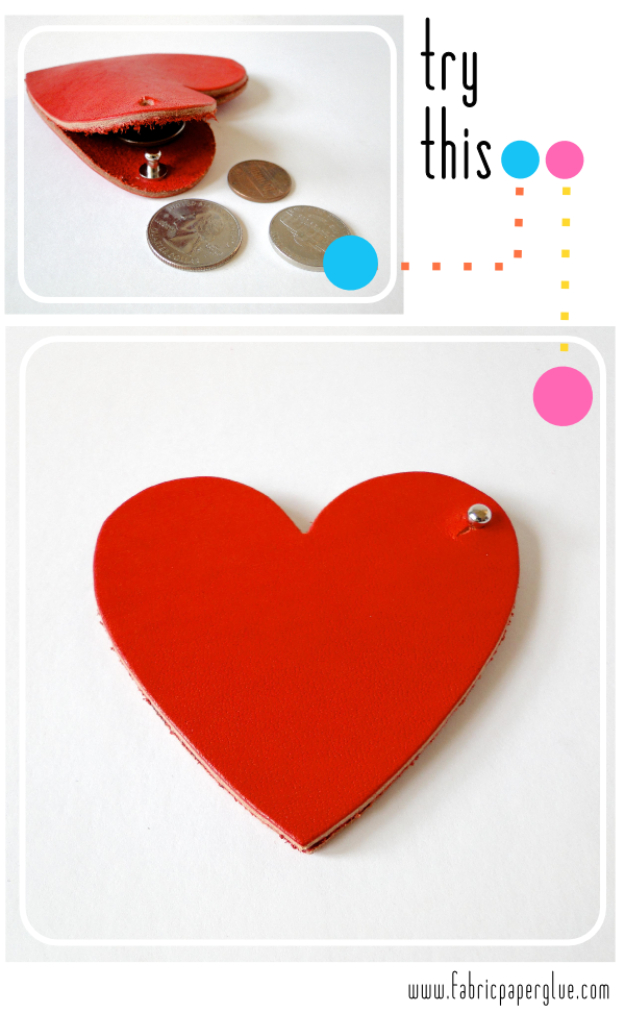 You've come to the right place if you've always wanted a small leather pouch for miscellaneous carriage. Presently, this is the best tutorial available on how to craft a Leather Heart Coin Purse for yourself!
14. Geometric Leather Mouse Pad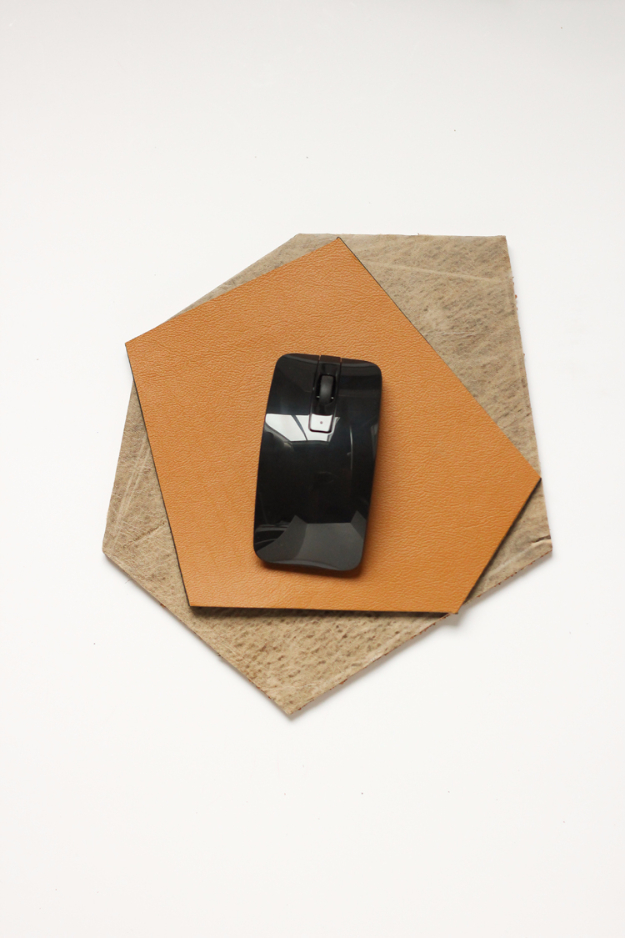 Did you know you can create a mouse pad out of leather? Neither did we! Until we tried this method ourselves – and it works! Head on over to another excellent tutorial by Delia Creates for this lovely mouse pad.
15. Leather Cord Roll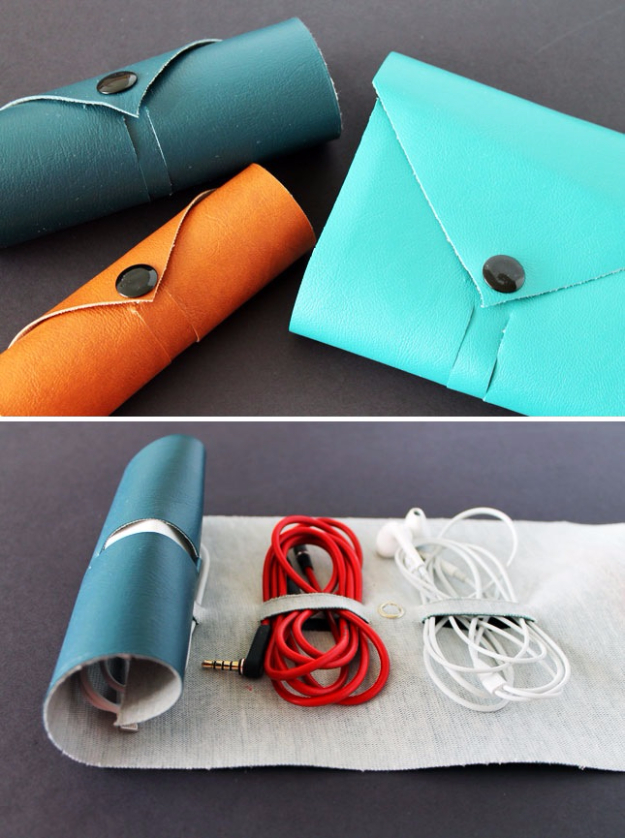 Tangled wires are a thing of the past. Cord rolls are the trend, and you don't need to buy one! After all, you can make one for yourself for ridiculously cheap – take Brit.co's word for it!
16. DIY Rustic Leather Tassel Ornaments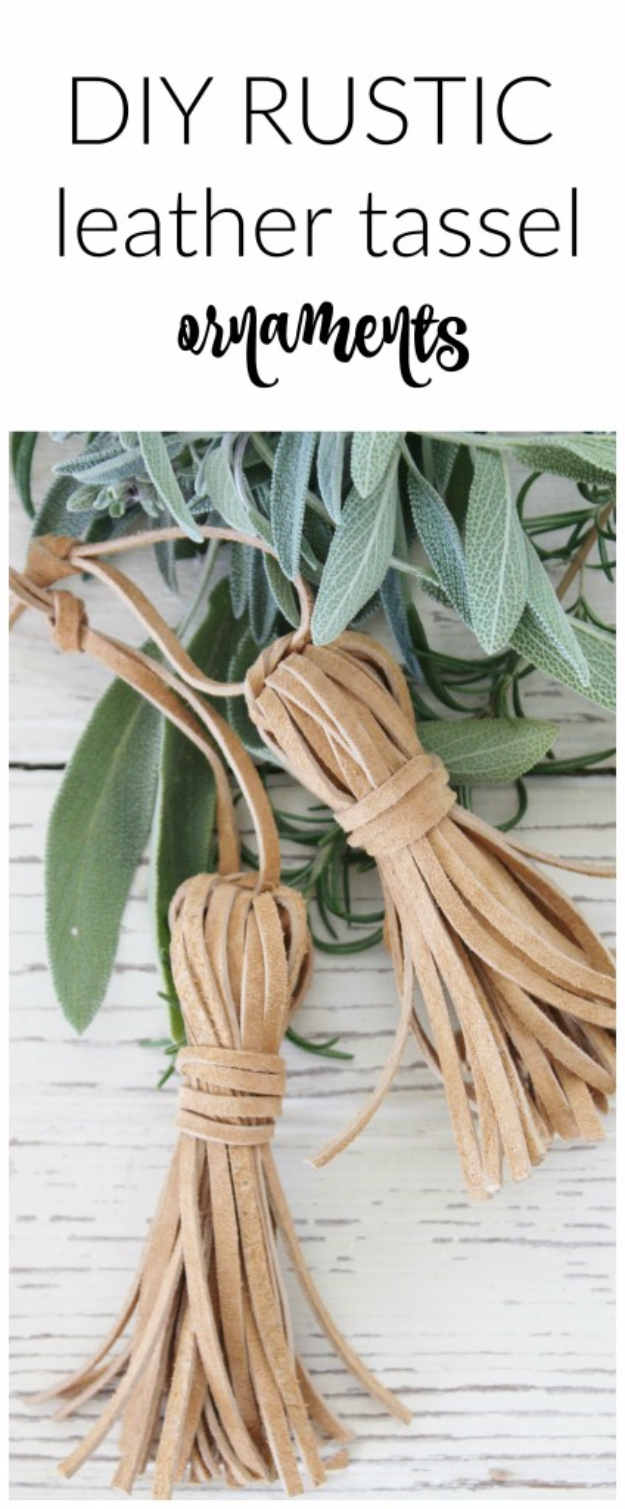 Here's a tutorial by City Farmhouse on how to create Rustic Leather Tassels for ornamental usage! Undoubtedly, these look good.
17. DIY Leather And Gold Leaf Notebook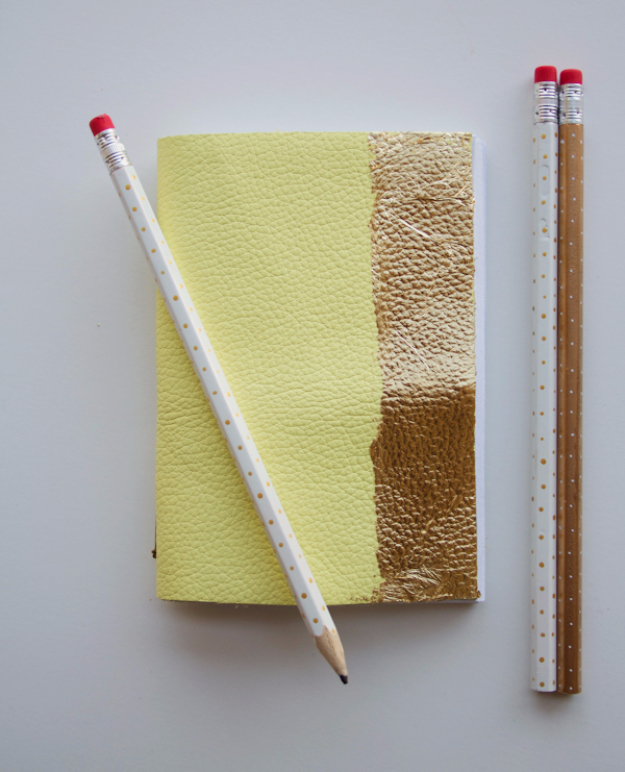 This notebook is one for the posh people out there. After all, it does feature actual gold leaves as a crafting ingredient! Head on to Lovely Indeed for this amazing tutorial.
18. Leather Straps For Tote Bags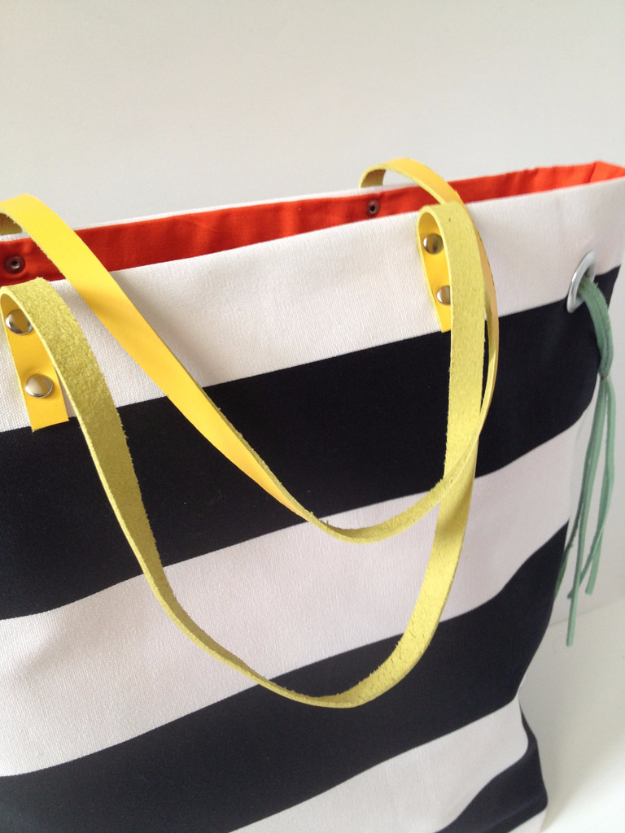 This DIY Tote Baguses rivets and grommets to sew together. Although there's no need to be intimidated – it's pretty easy to work with them. Click this link to follow the tutorial.
19. DIY Leather Tissue Pouch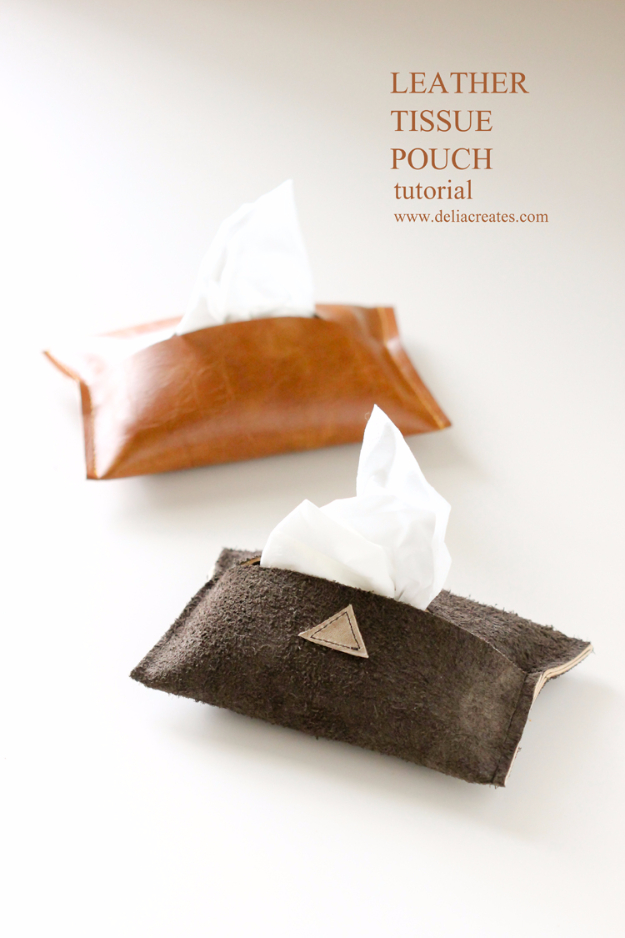 Check out this fantastic Leather Tissue Pouch from Delia Creates! In effect, this leaves your tissues feeling fresh for longer! Leather locks the moisture out.
20. DIY Braided Leather Dog Leash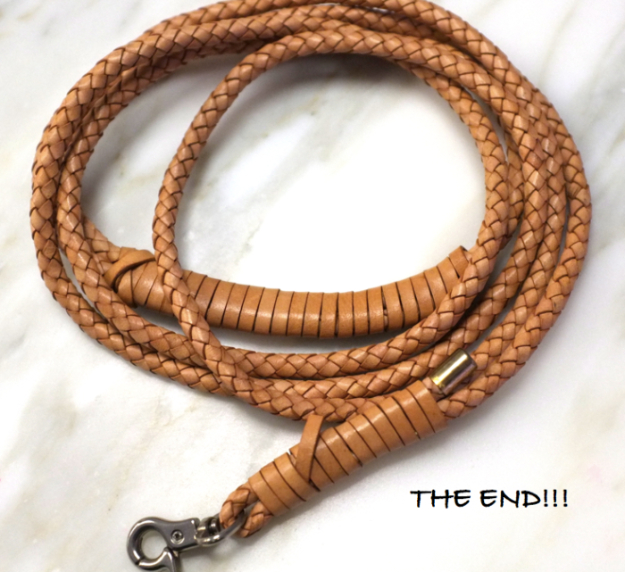 This one is for the pet lovers out there! Sketch42Blog has
an excellent tutorial
on how to bling up your pup's leash.
21. DIY Lace Cut Gold Leather Cuff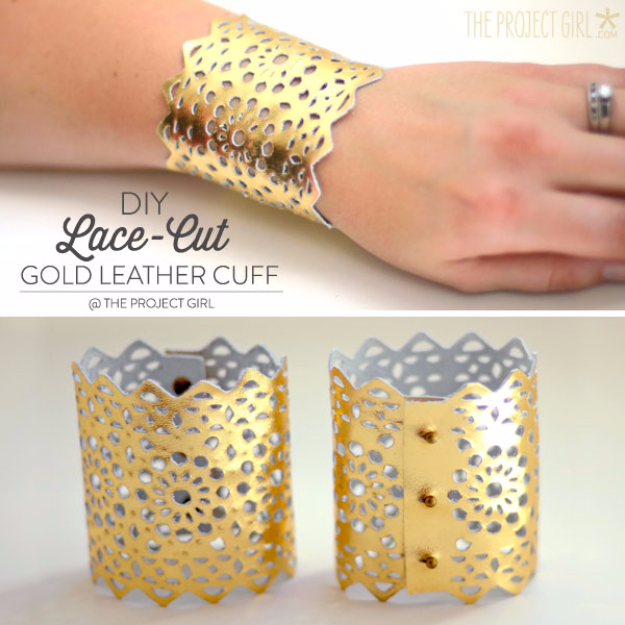 Here you see a Cricut-enabled Lace Cut Leather Gold Cuff! The Project Girl has a step-by-step tutorial you can follow that makes sure your die-cut leather article turns out perfect.
22. Transformable Leather Sculpted Earrings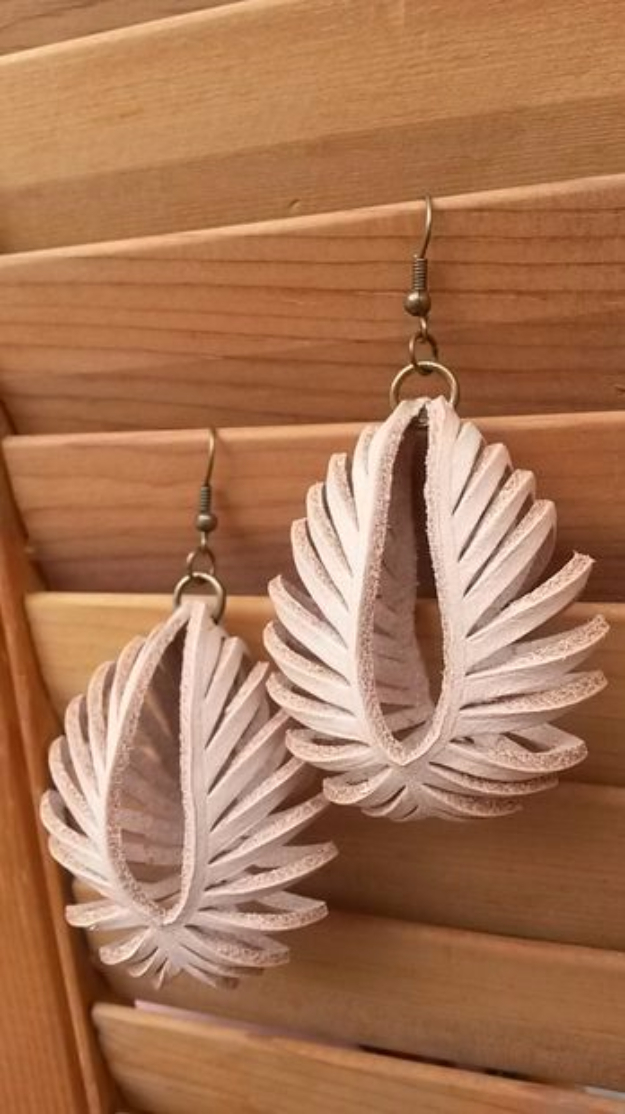 Wow, what's that? High praise for a unique earring, that's what! Given that these are made out of a single sheet of leather each, these 3d sculpted models are sure to turn heads on every block. Check out the Instructable here.
23. Braided Leather Headband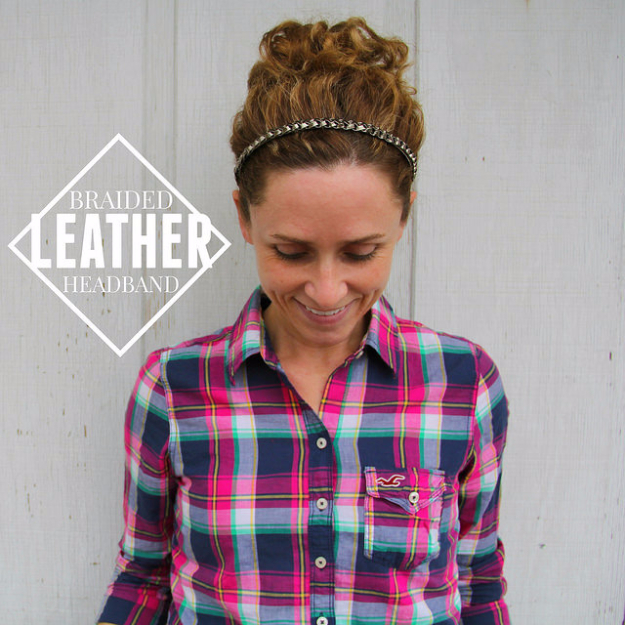 Check out this braided leather headband! Kristina Clemens has an excellent tutorial that gives you the steps here.
24. DIY Leather And Brass Teardrop Hanging Planter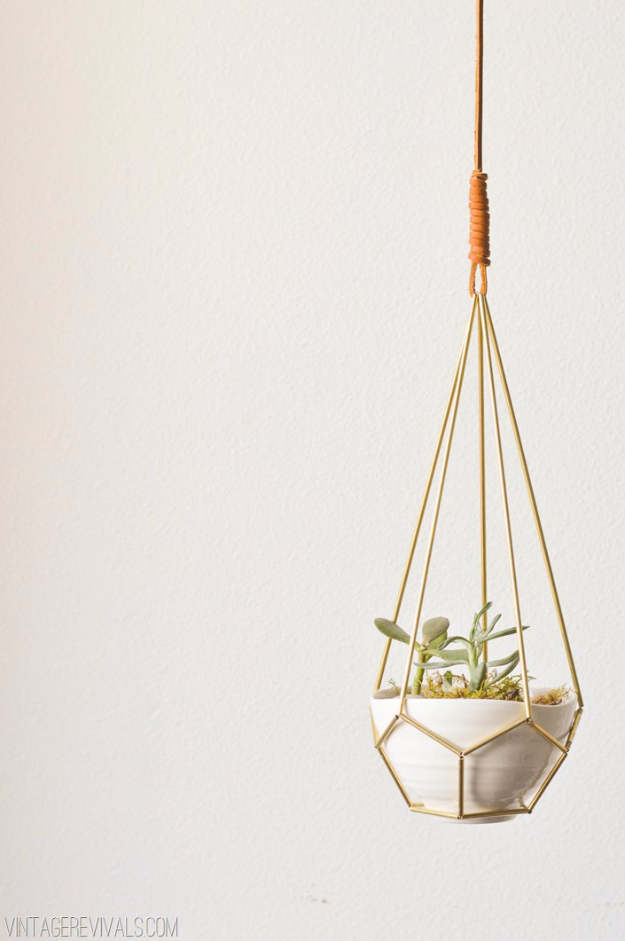 Where do you keep all those planters? You hang them, of course. Follow this awesome tutorial by Vintage Revivals to see the blow-by-blow.
25. DIY Leather Wallet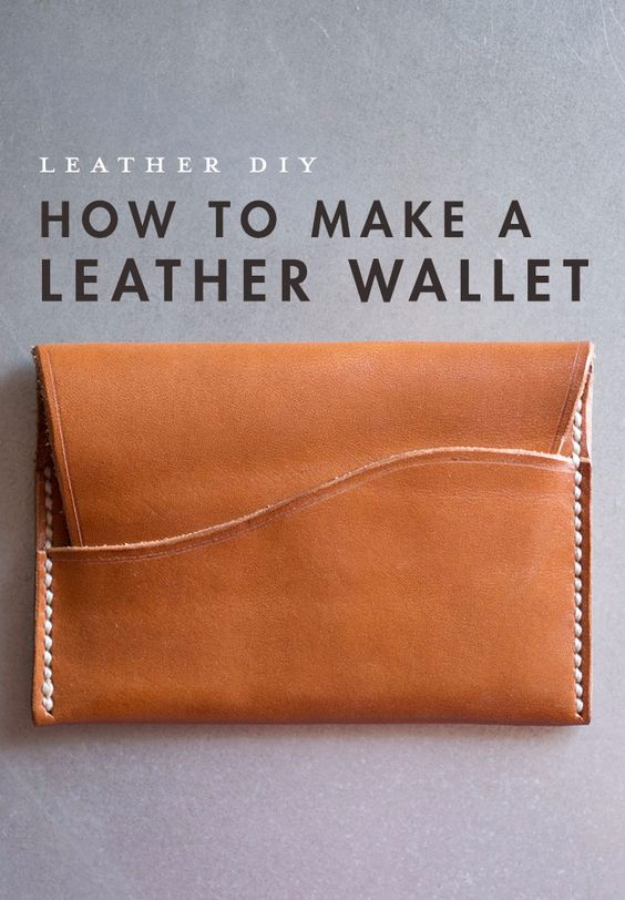 Sew a pretty leather wallet for a loved one by following this tutorial on Primer Magazine! In the meantime, check out some of the other offerings on the list.
26. DIY Triangle Leather Pouch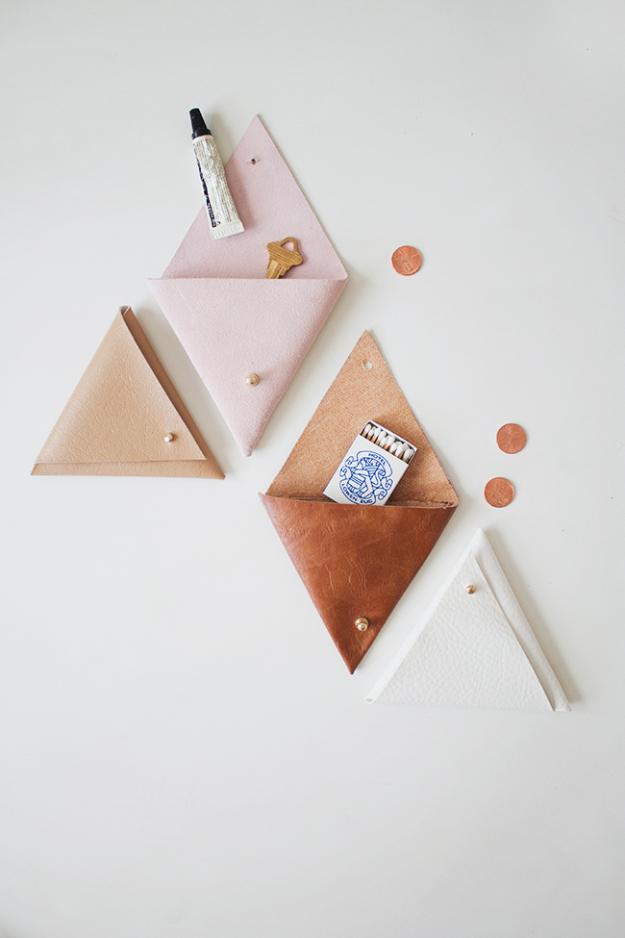 Watch out for this origami-inspired Triangle Leather Pouch! Made with just one single sheet of leather and some clever folds, you too can create a fabulous pouch by following this tutorial.
27. DIY Leather Wrap Bracelet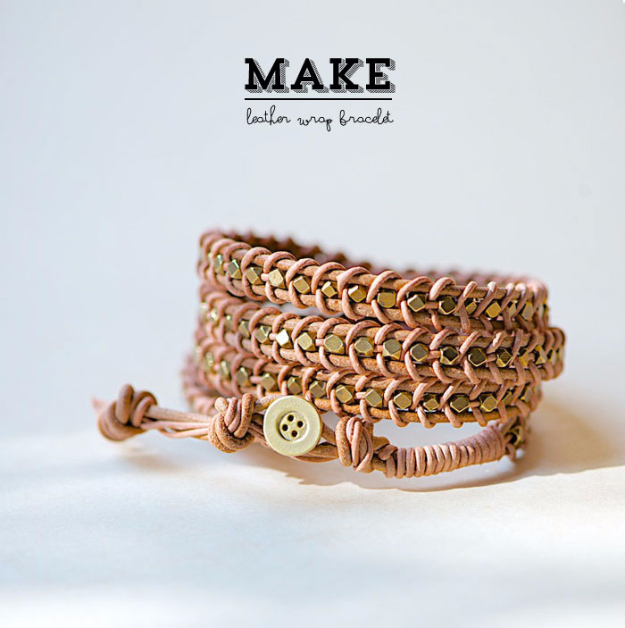 This DIY Leather Wrap bracelet is one for the vanity fairs. Pretty and unique, you can use various beads to liven it up. Follow this tutorial on Poppytalk to see how you can make one of your own.
28. DIY No Sew Leather Bow Necklace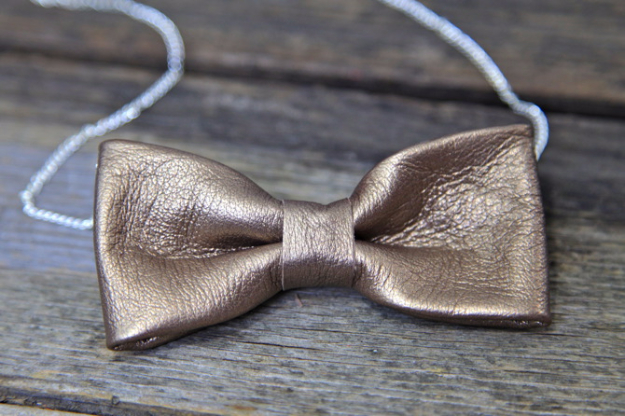 Leather bow-ties are in! For this reason, we have curated for you one of the finest tutorials available on the internet for a No-Sew Leather Bow Necklace – just head on to Pretty Prudent and see how you can make one for yourself (or someone you love).
29. Leather Geometric Necklace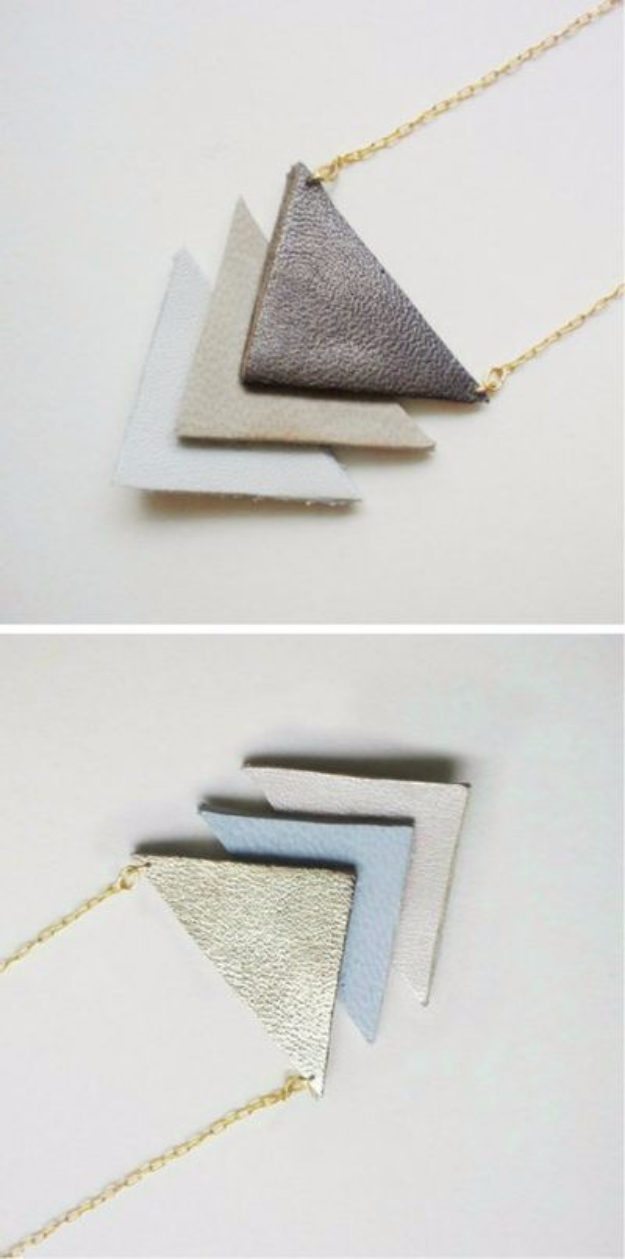 Shannon Eileen has a pretty decent tutorial on how you can make some Geometric Necklaces made out of leather. Check her out from this link.
Check out some stunning DIY monogram planter ideas here