Try these 35 of the Best Zipper Crafts ideas to DIY some display-worthy and functional stuff from zippers!
Do you have some extra zippers? Then create numerous uncommon items out of them using these Best Zipper Crafts.
Have a look at the best DIY fun craft ideas here!
---
Best Zipper Crafts
1. Hip Zipper Butterfly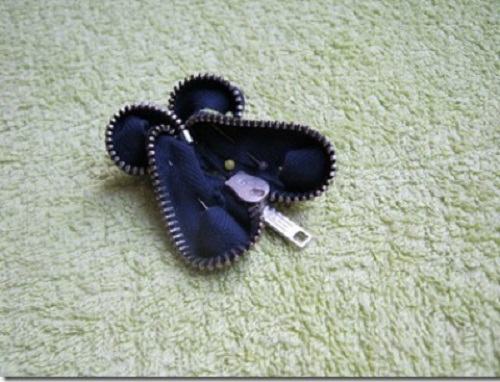 Upcycle an old zipper to bring this darling butterfly brooch to life. The instructions are here.
2. DIY Zipper Rose Headband Craft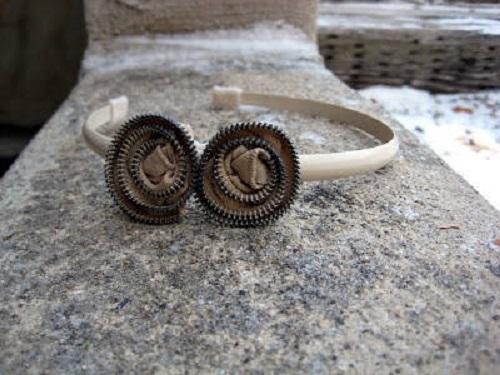 Learn how to DIY a lovely headband out of metal zippers, glue, felt scraps, and a regular headband in this tutorial.
3. Zipper Ring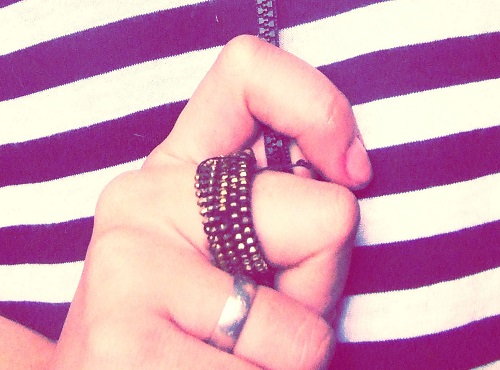 Swap your existing ring with this unique zipper ring that attracts a lot of praise from your family and friends.
4. DIY Statement Zipper Necklace
This stylish, statement-making zipper necklace is what you need to wear for the next party.
5. DIY Zipper Bracelet Craft
To mimic this funky bracelet, get a zipper, a scissor, and a kitchen flame lighter. Check out the video for instructions.
6. Rainbow Zipper Pouch Tutorial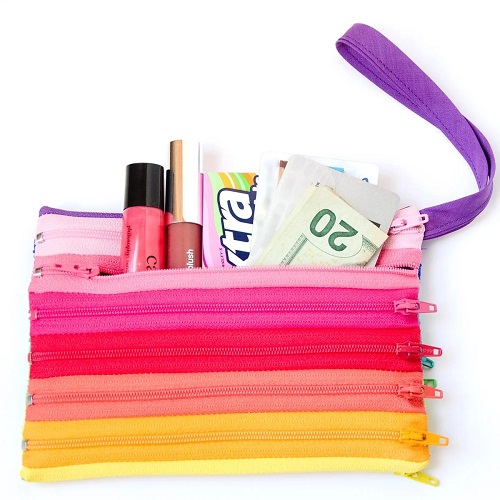 This rainbow pouch is a creative way to use leftover zippers. Use it to corral money, keys, tiny cosmetic stuff, and candies.
7. Chic Zipper Bow Tie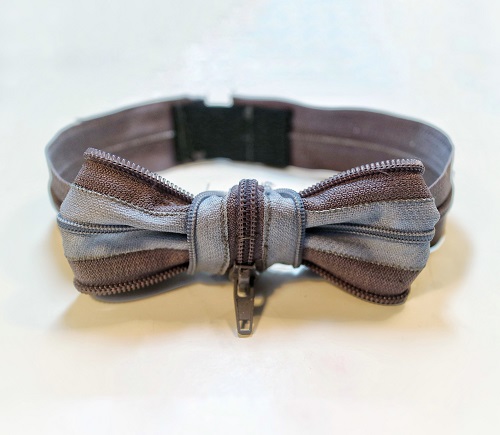 Gather zippers, matching thread, velcro strip, a sewing machine, and pins to DIY this elegant-looking bowtie.
Check out some stylish DIY dog bow tie ideas here
8. DIY Zipper Pencil Case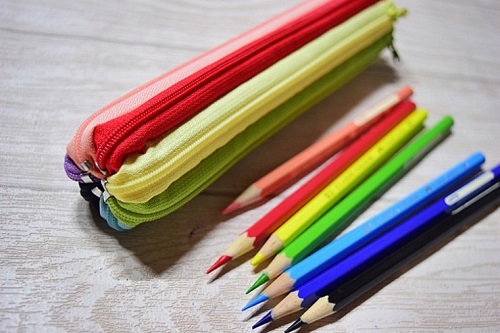 Here's the tutorial to make a multicolored pencil case with zippers, a needle, thread, and crafting skills.
9. Zippered Plastic Bottle Apple Containers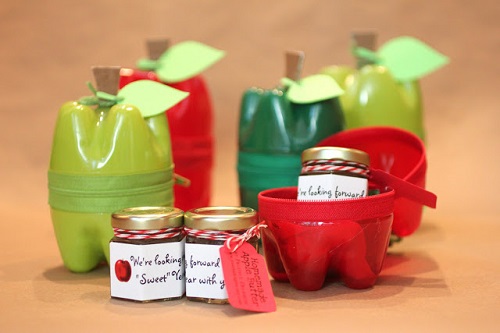 Use these zippered plastic bottle apple containers to keep your stationary stuff in check or gift them to your loved ones.
10. Zipper Rosettes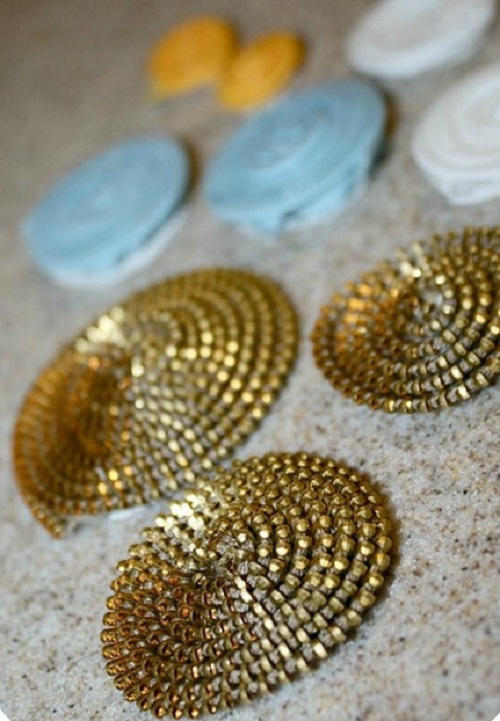 These trendy zipper rosettes are easy to DIY and ideal as adornments for shoes, bracelets, headbands, earrings, and necklaces.
11. Zipper Book Clutch Craft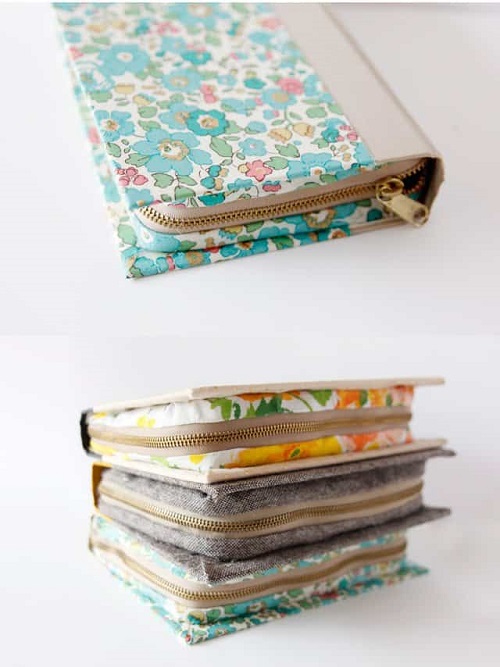 To recreate this unique book purse, get one old hardcover book, zipper, fabric, glue, brush, and x-acto knife. Read more here.
12. Zipper Trim Tree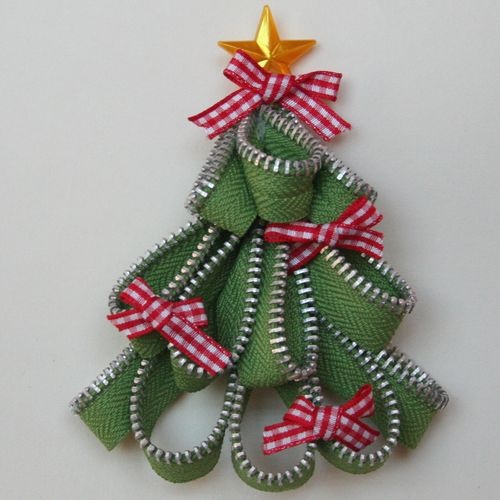 Are you looking for the perfect holiday craft for Christmas? Check out this zipper trim tree article.
13. Cute Zipper Stud Earrings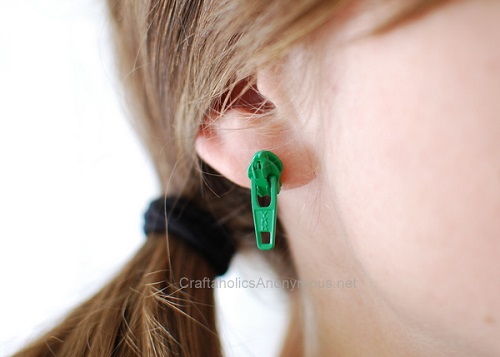 This blogger shows how you can cleverly transform the zipper pulls into super cute earrings.
14. Zipper Ruffle Ballet Flats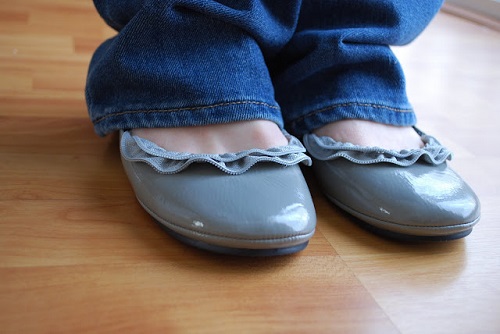 Instead of purchasing new ballet flats, prettify the existing ones with zippers. Check out the instructions here.
15. DIY Zipper Lamp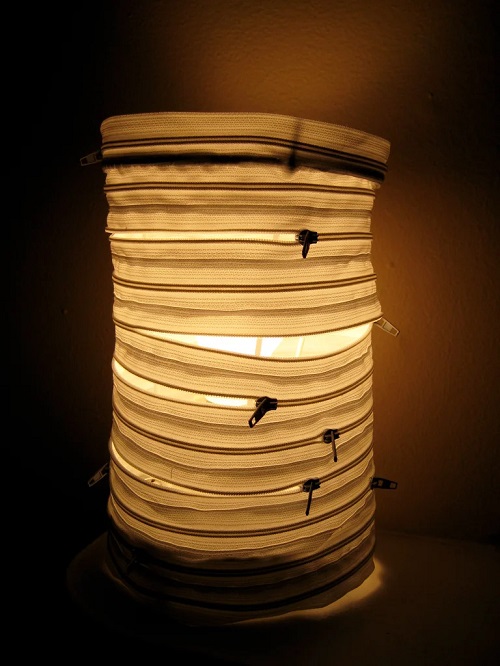 This zipper lamp is ideal for setting just the right mood in your bedroom or living room. Read more here.
16. Simple DIY Zipper Brooch
Spice up the look of your partywear by DIYing this zipper adorable. It's an inexpensive alternative to regular brooches.
17. Zipper Flower Hair Clip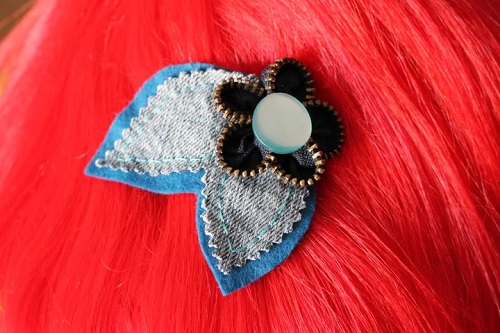 Follow this fantastic instructable to make pretty hair clip from bits of zipper and fabric.
18. DIY Zipper Board for Kids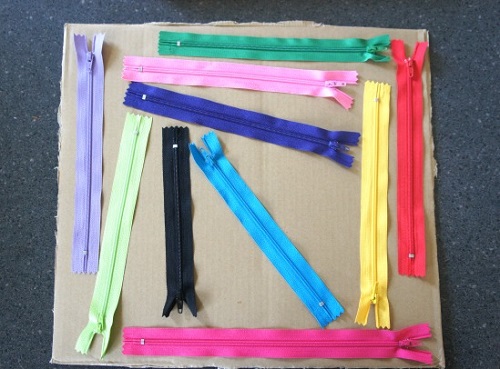 DIY this zipper board to teach your kids fine motor skills, colors identification, and sensory awareness.
19. The Zipper Cuff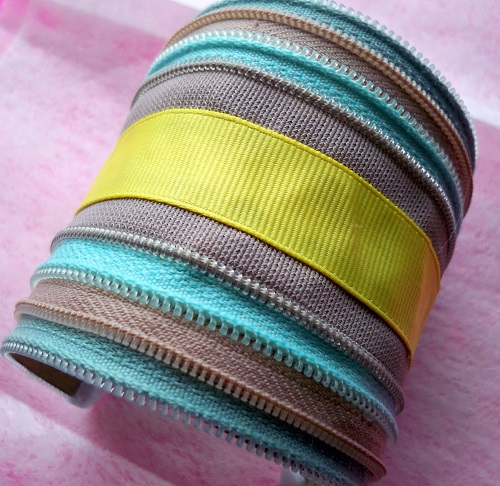 Display your crafting talent by putting together this eye-catching zipper cuff. It's a beginner-friendly, no-sew project.
20. Zipper Earbuds
Watch this zipper tutorial, and you'll never have tangled earbuds again! It's one of the best zipper crafts on this list.
21. Zipper Christmas Tree Ornaments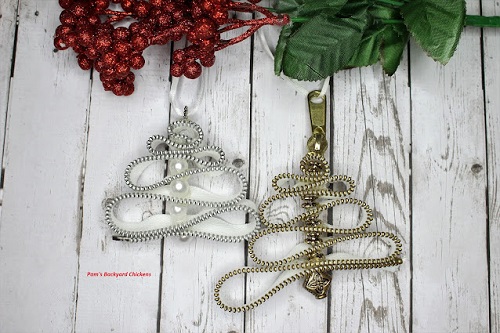 Ditch the traditional Christmas ornaments by making some pretty ones with zippers and this DIY.
22. DIY Zipper Flower Bouquet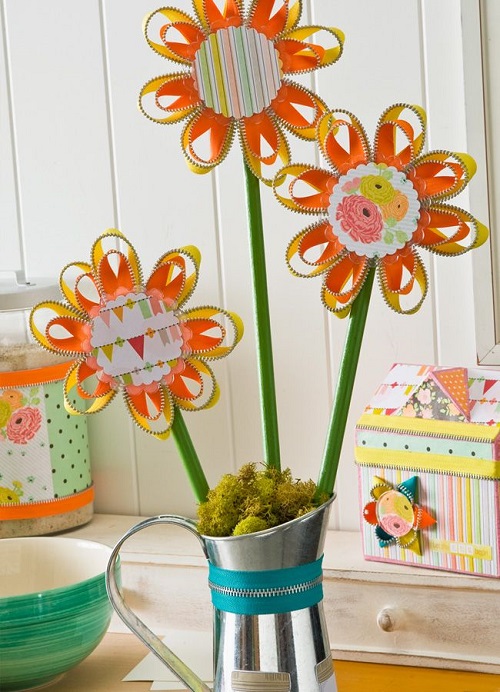 Hop on to this zipper flower bouquet project with mod podge, tin pitcher, scrapbook paper, zippers, wooden dowels, and other craft supplies.
23. Zipper Tee DIY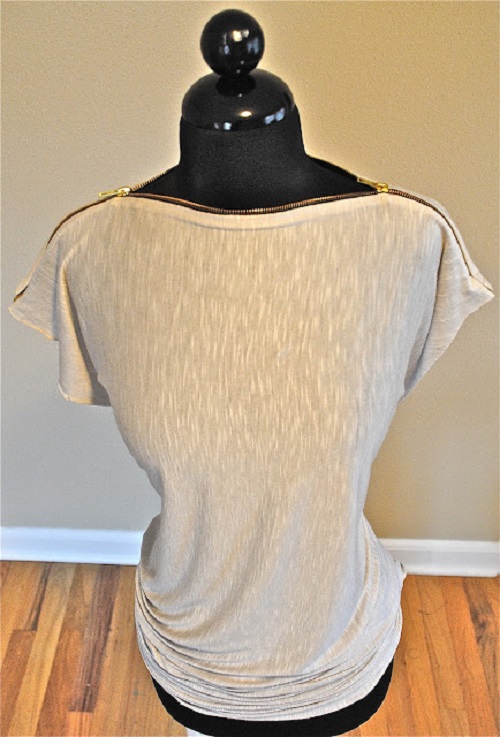 This zipper tee will spruce up your appearance like no other in a cost-effective way. Get the details here.
24. Heels Makeover with Zipper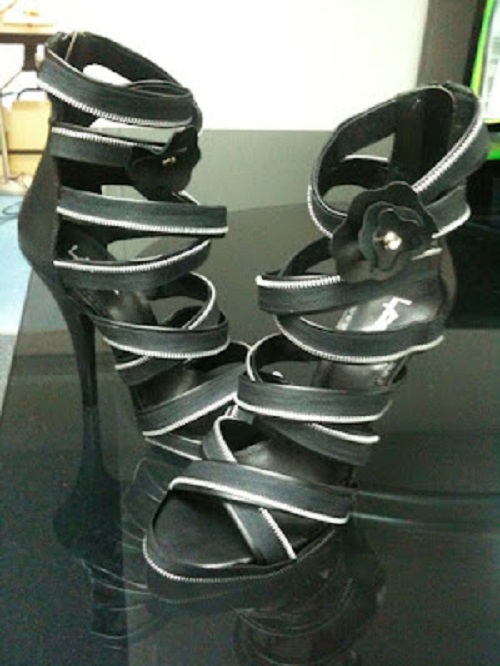 If you have a pair of drab heels, give them an instant creative makeover with some zippers.
25. Zipper Weave Bag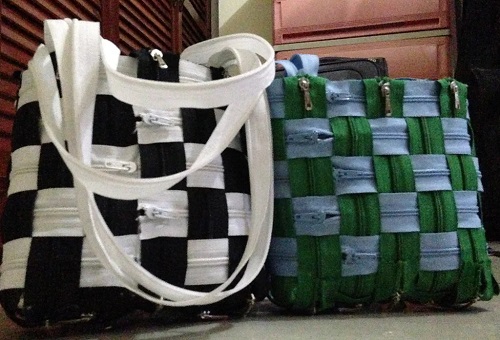 Zippers are weaved and secured with glue to make classy bags. Use multicolored zippers for an added charm.
26. Fun Zipper Fruit Bowl
In this tutorial, a bowl and wooden grapes are covered with zippers to make an appealing table centerpiece.
27. DIY Zipper Flip-Flops
Turn your boring flip flops into a fashion statement with zippers and a little creativity. It's an ideal project for beginners to start their DIY journey.
28. DIY Zipper Headband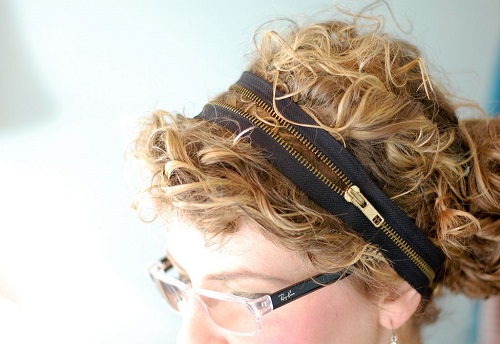 Are you running out of headbands? If yes, DIY one at home with a zipper in a few minutes.
29. Zipper Toy for Toddlers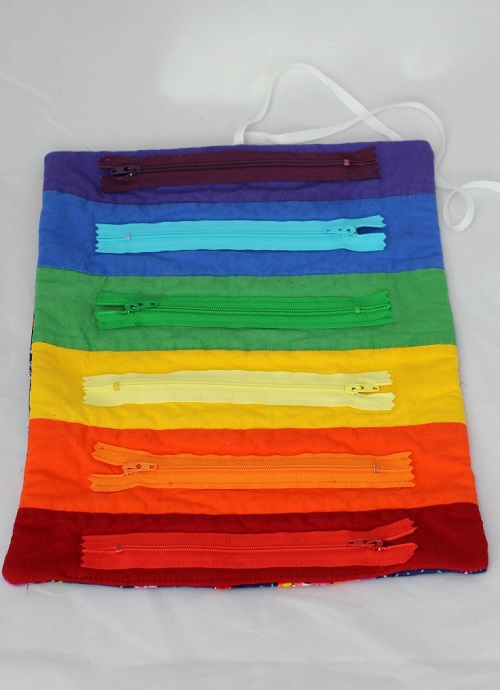 Try to DIY this colorful zipper toy that makes your toddlers learn to identify colors playfully.
30. Key Fob with Zipper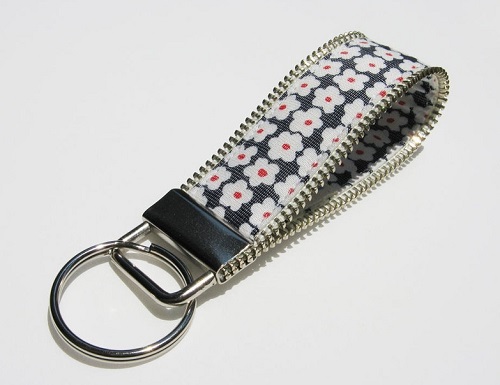 All you need is a metal zipper, cotton fabric, key fob hardware, and interfacing tape to create a lovely key fob.
31. Self-Zipping Coin Purse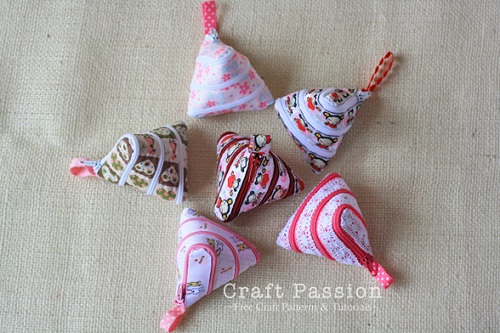 You can make this self-zipping coin purse within two hours from a zipper, ribbon, and hand-sewing method.
32. Zipper Sunglasses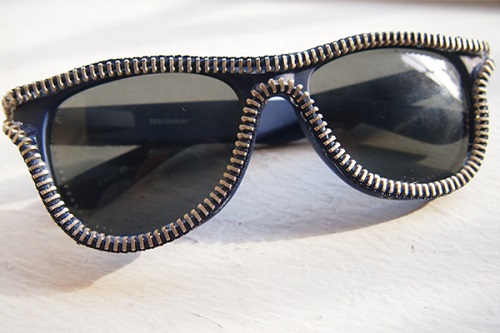 Give your old pair of sunglasses a funky touch with this inexpensive zipper craft. Get the details from here.
33. DIY Stylish Zipper Belt
Grab some zippers and transform them into a cool belt using this video tutorial. It makes an excellent gift for holidays and special occasions.
34. Zipper Mouth Frankenstein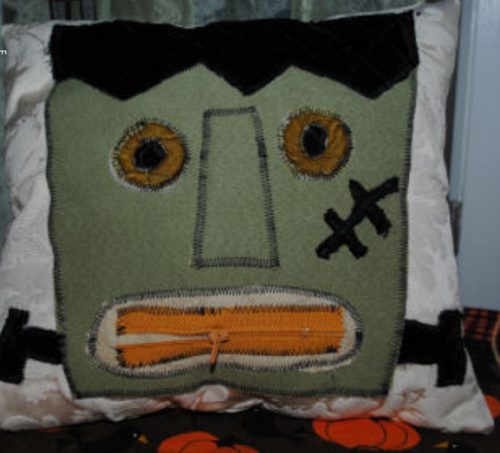 Make your Halloween season memorable by crafting this zipper mouth Frankenstein with your kiddos.
Check out some spooky Halloween bathroom decorating ideas here
35. Zipper Stars Accessories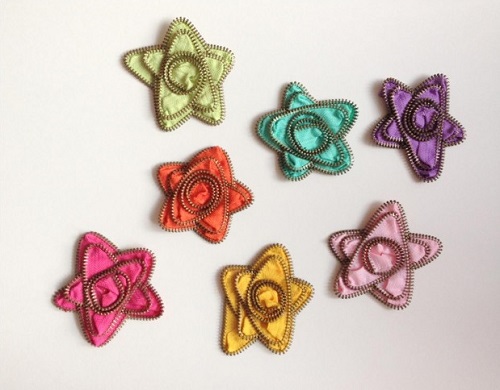 Put together these gorgeous star accessories from colorful zippers to beautify your headband, backpacks, and clothes.