Make the best use of every square foot of your abode by trying any of these organizing and storage ideas that are insanely clever!
1. Magazine Holder as Kitchen Organizer
From storing candy molds and cutting boards to organizing aluminum foil, plastic wrap, and parchment paper in the kitchen, magazine holders are a multipurpose storage solution.
2. DIY 60 Cent Tea Tin
Tea tin with dividers is a genius and inexpensive storage solution that lets you organize all your tea bags in a single tidy place. DIY this space saver with this helpful tutorial.
3. Try Tension Rods
Installing tension rods in the cabinet provides ample storage space to organize numerous stuff with ease. You can also set up the tension rods vertically to store plates, frying pans, and other kitchen utensils in line.
4. DIY Chip Clips
Repurpose chip clips from old closet hangers to keep your packaged food fresh and safe from air deterioration. Simply grab a hanger, cut the clip parts, and you are done. You can use clothespins as well as chip clips!
5. Easy DIY Chalkboard Labels
Keep your kitchen organized by labeling the jars with these easy-to-make DIY chalkboard labels. Take help from this detailed tutorial.
6. Paper Towel Rack – The Cookie Cutter Organizer
Don't know where to store your cookie cutters in the pantry? No worries, just stack the cookie cutters over the top of a paper towel rack, and you're good to go.
7. Plastic Bottle Cap Bag Closer
Another clever idea to keep your chips, bread, or any other packaged food fresh is the plastic bottle cap hack. Watch the video to learn the trick.
8. Freestanding Shelves
Bookshelves are not limited to manage the books. Place one in your kitchen to store all your dishware, cookbooks, and spices.
9. Backsplash Clutter Cutter
The kitchen backsplash is often neglected as a storage space. Use it to manage your knives by attaching a magnetized strip to one side of a wooden board, and secure it to the backsplash using hot glue or screws.
10. Coke Crate Tie Holder
Repurpose an old coke crate into a simple, creative, and cheap tie holder that lets you store belts, socks, underwear, and stockings as well. This is one of the insanely clever organizing and storage ideas on this extensive list.
11. PVC Pipes Undies Organizer
If you're facing an abundance-of-undies problem, you're in the right place. Turn your closet drawer into an undies organizer using the PVC pipes hack. Plus, it allows you to grab whatever you need without disturbing the rest of the stuff.
12. Movable Seasoning Station
Repurpose a vintage metal caddy or milk crate as a handy, mobile seasoning station to manage your different jars of spices from the cooking zone to the diner.
13. DIY Kitchen Pegboard
Best for kitchenettes, pegboards are not only a cheap kitchen organizing solution but also helps you gain extra storage space. Follow this DIY to make a pegboard to store pans, pots, and other small kitchen stuff.
14. Island Oasis
Take advantage of your kitchen island's shallow space by installing bars as well as an old wire bin to store chopping boards, rolling pins, microfiber cloths, and paper towels. In this way, you can find these frequently used items easily and quickly.
15. DIY Painted Pegboard Jewelry Organizer
Proper care of jewelry is necessary to prevent tangling and any other damage. That's why, DIY this fun, colorful, and inexpensive pegboard to organize and display all your loose, dangly jewelry. After attaching some hooks, you can also hang ties, belts, and caps on the pegboard.
16. Store Your Shoes the Easy Way
Looking for an insanely clever closet storage hack for your shoes? Look no further, as you only need a couple of big plastic soda bottles for this hack. Simply cut the top of the bottles, store shoes or sandals in them, and place them in the closet.
17. DIY Cable Box
Don't know how to corral your different charging cords, earphones, and other cable stuff? Don't fret, with this simple and effective DIY, you can easily put an end to this conundrum. This hack also helps you remember which cable does what.
18. Magnetic Spice Rack
Storing a huge pile of spice jars and searching for a specific one from them is quite a chore. Solve this problem by making a magnetic spice rack. This is a beginner-friendly project and works like a charm.
19. Toilet Paper Tubes Cords Holder
Here's another cords holder idea that uses toilet paper tubes to save your time and space. Grab a few tubes, write the type of cable on it, and insert neatly coiled cords into them.
20. Simple Storage Baskets
Large woven baskets are a simple but effective way to organize your kitchen stuff. Plus, these baskets are light weighted and can be pulled easily. Besides the kitchen, you can also use the baskets anywhere in your entire home to multiply the storage capacity.
21. Try Shelf Risers
Self risers provide you double the space for storage in cabinets and closets. Simply install the shelf risers in the cabinet according to your sprays, bottles, and jars' sizes, so you can easily access them on the go.
22. Affix a Towel Rack to the Linen Closet
Create a hidden storage space for your throws, towels, microfiber cloths, and tablecloths by adding an over-the-door hanger inside the linen closet door.
23. Use Command Hooks
Free up the valuable space of your kitchenette cabinets by attaching a couple of command hooks on the unused walls. Hang the pots, pans, and clunky items on the hooks, start with the biggest items, then the medium-sized ones, and lastly, the smallest ones.
24. Repurpose Trays and Bowls
Tame your drawer's anxiety-inducing clutter by repurposing old trays and bowls as organizers. Make sure to place a non-slip mat beneath the old dishes to keep them from moving while using the drawer.
25. Hang a Hair Station
Secure small bins inside the cabinet door using adhesive strips to corral hairdryer, hair ties, combs, and brushes. Plus, add a magnetic strip to organize bobby pins, nail clippers, and eyelash curlers.
26. Hang Toiletries on Hooks
If the toiletries are making a mess in your bathroom, arrange them with this clever hack. For this, affix a second tension-mounted shower curtain rod to your shower, close to the wall. Then, adorn the rod with "C" clip curtain rings to hang various toiletries.
27. Add a Cord-Keeper to Appliances
Managing the cords of kitchen appliances is a cumbersome task and consumes a lot of precious counter space too. Combat this issue by affixing the super cheap and nice-looking stick-on cord keepers behind the appliances or workshop tools to do the trick.
28. Store Shoes Heel to Toe
Make room for every shoe in your cabinet by arranging them from heel to toe. This clever storage solution not only tidies up the shoes but also helps you get dressed faster by giving a quick overview of the shoe color and heel type.
29. Double Up on Hangers
Need more hanging space in your closet? First, pop off a tab from an empty soda can, connect the hanger's hook to the tab's hole, then slide the hook of another hanger from the tab's bottom opening, and you are done.
30. Holder for Charging Cell Phone
If you want a perfect place to put your phone while it's charging to prevent its cord from making any mess, then you should try this holder made out of a lotion bottle.
31. Use Cabinet Sides for Storage
Get the most out of the kitchen cabinets by hanging desk organizers on their sides to store glass dish soap holder, wet sponges, and scrubbers rather than the countertop. Even you can place a succulent for display as well.
32. Carabiner for Hair Ties
Managing hair ties is a chore as they easily mix up with everything else because of their small size. That's why a carabiner is all you need to store them properly. Just grab a carabiner, load it with the little hair ties, and close it, that's all!
33. Use Toothbrush Holder for Makeup Brush
A toothbrush holder is a brilliant solution to tidy up your makeup brushes and to prevent their bristles from getting messed up. Further, store the holder in the cabinet without the fear of brushes falling on each other.
34. Wooden Hanger for Necklaces
Prevent your necklaces, bracelets, and earrings from tangling and getting misplaced by repurposing an old wooden hanger. For this hack, insert a few eye screws into a wooden hanger, hang it up on the wall, and store the ornaments with ease.
35. Conceal Cords With Hooks
If your device that has to be plugged across the room creates chaos, this clever organizing idea might be for you. Combat this issue by fastening the tangling cords to the back of the furniture with tiny adhesive hooks.
36. Makeup Magnetic Board
DIY this no-fuss make-up magnetic board to organize all your makeup stuff with ease and to grab them effortlessly when required. Take inspiration from this tutorial.
37. Multipurpose PVC Pipe
What a brilliant idea to use a PVC pipe as a storage medium to store a hairdryer, straightener/curler, brushes, and a hair spray bottle. You can either DIY or purchase it from an online store.
38. Try Old Muffin Tin
Instead of throwing your old muffin tin, use it as a storage container to arrange bits, baubles, clothespins, earrings, rings, and bracelets. The best part is that you can take it anywhere you want.
39. Create a Sorting Station
What a brilliant organizing idea in which every member of the house gets a laundry basket to fold and put their clothes away. However, one has to sort the laundry into each person's bin first.
40. DIY Empty Tin Can Organizer
Manage your craft and stationery items inexpensively in this thrifty organizer made up of tin cans. For this, grab a few tin cans, spray paint them, and glue them together in a pyramid shape.
41. Wine Rack as Yarn Storage
Love to crochet? Then you might have a huge collection of colorful yarns. Tidy them up by repurposing an old wine rack for a cozy storage solution.
42. Freeze Food in Zip-Lock Bags
Maximize your freezer storage space by putting food into zip-lock bags. Further, label the bags by date and place them vertically in the bins.
43. Stealthily Store Your Ironing Board
To store your space-consuming ironing board, this clever hack calls for two coat hooks adequately aligned behind the laundry room door.
44. Modify an Entryway With Hooks and Shelves
Streamline your entryway pileup by installing a couple of hooks, and solid open shelving like this blogger did with her space. In this way, you can hide the stuff and decorate the others as well.
45. Tennis Balls as Key Holder
Take a few tennis balls, cut little mouths using a box cutter, and add googly eyes to make super cute keys, photos, and mail holders. Either leave them on the desk or tack them on a wall using suction cups.
46. Organize Pot Lids With a Tension Rod
Installing a tension rod in the kitchen cabinet drawer helps you line up the pot lids, thereby giving extra hidden space for other cookware.
47. Belt Rack to Store Wrenches
Say sayonara to your disorganized and confusing wrench recks by attaching a belt or tie rack to a bare spot on the workbench wall. Just hang the wrenches on the wall according to their sizes, and you're good to go.
48. Pointy Tool Pincushion
Pointy tools need to be organized properly to avoid any mishaps. Create a pincushion to rest all types of bits, bradawl, screwdrivers, awls, pencils, wrenches, and hole saws in a perfect and accessible place.
49. Tissué Box Plastic Bag Holder
Want a handy, compact, and cheap solution for all those pesky plastic bags lurking in your kitchen cupboard? Just grab a few empty tissue boxes and stuff them with plastic bags.
Note: You should always carry paper/jute bags to shopping and say no to plastic bags to help save the environment!
50. Label Toys Plastic Bins for Kids
Kids' playroom often becomes a chaotic place when their toys are not arranged properly. Give this responsibility to your little kiddos by labeling the toy room's plastic bins with the print-out images that make them remember where all their toys are supposed to go. This way, you not only organize the room but also re-purpose plastic bins!
51. Store Lids in a CD Holder
Don't throw away that dust-collected, outdated compact disc holder as it can be used to corral the storage container plastic lids.
52. Stuffed Animal Storage Solution
Managing stuffed animals is not easy as they still end up everywhere and looks quite messy. All you need is a bean bag cover to solve your stuffed animal woes.
53. Repurpose a Plant Hanger for Toys
Here's another storage solution to line up your kids' stuffed animals by repurposing plant hanger. Hang it on the wall with a hook and put all the stuffed animals into it.
54. Fill Easy-Grab Pouches
Use compact and heavy-duty fiber zip bags to hold oodles of small items such as a first aid kit, medicines, wipes, snacks, toiletries, pens, markers, and pencils in place. You can either clip them together on a larger ring or use them individually.
55. Shower Rings As Scarves Organizer
Rather than draping your scarves here and there, tidy them up neatly on a single hanger. For this quick storage hack, duct tape shower rings in a line on a hanger, and you're done.
56. Add Shelving to a Dresser's Sides
Don't let the lack of storage space dampen your book reading spirit. Instead, add shelvings to both the dresser's sides using this helpful tutorial.
57. Utilize Dead Space Over the Door
If your bathroom lacks storage space, then maximize its capacity by introducing a shelf over the bathroom's door. It will let you stow extra toiletries, washcloths, and towels.
58. Easy Storage for Sports Stuff
Being a sports fan, if you have a vast collection of balls, then you might looking for a convenient storage solution to arrange them in a specific place. Look no further and check out this bungee cord hack.
59. Use Tic Tacs for Ribbons
If you love to do craft projects, then you probably have a bunch of leftover ribbons, lace, and washi tape scattered here and there. Use this tic-tac hack to store these supplies for your further projects.
60. Hang a Clothes Rack in the Corner
If you want to buy a new closet but don't have the budget, no worries, simply hang a clothes rack in an empty corner for a quick temporary fix.
61. Install Shelves Along the Perimeter of Your Bedroom Walls
Make the most out of the unused bedroom wall space below the ceiling by adding a few shelves along the perimeter, as shown in the image. In this way, you can add an unusual amount of storage space to store other stuff.
62. Make an On-the-Wall Toy Holder
Give your kid's metal toy cars a new parking spot by attaching a magnetic knife holder on the wall. This idea provides easy access to toys for your little ones.
63. Maximize Freezer Space With Bins
An unorganized chest freezer is a headache as you have to dig through all the way to the bottom to find a specific item. Put an end to this problem by using colorful bins.
64. Hang a Tiered Basket in Your Shower
Add extra storage space in your shower without the shelves by hanging a tiered fruit basket from the shower rod to store the bath toys and toiletries.
65. Store Shoes on Pegs
Shoes eat up a lot of storage area and make your space unaesthetic as well. Try this easy project that uses pegboard. Affix it beside the door, and you'll get an invisible shoe organizer.
66. Make a Lipstick Organizer
If you're the one who misplaces their lipsticks often, then DIY this lipstick organizer, a handy and budget-friendly solution.
67. Hide Jewelry Behind a Mirror
Keep all your ornaments neat and organized by DIYing this jewelry storage compartment concealed behind a large mirror. This is the fix that every jewelry lover will need at some point in their life.
68. Clip Up Scarves
Storing scarves in the drawer makes them wrinkly and shabby. To prevent these issues, try out this nifty scarf holder made up of clothespins and a piece of wood.
69. Suspend Bicycle From the Ceiling
Proper storage of a bicycle is necessary to keep it in top working condition. If you don't have a dedicated place to store a bicycle, then suspend it from your apartment ceiling using hooks. Read more here.
70. Make Under-Bed Storage for LEGOs
Kids love to play with LEGOs, but they really get spread everywhere. Control the hodgepodge by creating this under the bed storage cart to store and manage all the building blocks with ease.
71. Hang Pants and Jeans on S-Hooks
Increase your closet storage space in a jiffy by installing a couple of "S" hooks on a rod to hang jeans and pants. You can use this trick either in your closet or anywhere, however, don't forget to add a rod and make sure its height is enough to hang the clothing.
72. Maximize Unused Space With Baskets
Make the most out of your kitchen island or even the bookshelf by adding baskets to its sides to store frequently accessed items.
73. Repurpose a Shower Caddy Into a Kitchen Spice Rack
Free up the valuable space of your kitchen cabinet by repurposing a shower caddy to store an assortment of spices, hot pads, oven mitts, tongs, spoons, and other kitchen necessities.
74. DIY Slide-Out Scarf and Belt Organizer
Due to lack of closet space, scarves and belts don't get the care that they deserve. Build this clever storage solution that not only organizes your stuff but also slides out for quick access.
75. Sort Earrings in an Ice Cube Tray
Who says the ice cube trays are only for making fancy cubes for drinks? Repurpose the trays to keep your earrings neatly contained and tidy.
76. Use Tension Rods to Hang Shoes
Introduce tension rods in your bedroom nook to arrange your shoes for easy and quick access. It frees up space, and you can also hang shirts, pants, holiday decorations, and crafts as well. For this, find two parallel walls and attach tension rods using screws.
77. Nifty Ribbon Holder
Looking for a nifty and space-saving storage solution for your piles of ribbons? Look no further, as this ribbon holder is super easy-to-make and doesn't require sawing, drilling, or other hardware skills.
78. Store Knitting Needles in a Binder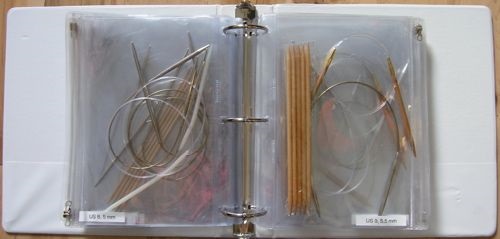 Finding lost knitting and sewing needles is like searching a pin into a pile of hay. Prevent such condition by storing them in a binder with sheet protectors backed by card stock.
79. Tools on a Towel Bar
From spades to the garden hose, organize your gardening tools by hanging them on a towel bar affixed on the shed's door.
80. Pop Your Yoga Mat Below a Shelf
If you can't find a suitable place to rest your yoga mats, the best bet is to put them in the shelf bracket, a quickly accessible and space-saving solution.
81. Use Glass Jars
Perfect for the garage, basement, craft room, and home office, glass jars are an ideal storage solution to keep all your tiny stuff in check. For this, nail or glue the jar lids to the underside of cabinets or shelves, then twist the jar into place to store needles, nuts, nails bolts, and hair accessories.
82. Hanging Clothes Bar for Kid's Closets
Maximize the storing and organizing capacity of your or your kid's closet by adding a second clothing bar to the closet. A brilliant hack for compact apartments and a less spacious closet.
If you liked these organizing and storage ideas and if they helped you in saving space, let us know your experience in the comments below!