From making wallpapers to updating old lampshades, there are countless amazing washi tape uses in the home that is listed below!
Washi tape is not limited to scrapbooking as it can customize just about anything. Let's find out some Amazing Washi Tape Uses in the Home below!
Amazing Washi Tape Uses in the Home
1. Personalize Colorful Frames

Cover the edges of pictures and artworks with washi tape on the wall to make colorful frames. The best part, it won't damage the wall paint.
2. DIY Washi Tape Rainbow Table

Give a lovely makeover to an old table by adhering washi tapes next to each other in a diagonal pattern on the table surface.
3. Door Face Lift

Use washi tape to uplift the look of your tedious door. Simply apply washi tape on the door in a geometric pattern and you're done.
4. A Handy Bookmark

To resume from where your previous reading session ended, mark the book's page with handmade washi tape bookmarks. The details are here.
5. DIY Funky Phone Case
Instead of swapping your phone case with a new one, consider this washi tape hack to make the old phone cover funky and attractive.
6. Washi Tape Pixelated Heart Wall Decal

With washi tape and a little bit of patience, you can easily create this romantic pixelated heart decal on the wall.
7. Space-Saving Jewelry Storage Idea

To save your precious counter space, make a tree on an empty wall with Japanese washi tape to display ornaments using thumbtacks.
8. Wash Tape Wall Quote

To uplift the kid's study room or your home office ambiance, write motivational quotes on the wall using colored washi tape.
9. Lively Washi Tape Lampshade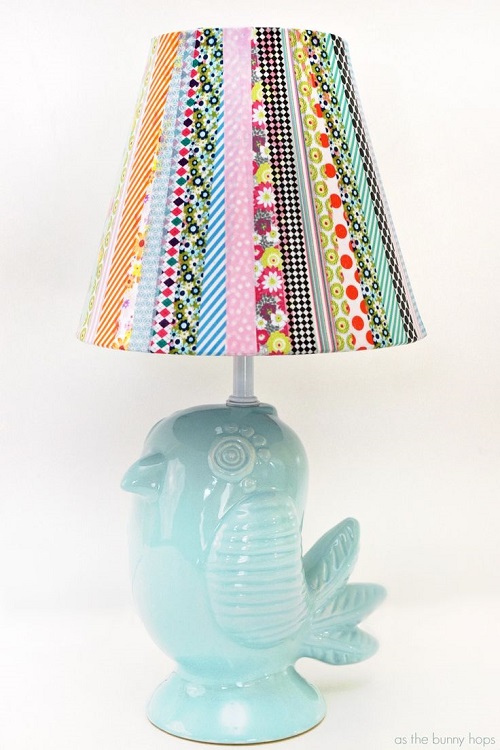 Rather than throwing your old lampshade in the junk, give it a new life with the magical washi tape. Read more here.
10. Washi Tape Vases

Customize your plain glass vase into a chic party or home decor piece using washi tape. Take inspiration from here.
11. Washi Tape Paper Lanterns

Make your guests awestruck by converting cheap paper lanterns into showstopping fixtures using colorful washi tape and this DIY.
12. Label Cords

Facing difficulty deciding, which cord belongs to which gadget? Simply label each cord with washi tape. Discover this helpful trick here.
13. DIY Washi Tape Coasters

Modify the appearance of your regular coasters with washi tape for an added charm. These coasters are sturdy enough to hold drinks.
14. Napkin Rings

No need to spend money on new napkin rings, make some inexpensive ones at home using washi tape, toilet paper rolls, and this tutorial.
15. Washi Tape Refrigerator Magnets

Running out of refrigerator magnets to showcase pictures and notes? Don't fret, all you need is a roll of washi tape and old magnets for this project.
16. DIY Stripe Doorway

Use extra-large washi tape to level up the look and character of your doorway. This is probably the most amazing washi tape uses in the home.
17. Washi Tape Tea Lights

Grab a roll of colorful washi tape to modify plain tealights into enchanting candle holders. The details are here.
18. Makes Your Window Blinds Fancy

Say goodbye to your boring window blinds by applying the washi tape over the horizontal slats for a fancy look.
19. DIY Washi Tape Laptop Keyboard

Take inspiration from this DIY to revamp your laptop keyboard with washi tape – a time-consuming project but totally worth it.
20. Decorate Planter

A roll of washi tape is enough to freshen up the look and feel of your indoor planters. It's a fun weekend project to do with your kids.
21. Washi Tape Stairs

Upgrade your staircase into a colorful canvas by writing quotes or your favorite poem on the risers using washi tape.
22. As a Temporary Wallpaper

Drop the idea of using pricey wallpapers and choose washi tape to add some character to your space. It's a temporary wallpaper but looks interesting.
23. Nail Art with Washi Tape

Do you know that washi tape is used for nail art as well? If not, check out this tutorial to learn how to make creative nail art with washi tape.
24. Colorful Clothespins

Just like washi tape, clothespins have multiple uses in the home. Instead of using plain clothespins make them a little fancier with washi tape.
25. Make Ceiling Fan Attractive

Turn your incredibly boring ceiling fan into adorable decor with multi-patterned washi tape and a few supplies. Read more here.
26. DIY Laptop Skin

Need an aesthetic skin for your laptop? Follow this blog to DIY an elegant cover to protect your laptop from scratches.
27. Cover Book Spines

To make your reading books a little bit funky, apply a combination of colorful and multi-design washi tape on their spines.
28. Washi Tape Chopsticks

Beautify your chopsticks by wrapping their base with washi tape for a personal touch – perfect for parties or just for fun.
29. DIY Toy Car Track

Surprise your kid by making this amazing car track in his/her room out of washi tape, featuring, tunnels, roads, and tracks. Draw buildings on the wall to complete the look.
30. Revamp Furniture with Washi Tape

Try this simple washi tape furniture hack to level up the appearance of your bookshelf, drawer, and nightstand like a pro.
31. Update Sunglasses

Head over to this tutorial to accessorize a cheap pair of sunglasses with fabric washi tape for a unique and personalized look.
32. Washi Tape Sunglasses Case

Don't have a protective case for your sunglasses? No worries, create a cute one with washi tape, a plastic drink container, and this DIY.
33. Christmas Candle Holders

Grab rolls of washi tape and glass candle holders to create this quick Christmas decor.
34. Washi Tape Christmas Tree

If you want to adorn your home differently for holidays, rely on washi tape. Make this Pinterest-worthy, mini chic Christmas tree out of washi tape for a unique display.
35. DIY Washi Tape Fireplace

If your home lacks a fireplace to hang Christmas stockings, make a faux fireplace out of washi tape. Add a chalkboard fire to illuminate the fireplace.
36. Giant Washi Tape Spiderweb

Use washi tape to DIY a giant spiderweb on the wall as this blogger does. Add tiny spiders for extra spookiness.
37. Washi Tape Headboard

Not everyone can afford expensive headboards, but you can DIY an elegant one from washi tape for as low as five bucks.
38. DIY Washi Tape Alarm Clocks

Alarm clocks prettified with bright and multi-patterned washi tape looks appealing. Get the how-to here.
39. Washi Tape Mirror Frame

You can use washi tape and an X-Acto knife to transform the appearance of your plain old mirror frame.
40. DIY Confetti Pumpkins

Take small strips of gold washi tape and stick them randomly on the white pumpkins to make this beautiful fall decor.
41. DIY Washi Tape Serving Tray

A dull serving tray could use a washi tape makeover. It's a less messy and cost-effective solution than applying paint. Here are the instructions.
42. Cacti Wall Art

To make your empty wall pretty, create this quirky yet cute cactus wall art from green-shaded washi tape.
43. Upgrade Switch Plate Cover with Washi Tape

To jazz up an old switch plate cover, use colorful and decorative washi tape. Check out the instructions here.
44. DIY Deer Antler with Washi Tape

Instead of antler trophies, improvise with washi tape and make this deer antler wall decal, ideal decor for Christmas.
45. Washi Tape Coat Tree

Another amazing way to use washi tape is by creating this stylish and frugal coat tree with a modern twist. It's best for rentals and small spaces.
46. Upcycle Clock with Washi Tape

Show off your crafting skills by changing the appearance of your old wall clock with washi tape of various shades and designs.
47. DIY Washi Decorated Hanger

In case you need to brighten up your closet hanger into something pretty statement-making piece, washi tape is the savior.
48. Festive Garland
This video tutorial of Duck Brand demonstrates how anyone can create a festive garland out of washi tape and string.
49. A Washi Tape Globe

Do a quick overhaul of your old globe with kaleidoscopic washi tape to get a display-worthy piece.
50. Custom Makeup Brushes

Make your cheap makeup brushes more expensive with washi tape. Simply wrap their handles from washi tape strips.
51. Washi Tape Key Covers
All you need is washi tape to make your keys funky and joyful. Plus, in this way you can organize them much easier.
52. Honeycomb Wall Decal

Convert your living room wall into a masterpiece by making this honeycomb wall decal with washi tape and this DIY.
53. Fancy Phone Charger

Add some personality to your phone charger using the versatile washi tape. Experiment with colors and prints of washi tape to achieve a striking look.
54. DIY Washi Tape Clutch Bag

Are you a clutch bag lover? If yes, create an adorable one at home using washi tape and a poly envelope.
55. Washi Mouse Pad

Design your desktop's mouse pad as you desire with the help of washi tape strips. The details are here.
56. Washi Tape Gift Bows

If you don't have gift bows handy for holidays, washi tape comes to the rescue again. Simply follow this DIY to make some shiny gift bows.
57. DIY Easter Eggs with Washi Tape

Looking for a no-dye method to decorate your Easter eggs? Washi tape is the right option for you. The tutorial is here.
58. Glammy Party Spoons

While everything at a party looks glamorous, don't neglect those white spoons and forks. Wrap washi tape all over their handles to make them interesting.
59. Easter Washi Tape Wreath

Washi tape can also be used to craft a charming Easter wreath. Buy washi tape rolls, a wreath form, plastic eggs, and pink ribbon for this project.