Build yourself a cozy resting place away from all the buzz and glare of the world with these Apartment Balcony Privacy Ideas!
If you want a bit of seclusion while spending quality time in your gallery, check out this list of Apartment Balcony Privacy Ideas that'll help you out.
Have a look at some amazing balcony workstation ideas here
---
Apartment Balcony Privacy Ideas
1. Bamboo Privacy Wall
Watch this video to create a bamboo privacy wall on your balcony without drilling. It's a beginner-friendly project.
2. Go with Faux Bamboo Plants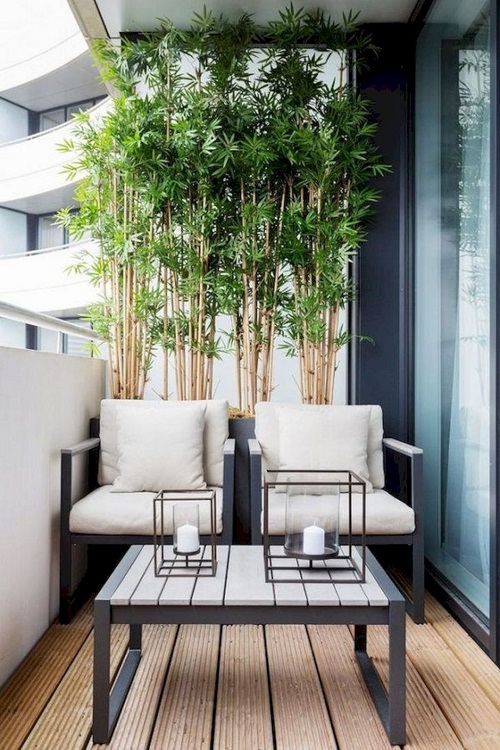 Tall faux bamboo plants are an excellent means to save yourself from prying eyes. Arrange a few inside your balcony as desired.
3. A Lattice Frame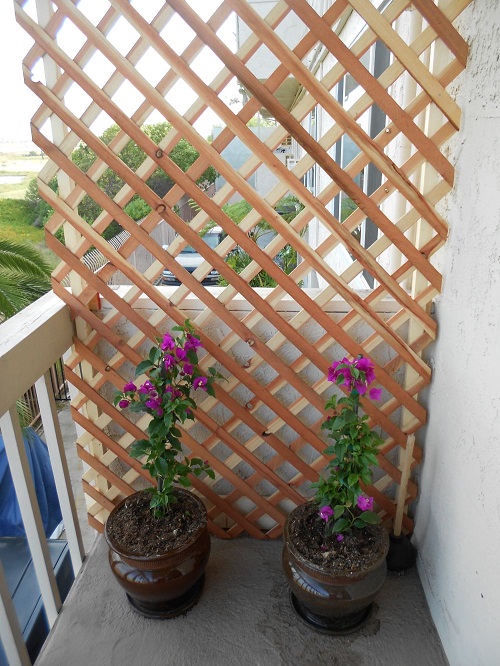 Setup a lattice frame in the balcony and grow climbers or hang multiple planters on it to stop uninvited views.
4. Grow Tall Plants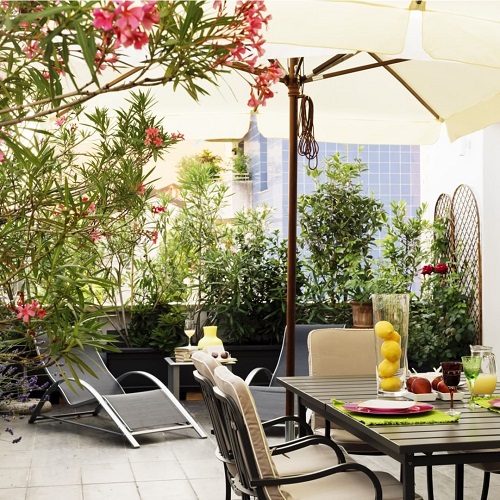 Adding tall plants to the gallery area is a great way to achieve extra privacy with a touch of nature.
5. Faux Plants as Balcony Privacy Screen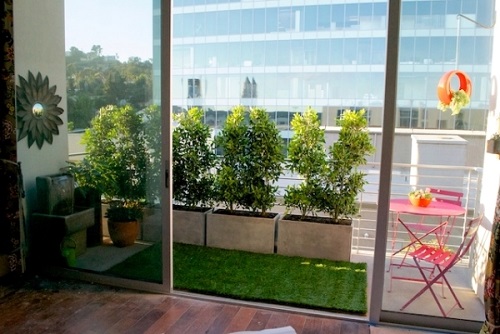 If you have a brown thumb, use the faux plants to create a privacy screen on your balcony. They are maintenance-free and look lovely too.
6. Hang Curtains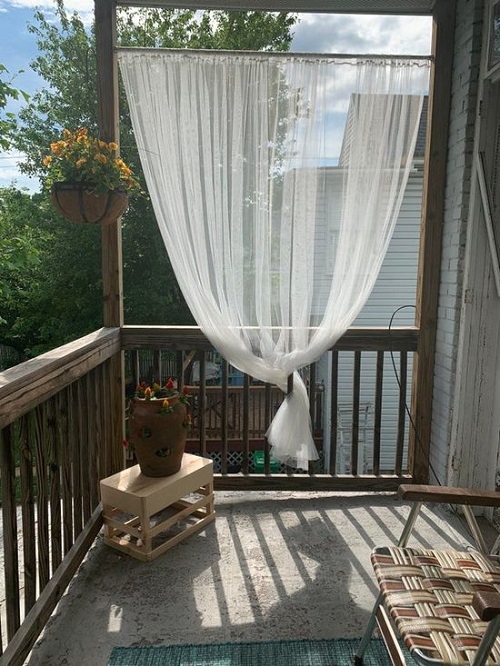 Hang the curtain of your choice using a rod to get complete privacy. It's one of the best apartment balcony privacy ideas.
7. Introduce Bamboo Mats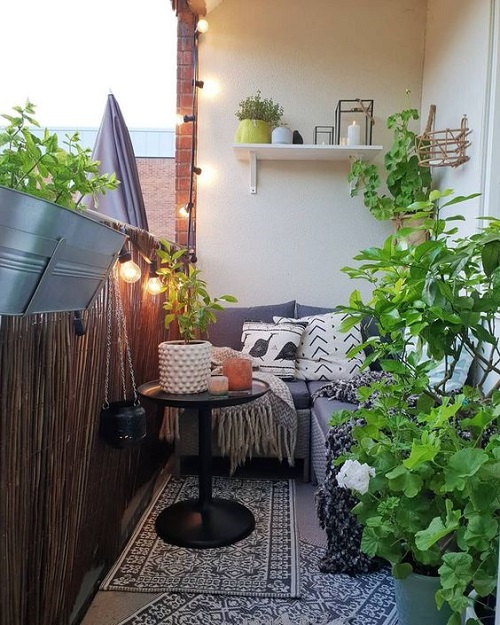 Grab some bamboo mats, attach them to the balcony railing, and your privacy setup is ready.
8. Use a Large Umbrella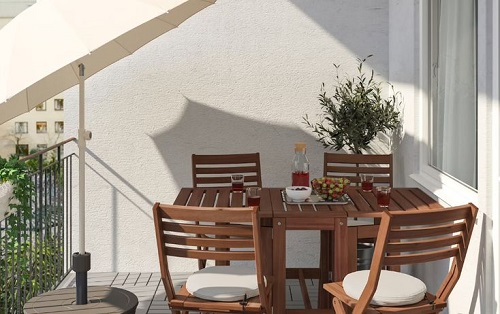 All you need is a large umbrella to get complete seclusion from your nosy neighbors. Plus, this hack also protects you from wind and scorching sunlight.
9. Fabric Privacy Screen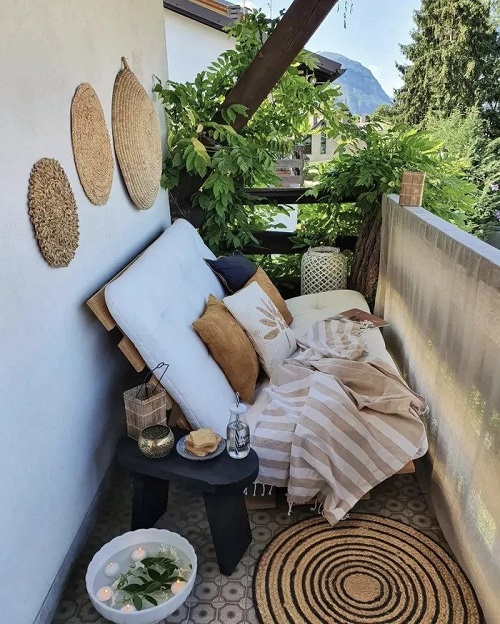 Covering the gallery railing with a simple cloth is enough to block your neighbors' prying eyes. You can also use bohemian tapestries for a chic look.
10. Use Vertical Plant Shelves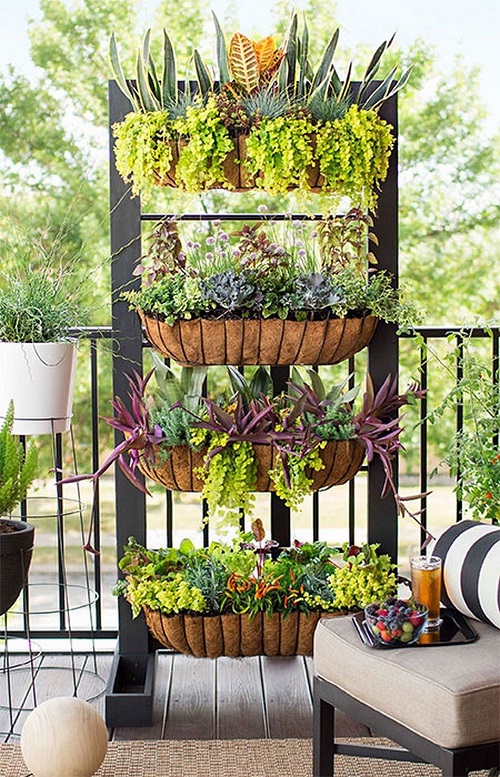 Vertical planters not only add a dash of greenery to the balcony but provides privacy as well. Use two or more vertical planters for better coverage.
11. Faux Ivy Screen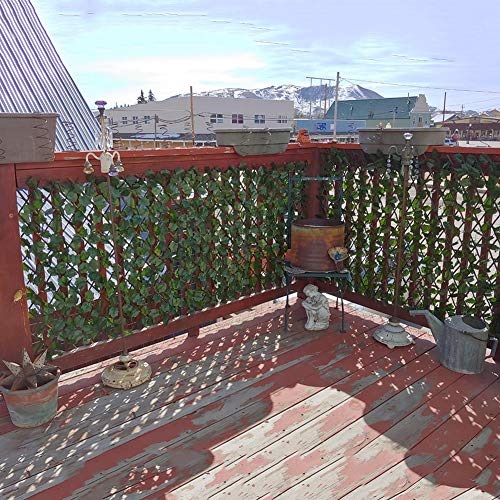 All you have to do is tie the faux ivy screen on the front of the balcony railing to hinder the inside view.
12. Privacy Screen Planter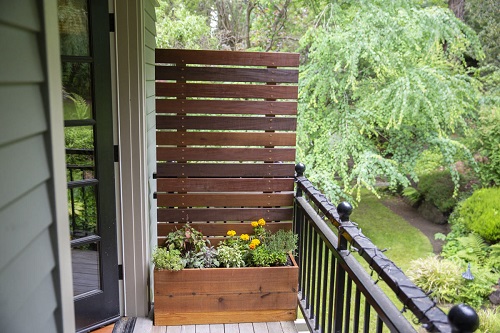 Upgrade your gallery with this beginner-friendly privacy screen planter that spruces up the aesthetic appeal.
13. Lighted Privacy Screen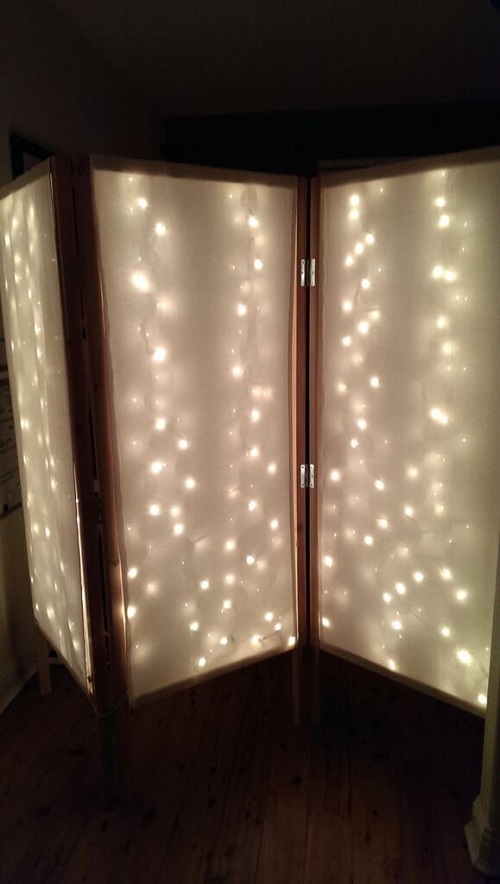 Follow this instructable to create a lighted privacy screen for your gallery. It also doubles up as a room divider. This idea requires minimal woodworking skills and no sewing experience.
Have a look at the list of balcony lighting ideas here
14. Use Vining Plant as Curtain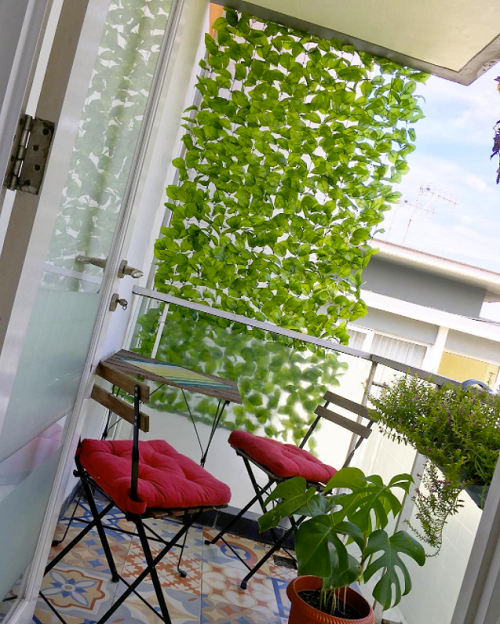 Either grow vining plants in such a way that looks like a curtain or DIY this one using artificial plants to maintain privacy in your gallery.
15. Roll Up Shades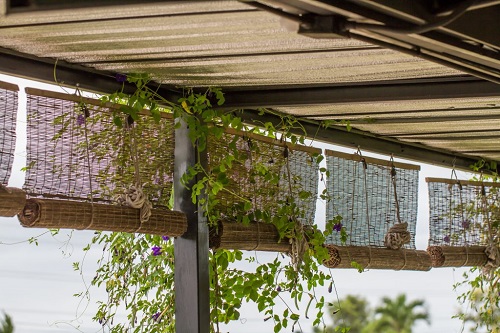 Made from reeds or bamboo, these roll-up shades make your balcony private and bring tropical vibes to the space.
16. Bamboo Room Dividers
Replicate this DIY bamboo stick privacy wall idea to create a more secluded balcony nook. Hop to this video for more info.
17. Denim Jeans Planters Privacy Screen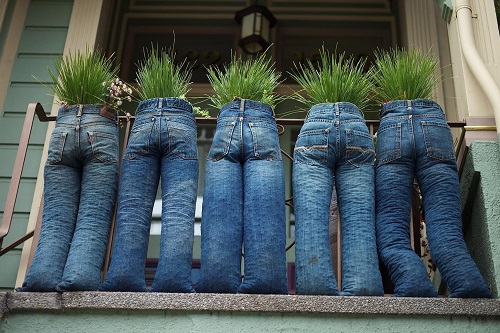 Do you want a unique privacy screen? Turn some old denim jeans into chic planters and tie them with the railing in a sequence. Read more here.
18. Balcony Railing Film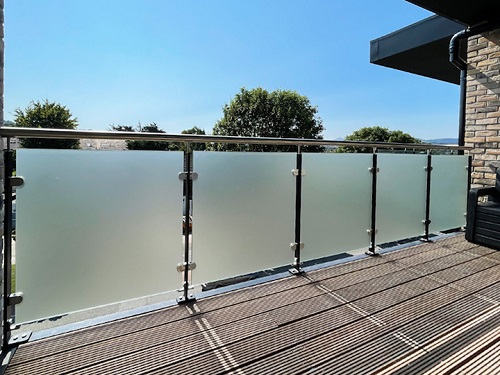 If you have a glass railing, use railing film to hide your gallery's inside view. There are many types to choose from.
19. IKEA SLÄTTÖ Privacy Screen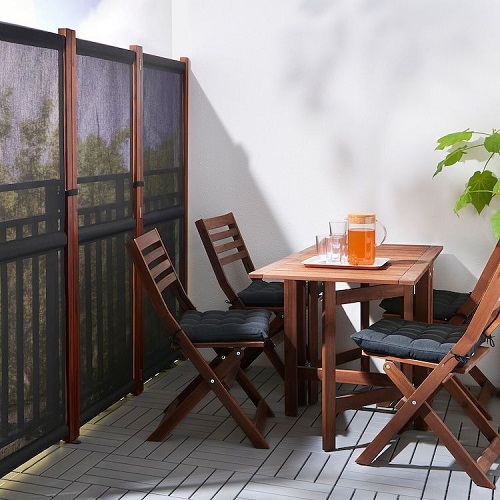 This privacy screen from IKEA shuts out curious eyes and gives you more seclusion on your balcony.
20. Install Metal Fencing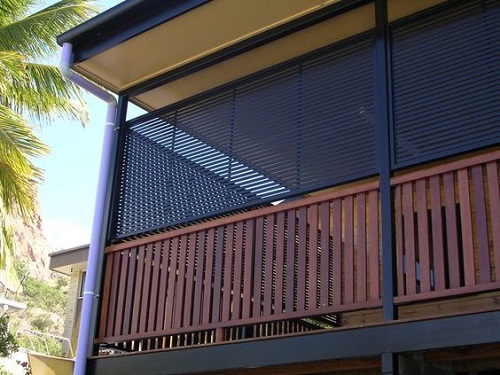 Metal fencing is another brilliant balcony privacy idea that retains the breeze and natural light while increasing the level of privacy.
21. DIY Privacy Panels for a Small Balcony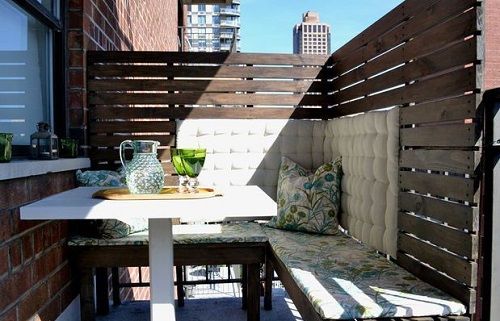 The panels are very simple and inexpensive to build with 1″x3″ pine boards, furring strips, and an outdoor chair cushion from IKEA. Read more here.
22. Lots of Planters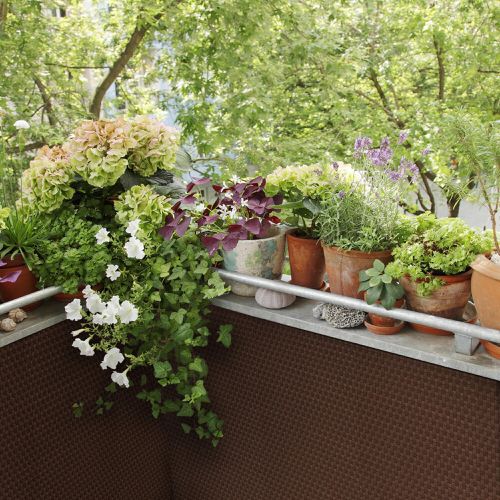 Adorn your balcony railing with various potted planters to block the spying eyes of your next-door neighbor. People with a green thumb will love this idea.
Here are some indoor plants that help in sleeping