Here are some DIY Deck Railing Ideas to make your facade stand out in the neighborhood! They are easy to make and improve privacy as well!
The handrail system not only makes the deck safe but also amps up its aesthetic appeal. If you want to make one, check out these best DIY Deck Railing Ideas.
Here are some creative DIY deck gate ideas
---
DIY Deck Railing Ideas
1. Deck Railings DIY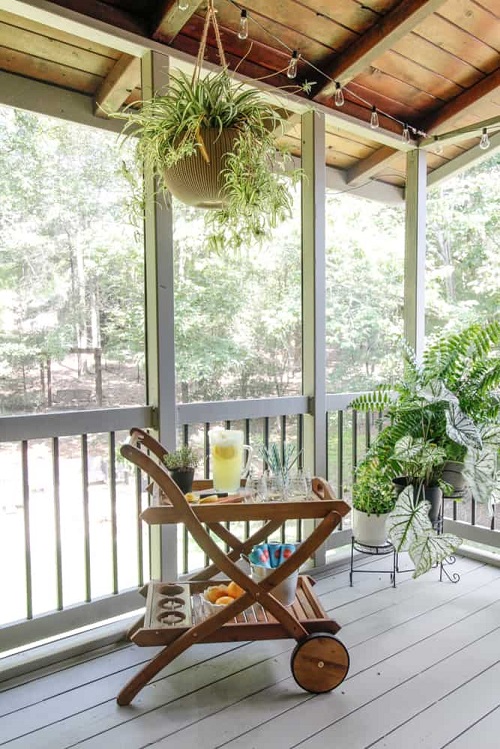 Learn how to make this deck railing using woodworking skills and some supplies in this detailed tutorial.
2. Cedar Deck Railing With Glass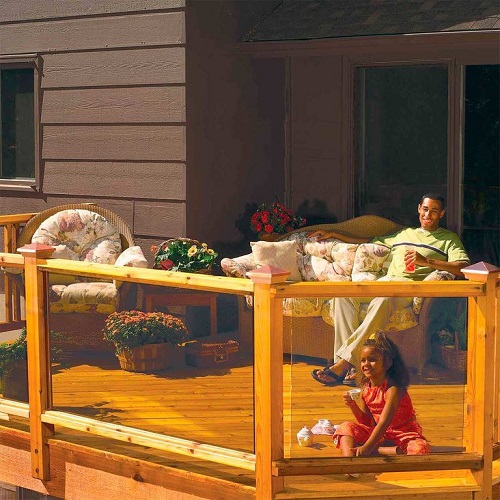 Dress up your dull deck with this attractive railing that provides a clear view of the yard. The tinted glass is strong and adds flair to the outdoor space.
3. DIY Plexiglass Railing Idea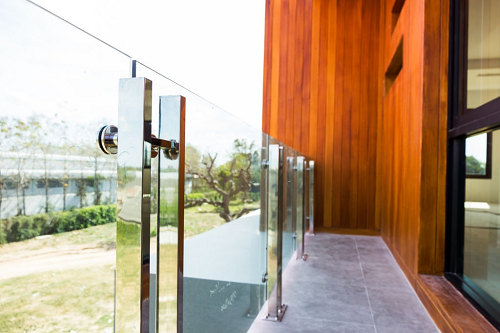 This handrail system offers an unobstructed view of the outside landscape while giving a touch of royalty to the place. Get the details here.
4. DIY Cable Railing
Watch this detailed video tutorial to create a modern-looking cable railing. It's one of the fantastic DIY deck railing ideas.
5. Decorative Rope Railing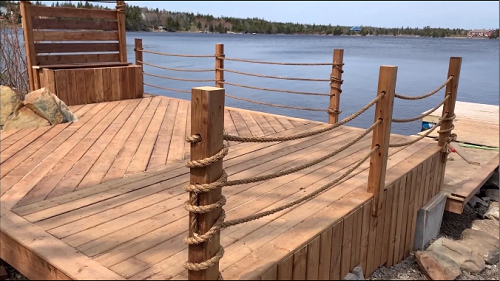 Use this stylish rope railing idea to give your deck a rustic and nautical look. Get detailed instructions here.
6. Deck Bar Rail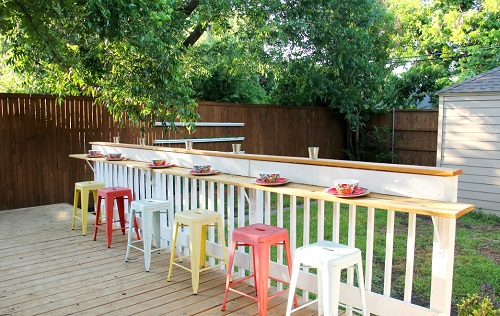 Install this bar rail to transform your basic deck into an attention-grabbing conversation area. This project needs less than two hours to build and costs $60 only.
7. DIY Sunburst Deck Railing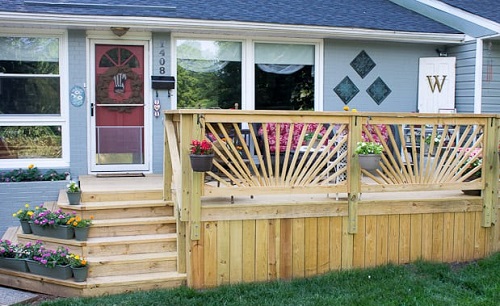 Want to add pizzazz to an ordinary deck? Then build this attractive sunburst railing using this DIY tutorial.
8. Pipe Deck Railing Idea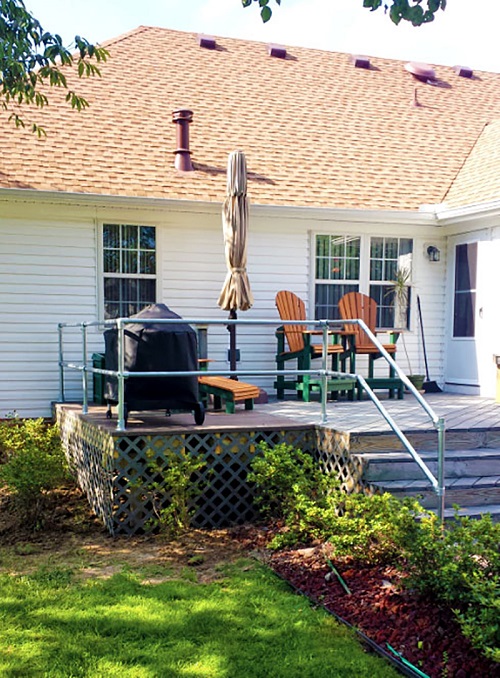 Grab a couple of plumbing pipes to create an eye-catching industrial-style deck railing.
9. Simple & Easy Deck Handrail
Here's the video tutorial that'll help you construct a simple and economical wood railing system for the deck and a set of stairs.
10. DIY Inexpensive Steel Conduit Deck Rails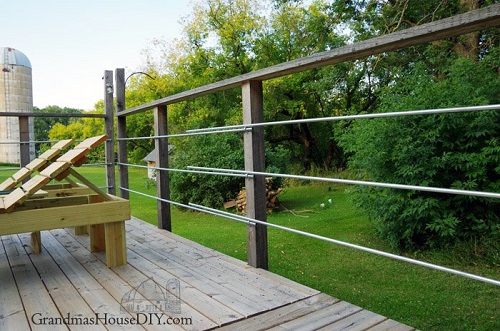 Assembled from steel conduits and other supplies, this railing design is easy to make. It's one of the unique DIY deck railing ideas. Hop to this article to learn more.
11. Wire Mesh Frame Railing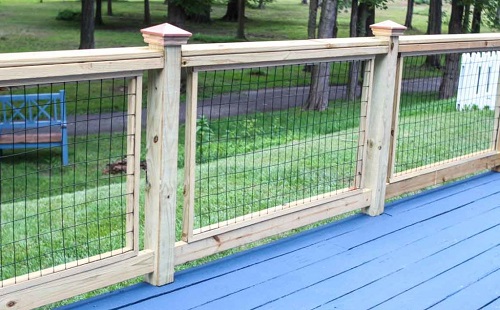 This custom deck railing is made from wire mesh frames, wooden posts, screws, railing clips, and other supplies. The details are here.
12. Chinese Chippendale Balustrade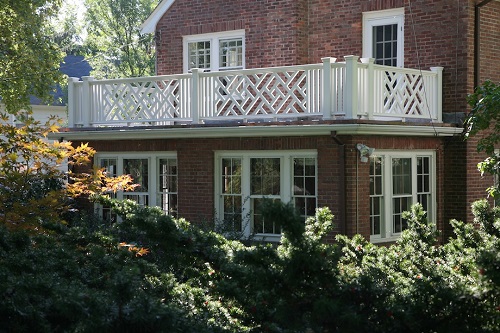 Are you looking for a DIY railing idea for your second-floor deck above a living space? Look no further and check out this project.
13. DIY Wood Decking and Railings
This tutorial is for those who want to construct a wooden deck and railing from scratch. Woodworking skills are a must for this project.
14. DIY Hog Wire Deck Railing

Add a bit of flair to your bland facade by dressing up the deck with hog wire railing. Read this article for more info.
15. Bamboo Deck and Railing
This project teaches the easiest way to build a deck and handrail system with bamboo. It will be an excellent focal point for the outdoor space.
16. Railing for Floating Tree Deck
Take inspiration from this video to assemble a railing system for your floating tree deck.
17. Light-Up Deck Railing

Install this frameless, tempered glass panel railing and give your monotonous deck a gorgeous glow. This railing has no posts or rails, and LED lights are pre-installed in every mounting bracket.
18. DIY Rod Railing for Deck
This video is all about how to measure and install a custom deck railing setup from start to finish.
19. X-Shaped Railing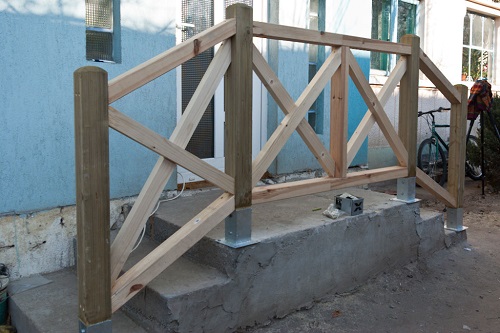 Lumber, screws, glue, primer, dowel pegs, saw, drill machine, and tools are all you need to assemble this x-shaped deck balustrade.
20. Wagon Wheel Railing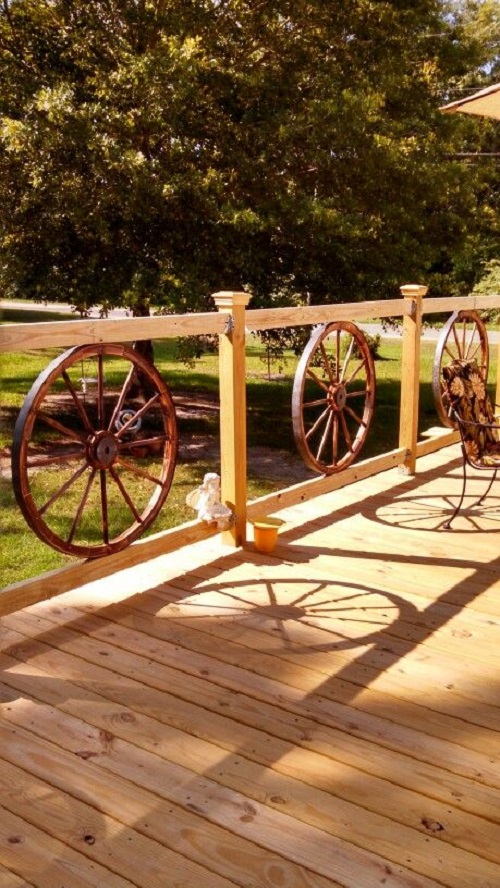 This deck railing setup featuring vintage-looking wagon wheels will surely attract a lot of eyeballs. To complete this idea, attach the wheels between the regular wooden frame structure instead of normal balusters.
21. Bent Iron Deck Railing Idea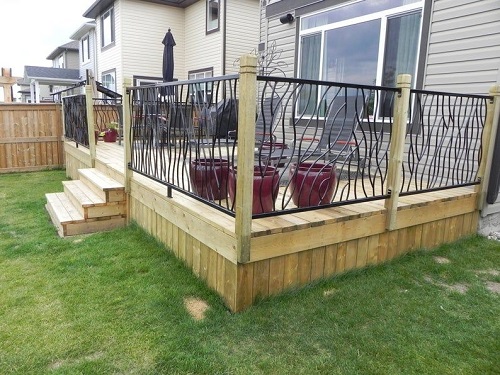 Turn your deck into a piece of art with this gorgeous bent iron railing. Every panel gets its unique design through welding and lots of creativity.
22. Birch Log DIY Deck Railing Ideas
If you have birch logs, use them to create a deck railing system. It's one of the cheapest DIY deck railing ideas on this list.
23. Cable and Glass Slat Roof Deck Railing
This roof deck railing is made with a white decorative screen and black metal posts. It also doubles up as a privacy screen.
24. Use Tree Branches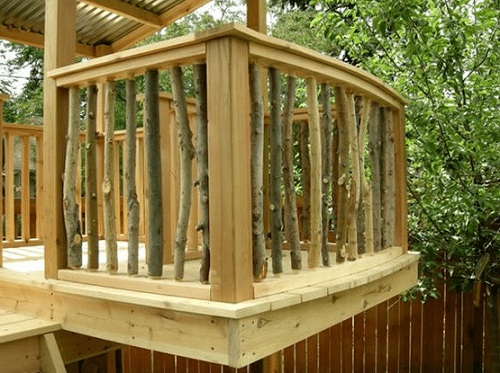 Rail made from tree branches is another one of the best DIY deck railing ideas. To mimic this project, replace the regular spindles with tree branches.
25. Sliding Deck Railing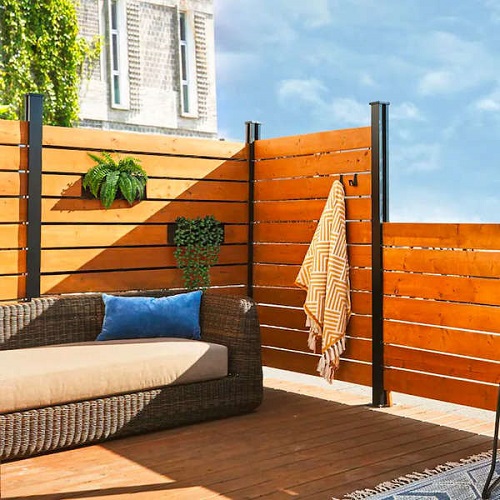 Add character and quick privacy to the space with this ingenious sliding deck rail. Aluminum posts, wooden boards, and screws are used in this project.
26. Red Cedar Deck Railing Plan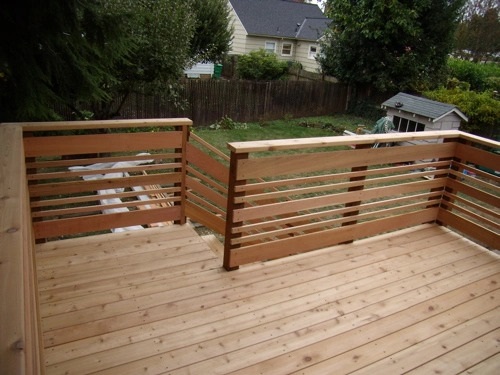 This elegant-looking deck railing made from red cedar will never go out of style. It's durable and weather-resistant.
27. DIY Steel Post and Cable Deck Railing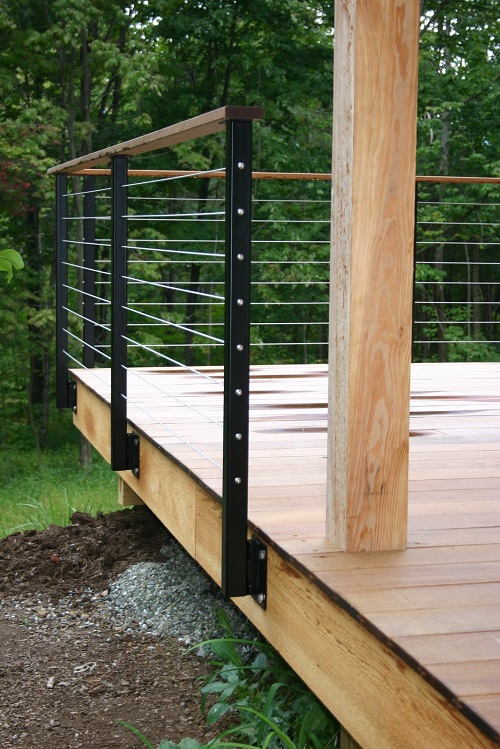 A custom-made deck railing of self-tensioning steel cables, metal supports, and wood. Read more here.
28. Craftsman Style Deck Railing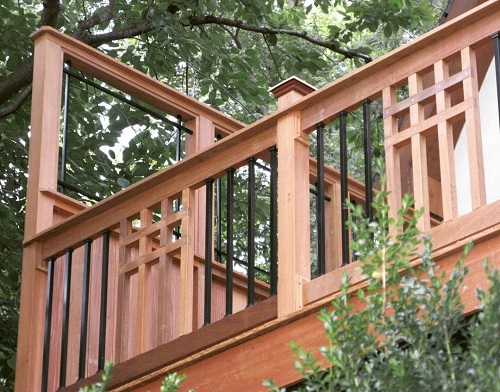 Intricate wooden structure, metal balusters, and privacy wall make this railing a perfect option for decks.
29. Wooden Deck Railing with Stained Glass Rondels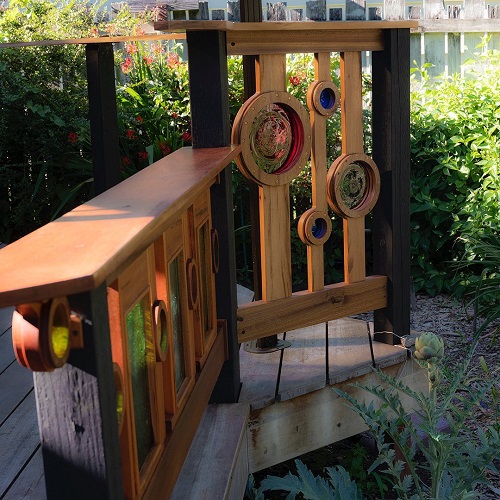 Adorned with colorful stained glass rondels, this stunning deck balustrade is a sight to behold.
30. Deck Railing With Built-In Bench
What about building a deck railing that doubles up as a seating bench? Sounds interesting!
31. Frameless Glass Deck Railing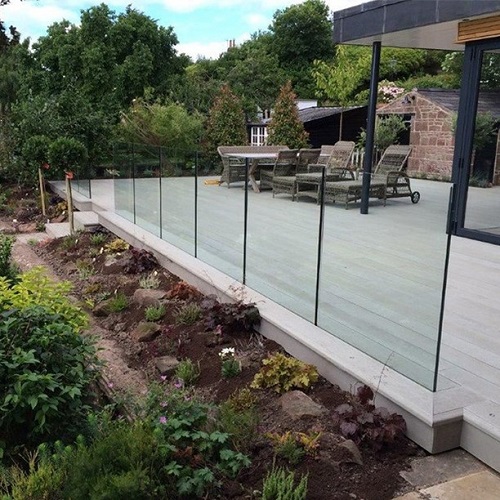 Add some pizzazz to your exterior space by installing a buried frameless glass railing.
32. White Pool Deck Railing Idea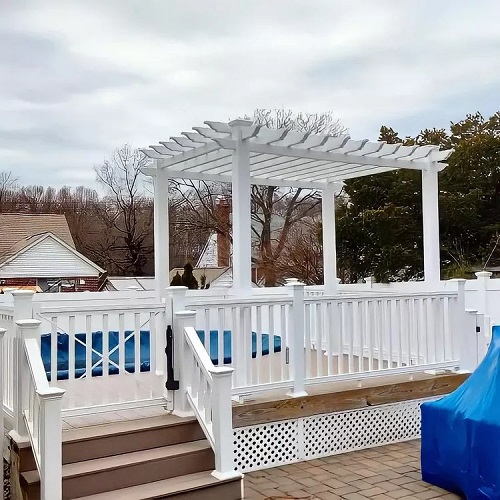 Made from PVC, this white pool deck railing complements the surrounding pergola and lattice skirting.
33. Deck Railing With Tempered-Glass Panels and Wood Posts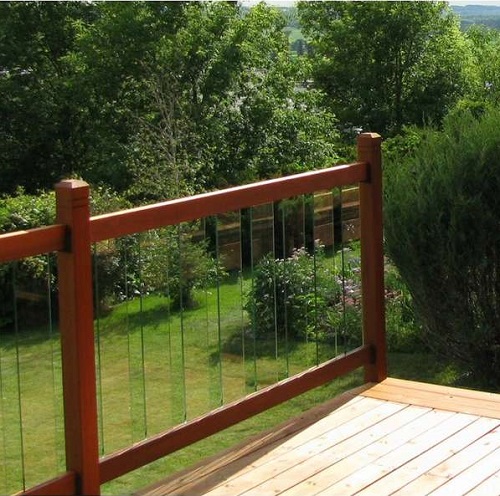 Wide tempered-glass panels and warm wood posts are the highlights of this elegant deck railing system.
34. Mesh Fabric Privacy Screen Deck Railing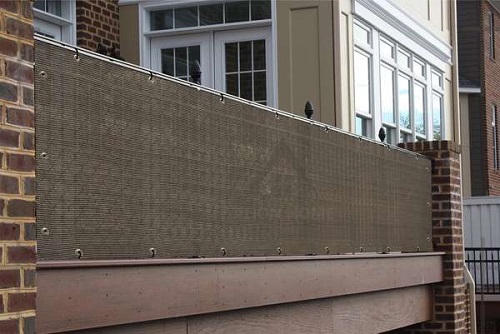 The high-quality polyethylene mesh fabric used in this railing ensures safety, privacy, and style.
35. Horizontal Rod Deck Railing Idea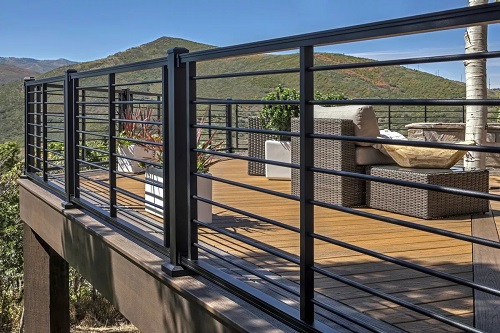 This super sturdy, modern rod deck railing is equipped with vertical balusters and horizontal metal rods.
36. Slat Deck Railing Idea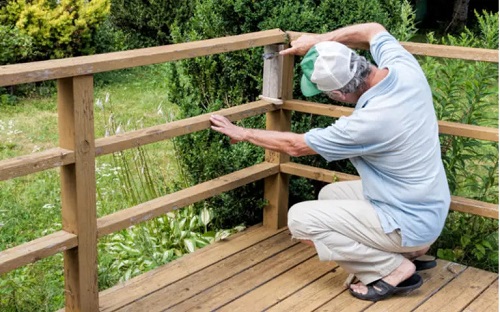 Simple, streamlined, and rustic, this traditional slat railing idea gives timeless appeal. In this system, slats are attached to wooden posts.
37. Artsy Deck Railing Idea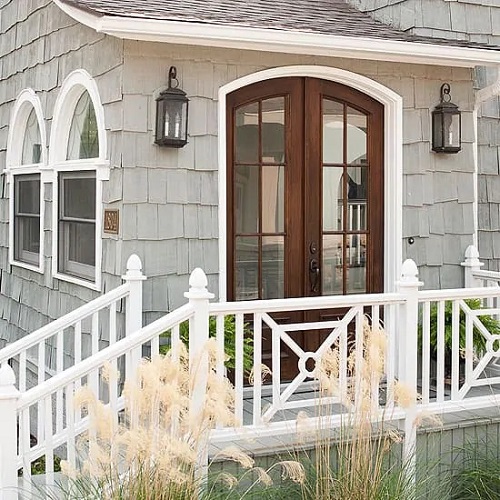 Festooned with unique-shaped post caps, this white-painted railing idea is sure to catch a lot of eyeballs.
38. Railing With Arched Balusters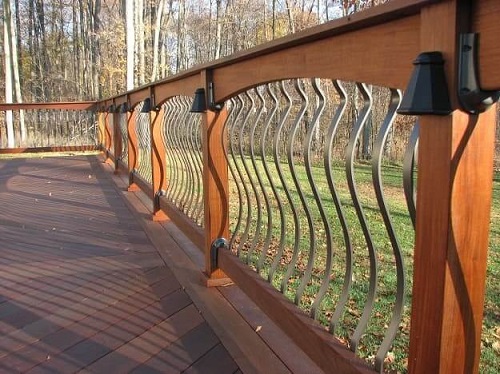 In this railing, wooden handrails are paired with arched aluminum balusters to create a unique visual interest. You can either DIY or purchase its kit for quick installation.
39. Weather Resistant Iron Deck Railing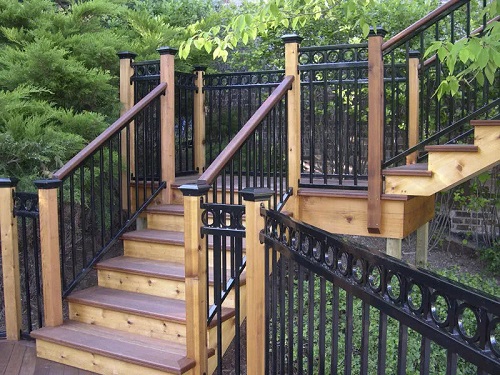 If you want a long-lasting, weather-resistant, and stylish railing, opt for the iron balustrade without a second thought.
40. Lattice Deck Railing Idea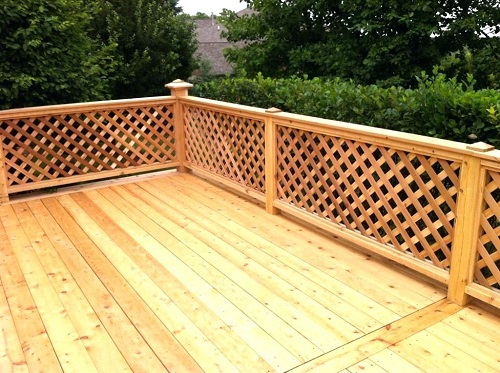 Enhance your curb appeal with this deck railing made from lattice and wood. All you have to do is attach lattice panels directly to vertical posts. It's one of the best DIY deck railing ideas.
Find out the best indoor wall trellis ideas here