Want an extra settee or a replacement for your old one on a budget? Check out these easy-to-make and affordable DIY Couch and Sofa Ideas!
These DIY Couch and Sofa Ideas are a perfect blend of style, comfort, and functionality. They are ideal for both indoor and outdoor spaces.
Learn How to Clean Faux Leather Couches here 
---
DIY Couch And Sofa Ideas
1. Upcycled Crib into Couch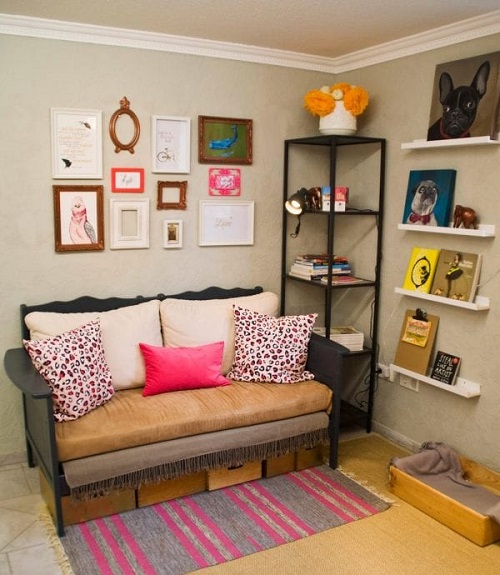 This tutorial shows how you can recreate this cute couch from old cribs. It's an easy weekend project.
2. $20 DIY Cardboard Couch
You only need cardboard, foam, and fabric to make this comfortable couch. It costs only $20.
3. DIY Boucle/Sherpa Couch
Instead of making a couch from scratch, give your existing one a chic makeover using this detailed video tutorial.
4. Couch DIY
If you love to DIY your own furniture, check out this YouTube video that teaches the easiest way to create a stunning couch.
5. DIY Industrial Couch
Take your DIYing and woodworking skills to a new level by making this industrial-style couch. Its base is made from reclaimed wood beams.
6. DIY Pallet Couch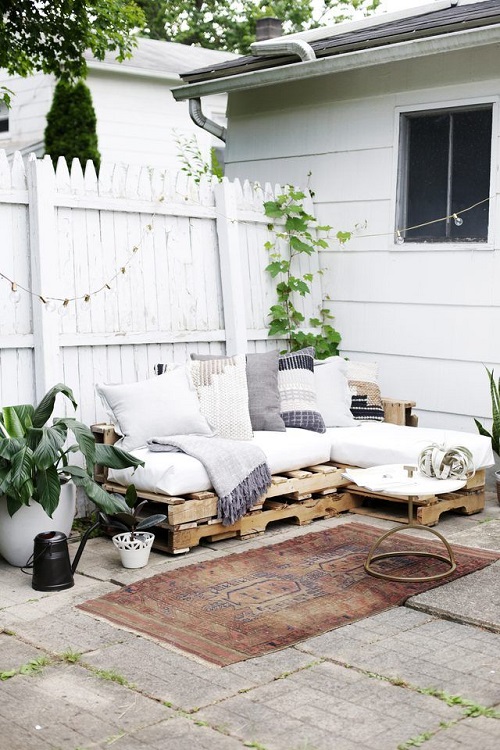 Follow this tutorial to build an L-shaped pallet couch and bring rustic charm to your outdoor space. It's one of the best DIY couch and sofa ideas.
7. DIY Clawfoot Bathtub Couch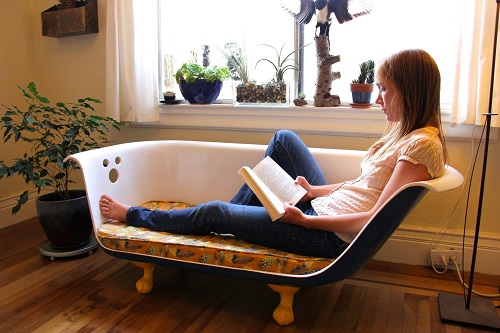 This clawfoot bathtub couch is a one-of-a-kind piece of furniture that will surely get lots of attention. Get the details here.
8. Box Sofa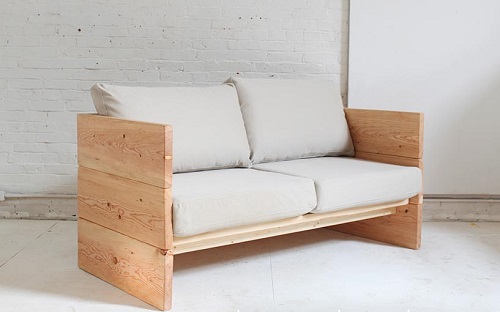 This wood-framed settee is simple and durable with a timeless style. Pile pillows along the sturdy, solid-wood sides and back make this a perfect daybed to lounge on.
9. DIY Sofa Bed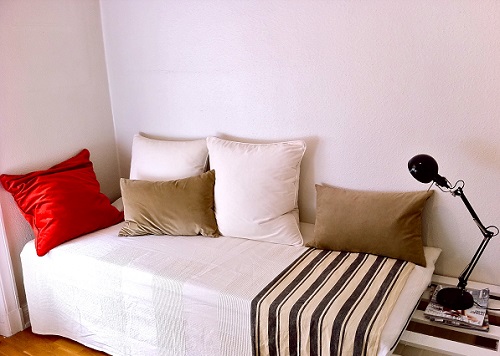 Here's the easy-to-understand tutorial to build a versatile pallet sofa bed, which works perfectly for daytime lounging.
10. Outdoor Sofa Idea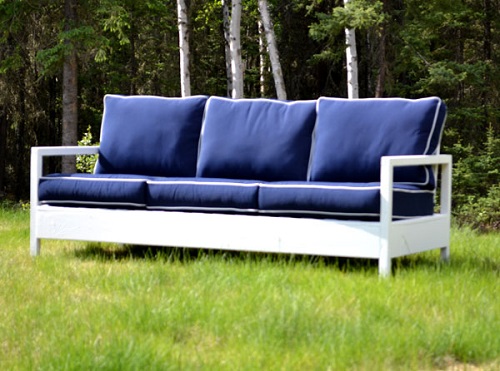 Build your own outdoor settee with reclined seats and back for increased comfort. A free step-by-step plan is here.
11. DIY Pallet Upholstered Sectional Sofa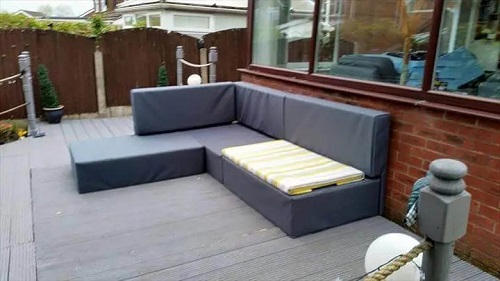 This beautiful and comfy upholstered sectional sofa is made from pallets, foam, fabric, and a few tools. The DIY is here.
12. Zig Zag Sofa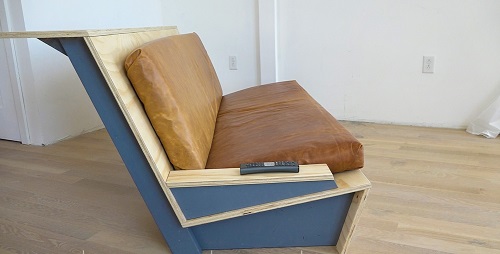 Featuring a built-in counter, this sofa is great for having a get-together for watching a movie or sporting event, even in a small space.
13. Storage Sofa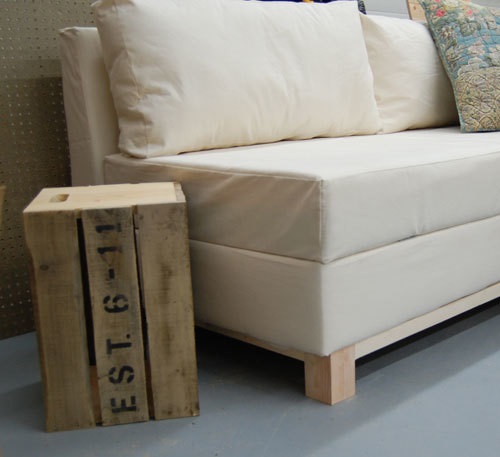 A settee with a fold-out seat is perfect for storing extra pillows and blankets. It's one of the most amazing DIY couch and sofa ideas.
14. DIY Upholstered Couch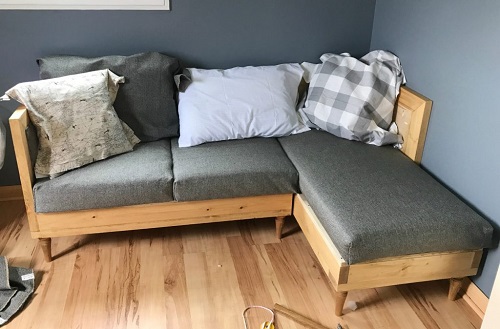 This modern furniture is ideal for a living room, man cave, kid's playroom, or sitting area. The exposed wood frame allows you to customize it with your favorite stain color and fabric.
15. Easy DIY Wooden Studio Sofa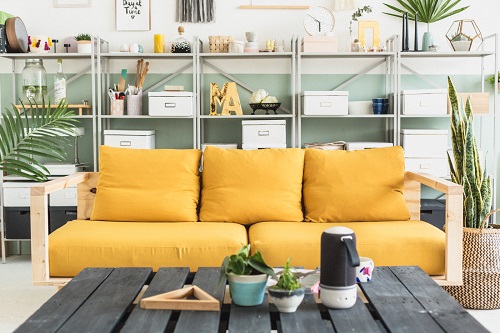 Construct this DIY wooden studio sofa to add some pizzazz and a relaxing spot in your living area. Learn more here.
16. IKEA Sofa Hack Idea
If you have an old Ikea futon transform it into a stylish couch with some modifications and this tutorial.
Find out the revamped Ikea organizer here
17. Modern & Sophisticated Outdoor Sofa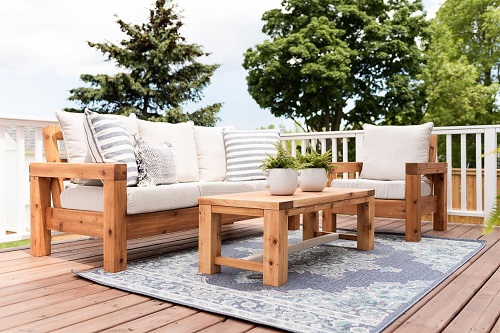 Enjoy indoor-like comfort outdoors with this streamlined and sophisticated outdoor couch that makes a statement with its timeless design.
18. DIY Sofa with Shelves
Equipped with shelves, this unique sofa lets you showcase souvenirs, plants, and other decoratives.
19. DIY Mid-Century Modern Sofa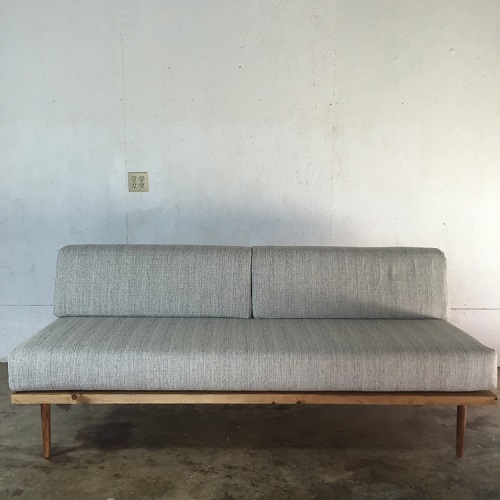 Make this modern furniture and give your space the much-needed mid-century charm. Hop to this article for more info.
20. $100 No-Sew Sofa
Have a tight Budget? Don't fret because you only need $100 to create a comfy couch. The best part is it's a no-sew project.
21. Indoor/Outdoor Minimalist Couch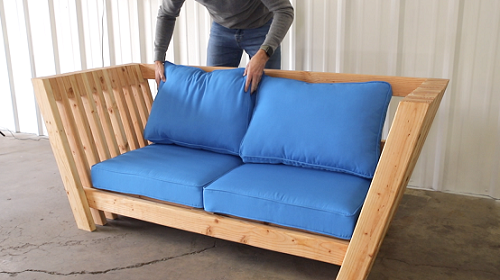 This unique-shaped minimalist furniture project is what you need to build next. Get the idea here.
22. Full Metal Sofa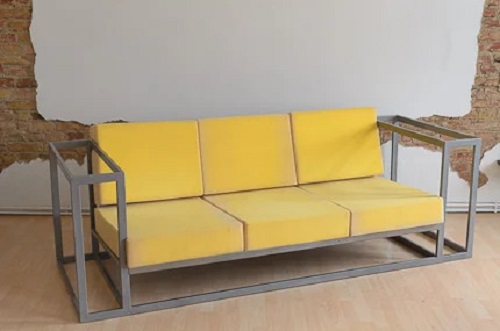 A few profile tubes, a little metal sheet, welding, and your metal furniture are ready. It's one of the best DIY couch and sofa ideas to take inspiration from. Click here to know more.
23. Contemporary Beach Gray Outdoor Sofa Build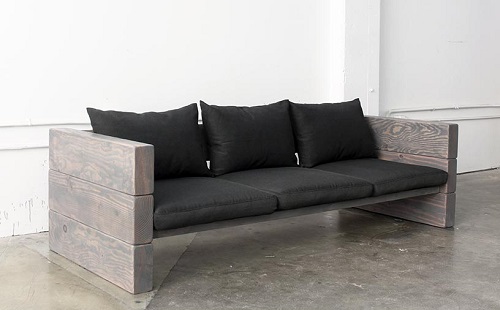 Modern outdoor couches can be quite expensive. That's why making a comfy sofa at home is a wise decision. Get the tutorial here.
24. DIY Weatherly Sofa Idea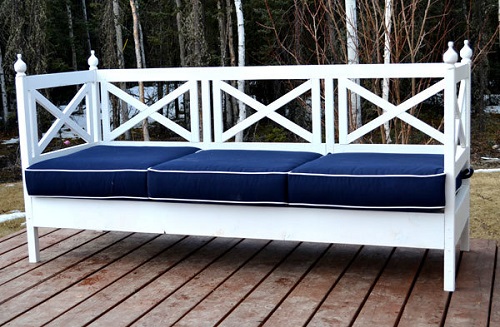 Highlighted by large X styling, finials, and navy-colored cushions, this sofa is an excellent focal point for outdoors.
25. Four Seater DIY Plywood Lounge Sofa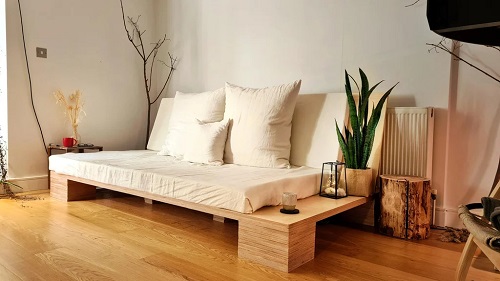 Can't find the perfect settee with the right price point, quality, aesthetics, comfort, and everything? This article is for you.
26. Cute DIY Sofa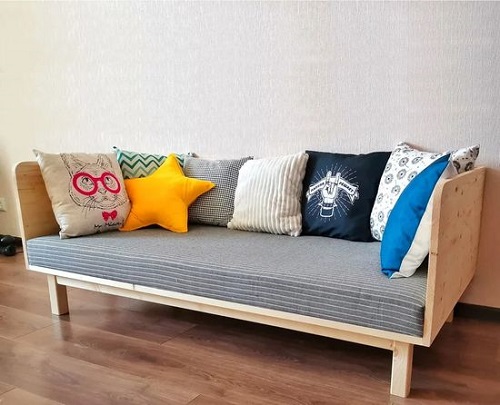 This Instructable shows how to make a cute DIY sofa from pine wood furniture boards, a saw, a cordless drill, and an electric stapler.
27. DIY Stylish Sofa Bed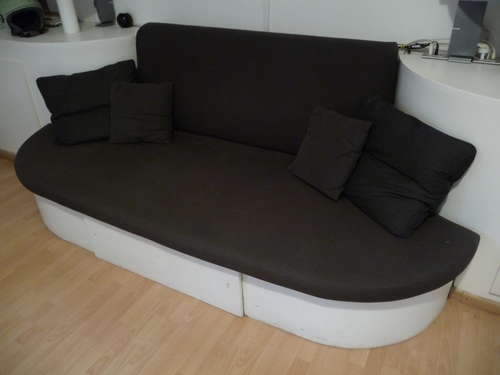 The purpose of this project is to build a couch that can also be an emergency bed and act as a home theater case.
28. Bean Bag Couch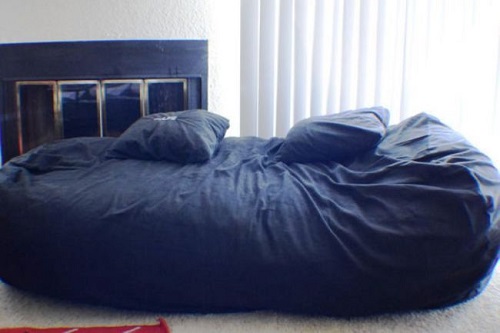 Amaze your guests and loved ones by making this peculiar bean bag couch that screams comfort loudly. Read the details here.
29. DIY Platform Couch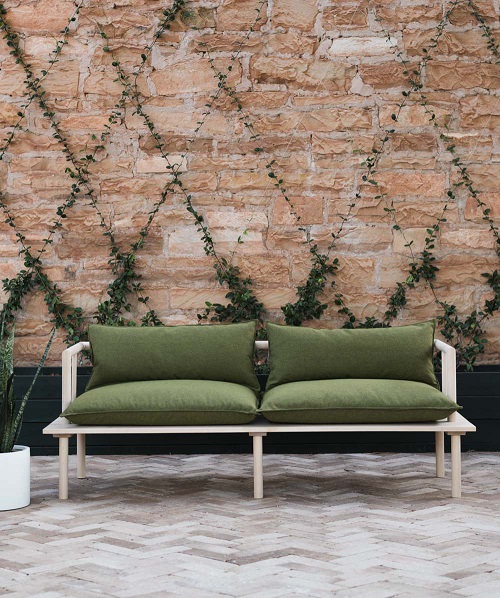 Beautiful and durable, this platform couch is a perfect piece of furniture for the porch or patio. This article has all the details.
30. Tire to Sofa
Learn how to recycle an old tire into a gorgeous tufted seat that can be used in the sitting room or balcony. It's one of the most beautiful DIY couch and sofa ideas.
Find out the best DIY behind-the-couch table ideas here