Give your boring wardrobe doors the much-needed, chic makeover with these eye-pleasing Closet Door Ideas DIY!
An outdated wardrobe door can be a real eyesore and drags a room down significantly. If you, too are facing such an issue, try these Closet Door Ideas DIY to uplift your room interior.
Closet Door Ideas DIY
1. Plain Closet Doors Look Like a Million Bucks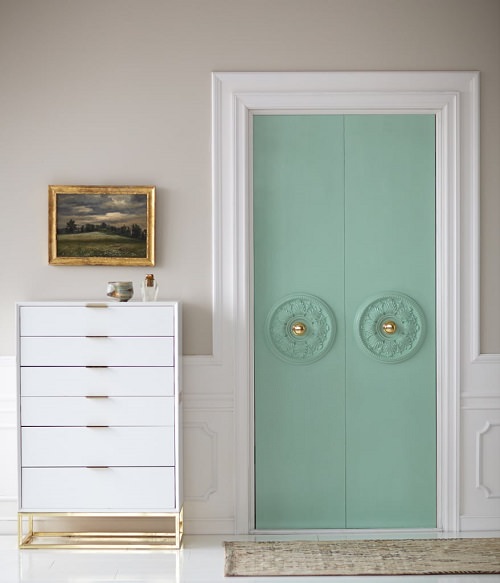 Add a wow factor to your bland room by upgrading the current plain closet door with this amazing tutorial.
2. DIY French Closet Doors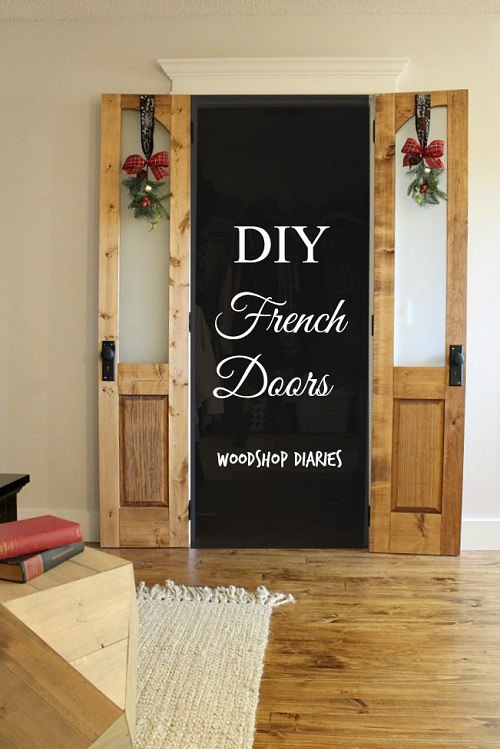 To bring French elegance to your room interior, build these lovely wardrobe doors with wood, glass panels, power tools, and this DIY. You can also hang seasonal ornaments for an added charm.
3. Sliding Pallet Barn Door!
Fill your living space with rustic vibes by DIYing this neat sliding pallet barn door. It's one of the most fantastic closet door ideas DIY on this list.
4. DIY Bifold to Hinged Closet Doors on a Budget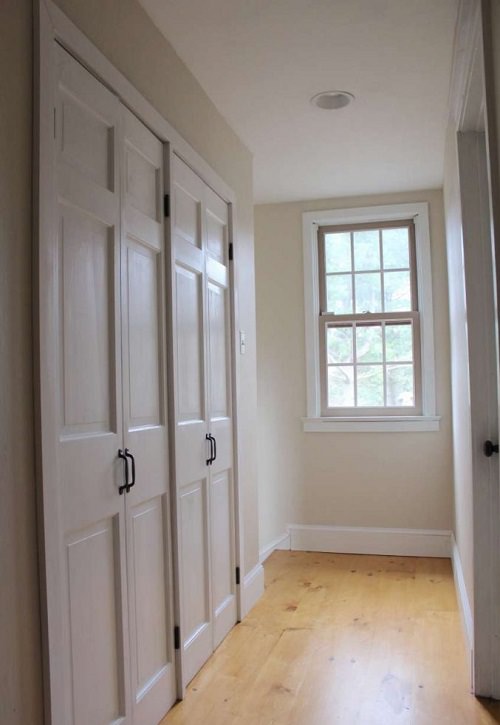 Rather than replacing your old bifold doors with new ones, convert them into chic hinged doors. The details are here.
5. Chalkboard Closet Doors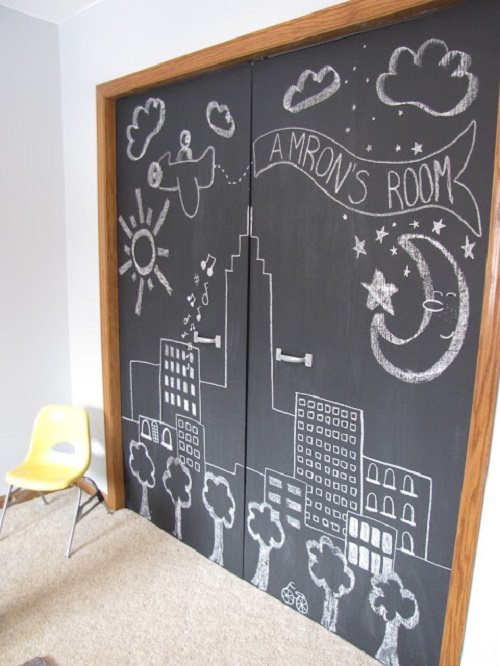 Convert your little artist's closet doors into a graffiti wall using chalkboard paint. Your kiddo will definitely adore this idea.
6. $50 Rattan-Inspired Closet Doors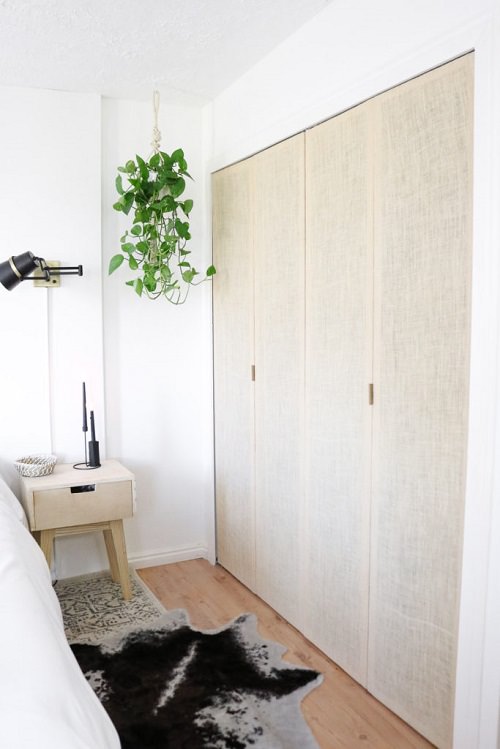 Made with wooden panels, burlap, acrylic paint, wood stain, and some hardware stuff, these textured rattan-inspired closet doors are full of character and charm.
7. Flat Closet Panel Door Makeover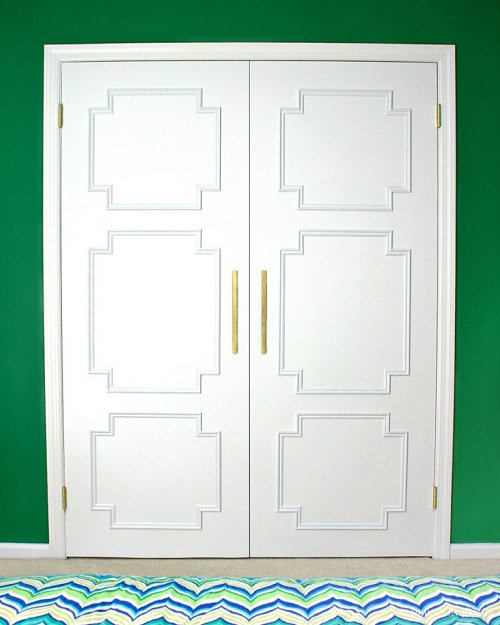 Gather panel molding, wood glue, painter's tape, and other supplies to modify the dull look of your existing flat panel closet doors. The best part, this project requires no power tools except a drill.
8. Add Cork Boards for Extra Customization!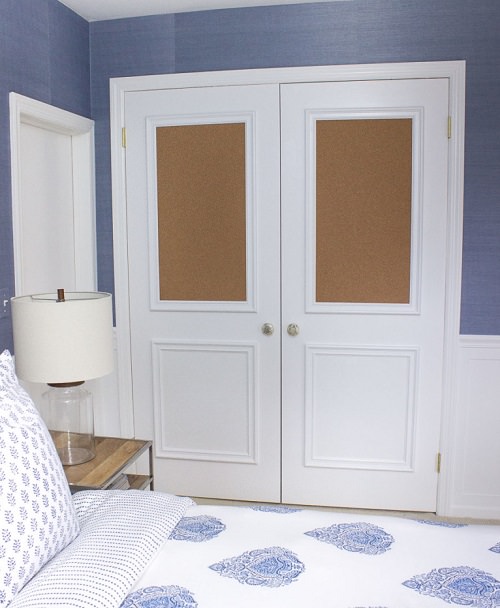 Say goodbye to your unpleasant closet doors by elevating their appearance with framed cork boards and panel molding. The details are here.
9. DIY Custom Bifold Doors
Check out this video to build bifold closet doors from scratch to make the space inviting and appealing.
10. Faux Shiplap French Closet Doors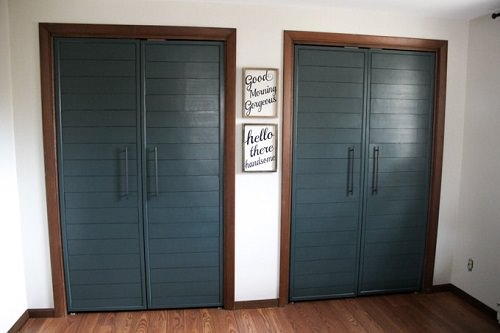 Here's the detailed tutorial to revamp any bifold closet doors into awesome shiplap french doors. This project is time-consuming, but the result is mesmerizing.
11. Stained Closet Doors
Instead of buying new closet doors, stain them for an instant facelift. It's one of the most economical DIY closet door ideas.
12. DIY Mid-Century Modern Sliding Barn Closet Door
Get the mid-century vibe in your living space with this DIY sliding barn closet door tutorial.
13. Frosted Glass Closet Doors
Watch this video to learn how to turn plexiglass and lumber into cool frosted glass closet doors.
14. Shoji Style Sliding Closet Doors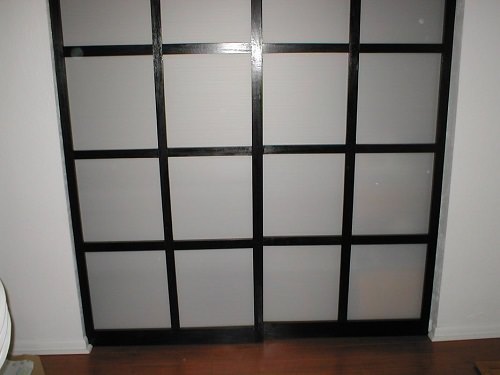 Follow this instructable to give your closet a Japanese touch by making and installing shoji-style sliding doors.
15. A Beadboard Closet Door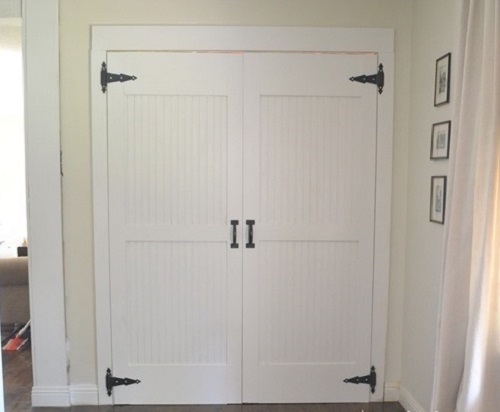 Trade your existing out-of-fashion closet door with these farmhouse-style beadboard doors featuring black hinges and handles.
16. Awesome Pink French Closet Doors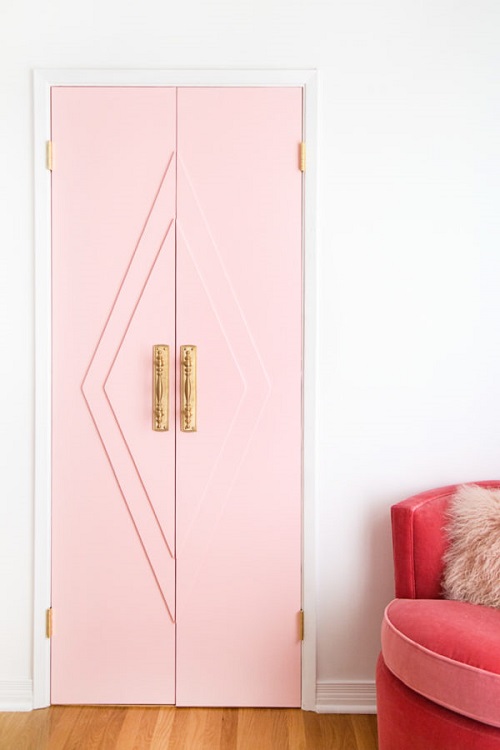 The pink tone, diamond design, golden handles, and hinges make this closet door a gorgeous specimen.
17. DIY Bypass Barn Doors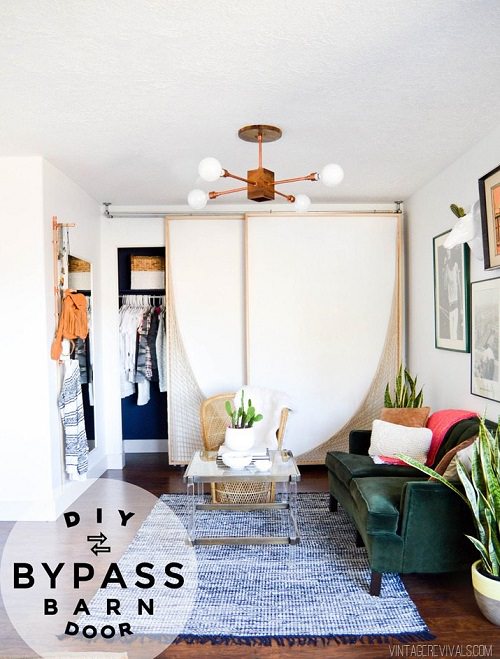 This lightweight and sturdy bypass barn closet door adorned with string art bring a flair of minimalism and uber-chic vibes to the space.
18. Star Trim Closet Door DIY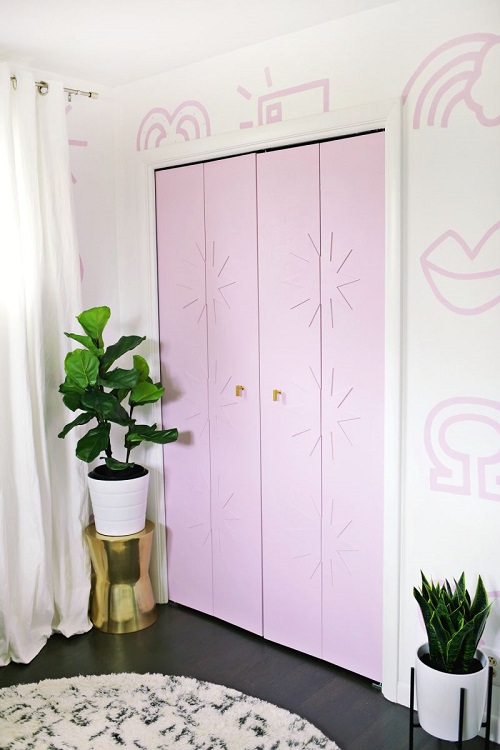 Adorn your living space with these attention-grabbing, Instagram-worthy star trim closet doors. The DIY is here.
19. Parisian Chic Closet Door Idea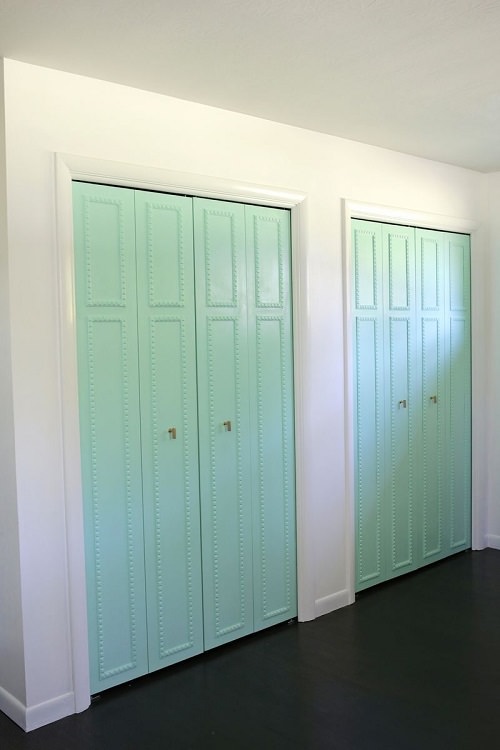 This blogger gives her closet doors a charming Parisian feel with the trim details and semi-gloss paint.
20. DIY Craftsman Style Vintage Closet Doors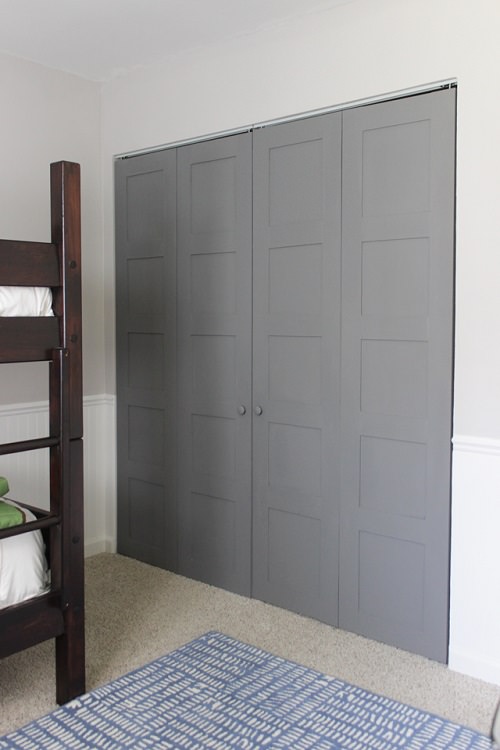 Remodel your bifold closet doors into stunning 5-panel craftsman-style doors with this easy step-by-step tutorial.
21. DIY Hidden Closet Doors
If you want a unique and multipurpose door for your closet, this video tutorial is for you. This hidden door also doubles up as a storage space for books and other stuff.
22. 4-Panel Barn Closet Door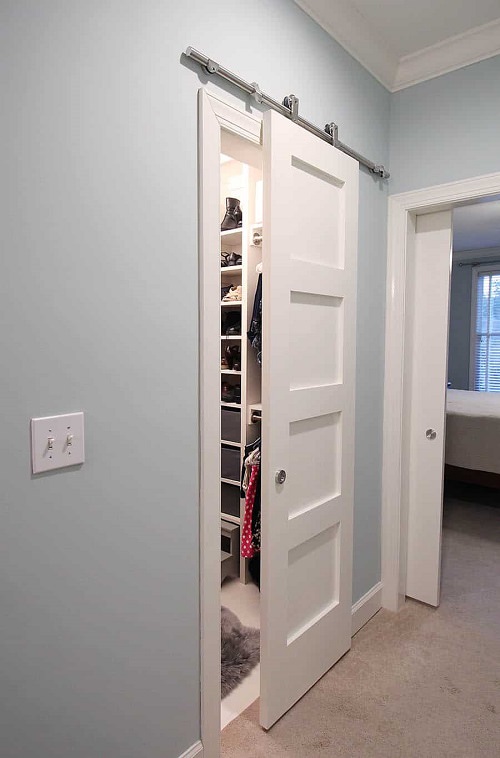 This contemporary 4-panel barn door with no patterns and designs makes it an excellent choice for minimalism-loving individuals.
23. DIY Coral & Glam Bi-Fold Closet Door Makeover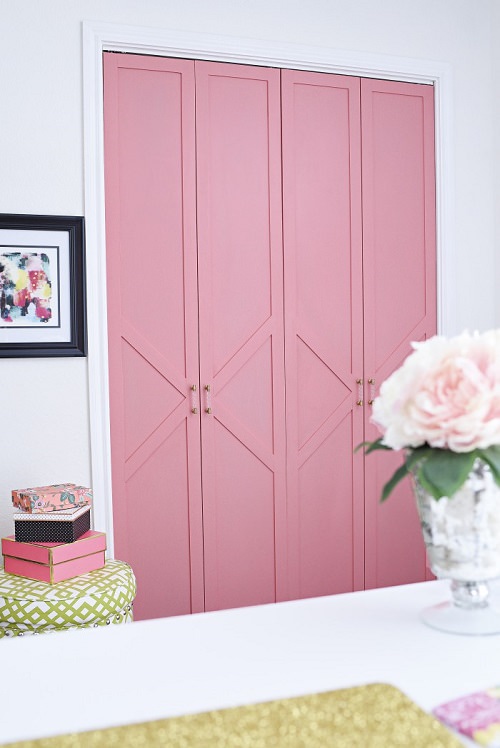 In this article, the DIYer turns her closet into a statement piece by giving her old bifold doors an ultimate makeover.
24. Mirror Closet Door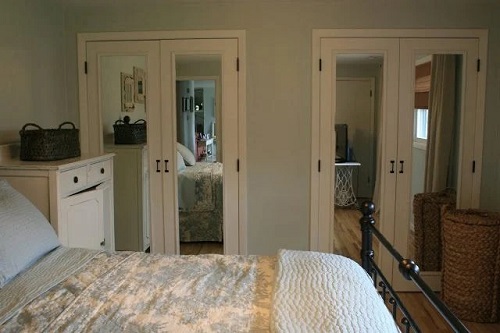 All you need is mirrors, paint, mirror adhesive, hardware, and tools to jazz up the look of your typical closet door.