Carry your cash and cards in style with these stylish and affordable Homemade Wallet Ideas! Read this article to learn more!
Instead of purchasing, create personalized billfolds at home using this list of creative Homemade Wallet Ideas. They are also great for gifting purposes.
Here are some DIY cardboard crafts
---
Homemade Wallet Ideas
1. Leather iPhone Flip Wallet

Easy to sew and shape, this billfold doubles as a secure case for your iPhone. Here's the tutorial.
2. Basic Boys Wallet

This basic boy's wallet is a perfect gift for your kiddo, who likes to show off his fake money. Get more details here.
3. Bi-fold Wallet

The bi-fold design is a clever way to ensure your cards don't keep sliding off your wallet every time. Read here to learn more.
4. Zipper Card Wallets

This chic pouch with a secure zipper closure and lots of room for cards is a must-have for every shopaholic. Check out craftpassion.
5. Snappy Coin Purse Idea

This colorful coin purse idea gives you ample chances for customization. Also, the minimal requirement of tools and sewing skills makes it a nice project for the kids. Know more here.
6. Kids Wallet

Gift these billfolds to your kids to teach them the value of saving money. It's one of the best homemade wallet ideas.
7. Simple DIY Fabric Wallet

This washable and durable fabric wallet is a nice gift for someone who likes handmade stuff. Learn how to make it here.
8. Summertime Wallet DIY

This canvas-style billfold has some pretty rich beach vibes, making it a nice summer-special accessory for men and women. Click here for the homemade wallet tutorial.
9. Fold and Stitch Wallet

Easy to sew, this tiny wallet with coin pockets is a lovely way to put your favorite fabric to use. Check out this post for more details.
10. Mega Credit Card Wallet

This massive, multi-functional wallet has tons of slots for storing all kinds of cards and keeping them handy. Visit here for the instructions.
11. No Sew Clutch Wallet

The no-sew clutch wallet is a beginner-level DIY that gets done in 10 minutes straight. Simple steps are here.
12. Duct Tape Wallets

Duct tape billfolds are super easy to customize and practically indestructible. This DIY wallet on eHow goes a step further to show you how to tuck in hidden pockets as well.
13. Big Clutch Wallet

This neat wallet has a secure button-up closure and many storage pockets for keeping cards and cash safe. Learn the procedure here.
14. Cute Card Holder Wallet

Here's the tutorial to create a nice little wallet to hold business cards. It's one of the most amazing homemade wallet ideas on this list.
15. Jeans Cuff Wallet

Rather than tossing your old ripped jeans in a trash can, craft a stylish billfold out of it. Follow this instructable for more info.
16. Homemade Leather Wallet

This minimalist wallet project is a detailed but easy introduction to leathercraft. Get inspired by this article.
17. DIY Map Wallet

You only need a map and contact paper to recreate this unique wallet. The details are here.
18. DIY Travel Wallet

This roomy wallet is what you need to keep your important documents and gadgets within easy reach. Here's the DIY!
19. Key Chain Wallet

This keychain wallet is a great idea to ensure all your keys, cash, and cards are safe in your pocket. Step by step tutorial is here.
20. Homemade Gift Wallet Idea

A perfect carrier for your cards and coupons, this pretty billfold doubles as a great gift box as well. Visit this blog for more details.
21. Loyalty Card Wallet

This DIYer combines scraps of colorful cardstock with linen to give a stylish makeover to an old loyalty wallet.
22. Wallet From Fused Plastic Bags!

Do you have lots of plastic bags? Reuse them to create a funky yet functional wallet. Get the DIY here.
23. Colorful Canvas Wallet Idea

This colorful billfold has numerous card slots and a design that will complement your style. It's one of the awesome homemade wallet ideas. Know more here.
24. Fabulous Fabric Wallet

Dainty on the outside but highly functional inside, this wallet comes with extra coin pockets and card slots to satisfy the hoarder in you. Access the tutorial from here.
25. Slanted Wrap Wallet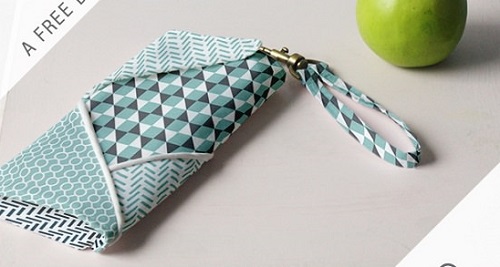 The slanted wrap design with the printed fabric gives oodles of charm to this wallet. Here are more details on this project.
26. Recycled Plastic Wallet

If you are looking for a free and environment-friendly billfold idea, this project is for you.
27. Kraft Paper Fabric Wallet

This washable, no-fuss wallet is a good addition to your office bag. Check out this crafty idea here.
28. DIY Bicycle Tyre Tube Wallet

Using old bicycle tire tubes for making billfolds is one of the craziest DIY ideas ever. Clicking here will redirect you to the DIY.
29. Hand-Look Quilted Wallet

The quilting stitch detailing on this simple wallet makes it a worthwhile accessory. Know all about this project here.
30. Vintage Book to Wallet

In this DIY, the crafter turned her old book into a vintage-looking wallet. Get the instructions here.
31. Men's Shirt Wallet

Reuse old shirts to fashion this stylish wallet. There can be no better gift than this for Father's day. The steps and materials used are here.
32. DIY Felt Homemade Wallet

Learn how to make an adorable no-sew-felt wallet using this article. It's one of the eye-catching homemade wallet ideas.
33. Handmade Cat Wallet

This adorable wallet is an excellent gift for cat parents. Click here for the detailed tutorial.
34. Homemade Cork Fabric Card Wallet Ideas

Sew an easy card wallet using natural cork fabric. This free pattern is a great way to use up scraps.
35. Floral Patterned Wallet Tutorial

Lightweight and eye-catching, this floral-patterned wallet is best for kids and adults alike. Read more here.
36. Tapestry Wallet

Instead of throwing away lovely scraps of fabric, use them to create this artistic-looking wallet in no time. Instructables get credit for this tutorial.
37. Faux Book Wallet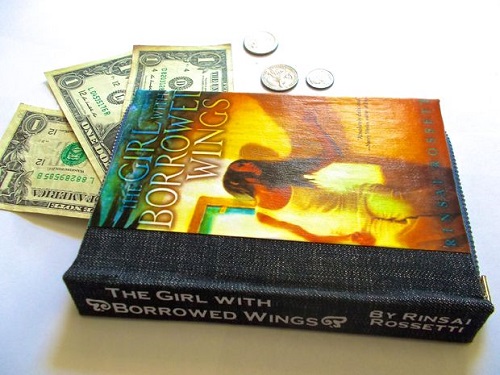 If you have an old book whose pages are falling out, this DIY wallet is a great idea to start this weekend.
38. DIY Bandana Wallet Idea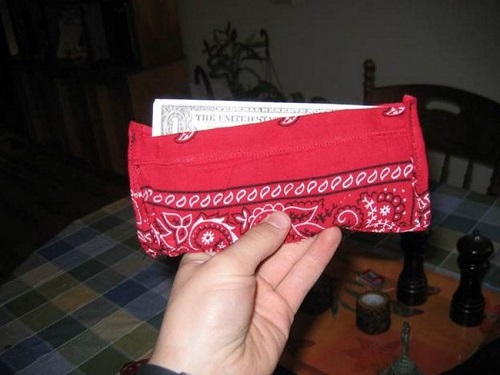 Transform your old bandana into a stylish wallet using these step-by-step instructions.
39. Business Card Wallet with Elastic Closure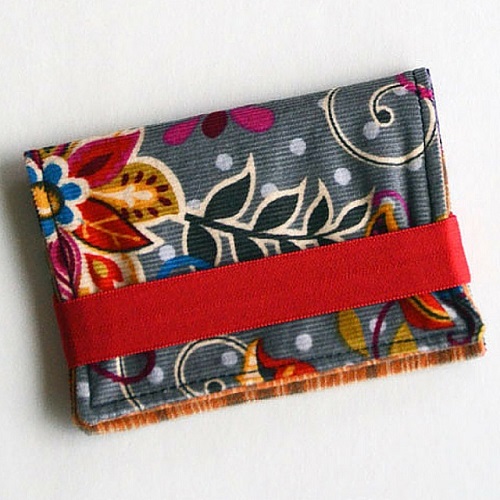 The two pockets inside this wallet can hold business cards or credit cards and money. An elastic band sewn into the back makes a quick and easy closure.
40. Clear Vinyl Wallets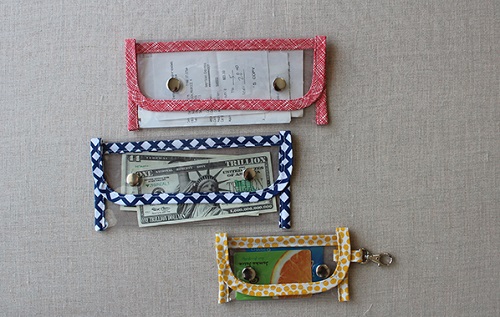 Slim and sleek, this clear vinyl wallet doesn't take up too much space in a handbag. Click here for inspiration.
41. No Sew Leather Wallet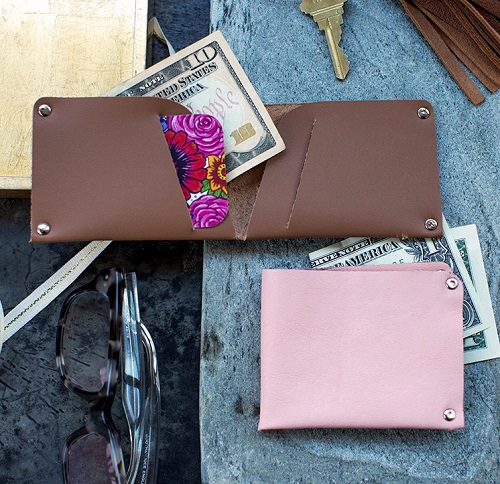 Gather leather punch, scissors, mallet, leather, and rivets to craft a nifty and luxurious no-sew wallet.
42. DIY Passport Wallet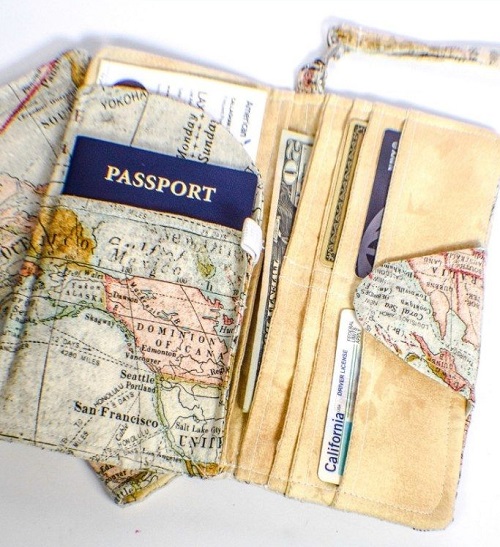 Here's another one of the fantastic homemade wallet ideas that can hold passports and credit cards, as well as money and phone, all in one place.
43. Homemade Floral Leather Wallet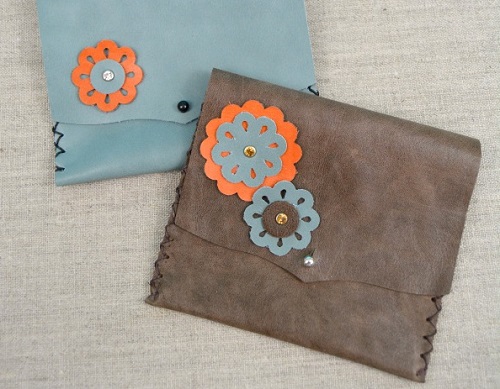 Show off your crafting skills by making this floral leather wallet. The best part, it's a beginner-friendly project.
44. Pixie Hexie Wallet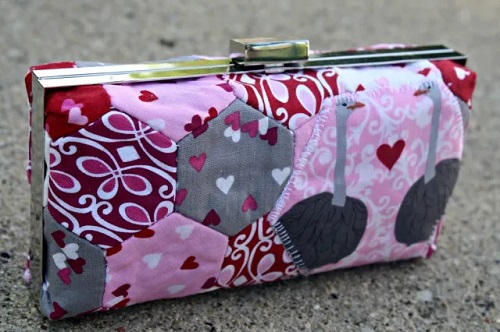 Adorned with red and pink fabric, this lovely wallet is fully sewn and assembled by hand. Take instructions from here.
45. DIY Mini Leather Wallet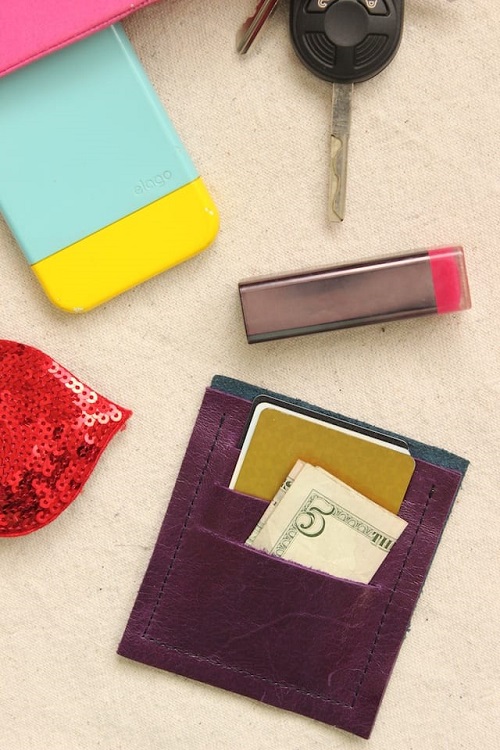 To copy this craft project, hop to this easy-to-understand tutorial. It's one of the cool homemade wallet ideas.
Here are some amazing leather crafts