Want to transform the look of your boring washroom? Take a hint from these awesome and affordable DIY Bathroom Items ideas!
If you think that there's nothing you can do to elevate the look and functionality of your washroom, you might be wrong! Here's a list of DIY Bathroom Items ideas that'll help you out.
Find out some affordable rental bathroom makeover ideas here
---
DIY Bathroom Items
1. DIY Leather Copper Cup Organizer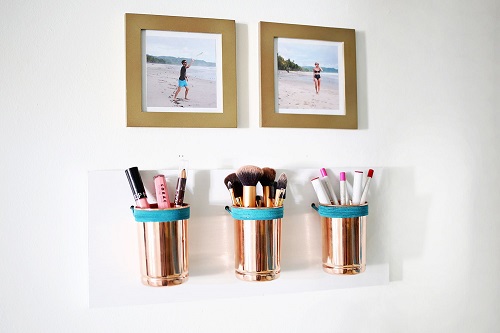 Perfect for organizing brushes and other everyday makeup items, these hanging copper cups are functional and appealing. It's one of the most amazing DIY bathroom items ideas.
2. Statement Shower Curtain DIY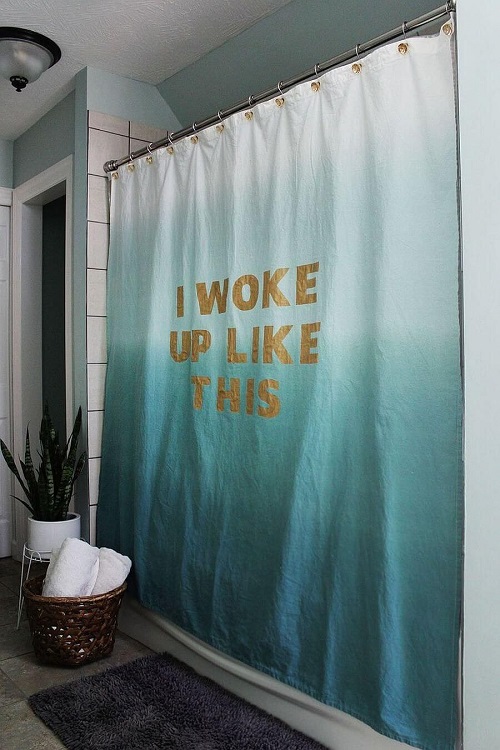 All you need is a shower curtain with a subtle pattern or solid color, a printer, and a steady hand to make a statement-making shower curtain.
3. IKEA Style Bathroom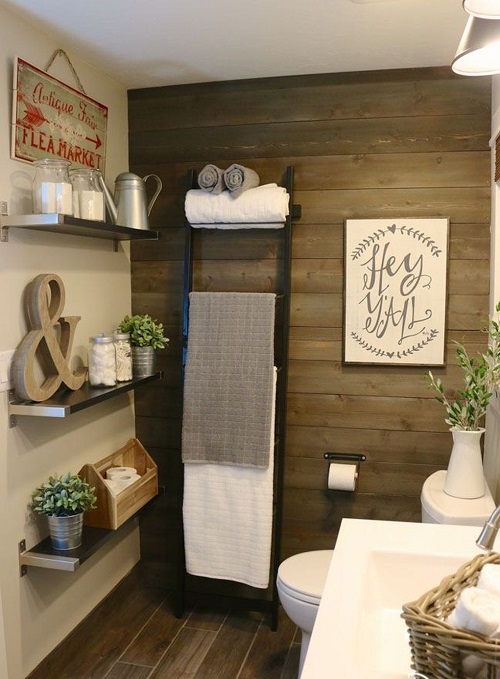 This bathroom is styled and decorated mainly using IKEA items. Read more here.
4. DIY Mason Jar Vanity Light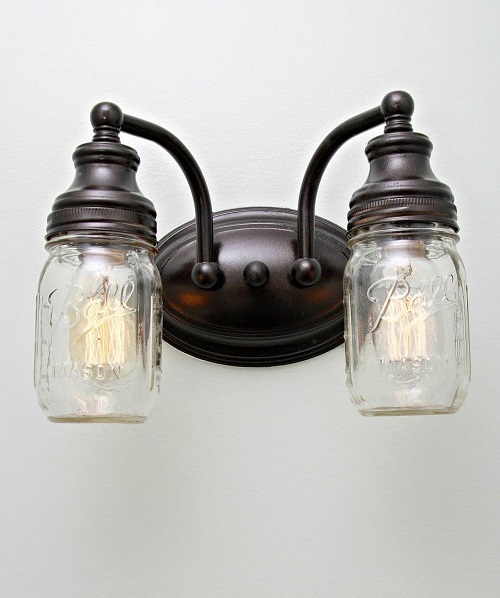 Learn how to transform a builder's grade vanity bathroom light into a farmhouse-style one using mason jars and spray paint. The instructions are here.
5. Kids Bathroom with Art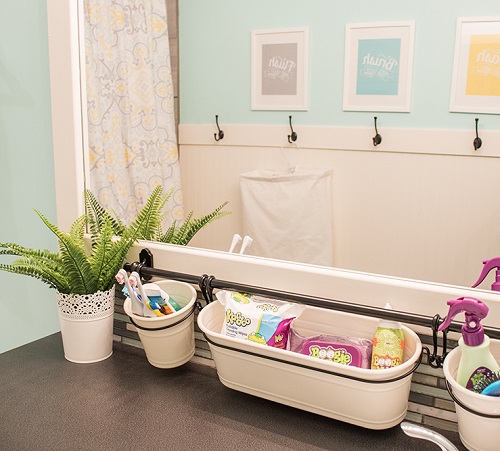 Here's a great DIY to add unique storage solutions and cheerful artwork to your kid's bathroom.
6. A Botanical Bathroom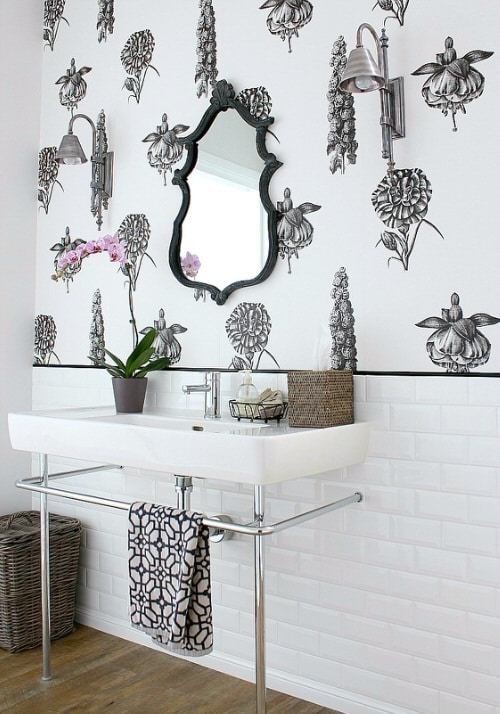 Create a unique botanical artwork on your drab bathroom walls and make it stand out! The details are here.
7. Industrial Farmhouse Bathroom Sign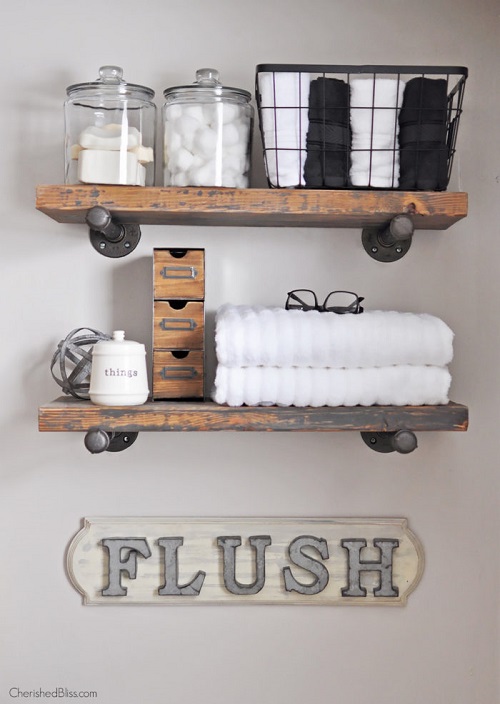 DIY this industrial farmhouse bathroom sign to elevate the washroom's look and reminds people to flush after using the toilet.
8. Rustic Wood Project for Bathroom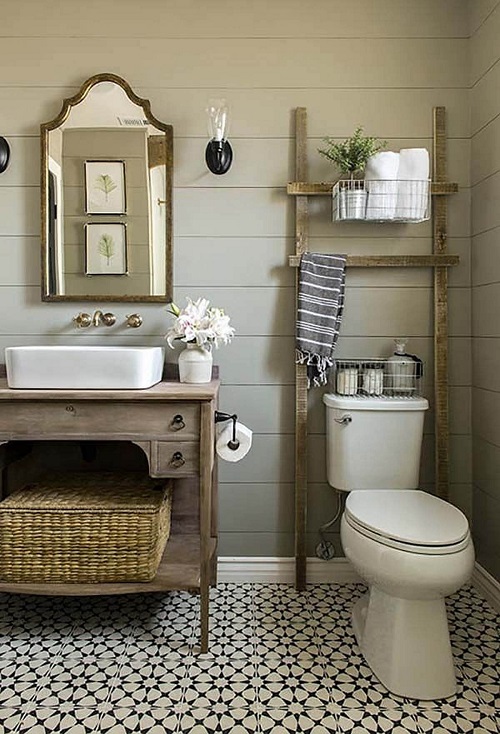 Add a rustic charm to your washroom using natural wood pieces and elements for a fascinating look. Details are here.
9. Bathtub Shelf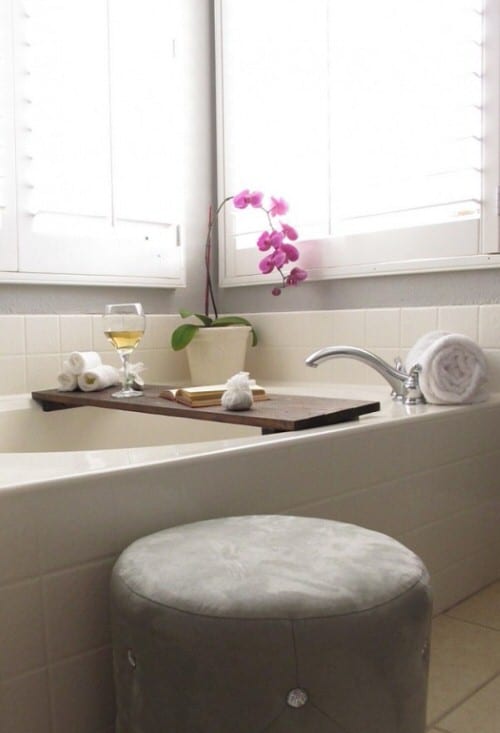 Here's a detailed tutorial on making a bathtub shelf using scrap woods to improve the bathing experience.
10. Bathroom Storage Ladder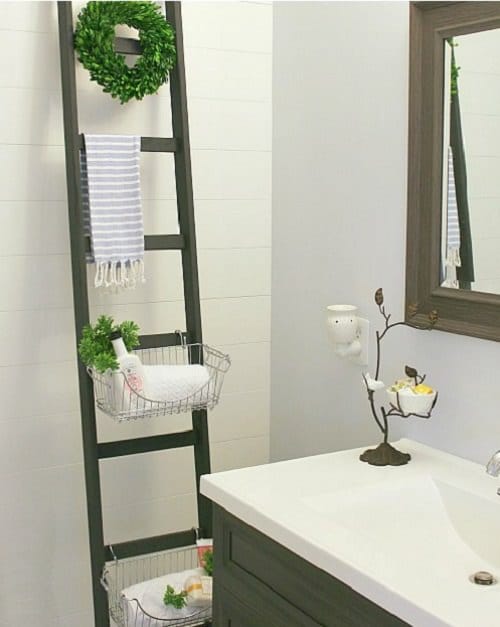 Placing a ladder in a bathroom not only maximizes storage space but also enhances the visual appeal as well.
11. Large Wooden Frame Mirror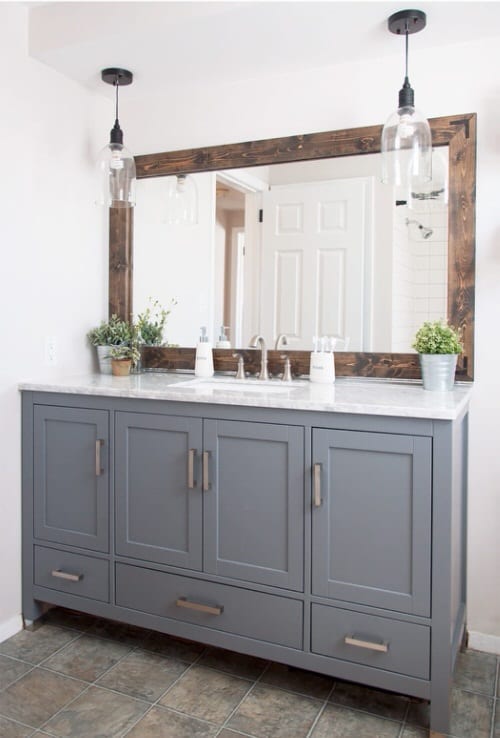 A large DIY wooden frame mirror, right above the cabinet, with hanging lights, will look spectacular in a big washroom. Click here to know more.
12. DIY Sunrise Mirror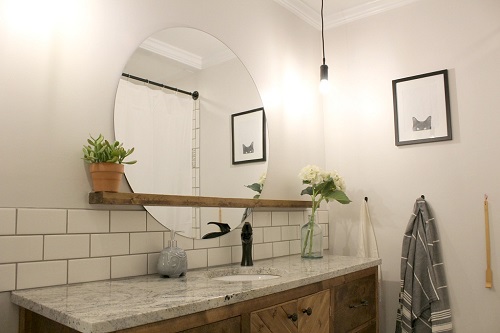 A round sunrise mirror equipped with a wooden shelf right above the sink is what you need for your bathroom. Read more here.
13. Wooden Open Shelf in Washroom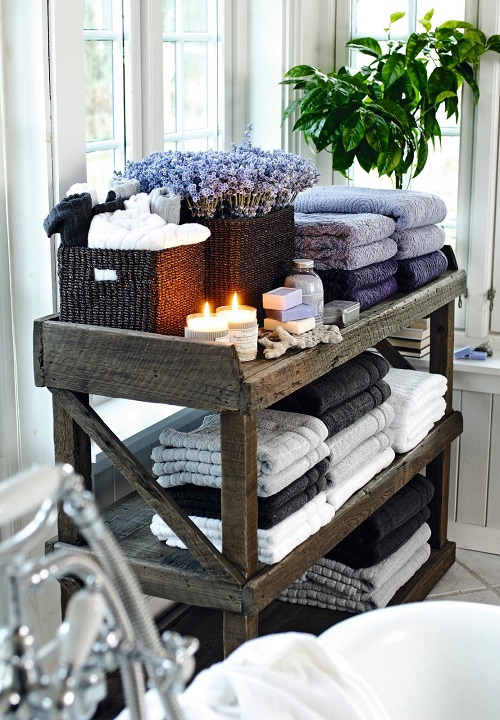 Here's the DIY that'll help you make an open wooden shelf to store towels, candles, and other stuff.
14. Toilet Paper Holder Shelf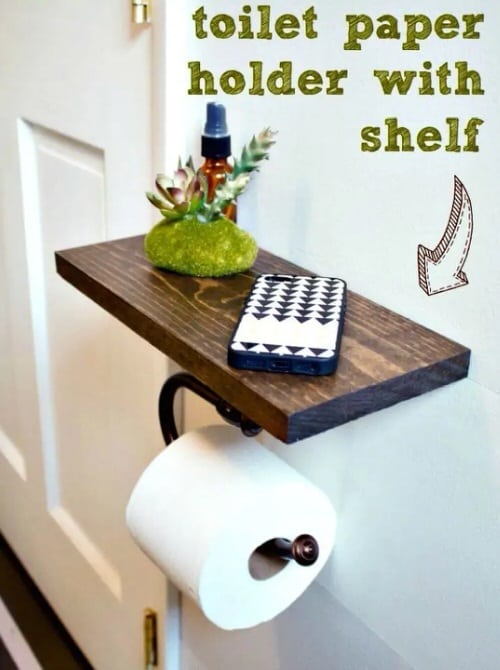 Made from scrap wood, corner brackets, and wood stain, this toilet paper holder also keeps a cell phone or other tiny decorative accessories in place.
15. Wooden Stand for Toilet Rolls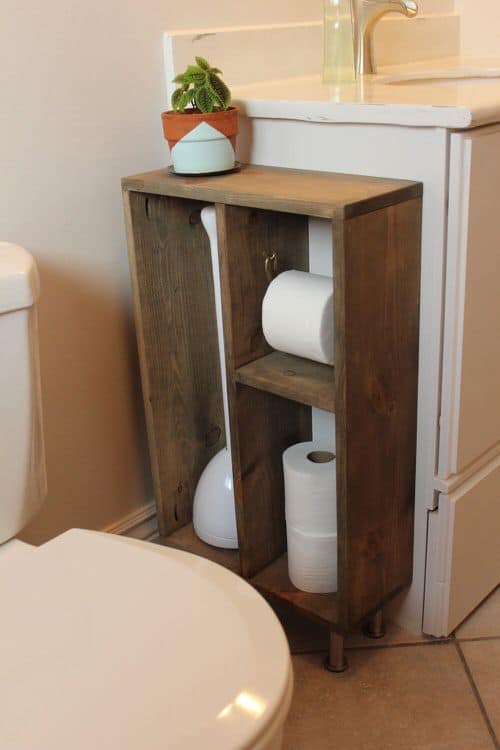 Add rustic charm to your washroom area by DIYing this vintage-looking toilet paper storage unit.
16. Vintage Bed Frame Towel Bar
Check out this vintage bed frame towel bar to fill your bathroom with farmhouse vibes. You can also use it to display pots.
17. Wooden Plank Wall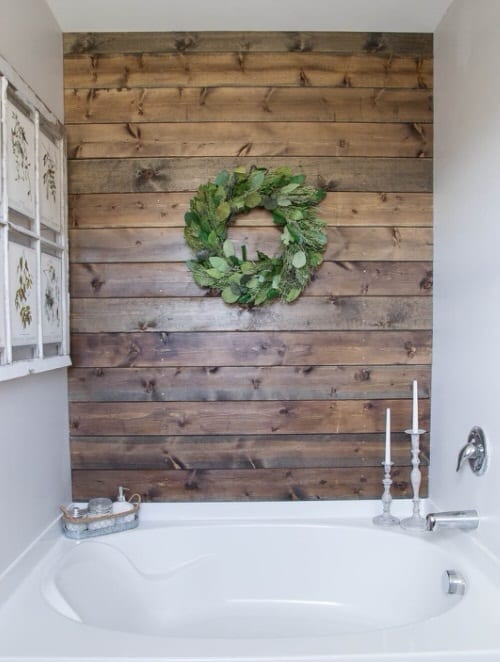 All you need is a large empty wall, wooden planks, and polyurethane to complete this DIY.
18. Mason Jar Bathroom Organizer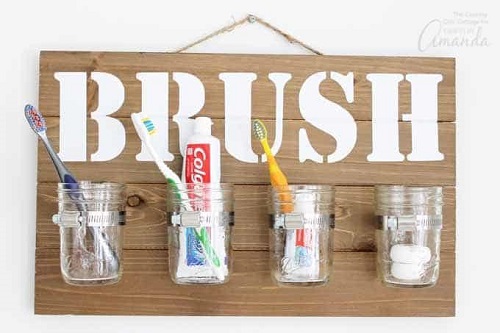 Organize your toothbrushes easily with this hanging mason jar bathroom organizer. Hop to this article to know more.
19. Bathroom Marble Shelf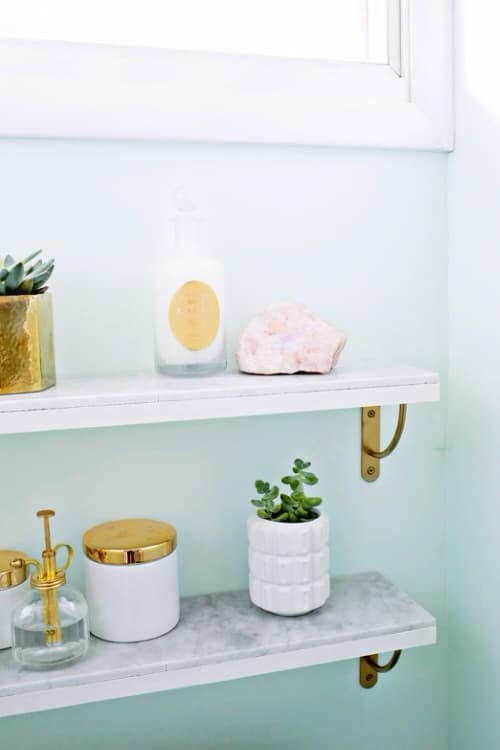 Grab some marble tiles, a wooden board, liquid nail adhesive, white paint, and a few other supplies to complete this project.
20. Boho Shower Curtain
Give your bathroom a more luxe look by making this boho shower curtain. You need a white shower curtain, macrame lace, fabric glue or sewing machine, and scissors for this DIY.
21. DIY Footed Vanity Tray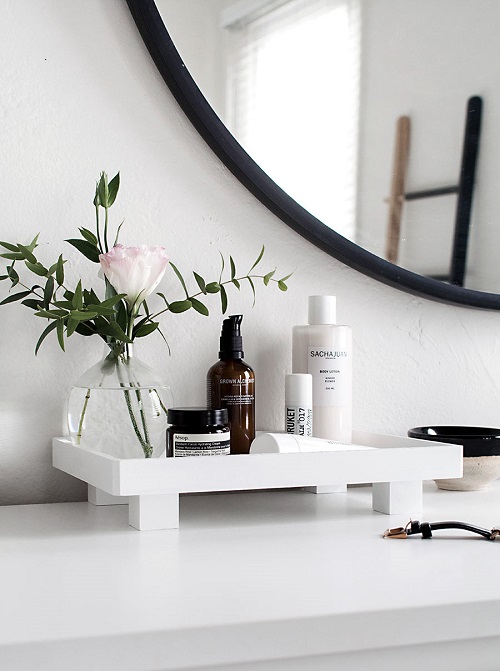 Keep the top of your washroom cabinet less cluttered and more styled by creating this footed vanity tray.
Check out some fantastic blue kitchen cabinet ideas here
22. DIY Faux Floating Shelves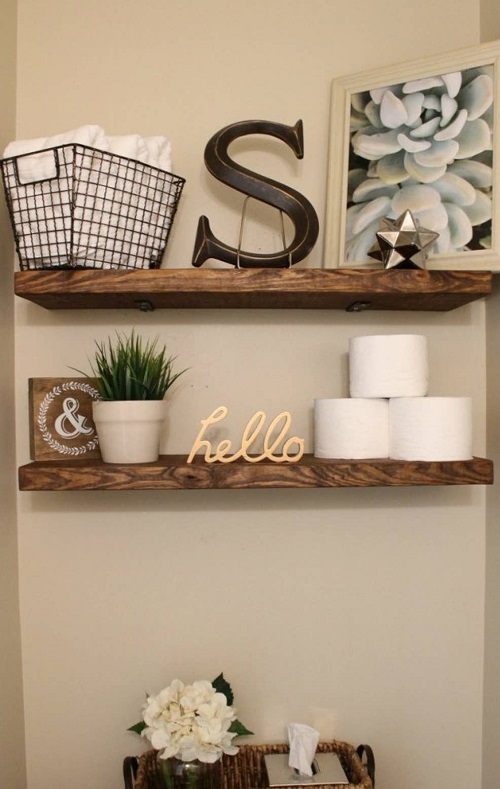 Install these faux floating shelves above the toilet tank to add character to your bathroom space. The details are here.
23. Under Cabinet Lazy Susan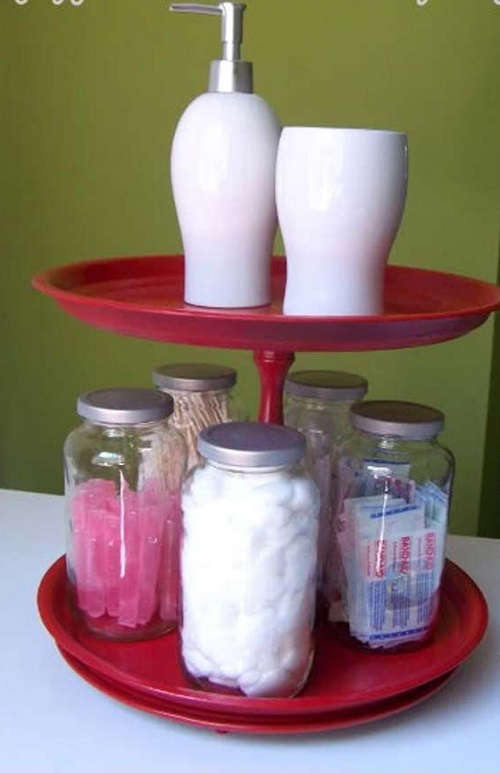 To maximize the storage space under your washroom cabinet, this tiered lazy Susan is the best bet.
24. Bathroom DIY Magazine Rack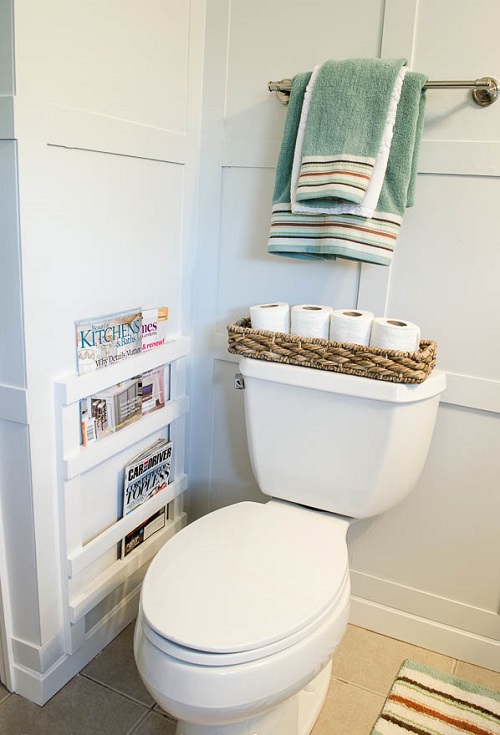 If you prefer to read magazines while doing business in the bathroom, this wall-mounted magazine rack is for you.
25. DIY Whale Art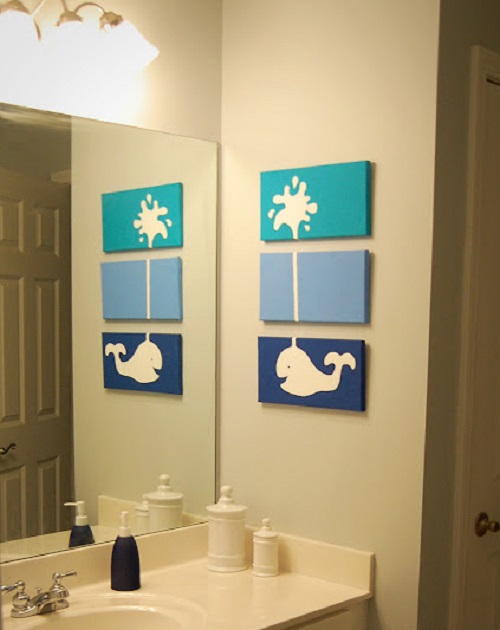 This whale art is an easy fix to a dull, blank bathroom wall. The instructions are here.
26. Homemade Bath Rug DIY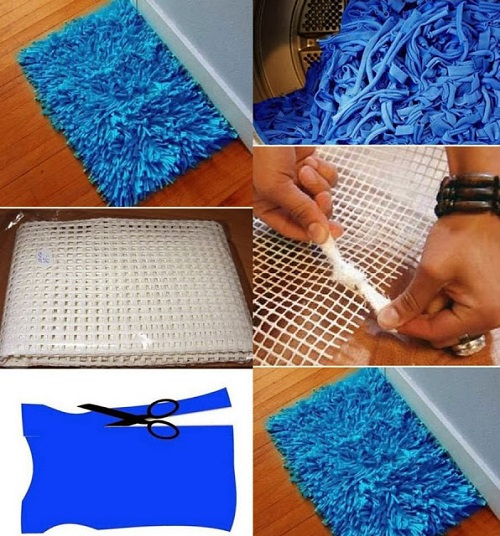 Introducing a comfy bath rug is an excellent way to add color and texture to your otherwise dull washroom place.
27. DIY Bathroom Wall Art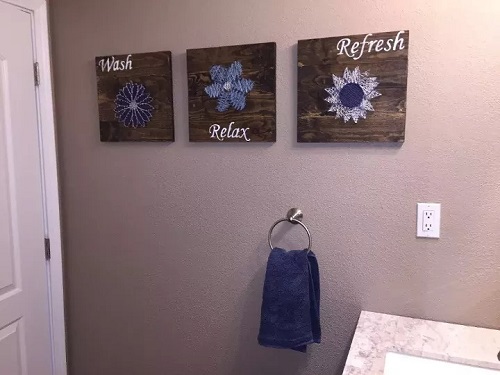 If your empty bathroom wall is screaming for a makeover, hang these DIY artworks to get a pop of color.
28. Antique Sewing Drawer Turned Seedbox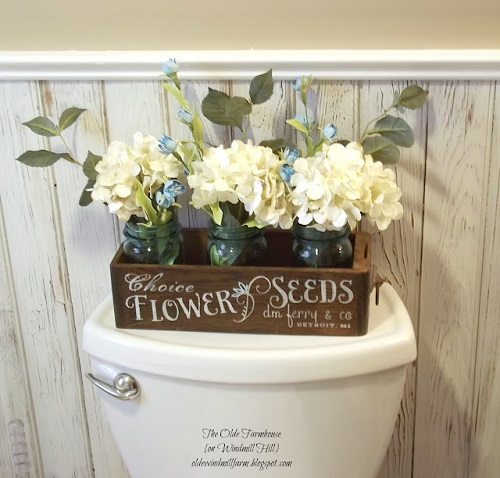 Transform the look of your toilet tank with an antique seedbox featuring hydrangeas and vibrant blue flowers. Read more here.
29. DIY Sliding Barn Door Bathroom Cabinet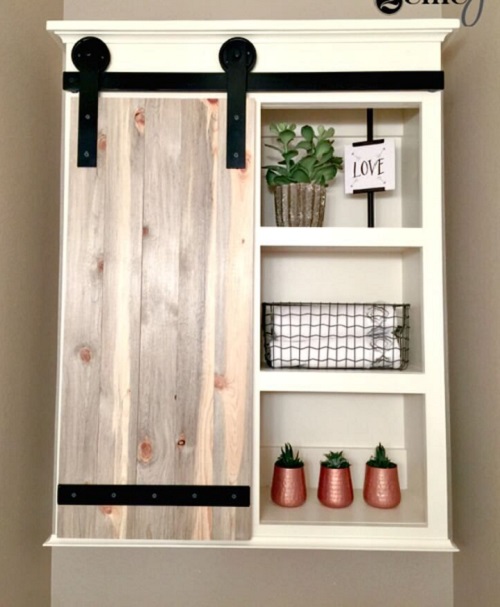 This washroom cabinet with a sliding barn door is a perfect mix of open shelving and hidden storage. It's super easy to build too.
30. Photo Canvases on the Wall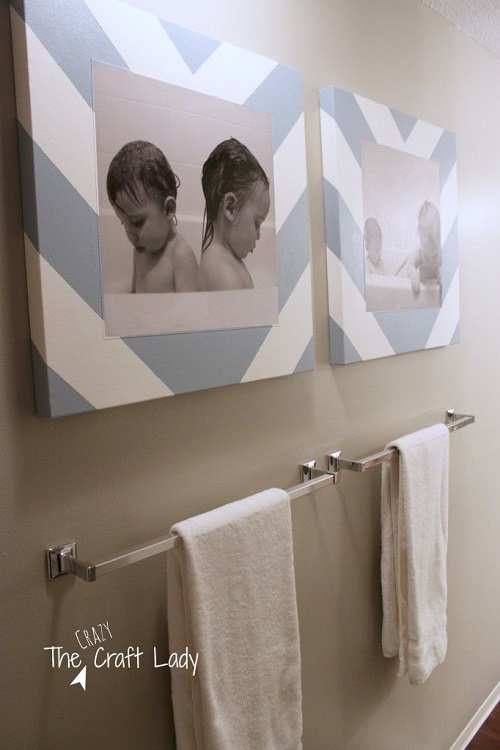 Add visual interest to your boring bathroom wall with photo canvases of your toddlers. The DIY is here.
31. Enamel Mug Bathroom Organizer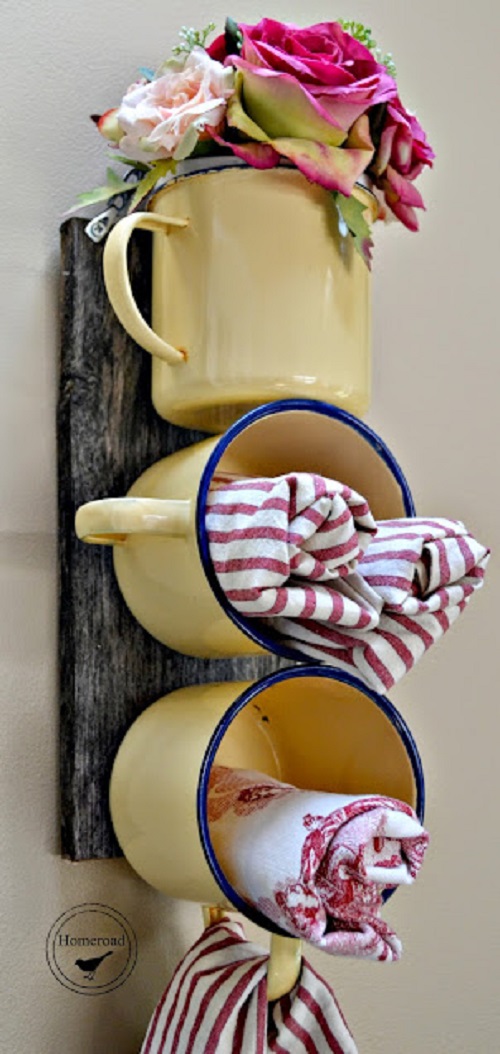 Fasten three enamel mugs on a piece of reclaimed wood using screws, and your bathroom organizer is ready to corral towels.
32. DIY Nautical Towel Holder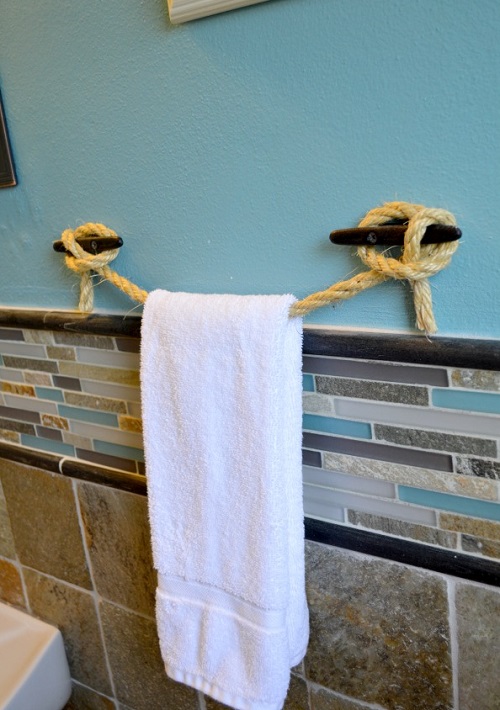 Spread coastal vibes in your washroom area by installing this super affordable nautical towel holder.
33. DIY Pebble Bath Mat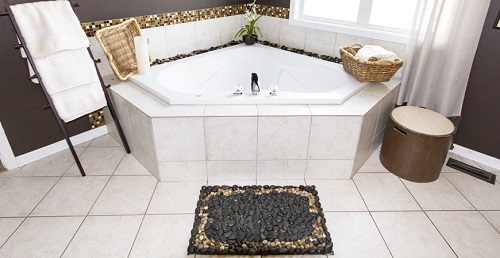 Give your bathroom a refreshed look by introducing a peculiar pebble bath mat. Get the instructions here.
34. Creative Toilet Paper Roll Holder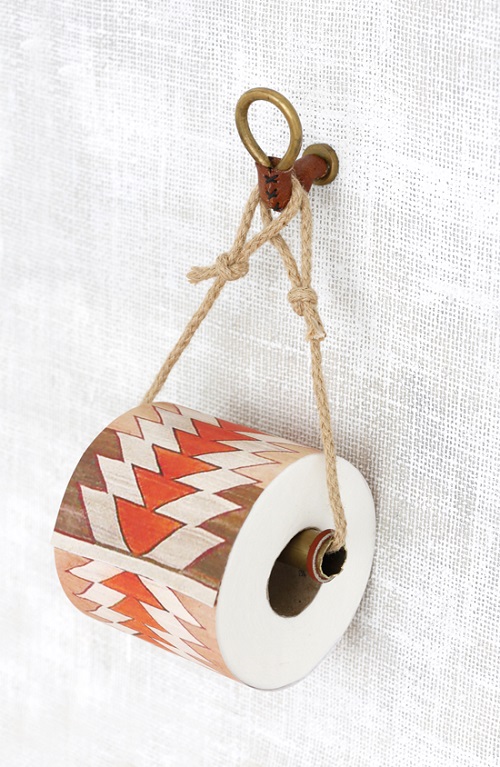 Swap the regular toilet paper holder with this stylish one using this tutorial. It's one of the best DIY bathroom items ideas on this list.
35. DIY Cedar Bath Mat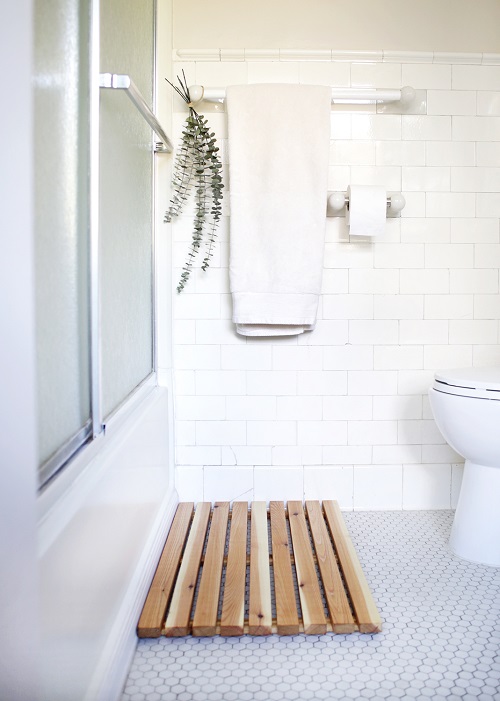 This simple & modern bath mat brings a spa-like feel to your bathroom. It's an easy project to tackle over a weekend.
36. Reclaimed Wooden Bathroom Shelves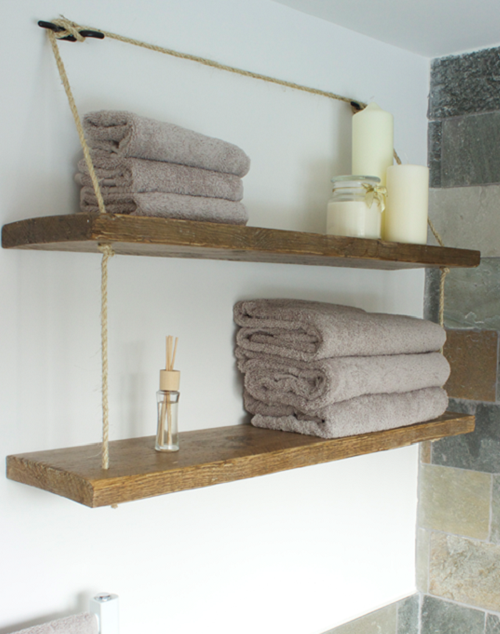 Install reclaimed wooden shelves in your washroom for a nautical look and feel.
37. Build a Floating Ladder Shelf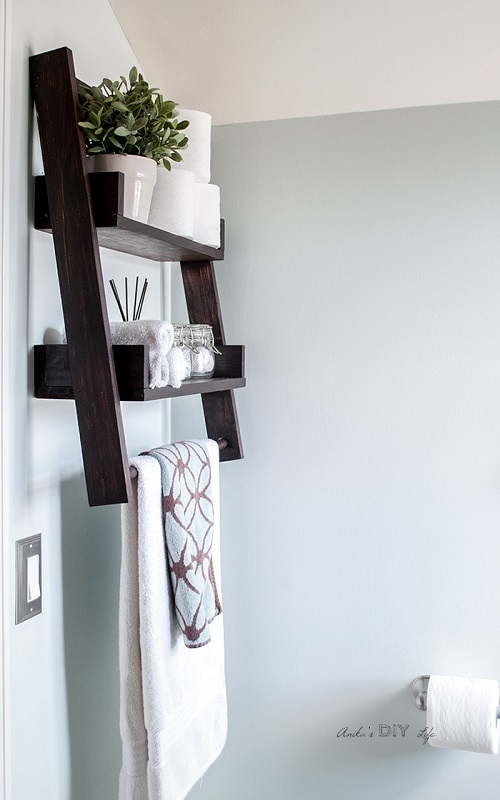 This DIY floating ladder shelf with a towel bar is a simple beginner-friendly project and a focal-point worthy add-on.
38. Old Sauce Pot Turned Into a Basket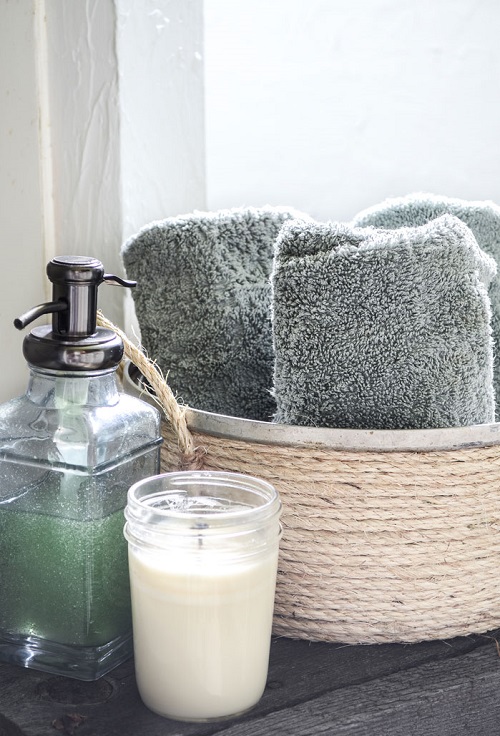 Transform an old sauce pot into a beachy-themed container to store towels in the bathroom. The details are here.
39. Hanging Baskets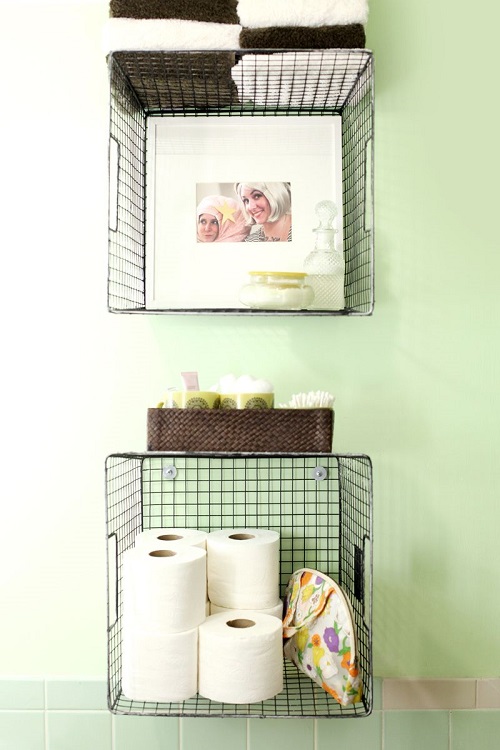 Make your washroom appearance nice and tidy by hanging some industrial wire baskets. Read more here.
40. Child's Bathroom Sign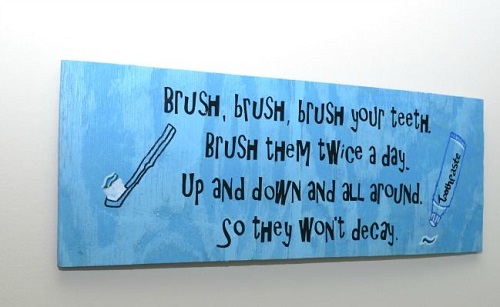 This bathroom sign is not only a display-worthy specimen but also reminds children to brush their teeth.