Flaunt your creativity by crafting some stunning yet affordable mini gardens using these DIY Terrarium Ideas!
Here're some low-maintenance and inexpensive DIY Terrarium Ideas to decorate your living space with a touch of greenery. They are excellent gifts and party favors as well.
Check out some fantastic indoor greenhouse ideas for apartment gardens here
---
DIY Terrarium Ideas
1. Terrarium Side Table DIY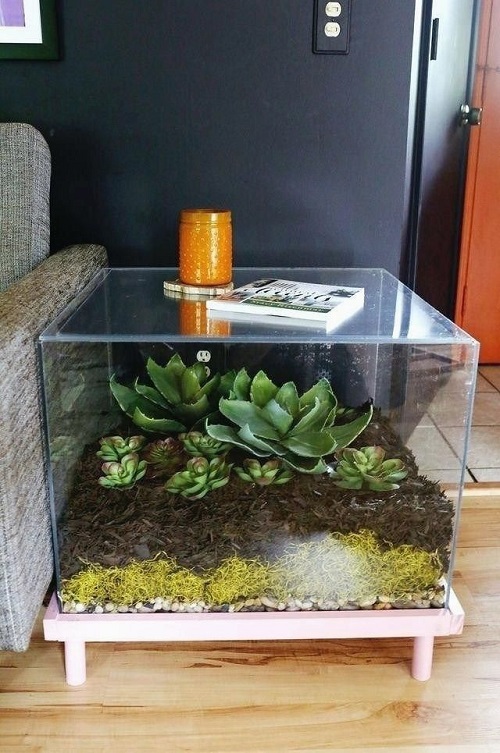 To recreate this terrarium side table, gather plexiglass sheets, plywood, wood pieces, dowel, and tools. Read more here.
 2. DIY Wire Cloche Succulent Terrarium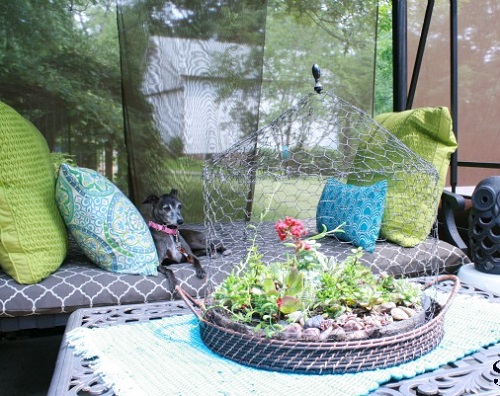 This blogger shows how to DIY a fantastic wire cloche succulent terrarium using chicken wire and a few other supplies.
3. Indoor Tabletop Water Garden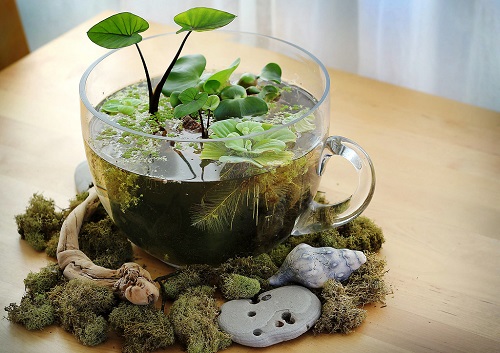 Bring nature indoors by making a cute tiny water garden using this tutorial. It's a perfect tabletop display piece.
4. Light Bulb Terrarium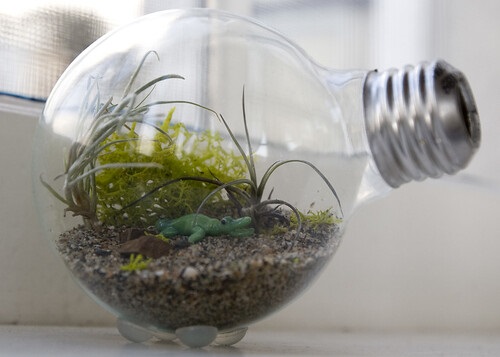 Here's the tutorial to transform a light bulb into a tiny ecosystem. It's one of the most amazing DIY terrarium ideas on this list.
Check out some creative light bulb crafts ideas here
5. DIY Terrarium Lamp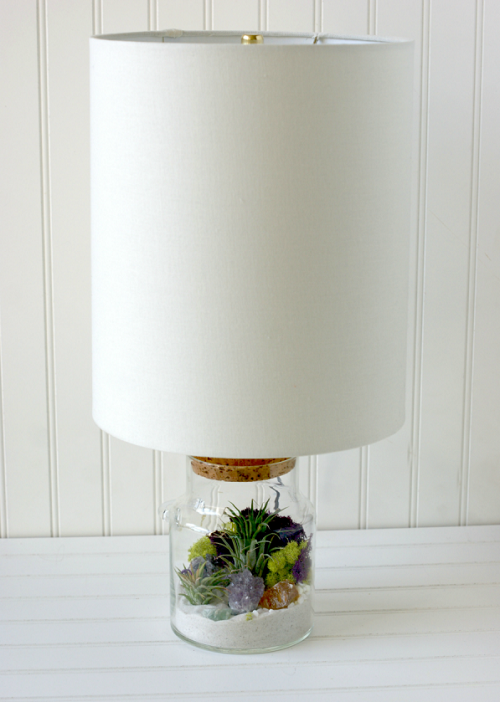 Brighten up your home with this DIY terrarium lamp that adds light and greenery to the space. Read more here.
6. Wine Bottle Terrarium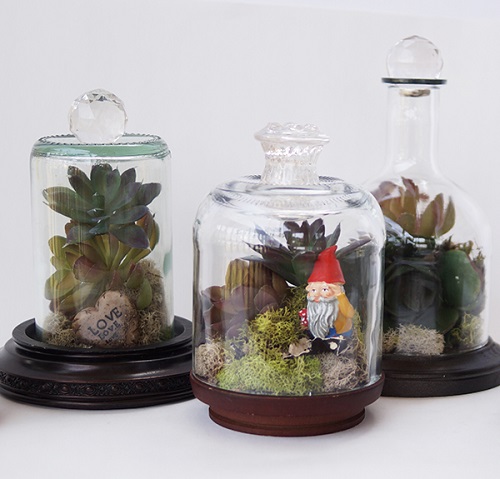 Upcycle empty wine bottles to build Pinterest-worthy terrariums. Hop to this article for the step-by-step DIY.
7. Picture Frame Greenhouse Terrarium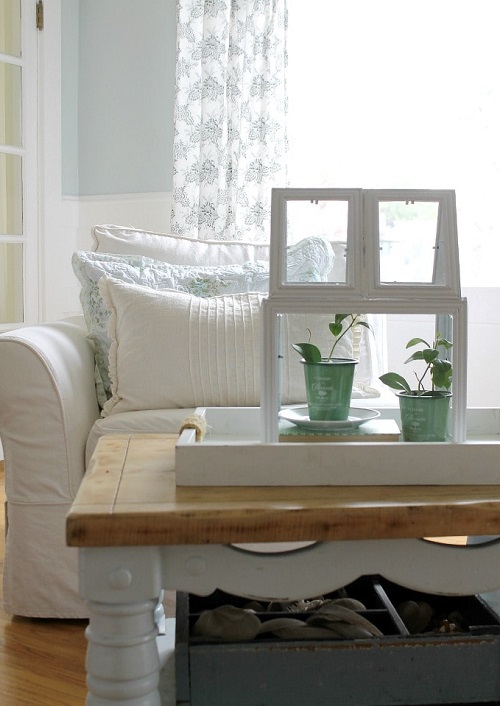 All you need are picture frames, spray paint, metal tabs, other supplies, and this DIY to put together a greenhouse terrarium.
8. Mini Landscape Terrarium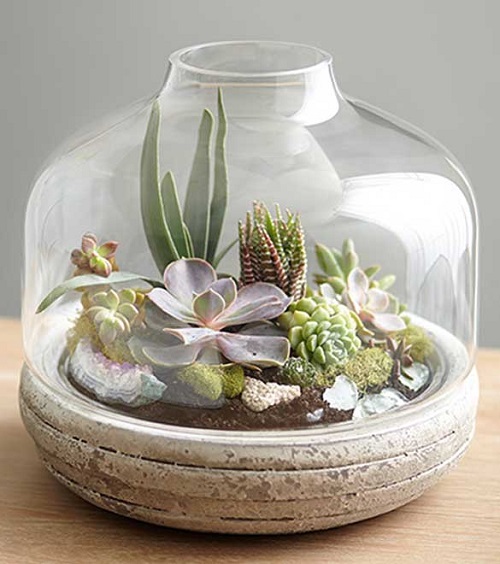 To turn a simple glass container into a scene-stealing object of beauty, check out this tutorial.
9. Chandelier Turned Terrarium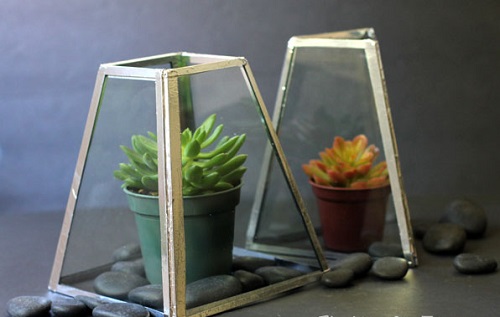 Show off your DIYing skills by repurposing a broken chandelier into stylish geo terrariums. The details are here.
10. DIY Miniature Terrarium Waterfall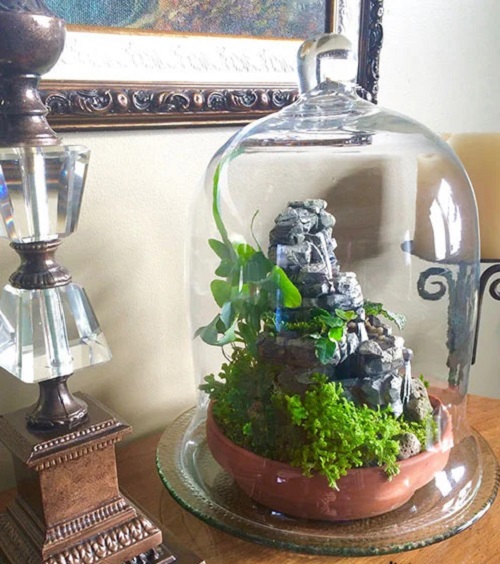 Grab a large glass cloche and follow this instructable to recreate this miniature waterfall terrarium.
11. DIY Terrarium Cactus Garden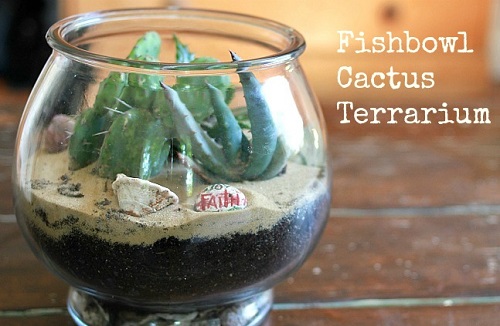 Keep some greenery in your living space with this mini cactus garden. Read more here.
12. Pumpkin Terrarium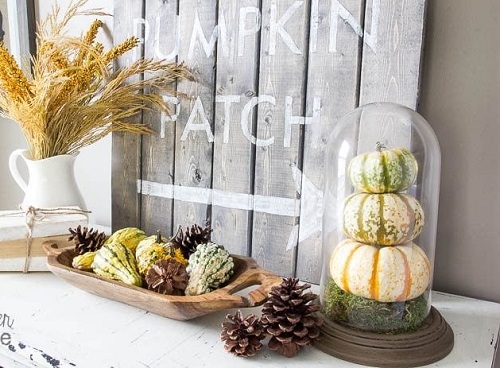 If you have a damaged dome clock, give it a new life by turning it into a pumpkin terrarium. The instructions are here.
13. Mini Magnetic Terrariums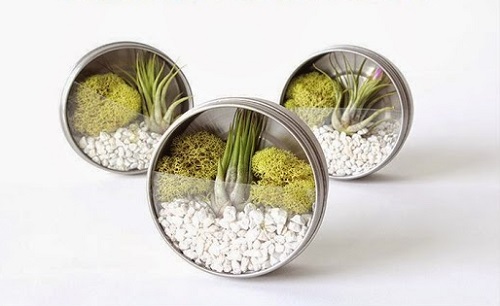 These mini magnetic terrariums make great gifts, consume less space, and are extremely easy to maintain.
14. Recycled Soda Bottle Terrarium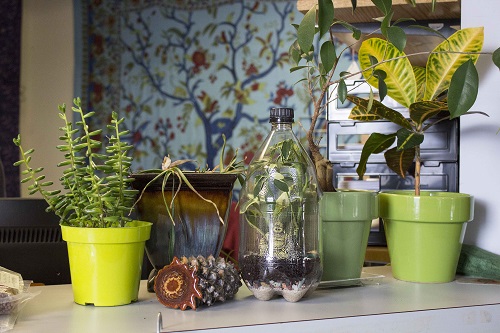 Recycle an empty soda bottle to get a creative, eco-friendly tiny garden. It's cost-efficient and easy to make.
15. Steampunk Themed Lightbulb Terrarium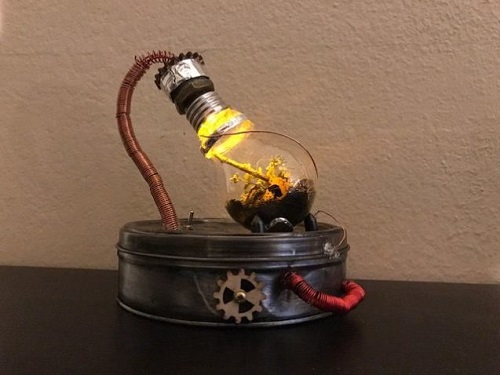 Follow this instructable to put together a steampunk-themed terrarium out of a light bulb and a few other supplies.
16. DIY Terrarium Place Holder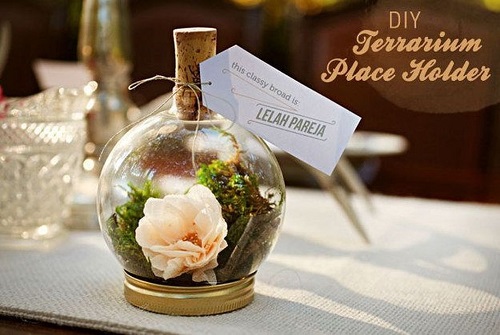 This DIY terrarium place holder adds personality to any table setting and doubles up as super cute favors.
17. Terrarium Christmas Ornament!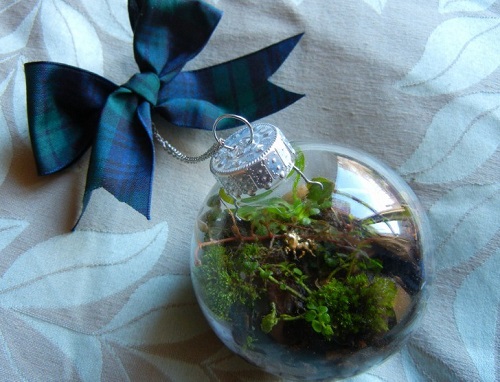 Instead of using regular Christmas ornaments, make a few tiny terrarium ornaments for an added charm.
18. DIY Woodland Terrariums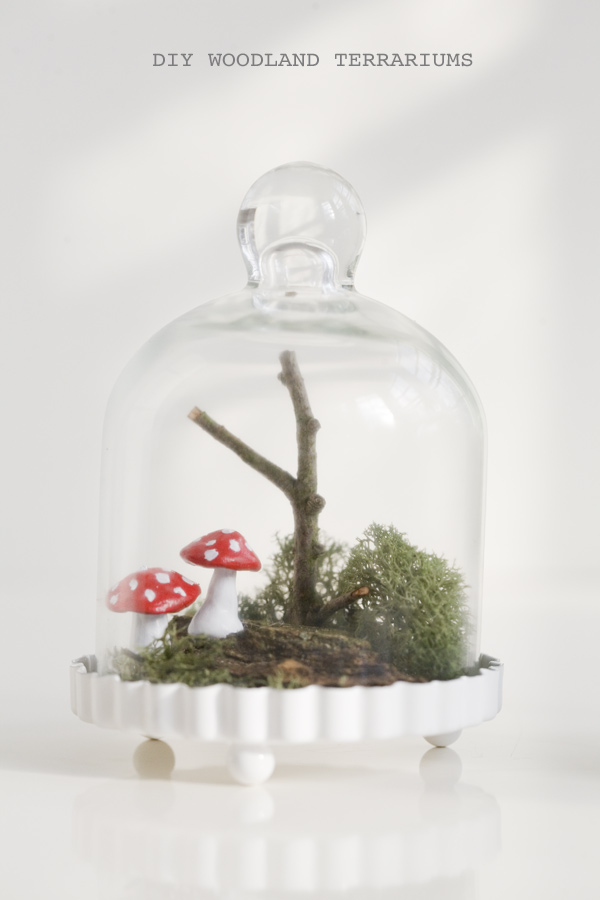 Visit ruffledblog to see how to create this cute miniature woodland garden. It's one of the best DIY terrarium ideas.
19. Coffee Pot Terrarium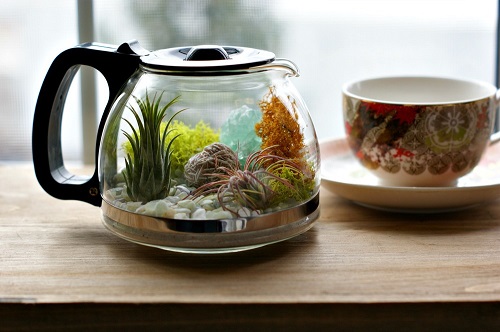 All you need is a coffee pot and a few supplies to make a cute little terrarium. The tutorial is here.
20. Spice Jar Terrarium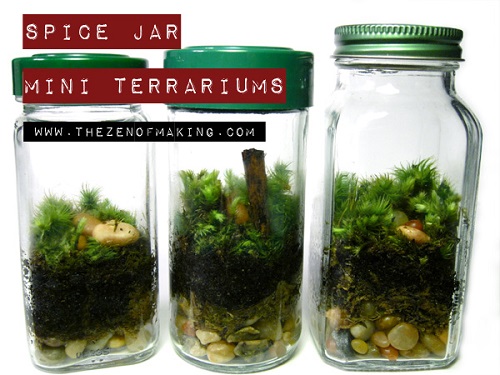 Turn your old spice jars into mini moss terrariums with this simple project. They are ideal for jazzing up your home decor.
21. DIY Terrarium Necklace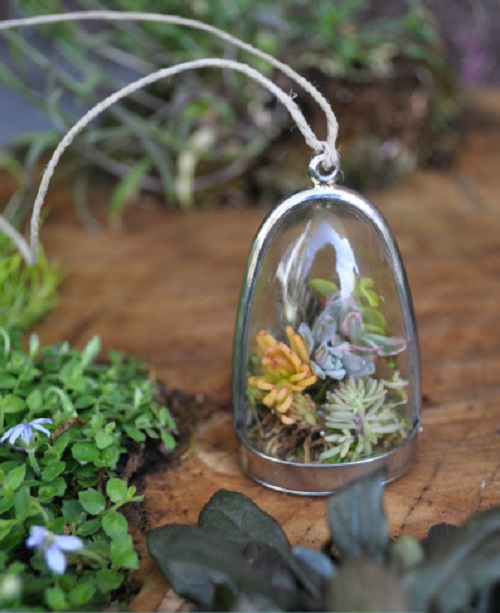 Show your love towards mother nature by making this super cute terrarium necklace. The details are here.
22. Closed-Lid Terrarium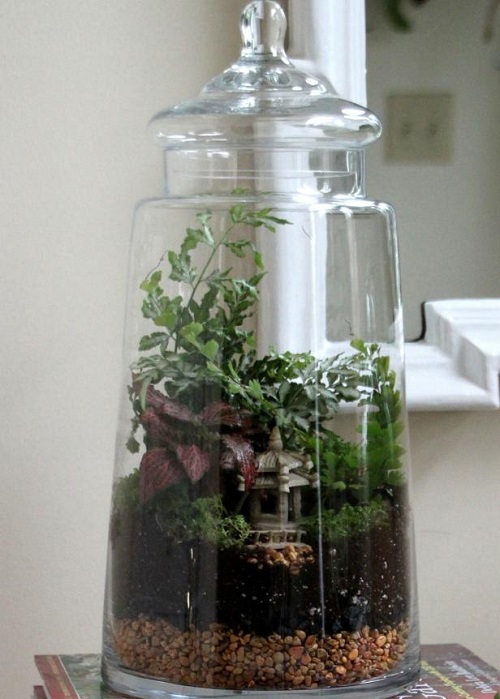 This closed-lid plants ecosystem is the easiest way to bring the outdoors inside. Get the instructions here.
23. Herb Terrarium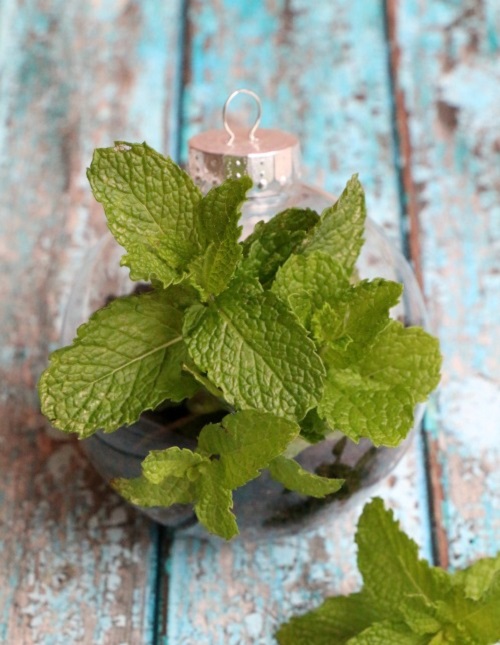 To make a herb terrarium, you'll need a large clear plastic ornament, a craft knife, potting soil, and herbs.
24. DIY Sand Art Terrarium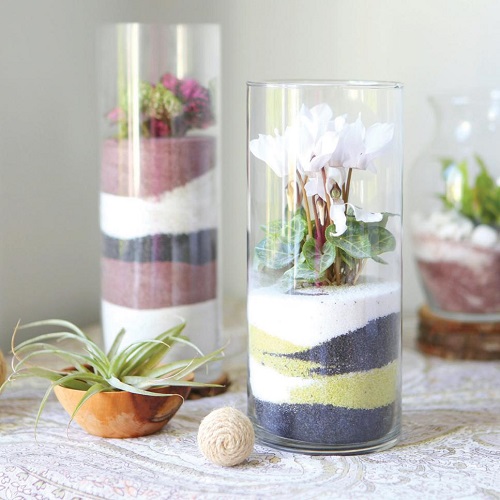 Make this sand art terrarium to display a unique combination of color and greenery.
25. DIY Holiday Terrarium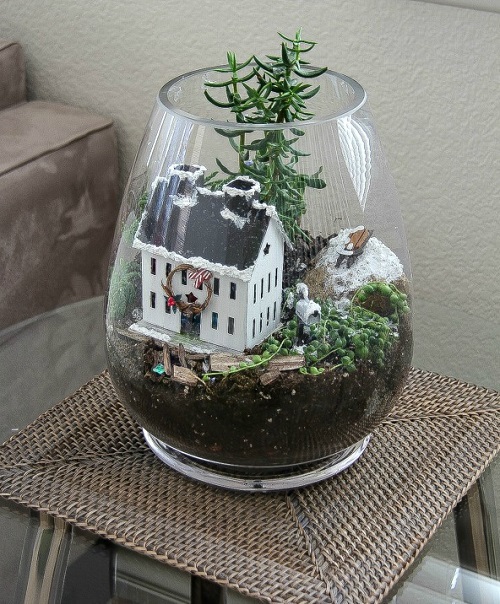 This DIY holiday terrarium is a perfect festive addition to the Christmas home decor.
26. Easy DIY Terrarium for Kids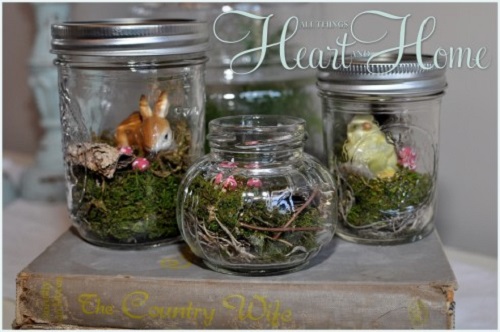 This easy DIY terrarium is an excellent spring project to do with your little ones!
27. Shot Glass Terrariums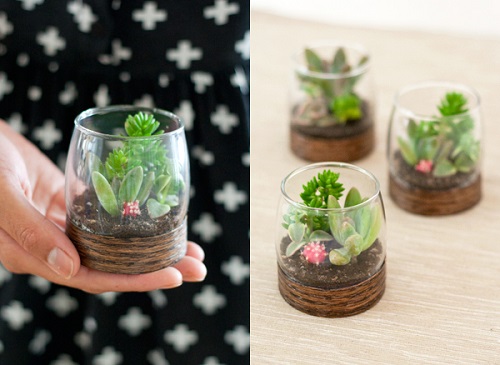 Shot glass filled with potting soil and succulents makes an adorable terrarium. The details are here.
28. Embroidery Hoop DIY Terrarium Globe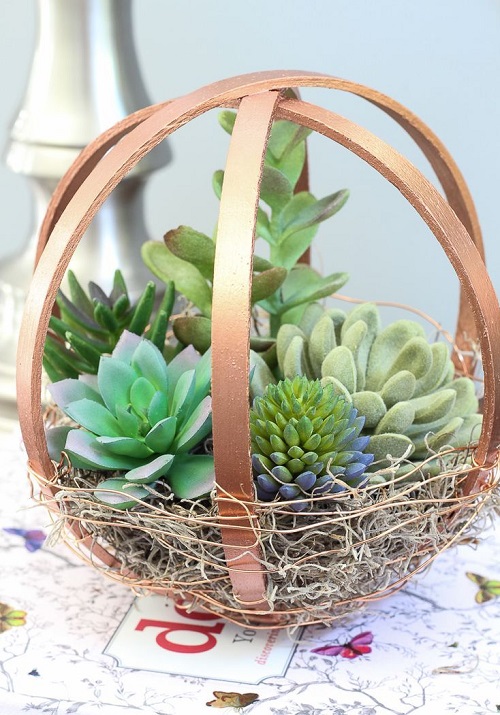 Here's the tutorial to create a low-maintenance terrarium from embroidery hoops and faux succulents. People with a black thumb will love this idea.
29. DIY Eggshell Terrariums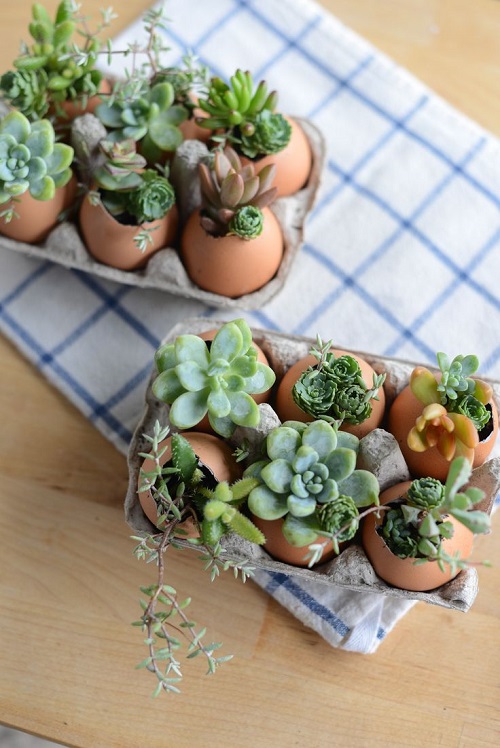 Are you looking for the cheapest and easiest DIY terrarium idea? This eggshell terrarium is the right choice for you.
30. Spring Terrarium DIY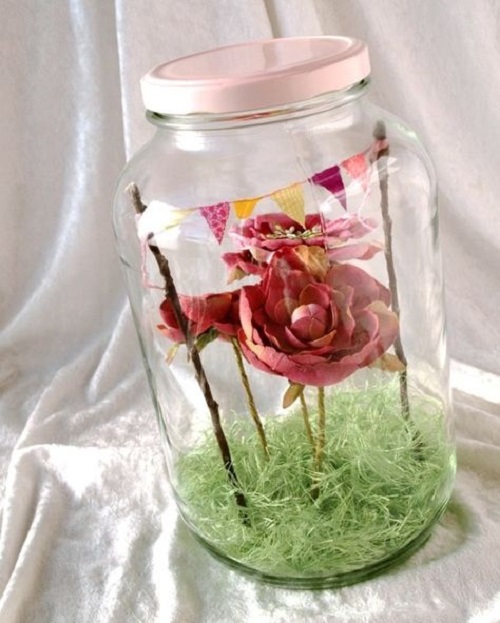 With creativity and skill, you can easily DIY a beautiful spring terrarium to spruce up your indoor settings.
31. Geometric Terrarium
Take inspiration from this video tutorial to build a sturdy geometric terrarium for showcasing your favorite succulents with style.
32. Fish Bowl Terrarium
Watch this YouTube tutorial to DIY an eye-catching tiny garden out of a glass fishbowl.
33. Mason Jar Terrarium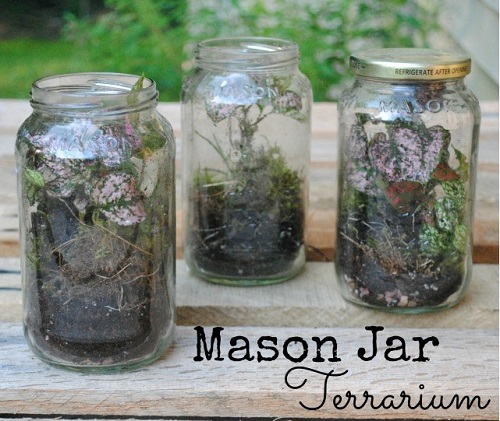 Make the most out of your unused mason jars by converting them into attractive terrariums.
Find out some amazing Christmas mason jar gift ideas here
34. Air Plant Terrariums
A perfect gift for mother's day, this air plant terrarium is low-maintenance and easy to put together.
35. Terrarium Coffee Table DIY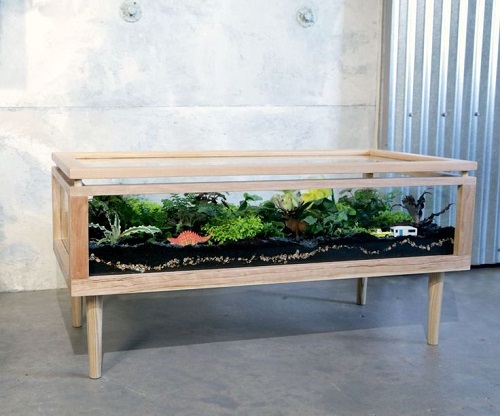 Go through this article to build a living world inside a coffee table. This project is time-consuming but worth the effort.
36. DIY Lantern Terrarium
Modify an outdoor lantern with a hinged door into a stunning terrarium using this tutorial.
37. Teacup Terrarium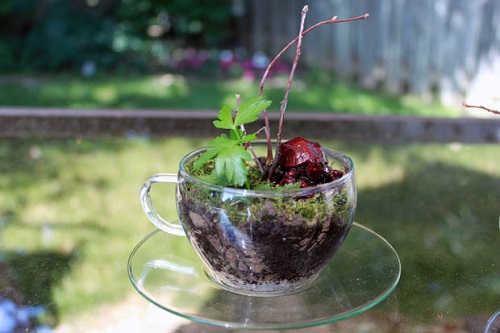 Instead of throwing old teacups, consider turning them into beautiful mini terrariums. The details are here.
38. Easy 1 Hour Terrarium Galore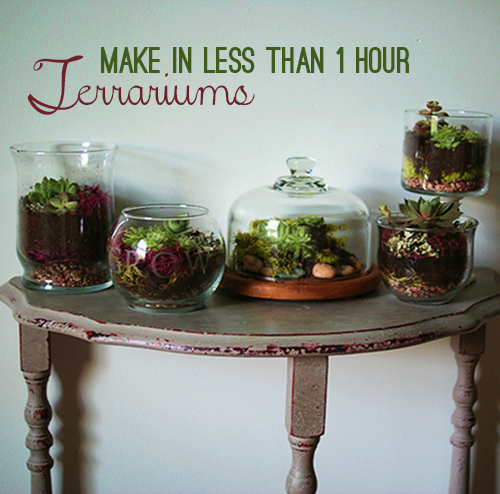 Enhance the appearance of your home decor by introducing a terrarium galore indoors. Read more here.
39. Repurposed Glass Pitcher Terrarium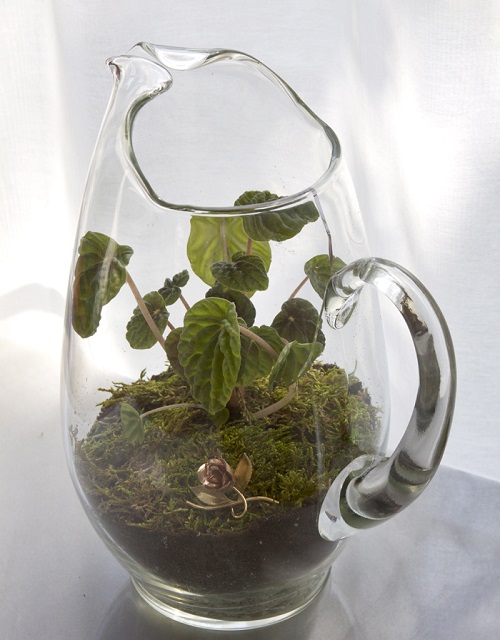 Rather than disposing of your broken pitcher in the landfill, transform it into a pretty terrarium and follow the go green concept.
40. DIY Apothecary Jar Orchid Terrarium
An apothecary jar filled with moss, a mini orchid, and active charcoal is the best way to give your space an earthy touch.
41. DIY LEGOs Terrarium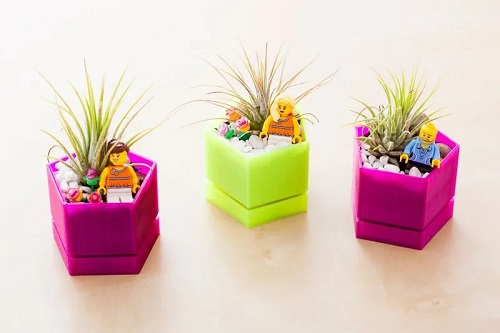 Are you a LEGO fan? If yes, then you'll love this terrarium idea. The details are here.
42. Fish Tank Terrarium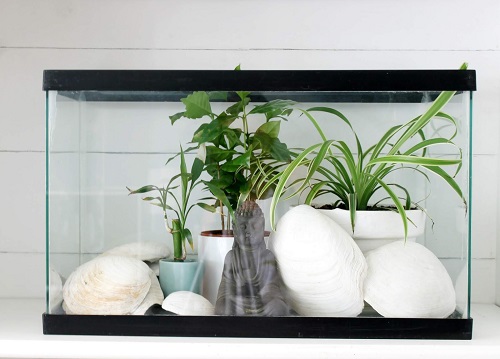 Featuring a Buddha statue and seashells, this fish tank terrarium is worth every penny. It's also an excellent project to start your DIY journey.
43. Stained Glass Terrarium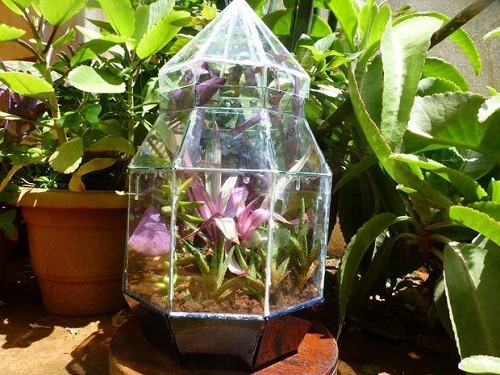 Give your indoor garden a focal point by creating this pretty stained glass miniature garden. Get the instructions here.
44. DIY Patio Tabletop Succulent Terrarium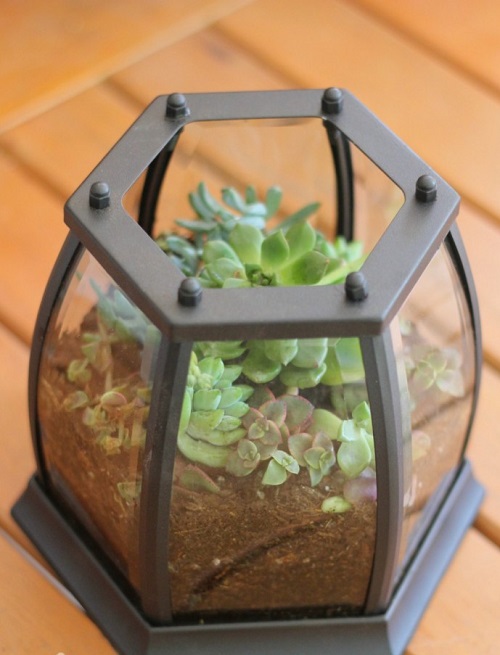 DIY this adorable mini succulent garden to get a stunning display specimen for the patio table.
45. Jam Jar Terrarium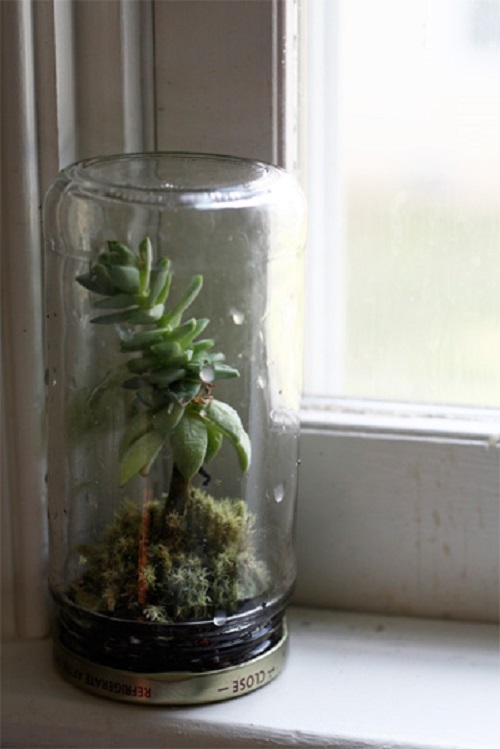 Here are all the details on creating a tiny ecosystem inside a lidded jam jar.
46. DIY No Care Required Water Terrarium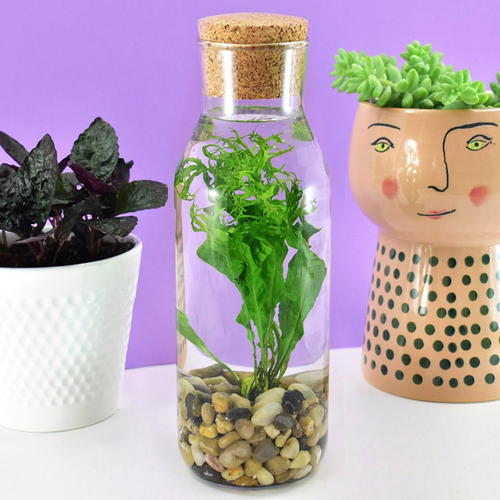 If you want a mini garden that thrives on neglect, this water terrarium fits the bill.
47. Self-Sustaining Terrarium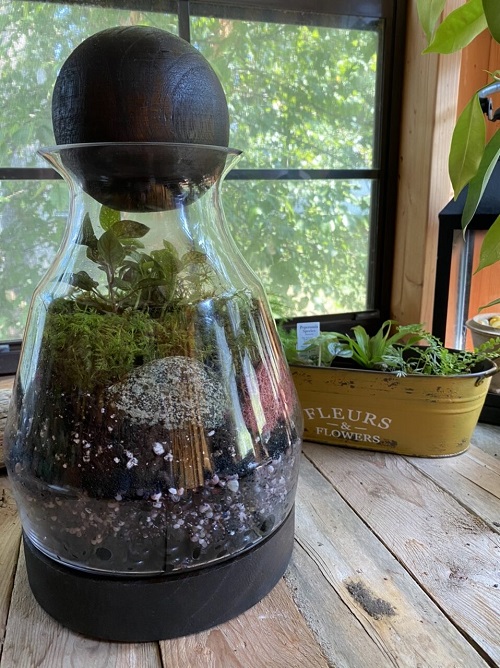 Add elegance and character to your abode by making this tiny ecosystem that will sustain itself. The details are here.
48. Rainforest Terrarium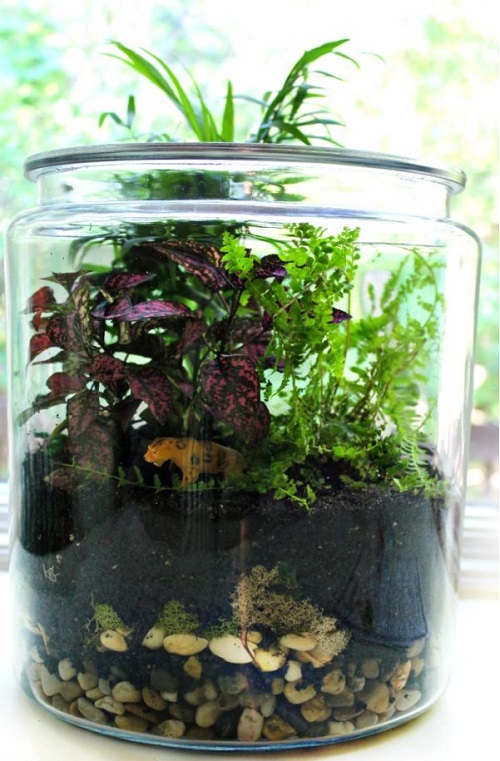 Create a tiny rainforest inside a large jar using pebbles, activated charcoal, moss, potting soil, and mini tropical plants.
49. DIY Beachy Air Plant Mini Garden Terrarium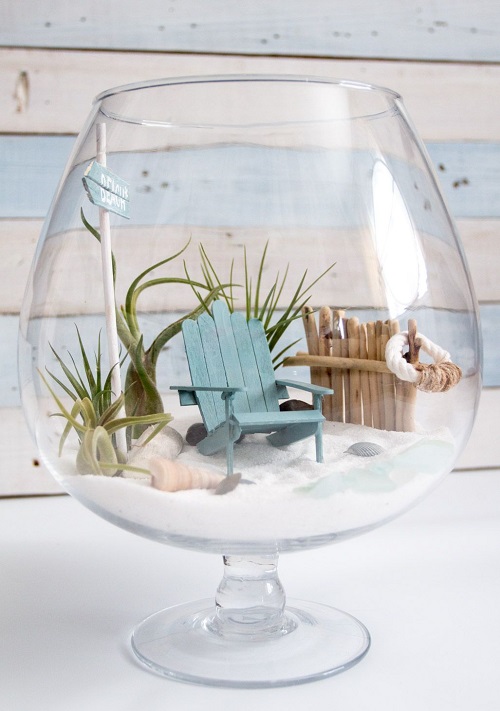 Air plants, sand, and mini furniture? You just couldn't resist making this beach-inspired mini garden terrarium for the summer.
50. Hanging Terrarium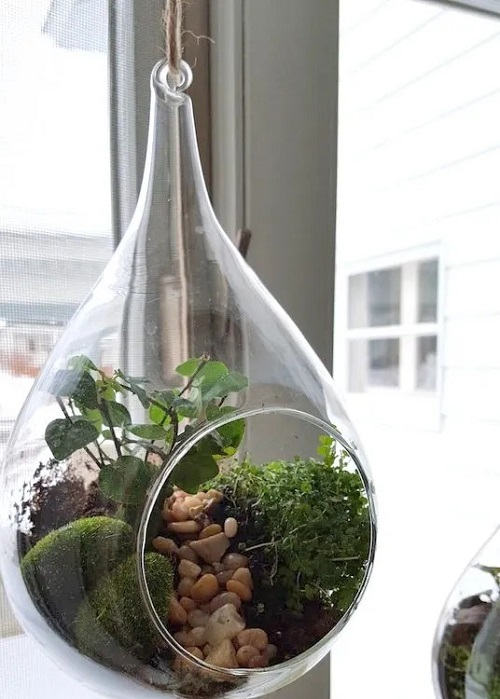 This easy-to-follow tutorial teaches how to make an attractive hanging terrarium at home.
51. A Giant Terrarium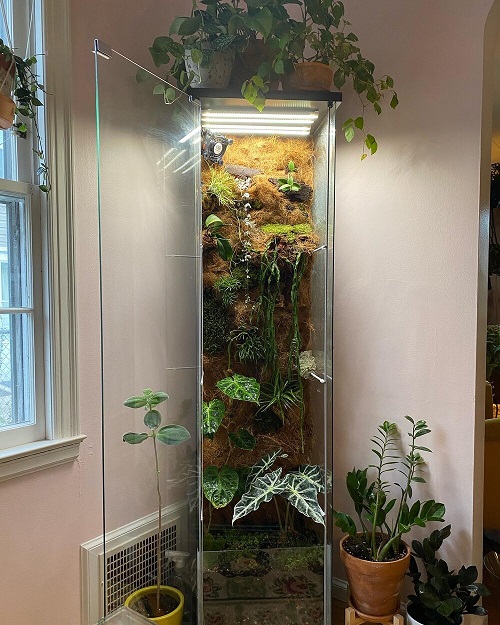 This giant terrarium keeps your lovely houseplants happy and compliments house decor as well.
52. Bell Cloche Terrarium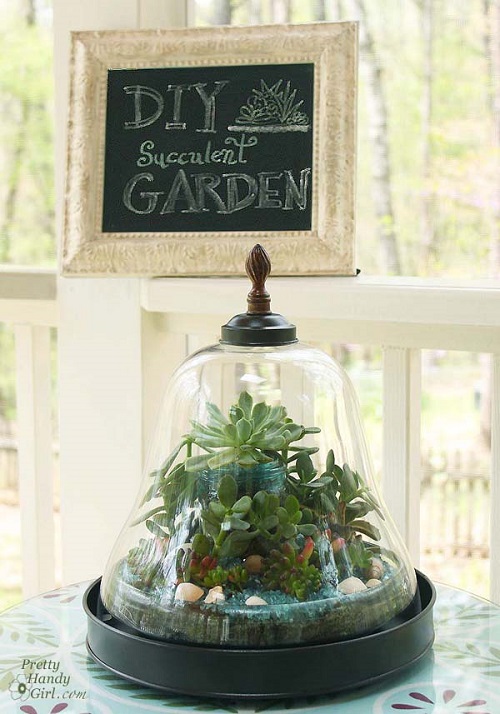 A small ecosystem that can be put together in less than 20 minutes, this bell cloche terrarium looks appealing and requires less water.
53. Repurposed Light Fixture Terrarium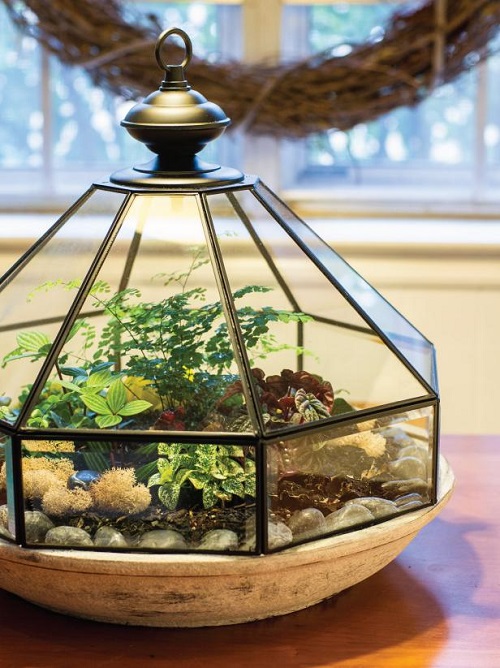 Breathe new life into an outdated light fixture by repurposing it into a chic terrarium.
54. Easy Hexagonal Terrarium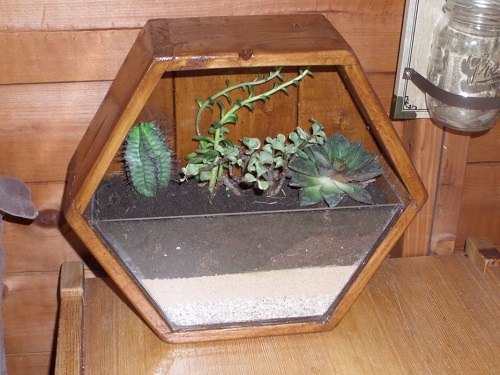 This easy-to-replicate terrarium is made from wooden plank, clear acrylic, jigsaw, screwdriver, drill, and this DIY.
55. DIY Flask Terrarium
Check out this video to learn how to create your tiny green oasis in a large flask.