Find out these creative Under Sink Storage Ideas that can hold your household items without defacing the aesthetics of the place!
Take inspiration from these clever Under Sink Storage Ideas to convert your cluttered, underutilized area into an organized and functional space.
Here are some organizing and storage ideas for home
---
Under Sink Storage Ideas
1. kitchen Cabinet Door Organizer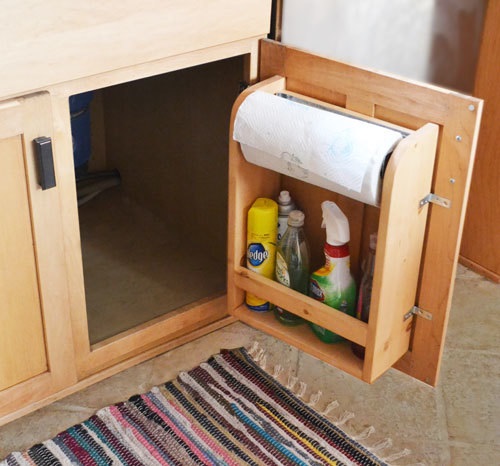 Here's a nifty cabinet door organizer shelf idea that gives you all the storage you need for keeping cleanup supplies handy.
2. Use Tension Rod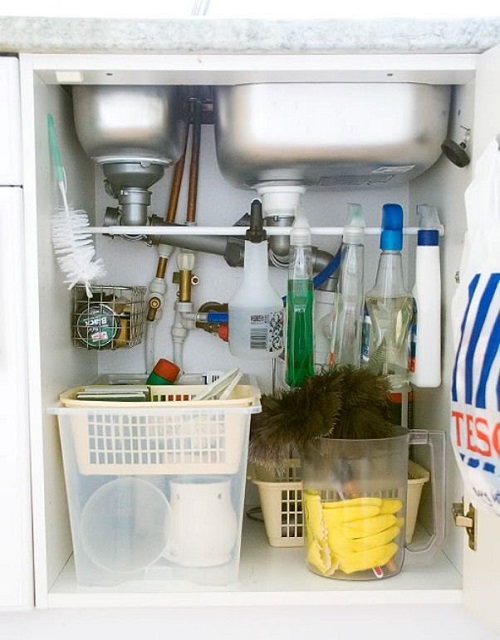 Install a tension rod to hang spray bottles under the sink. This hack frees space for other bathroom or kitchen essentials. Read more here.
3. Try Clothespins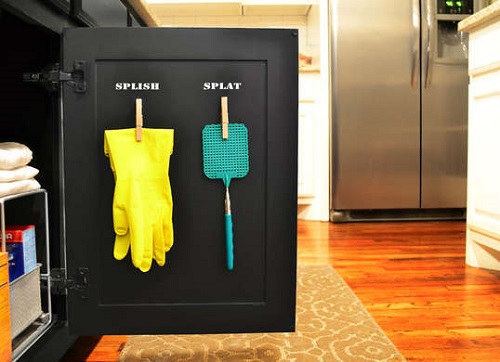 Attach clothespins to the door to make one of the most simple and effective under sink storage ideas. It can hold dishwashing gloves and a flyswatter. Don't forget to use witty labels with stick-on vinyl for an added look.
4. Introduce Acrylic Drawers and Wire Baskets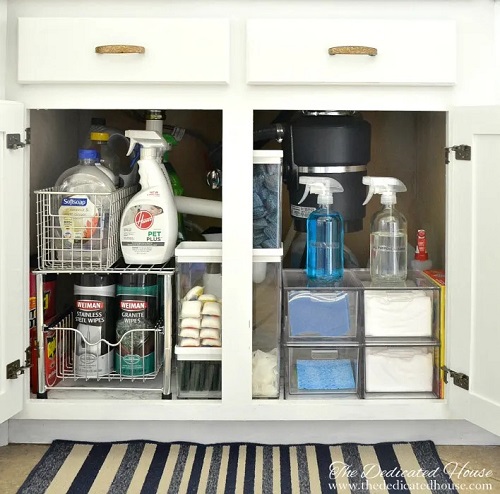 Use stackable wire baskets and acrylic drawers to create a neat look in an otherwise messy under-the-sink area. Get the details here.
5. DIY Trash Bags on a Roll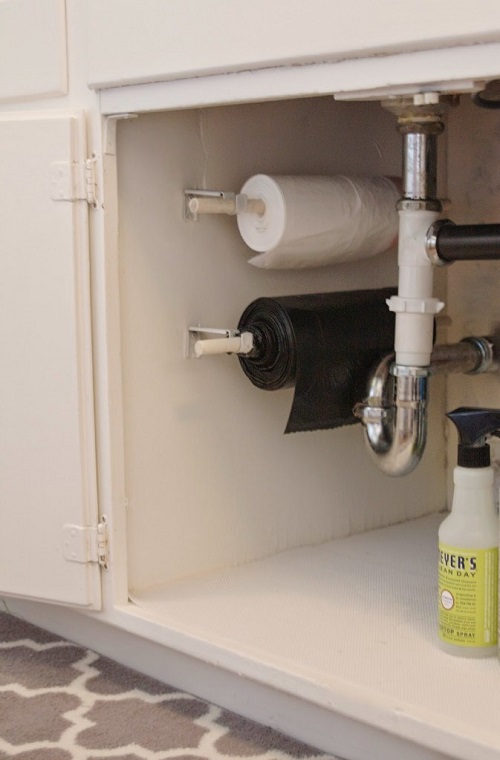 If you're struggling to keep the trash bag rolls together and within reach inside your compact cabinet, check out this hack.
6. Build Shelves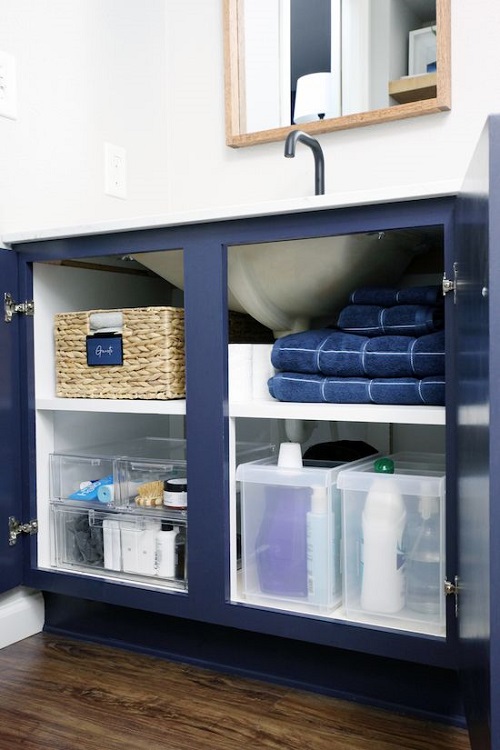 DIY wooden shelves to take advantage of the vertical space beneath your bathroom sink. Get the instructions from here.
7. Use Stackable Bins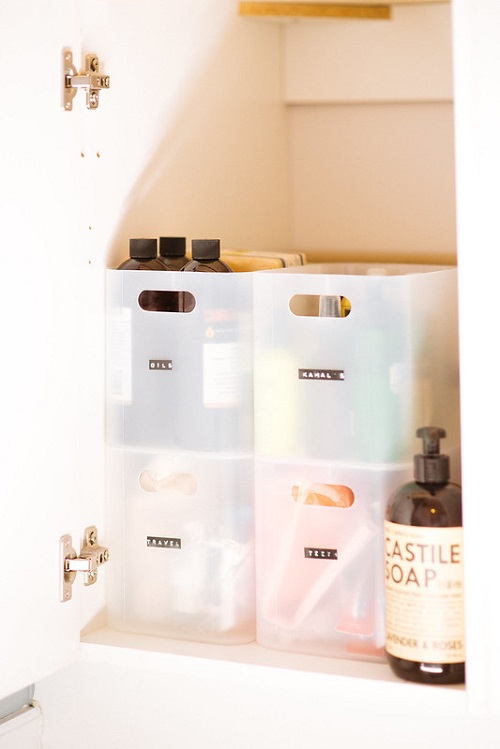 Those who are short on under-the-sink space, use some stackable storage bins. It corrals and keeps various bathroom or kitchen essentials in order.
8. Mix and Match Storage Solutions
Follow this detailed article to organize a cluttered bathroom sink cabinet in less than an hour. Grab drawers, big clear bins, and a lazy Susan for this project.
9. Wire Pull-Out Under-Sink Organizer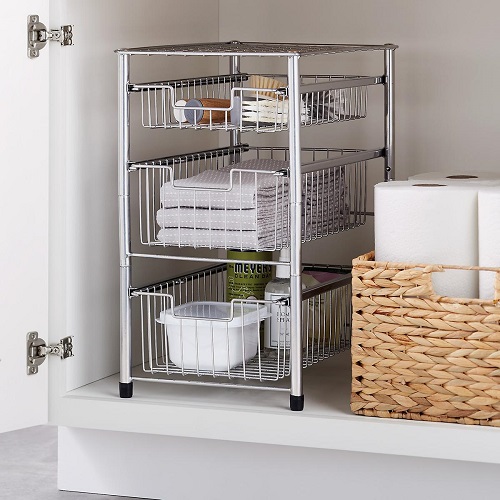 Made from tough steel wire with a chrome-like finish, this portable pull-out organizer is an excellent choice for under sinks.
10. Two Tier Shelf Organizer Rack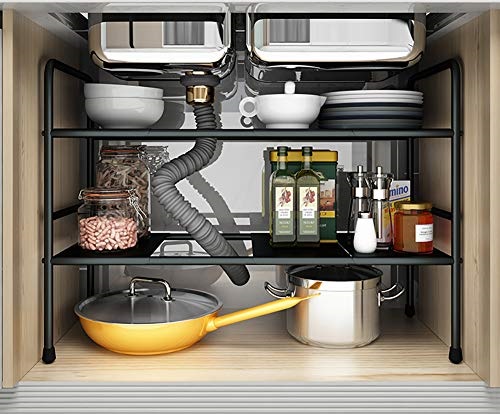 This two-tier under-sink organizer saves space and is perfect for stowing cleaning supplies, pots, pans, plates, and toiletries.
11. DIY Pocket Organizer
Instead of purchasing products to organize under-the-sink areas, make this an inexpensive pocket organizer. It can hold a lot of small kitchen stuff.
12. Pull Out Kitchen Under Sink Storage Trays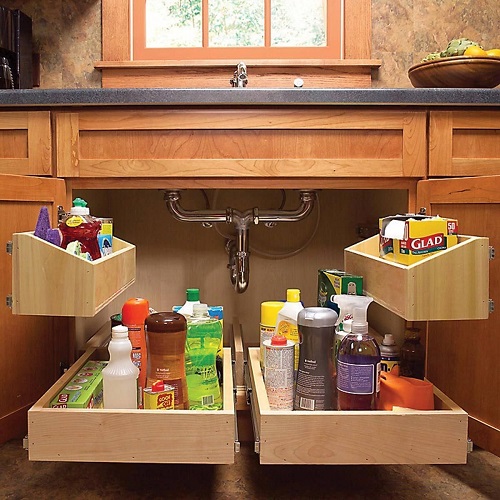 Construct roll-out trays for extra storage space in the sink base cabinet. You can tackle this project with simple carpentry tools and some careful measuring.
13. Door Storage Trays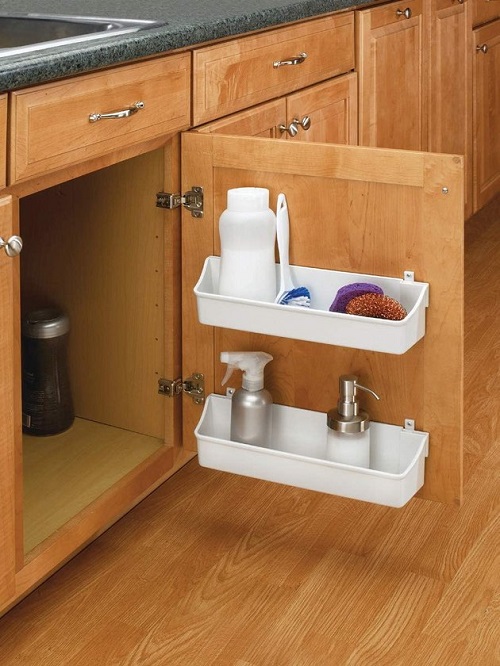 Add these plastic trays behind the door to hold cleaning supplies without consuming the cabinet's valuable floor space. It's one of the most amazing under sink storage ideas.
14. Metal Wire Storage Basket
This metal wire storage basket is best for holding trash bags, food wraps, garbage bags, and larger kitchenware. It's ideal for super compact under-sink cabinets.
15. Under-Sink Cabinet Organizer with Pull-Out Baskets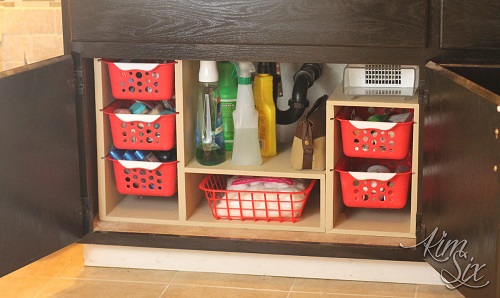 To keep your cabinet neat, tidy, and organized, check out this clever vertical organization system. It's easy to make and budget-friendly as well.
16. Steel Towel Bar Rack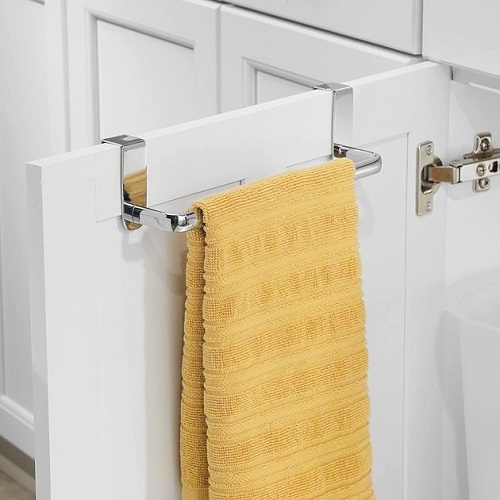 A steel rod is all you need to maximize the storage space of your under-the-sink cabinet. It easily hangs over the door and lets you stow dish towels out of sight.
17. Install Command Hooks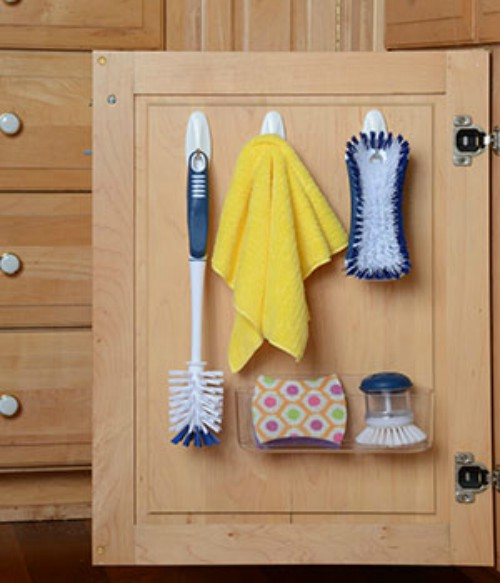 Install a couple of command hooks behind the cabinet door to hold scrub brushes and cleaning towels.
18. DIY Plastic Milk Jug Caddy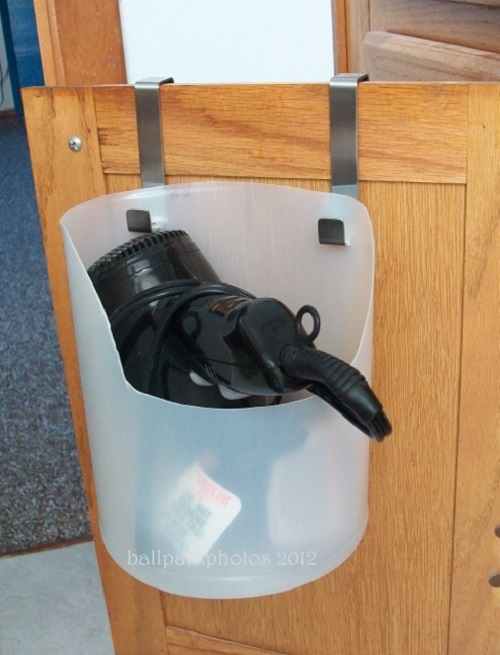 This homemade plastic caddy is another affordable storage solution for under-the-sink space. It's best for holding hair dryers, hair straighteners, pans, and chopping boards.
19. Dollar Tree DIY Lazy Susan Under Sink Storage
Watch this YouTube tutorial to create a super affordable lazy Susan. The best part is it's made from dollar tree items.
20. Easy Under Sink Storage H-Shelf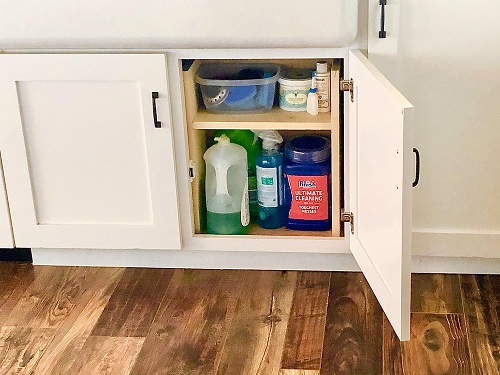 This H-shelf is perfect for organizing stuff in a compact space. You only need $10 and 15 minutes to complete this project.
21. Go With Simple Baskets
If you have a tight budget, simply use any plastic or wicker baskets to stow and organize miscellaneous supplies beneath the sink. It's one of the best under sink storage ideas on this list.
22. Toilet Paper Storage Under Bathroom Sink Ideas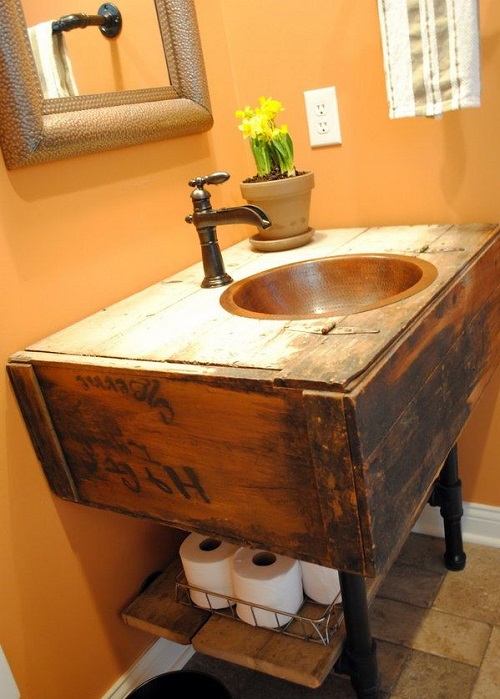 Attach a wooden board beneath the bathroom sink to hold toilet paper rolls or towels. This hack is useful when you don't have a cabinet under the sink. Read more here.
Find out some small bathroom towel storage ideas here