Add a touch of handmade charm to your home decor with these free Crochet Curtain Patterns! Start your crochet journey today!
Are you searching for a cost-effective and creative way to spruce up your living space? Crochet curtains are a fantastic option! With a variety of free Crochet Curtain Patterns available, you can make one to fit your individual style and color preferences.
Read the Best DIY Drop Cloth Curtains here
---
Free Crochet Curtain Patterns
1. Flower Power Valance Pattern
This pretty crochet curtain pattern featuring flowers is easy to make. Get the written instructions and list of supplies in this tutorial.
2. Beaded Net Curtain
Adorned with beads, this floaty light fabric goes quite well with every home decor. The tutorial is here.
3. Simple Plarn Crochet Curtain
Check out this source to make a simple plarn curtain using double crochet stitch, plastic bag yarn, and a 2mm crochet hook. It's ideal for kitchen and bedroom windows.
4. Free Crochet Lace Curtain Pattern
To copy this curtain craft, take inspiration from this article. You can easily adjust the pattern to your window size by adding additional rows and rapports.
5. Big Bold Chevron Window Curtain Pattern
A tension rod and leftover yarn are all you need to complete this crochet project. It's one of the best free crochet curtain patterns.
6. Crochet Flower Lattice Curtain Valance Pattern
Here's the step-by-step tutorial to crochet a colorful flower lattice curtain valance. It's not a beginner-friendly project.
7. Cafe Curtain Crochet Pattern
Enhance the look and feel of your bland window with this mint blue cafe curtain. The free crochet pattern is here.
8. Colorful Noren Curtain Pattern
Another unique crochet curtain pattern that showcases multi-colored pom poms and motifs. Read the details here.
9. Super Easy Crochet Curtain Pattern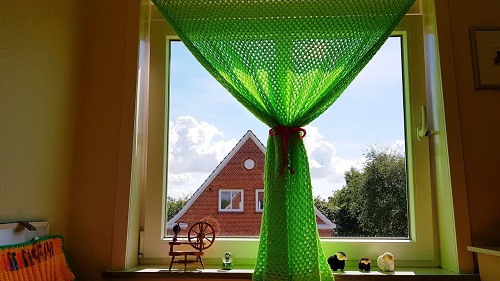 Prettify your bedroom window with this easy-to-crochet curtain. Get the instructions in this helpful YouTube video.
10. Color Box Crochet Curtains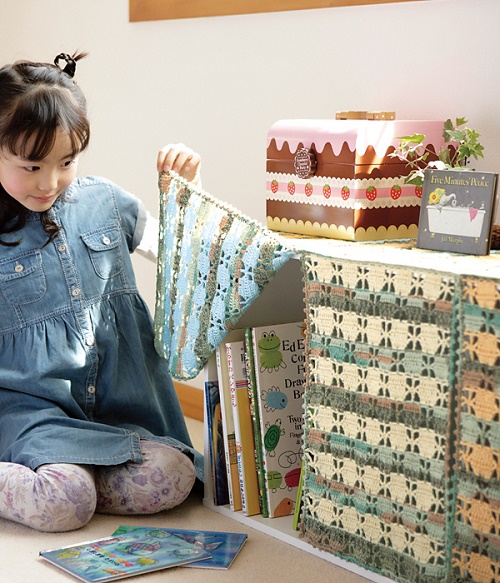 Curtains aren't just for windows anymore. They are great for hiding the clutter in cube-shaped storage units too. If your kid's room has cube-style toys or book organizers, this crochet curtain pattern is for you.
11. Rustic Tunisian Crochet Curtain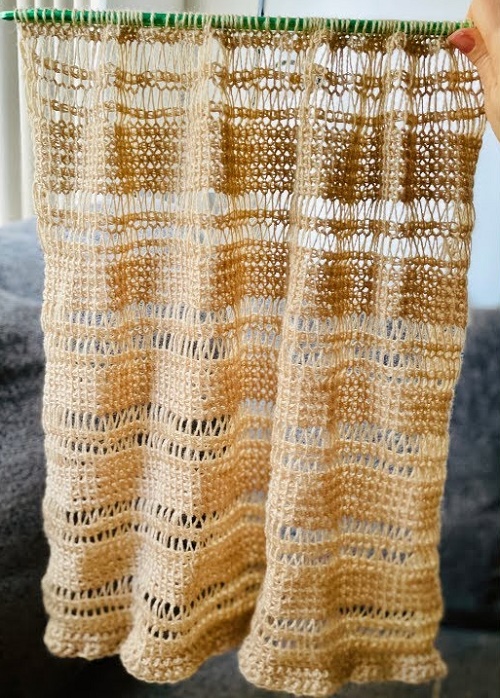 If you're looking for a stylish and easy way to update your living space, look no further than this rustic Tunisian crochet curtain. It's the best way to add boho vibes to any space. Watch this video tutorial for more details.
12. Papel Picado Lace Curtain
Show off your crocheting skills by making this papel picado lace curtain. It will surely attract lots of eyeballs and praise from your loved ones.
13. Lacy Heart Curtain Pattern
With crochet skills, patience, and some supplies, you can easily craft this eye-catching lacy heart curtain.
14. Crochet Curtain With Solomon Knot
Made from Solomon knot, this breezy curtain is excellent for summer days to block sunlight. Take inspiration from this easy-to-follow video tutorial and crochet one for your window.
15. Cotton Yarn Curtain Crochet Pattern
Grab cotton yarn and a 2.3 mm crochet hook to complete this amazing curtain crocheting project. It's an excellent means to amp up the look and feel of a cooking space or a bedroom. The details are here.
16. La Puree Cafe Curtain
Here's another one of the amazing crochet curtain patterns that not only upgrade the style but also the privacy of any room. If you want to make one for your window, here's the free pattern.
17. Blocks in blocks Curtain Pattern

Transform your monotonous window into a chic focal point with this curtain pattern featuring smaller blocks within larger ones. It's a noteworthy addition to any home decor. Check out this website for the free pattern.
18. Nordic Star Window Valance
Highlighted with Nordic stars, this window valance pattern brings a dash of Scandinavian flair to the interiors. Its intricate details offer a distinctive aesthetic that complements any decor while letting in soft, filtered light.
19. Colorful Crochet Pattern
Add a burst of color to your bland living space with this multicolored crochet curtain. For this crocheting project, the designer used a hook-and-loop fastener and double crochet stitch. Get the details here.
20. Yawaraka Lace Cafe Curtain

The Yawaraka cafe curtain is a stylish option thanks to its delicate lace pattern. Crocheters of all skill levels will enjoy creating this soft and beautiful curtain that brings a cozy and timeless charm to any room.
21. Guest Toilet Crochet Curtain Pattern
Featuring a man seated on the toilet seat, this unique curtain is a conversation starter and a delightful surprise for your guests. It's the best way to inject some fun into the bathroom space. Go through the website to imitate this curtain craft.
22. Ruffled Splendor Curtain Valance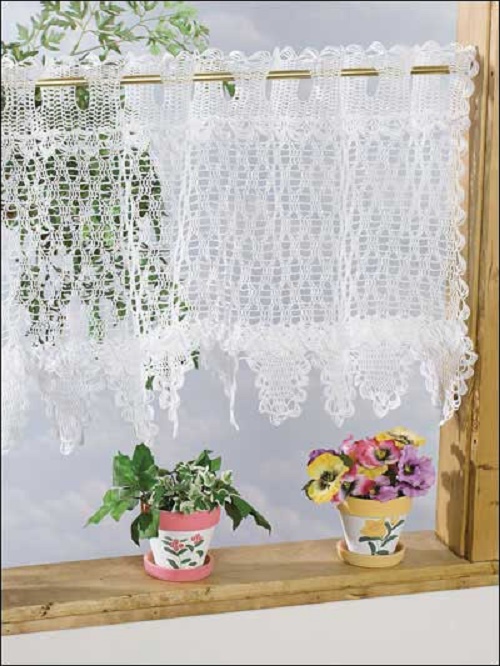 Crochet a 39″ wide x 19″ long valance with a hint of ruffles and a lot of pizzazz using this free downloadable pattern. This eye-grabbing valance is a neat way to freshen up any boring window.
---
Free Crochet Curtain Patterns: Important Points to Remember
Crocheting a curtain is an enjoyable and rewarding project, but there are several points to consider before executing a crochet curtain pattern:
Measurements: Before starting, measure the window or door where you plan to hang your crochet curtains. Measurements are key in ensuring your curtains will fit nicely and function properly.
Design: Decide on the design you want to use. Consider if you want a full-length curtain, half curtain, or valance and whether you prefer a simple or complex pattern.
Yarn Selection: Yarn selection is crucial. You want something durable, preferably resistant to sun fading. Lighter yarns might work better for curtains as they allow more light to pass through.
Hook Size: Choose your crochet hook size based on the yarn you choose. The label on your yarn will suggest the appropriate hook size.
Gauge: Check your gauge before starting the actual project. The gauge will determine the size of your finished curtain. If your gauge is too tight, the curtain will be smaller than expected, and if it's too loose, the curtain will be larger.
Light Filtering: The design and type of yarn you choose will determine how much light filters through the curtain. If you want more light to come in, choose an open or lacy stitch pattern. If you want less light, choose a dense stitch pattern.
Washing: Consider how you'll clean your crochet curtains. Some yarns are machine washable, while others need to be hand washed. Be sure to think about the long-term care of your curtains when choosing yarn.
Patience: Crocheting a curtain can be a lengthy project, especially for larger windows. Be patient, and remember that it's okay to take breaks and work at your own pace.
Check Out the Free Crochet Plant Hanger Patterns here