Check out some cool DIY Clothes Hacks, we have handpicked in this detailed article to make your life easier!
These clever DIY Clothes Hacks fix clothing mishaps and let you create stunning pieces of fashion inexpensively.
Have a look at some teeth whitening hacks here
---
DIY Clothes Hacks
1. How To Turn A Shirt Into A Skirt
Take a look at this video hack to find out how to turn a simple button-down shirt into a chic skirt without scissors and sewing.
2. Hide Bleach Stains with a Sharpie!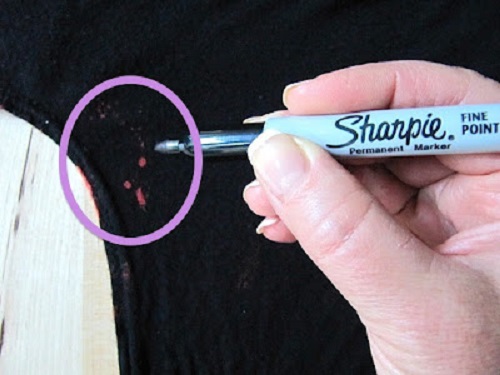 To get rid of bleach stains from your lovely outfit, you need a sharpie marker that matches the garment color and this tutorial.
3. Trick To Remove Deodorant Stains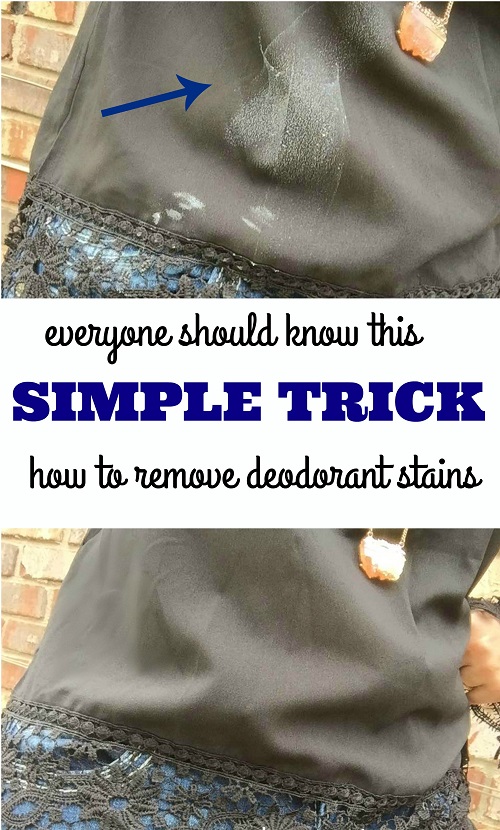 Are you looking for a super quick hack to remove deodorant stains from your favorite fabric? This article is for you!
4. Hair Straightener = Collar Iron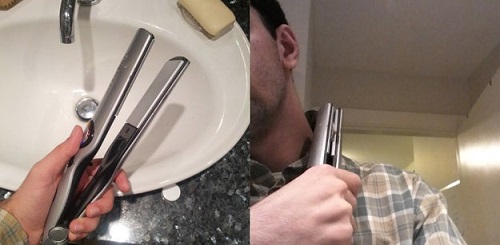 A hair straightener that gives fab hair can also be used to iron tricky spots, like shirt collars. Don't leave the straightener on the fabric too long to avoid any damage.
5. Repair An Underwire Bra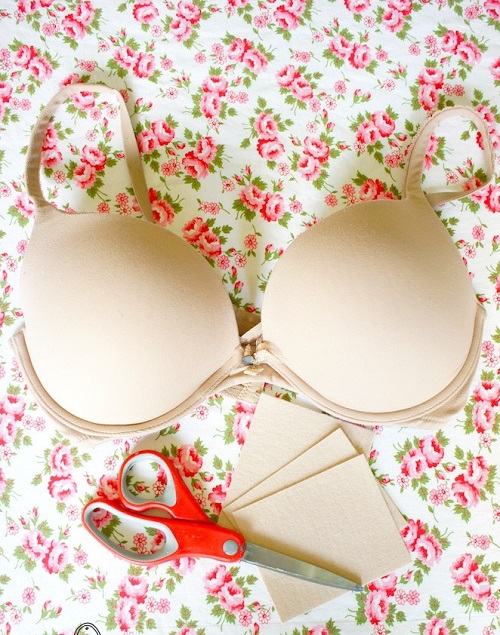 There's nothing more annoying than the feeling you get when the wire in your underwire bra starts to poke through. Solve this issue with this hack.
6. Eliminate Static Clings Without Using Chemicals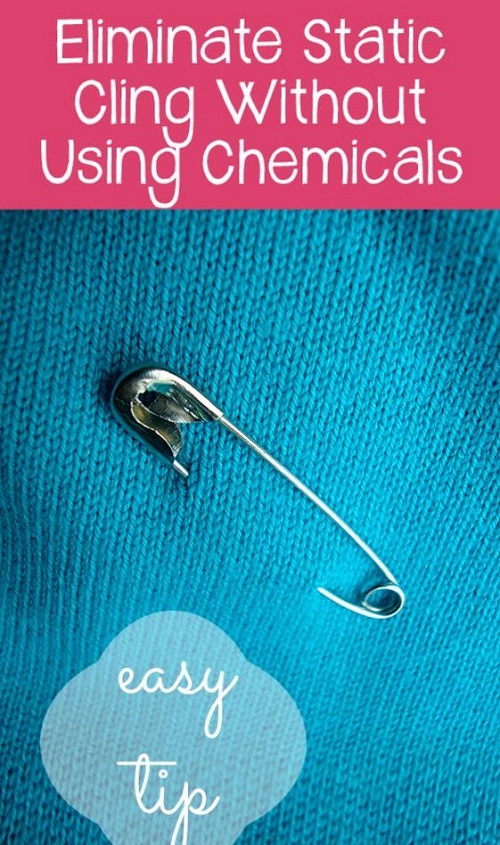 Learn how to get rid of static cling from your apparel without using chemicals or sprays in this simple safety-pin hack.
7. De-Pill Clothes with a Razor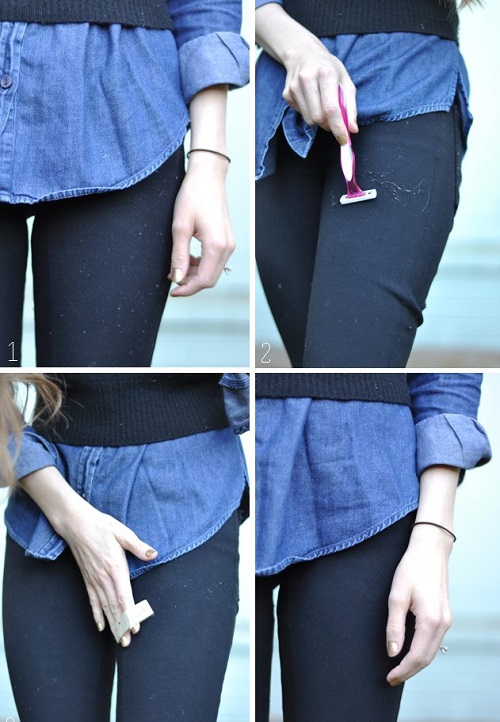 To make your garment lint-free, run a razor on the clothing surface, pick the lint using adhesive tape, and that's it. But, use the razor cautiously to avoid any damage.
8. Buttoning Tight Pants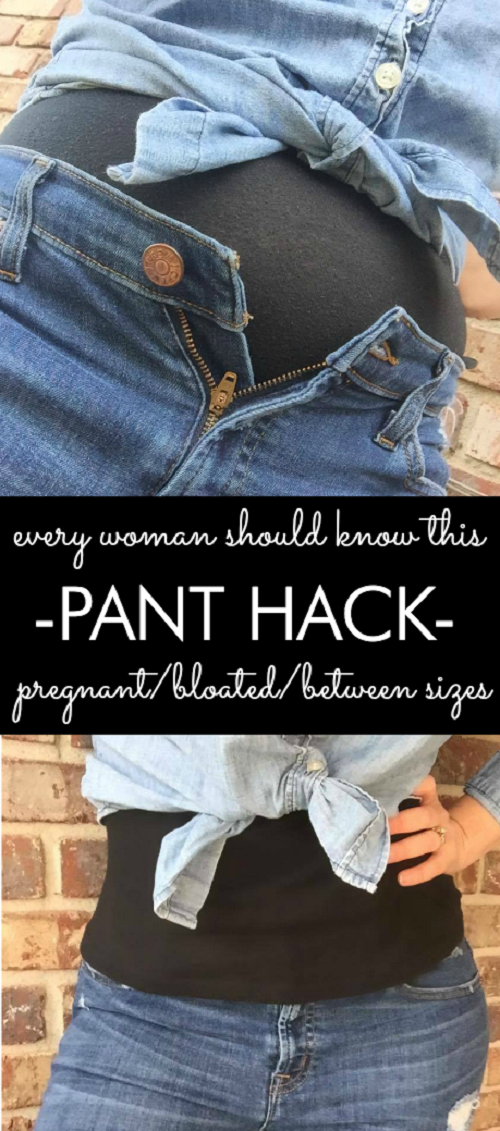 If you're newly pregnant, postpartum, or between sizes, try this hair tie trick to button your tight pants/jeans. This method ensures your pants stay closed.
9. Reversible Bucket Sling Bag
Check out this video tutorial to make a reversible bucket sling bag from old worn-out jeans.
10. Remove Chewing Gum From Clothes
Removing chewing gum from clothes is a cumbersome task. Fortunately, we have a quick hack that'll do the trick. Take a look at this video to know more.
11. Old Shirt Turned Cardigan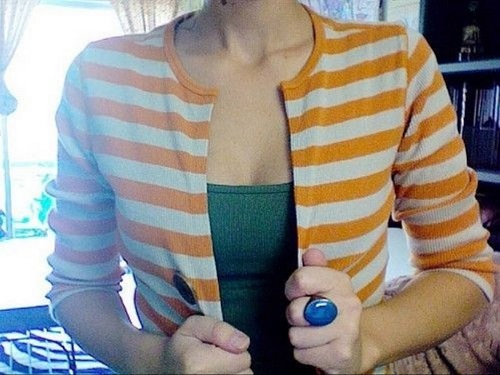 Instead of disposing of your outdated shirt, redesign it into a lovely cardigan using this easy DIY clothes hack.
12. Fix A Zipper With Paraffin Wax Candle
Sometimes, the zipper gets stuck and doesn't slide back and forth smoothly. Grab a paraffin wax candle and a hairdryer to fix this issue.
Learn how to preserve flowers with wax here
13. Eliminate Clothes Wrinkles Without Ironing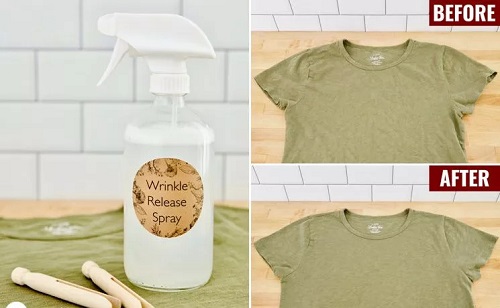 Prepare this spray to eliminate clothing wrinkles without ironing. It's one of the most genius and time-saving DIY clothes hacks.
14. DIY No-Sew Slip Dress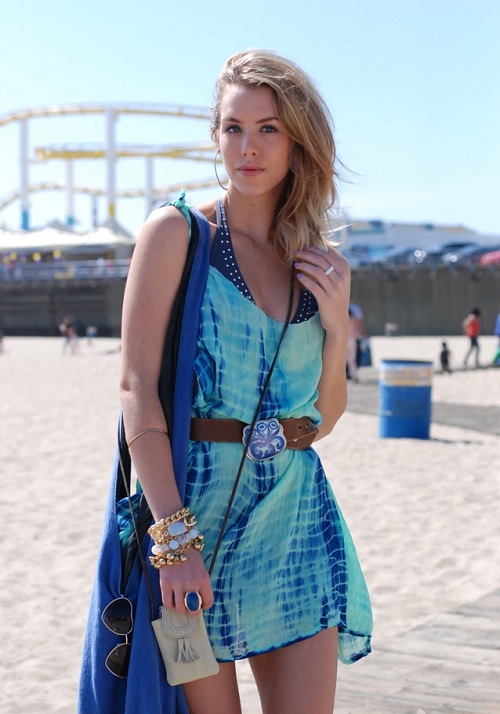 Follow this amazing DIY clothing hack and turn your plain old maxi skirt into a stunning slip dress costume. The best part, no sewing is needed.
15. Use Hairspray To Remove Lipstick Stains
To save your outfit from the bright-colored lipstick stain, this hairspray hack is the best bet. Choose a non-sticky one for this tutorial.
16. DIY No-Sew T-Shirt Bow Sleeves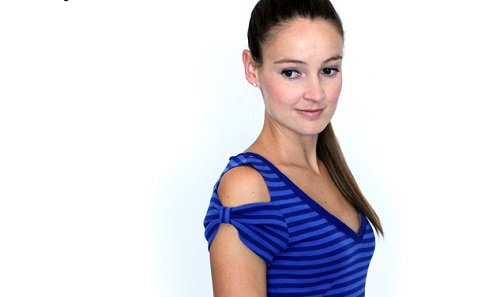 All you need are a t-shirt, a scissor, E6000 glue, measuring tape, and this hack to give your drab t-shirt a fashionable look with bow sleeves.
17. Use Vinegar To Whiten Whites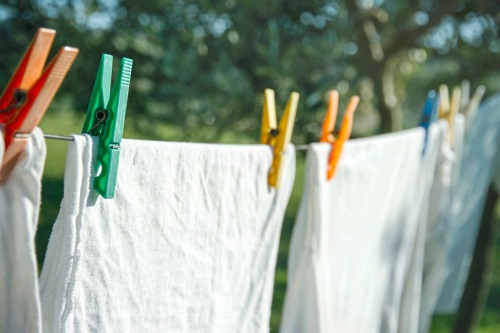 Here's a super simple and affordable clothing hack to whiten your dirty whites using vinegar and a little elbow grease.
Check out some Surprising Vinegar Uses here
18. Repair A Frayed Shirt Collar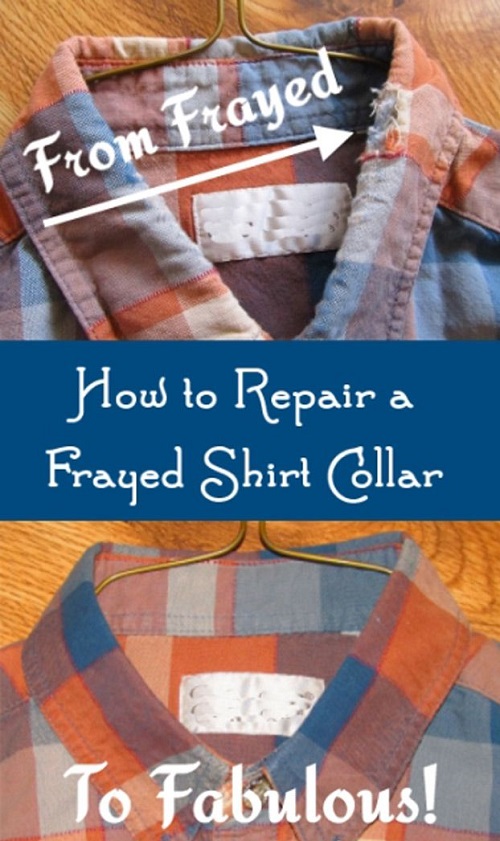 To fix the frayed collar of your favorite shirt, this easy method fits the bill. It's one of the best DIY clothes hacks on this list.
19. Remove Odors from Clothes with Vodka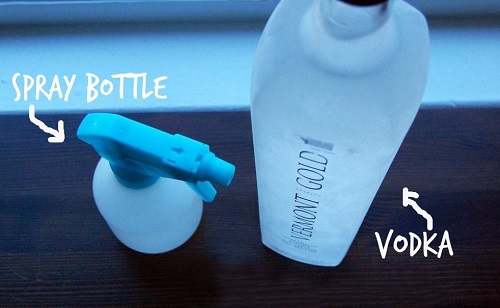 Vodka is an excellent product to remove funky odor from all kinds of fabric. Simply pour 1/2 cup of cheap vodka into an empty spray bottle and spritz it lightly on the clothes.
20. Makeup Stain-Removing Hack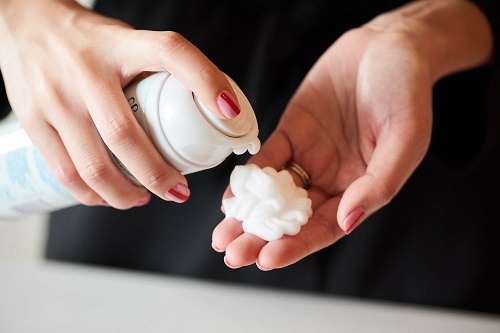 Use this shaving cream method to lift the stubborn makeup stains from your beautiful garment. The details are here.
21. Remove Ink Stains From Clothing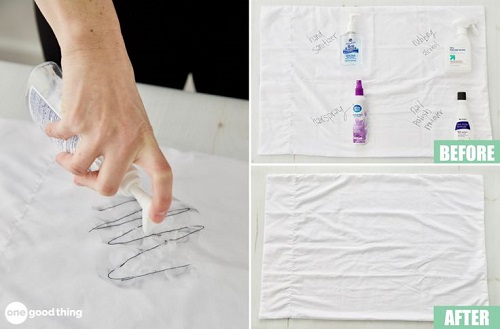 Whether from a pen explosion or a husband who routinely fails to check his pockets, ink stains can happen. Learn the hack to remove ink stains from your clothes here!
22. Pants Waistband Hack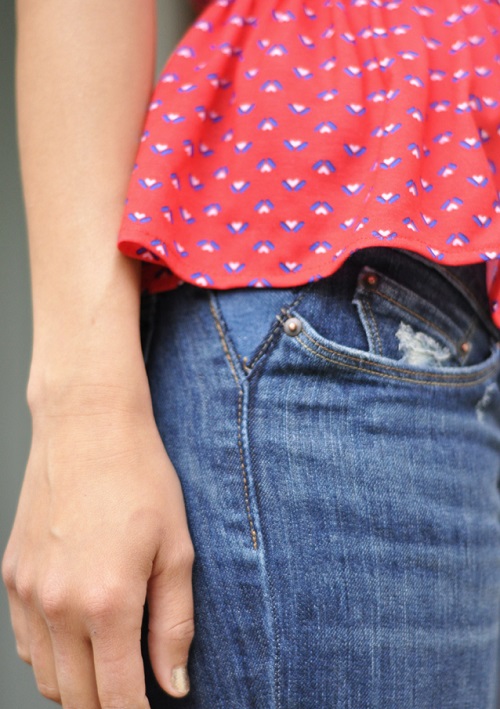 If you don't want to throw out those pants that don't fit anymore, try this genius hack and make them comfortable for you.
23. DIY Bow-Back Tank Top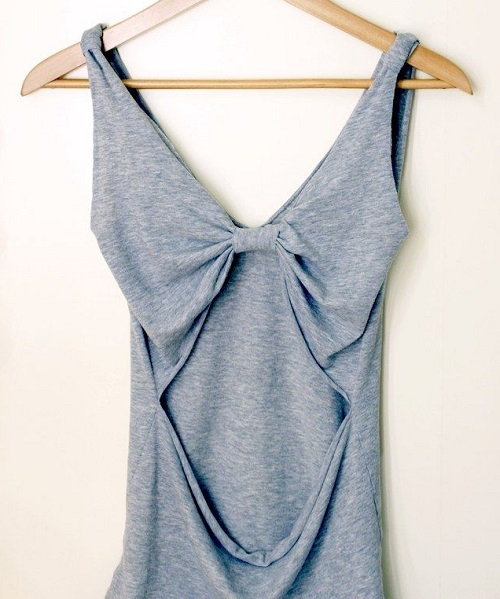 No need to buy a top when you can transform your old t-shirt into a gorgeous bow-back tank top with a pair of scissors and glue. The instructions are here.
24. Secure Button with Clear Nail Polish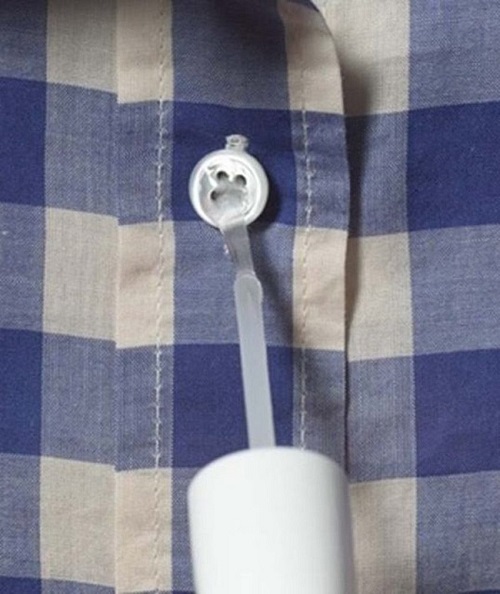 Rather than sewing the button, use a coat of clear nail polish to keep it from falling off the shirt. Read more here.
25. Unshrink Clothes Using Baby Shampoo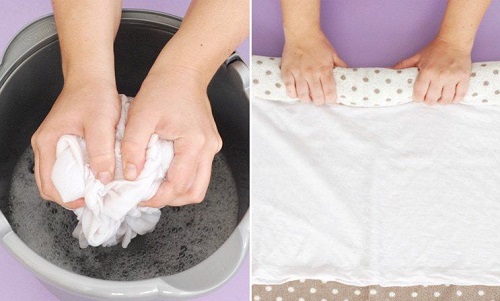 Had a favorite shirt shrink in the wash? No worries! You can use this hack to unshrink shirts, pants, and more to return them to their original shape.
26. Boxy T-Shirt Turned into Ruffled Tube Top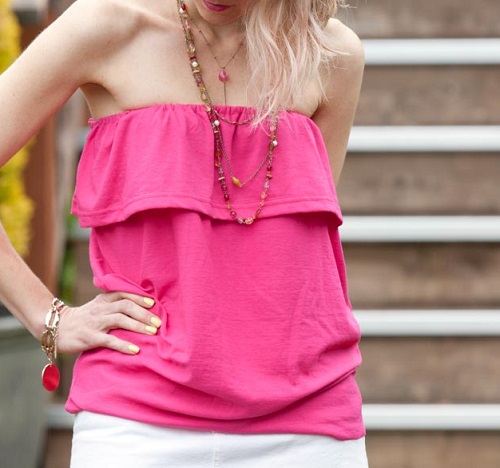 This blogger shows a simple hack to convert a boxy t-shirt into a pretty summer top with minimal sewing.
27. No More Jeans Gap!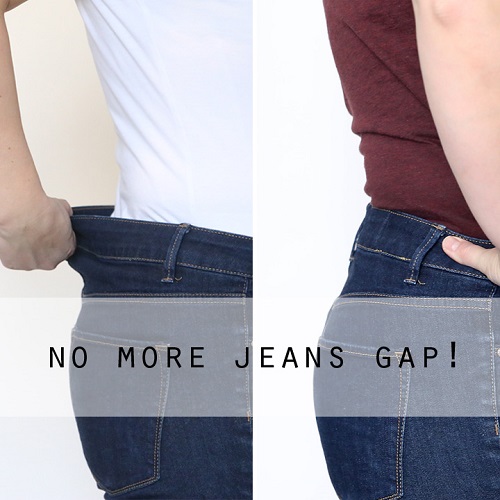 Read this brilliant clothing hack to fix the gap around the waistband of your jeans or pants in a couple of minutes.
28. DIY Laced Up Collar Sleeved Top
If you have an outdated t-shirt, try this genius hack to turn it into a laced-up collar-sleeved top. It's ideal for casual and dressy days.