Discover the perfect DIY Corner Bench ideas to upgrade your apartment's seating arrangement. Read on to find out some of the amazing plans!
If you want to transform your home's unused corners into a cozy nook, check out these DIY Corner Bench plans. These seating options are both stylish and functional.
Read the functional potting bench ideas here
---
DIY Corner Bench Ideas
1. Sunroom Corner Bench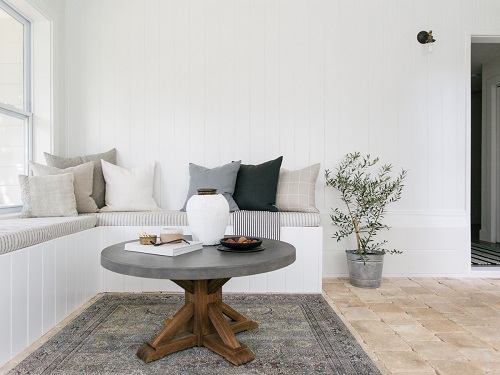 Beautiful, practical, and cost-effective, this corner bench is the best way to combine comfort and style in the sunroom. Click here for the details.
2. DIY Corner Storage Bench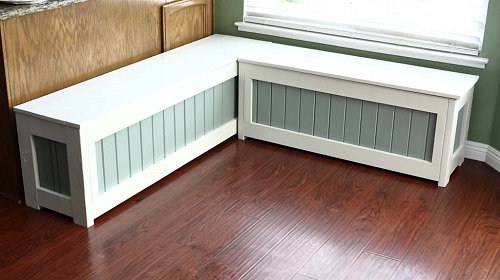 Maximize the storage and seating capacity of your less-spacious home with this DIY corner storage bench.
3. Banquette Seat With Built-in Storage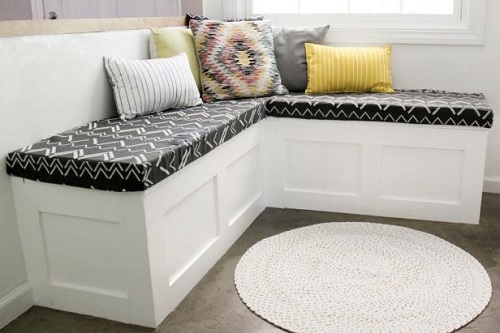 Need extra seating at your kitchen table, but you can't quite squeeze in another chair? Build this banquette bench to fit more people in less space.
4. $130 Outdoor Corner Bench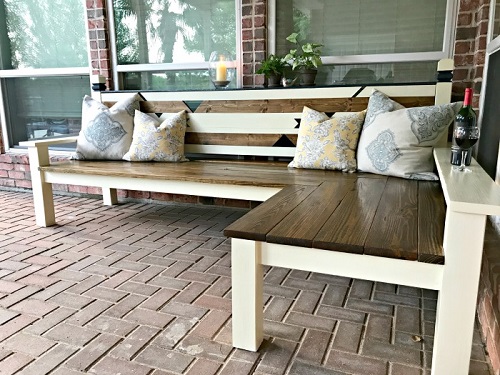 Enjoy stylish seating without the hefty price tag, thanks to this outdoor corner bench plan. This project is time-consuming but worth every penny.
5. Easy Deck Corner Bench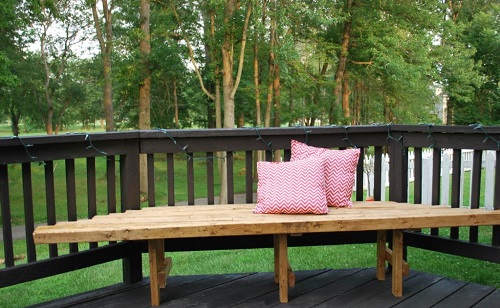 Create a comfy nook on your deck by introducing this corner bench made from scrap wood. Get the instructions here.
6. Corner Bench With Built-In Table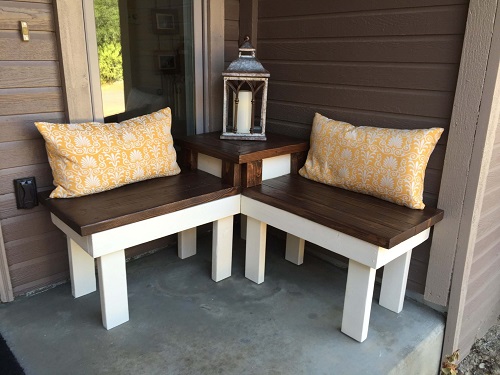 Update your porch with this corner bench featuring a built-in table for displaying decorative stuff or holding drinks and snacks.
7. Kids Corner Table Bench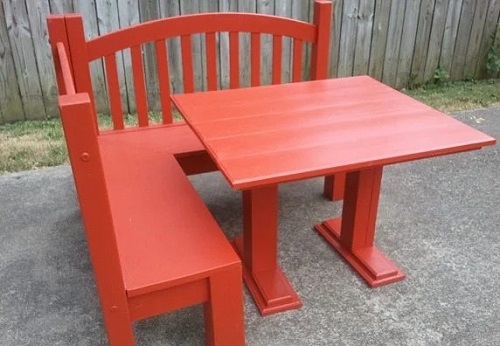 Learn how to make a kid's corner table bench with a headboard or footboard in this tutorial. It's an excellent addition to the dining room or playroom.
8. Pallet Corner Bench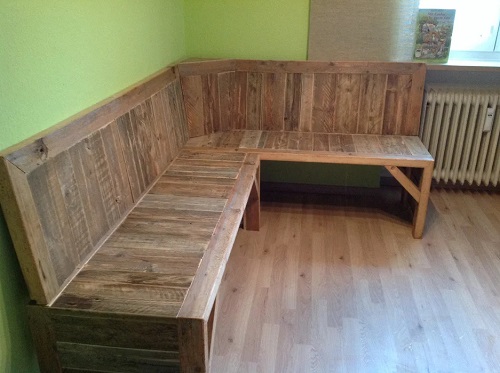 Make the most out of the unused pallets by turning them into a rustic corner bench with a seat back. It's one of the most frugal DIY corner bench plans.
9. Kid's Room Corner Bench With Storage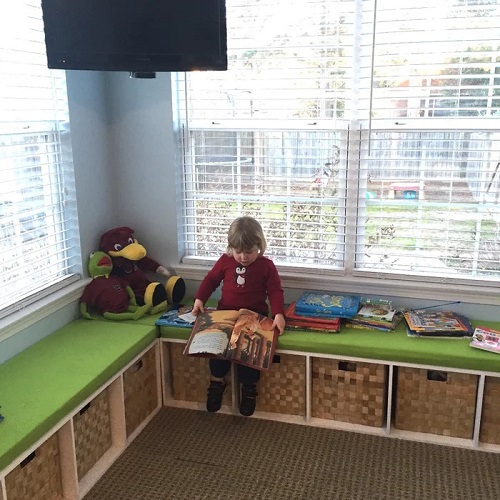 With a little DIY ingenuity, some Ikea baskets, and a few sheets of MDF, anyone can easily make this corner bench. It offers a lot of storage space to store kids' toys and study materials.
10. Compact Corner Bench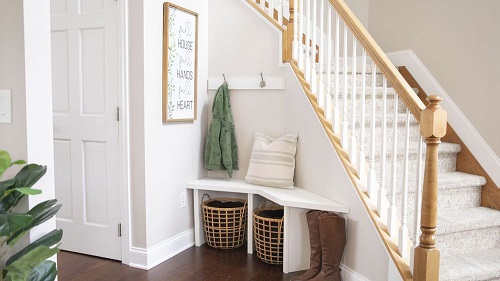 Do you have an awkward space near your staircase or entryway that could use some storage? This simple corner bench is the ideal solution.
11. Dining Room Corner Bench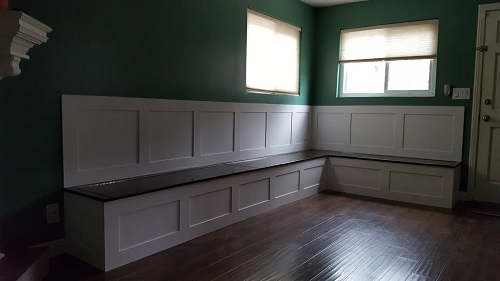 Follow this detailed article to build a long L-shaped corner bench that is stylish and sturdy. Plus, it offers lots of storage space to corral your clutter.
12. Corner Bench With Brackets
Building a corner bench with brackets is a great way to add more seating space to your deck. Read the step-by-step instructions here.
13. Round Corner Bench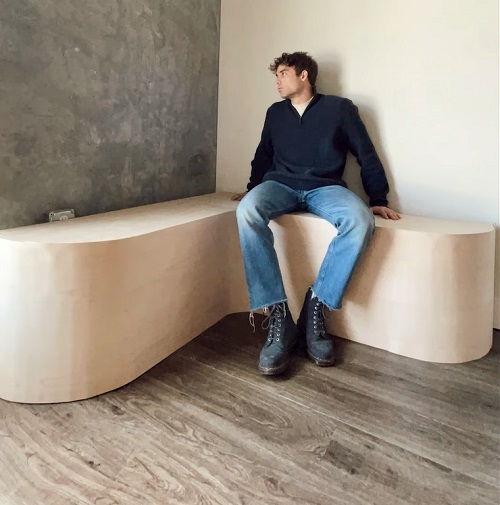 Build this chic round-corner bench and say goodbye to the boring seating options. Watch this video for the details.
14. Bar Corner Bench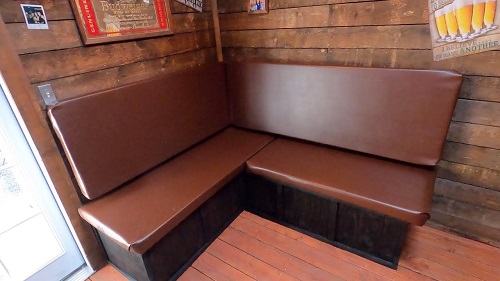 This bar corner bench is constructed out of plywood, foam board, some tools, and woodworking skills.
15. Mudroom Corner Bench Idea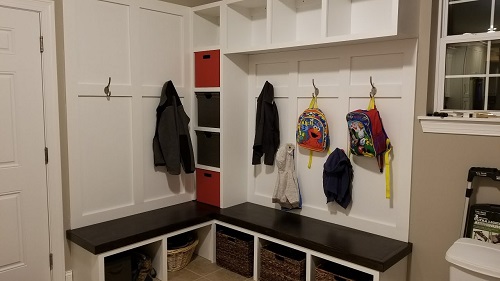 Take inspiration from this YouTube video if you are planning to build a corner bench for your mudroom area.
16. IKEA Kallax Kitchen Corner Seating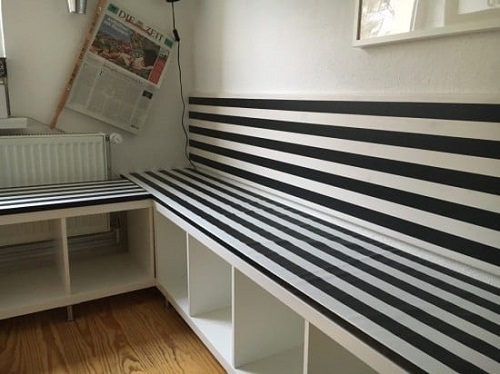 In this tutorial, the DIYer reuses IKEA Kallax shelving units and CAPITA legs to build a unique and comfortable seating area.
Here are the amazing IKEA hacks for Christmas