Put on your creative hat and craft some brilliant yard decors using these DIY Wine Bottle Ideas for the Garden!
Before disposing of your empty wine bottles in the recycling bin, check out these DIY Wine Bottle Ideas for the Garden. They make great gifts too.
Find out some clever wine uses for home and garden here
---
DIY Wine Bottle Ideas for the Garden
1. Giant Bottle Flowers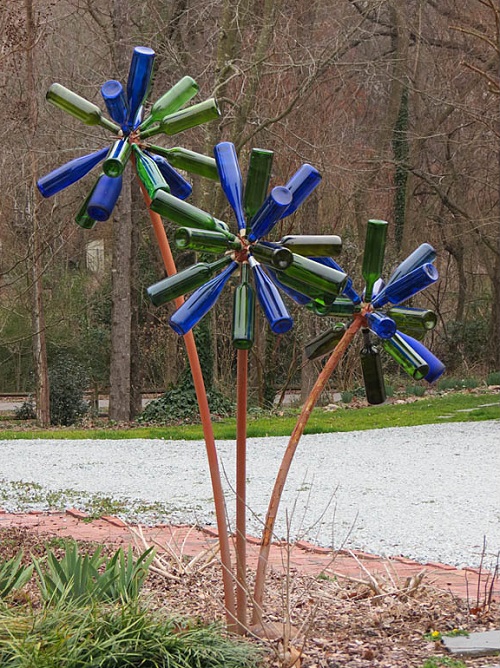 Introduce this huge wine bottle flower art in your garden to add a special touch. The details are here.
2. Wine Bottle Hummingbird Feeder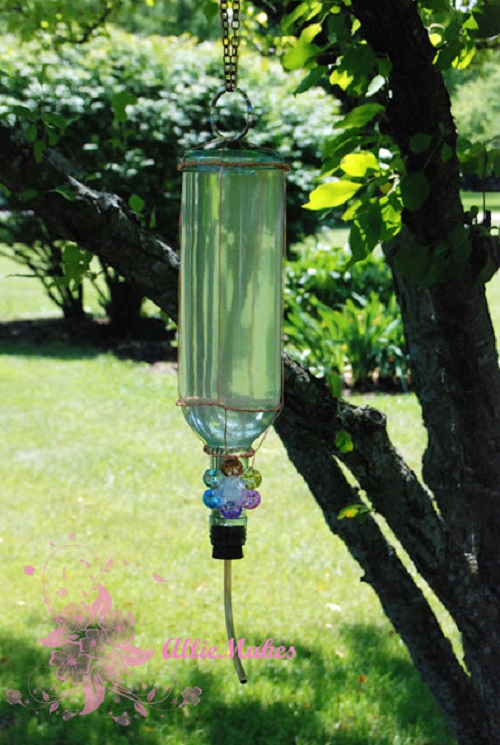 Learn how to make a hummingbird feeder out of a wine bottle in this article. It's a beginner-friendly project.
3. DIY Wine Bottle Hanging Planters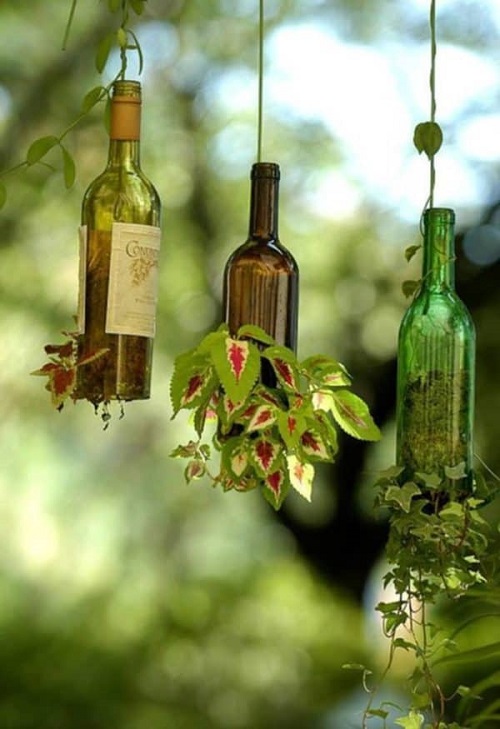 What could be more fun than making planters using upcycled wine bottles? Hang them on the patio, porch, or yard to enhance the look. Read more here.
4. Wine Bottle Garden Border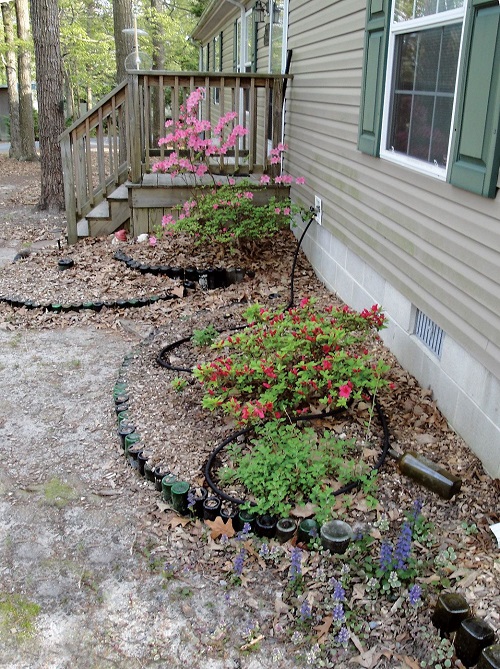 All you need are some empty wine bottles and this tutorial to make a sparkling garden border.
5. Rainbow Lanterns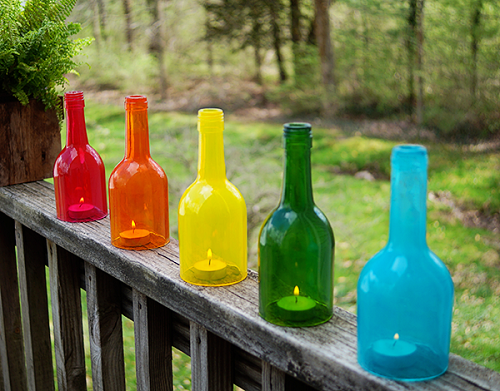 For little to no cost, you can create gorgeous rainbow lanterns for your next party or everyday decor. The details are here.
6. Garden Bed With Recycled Wine Bottles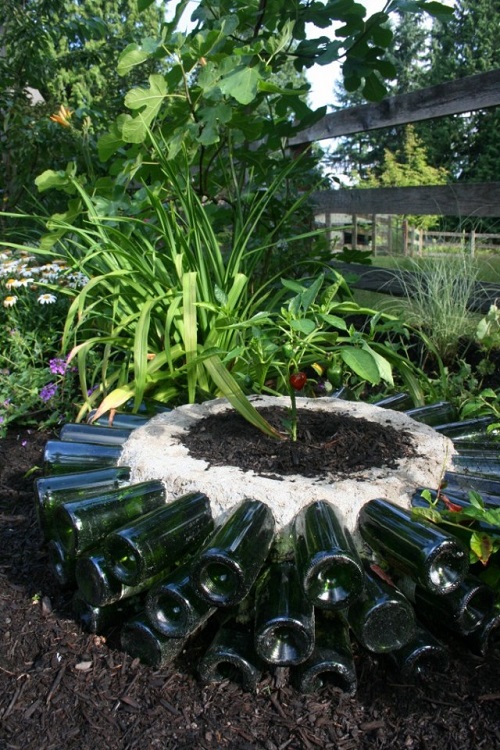 Instead of tossing out old wine bottles, create a garden bed using this detailed tutorial. It not only provides much-needed warmth to your plants but is also an eco-friendly project.
7. Wine Bottle Loaded Gabion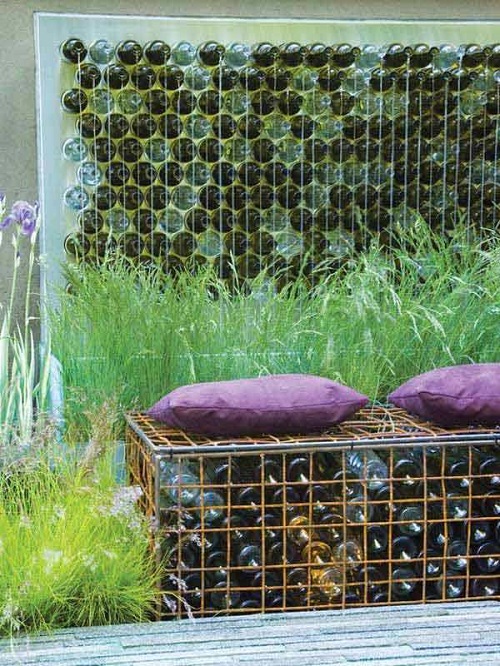 Rather than using stones, fill the gabion with wine bottles. It's one of the best DIY wine bottle ideas for the garden.
8. Repurposed Wine Bottle Tiki Torch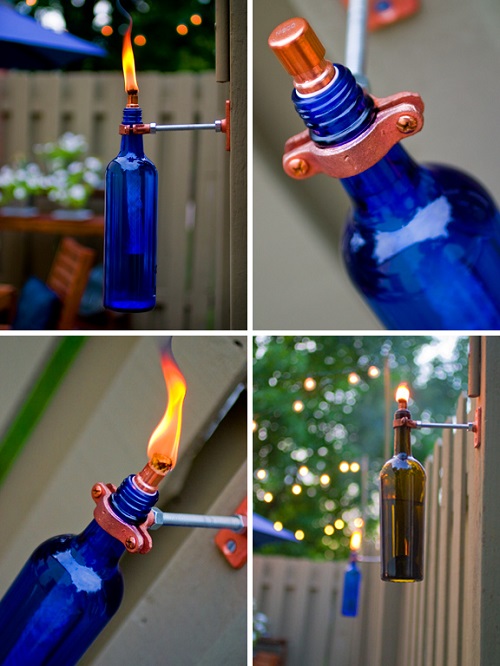 Add some pizzazz to your boring backyard by mounting wine bottle tiki torches. Hop to this article to learn more.
9. Wine Bottle Fountain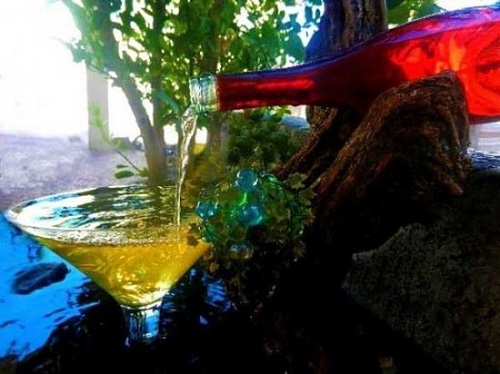 Spruce up your dull patio or garden with this wine bottle water fountain. It's affordable and easy to make.
10. DIY Wine Bottle Plant Marker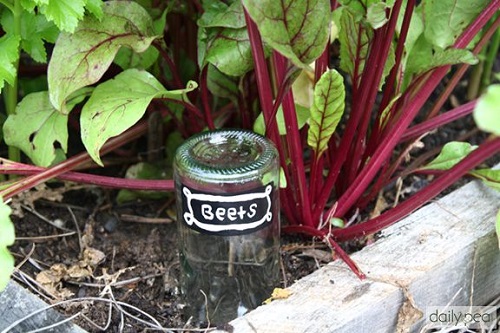 If you're planning to make cheap plant markers at home, this article is the right choice for you.
11. Wine Bottles Temporary Garden Pathway

Here is a DIY project on how to reuse wine bottles to build a temporary pathway in the garden or any place you want.
12. DIY Wine Bottle Bird-Feeders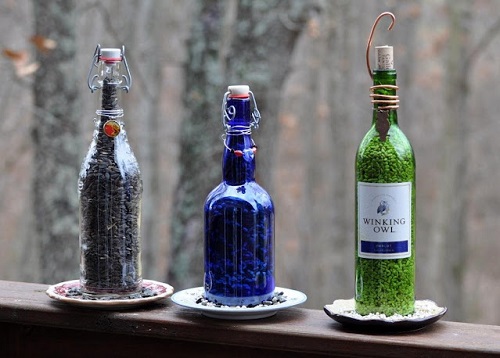 No need to purchase bird feeders when you can make fancy ones at home easily. The details are here.
13. Wine Bottle Garden Lights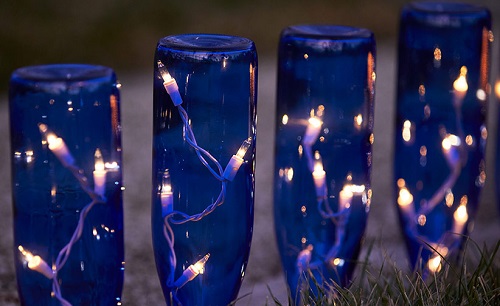 Do you have wine bottles and a string of holiday lights? Then use them to light up your garden path. Get the instructions here.
14. Wine Bottle Tree Art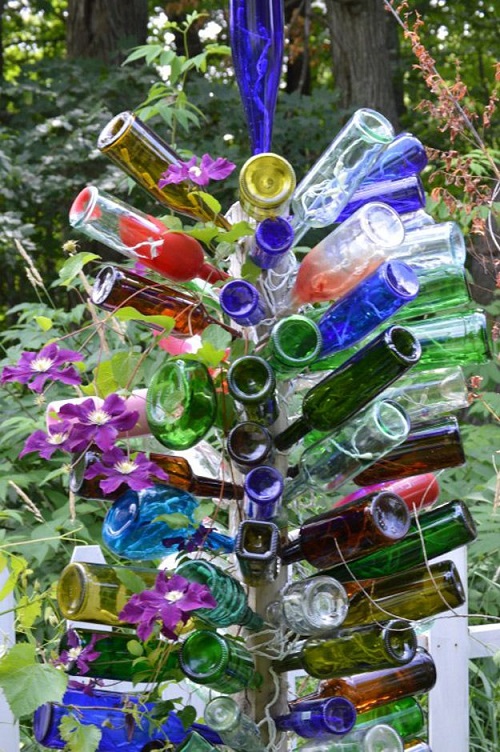 Make this wine bottle tree art to add personality and character to your garden. The best part is it doesn't require any care or maintenance.
15. Wine Bottle Wind Chime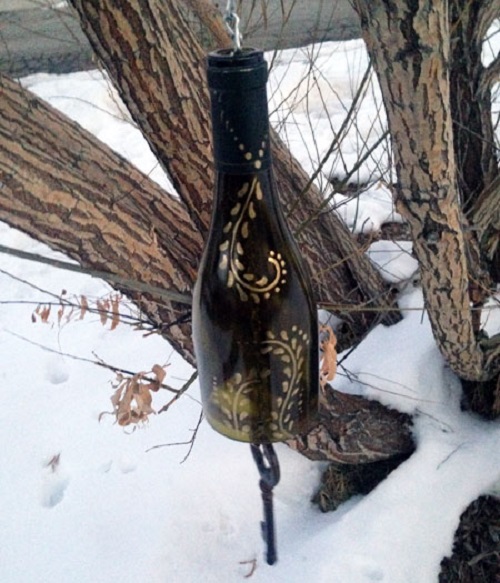 Transform a wine bottle into a pretty wind charm with a few supplies and this step-by-step tutorial.
16. Ballard Wine Bottles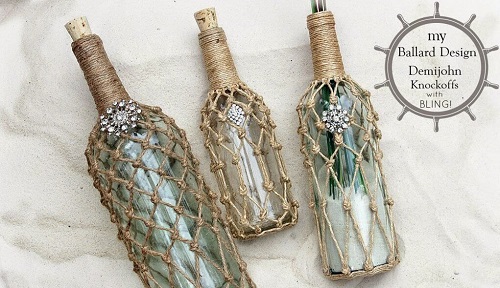 Give your old wine bottles a chic look using twine, modge podge, glue, corks, beachy floral, sand, and knots. Read more here.
17. Wine Bottle Garden Lantern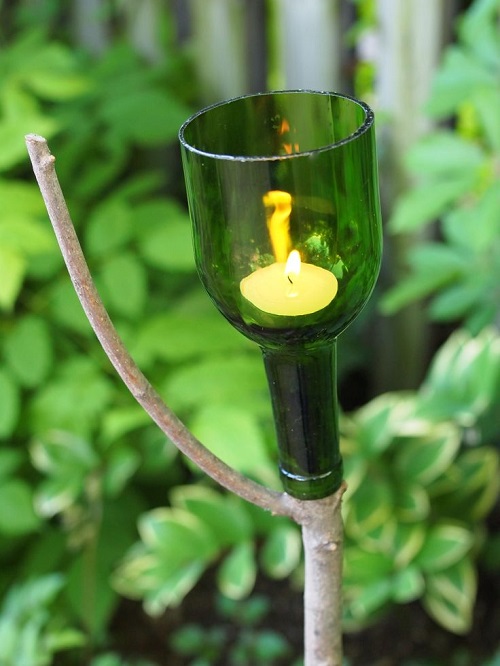 Made from a wine bottle, this unique lantern will definitely impress your guests and neighbors alike.
18. DIY Wine Bottle Garden Feature
Enhance the charm and appeal of your garden by installing this wonderful wine bottle feature. Watch the video for more info.
19. Wine Bottle Waterfall Fountain
Check out this YouTube tutorial to create a stylish wine bottle water fountain this weekend.
20. DIY Wine Bottle Pendants
Add style and a hint of glam to your yard, patio, or porch with these hanging wine bottle pendants.
Here are some amazing ceiling light ideas
21. Simple Wine Bottle Bird Feeder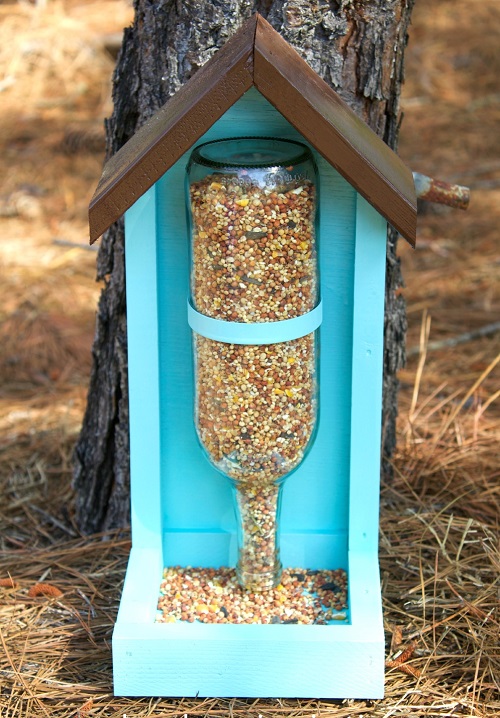 Are you looking for a simple bird feeder project? This idea perfectly fits the bill.
22. Ombre Frosted Wine Bottle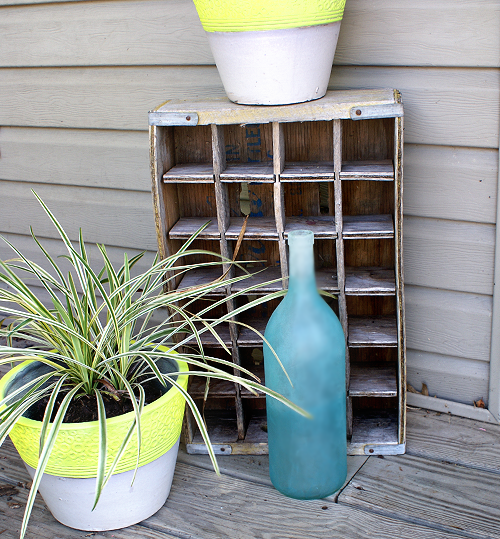 You only need an empty wine bottle, rubbing alcohol, a lint-free cloth, frosted glass paint, and a cosmetic sponge to complete this project. Place it on the patio or garden table for an added charm.
23. Peacock from Wine Bottles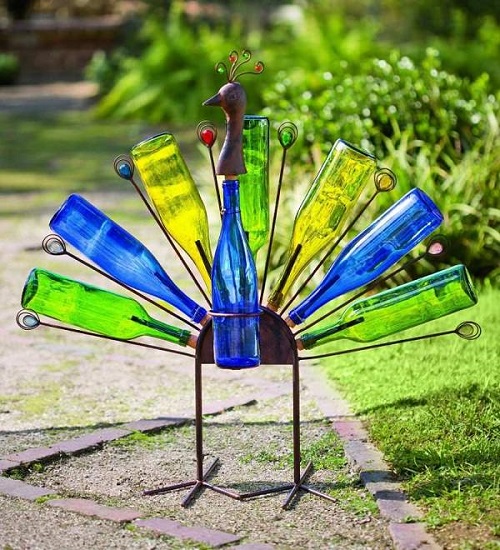 A metal peacock figure adorned with colored wine bottles looks super cool in the yard.
24. Wine Bottle Candle Holder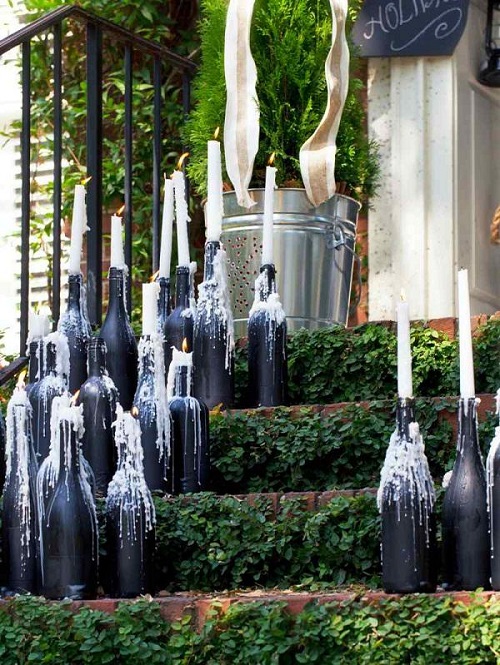 Black painted wine bottles with melted wax drips make them a must-have home and garden Halloween decor.
25. DIY Self-Watering Bottle Herb Garden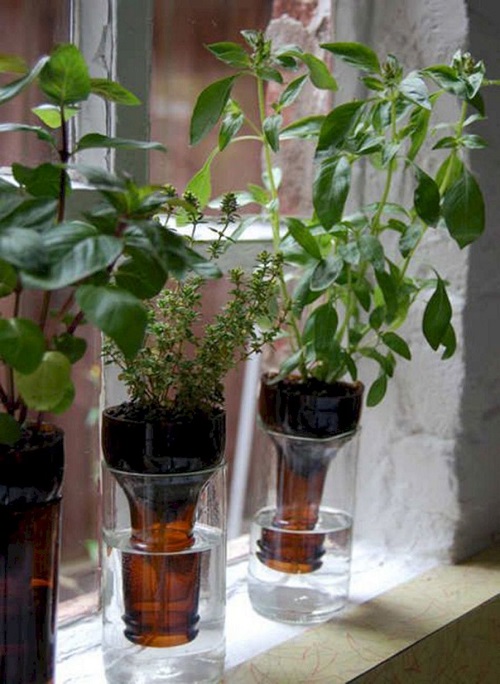 If you're running out of regular planters, use wine bottles to make a self-watering herb garden. Place them on the kitchen windowsill or terrace garden.
26. Chair Made From Wine Bottles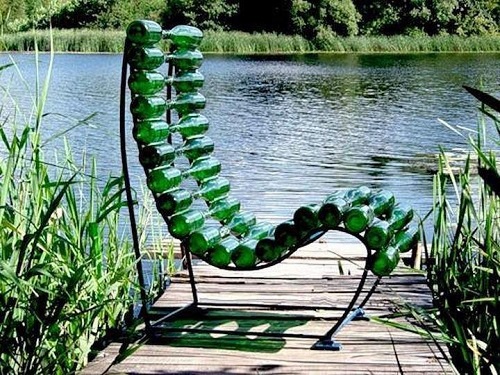 Made from a metal-framed body and numerous wine bottles, this chair will surely attract lots of eyeballs. Read more here.
27. DIY Wine Bottle Succulent Planter
Wine bottles are perfect for showcasing succulents of your choice indoors and outdoors. Take a look at the video to know more.
28. Wine Bottle as Hanging Pots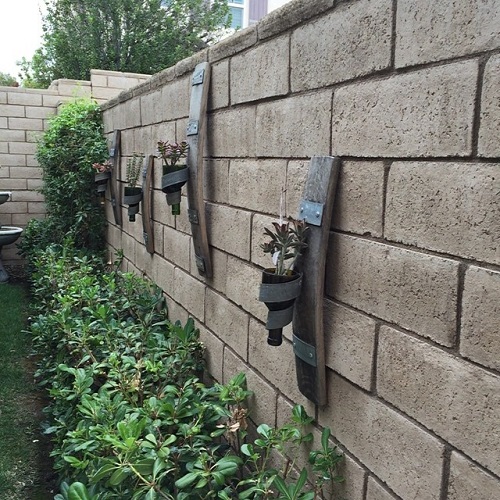 All you've to do is secure wine bottles on wooden planks using metal sheets and mount them on the garden wall with nails to display plants of your choice.
29. DIY Wine Bottle Privacy Screen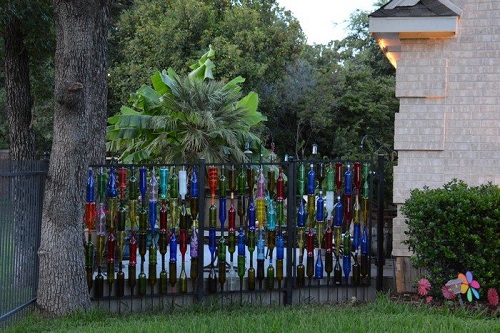 Repurpose wine bottles to build a unique privacy screen that blends well with your colorful yard. The instructions are here.
30. A Bottle Arch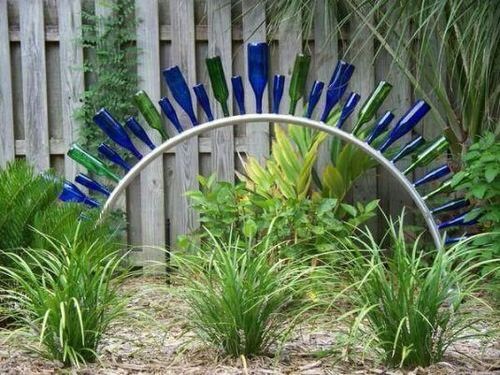 Stick wine bottles on a metal frame using hot glue to give your garden an attractive focal point.
31. Blue Wine Bottles in the Garden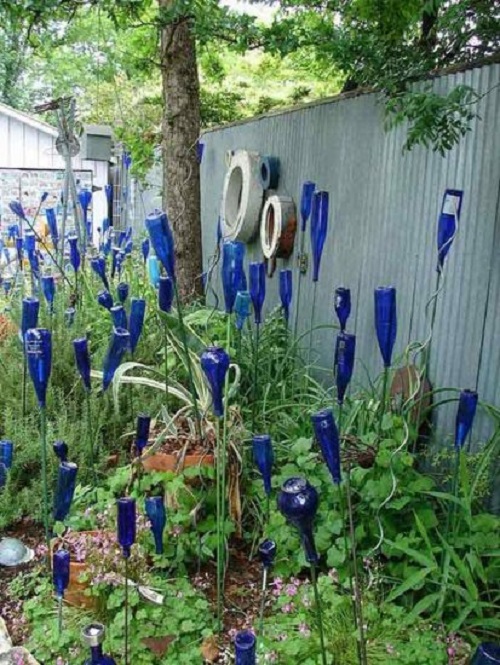 Take your garden decor game to the next level by arranging various blue wine bottles over the top of metal sticks.
32. Elegant Wine Bottles Centerpiece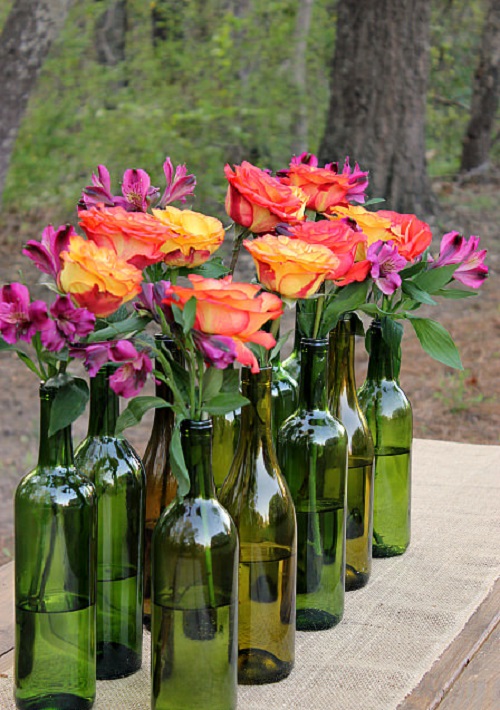 Give your outdoor dining table an aesthetic boost by decorating it with wine bottle centerpieces featuring beautiful flowers. The details are here.
33. Easy Garden Lights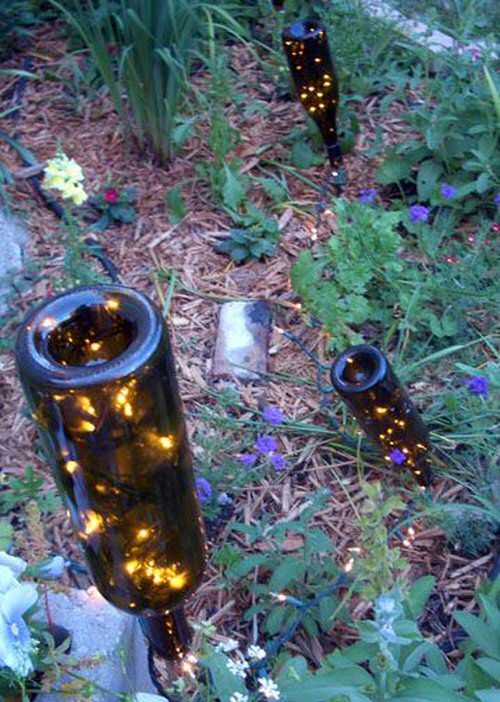 Beautify your garden with these wine bottle lights – perfect for everyday and festival decor.
34. Decorate Fence with Wine Bottles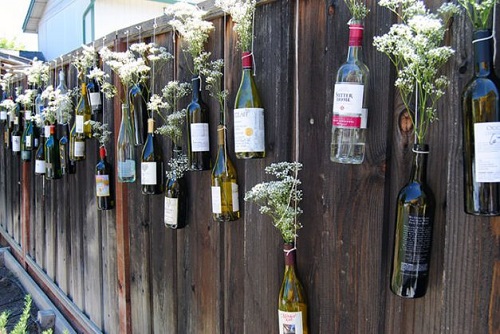 With wine bottles, cut flowers, twine, and nails, you can quickly transform the appearance of your boring-looking yard fence.
35. Lots of Wine Bottles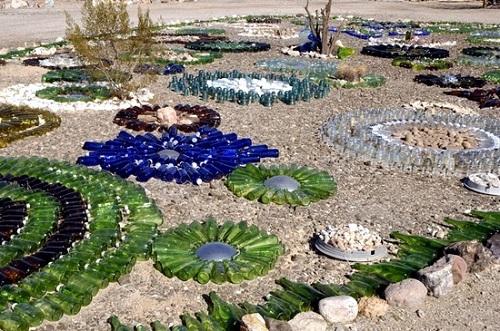 Show off your creativity by making different artsy structures on the yard's surface using wine bottles.
36. Plant Chandelier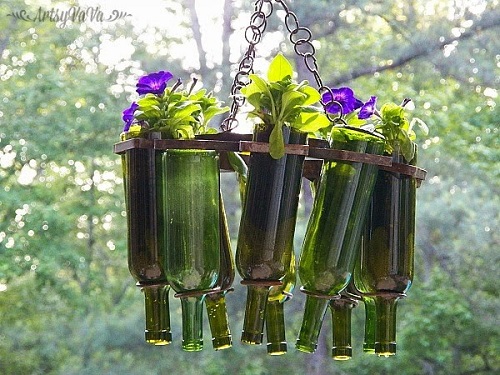 Replicate this hanging plant chandelier to give your garden a statement-making specimen.
37. Wine Bottles Tree Hanging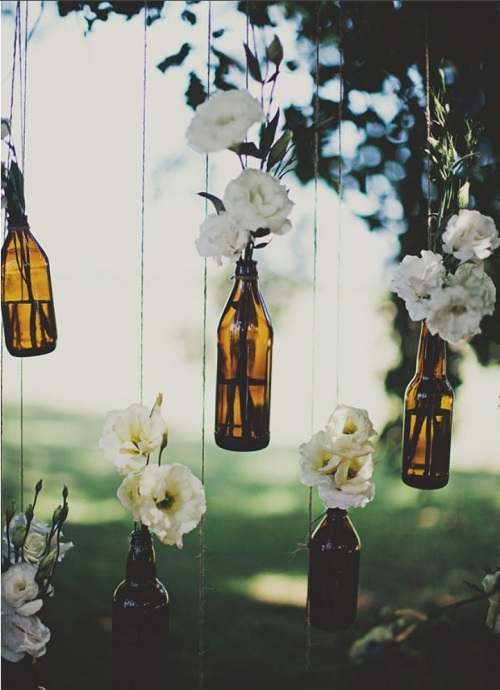 Adorn wine bottles with cut flowers and suspend them in the garden from a tree to create an interesting look.
38. Wine Bottle Dragonfly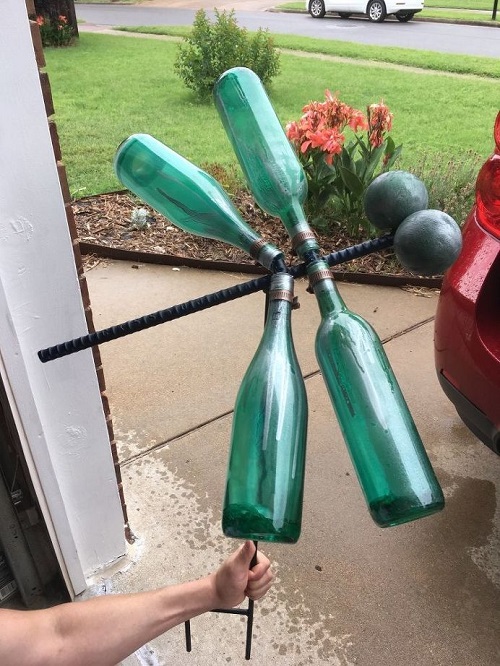 Prettify your yard by making this beautiful dragonfly sculpture using clear wine bottles, spray paint, modge podge, and food coloring.
39. Wine Bottle Pumpkins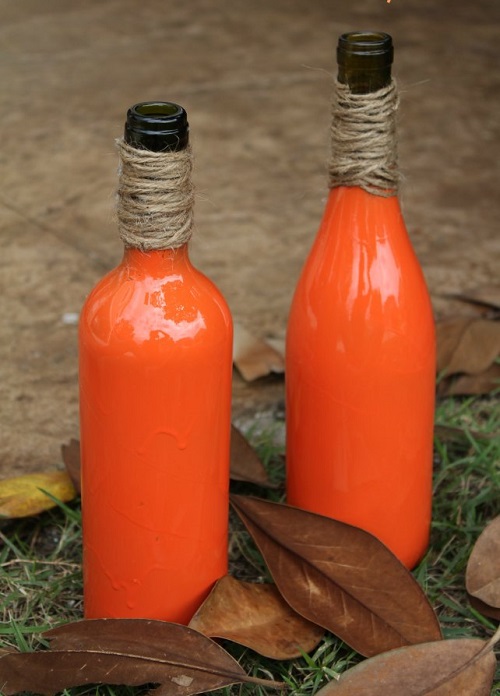 Grab some empty wine bottles and create fun fall decor in just a few simple steps. These DIY wine bottle pumpkins are a fun way to celebrate the season.
40. Compact Wine Bottle Garden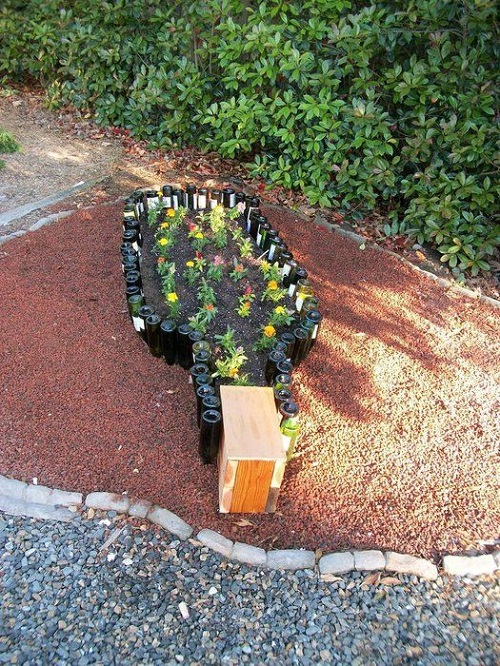 Short on space but still want a garden conversation piece? Follow this instructable for more information on how to create this.
Here is a list of some fantastic indoor garden under stairs ideas