Explore simple, stunning, and space-saving DIY Gun Rack Plans to showcase your prized firearm collection in style!
Are you an avid hunter, gun enthusiast, or simply someone who loves DIY projects? If so, you've come to the right place! Today, we're going to dive into the world of DIY Gun Rack Plans that are not only practical but also stylish. Let's find out some of the amazing ideas below.
Check out the wood and metal magazine rack here
---
Gun Rack Plans
1. DIY Free Standing Gun Rack Plan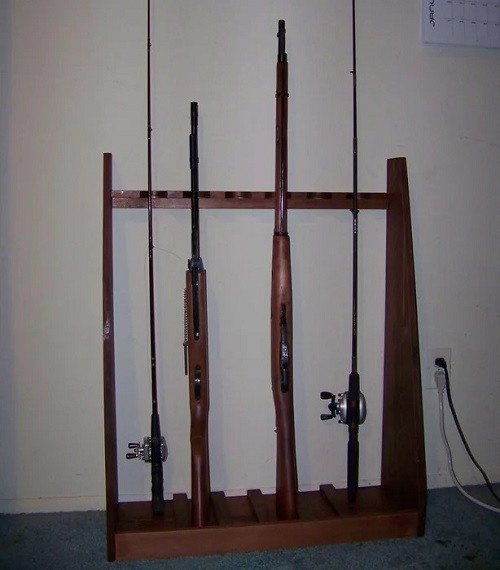 Introducing the DIY free-standing gun rack: a versatile, space-saving solution that every gun owner will love. This plan is the best way to flaunt your craftsmanship and provide an organized space for your firearms. Get detailed instructions here.
Supplies
Salvaged Lumber
Surface Planer
Hole Saw
Pocket Screws
Wood Glue
Cleats
2. $20 DIY Rifle Rack
Say goodbye to overpriced gun storage solutions! Introducing the $20 DIY rifle rack that offers both functionality and style on a budget. It lets you display your rifles like never before!
Supplies
Shelving Board
Hole Saw
Wooden Adhesive
Screws
3. Pegboard Airsoft Gun Rack DIY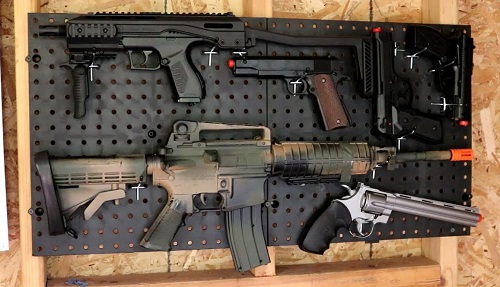 Forget ordinary gun racks! The pegboard airsoft gun rack project is versatile, customizable, and perfect for showcasing your collection in style. Check out the step-by-step instructions here.
Supplies
Poly Pegboard Panels
Single Peg Hooks
Screws or Nails
Screwdriver
4. Chevrolet Volt Gun Rack Installation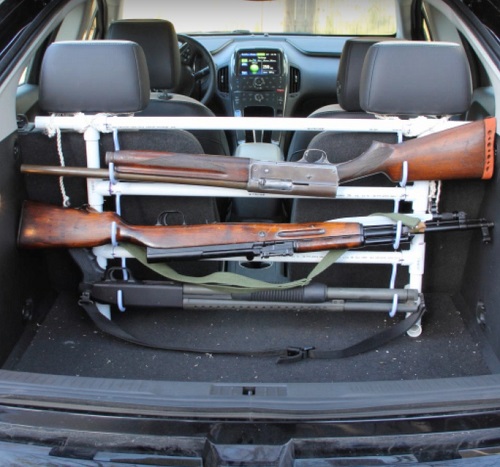 Have you ever wished you could safely and conveniently store guns in your Chevy Volt? The DIY gun rack is what you need to make your dreams come true. Watch this helpful video for the construction process.
Supplies
PVC Pipe
T-Shaped Connectors
Hooks
Drill
Rope or Wire
5. DIY Horseshoe Gun Rack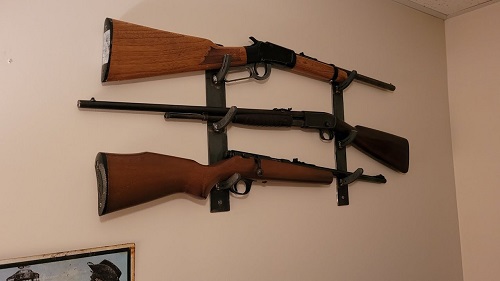 Looking for a creative way to store your firearms? This DIY horseshoe gun rack is the perfect blend of rustic charm and practicality. Get ready to wow your guests with this unique and functional piece. The audio-visual tutorial is here.
Supplies
Horseshoes
Flat Stock
Cutting and Grinding Tool
Welding Tool
Black Paint
Screws
6. Simple 3-Rifle Rack Plan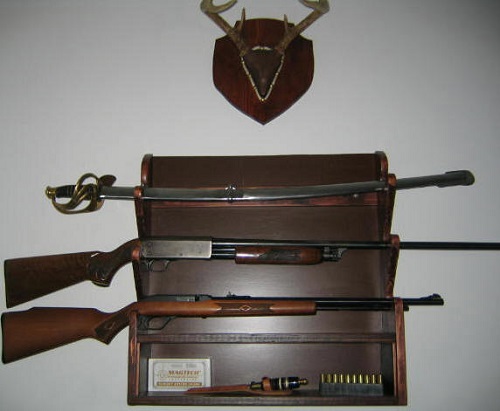 Minimalism meets practicality in this DIY rifle rack plan. This storage solution is perfect for gun enthusiasts with a small collection. It's one of the best gun rack plans on this list. Click here for more info.
Supplies
Hardwood or Composite
Plywood
Backboard
Brads and Wood Glue
Band Saw, Coping Saw, or Rotary Saw
7. Pistol Gun Rack DIY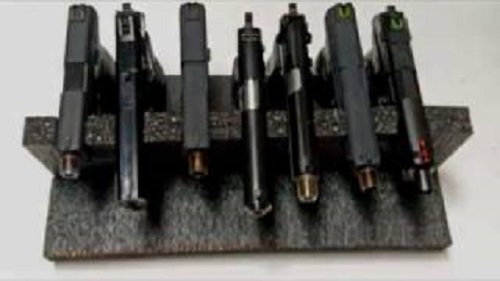 Build this simple pistol rack in just an hour using materials you probably have lying around the house. This rack can hold up to 6-7 guns snugly and securely. It's perfect for use under the counter or in the gun safe.
Supplies
Close-Cell Packing Foam
Scrap Plywood
Measuring Tape
Steel Hole Saw
A Very Sharp Knife
Glue Gun
8. Homemade Gun Rack Design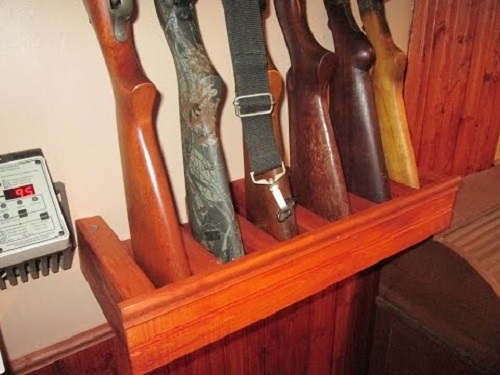 Are you on the hunt for a budget-friendly yet effective gun storage solution? Discover this homemade gun rack idea that'll help you organize your firearms without spending a fortune. Watch the video tutorial here.
Supplies
Wood
Power Saw
Drill
Wood Glue
Screws
Steel Hole Saw
9. Gun Rack From Reclaimed Pallet Wood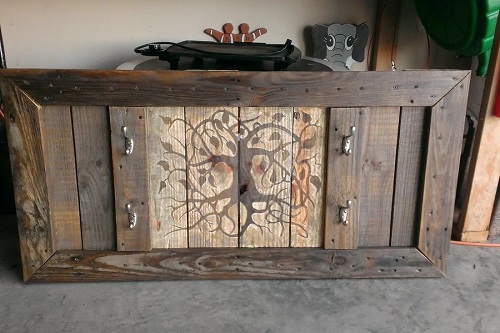 Convert discarded pallets into a rustic homemade gun rack with woodworking skills and this DIY project. It's time to put those old pallets to good use.
Supplies
Pallets
Hammer and Circular Saw
Speed Square Tool
Drill and Screws
Clear Satin Polyurethane Spray
Sander and sandpaper
Glove, Dust Mask, and Safety Glasses
Hooks
10. Wooden Air Gun Rack DIY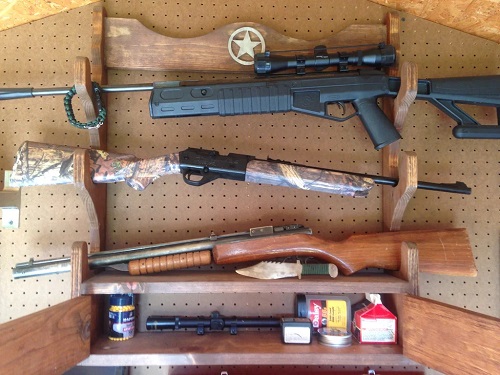 Love your air guns? Showcase them like a pro on this wooden rack. It not only protects your valuable collection but also adds an aesthetic touch to the space. The helpful tutorial is here.
Supplies
2 1x6s (Wood)
Wood Cabinet Knobs
Antique Brass Cabinet Hinges
Stainable Wood Filler
Early American Stain
Rubber Gloves and Old Rags
Kreg Jig Screws
Scrap Piece of Aluminum
Mounting Brackets
11. DIY Modular Wall Mount Gun Rack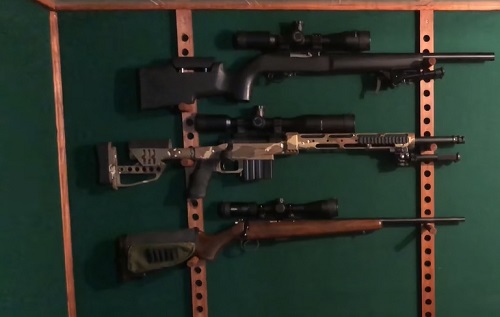 Here's another of the amazing gun rack plans that can be mounted on the wall quite easily. This modular rack is a thoughtful present that will be cherished and utilized for years to come. See the instructions here.
Supplies
1×2 Boards
3/4″ Dowel Rods
Power Saw
Drill
Sander
12. Five Rifle Rack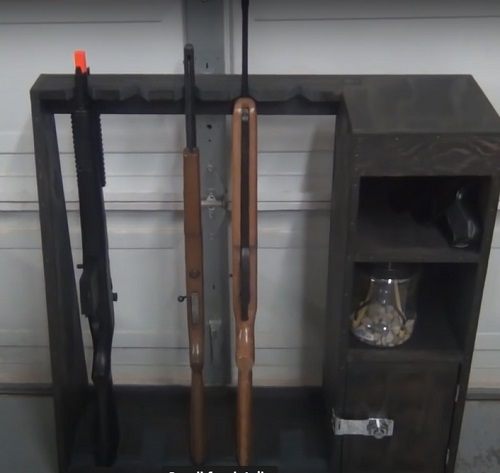 Find out how to build your own rifle rack, perfect for airsoft or even real rifles, in this visual tutorial. The whole unit is built out of pinewood, plywood, and a couple of other supplies.
Supplies
Plywood
Pine Board
Router
Screws
Drill Tool
Wood Glue
Nail Gun
Hinges
13. Handgun Rack/Pistol Rack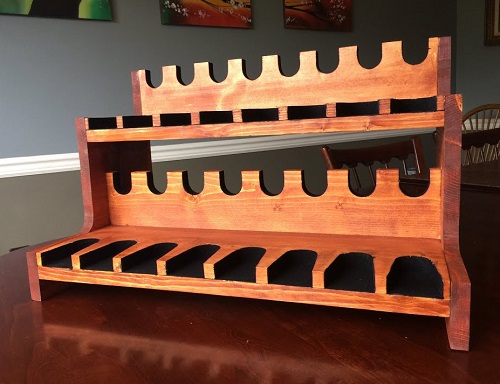 Show off your woodworking and DIYing skills by constructing this durable, visually appealing handgun rack. It easily stores and organizes around 16 handguns. Check out this detailed YouTube tutorial for the instructions.
Supplies
Wooden Boards
Cutting Tool
Pencil and Ruler
Hole Saw and Drill Tool
Wood Adhesive
Pocket Hole Screws
Stain
14. Custom Cedar Rifle Rack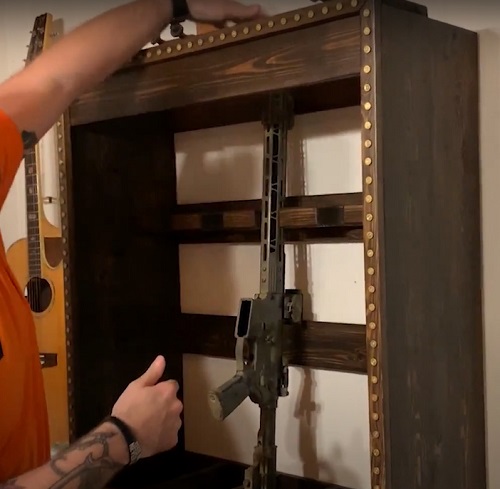 Protect and preserve your valuable firearms by investing in this custom cedar rifle rack. This project stores your rifles securely and safely while also enhancing the overall ambiance of the space. Get the details here.
Supplies
Cedar Wood
Birch Plywood
Table Saw
Kreg K4 Kit
Pocket Hole Screws
Sandpaper
Gorilla Wood Glue
15. Super Easy Redneck Knife & Gun Rack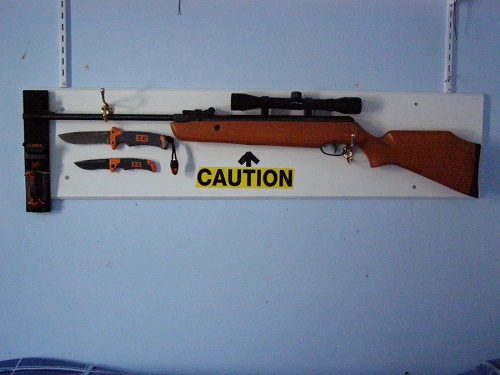 Surprise your fellow outdoorsmen or gun enthusiasts with this handmade redneck knife and gun rack. Along with the firearms, this wall mount setup also doubles up as knives rack. Read the details in this instructable.
Supplies
Wooden Board
Screws and Finishing Nails
Hooks
Sticky Caution Tape
16. Barn Wood Gun Rack DIY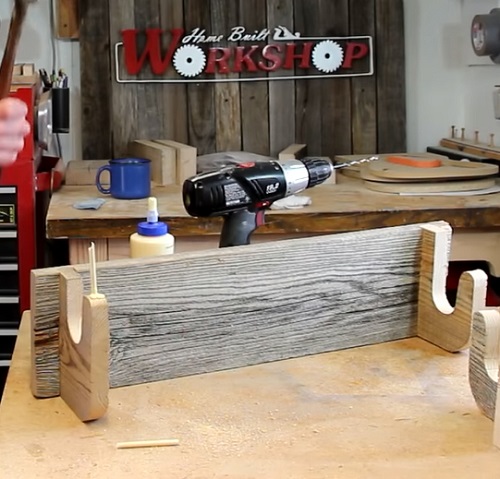 Tap into your inner DIY spirit with this barn wood gun rack project. Its natural appeal adds an earthy touch to the space and provides a storage solution for your guns. Whether you're a seasoned woodworker or a beginner, this eye-catching creation is a perfect way to hone your skills.
Supplies
Reclaimed Barn Wood
Table Saw
Double-Sided Tape
Band Saw
Sandpaper
Wooden Adhesive
Drill Machine
Transfast Wood Dye
17. Woodworking Vertical Gun Rack
Is your gun collection taking over valuable floor space? This DIY woodworking vertical gun rack is here to rescue. It's a sleek, space-saving solution that gives your firearms a dedicated spot, keeping your home clutter-free.
Supplies
French Cleats
Oak Lumber
Table Saw
Drill
Miter Saw
Brass Screws
18. Roating Gun Rack DIY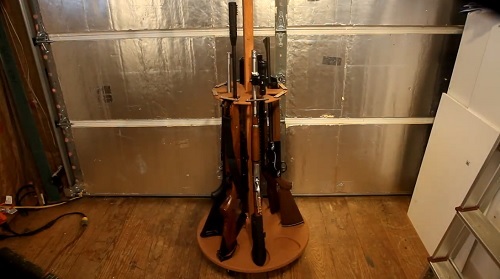 Tired of digging through disorganized gun cabinets? With this DIY rating gun rack, you can quickly locate your desired firearm with just a simple spin. Take inspiration from this video tutorial.
Supplies
Pine
OSB Board
Wood Cutting Tool
Flute Up Spiral Carbide
19. DIY Portable Gun Rack from Spice Rack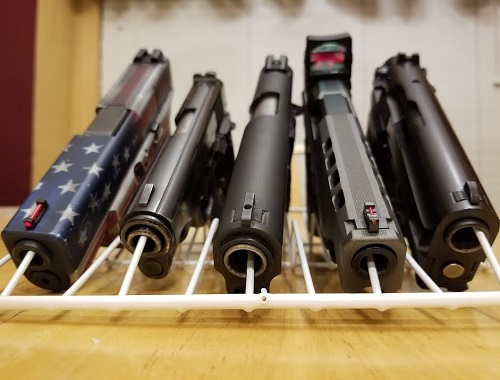 In this video tutorial, the DIYer turned a dollar tree spice rack into a frugal and portable gun rack. If you're on a tight budget, this quick and easy gun rack idea is for you.
Supplies
Dollar Tree Spice Rack
Plier
Here are the best spice rack ideas
20. Mobile Gun Rack Plans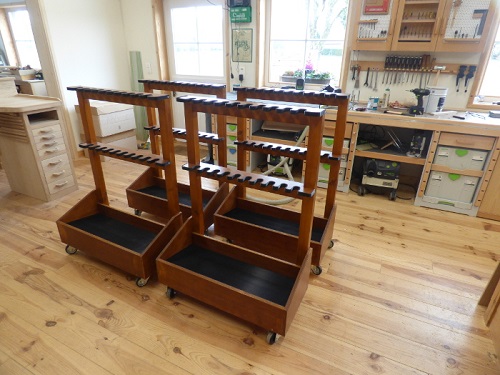 Designed with mobility in mind, this custom gun rack is perfect for gun enthusiasts on the move. Whether you're relocating your collection or organizing a hunting trip, this gun rack has got you covered.
Supplies
Pine and Luan Plywood
Band Saw
Router Copy Jig
Rubber Strips
Contact Glue
Table Saw
---
Advantages of Gun Racks
A well-built gun rack offers several advantages to gun owners. Some of these are:
Organization: A gun rack keeps your firearms organized, making it easier to locate and access them when needed.
Protection: Proper storage prevent scratches, dents, and other damaging elements to the firearms, thus preserving their condition and value.
Safety: Storing firearms securely on a gun rack reduces the risk of unauthorized access or accidents when paired with a locking mechanism.
Aesthetics: A well-crafted gun rack showcases your firearms collection, adding visual interest to the space and reflecting your personal style.
Customization: Building a gun rack allows you to customize it to your specific needs and preferences.
Easy Maintenance: Storing firearms on a gun rack makes it easier to perform regular maintenance. This is because they are readily accessible and not stacked or piled.
Inventory management: A gun rack simplifies inventory management, making it easier to track and locate specific firearms.
Easy relocation: Some gun racks are designed with portability in mind, enabling you to move firearms securely to different locations.
---
Safety Precautions To Consider While Building Gun Racks
Before trying the above gun rack plans, follow these precautions to avoid mishaps:
Safety gear: Always wear appropriate safety gear, including gloves, safety glasses, and ear protection, when working with tools and materials.
Secure your firearms: Before starting construction, make sure all firearms are unloaded and ammunition is stored separately. Always treat firearms as if they are loaded.
Work in a well-ventilated area: When working with wood, adhesives, and finishes, ensure you're in a well-ventilated area to avoid inhaling harmful fumes.
Proper tool usage: Use the right tools for the job and follow the manufacturer's guidelines for tool operation and maintenance. Keep tools in good working condition and store them safely when not in use.
Sturdy construction: Ensure your gun rack is built using sturdy materials and proper joinery techniques to support the weight of your firearms securely.
Check local laws and regulations: Familiarize yourself with your local laws and regulations regarding firearm storage, as they can vary depending on your location.
Consider locking mechanisms: If you have children or unauthorized individuals in your household, incorporate a locking mechanism into your gun rack design to prevent unauthorized access.
Properly anchor your gun rack: When installing your gun rack, make sure it's securely anchored to the wall or floor to prevent accidental tipping or dislodging.
Avoid trip hazards: Keep your workspace clean and organized, and be mindful of any cords or tools that could pose a tripping hazard.
Inspect regularly: After completing your gun rack, inspect it regularly for any signs of wear, loose fittings, or damage that could compromise its integrity. Perform any necessary maintenance or repairs promptly.
Check out the clever DIY hat rack ideas here