These unique and personalized DIY Mini Liquor Bottle Gift Ideas are perfect for birthdays, weddings, and more.
Do you have a stash of alcohol bottles and don't know what to do with them? Transform them into amazing presents with these fun DIY Mini Liquor Bottle Gift Ideas. Your booze-loving buddies will love these surprises.
Read the best DIY Glitter Champagne Bottle Ideas here
---
DIY Mini Liquor Bottle Gift Ideas
1. DIY Alcohol Bouquet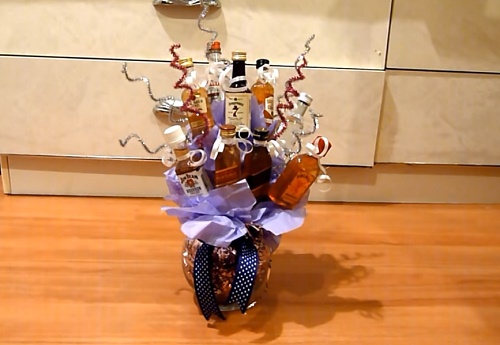 Instead of flowers, gift your booze-loving partner this cute bouquet made up of mini alcohol bottles. Find the instructions and list of supplies here.
2. DIY Mini Liquor Bottle Holder Greeting Card Gift Idea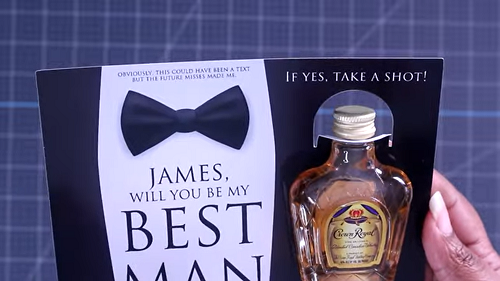 To recreate this fantastic gift, combine a handmade greeting card and a mini liquor bottle. It's easy to make and perfect for any occasion. Go through this detailed video tutorial for more info.
3. DIY Liquor Gift Baskets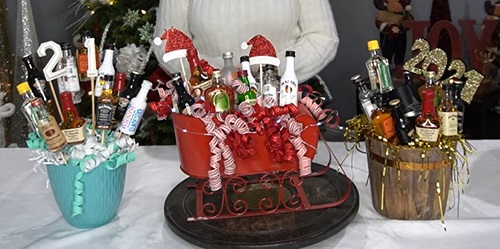 Learn how to create unique gift baskets using mini alcohol bottles for Christmas, bachelor parties, and 21st birthdays. It's one of the best DIY mini liquor bottle gift ideas. Get the instructions in this visual how-to.
4. Mini Liquor Shot Bouquet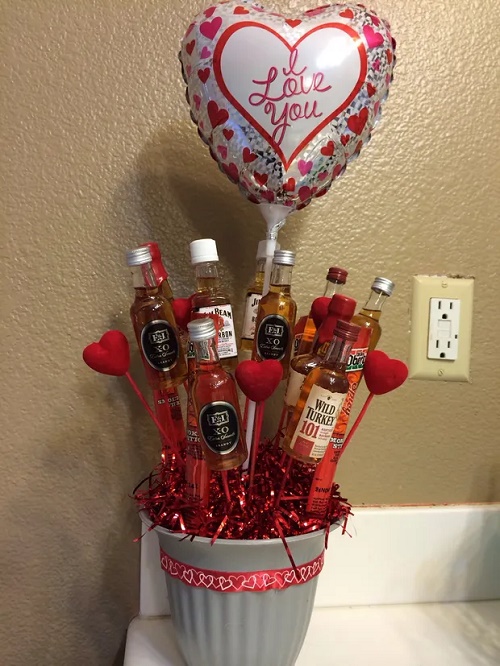 Grab mini liquor bottles, beef jerky sticks, heart sticks, a plastic flower pot, and a few supplies to make this amazing bouquet. It's an excellent present for a boozy person. Read this article for the details.
5. DIY Mini Bar in a Jar Gift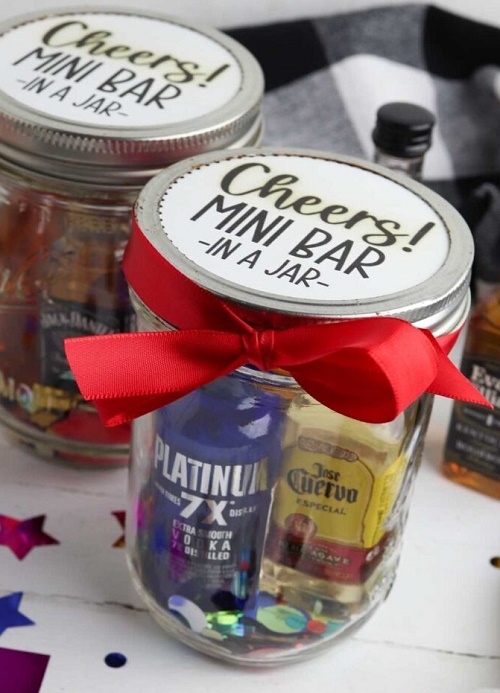 Featuring a glass jar and small alcohol bottles, this mini bar can be easily personalized with different decorative elements. Learn the instructions here.
6. Mini Liquor Bottles Roses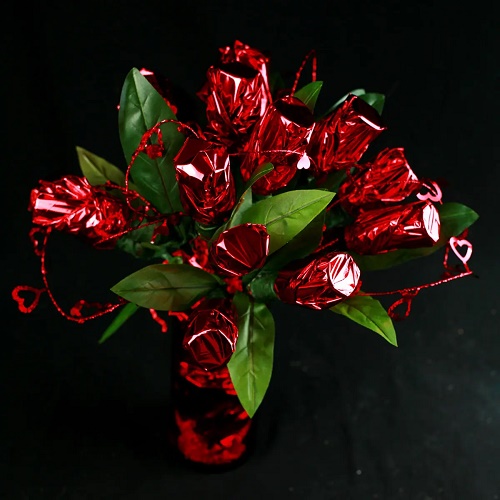 Show off your DIYing and creativity skills by creating these lovely roses out of mini liquor bottles. Take inspiration from this easy-to-understand article. They are one of the coolest gift ideas on this list.
7. Tiny Liquor Bottles Wedding Favors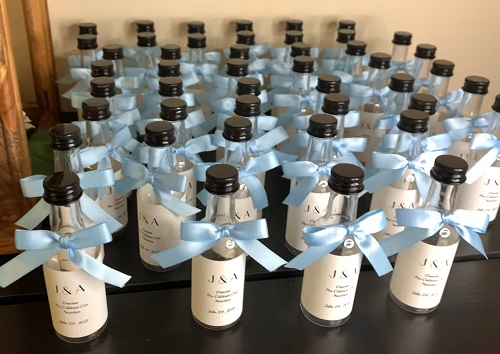 Want tiny yet lovely wedding favors? Check out this idea that uses mini liquor bottles, ribbons, bows, labels, and a scissor. Get the details here.
8. Mini Liquor Bottle Tier Cake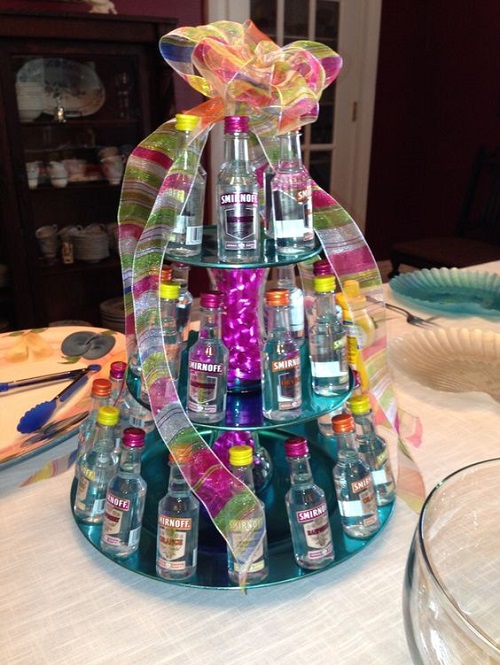 Make your loved one's special day memorable by gifting him/her this tiered mini liquor bottle cake. You only need a cake stand, a few alcohol bottles, and a colorful ribbon for this project.
9. DIY Rhinestone Liquor Glam Birthday Bottles
Beautified with sparkling rhinestones, these glam bottles are the ideal present for a 21st birthday. The DIY is here.
10. Mini Liquor Bottle Christmas Tree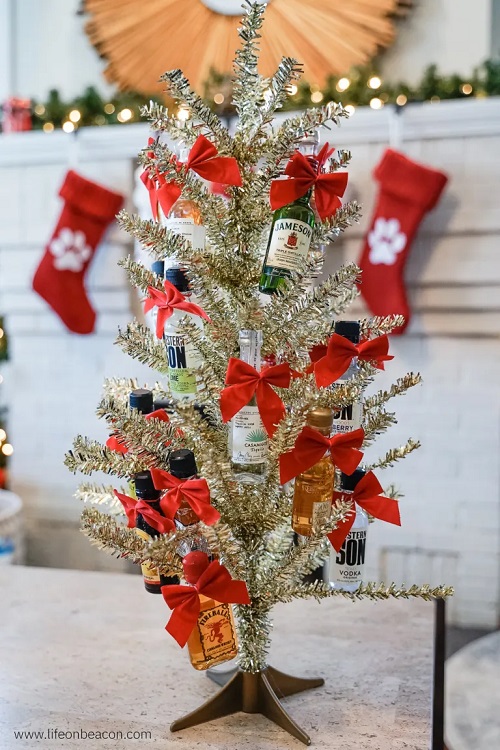 Adorn a faux Christmas tree with mini liquor bottles to create a chic table centerpiece. It also doubles up as an intriguing and delightful present for birthdays, anniversaries, and other special occasions. The DIY is here.
11. DIY Mini Liquor Bottle Earrings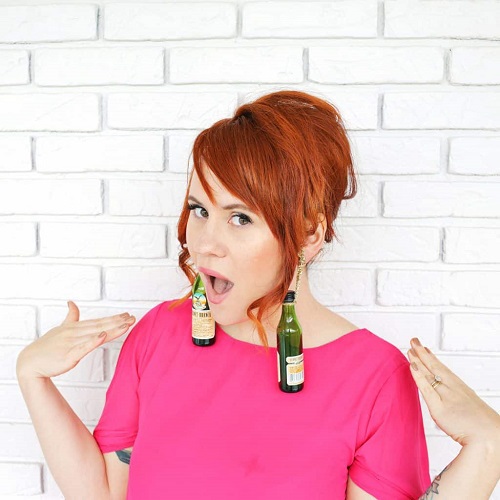 Looking for an unconventional gift idea? DIY mini liquor bottle earrings could be the answer. They are exquisite, eccentric, and easy to create. Hop to this tutorial for more info.
12. Alcohol Advent Calendar DIY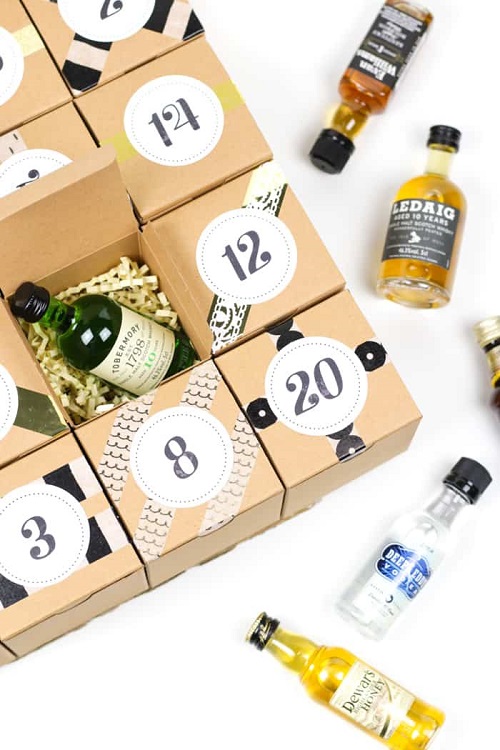 Filled with 25 mini liquor bottles, this project makes the perfect holiday gift for a friend who loves making cocktails. Take inspiration from this step-by-step article.
13. Liquor Bottle Salt and Pepper Shakers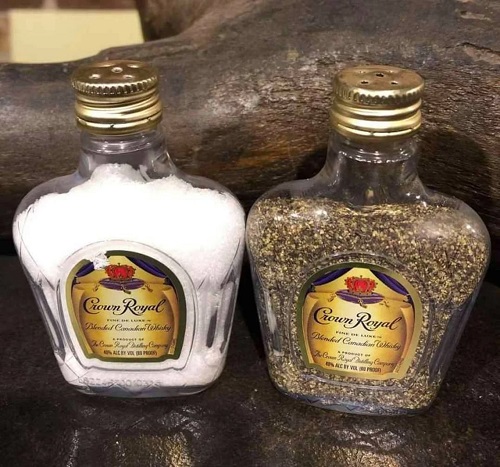 Salt and pepper shakers made from mini liquor bottles are a thoughtful present for someone who enjoys cooking. You can also use these shakers to add a quirky touch to your kitchen or dining table.
Read Canldes from Wine Bottle Ideas here