Transform your outdoor space from dull to super cool with these chic and inexpensive DIY Patio Furniture ideas!
To enhance the coziness, comfortability, and appealing factor of your outdoor space on a budget, try these amazing DIY Patio Furniture ideas!
Check out some ingenious DIY outdoor chair ideas here
---
DIY Patio Furniture
1. 2×4 Outdoor Table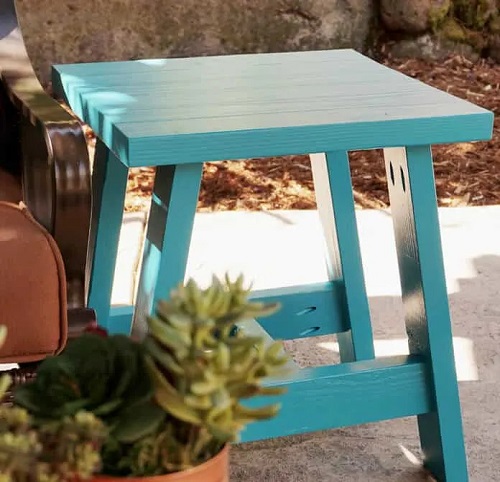 Show off your DIYing skills by making this table ideal for patio, porch, and backyard.
2. $15 DIY Patio Coffee Table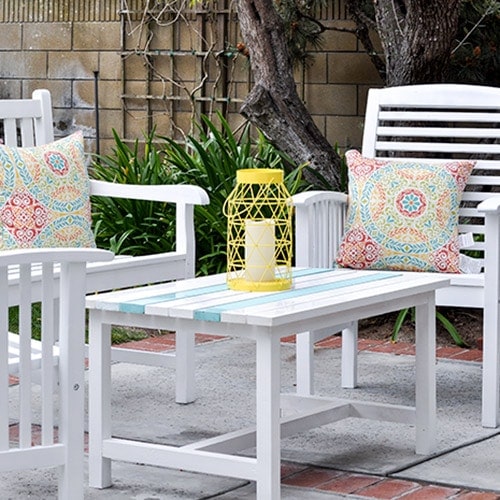 This beginner-friendly DIY patio coffee table needs $15, basic woodworking skills, and a little patience.
3. Patio Table Transformation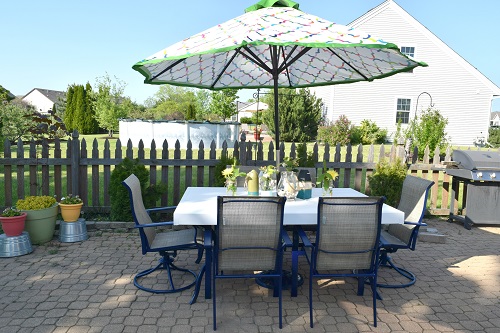 If you happen to have an old tiled patio table, take inspiration from this tutorial to transform it into a chic resting place.
4. Patio Sofa Idea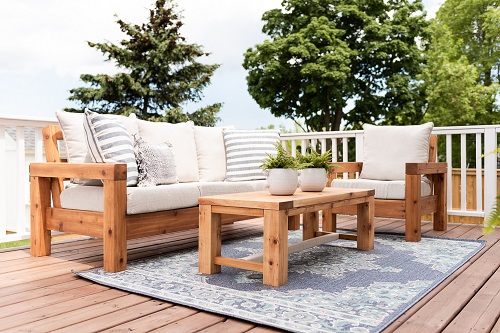 This elegant wooden sofa is perfect for spicing up the patio look. It's one of the best DIY patio furniture ideas on this list.
5. Outdoor Bar/Potting Bench / BBQ Prep Station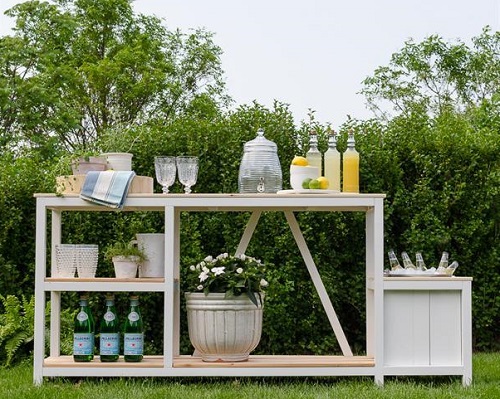 DIY this multifunctional outdoor furniture that works as a bar with a drink/ice bucket, potting bench, and BBQ prep station. The details are here.
6. DIY Concrete Gallon Stools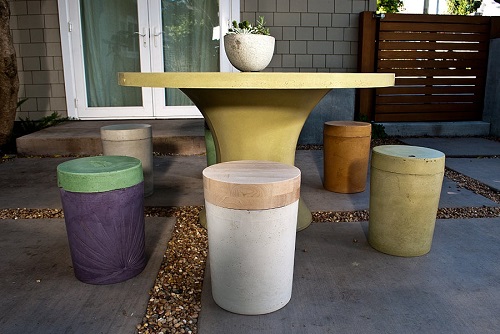 Follow this instructable to build five sturdy stools from concrete and gallon buckets for the patio. Go one step ahead and personalize them with handprints or any other art.
7. DIY Concrete Dining Table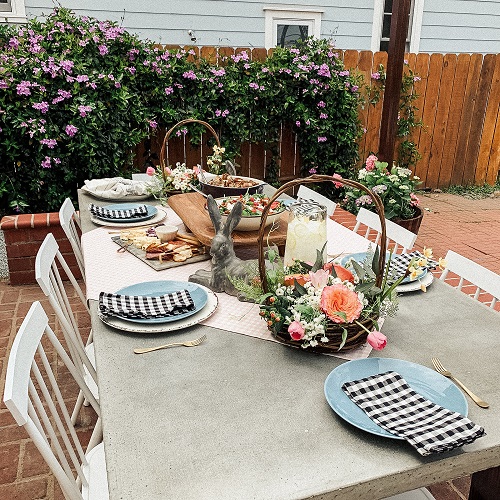 Instead of DIYing a wooden dining table for your outdoor space, put together a super sturdy one using concrete and this tutorial.
8. Repurposed Spool Side Table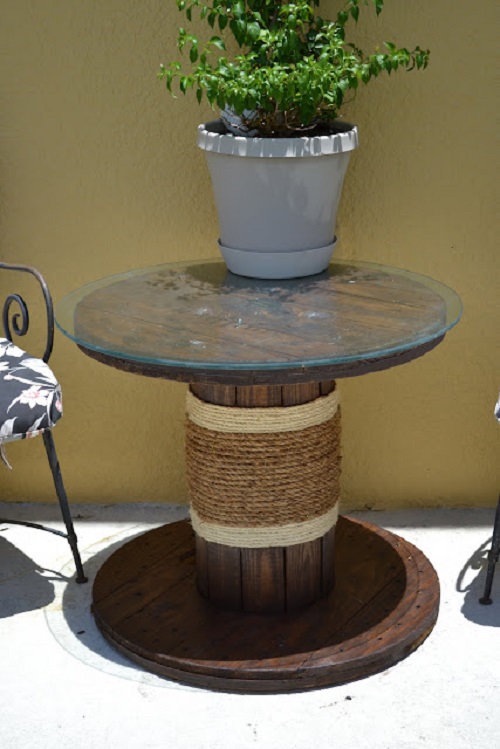 Learn how to transform an old cable spool into a nautical-themed side table for the patio in this article.
9. DIY George Nelson-Inspired Outdoor Slat Bench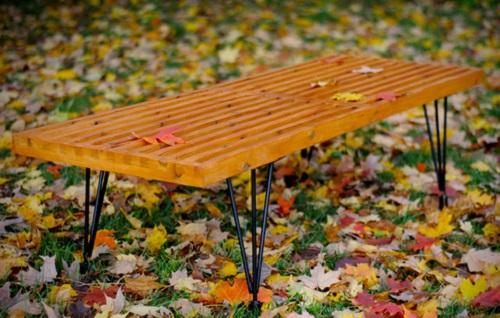 Build the iconic George Nelson Platform Bench to give your boring patio a mid-century charm. This project requires minimal tools for completion.
10. Umbrella Stand with Side Table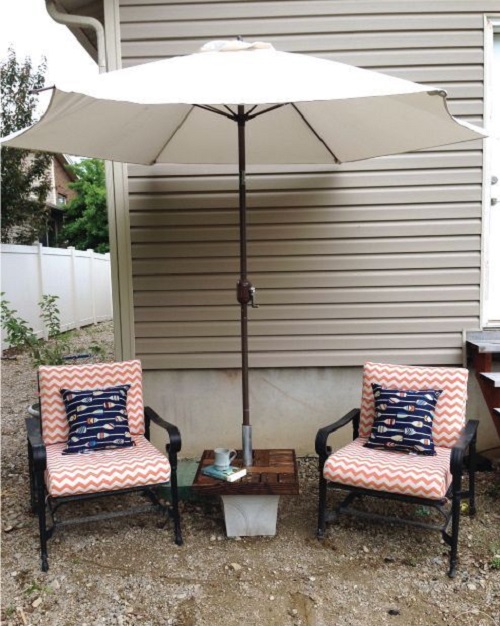 Make this quick and easy DIY umbrella stand that can be used as a fun patio side table. The instructions are here.
11. Patio Table with Built-In Cooler

DIY this patio table with a built-in cooler to enjoy chilling beverages with your friends and loved ones this summer.
12. Patio Day Bed with Wood Pallets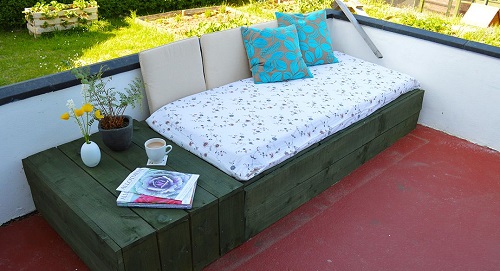 Gather wood pallets, screws, paint, mattress, planks, and cushions to assemble this patio day bed.
13. Stone-Top Patio Table
Watch this video to convert slatestone, wood, and paint into a stone-top patio table. You can even use damaged slatestone as well.
14. DIY Side-by-Side Patio Chair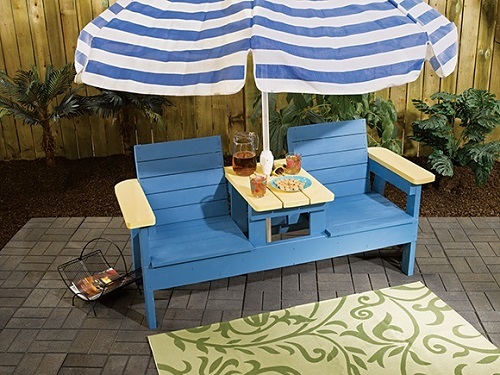 Add this side-by-side chair in your outdoor space to share quality time with your other half. It's ideal for a romantic night out.
15. DIY Pallet Patio Sectional Couch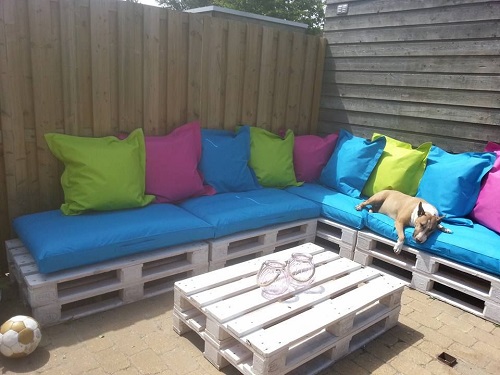 All you have to do is stack pallets on each other to make this cozy L-shaped sectional couch for your patio area.
Have a look at this DIY behind the couch table here
16. Cinder Block Bench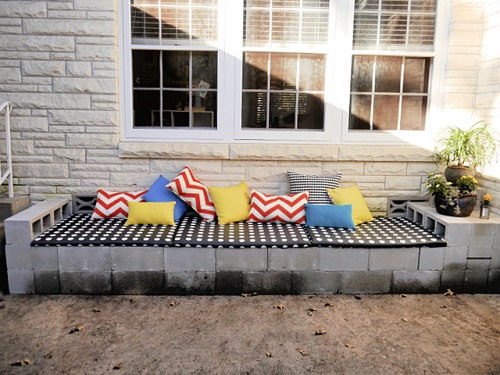 Instead of using a wooden bench outdoor, build this unusual one with cinder blocks. Complete the setup with cushions and a planter.
17. Easy Patio Chairs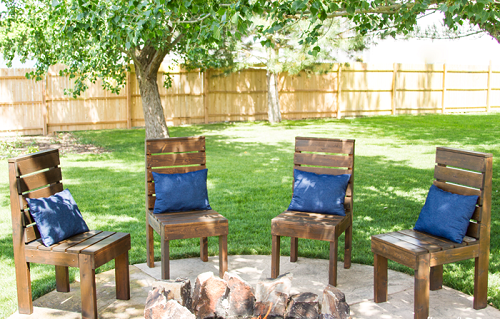 With this article, wood, and other supplies, anyone can easily assemble these classic lightweight patio chairs.
18. Outdoor Coffee Table with Metal Bucket Base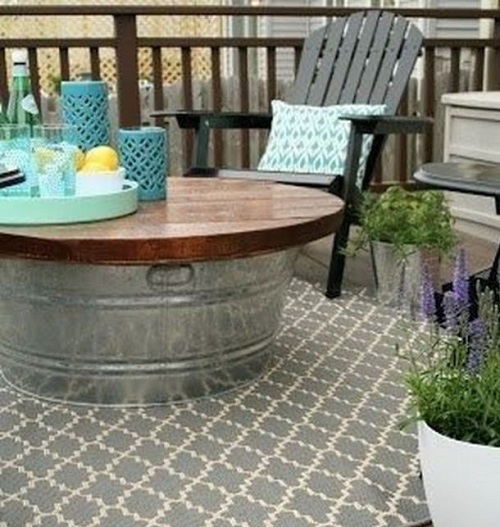 Topped the galvanized bucket with a circular wooden structure to get a wonderful coffee table for the outdoor spot.
19. DIY Outdoor Entertainment Table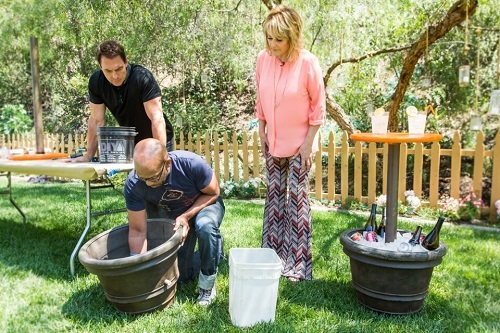 Give your patio some character by DIYing this thrifty entertainment table, an excellent outdoor addition for summertime!
20. $15 Bistro Table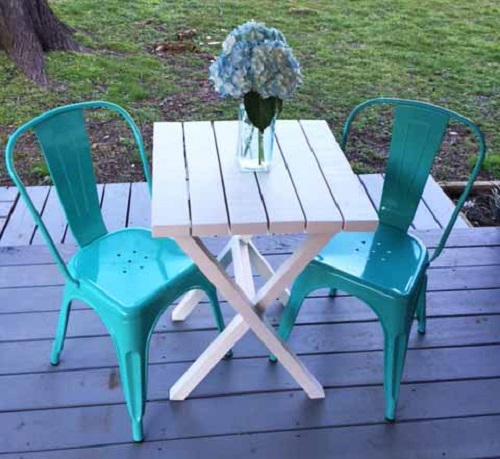 You only need a couple of tools and an hour to build this inexpensive bistro table that goes well with the rest of the patio setup.
21. Terracotta Pot Table
Use a large terracotta pot, terracotta tray, and paint to assemble a unique patio pot table with this tutorial.
22. DIY Wire Patio Table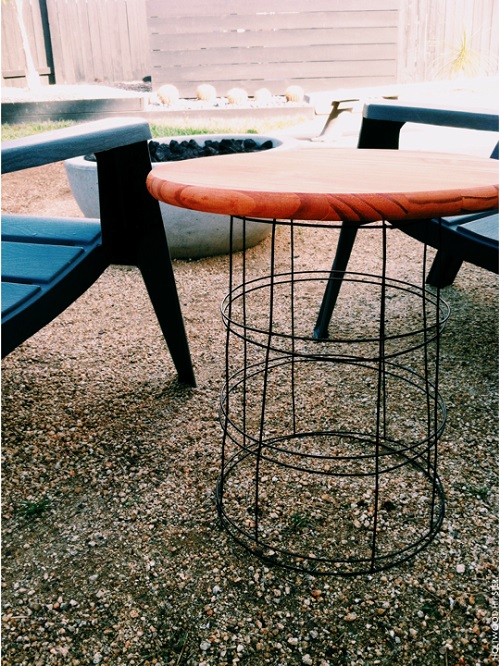 Made with tomato cages, a wood circle, and mending plates, this wire patio table is eye-catching and easy to move around.
23. Round Patio Dining Table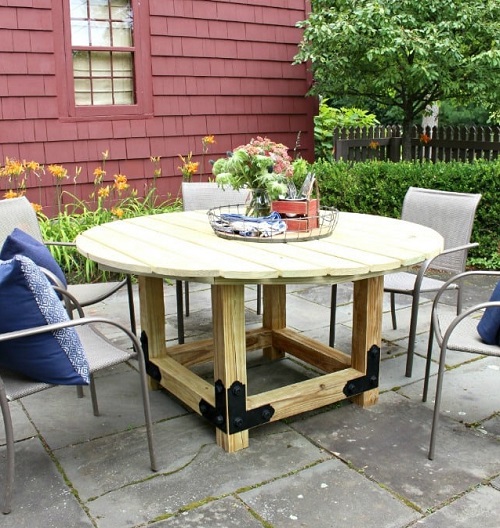 Are you looking for a dining table for a less spacious patio? Then this round wooden dining table is for you.
24. Nautical Picnic Table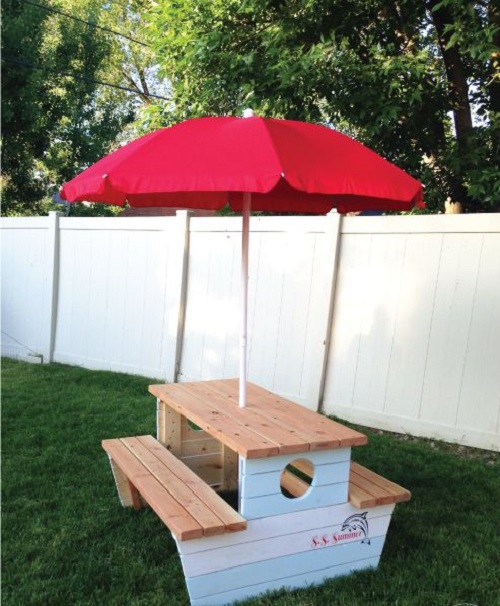 Bring nautical vibes in your patio space by DIYing this nautical-themed picnic table that never goes out of style.
25. Outdoor Kitchen Island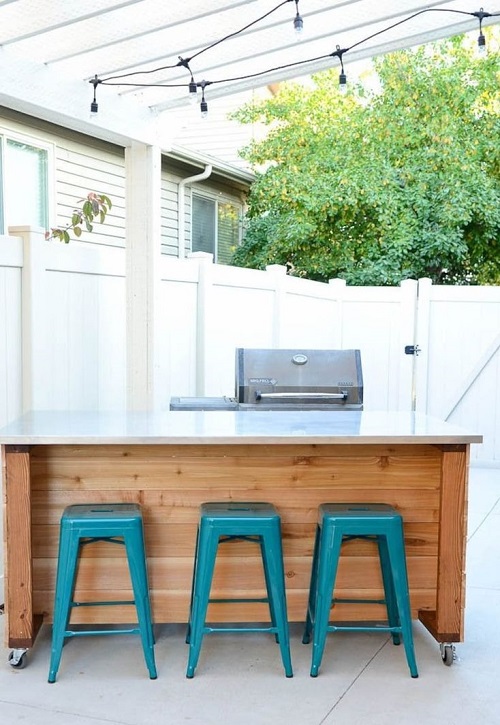 Equipped with a large countertop and seating arrangement, this patio kitchen island can easily turn a lonely barbecue into a functional outdoor kitchen.
Get kitchen island decor ideas here
26. DIY Cable Drum Rocking Chair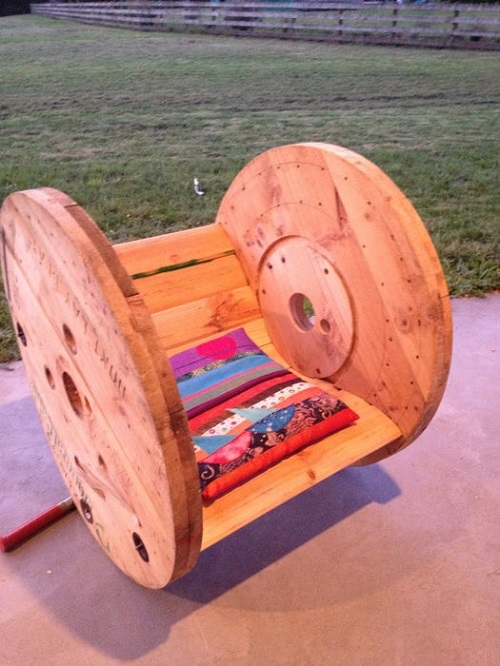 Are you bored of the regular rocking chair? Then repurpose a large cable drum to make a wonderful rocking chair.
27. Kids Slatted Outdoor Chairs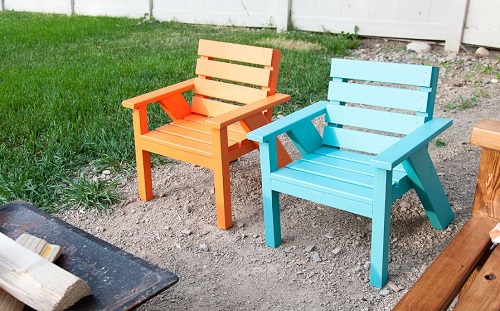 Recreate these easy-to-DIY slatted patio chairs for your kids. Paint them with multiple colors to attract your kiddos' attention.
28. DIY Industrial Patio Cart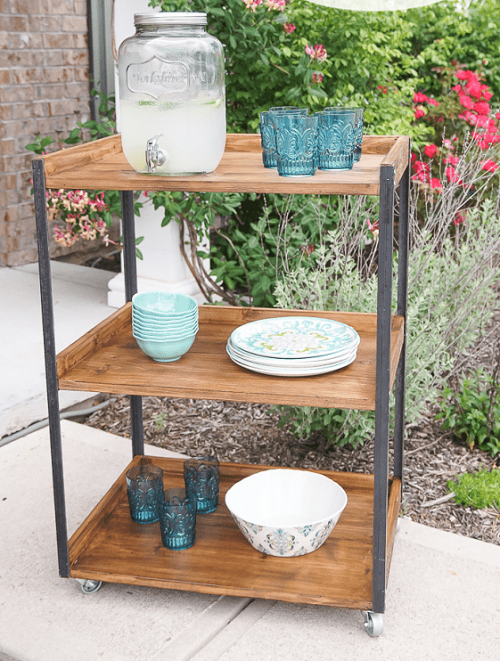 This industrial-themed patio cart helps with serving and storing beverages during outdoor parties and sunny days.
29. Adirondack Chair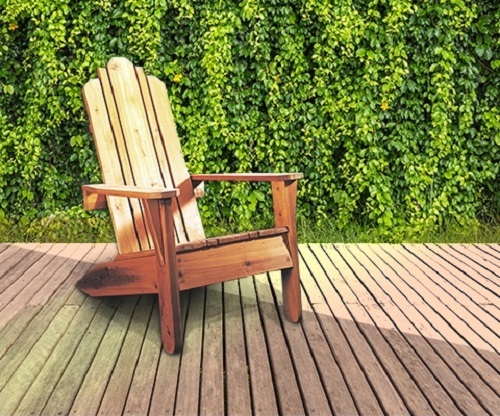 Replace your existing patio chair with this trendy Adirondack chair that you can build on your own quite easily.
30. Wood Plank Loveseat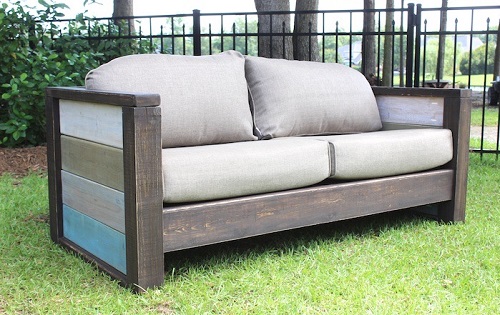 DIY this wood plank loveseat to give your patio a rustic touch and more outdoor seating space.