Upgrade your property's curb appeal, privacy, and security with these easy-to-build Driveway Gate Ideas!
A driveway gate is more than just a functional piece of equipment. It offers an opportunity to add style and personality to the outdoor space. Whether you're going for a rustic look or a modern vibe, these Driveway Gate Ideas have it all.
Check out the DIY deck gate ideas here
---
Driveway Gate Ideas
1. Sliding Driveway Gate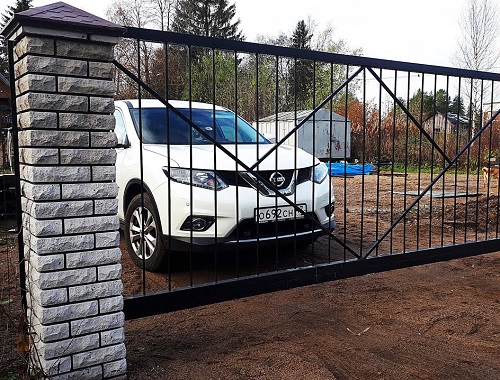 Watch this video and build a sliding gate for your driveway out of profile pipes and some welding skills.
2. Pallet Wood Driveway Gate Idea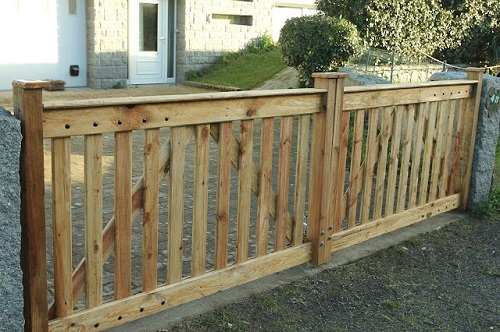 Equipped with support wheels, these pallet wood gates are robust and, most importantly, don't sag at all.
3. DIY Small Driveway Gate Idea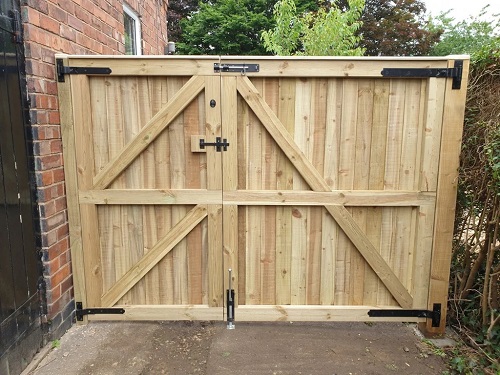 This stunning driveway gate looks fantastic and costs only $300. Planning, gate posts, framework, hardware, and finishing touches – all are described in this step-by-step guide.
4. Hardwood Gate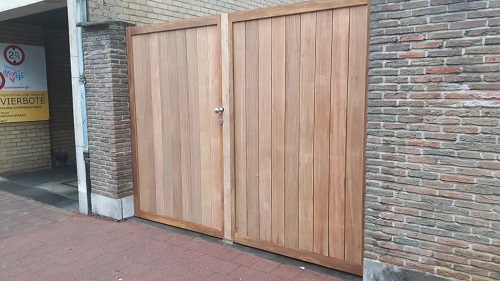 Built from hardwood and woodworking skills, this driveway entrance gate goes quite well with every house's architecture.
5. Cantilever Gate Project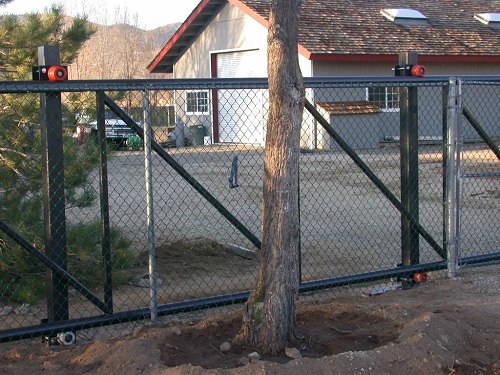 With a bit of time, effort, and attention to detail, even a novice DIYer can create this remote-operated cantilever gate. Get the instructions here.
6. Scandinavian-inspired Driveway Gate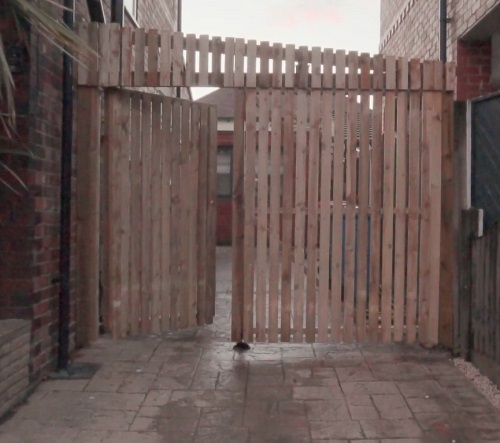 Make a statement with this Scandinavian-inspired driveway gate that perfectly balances form and function. Watch the tutorial here.
7. 16ft Automatic Driveway Gate Idea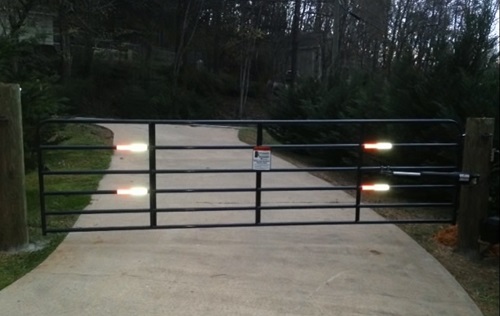 Powered by solar panels, this automatic metal gate is easy to install and looks great. It's one of the best DIY driveway gate ideas.
8. Wide Driveway Gate DIY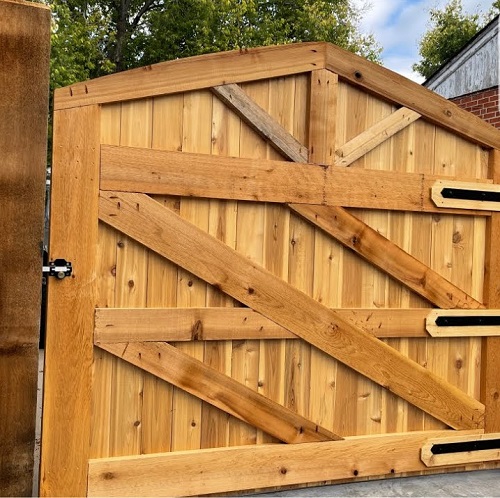 Show off your woodworking skills by assembling this wide driveway entrance gate using this video tutorial.
9. Plywood Driveway Gate Idea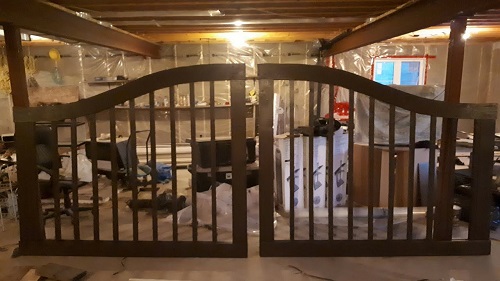 Do you want to add some character to your home's exterior? This plywood driveway gate is a great way to do just that!
10. Bifold Gate System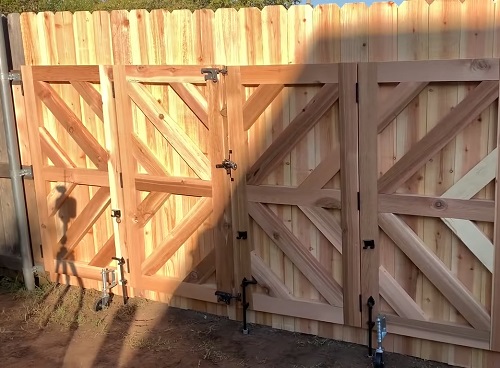 This theft-resistant bifold gate is adorned with a spring wheel and locking pins, along with an almost hidden latch system.
11. Modern Driveway Gate Idea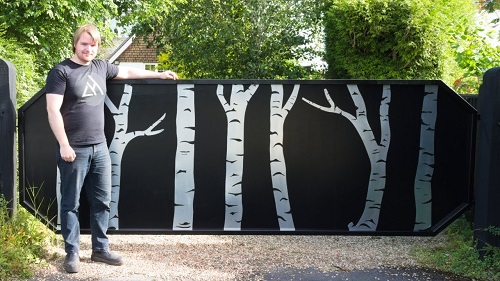 Featuring silver birch trees, this modern metal gate is all you need to increase the value of your home.
12. DIY Highway Mesh Driveway Gates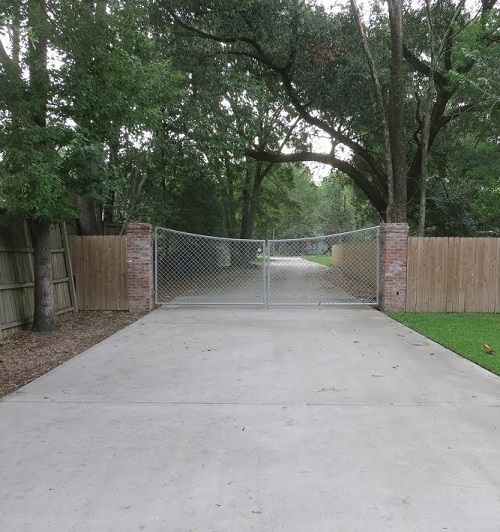 Not a fan of the standard options for driveway gates? Customize your own with the instructions mentioned in Part I and Part II.
13. Large Country Driveway Gate Idea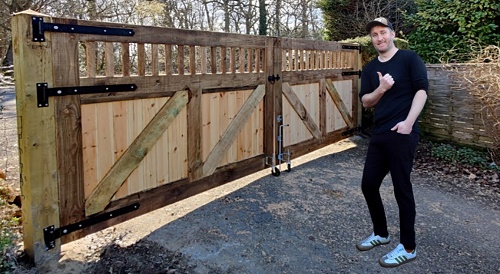 These large driveway gates are constructed out of pressure-treated timber and some untreated shiplap.
14. Rustic Simple Driveway Gate Idea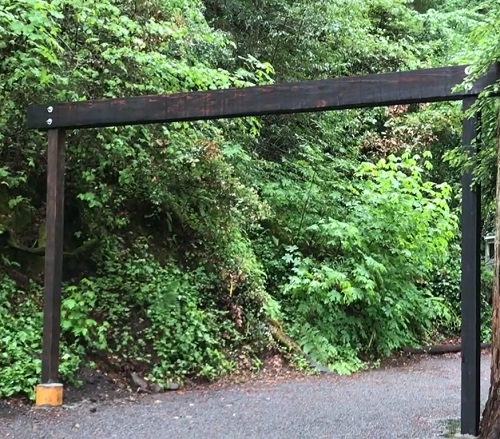 In the video, the DIYer displays how to construct a rustic driveway gate with a cross-beam header. The tutorial covers various steps, such as treating the wood using the shoo shogi ban technique, installing the posts, and setting the beams.
15. Metal Driveway Gate Idea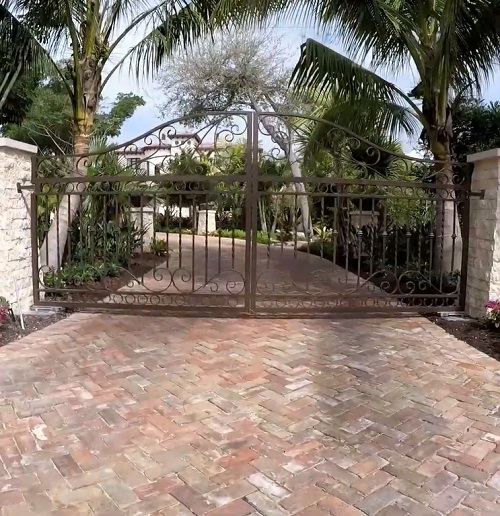 Are you tired of flimsy gates that fail to provide the security and curb appeal you desire? Check out this aluminum driveway gate.
16. Double Driveway Gate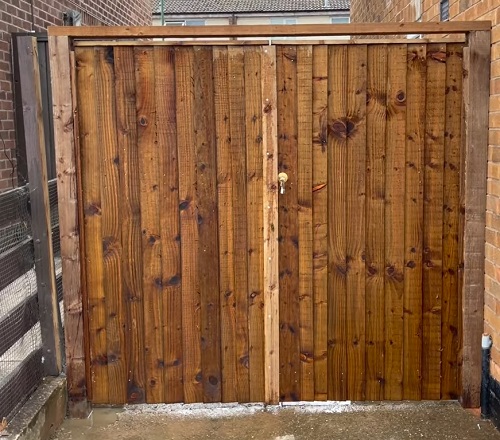 Make your property stand out in the neighborhood by installing this awesome double driveway gate. View the instructions here.
17. Custom Bow Tie Patterned Metal/Wood Gate
A gate isn't just a functional element – it's an opportunity to make a statement. With this custom bow-tie patterned gate, you can show off your style and personality.
18. Dual Swing Inexpensive Driveway Gate Idea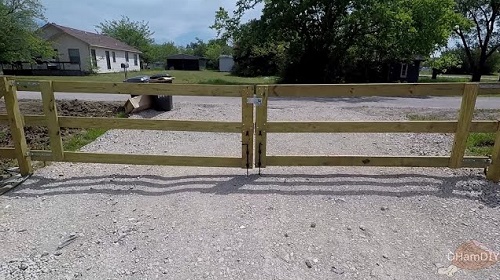 Elevate your entrance without exceeding your budget with this sturdy dual-swing driveway gate. It's the best way to make a statement while adding a rustic charm to your property. Watch this video for more info.
---
Driveway Gate Ideas: Important Points to Remember
Driveway gates not only enhance the property's security but also boosts its curb appeal. Here are some important points to remember while you're brainstorming and executing your driveway gate ideas:
Material Durability: Choose materials that can withstand the elements and require minimal maintenance. Wood, iron, steel, and aluminum are popular choices, each with its own advantages and drawbacks.
Purpose: Understand the primary purpose of your gate. Is it for security, privacy, aesthetics, or a combination? Your goal will significantly influence the design, materials, and type of gate you choose.
Style and Design: The design of your gate should complement the style of your home and its surroundings. Whether you opt for a wooden design, a metal one, or a combination, ensure it matches your property's aesthetic.
Size: Measure your driveway accurately before you start. Consider the width and height you want your gate to be. Remember to account for larger vehicles that may need to enter your property.
Gate Type: Choose between swing gates, sliding gates, or bi-parting gates depending on the space available and your personal preferences. Swing gates require a lot of space to open, whereas sliding gates are suitable for properties with limited space. You can also consider automatic gates as they provide additional convenience and security.
Understand Local Regulations: Before starting construction, check local regulations. Some places have specific rules about the height, style, or type of driveway gates allowed.
Maintenance: Keep in mind that all gates require some level of maintenance to remain functional and attractive. Consider the long-term maintenance requirements of your chosen materials and design.
Installation: While DIY installation can be rewarding, some driveway gates may require professional installation due to their size, weight, or complexity. Be sure to understand the installation process fully before deciding to tackle it yourself.
---
Precautions to Consider for Driveway Gate Ideas
Here are some important safety precautionary measures to consider while using the above driveway gate ideas:
Proper Tools and Equipment: Make sure you have the right tools for the job and that they are in good working condition. Always wear appropriate safety gear, including gloves, safety glasses, and sturdy footwear.
Gate's Safety Mechanisms: If you're planning to install an automatic gate, include safety features such as obstruction sensors. These are designed to halt the gate's operation if an object or person is detected in its path, thus preventing potential accidents. Ensure these features are fully functional and installed correctly in your gate system to ensure maximum safety.
Physical Strain: Building a driveway gate can be physically demanding. Be mindful of your physical limits to avoid injuries. Use proper lifting techniques, and if something is too heavy, ask for help.
Secure Installation: Ensure the gate is securely installed to prevent injuries. This includes proper reinforcement of gate posts and assuring all fasteners are tightened.
Lighting: Ensure there's adequate lighting around your driveway gate. This can prevent accidents during the night and make it easier to enter and exit your property.
Smooth Passage: The gate should open and close smoothly without causing any hindrances to vehicles or pedestrians.
Backup Power: If you're installing an electric gate, consider a backup power solution like a battery or solar power. This ensures your gate can operate during a power outage.
Here are the best fences and gates ideas