Ditch the traditional decor norms and adopt something creative with these Glass Vase Painting Ideas. They are all fun and easy!
Take inspiration from this exclusive list of Glass Vase Painting Ideas to decorate your living space on a budget. They are easy to make and go well with every home decor.
Here are some stunning flower pot ideas
---
Glass Vase Painting Ideas
1. DIY Sea Glass Vases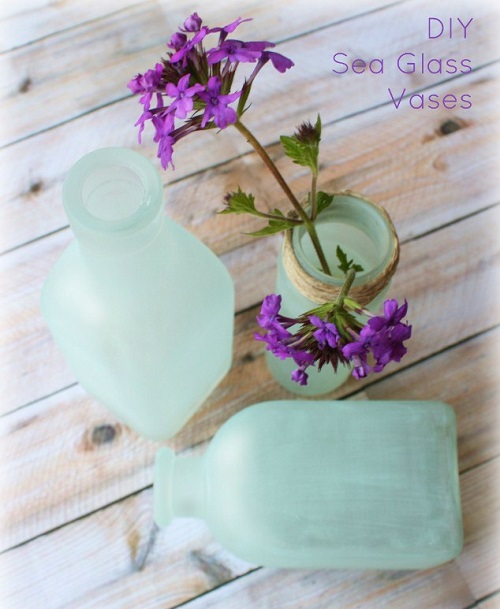 Learn how to give your old glass vases a coastal-inspired look in this tutorial. Adorn them with fresh, colorful blooms for a captivating display.
2. Stained Glass Lighthouse Vase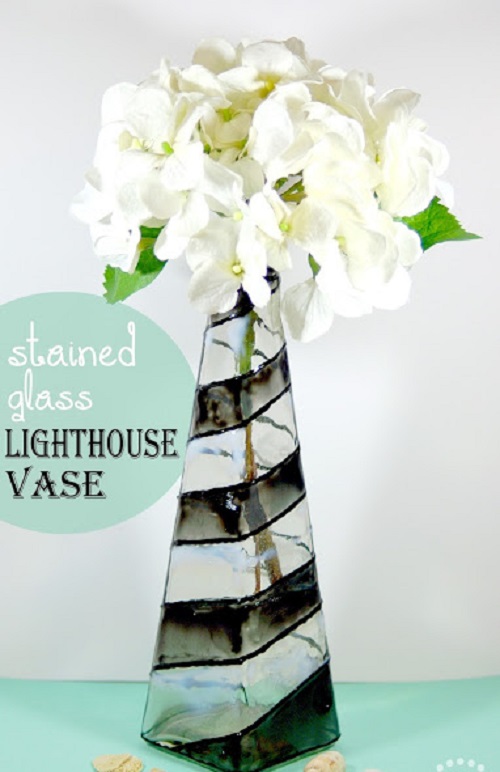 Make stained glass patterns on your regular tall flower vase to give it a lighthouse look. The details are here.
3. Lace Stenciled Vase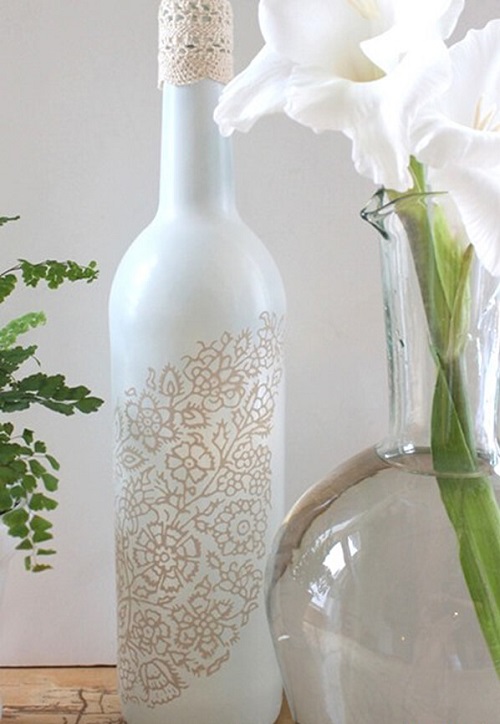 Spray paint and lace details are all you need to make a dull vase into something spectacular. It's one of the best glass vase painting ideas.
4. DIY Marble and Copper Vases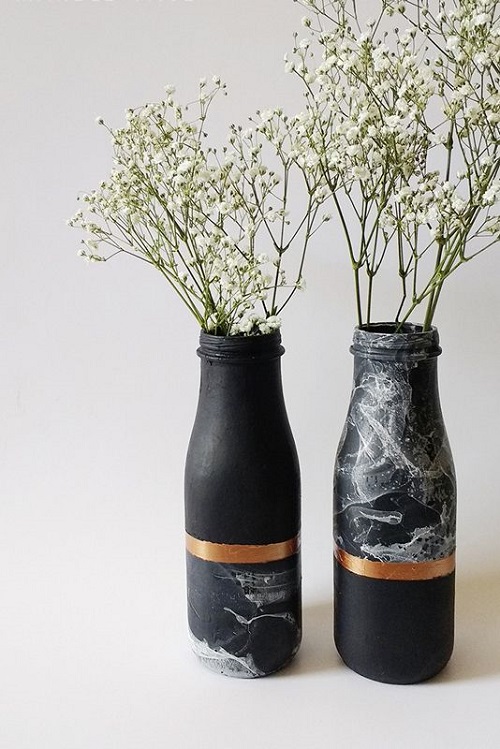 Check out this tutorial to create elegant and timeless vases using white nail polish, black, and copper paint.
5. Mercury Glass Vase Table Centerpiece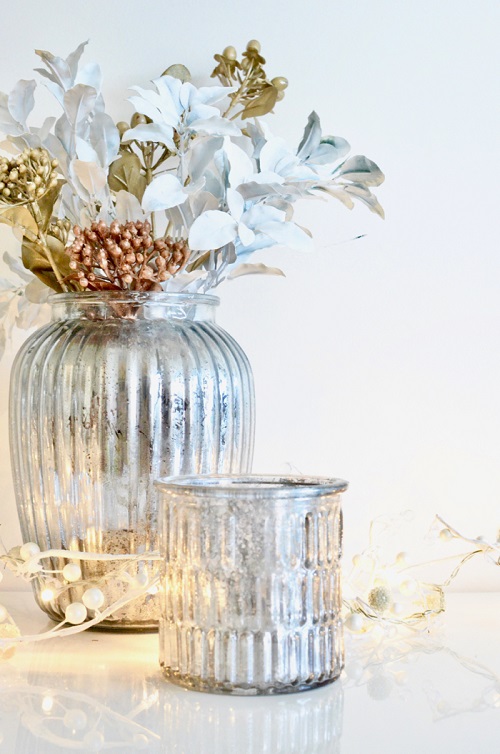 Do you love the look of mercury glass? If yes, give your plain vases a similar antiqued appearance with this tutorial. They are great as table centerpieces.
6. Marbled Glass Vase DIY
Here's the video tutorial to give a glass vase an eye-catching marbled effect with acrylic paint and sealer.
7. Boho Style Vase Centerpiece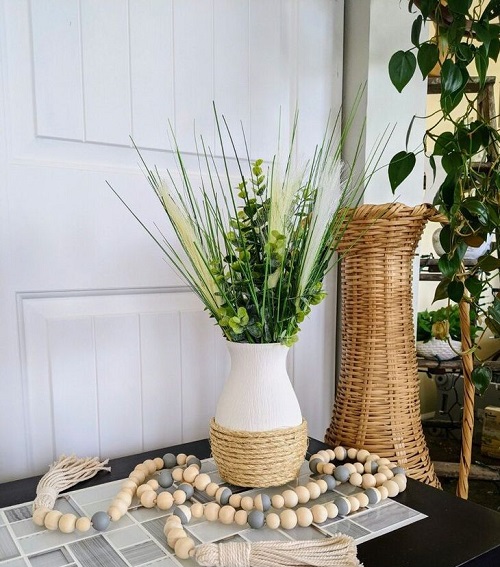 All you need are paint, baking powder, rope, a glass vase, a paintbrush, and this DIY to create a chic boho style centerpiece for under $5.
8. Glass Vase Makeover
With a few coats of paint and a handful of gems, you can transform dreary vases into attractive display pieces. Read more here.
9. DIY Striped Glass Vase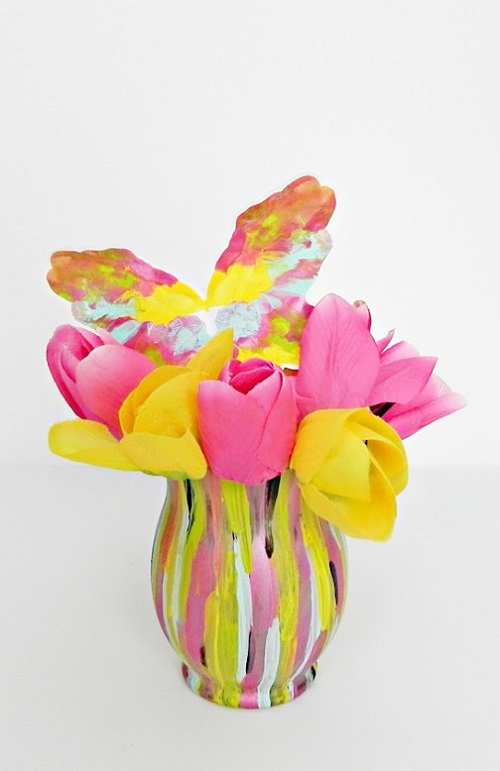 This blogger shows how to turn a glass flower receptacle into a one-of-a-kind striped vase. Either place it on the mantel or the coffee table to spice up the home decor.
10. Painted Glass Bottles with Rhinestones Laces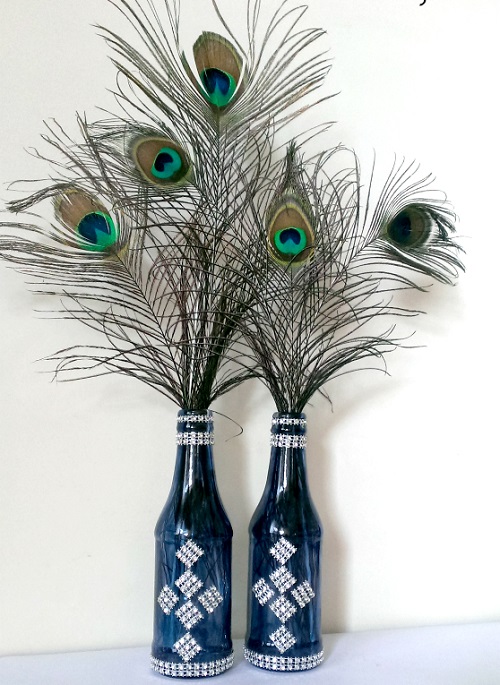 If you're planning to use empty glass bottles as vases, beautify them with turquoise color and rhinestone laces. Further, add peacock feathers to complete the look. The details are here.
11. Halloween Glass Vase Makeover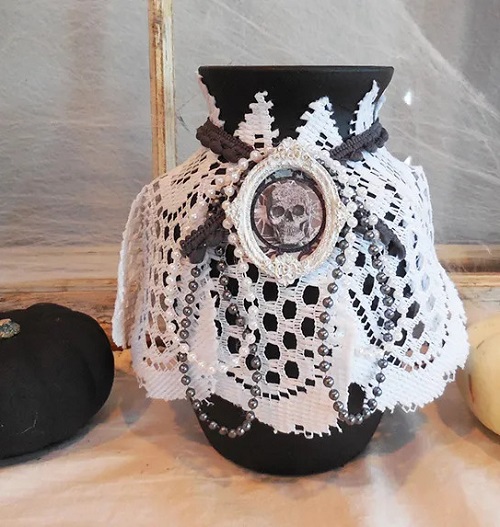 Jazz up your Halloween decorations by converting a regular glass vase into a spooky display piece with doilies, paint, skull, and string beads.
Have a look at some scary Halloween porch decor ideas here
12. DIY Ombre Vase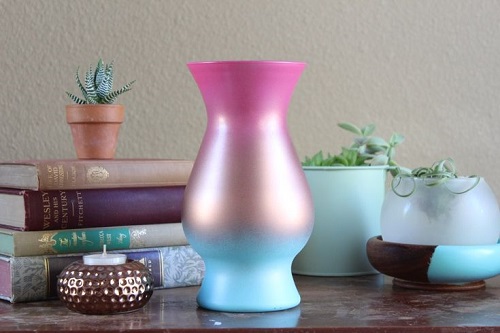 A glass vase with an ombre effect is what you need to amplify the visual appeal of your home interior. Hop to this article to know more.
13. Ceramic-Painted Glass Vase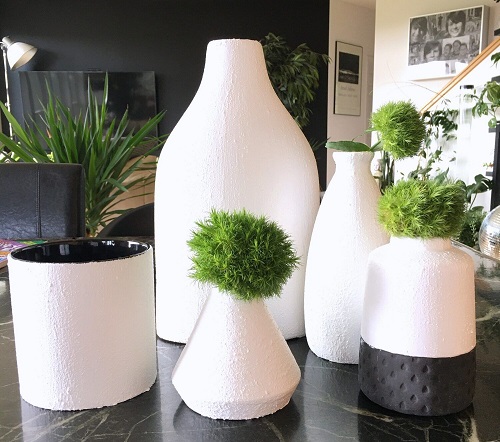 Do you have a bunch of old vases sitting around that no longer fit your home decor? Make them look like gorgeous ceramics with this idea.
14. Anthropologie Glass Vase
Watch this simple video tutorial if you want to give your flower vases an Anthropologie look without costing a fortune.
15. Blue and Copper Painted Glass Vase
Paint a glass vase with blue and metallic copper paint to create a statement-making focal point for your living space.
16. Aged Glass Vase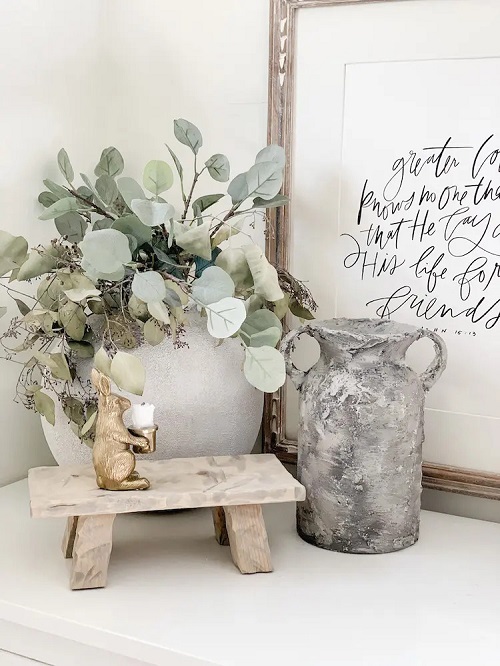 Add personality and charm to your living space by transforming a glass vase into an aged pottery piece with paint, plaster of Paris, and baking soda.
17. Black and Gold Marbled Glass Vase with Gold Leaf
Featuring gold leaf and marbled effect, this hand-painted vase is a stunning home decor and a great gift.
18. Ombre Terracotta Glass Vases
Revamp the appearance of your glass vases by turning them into stunning faux terracotta pottery to showcase lovely blooms.
19. Gold Striped Painted Vases
Take a glass receptacle, tape off stripes or patterns, and paint it. Let the paint dry completely, and remove the tape.
20. Metallic Silver Painted Glass Vases
Grab a vase and a can of metallic silver spray paint to get a trendy decor-worthy specimen –  perfect for home and office space.