Have a look at these Stunning DIY Flower Pot Ideas and flaunt your creativity crafting the best ones for yourself!
Gorgeous planters are a sure-shot way to level up your interiors. Discover some Stunning DIY Flower Pot Ideas below to make your space more lively and exciting!
Have a look at some DIY geometric flower pots here
---
Stunning DIY Flower Pot Ideas
1. Pretty Lace Flower Pots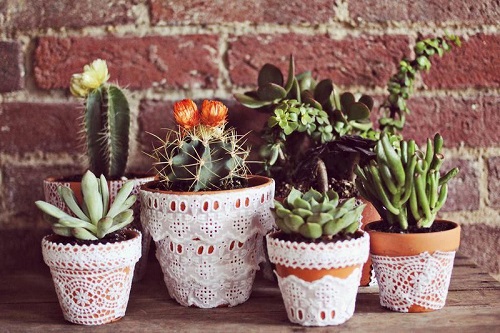 Terracotta pots covered with pretty white laces will be a lovely addition to your green oasis. The details are here.
2. DIY Concrete And Gold Plant Pots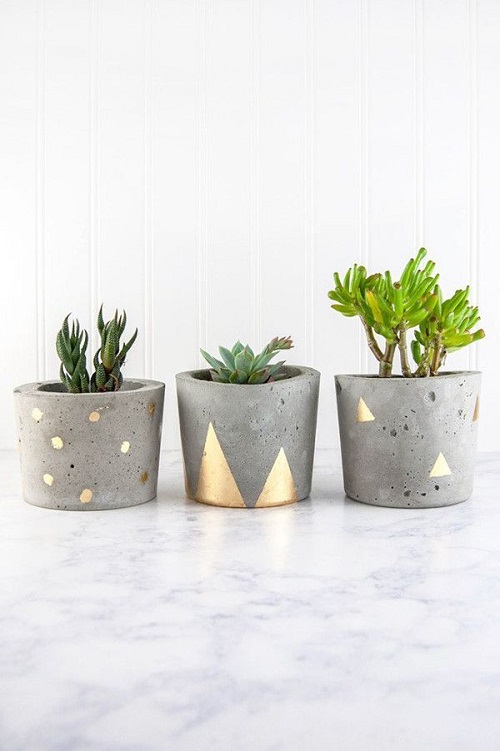 These concrete gold-painted planters are a perfect blend of glam and creativity. Read more here.
3. Wooden Pineapple Planter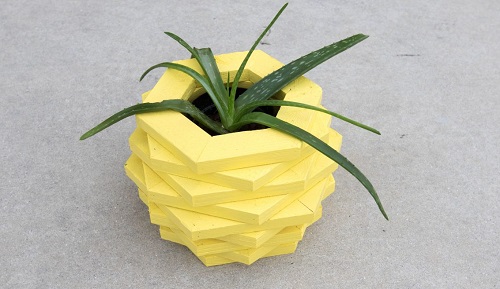 This short and chubby flower pot resembles a lovely pineapple made from trapezoid-shaped wooden pieces. See the DIY here.
4. Twig Flower Pots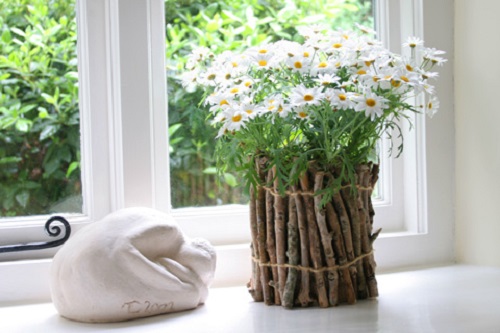 Take an empty laundry detergent container, cover it with burlap, and twine-tied twigs to make a unique flower pot. Don't forget to poke draining holes at the bottom.
5. Polka-Dot Tiered Planters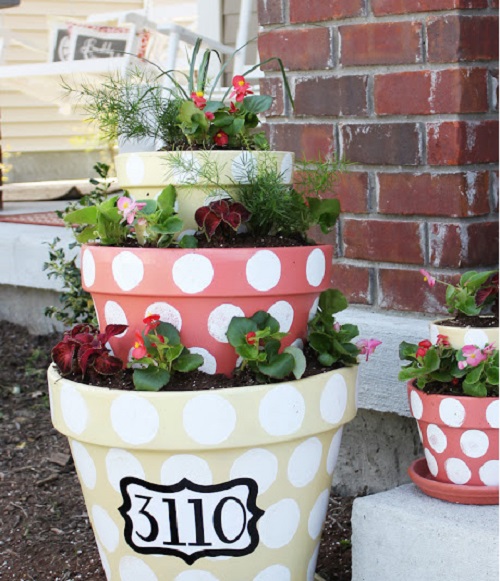 These polka-dot tiered planters can enhance the appeal of any front porch decor besides featuring the house address.
6. DIY Mini Ombre Pots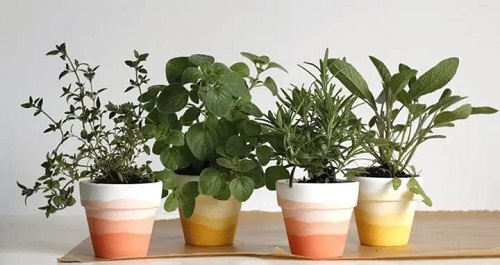 Liven up your kitchen space with these mini ombre herb pots that you can craft within an hour. Instructions are here.
7. Sharpie Dot Pots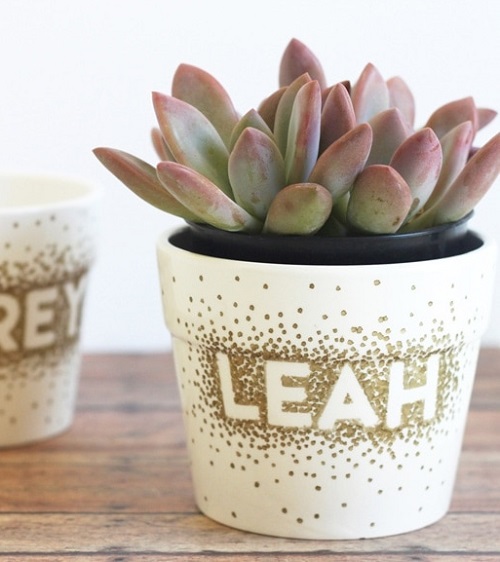 Transform the appearance of regular flower pots with letter stickers and oil-based sharpies. These planters make for an excellent gift as well.
8. DIY Boho/Aztec Painted Flower Pots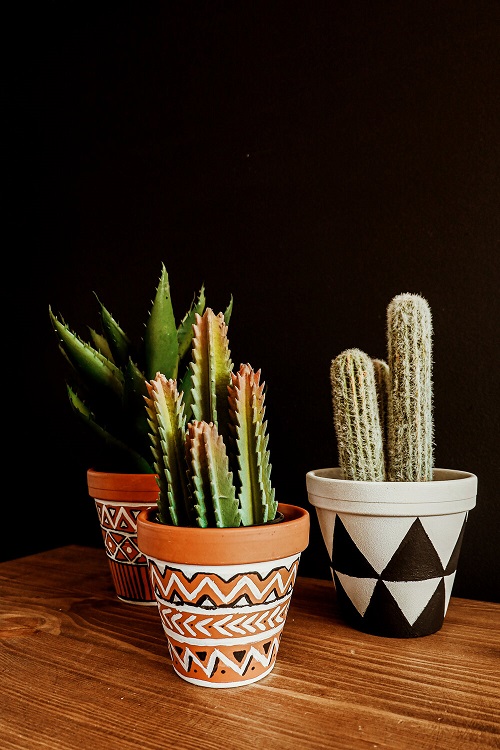 Learn how to DIY rustic-looking, boho/Aztec-inspired painted flower pots in this easy-to-do tutorial.
9. Painted Cats Terracotta Flower Pot
All you need is a plain terracotta pot, acrylic paint, pencil, pen, marker, and cardboard for this DIY.
10. Gem Flower Pot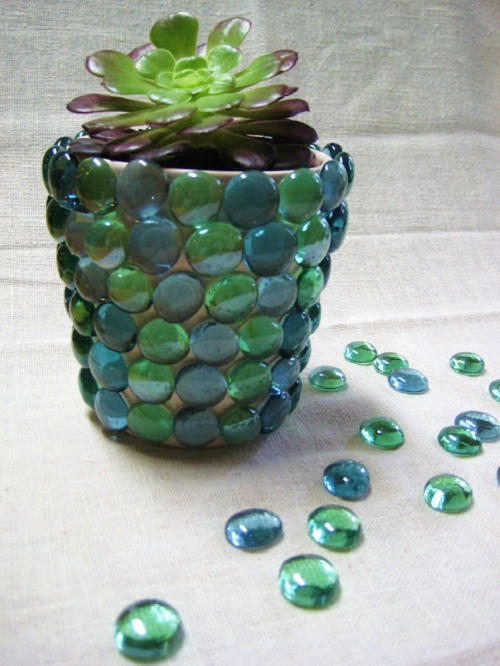 Grab a white pot and stick gems on it with hot glue to get a sparkling flower pot. The details are here.
11. Decoupaged Terracotta Pots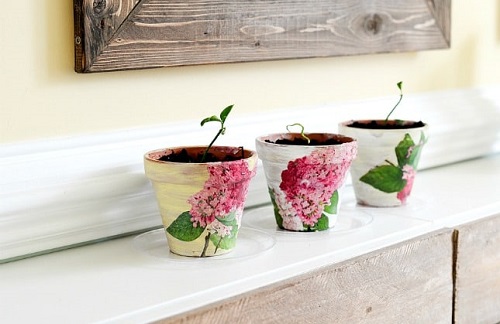 Make these gorgeous decoupaged flower pots and feel the difference with the bright colors of spring.
12. DIY River Stone Planter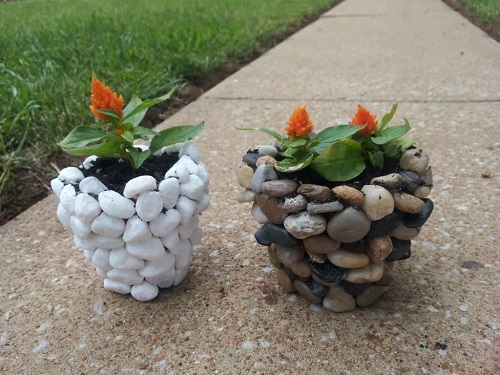 Check out this instructable to mimic these beautiful pots with river stones and spare clay planters. It's one of the most stunning DIY flower pot ideas on this list.
13. Knitted Planter Cover DIY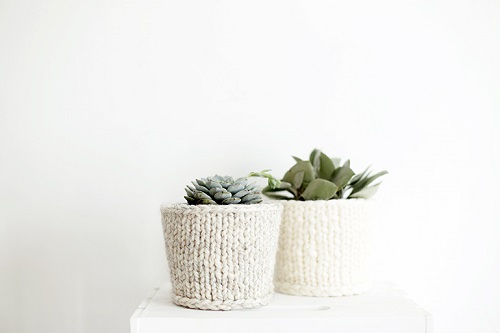 Show off your knitting skills by DIYing these elegant covers that give flower pots a cozy look. Read more here.
14. Rope-Wrapped Pots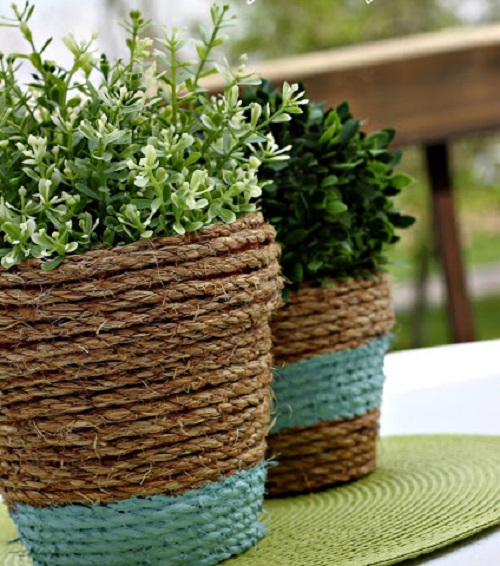 These rope-covered, painted flower pots are perfect as table centerpieces and quick to DIY.
15. DIY Shabby Chic Flower Pots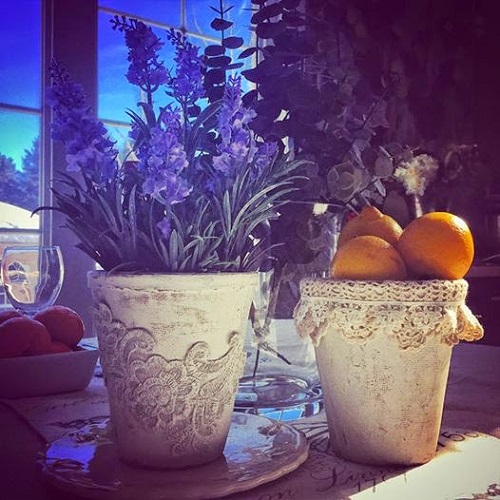 Collect a ceramic pot, vintage-looking doily, lace trim, lace applique, paint, and hot glue to DIY these shabby chic flower pots.
16. Chalkboard Flower Pot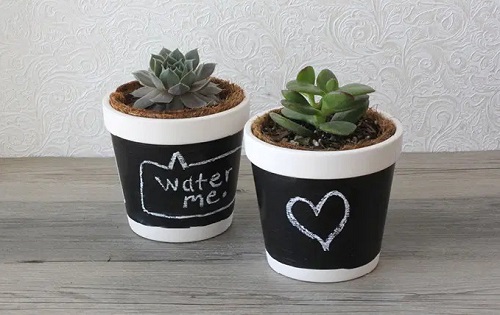 Apply chalkboard paint on regular flower pots to make them stand out. Write the plant's name, or draw any emoji on the planters for an added charm.
17. DIY Seashell Planter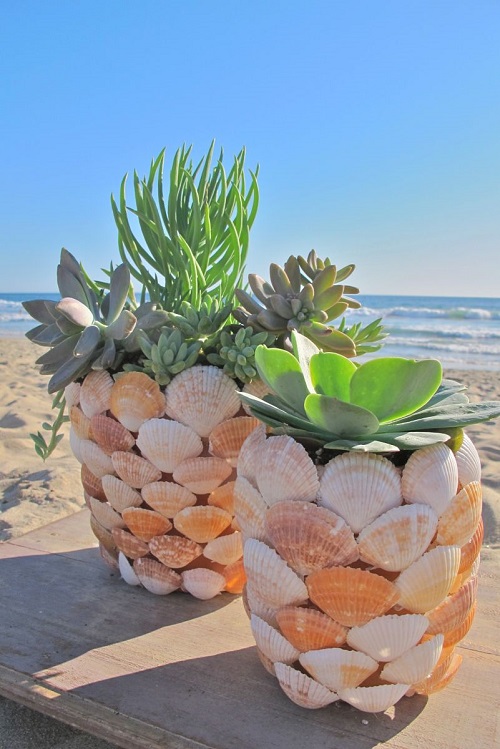 Bring the beachy vibes to your living space with these Instagram-worthy seashell planters. It's a super-economical project if you have a beach nearby.
18. Pallet Wood Planter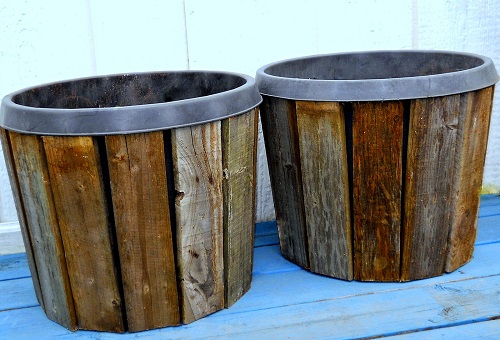 Are you looking for vintage-style wooden planters? Look no further and make one for yourself with salvaged wood, a tree pot, and this DIY.
19. DIY Pretty Face Flower Pots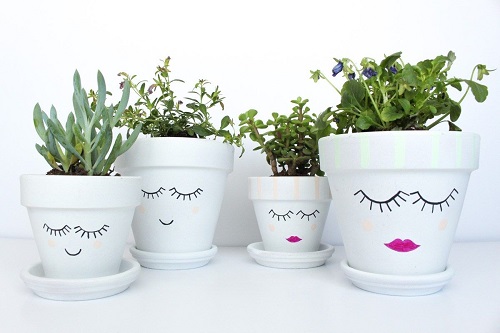 Make pretty face flower pots with spray paint and sharpies. The instructions are here.
20. Handmade Mini Clay Pots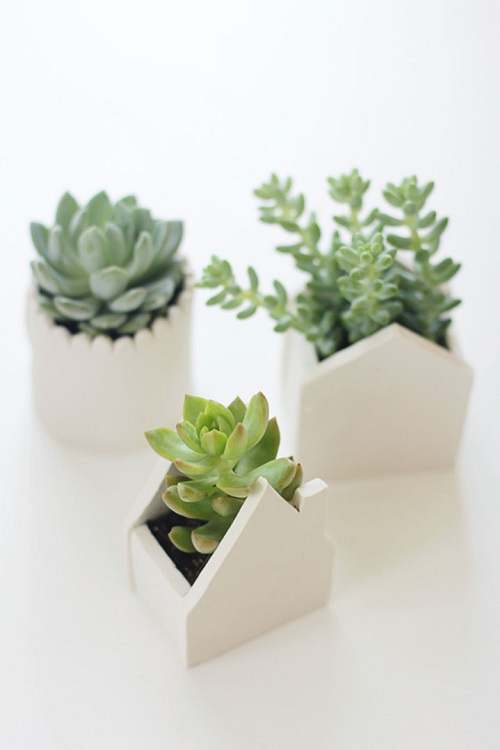 Do you love clay crafts? If yes, turn oven-bake clay into beautiful flower pots. Either use them as a tabletop accessory or gift to your loved ones.
Learn some fantastic things to make with clay here
21. DIY Marbled Terra Cotta Pots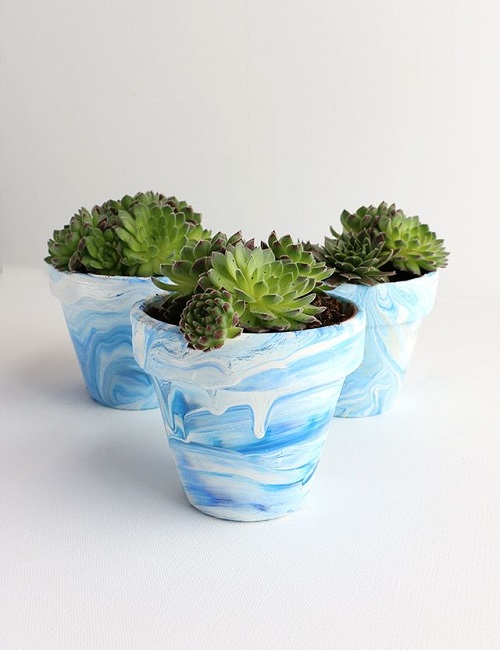 Here's the tutorial to give your old flower pot an eye-catching marbled effect with acrylic and spray paint.
22. Mosaic Flower Pots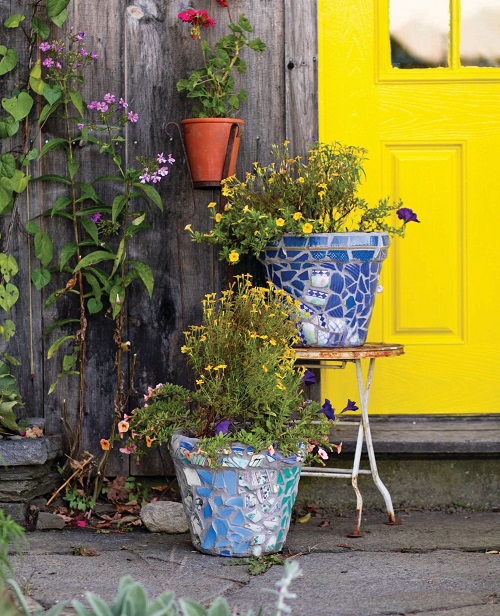 If you have broken ceramic dishes and bowls, use them to create an artistic mosaic flower pot.
23. Gold Leaf Terracotta Pots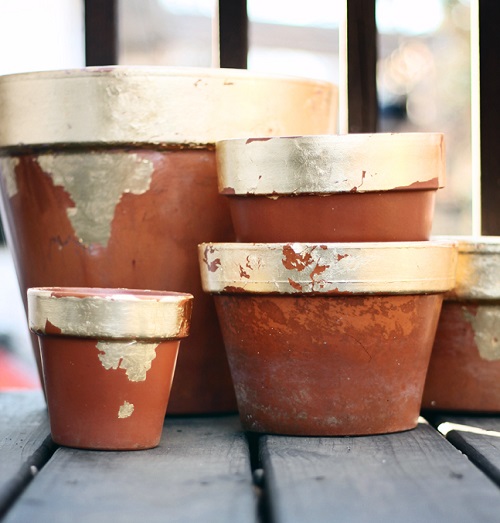 Paste gold leaf paper on your flower pots with adhesive to make a focal point for your porch or garden area. The details are here.
24. The Rocky Flower Pot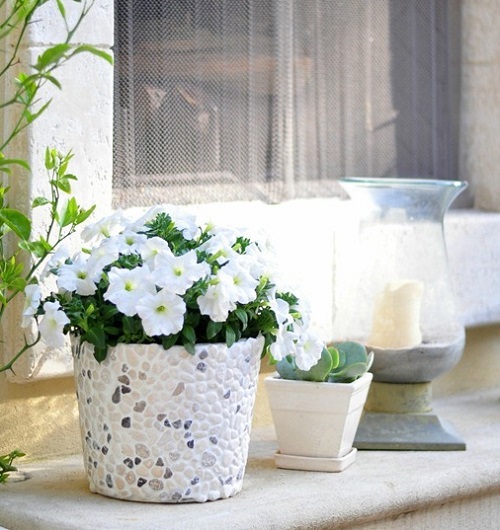 To put together a coastal-inspired textured planter, follow this simple step-by-step tutorial.
25. Chalkboard Planters with FolkArt Stencils and Paint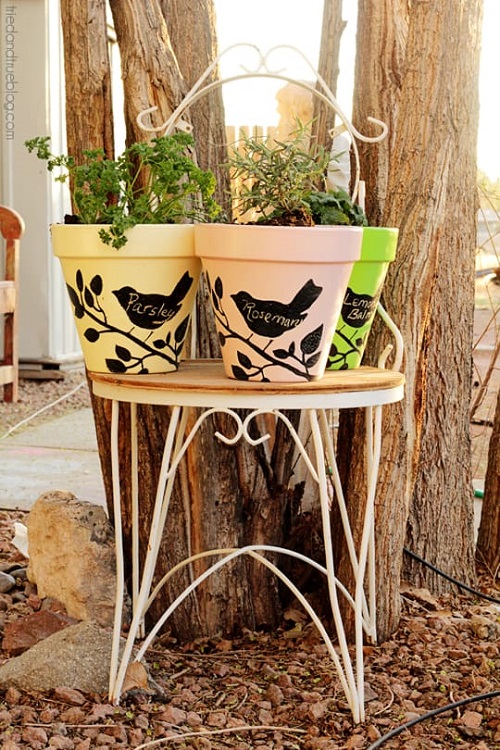 Add a touch of glam to your outdoor space by reviving existing flower pots with chalkboard, folkart stencils, paint, and this DIY.
26. Gold Foil Lettering on Flower Pots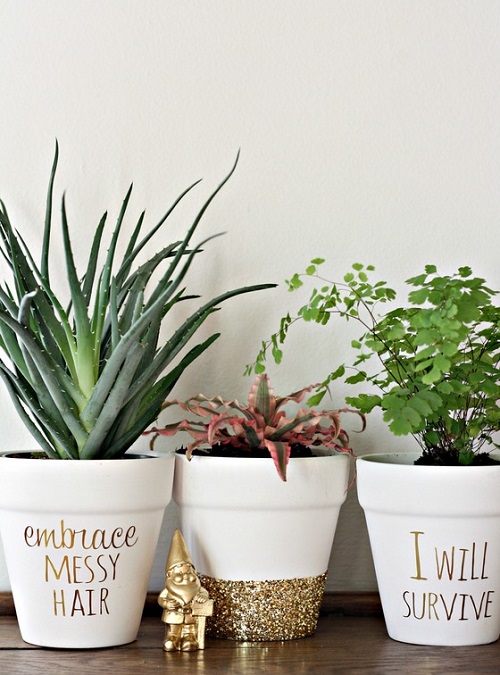 Take your flower pot collection to the next level by adorning the planters with sparkling gold foil lettering. Click here for the tutorial.
27. Mother's Day Photo Flower Pot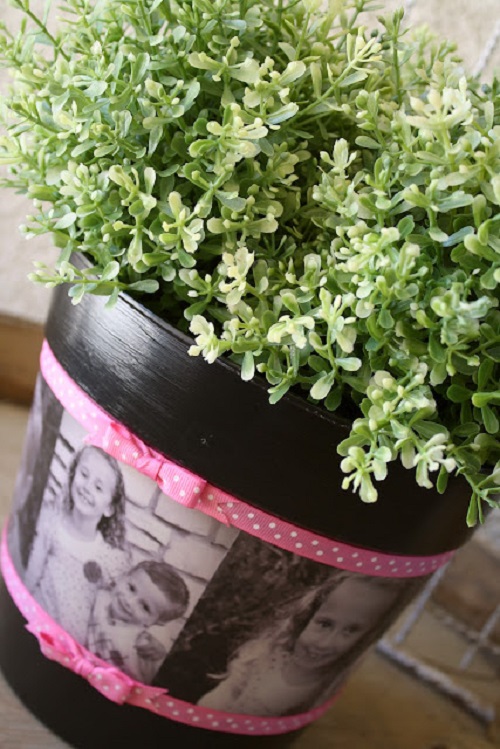 Don't know what to gift your mom on Mother's Day? Making a flower pot featuring family photos with a cute plant is the right choice.
28. French Inspired Flower Pots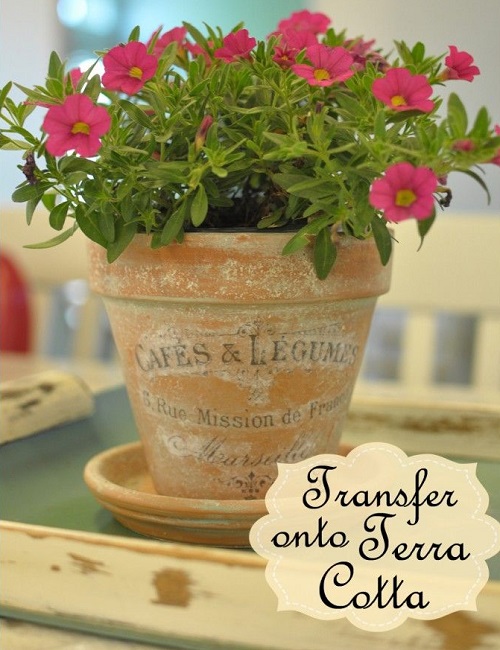 DIY these attractive French-inspired flower pots by inscribing the desired graphic on the planter using mod podge.
29. 4th of July Pots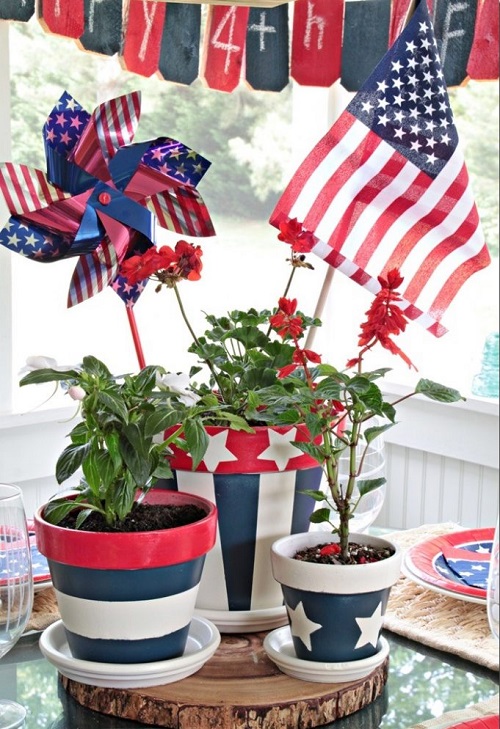 Give your flower pots patriotic vibes by painting them white, red, and blue colors. Use peel-off stars to complete the look.
30. DIY Fabric Covered Planters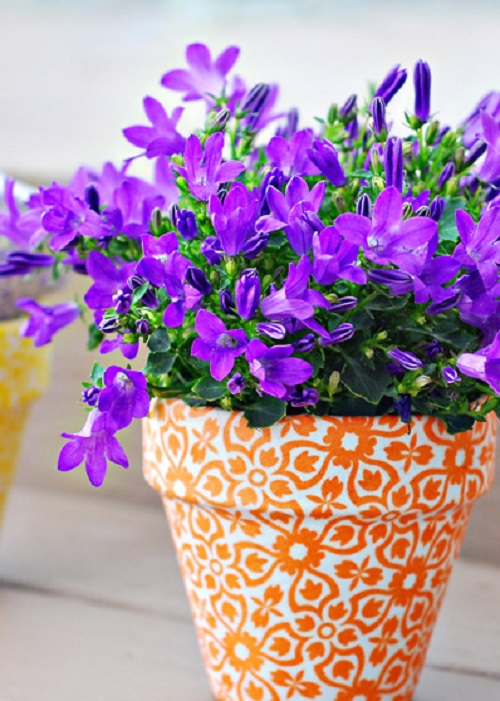 Prettify your bland flower pots using attractive fabric and mod podge to make decorative planters with a splash of color.
31. Faceted Gem Flower Pots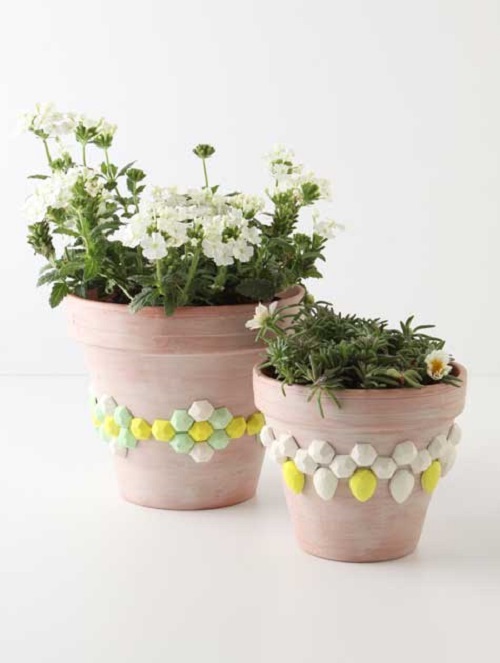 Attach gem molds on regular terracotta planters to get trendy flower pots. Jump to this article for more info.
32. Confetti Flower Pots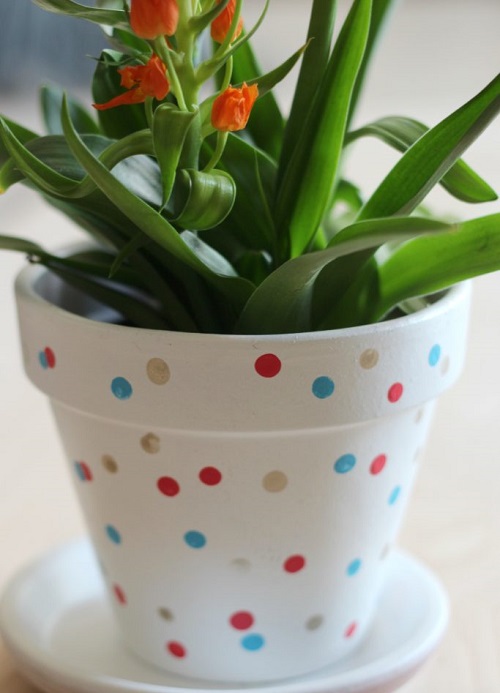 A terracotta flower pot, different acrylic paints, and a little patience are needed to complete this project.
33. Wood Bark Planter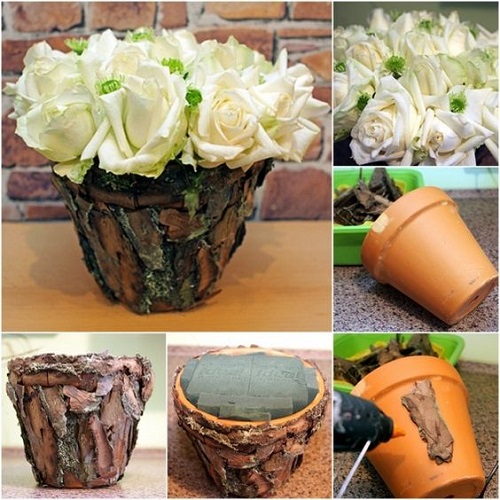 Attach a couple of bark pieces on a terracotta pot using hot glue for a unique and refreshing appearance.
34. Plastic Bottle Turned Flower Pot
Rather than throwing plastic bottles in the trash can, upcycle them to create some fantastic flower pots. It is one of the most stunning DIY flower pot ideas.
35. Cloth and Cement Flower Pot
Take a look at this video to make an unusual flower pot from cloth and cement.
Check out how to make candles with flowers here