Explore this exclusive list of some amazing DIY Front Door Awning Ideas to transform the doorway into a stylish, weather-protected space!
These Front Door Awning Ideas offer protection from the elements and also complement the home's design. Whether you like modern minimalism or classic setup, these ideas are an excellent inspiration for you.
Find out the best front door colors for beige houses here
---
What is Front Door Awning?
A front door awning is a covering attached to the exterior of a building, specifically above the front entrance or door. It's designed to provide shade, shelter, and protection from the elements, such as rain, snow, and sunlight. Awnings are made from a variety of materials and are available in various styles, sizes, and colors. Besides keeping the area dry and clean, awnings add curb appeal and contribute to the overall appearance. Some awnings are retractable, while others are fixed and remain in place year-round.
---
Front Door Awning Ideas
1. Door Awning With Plastic Sheet Roofing
This simple front door awning is made up of wood, plastic sheet, nails, screws, and other supplies. Watch this helpful audio-visual tutorial for detailed instructions.
2. Cedar Plank Entryway Awning
Build this cedar plank entryway awning and upgrade your home's exterior with a touch of architectural elegance. It's a beautiful and inexpensive way to protect your front door. Go through this video for more info.
3. DIY Wood Awning Over Front Door
Elevate your entrance with a big and beautiful door canopy, showcasing craftsmanship that leaves a lasting impression. It's made up of sturdy wooden beams. Create one for your front door by watching this amazing tutorial.
4. PVC Door Awning Idea
Crafted from PVC pipes and sleek canvas fabric, this affordable door awning offers shade and style without breaking the bank. Hop to this article for more info.
5. Rustic Wooden Front Door Canopy
Instead of spending a fortune on a store-bought door canopy, watch this video and make an inexpensive one at home. This rustic awning is what you need to add character and personality to your home's exterior.
6. Dome Awning Front Door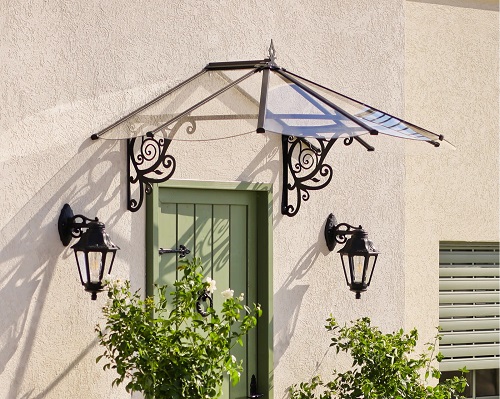 Add some timeless charm, shade, and value to your entryway with this 4X6 door awning. Featuring rust-resistant aluminum profiles and galvanized steel brackets, this door canopy is virtually maintenance-free.
7. Faux Copper Awning Over Front Door
Learn how to turn your old metal awning into a rustic masterpiece with copper spray paint in this article. It's one of the best front door awning ideas on this list.
8. Black Awning Over Front Door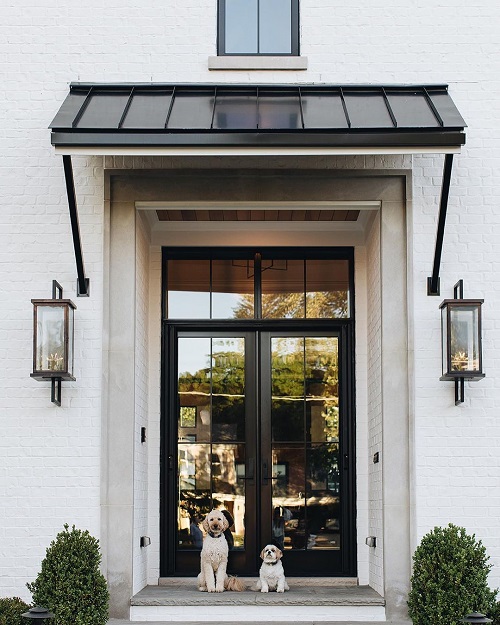 Make a bold statement with this black awning that creates a captivating contrast against the light hues of your home.
9. DIY Tiny House Custom Rigid Front Door Awning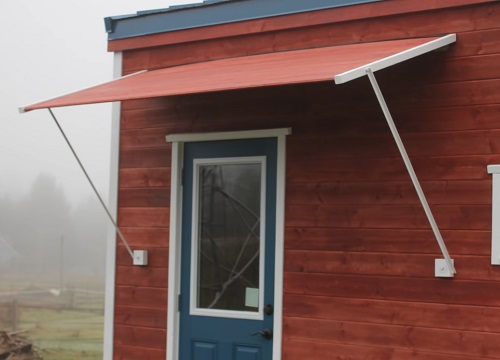 Transform your tiny house entrance with this custom rigid front door awning. You only need wood, stain, screws, nails, power tools, and woodworking skills. The instructions are here.
10. Gable Roof Over a Front Door
Read this article to see how easy it's to install a small gable roof over a front door for a stylish and functional upgrade.
11. DIY Fabric Door Awning
Make this black & white striped fabric awning and give your monotonous front door an eye-grabbing statement piece. The list of supplies and instructions is here.
12. Aluminum Awning for Front Door
Looking for a light, strong, rust-proof, beautiful, and affordable awning for your front door? Look no further and watch this video tutorial.
13. Curved Door Awning Idea
Made from a steel culvert, this curved door awning boasts industrial appeal. It makes the entryway truly stand out with its eyebrow-like shape.
14. Corrugated Front Door Awning
Watch this audio-visual tutorial and build a super sturdy corrugated metal awning for the front or back door.
15. DIY Front Door Overhang Awning
This front door overhang awning brings practicality and aesthetic appeal to your doorstep. Check out this video for inspiration.
16. Custom Eyebrow Style Modern Front Door Awning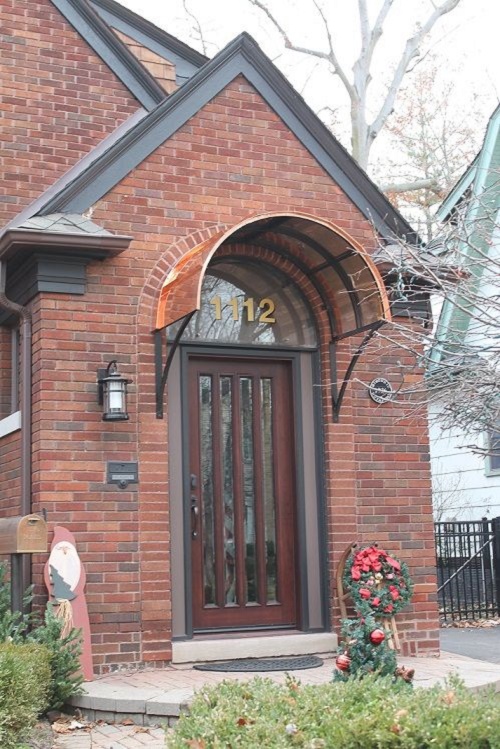 With its distinctive and dramatic curvature, this eyebrow awning is best for highlighting the architectural detail of a front door. It's ideal for adding a stylish cover to an already beautiful entrance.
17. Half-Circle Polyester Awning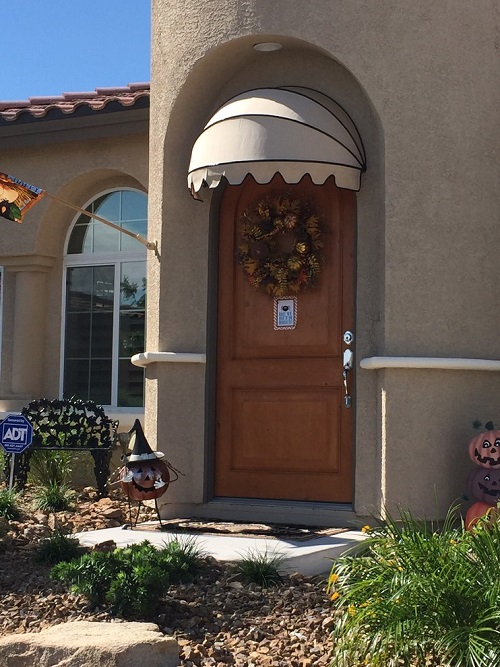 Want to add some architectural flair to your home? This unique half-circle polyester awning is the perfect solution.
18. Glass and Steel Front Door Awning
Construct this unique glass and steel front door awning to give your home a contemporary edge. It will turn heads and wow guests for sure.
19. Hanging Metal Front Door Awning
Crafted with super sturdy metal, this hanging front door awning is the perfect blend of style and functionality.
20. Timber Frame Door Awning
This timber frame awning provides shade and protection from the rain but also adds a touch of elegance to the entryway. The construction guide is divided into Part I and Part II.
---
Benefits of Door Awnings
Front door awning ideas provide several benefits, some of them are:
Weather Protection: An awning protects the front door from harsh weather conditions like snow and rain. It provides shade from the sun and keeps your entryway dry and clean.
Increased Home Value: An awning enhances the curb appeal of the home, potentially increasing its value. It gives your house a finished look and makes your entrance more inviting.
Decoration: Awnings come in a variety of styles, colors, and materials, so you can choose one that complements your home's aesthetic.
Reduced Maintenance Costs: By protecting the door and the area around it from weather damage, an awning can reduce maintenance costs. This includes preventing peeling paint, warping, and other weather-related damage to the front door.
Improved Comfort: By providing shade, an awning makes the entryway more comfortable during hot weather. It also provides a dry space to stand while you're unlocking your door in the rain.
---
Front Door Awning Ideas: Points to Remember
Building a front door awning is a great way to enhance the aesthetic of your space and provide protection from the elements. However, read these important points to ensure that the awning is effective, durable, and visually appealing.
Choose the Right Materials: The material of the awning should be able to withstand rain, snow, or intense sun. Metal, polycarbonate, wood, fabric, or high-quality plastic are some common options.
Design and Size: The awning should be designed in such a way that it complements the architecture of your home. It should be wide and long enough to cover the entryway.
Structural Support: Ensure that the awning is properly supported to prevent it from collapsing under heavy weight, like snow. You might need to install additional brackets or supports, especially for larger awnings.
Water Drainage: Make sure the design of the awning allows for proper water runoff so that water doesn't drip down onto the entrance area.
Installation: Install the awning correctly and securely. If you're not confident about the installation, contacting a professional is a wise decision.
Building Regulations: Check local building codes and regulations before installing an awning. Some areas may have specific rules about their size, location, or design.
Maintenance: Consider the maintenance requirements of the awning material you choose. Some materials require regular cleaning or resealing to keep them in good condition.
Retractable vs. Fixed: Decide whether a retractable or fixed awning is best for your needs. Retractable awnings can be adjusted when needed, but they may not be as sturdy as fixed awnings.
---
Front Door Awning Ideas: Safety Precautions to Consider
Follow the below safety precautions while building the front door awning:
Use Proper Tools and Equipment: Ensure you have the correct tools for the job in good working condition. Also, use safety gear like gloves, glasses, and a hard hat.
Ladder Safety: If you're using a ladder for installation, confirm that it's stable and secure.
Electrical Safety: Be aware of any electrical wiring in the area where you'll be working. Contact a professional electrician if you're unsure about any potential electrical hazards.
Load-Bearing Safety: Make sure the wall where you're installing the awning can support the weight. The wall might need to be reinforced if it's not sturdy enough.
Work in Suitable Conditions: Try not to work in adverse weather conditions such as high winds, rain, or snow. As these can make working at heights more dangerous and may compromise the integrity of the awning.
Don't Overreach: If you can't reach something comfortably, don't stretch or lean dangerously. Instead, reposition your ladder or get a tool with a longer handle.
Get Help: If the awning is large or heavy, don't try to install it alone. Get someone to help you lift and secure it into place. It's always safer and more efficient to have an extra pair of hands.
Pets, Children, and Elderly: Instruct your kids, pets, and elderly to stay at a safe distance from the construction area.
Clean Working Area: Keep your working area clean and free of unnecessary clutter or debris that could trip you up or cause an accident.
Read the best DIY closet door ideas here