Turn your monotonous yard into a captivating place using these amazing Front Yard Landscaping Ideas with Rocks!
Take inspiration from these fantastic Front Yard Landscaping Ideas with Rocks and take your home's curb appeal to a new level.
Find out the stunning pictures of backyard landscaping ideas here
---
Front Yard Landscaping Ideas with Rocks
1. Beautiful Japanese Zen Garden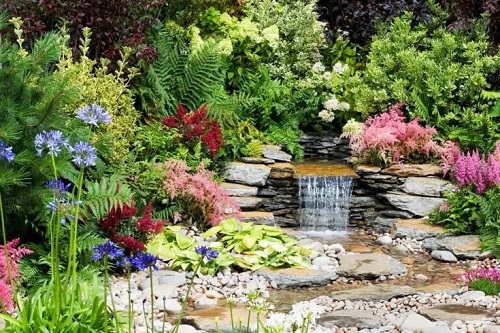 Make your yard stand out in the neighborhood with the beauty and serenity of Japanese zen gardens.
2. Design a Countryside Landscape with Layered Herb Beds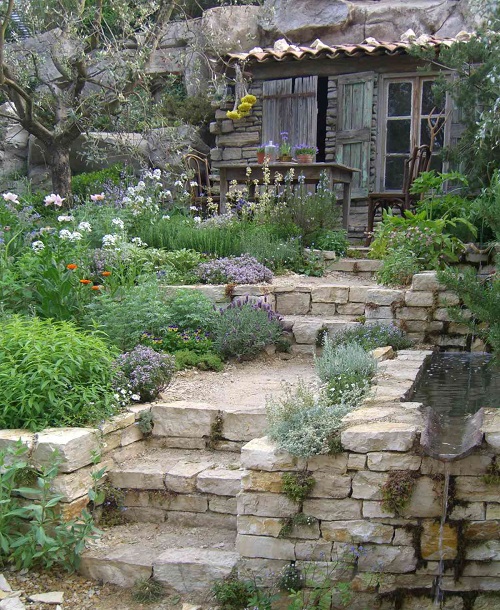 Add a countryside touch to your outdoor space with herb beds and large boulders. It's one of the best front yard landscaping ideas with rocks.
3. A Rocky Patch with a Crane Feature in the Yard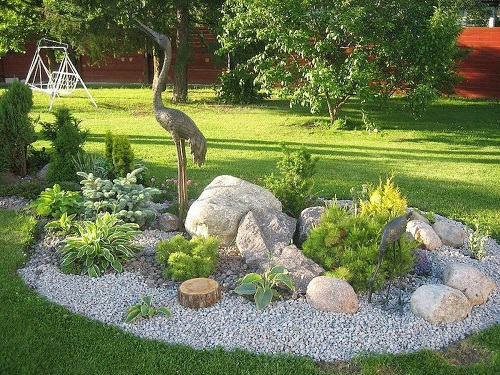 Spice up the visual interest of your garden with a small pebble bed, large boulders, and a crane statue.
4. Rocky Stairs in the Entryway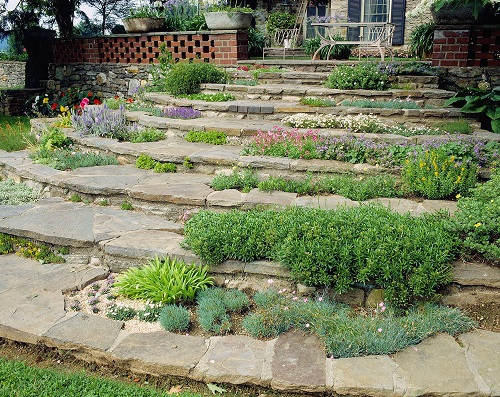 Add rocky stairs in the entryway to give your front yard a conversation-starting element.
5. Flowers, Pebbles, and Cart Wheel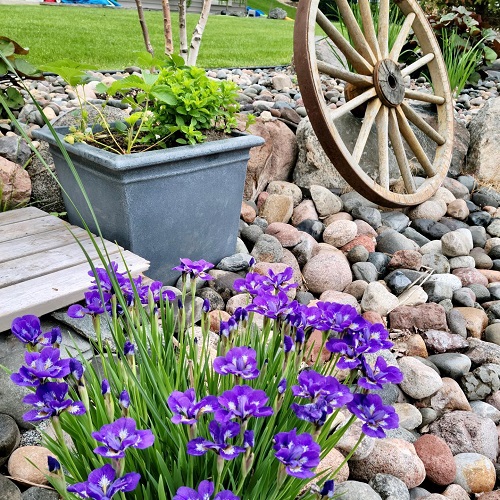 Show off beautiful groundcovers in the pebble bed and a cartwheel on the large stones to create an eye-catching yard.
6. Front Yard with Blooming Succulents and Pebbles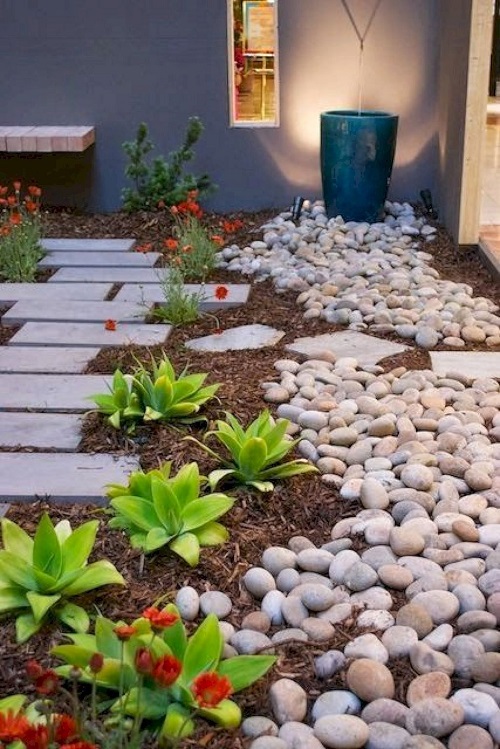 Pebbles, tiles, and stunning blooming succulents make this outdoor space a sight to behold.
7. A Pond with Rocks and Greenery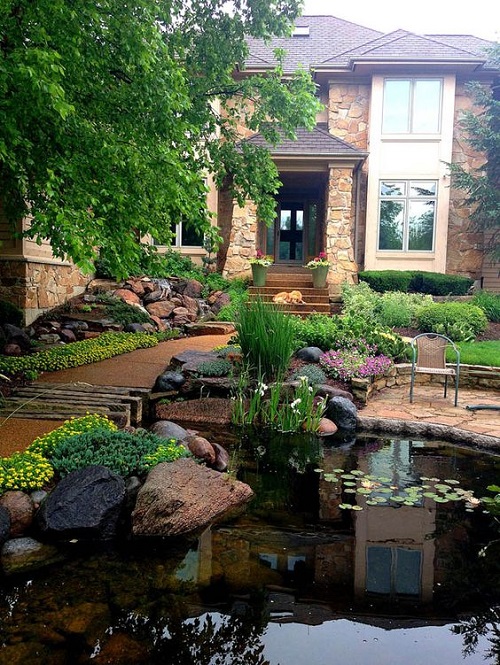 A small pond, rocks, and greenery are enough to turn your yard into a center of attraction.
8. Rock Wall with a Place to Grow Succulent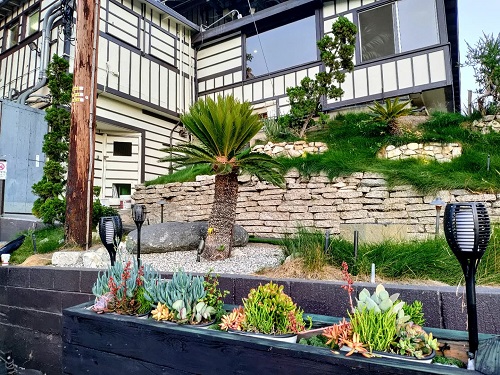 Add greenery and character to your space with a rock wall and an array of succulents.
9. Stone Pathway with Moss and White Blooms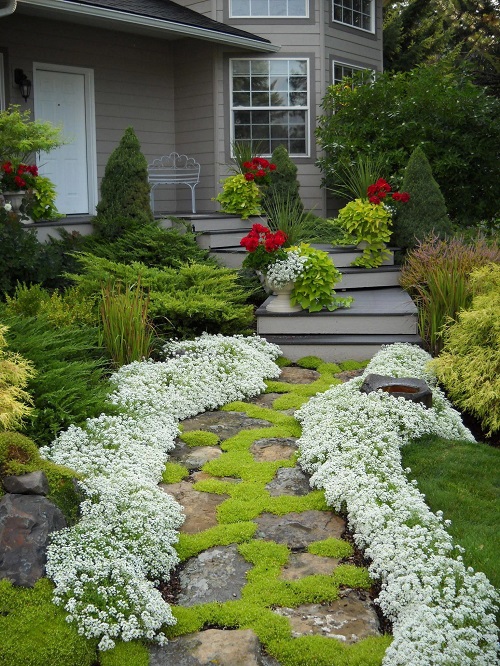 A stone pathway beautified with moss and white blossoms gives this yard a stunning look.
10. Rock Landscaping with a Mini Fire Place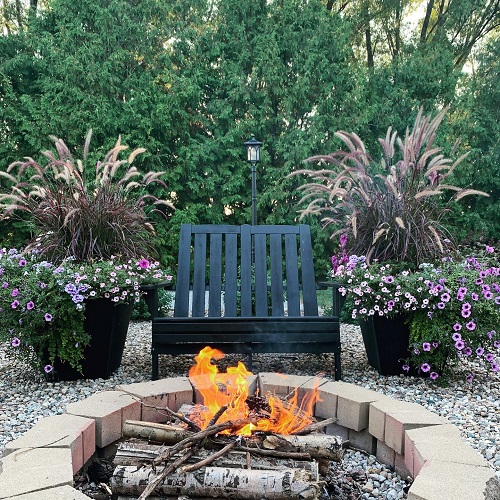 A front yard landscape filled with tiny gravels and a mini fireplace are perfect for an evening get-together or a night out.
11. A Rock Zen Garden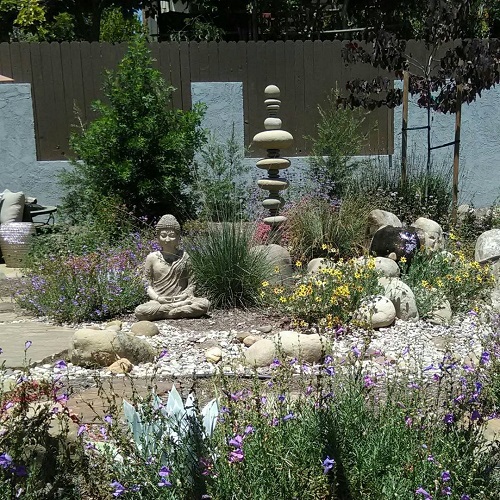 Make your lawn a tranquil place by creating a zen rock garden featuring a buddha statue, pebbles, and flowering groundcovers.
12. Captivating Rock Fountain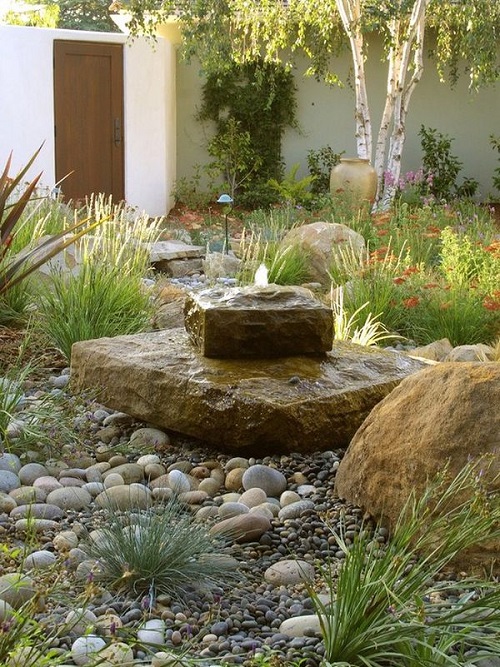 A unique rock water fountain is an excellent focal point for your drab yard.
13. Rock Water Feature with a Sprawling Greenway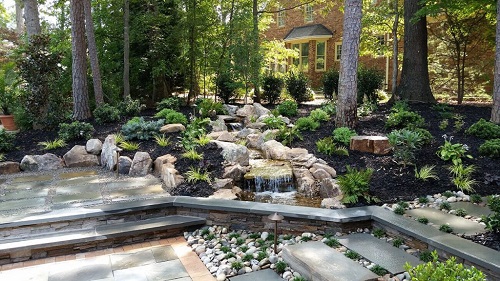 Liven up your dull lawn with a sprawling greenway and a rock water feature for aesthetic appeal.
14. Black Lava Rocks for Landscaping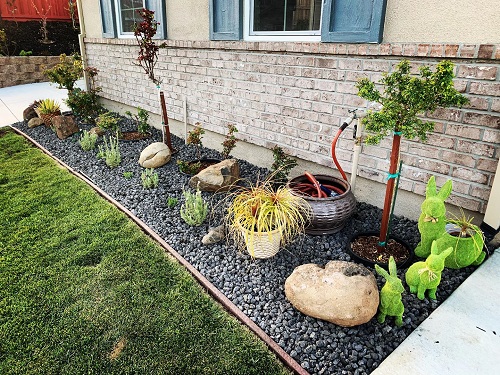 Black lava rocks, plants, and a rabbit-shaped planter look great with grassy lawns.
15. Rocks, Pebbles, and Grassy Beds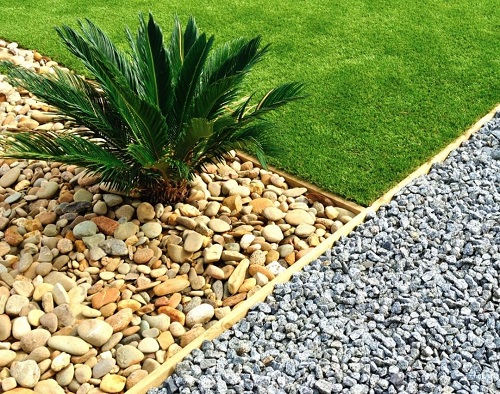 Combine rocks, grassy beds, and tiny pebbles to create an eye-catching landscape.
16. A Lavish Rock Garden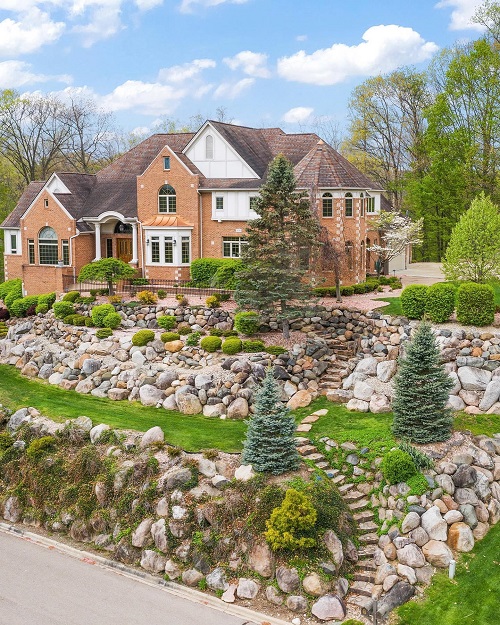 A large yard is a must to copy this lavish rock garden. It's one of the most amazing front yard landscaping ideas with rocks.
17. Combination of Plants and White Stones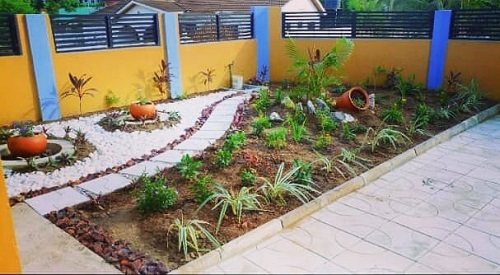 Use white stone, low-growing plants, and pots to create an eye-grabbing landscape.
18. Rock Landscaping with Potted Flowering Plants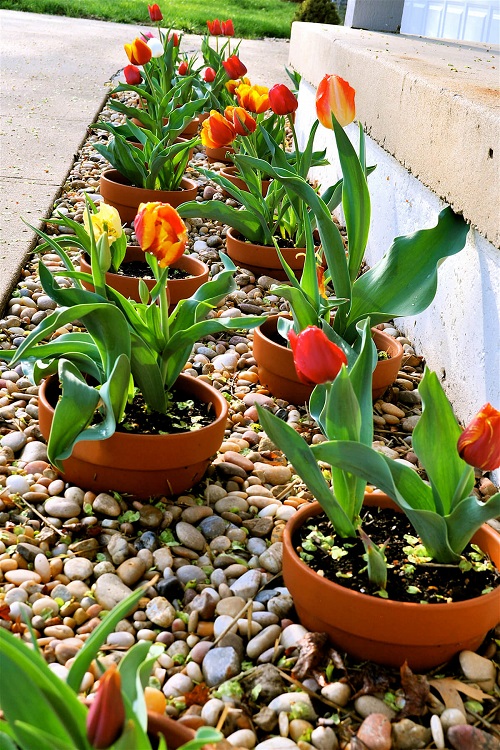 If you have a less-spacious front yard, a compact pebble bed with flowering pots in a zig-zag row is the best idea.
19. Arrangement of Pebbles and Pots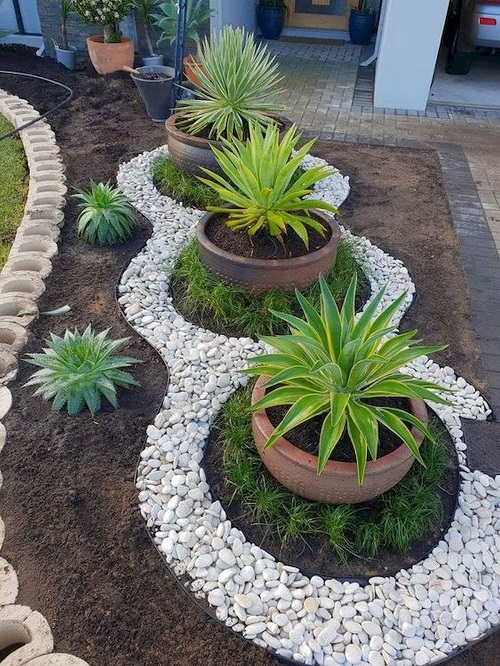 Arranging pebble beds around the large pots will surely attract a lot of eyeballs.
20. A Mash-Up Rock Landscape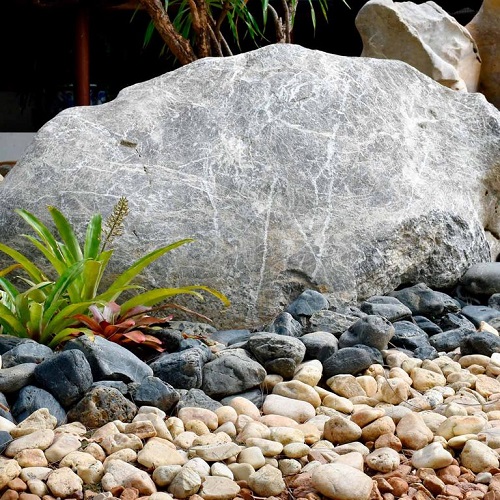 Decorate your front yard with large rocks, small stones, and river rocks for a layered look.
21. Front Yard Mini Zen Rock Garden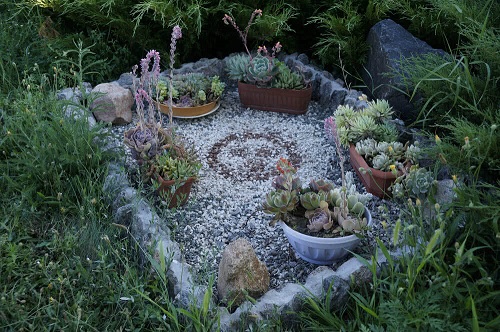 Bring tranquility to your outdoor space with a mini zen rock garden. It's the best way to unwind at the end of the day.
22. Rocks and Spilled Pot Feature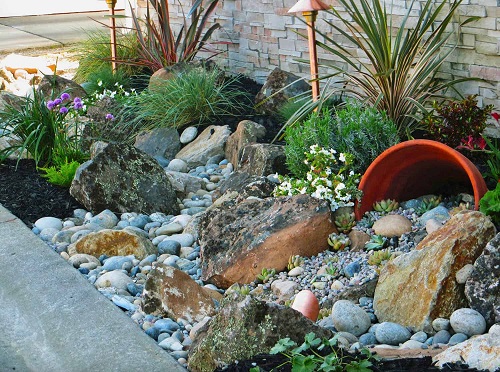 Featuring a spilled pot feature, this attractive landscaping idea will catch a lot of attention.
23. Add a Gabion Planter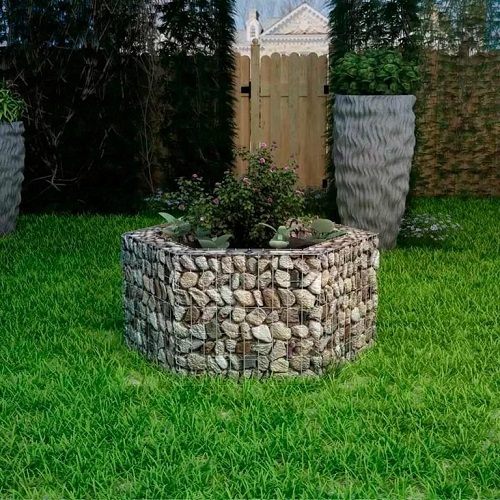 This gabion planter is made from a galvanized steel frame and river rocks. It's a creative landscaping idea to display beautiful plants.
24. Rock Retaining Wall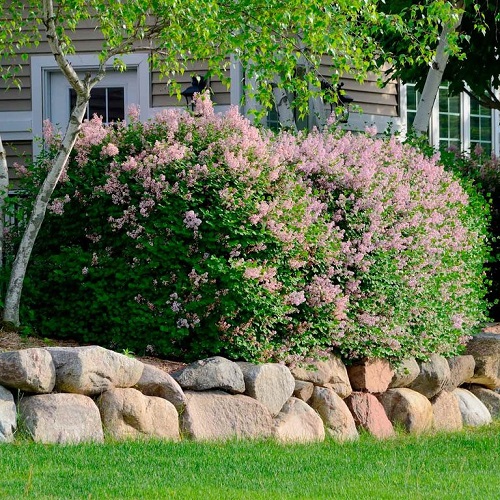 Amp up the curb appeal of your lawn with a rock retaining wall. You only need boulders or large river rocks to complete this idea.
25. Dry River Bed with Synthetic Turf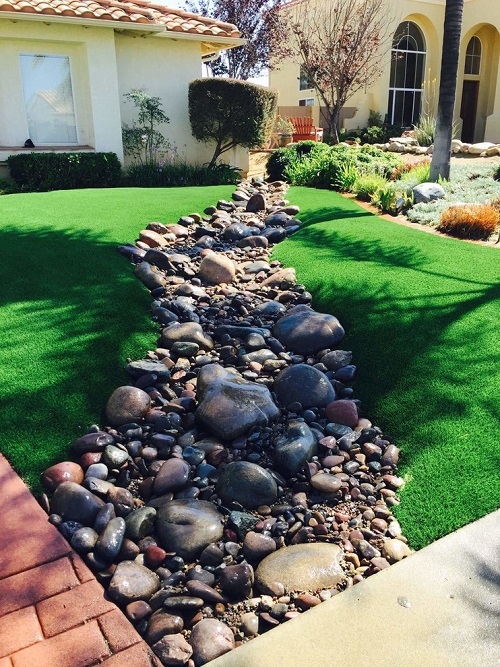 A beautiful dry river bed with synthetic turf is a perfect option for outdoor landscaping.
26. Bushy Groundcover and Rocky Patch on a Big Lawn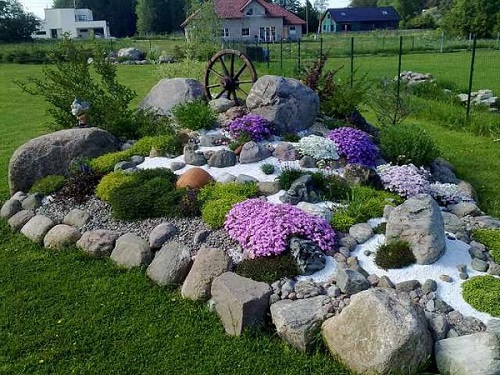 Set up a rocky patch with bright blooms and bushy groundcovers in your front yard for pizzazz.
27. A Tropical Landscape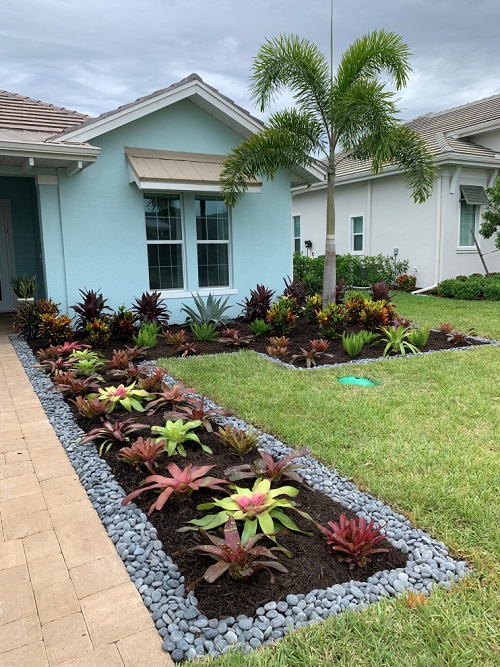 Make your yard landscape one-of-a-kind using modern tropical plants lined with a Mexican beach pebble border.
28. Paver Walkway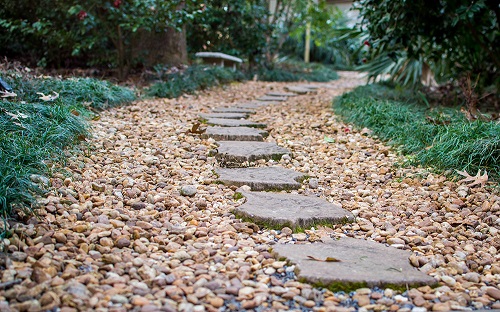 Besides a sturdy walking surface, a paver walkway and decorative rocks give an instant makeover to the lawn.
29. Pot, Gravels, and Plants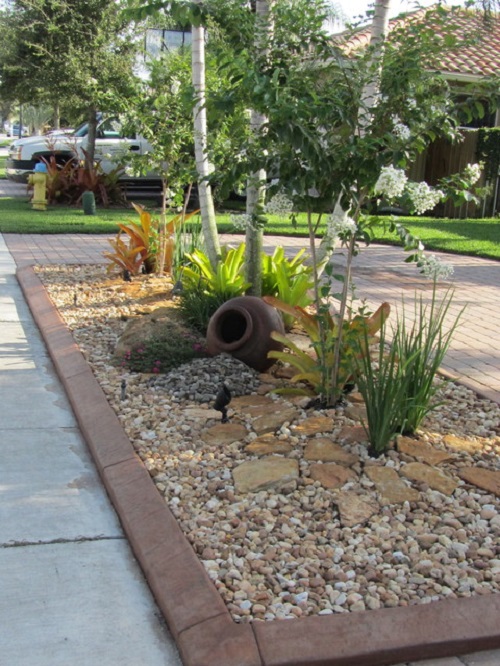 To get a tropical look with a contemporary touch, edge the tall plants in your landscape with a pebble bed and a potted feature.
30. Pebble Flowers Art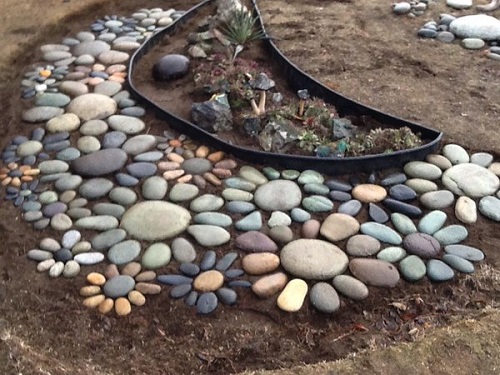 Put your creativity hat on and make floral art in your yard using different-sized pebbles.
31. DIY Gravel Garden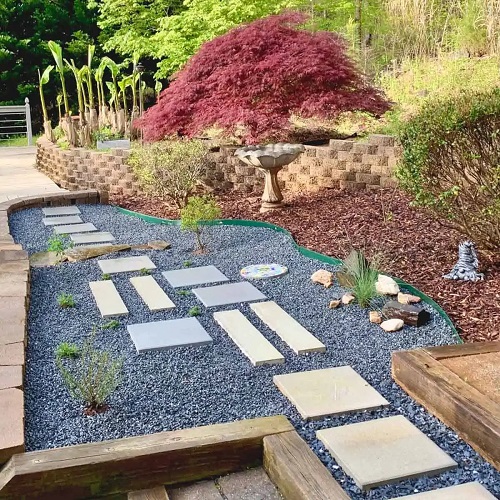 Here's the step-by-step tutorial to create a lovely, low-maintenance gravel garden.
32. Landscape with Large Rocks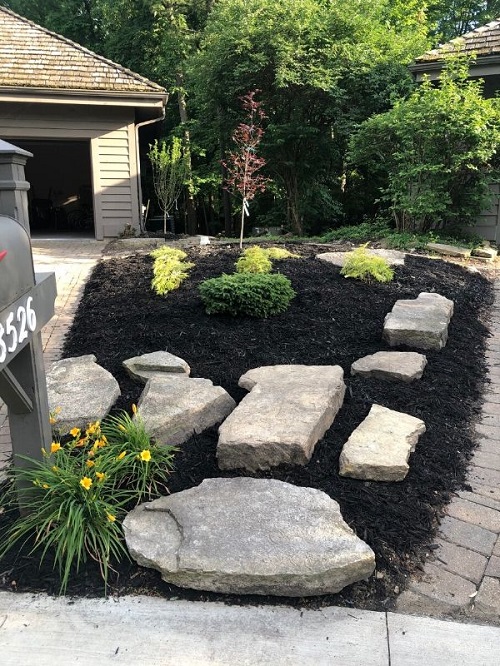 Learn how to landscape with large rocks in your yard using this detailed tutorial.
33. Fun and Easy Landscape Stone Feature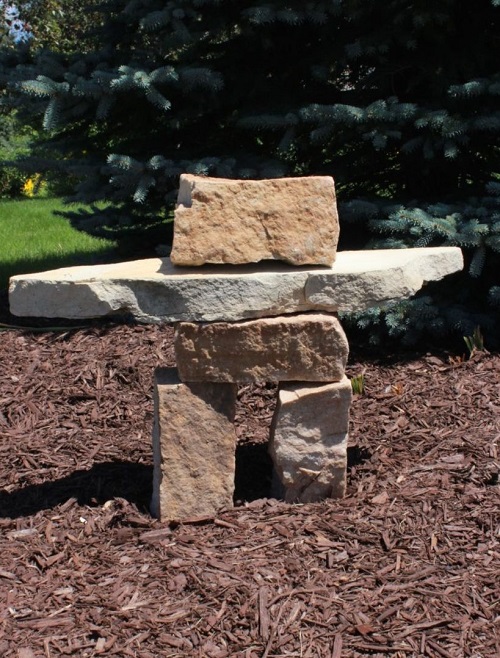 To create a fun and peculiar stone feature for your landscape, check out this easy-to-understand article.
Here are some DIY stepping-stone ideas for the garden