Want to store the fresh produce for long but running out of space? These brilliant Fruit and Vegetable Storage Ideas are at your rescue!
Try these creative Fruit and Vegetable Storage Ideas to make your cluttered kitchen or pantry space organized and appealing.
Check out some fruits that you can grow indoors here
---
Fruit and Vegetable Storage Ideas
1. DIY Market-Style Wooden Fruits Holder
Watch this video to DIY a rustic, market-style wooden fruits holder. It'll be a great addition to any kitchen space.
2. Farmhouse-Style Vegetable Stand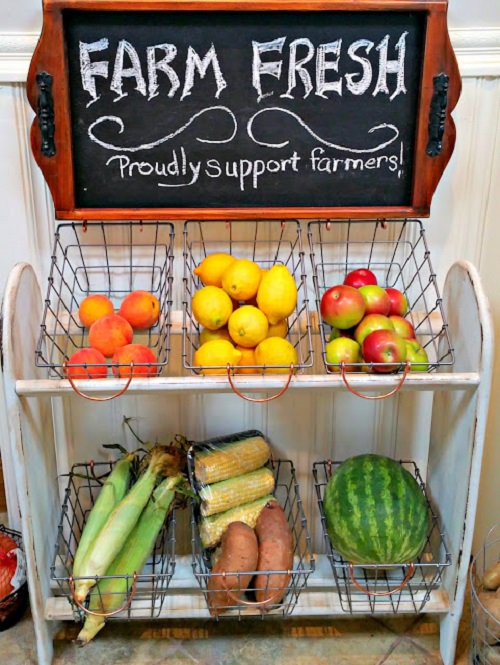 Do you have an outdated blanket rack? Transform it into a farmhouse-style vegetable stand with this easy tutorial.
3. DIY Potato and Onion Storage Bin
All you need are pine board, furring strips, plywood, nails, and a few other supplies to put together this potato and onion storage bin.
4. DIY Banana Hammock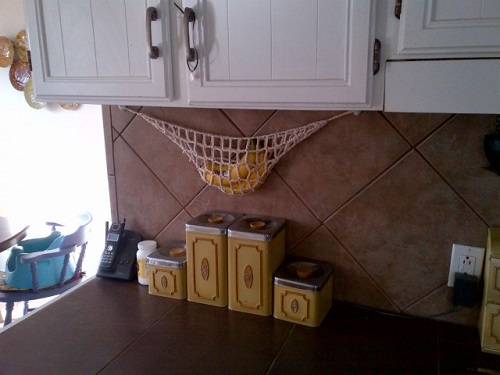 Crochet a tiny hammock to keep your bananas and other fruits organized under the cabinet. The details are here.
5. Kitchen Island with Produce Storage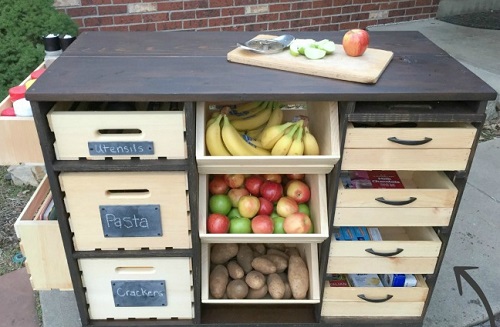 This kitchen island doubles up as produce storage and lets you organize pantry supplies as well. Read more here.
Check out some fantastic kitchen island decor ideas here
6. Stackable Fruit and Vegetable Storage Crates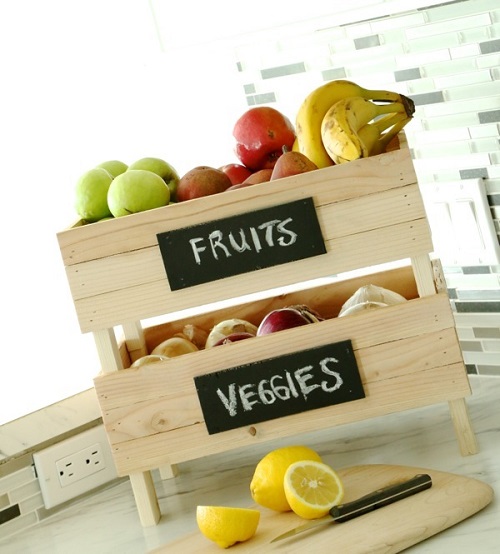 Learn how to recreate minimalistic stackable fruit and veggies storage crates in this tutorial.
7. Homemade Potato Bin/Chest
Whether it's potatoes, onions, garlic, or apples, this bin is perfect for storing produce. It's easy to build and doesn't require much space.
8. Fruit and Veggie Hanging Wall Baskets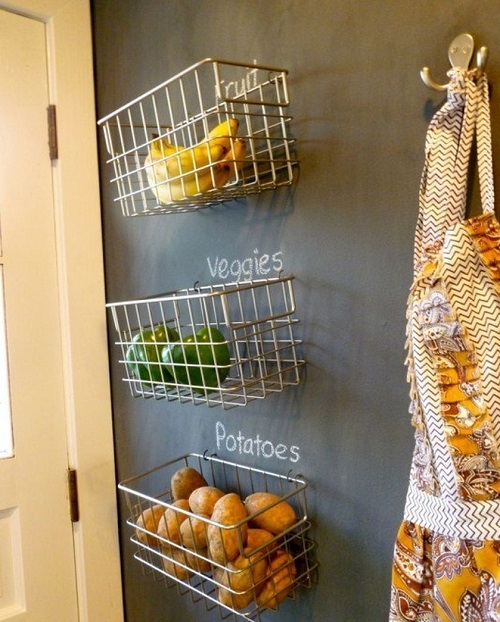 To mimic this storage idea, paint your kitchen wall with chalkboard paint and hang wire baskets using brass cup hooks. You can use the chalkboard wall for labeling or as a canvas to write your favorite poems, recipes, or drawings.
9. DIY Under Cabinet Produce Storage Boxes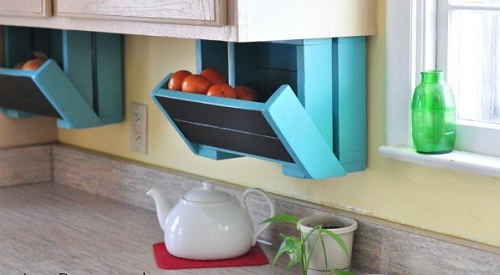 These under-the-cabinet wooden produce storage boxes are easy to build and can be made in about an hour. Feel free to modify the size of boxes as needed.
10. DIY Two-Tier Wood Produce Stand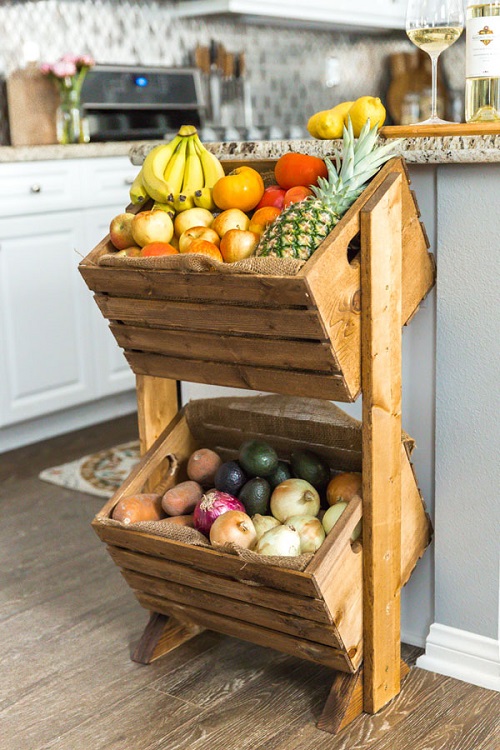 Looking for a fun way to display your fruits and vegetables while saving counter space? Build this two-tier produce stand that gives your fresh produce a functional, stylish home right in your kitchen.
11. DIY Compact Tabletop Crate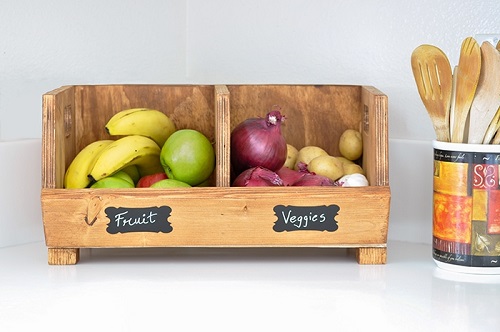 This compact tabletop crate not only lets you access fruits and veggies easily but also doesn't take up much of your counter area.
12. Vegetable Bin Cupboard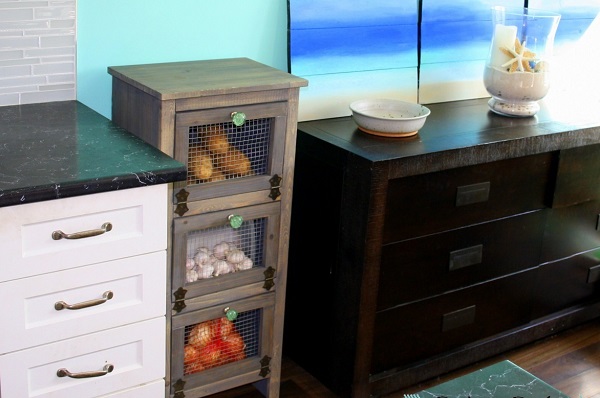 Made with chicken wire, plywood, and other supplies, this veggie bin cupboard is awesome to look at and functional at the same time. It's easy to build and cost-effective too.
13. DIY Produce Stand under $30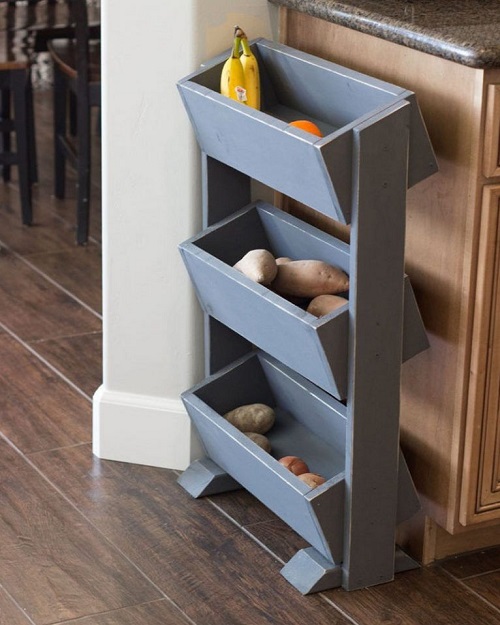 This produce stand costs only $30 and easily fits in a small nook or next to your kitchen counter. It's one of the best fruit and vegetable storage ideas on this list.
14. DIY Produce Baskets from Upcycled Shutter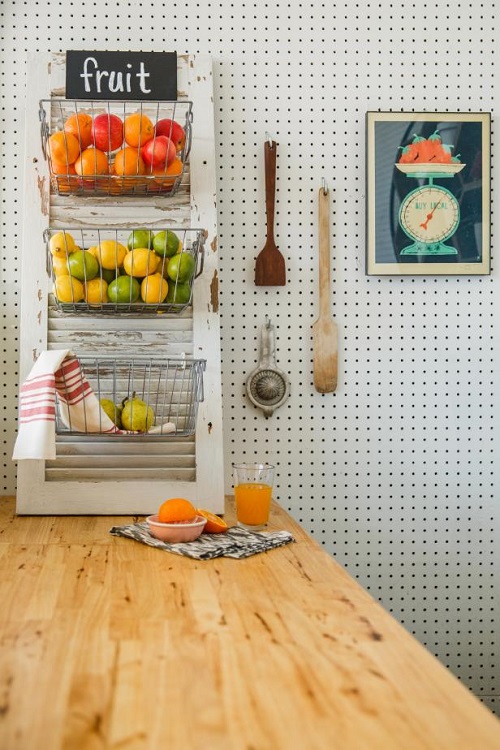 Give your kitchen a quaint accessory by trying this upcycled storage solution — perfect for organizing fruits without wasting precious counter space.
15. Three Tier Fruit Stand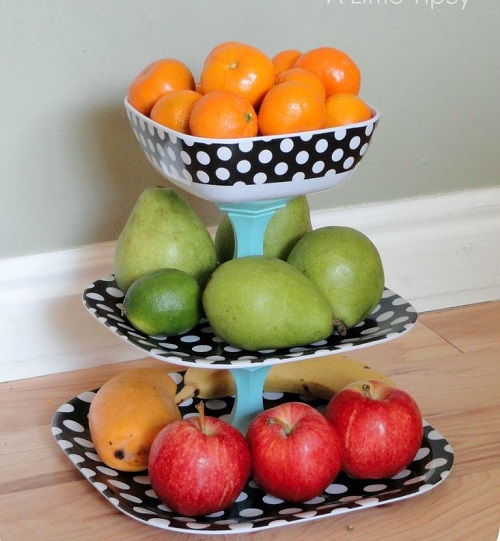 Add some color, personality, and functionality to your drab cooking space by introducing this three-tier fruit stand. The instructions are here.
16. Vegetable Rack with Slide Out Trays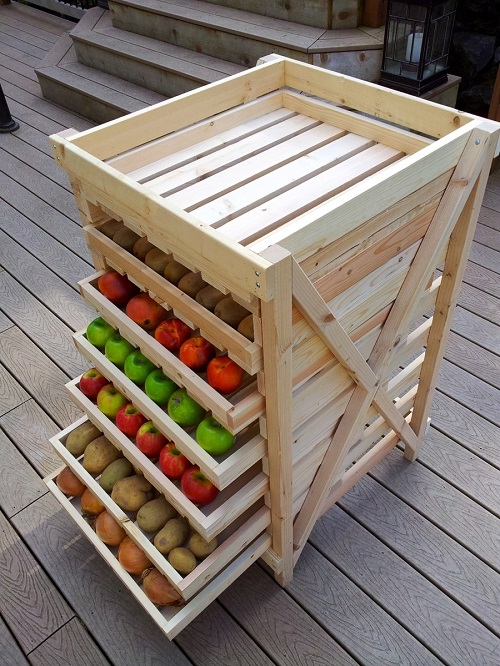 Build this vegetable rack with slide-out trays that can be used to store fresh produce or as a drying rack. The step-by-step tutorial is here.
17. DIY Hanging Fruit Basket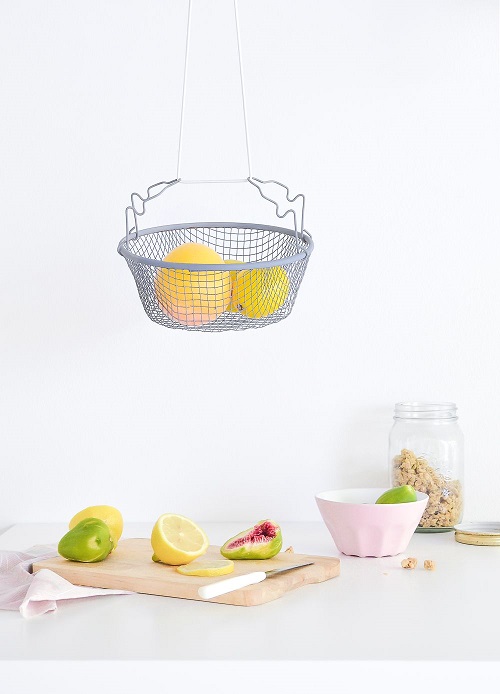 This hanging fruit basket is ideal for less spacious kitchens where every inch counts. Either hang it on top of the island or between the counters.
18. Pull Out Cabinet Wicker Baskets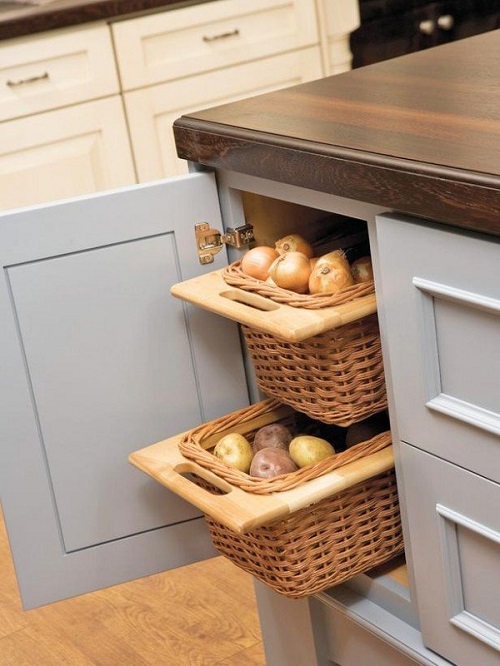 Replace cabinet drawers with pull-out wicker baskets to keep vegetables out of sight.
19. Three Tiered Hanging Wire Baskets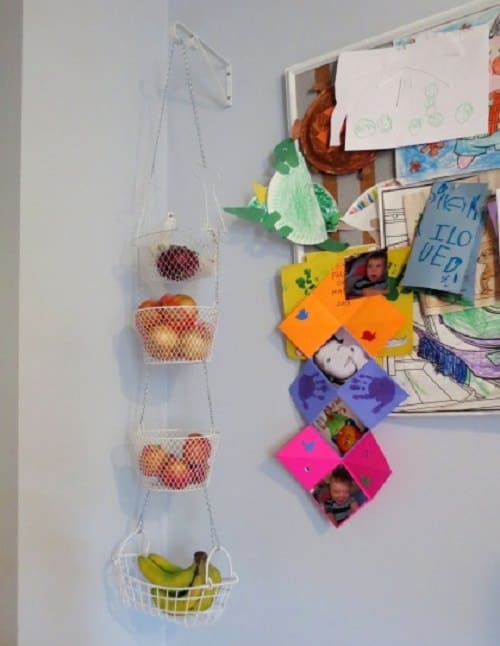 Gather a few thrift store baskets, spray paint, flimsy chain, plant hanger, screws, plier, and drill to assemble three-tiered hanging fruit baskets.
20. Cabinet Door Veggie and Fruit Basket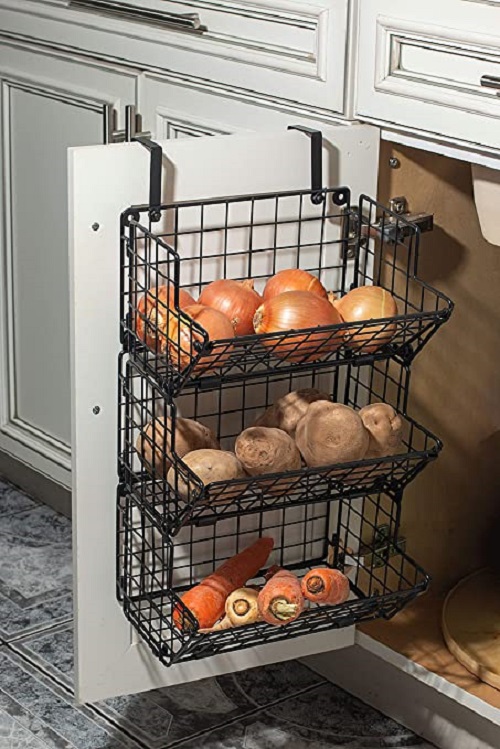 There is no need for a dedicated storage crate when you can install a fruit basket on the backside of a cabinet door.
21. Use a Shoe Organizer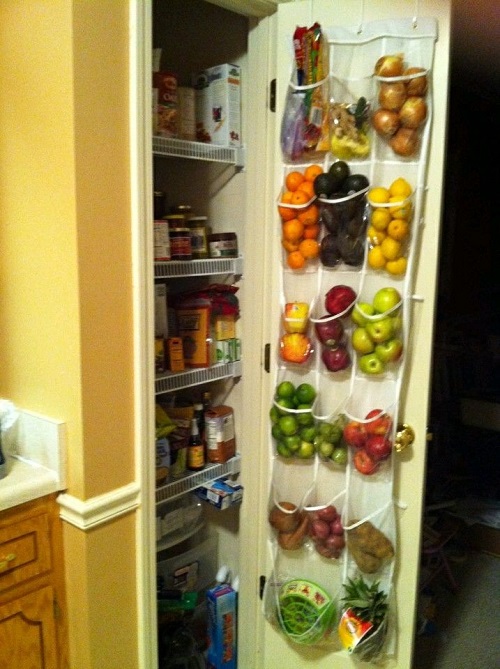 All you need is a shoe organizer to keep your fruits and veggies in order. Read more here.
22. Introduce Wire File Holders
Reuse some wire file holders to create an affordable and super compact storage solution for your homegrown or store-bought fresh produce.
23. DIY Produce Stand With Veggie Platter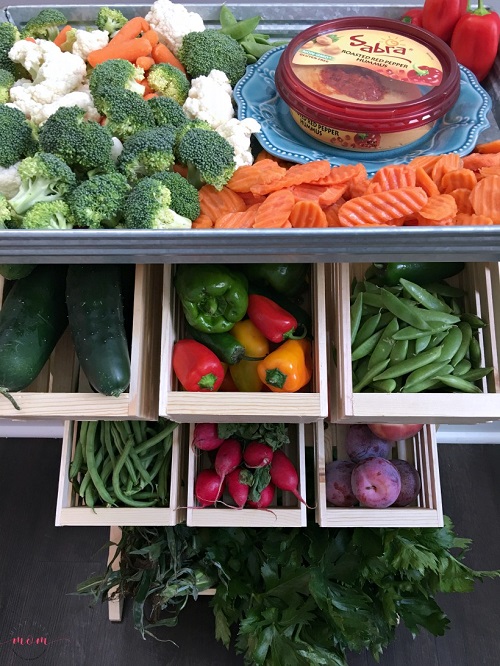 Want to make your produce stand that doubles up as a veggie platter? This article is for you.
24. Add Baskets to an Old Ladder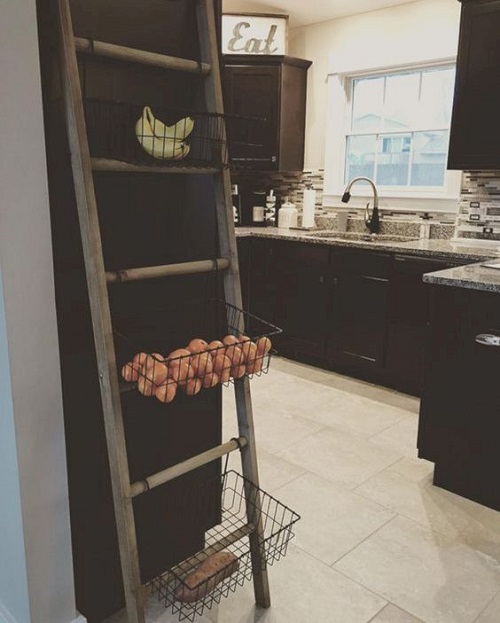 Fill your cooking room with rustic vibes using an old ladder equipped with wire baskets to organize potatoes, onions, and bananas.
25. DIY Corner Fruit Tower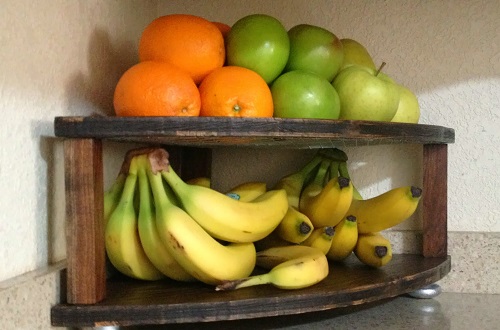 This DIY corner fruit tower has enough space to hold a variety of fruits. The details are here.
Here are some salad greens you can grow indoors