Don't want to visit the salon for a costly pedicure treatment? Read this short guide to learn How to Do Gel Pedicure at Home!

Being a well-known cosmetic treatment for feet and toenails among women of all age groups, pedicure has numerous benefits to offer. There are 15 types of pedicure treatments in which gel-based one is popular because it looks more natural, stays for a longer period of time, and doesn't require any special care. But a gel pedicure in the salon can cost you a lot and might as well affect the health of the nails with chemical-filled products. That is why you should do a gel pedicure at home rather than visiting a salon.
Learn how to remove gel nail polish with sugar here
---
How to Do Gel Pedicure at Home?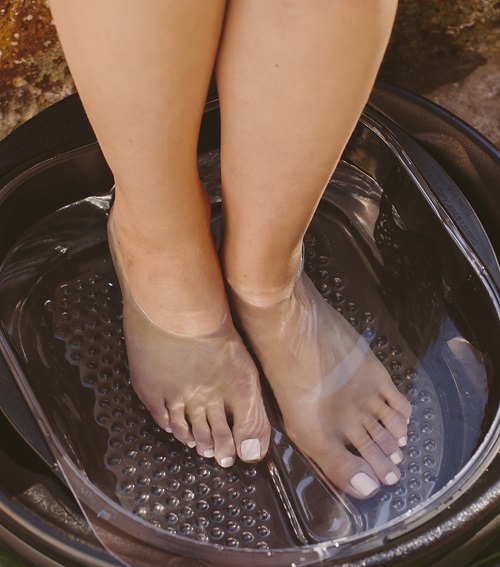 Everyone loves to do pedicures to pamper their feet and toenails, but not all can afford the costly salon treatment. Fortunately, you can do a gel pedicure at home without visiting the time-consuming and expensive salons with the below DIY. Plus, it's the best way to prevent yourself from going outside in the current pandemic.
What You'll Need
Nail Clipper
Nail Filer
A Large Tub or An Inflatable Pedi Bath
Warm Water
Nail Buffer
Pumice Stone or Sloughing Lotion
Nail Polish Remover
Cotton Balls
LED Nail Lamp
Toe Nail Separator
Directions
First, remove the old polish with a nail polish remover.
Then, submerge your feet into a large tub or an inflatable Pedi bath filled with tepid water for 10-15 minutes.
Next, trim and shape the nails' edges with a filer, and buff them thoroughly.
Once done, use a pumice stone or sloughing lotion to remove calluses from the feet.
Now, use a toenail separator and apply a thin layer of gel base coat of your choice or you can use the 'Gelixir' brand that offers both base and topcoat.
After that, cure the base using a LED nail lamp for 30 seconds.
Next, apply the first coat of your favorite gel nail polish on the toenails and cure for 30 seconds.
Coat your nails again and cure the polish for 30 seconds.
Once you're done, apply at least two topcoats of the 'Gelixir' brand on your nails and cure each topcoat for a minute.
Voila! You have completed the gel pedicure at home without any professional help.
---
How Long Does a Gel Pedicure Last?
Gel pedicures last longer than standard pedicures because of the curing process. Salon and in-home gel pedicures don't lose their charm for up to 2-3 weeks or more. You can redo the pedicure treatment after a month or whenever your toenails polish starts to chip.
---
Are Gel Pedicures Bad for Your Nails?

Gel pedicure makes the nails lustrous, virtually indestructible, and long-lasting, but it can also be hard on toenails. It makes your nails thinner, weak, and crumbly. Furthermore, gel pedicure has other disadvantages as well. That's why despite all the benefits of gel pedicures, it's vital not to use this self-pampering treatment more often.
Learn how to whiten nails with vinegar here