Learn How to Remove Tint From the Car Window using the budget-friendly and fuss-free method mentioned below!
Removing tint from a car window is easy and can be done at home. To know the process, read this article about How to Remove Tint From Car Window till the end.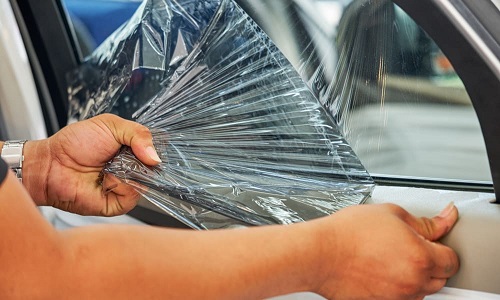 What Is a Window Tint?
A window tint is a special thin transparent film applied to the car windows for privacy and protection from the sun's scorching heat. Furthermore, it reduces glare, blocks UV rays, and prevents car upholstery and dashboard from fading as well.
Types of Car Window Tints
There are various window tints to choose from, and each has its unique advantages.
Dyed Window Tint
If you want a budget-friendly tint for your car, dyed window tint is for you. This tint is non-reflective and offers a decent amount of protection from the sun's Ultraviolet rays. Furthermore, dyed tint looks opaque from the outside, giving good visibility to the driver. However, it fades with time due to constant sun exposure.
Metalized Window Tint
Metalized window tint consists of three layers, i.e., an adhesive layer, a metallic layer, and a protective exterior coating. This expensive tint is long-lasting, scratch-proof, and stops heat and Ultraviolet waves more efficiently than dyed ones. However, there is one major downside; it interferes with the radio waves, cell phone signals, and GPS.
Hybrid Window Tint
A hybrid window tint comprises both dyed and metalized window tints. It comes with the perks like enhanced privacy, a strong UV blocking system, scratch resistance, and a fade-proof surface. Although, this tint is pricey and interferes with the signals as well.
Carbon Window Tint
Carbon tint is a popular choice among car owners because of its unique and attractive matte finish. This tint hinders infrared light, prevents the car upholstery from fading, and makes the vehicle's interior cool.
Crystalline Tint
If you want a car window tint with a transparent appearance, crystalline tint is an excellent choice. Despite its less darkening appearance, it still stops sun radiation and Ultraviolet light, but it's not suitable for privacy-concerned people.
Ceramic Window Tint
Made from numerous ceramic particles, ceramic window tint is the latest and most expensive one. This tint is long-lasting, scratch-proof, stops almost 99% of Ultraviolet light, never changes colors or fades, diminishes the impact of glare, and doesn't hamper the GPS and cell phones signals.
How to Remove Tint From Car Window?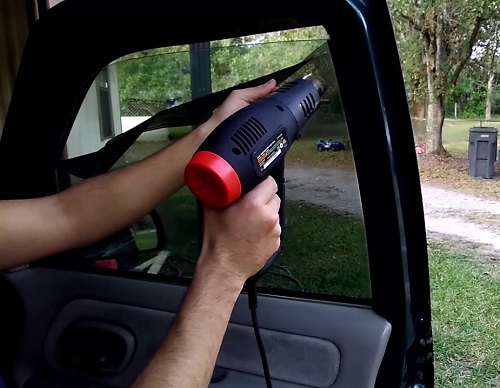 Over time, window tints become bubbly, scratched, or discolored. If you are also facing such an issue, remove your car's degraded window tint using the below method.
What You'll Need
Handheld Upholstery Steamer
Razor Blade
An Extension Cord
Liquid Dish Soap
Empty Spray Bottle
Tepid Water
Directions
Leave your vehicle door open and lower the car window slightly so the top edge of the tint covering is visible.
Keep the handheld steamer 1–2 inches away from the window.
Next, steam the window from both sides, making sure to cover the edges of the tint, work from top to bottom and back to forth.
Lift the corner of the tint film with a razor for peeling. Blow more steam if you're unable to lift the window tint.
Peel the tint from the top of the car window and keep applying the steam between the process.
Once it's done, if there is any leftover sticky residue, clean it with the solution of one part of each liquid dish soap and tepid water. Wipe with a clean microfiber cloth afterward.
Redo this same technique on each tinted car window.
Notes
If you don't have a steamer handy, you can use a hairdryer.
While using the steamer, heat the window glass evenly.
Avoid peeling the tint too quickly, otherwise, it will tear.
Make sure not to overheat the car window.
Be careful while using the steamer and razor blade.
Car Window Tint Care Tips
Avoid cleaning and any physical interaction between the curing period of newly tinted car windows.
Never clean the tinted windows with chemical-filled cleaners and abrasives.
Be extra cautious while using seatbelts, loading, and unloading anything with sharp edges to prevent damage to the window tint.
Learn everything about cleaning car seats with shaving cream here