These DIY Tiki Torch Ideas will light up your yard, balcony, porch, and patio, besides adding to the place's aesthetics!
Illuminate your space with the appealing glow of these amazing DIY Tiki Torch Ideas. They are a great addition to parties and bonfires.
Here are some stunning DIY floor lamp ideas
---
DIY Tiki Torch Ideas
1. Tiki Torch Planters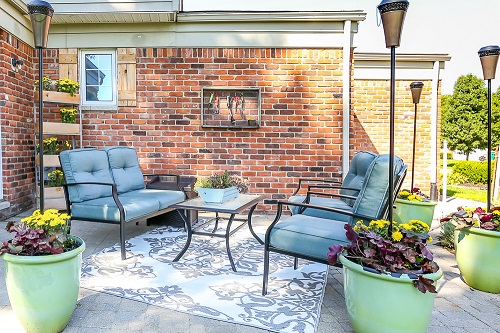 Go through this tutorial to create tiki torch planters that make your space visually attractive and free from mosquitoes.
2. DIY Concrete Tiki Torch
This YouTube video will help you create an amazing concrete tiki torch for your outdoor patio or picnic table.
3. Repurposed Wine Bottle Tiki Torch DIY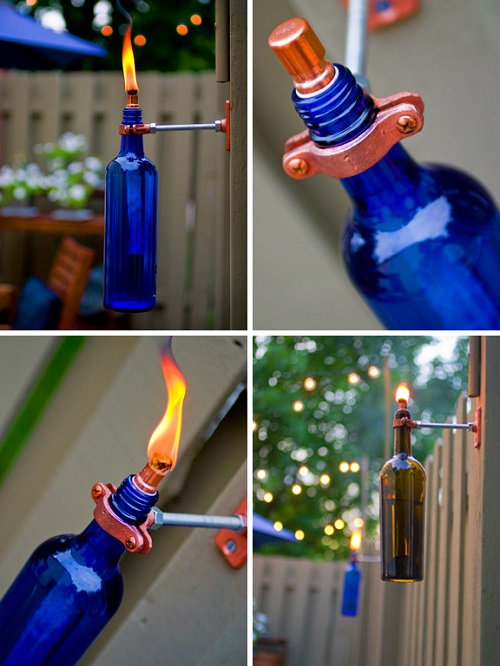 This tiki torch project will transform your backyard from bland to creative and vivacious. Simply grab an old wine bottle to get started.
4. Backyard Wire Cage Tiki Torches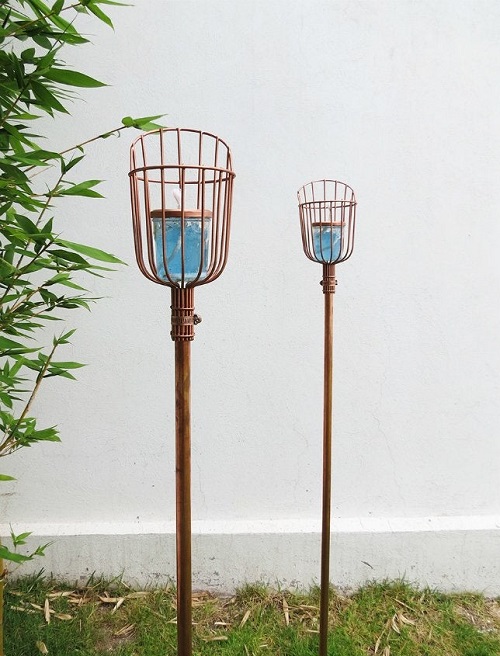 Light up your yard without attracting any bugs to the party with this trendy DIY tiki torch setup. The details are here.
5. Simple Mason Jar Tiki Torch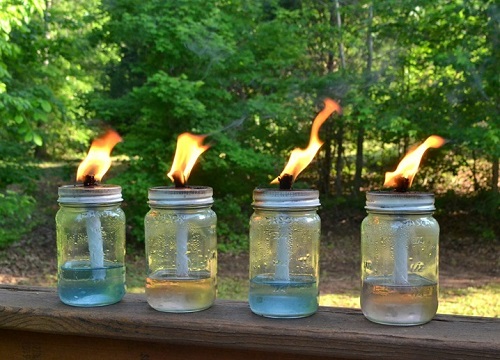 You can make a simple tiki torch using a mason jar, oil, and a wick. It's one of the best DIY tiki torch ideas on this list.
6. DIY Industrial Style Tiki Torch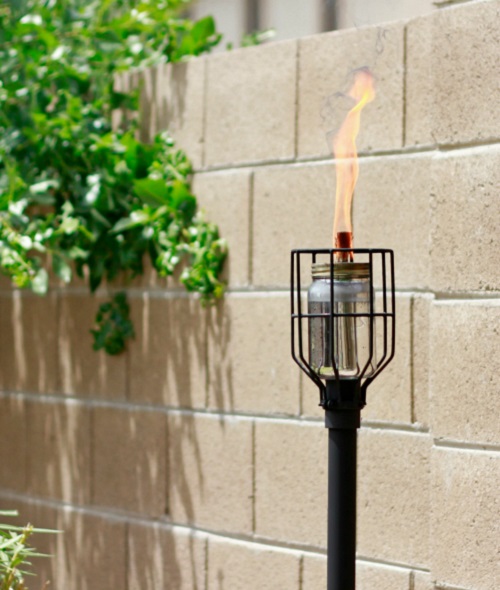 Filled with rustic industrial vibes, this tiki torch is an excellent addition to the outdoor space. Make one for yourself using this article.
7. Mason Jar & Custom Pole Tiki Torch
This elegant custom tiki torch is made from a mason jar, pine, oak, 550 (camouflage) cord, and round steel stock.
8. DIY Tiki Torches from Old Glass Bottles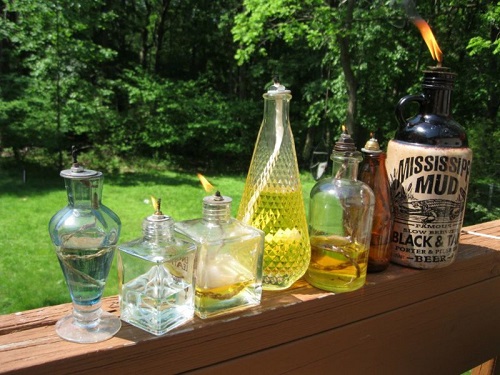 Recycle a few old glass bottles to make affordable tiki torches. You can use different-sized bottles for this idea.
9. Tiki Torch Tree Idea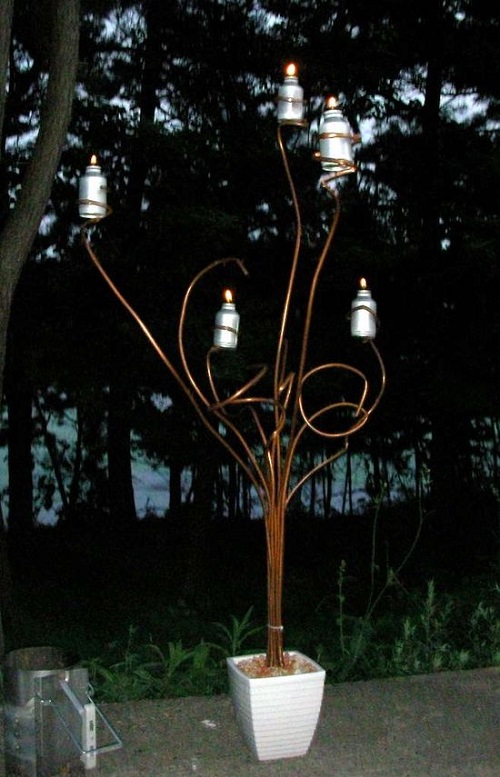 Make this unusual tiki torch tree out of a copper pipe and a few supplies. Once it weathers, you'll have a green, natural-looking pièce of art.
10. Modern DIY Copper Tiki Torches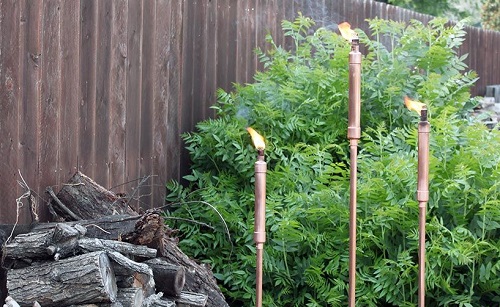 Check out this instructable to assemble modern copper tiki torches that are clean-looking and easy to make.
11. DIY Skull Tiki Torches
These skull tiki torches add creepy fun to your yard this Halloween while lighting the way for all the little ghosts & goblins.
12. Tabletop Tiki Torches
Here's the how-to video to create tiki torches from copper piping and some other easy-to-find materials. They are inexpensive to make.
13. DIY Beer Bottle Tiki Torch
This thrifty project uses a glass beer bottle, citronella oil, and cotton wick from an old mop head to make a reusable tiki torch.
Here are some wine bottle ideas for the garden
14. Homemade Tiki Torch Out of Can
Look at this helpful tutorial to make a frugal tiki torch out of an aluminum cane in a few simple steps. It's one of the most amazing DIY tiki torch ideas.
15. LED Tiki Torch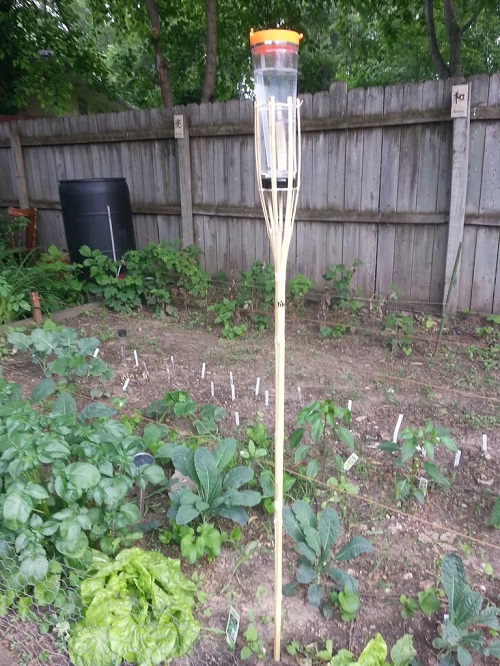 This LED tiki torch provides ample light at night in a backyard or around a campfire. It's cheap and doesn't need any tools.
16. DIY Electric Tiki Torch
If you don't want the risk of fire, create an electric tiki torch featuring a realistic-looking flame effect using this video tutorial.
17. Cute Mason Jar LED Tiki Torch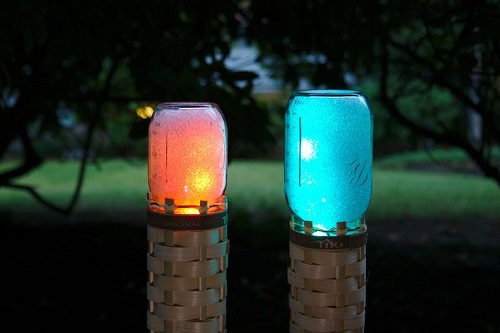 Recreate these pretty, colorful tiki torches with RGB LEDs, mason jars, bamboo torches, and Arduino Gemma boards. Learn more here.
18. Moltov Tiki Torch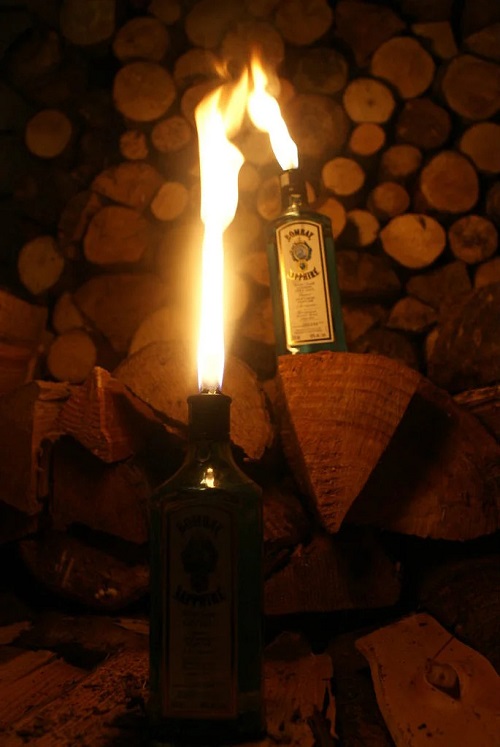 This moltov tiki torch not only throws a ton of light, more than a typical lamp but also looks gorgeous. Read more here.
19. DIY Tiki Torch Spinning Lantern
Make this tiki torch spinning lantern to give your outdoor space a spectacular feel and look.
20. Solar Tiki Torch Idea
Do you love the look of tiki torches but don't want the fire hazard? This option is right for you. It's one of the easiest DIY tiki torch ideas.
21. Wood and Mason Jar Tiki Torches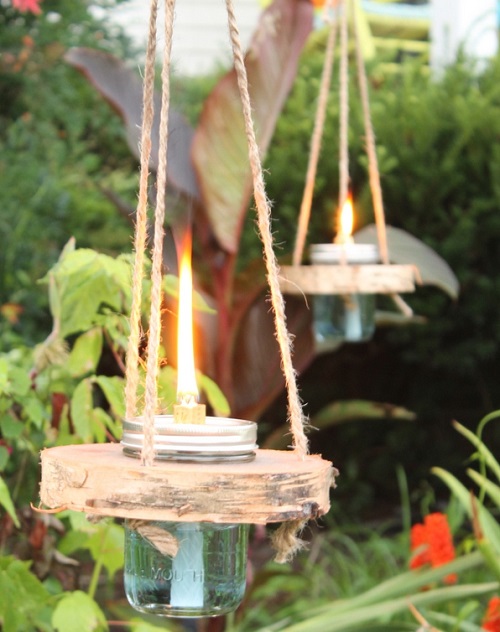 One thing that makes this tiki torch stand out is that you can hang it anywhere. Hop to this article for more info.
22. DIY Mini Copper Tabletop Tiki Torch
Along with keeping bugs at bay, these mini copper tiki torches are a perfect decor for any table setting.
23. Easy DIY Coastal Tiki Torch
Introduce coastal glam to your yard with this beautiful tiki torch featuring sea shells, driftwood, jute twine, and sea glass paint.
24. Decorative Tiki Torches
Jazz up your patio or porch table with these decorative tiki torches. Gather glass bottles, sand, wicks, torch fuel, E6000, faux flowers, and copper couplings for this idea.
25. Painted Tabletop Tiki Torches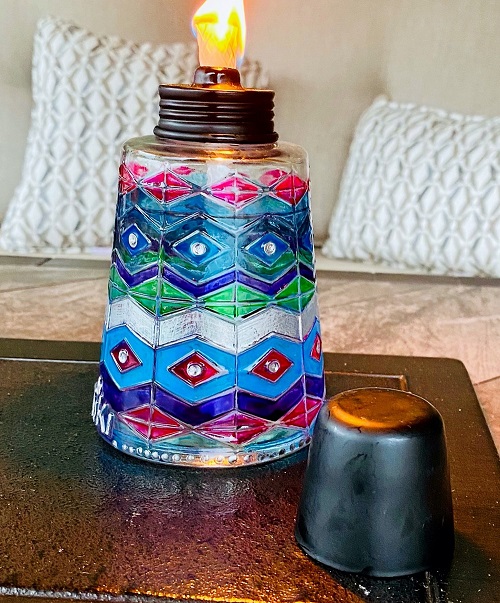 Perfect for indoor and outdoor spaces, this eye-grabbing tiki torch project takes about half an hour to complete.
26. DIY Water Bottle Flameless Tiki Torch Ideas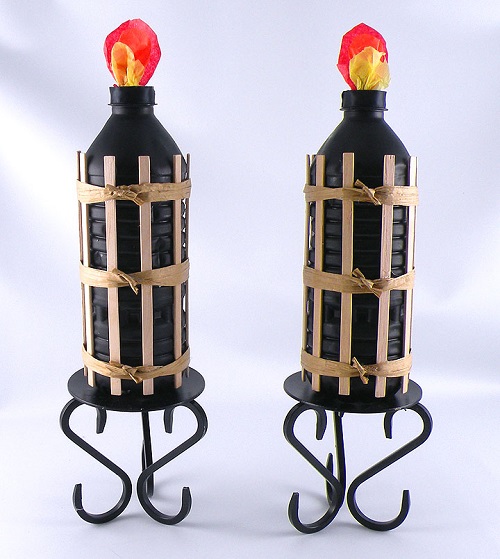 This flameless tiki torch is an ideal table decoration for indoors. Plus, it gives the people sitting inside the feeling of being outdoors. Get detailed instructions here.
27. Upcycled Tiki Torch Craft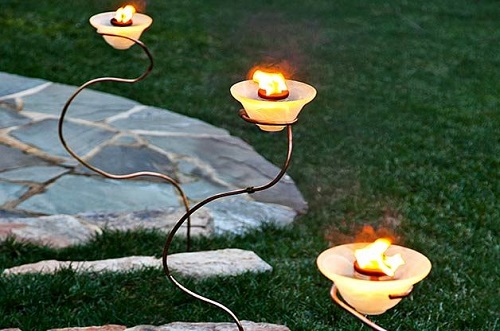 Revamp an old lampshade to illuminate your garden with a curvy tiki torch. It's one of the most awesome DIY tiki torch ideas.
Find out homemade DIY chandelier ideas here