Transform any parade into a delightful and festive celebration with these creative Parade Float Ideas!
Parades have long been a beloved tradition in communities worldwide, bringing people together to celebrate major milestones and show off their artistic talents. Every spectacular parade has an eye-catching float that steals the show. For some amazing concepts, check out this list of Parade Float Ideas that will help you produce a show like no other.
Here are the Best Christmas Car Decoration Ideas
---
Parade Float Ideas
1. Patriotic Parade Float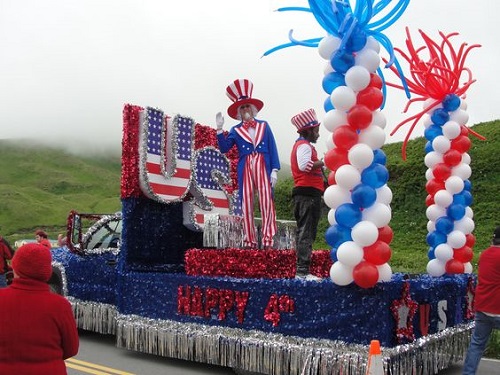 This captivating float proudly displays the nation's colors. Embellished with a big US sign, and vibrant balloons, it's a sight to behold. The colorful streamers take the visual appeal to a whole new level.
2. Halloween-Themed Parade Float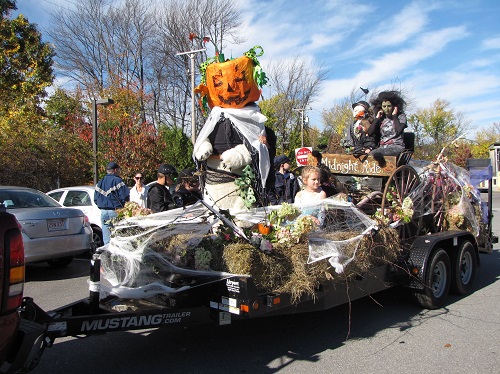 Looking for a spooky float idea for the Halloween parade? Simply adorn the float vehicle with a pumpkin-headed figure, ghosts, witches, hay bales, wooden wheels, and cobwebs. This design will steal the show and surely send shivers down the spine.
3. Alice in the Wonderland Parade Float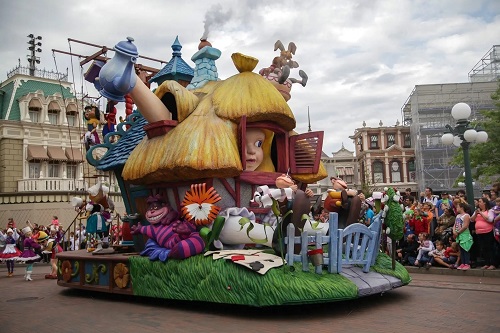 This fantastic float showcases a giant 'Alice' holding a teapot stuck inside an oversized house, the Cheshire cat, and other beloved characters. It's one of the most enchanting parade float ideas on this list.
4. Mardi Gras Parade Float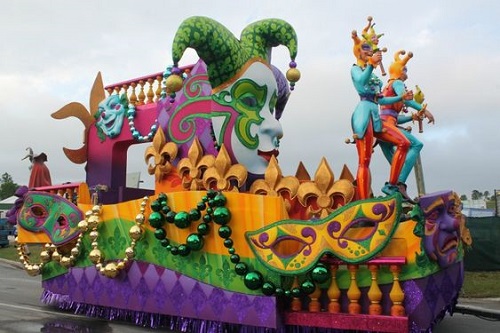 Make your mardi gras parade float stand out with bright colors like purple, gold, and green. Add beaded necklaces, multiple masks, jester images, glitter, streamers, and life-size figurines.
5. Circus-Inspired Parade Float
This circus-inspired parade float features a stylish entrance, acrobats, clown figurines, jugglers, and more. Plus, this float is creatively adorned with colorful decorations such as streamers and balloons. With bright lights and lively music, you can turn the streets into a thrilling show that captivates audiences of all ages.
6. Creative Hollywood Parade Float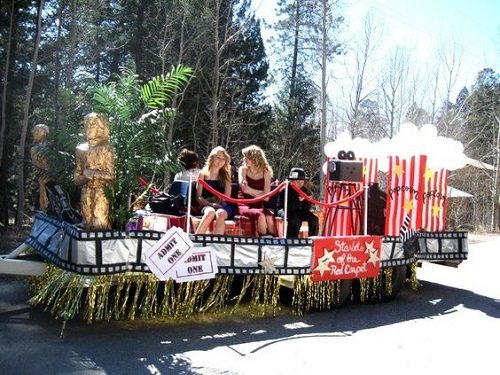 Capture the glitz and glamour of the big screen with a float inspired by the world of cinema. With popcorn boxes, cameras, Oscar statues, streamers, and some actors, the Hollywood parade float is an amazing sight.
7. DIY Pioneer Day Parade Float
This pioneer day parade float is a unique way to highlight historical events and will surely be a crowd-pleaser. If you want to create one, gather your loved ones and check out this project.
8. Church Parade Float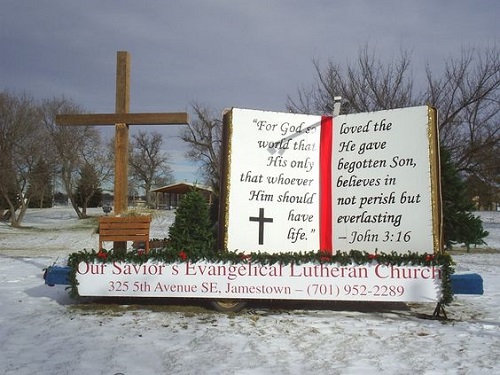 Showcase the spirit of faith and the holiday season with this church-themed parade float. It's adorned with a towering wooden cross that serves as the float's centerpiece, symbolizing faith. Surround it with a petite Christmas tree and evergreen garland to evoke the warmth and joy of the holiday season. Complete the scene with an oversized bible, reminding onlookers of the teachings and messages that the season celebrates.
9. Garden Parade Float Idea
This dreamy garden-themed float has bright flowers, giant fruits, and vegetables. It's like stepping into a fairy tale. This float will bring a splash of nature's charm to any parade.
10. DIY Makerspace Parade Float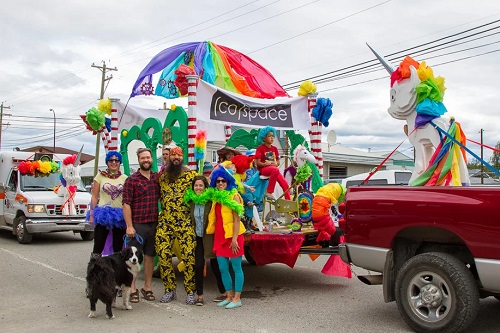 Follow this helpful instructable to create a captivating parade float displaying unicorns, colorful feathers, spray paint, and other elements. It's a perfect concept for local parades.
11. Beach Parade Float Idea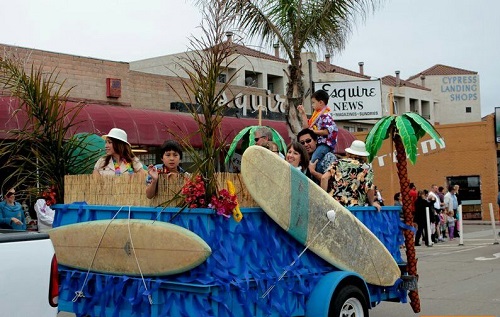 The beach-inspired parade float is great for summer festivals, coastal festivities, or themed events. It can add a lively and joyous mood to any parade with its decorations of sand, palm trees, surfboards, and colorful décor.
12. Toy-Land Parade Float
Embellished with giant toys, colorful decorations, and playful characters, this float will bring happiness and excitement to the parade. Both kids and adults will love this amazing concept. This parade float will remind everyone of their happy childhood memories.
13. Gingerbread House Parade Float Idea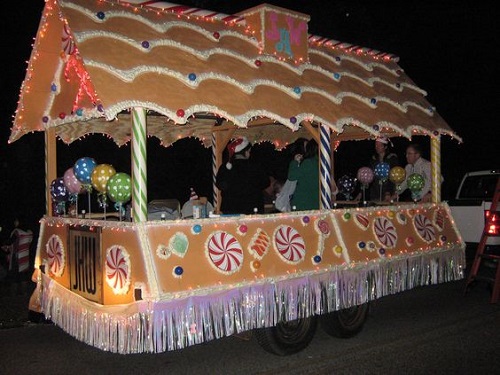 A parade float resembling a giant magical gingerbread house is a sight to behold. This house has candy cane pillars, gumdrop ornaments, and frosting on top made of icing. It's a wonderful way to celebrate and spread holiday cheer within the community.
14. Santa's Work Shop Parade Float for Kids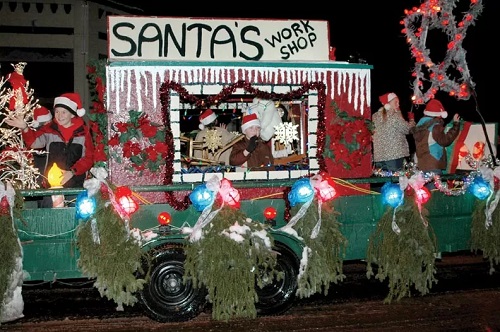 This festive parade float has Santa's workshop, Christmas trees, a giant star, and evergreen branches. It's like a piece of the North Pole brought to life with cheery festive vibes.
15. Nativity Float Theme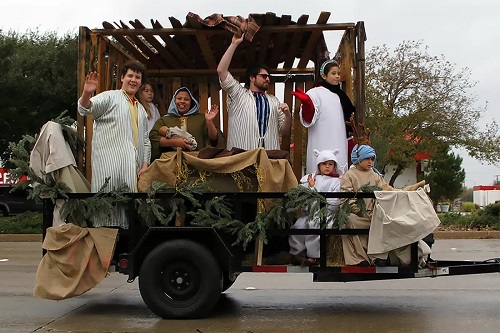 Add holiday vibes to your parade float by creating a nativity scene. Incorporate elements such as the Three Wise Men, Mary, Joseph, baby Jesus, and barn animals. Complement the scene with a hut and evergreen branches.
16. DIY Mardi Gras Shoe Box Float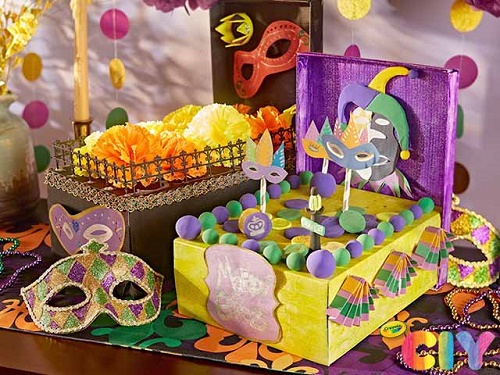 Encourage your kiddo to turn a simple shoebox into a mini parade float with paint, cardstock, and construction paper to mirror the excitement of the Mardi Gras celebration. This delightful activity brings joy and the spirit of a cultural tradition right into your living room.
17. Sarimanok-Inspired Parade Float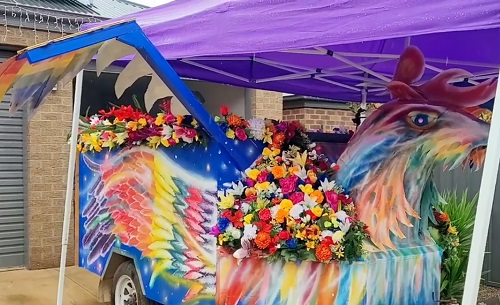 This majestic float looks like the legendary bird Sarimanok is a sight to behold. Sarimanok is a Philippine mythical bird, which is a combination of a rooster and a phoenix. This bird represents the local Filipino community. Learn more in this video.
18. Rock-n-Roll Parade Float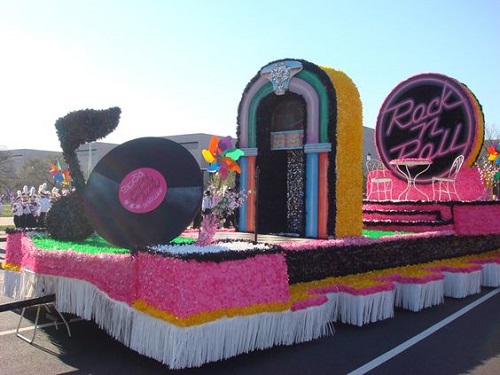 Get ready to rock the streets with the electrifying rock and roll parade float. It features colorful decorations, a giant jukebox, streamers, an oversized vinyl record, and a seating area.
19. Beyond the Stars Parade Float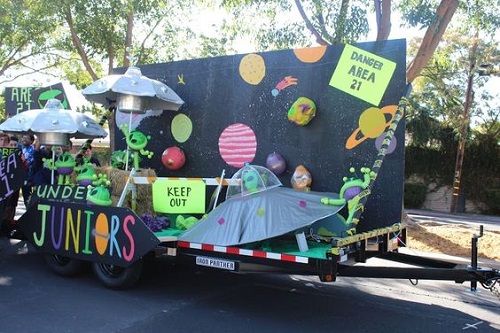 Decorated with flashing stars, planets, UFOs, and green aliens, this parade float will surely attract everyone's attention. You can also add an astronaut figurine for more visual appeal.
20. DIY Mini Doll Parade Float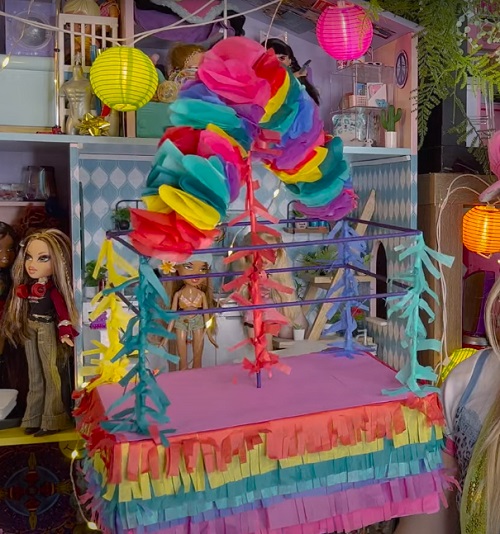 Watch this video tutorial and turn a simple shoebox into a miniature doll parade float. This DIY project is a fun, interactive activity for children, encouraging imagination and craft skills.
21. DIY Little Shop Parade Float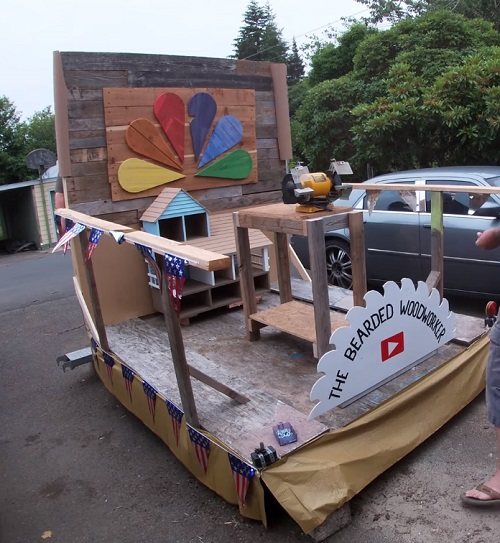 In this YouTube video, the DIYer creates a parade float with the 'NBC' channel's logo for the local festival named 'Beachcomber's.' This unique float is the replica of his small shop.
22. King Kong Parade Float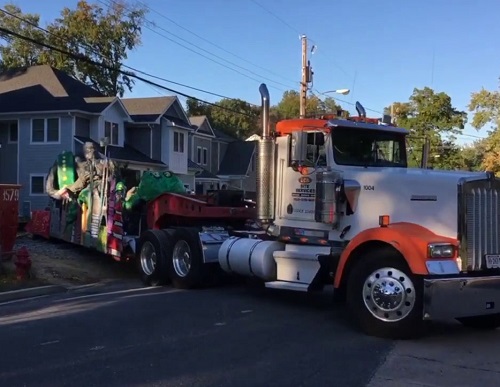 To recreate this ultimate Halloween parade float, simply check out this video guide. It features a massive 9-foot King Kong and a Squid for a spooktacular road show.
Read the Halloween Ghost Lawn Decorations here