Get your yard festive-ready with these eerie Halloween Ghost Lawn Decorations that match every theme perfectly!
Ditch the store-bought ghosts inflatables and create your own spooky Halloween Ghost Lawn Decorations using the below ideas.
Here are some scary Halloween bathroom decorating ideas
---
Halloween Ghost Lawn Decorations
1. Hauntingly Sweet Circle of Ghosts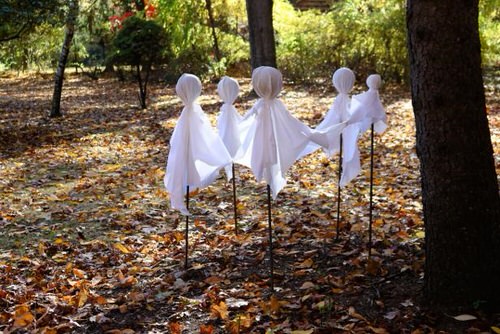 Don't have a big budget for Halloween decorations? No worries, this sweet circle of ghosts is inexpensive and haunts the people who walk by the lawn. Grab large styrofoam balls, white cotton fabric, rebar, and white yarn to complete this DIY.
2. DIY Scrap Wood Ghosts Decorations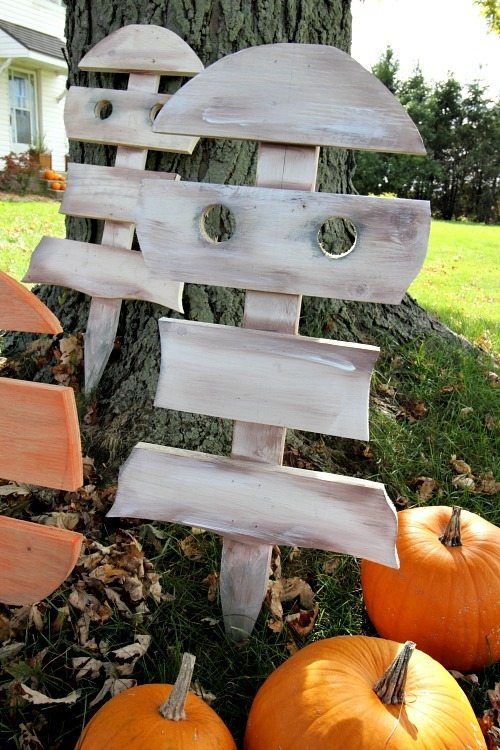 Made with plywood, brad nailer, and paint, these DIY scrap wood ghosts will be a great addition to your spooky Halloween lawn decor.
3. Hanging Tin Can DIY Ghost Decor

Upcycle the large tin cans into adorable hanging lawn ghosts with a few household items and this easy DIY. It's one of the best Halloween ghost lawn decorations.
4. Ghost Leaf Bags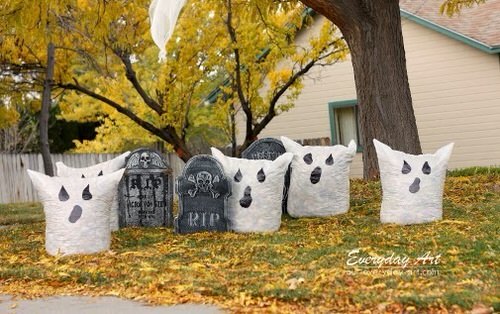 A bunch of ghost leaf bags placed near the graveyard decor will give your lawn a spooktacular look. White garbage bags and dried leaves are required for this DIY.
5. Glowing Ghost Lawn Decor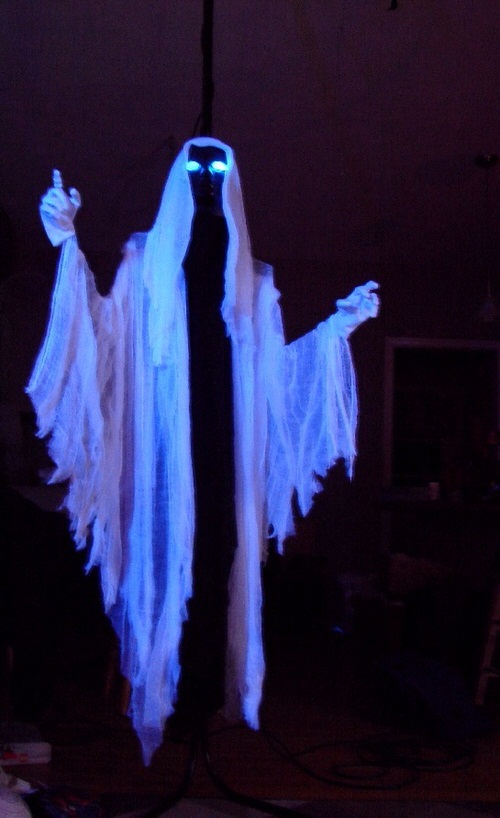 To make this ghoulish ghost, first, make a body frame using PVC pipes. Install a black foam head on the structure and insert the blue LED's from its back. Zip-tied a black fabric from shoulder to legs and drape a white cheesecloth. Lastly, use a pair of gloves to complete the ominous look.
6. Menacing Ghost Mob
For this craft, you will need a lot of chicken wire ghosts that resemble bodily figures. Then, cover them with black fabric from top to bottom. Drape some cheap drop cloths over the ghosts and attach the gloves. Place them strategically around the lawn to creep the people.
7. Chicken Wire Ghost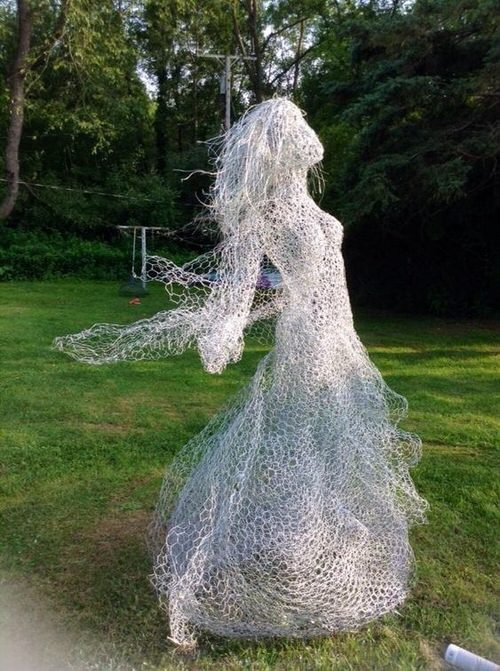 Use chicken wire to create a life-sized ghost and feature it on your lawn to show off your creativity while also scaring people. You might even paint it glow-in-the-dark to make it stand out at night.
8. DIY Lamp Post Ghost Decor

Turn a mediocre lamp post into an eerie ghost to get into the festive mode. Prepare this lamp post ghost to scare the guests and even the passerby. It's one of the spooktacular Halloween ghost lawn decorations.
9. Menacing Molly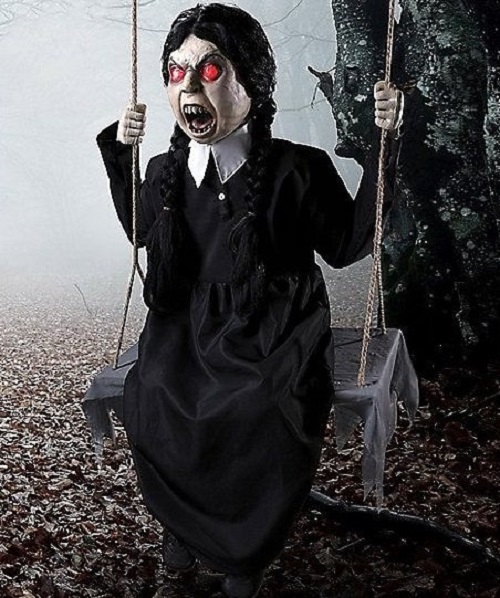 A girl with a sinister-looking face, pale skin, and sharp teeth playing on her swing scares the living daylights off of your guests.
10. Spooky Glowing Ghost Decor

Scare your loved ones by making these spooky glowing ghost decorations. Take the help of a professional or a family member if you're unfamiliar with glass DIYs.
11. Lantern Ghost Halloween Decor

A scary and unwelcoming ghost lantern is a perfect Halloween lawn decor. Since it uses a milk jug, it could be your way to decorate for Halloween while creating zero waste.
12. DIY Halloween Floating Ghosts

This zero-waste Halloween lawn decor idea is customizable with fabric and some trash. It's an excellent idea to decorate your lawn in a minimalist fashion.
13. Halloween Ghost Glow Balloons

Add a creepy touch to your lawn with these balloon ghosts that are cheap and super easy to make. It's one of the spooky Halloween ghost lawn decorations.
14. Tomato Cage Ghost Decor DIY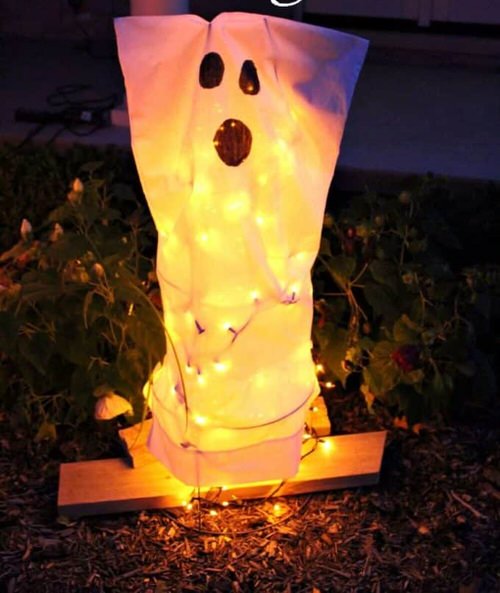 Looking for a last-minute Halloween lawn decor idea? Give a shot to this tomato cage ghost that emits the Halloween vibe at its best.
15. DIY 7ft Grim Reaper

This Halloween, decorate your lawn with this bone-chilling 7ft tall grim reaper that makes your decor more noticeable and creepy.
16. Wooden Halloween Ghosts Decorations

If you have useless old fences, repurpose them by making a couple of ghastly wooden Halloween ghosts for amazing decorations.
17. Cute Halloween Ghosts Decorations

Keep your lawn decor less scary and kids-friendly by hanging these cute little ghosts with pretty eyes. This is an exceptional idea for the soft-hearted ones!
Check out the DIY Halloween Wreath Diorama here
18. Giant Inflatable Ghost Lawn Decor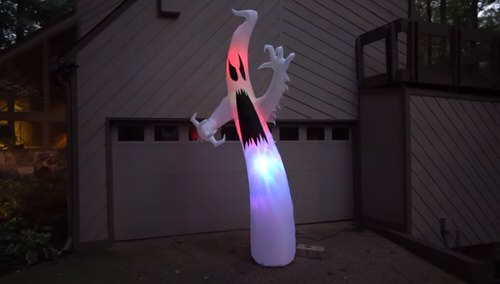 Use this super creepy, color-changing, giant inflatable outdoor to startle your neighbors. It's one of the eerie Halloween ghost lawn decorations.
19. Life-Size Ghost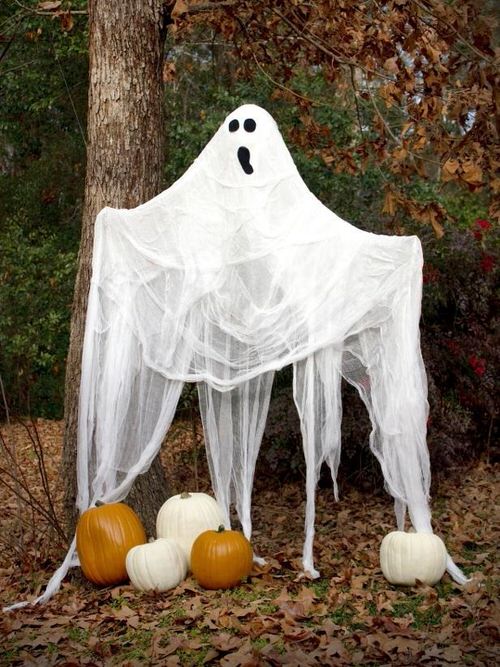 Make the best use of your lawn space with this hair-raising life-size cheesecloth ghost. Placed it around the tree to amp up your outside decor.
20. Illuminated Ghost Garlands
Stands out during the day and night, these adorable illuminated ghost garlands will surely attract a lot of eyeballs.
21. Halloween Tree Ghosts
Hang a bunch of these fabric ghosts from a large tree on your lawn to create a frightening aura near it. Learn how to make these ghosts here.
22. Cheesecloth Spirits
Add a spooky ambiance to your lawn with these funny and ominous cheesecloth ghosts. You can add a face to these ghosts for a more personalized look.
23. Packing Tape Ghost Hand Decor

A ghost hand rising from the lawn ground sounds creepy and disturbing and might even startle people who trip on it accidentally. It's one of the awesome Halloween ghost lawn decorations.
24. Trash Bag Ghost

Recycle trash bags to create a set of ghosts to be featured on your lawn's front side. These ghosts will welcome your guests with a Halloween feel without costing you much.
25. Paper Mache Ghost

Wish to make a spooky statement without spending much time or energy? Try this paper mache ghost DIY and hang it on the trees or other suitable places.
26. Ghost Bride Halloween Decor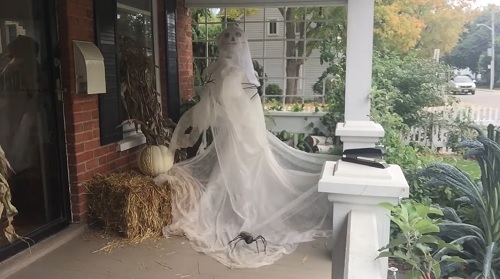 Create a nerve-racking experience for your guests by decorating your lawn with this eerie ghost bride. You can opt to create a ghost groom to stand next to the bride and make them welcome your guests!
27. Spooky Ghost Maidens

These bewitching ghost maidens arranged on the lawn are ready to shock unsuspecting visitors. It's one of the fantastic Halloween ghost lawn decorations.
28. Disney's The Haunted Mansion's Hitchhiking Ghosts

Inspired by Disney's The haunted mansion, these ominous hitchhiking ghosts will make your lawn Halloween decor memorable.
29. Packing Tape Ghost Babies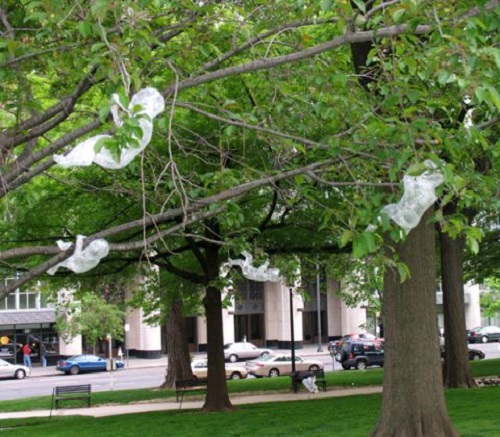 Create a set of ghost babies crawling on a tree's branch and make the setting frightful and unique with minimum effort. Also, you can DIY ghost parents and place them below the tree as if they're watching their kids.
30. Skeleton Ghost Lawn Decor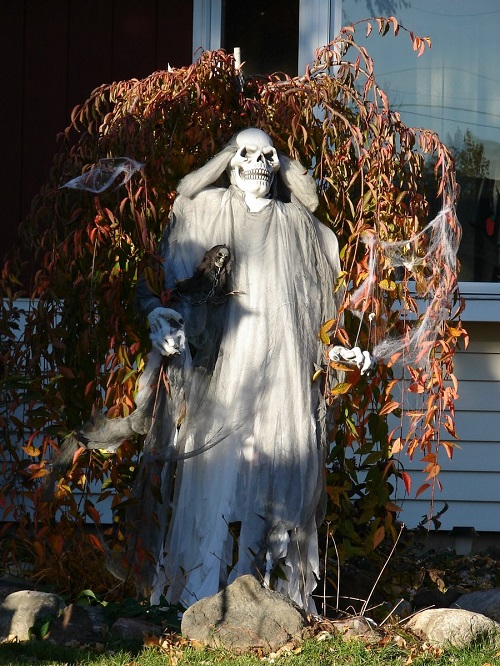 Dress a skeleton in a white cloth and place it on your lawn. Next, decorate a bunch of fall leaves and branches behind it to give it a satan-like look.
31. Dancing Chicken Wire Ghosts

Here's the detailed tutorial to create eerie, oversized dancing ghosts out of chicken wire.
32. Ghost Logs

All you need are wooden logs and paint to create these funny ghost logs. It's an excellent last-minute Halloween lawn decor idea.
33. DIY PVC Monster Mud Reaper Ghost
Amp up the spooky ambiance of your outdoor space with this frightening monster mud reaper. The step-by-step instructions are here.
34. Easy Packing Tape Ghost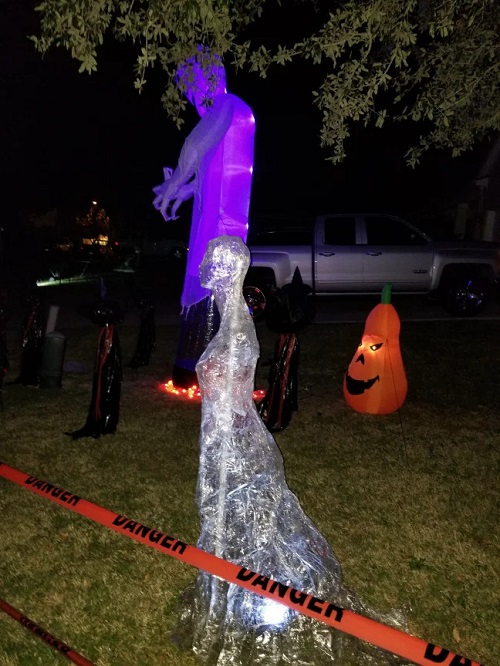 To imitate this life-size ghost, grab a decorative dress form, clear packing tape, plastic wrap, a styrofoam head, and this DIY. It's one of the best Halloween ghost lawn decorations.
Here are some zero-dollar DIY Halloween outdoor decor ideas