Transform your plain phone cover into a work of art with these fun and creative Phone Case Painting Ideas!
Are you tired of having the same old boring phone cover as everyone else? If yes, then personalize its look with these artsy Phone Case Painting Ideas.
Check out the awesome bowl painting ideas here
---
Phone Case Painting Ideas
1. DIY Sharpie and Spray Paint Phone Case
Watch this video tutorial to upgrade your phone case with Sharpie and spray paint.
2. Nail Polish Painted Phone Case
Learn how to paint abstract art on the smartphone case with nail polish in this visual tutorial.
3. DIY Rainbow Splatter Phone Case
Take inspiration from this YouTube tutorial and add a pop of color to your phone cover. It's undoubtedly one of the best ways to show your creativity and imagination.
4. Artsy Landscape Phone Cases
Create nature-inspired phone cases and enjoy a personalized touch of the great outdoors with every call.
5. Panda Phone Cover
If you're a panda lover, then this phone case painting idea is what you need to try this weekend.
6. Flowers and Butterflies Painted Phone Cases
Give your monotonous phone case an aesthetic boost with this tutorial featuring two different designs, i.e., floral and butterflies.
7. 5-Minute Watercolor Phone Case
Instead of painting the phone cover, insert watercolor-painted paper inside the case for added charm. Get the details here.
8. DIY Chalkboard Cell Phone Case
Make this adorable and easy DIY chalkboard cell phone case to add a little character to your device.
9. DIY Tie Dye Phone Case Idea
Learn how to beautify your boring phone cover with the tie-dye method. Here are the detailed instructions.
10. Eye-Catching Abstract Painted Phone Case
You only need a clear phone cover and puffy paint to make this visually appealing, textured, abstract case.
11. DIY Paint Drip Phone Case
Create this unique, eye-catching paint drip phone cover that'll surely turn heads. The detailed how-to is here.
12. Sunset Silhouette DIY Painted Phone Case
Get creative and show off your artistic skills with this fun sunset silhouette painted phone case.
13. Ombre Painted Phone Cover
Whether you're a beginner or an experienced artist, this ombre-painted case is the perfect project to showcase your talent.
14. Starry Aesthetic Phone Case Painting Idea

Give your phone case a stars-inspired makeover and enjoy a personalized accessory that reflects your personality.
15. Interstellar Hand Painted Phone Case Idea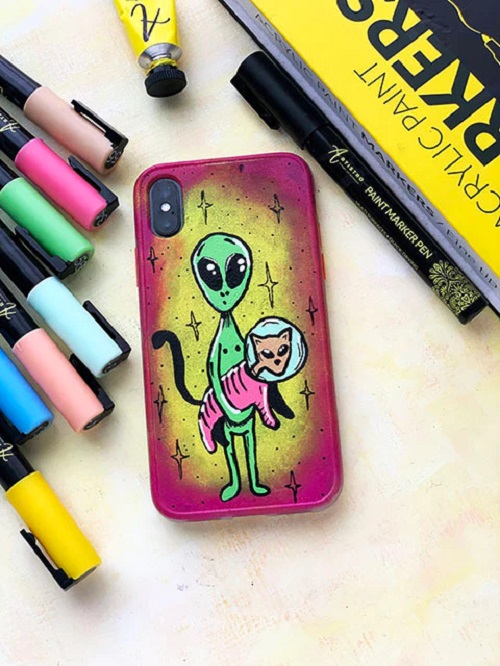 Give your smartphone cover a new lease of life with this cosmic and trendy interstellar painting idea. Grab oil markers, sponge, acrylic paints, napkins, and rubbing alcohol for this project.
16. Halloween Themed Phone Case Painting Idea
Bring some Halloween flair to your device with these creative jack-o-lantern-themed case painting idea.
17. Coastal Inspired Phone Case Painting DIY
With some easy steps and supplies, anyone can create this coastal-inspired case that's perfect for any beach lover. Click here for the project.
18. Mandala Cute Phone Case Painting Idea
Another one of the fantastic phone case painting ideas features an attention-grabbing, colorful mandala design. It makes your device stand out in the crowd.
19. Sky and Clouds on iPhone Cover
Carry a piece of nature wherever you go with this mesmerizing iPhone cover. Here're the instructions.
20. Flame Phone Case Painting Idea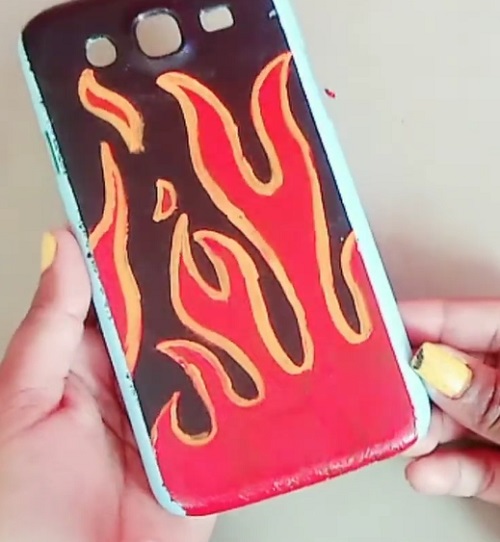 Let your mobile case be the reflection of your fiery personality with this blazing flame design. Look at this video for inspiration.
Here are the best vase glass painting ideas